Miller Bronze Power Lift Recliner Review
October 10, 2020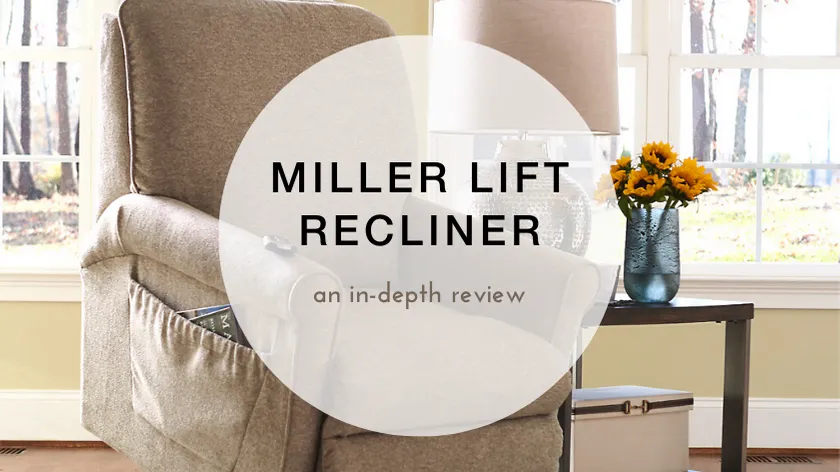 Do you or a loved one suffer from mobility issues? Does a stylish recliner with the power to get you sitting, standing or fully reclining at a touch of a button appeal to you? If so, then the La-Z-Boy Miller Bronze Power Lift Recliner, one of the top 5 best selling lift chairs, can provide much-needed support and comfort.
Designed for petite users, the Miller lift recliner features a smaller seat scale and a simple, classic style. Don't let its bronze designation or compact frame fool you. It has a heavy-duty steel foundation and quality cushion construction to provide exceptional comfort and support.
As inventors of the reclining chair back in 1927, you can rest easy knowing your power lift recliner possesses 90 years of innovative design experience. They provide the smoothest, most secure motion and offer unmatched comfort in every position at the touch of a button.
When shopping for a lift recliner, it is essential to determine which one is best for you. At La-Z-Boy Ottawa and Kingston, we believe it is necessary to get fitted for your perfect seat.
We've helped hundreds of customers find a lift recliner that not only meets their needs, style and budget but their physical dimensions.
1. Standard Features of the Lift Recliner
At the touch of a button, power lift recliners use motors to make it easy to change your chair's tilt so that you can go from a standing position to fully reclined without effort. They are a comfortable and practical solution for people as they age. Moreover, ideal if you require assistance getting in and out of a chair due to physical limitations caused by illness, injuries or surgeries.
La-Z-Boy offers four series of power lift chairs: bronze, silver, gold and platinum. Each series offers different features, including seat scale, weight capacity, clearance from a wall, and options.
The Miller lift recliner is part of the bronze series of power lift chairs. Lift chairs in this series are designed for smaller users and have the added benefit of not needing much clearance from the wall to be fully reclined or in the lift position
Furthermore, bronze lift recliners have an uncovered, exposed base, unlike the box in box construction that you will find in the gold and platinum series.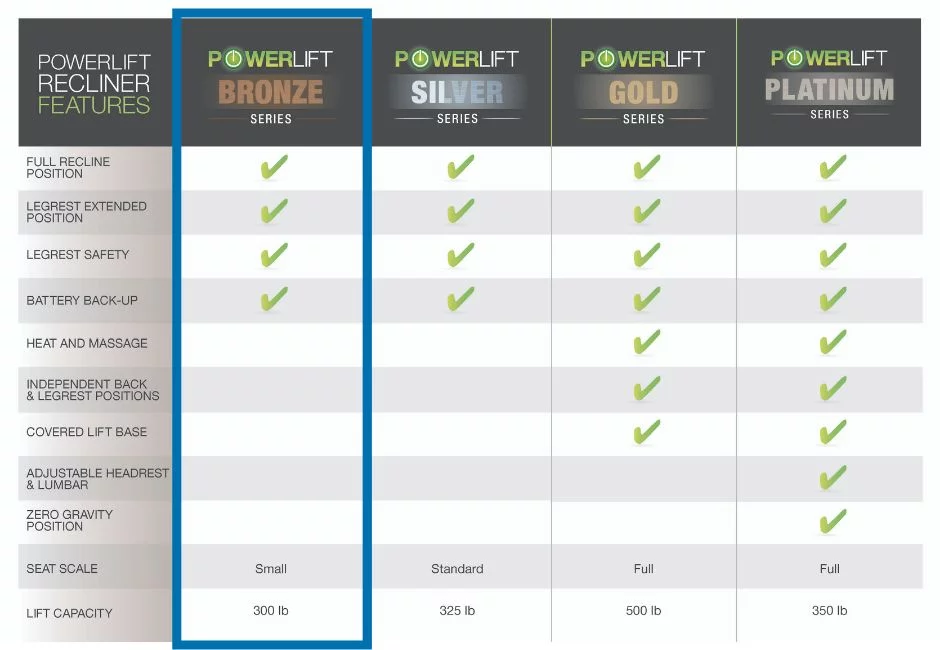 Features common to all La-Z-Boy lift chairs include:
• Easy-to-use wired controller
• Convenient side pocket to keep essential items nearby
• One-piece chaise seat for continuous comfort
• Legrest autostop safety feature
• Plugs into an AC outlet
• Battery backup in case of power failure (requires two 9V batteries)
• Customizable with your choice of hundreds of fabrics
• Includes our Limited Lifetime Warranty on the frame
2. Features Unique to the Miller
Designed for smaller users, the Miller Bronze Power Lift Recliner features a shorter seat height and a one-piece chaise for continuous comfort.
Petite rolled arms and a solid foam back allow this chair to blend effortlessly with existing furniture pieces. If you are looking to furnish the entire room, it pairs well with the Talbot stationary sofa with graceful curves and a smaller scale.
Best of all, the Miller lift recliner can be placed just 2 inches from a wall, so it won't overwhelm your room or take up too much floor space.
Press a button on the convenient hand-held remote to get in or out, or fully recline. The heavy-duty tubular steel base gives Miller a robust, solid foundation.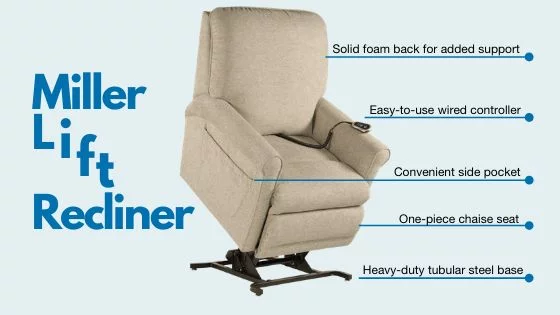 Other Features of the Miller Lift Recliner
• Bucket-style seat and back move together, eliminating gaps and providing full-body support in any reclined position
• Solid foam back provides added support and a more structured look
• Non-skid adjustable glides for use on area rugs, deep carpet or hard floor
• Can be placed 2 inches from a wall
• 300-lb. weight capacity
3. Dimensions: Miller Power Lift Recliner
The Miller is the shortest of all lift chairs at 39.5 inches. Also, it has an equally smaller 31- inch body width, so it is a good choice if you are designing a small space or considering a recliner for a seniors' residence.
Rivalled only by the Margaret lift chair's short seat depth, the Miller seat provides excellent support for someone under 5.4. It does, however, have a slightly wider seat with an extra inch of wiggle room.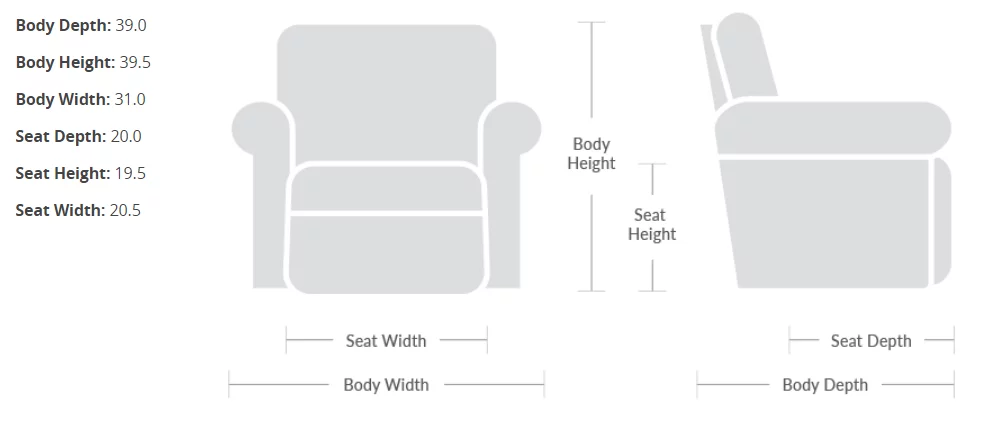 4. Options & Upgrades
Take some time to investigate your choices so that you're confident your new lift recliner chair fits your body type, style, and preferences. The Miller power lift recliner has various customization options available.
Upholstery / Cover Options
Your choice of fabric is a pivotal decision when selecting a recliner for your home. The Miller has several hundred cover options so you can custom-create a look that's uniquely yours. Choose from a wide variety of colours, patterns and textures.
Leather is not available in any lift chair, as it could pose a danger when lifting you out of the chair due to its sleeker surface.
If you are bound to your lift chair while recovering from a surgery or are simply more comfortable lounging, you'll inevitably be consuming food while reclining. Things can get messy when spills happen, but stains don't have to with our stain-resistant iClean™ fabrics engineered to repel everyday spills. These fabrics have a luxurious feel and are available in dozens of colours and patterns for the Miller power lift chair.
The Miller also has a subset of covers available in "conserve" fabric. Soft, durable, and sustainable fabric made out of recycled water bottles. This eco-friendly material uses as many as 50 recycled water bottles to cover a standard recliner.

If you have pets, you might consider taking advantage of our Pet-Friendly fabric that has a high level of cleanability and durability, including the iClean technology.
Another specialty fabric option at La-Z-Boy is the antimicrobial fabric. This fabric protects against mould, mildew, and odour-causing bacteria.
As with conventional furniture fabrics, conserve covers are wear-tested for safety, quality and durability. So, they stay comfortable and beautiful for years after delivery. They come in a wide range of colours and patterns to complement your room.
Seat Cushions
High-quality polyurethane foam gives recliner cushions increased softness and support while providing exceptional durability.
Firmer seat options are available at an additional cost.
Please note that reclining furniture purchased prior to January 2021 had the option to upgrade to airform™ cushions. This cushion includes a two-inch layer of premium quality memory foam added on top of the standard foam base within the seat, chaise, and leg rest of the unit.
5. How Much Does It Cost?
The Miller Bronze Power Lift Recliner's price is the mid-range of lift recliner chairs available in the market. The quality of materials used in construction and customization are the main reasons for the higher price bracket.
The starting price for a custom Miller power lift recliner starts at $2,249. From there, the cost increases depending on the different fabrics chosen and other options selected.
*All La-Z-Boy prices listed in this article are subject to change. We aim to update all cost-related articles twice per year. This article was last updated on October 4th, 2022. Please visit lzb.com and select an Ottawa or Kingston La-Z-Boy store location to view the most up-to-date pricing.
Did you know you can save the tax when you provide a doctor's note? Lift chairs are considered to be zero-rated for tax purposes when you have a requisition from your doctor. You will also save the taxes on delivery and warranty charges related to the lift chair!
Find out what you will expect to pay for lift recliners in the silver, gold and platinum series in the La-Z-Boy Lift Chair Recliner Cost article.
6. Customer Reviews
The Miller lift recliner currently has a 4.6-star rating in North America. Find out what customers are saying in the following reviews.
★★★★★
One Cozy Chair
This recliner was purchased to help my 88 yr young dad who was having leg issues and back pain. But as it turns out the whole family loves this chair. It is not an overstuffed or bulky chair. Its streamlined design would fit any decor. It looks great and is extremely comfortable, the fabric feels luxurious. The reclining and lift options are not only wonderful features, but the two-button remote make it a no-brainer and easy to use. Try it, you'll love it!
Sharon H.
★★★★★
Makes my life so much easier
It is exactly what I needed! Due to age and health issues I was unable to sit with my legs elevated (Doctors orders) in my old recliner because I couldn't move it on my own. Now I'm enjoying my living room and large TV daily thanks to this mechanical lift. It looks great too!
Terri D.
★★★★✰
Best small lift chair
This is a beautiful finely made chair that looks great and functions like it should. It's hard to find a small lift chair that fits well in an apartment and is small enough for a 5'2″" female . This was the only one I saw and I'm really happy with it.
Helen W.
Next Steps
Consult our list of things to consider before purchasing a lift recliner and take some time to investigate your choices. Once you've determined your budget, style, and preferences, it's time to give your life a lift!
La-Z-Boy's Miller Power Lift Recliner provides you with many options for improving comfort & mobility. This lift chair brings relaxation to new heights and is ideal for petite-sized users who might be tight on space. It is worth a trip to one of our La-Z-Boy Ottawa and Kingston locations to give it a try or schedule an in-store or virtual appointment!
One size does not fit all when it comes to comfort. If you are shopping for a loved one, it's vital to have the person who will be using the chair visit the store if at all possible. You need to test the lift chair in both sitting and reclining positions to confirm you are fully supported. If the fit is not right, the lift chair may cause problems instead of helping.
If you're still unsure which one to choose, our trained design consultants will guide you in selecting a lift chair that fits your style preferences, budget, and body. You'll feel confident the lift recliner you take home will provide you unmatched comfort in every position.
Related Links
Aging In Place
Are Recliners Bad for Your Back
How Much Does a La-Z-Boy Living Room Cost
Product Info Request
Please provide us with your name and email and we'll get back to you as soon as possible regarding this item.