In-Depth Review of the Astor Platinum Power Lift Recliner
September 20, 2020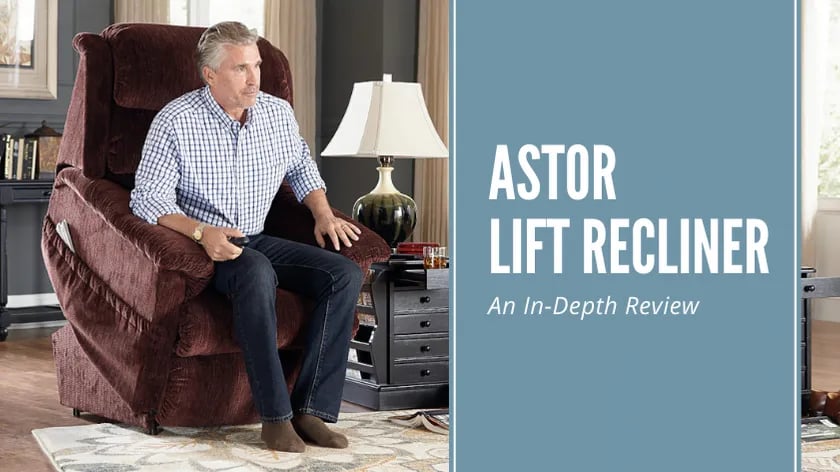 Chances are if you or someone you love suffers from mobility issues and has trouble getting to a standing position, you've researched power lift recliner chairs. The Astor Platinum Power Lift Recliner acquired top-five status and was one of La-Z-Boy's best-selling lift chairs in Ottawa and Kingston.
Read on to learn what luxury features bestow the Astor lift recliner chair's premier platinum series status. Plus, determine whether it is the right fit for your needs.
At the touch of a button, power lift recliners use motors to make it easy to change your chair's tilt so that you can go from a standing position to fully reclined without effort. They are a comfortable and practical solution for people as they age.
Moreover, ideal if you require assistance getting in and out of a chair due to physical limitations caused by illness, injuries or surgeries.

La-Z-Boy's story began back in 1927 when two cousins joined together to design the first reclining wood-slat chair. This invention launched a new category in future — the iconic recliner. You can rest comfortably knowing our lift recliners possess 90 years of innovative design experience.
A generously scaled lift recliner, the Astor has a deep, wide seat that takes your reclining comfort to the next level. With the ability to power the back and footrest independently the recliner can be adjusted in limitless positions to allow for customized comfort during extended time in the chair.
In This Article...
5. Warranty
7. Is the Astor Lift Recliner Right for You?

Unique Features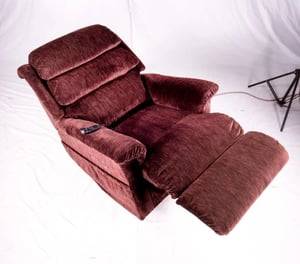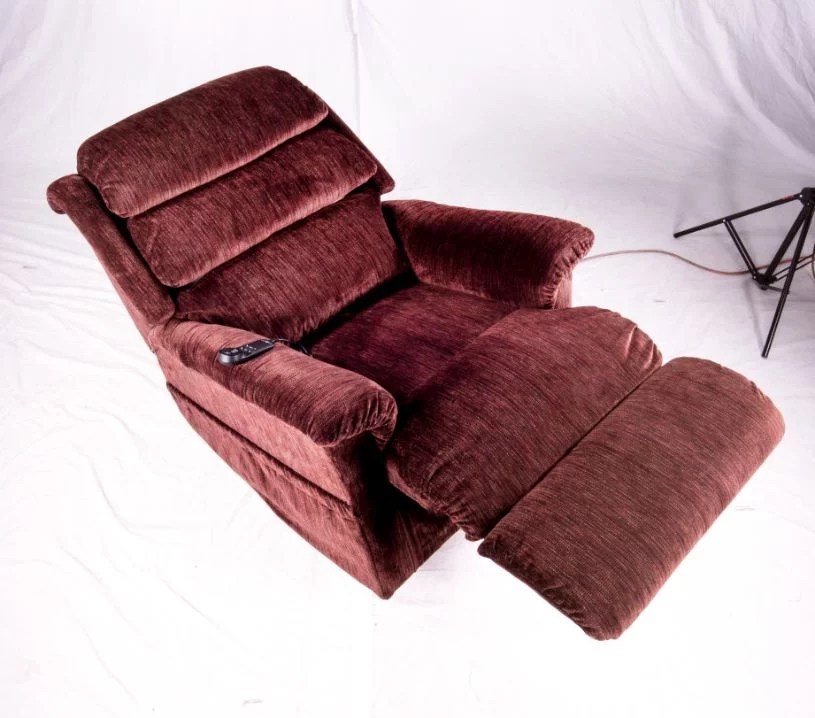 Designed for users with larger stature or who like some extra breathing room, the Astor Power Platinum Lift Recliner features a deep, wide seat. It also comes standard with a tall base that adds 1.5 inches to its overall height.
The Astor style shares more than one accolade and is one of La-Z-Boy's five best-selling recliners. The entire Astor recliner family features a tall pillow back with three semi-attached cushions that adjust for total support. Additionally, the chaise seat and padded flared arms provide the ultimate in comfort.
La-Z-Boy offers four series of power lift chairs: bronze, silver, gold and platinum. Each series of lift recliners offers different features, including seat scale, weight capacity, clearance from a wall, and options.
The Astor lift recliner is part of the platinum series of power lift chairs. Bonus features in this premier category include a zero-gravity recline. This position involves elevating your legs higher than your heart, which promotes circulation and reduces swelling. Also, the full bed layout position alleviates pressure on the lower back and spine.
Other Features common to all La-Z-Boy lift chairs include a wired controller, convenient side pockets to keep essential items nearby, and battery back up for the power feature.
Size & Dimensions
The Astor's frame width measures 35 inches, so accurately measure your room to be sure it can accommodate its larger scale.
As one of the tallest recliners (45.5 inches), this lift recliner comes standard with a tall base that adds 1.5 inches and typically has an upgrade cost of $150. The Astor lift recliner has a seat height of 22 inches and a substantial chaise to provide excellent support for taller individuals at 6'3" and up.
While your height can be a considerable factor, it is important to note that height guidelines are
NOT
set in stone. The way you sit in a furniture item can drastically affect how someone might find a seat comfortable.

This is why we highly recommend coming in-store and taking a sit test to determine if the Astor is right for your unique body type. To learn more, take a look at our article How to Find a Recliner That is The Best Fit For You.
Astor Lift Recliner Weight: 145 lbs

Body Depth: 39 in.




Body Height: 45.5 in.




Body Width: 35 in.

Seat Depth: 21.5 in.




Seat Height: 22 in.




Seat Width: 19 in.
Options & Upgrades
Take some time to investigate your choices so that you're confident your new lift recliner chair fits your body type, style, and preferences. The Pinnacle power lift recliner has various customization options available.
Fabric Options
La-Z-Boy has over 800 fabrics to choose from, making the experience of personalizing your furniture seemingly endless.
The Astor Power Lift Recliner comes in 4 different select fabric colours. These fabric options do not increase the base price of your Astor.
If you choose to purchase any fabrics outside of the select covers, please note that an additional fee will apply.
As for leather, no leather covers are available for the Astor. If you're wondering about the Leather Selection at La-Z-Boy, check out this article.
Please note that this article's leather or fabric options may be discontinued or unavailable without prior notice. We recommend contacting your local Ottawa or Kingston La-Z-Boy store by phone or in person to confirm availability. We apologize for any inconvenience caused by any changes to our upholstery selection.
Alongside our extensive range of covers, the [Furniture] is also available in specialty fabrics that offer unique features and benefits…
Innovative iClean Technology surrounds each fabric and leather fibre, creating a barrier that repels spills before turning into stains.
Tested and formulated to withstand the scratches and wear that a pet can cause to ensure a durable and easily washable fabric.
Antimicrobial properties surround each cover to protect against mould, mildew, and odour-causing bacteria.
Performance
Superior stain and fade resistance properties make fabrics easy to clean and incredibly durable.
Conserve Sustainable Fabrics are soft, durable and made from recycled water bottles.
Restore by Nanobionic® features a mineral-based fabric coating that transforms natural body heat into energy using infrared technology.
Cushion Upgrade
At an additional cost, Astor's cushions can also be upgraded to include firmer cushioning, meaning over time, your furniture will remember your unique figure and enhance the comfort of your furniture. This could be a great option for people with mobility issues, allowing you to get in and out of your furniture more comfortably.
​
For more information on whether this upgrade is right for you, view our
Motion Furniture Collection catalogue
.
Power Upgrade with Adjustable Headrest
You can upgrade the Astor to power.
Unlike manual furniture that uses a handle or latch, power recliners come with a control panel or a wireless remote for easy reclining at the touch of a button. You can also adjust the headrest support with this convenient feature.
The adjustable headrest allows you to move the head of the recliner from 0-55 degrees, giving you more range of motion with your reclining positions.
What's more, the recliners have USB ports next to the control panels to charge your electronic devices and two memory settings that allow you to save any of your favourite relaxing positions. This way, you can easily recline back to the position you favour quickly and accurately.
All power upgrades can be cordless, thanks to our rechargeable battery pack. With this, you can place your power recliners anywhere without worrying about plugging them into an electrical outlet.
Adjustable Lumbar Support
The Astor can also be upgraded to include adjustable lumbar support for an additional cost when choosing the power option.
Like the headrest feature, you can control the lower lumbar area of your recliner with the wireless remote. In this case, the lumbar support can expand 3 inches out or deflate to perfectly match the unique curvature of your lumbar spine.
Heat & Massage Upgrade
The Astor Power Lift Recliner can also be upgraded to include Heat & Massage.
Customers can enjoy this incredibly comfortable recliner with two high & low heat settings and six motor-massage settings for their back and thighs.
PowerReclineXR® is also included in this upgrade, which lets the user experience full reclining comfort in any position, thanks to an independently operating back and leg rest.
To learn more, check out a
Review of the Heat & Massage Upgrade at La-Z-Boy
.
Cost
The Astor power lift recliner's price is the mid-high range of lift recliner chairs now available in the market. The quality of materials used in construction (including the sturdy box design), customization and options are the main reasons for the higher price bracket.
The starting price for a custom Astor power lift recliner starts at $2,849. From there, the cost increases depending on the different fabrics chosen, and other options selected.
If you choose to have the added massage and heat functionality, your lift recliner will start at $3,179.
Subsequently, the Astor with headrest and lumbar support will start at $3,489.
*All La-Z-Boy prices listed in this article are subject to change. We aim to update all cost-related articles twice per year. This article was last updated on May 31st, 2023. Contact your local Ottawa or Kingston location by phone or in person for up-to-date pricing.
Did you know you can save the tax when you provide a doctor's note? Lift chairs are considered to be zero-rated for tax purposes when you have a requisition from your doctor. You will also save the taxes on delivery and warranty charges related to the lift chair!
Find out what you will expect to pay for lift recliners in the bronze, silver and gold series in La-Z-Boy Lift Chair Recliner Costs article.
Warranty
The Astor is covered by La-Z-Boy's Limited Lifetime Warranty. This warranty covers the repair or replacement of the frame, spring systems, and mechanism, given that they are quality-crafted and built for long-lasting comfort.
For full details of the Limited Lifetime Warranty, check out this full La-Z-Boy warranty breakdown.
While still quality-crafted, other aspects of the product, such as fabrics, leather, and cushion, are not meant to last a lifetime. However, these parts are still covered by the La-Z-Boy Manufacturer's Warranty for a given period of time.
To further protect your purchase, La-Z-Boy Ottawa & Kingston offers an extended warranty plan at an additional cost. To learn more about the Extended Warranty Plan and if it's right for you, take a look at this article.
★★★★★
TERRIFIC…LOVE IT
Fantastic chair that my 6'3 father with back & mobility issues has come to rely on. I opted for lumbar and headrest over heat and was concerned I would regret it… but after 2 weeks I don't have a single regret except I wish I bought 2 so I could have a spot for my "keester"! ??
Jim T.
★★★★★
AstorPlatinumLuxuryLift®PowerReclineXR-This is were I sleep!
I ordered both the Astor Platinum Luxury-Lift® PowerReclineXR and the Astor Platinum Wall-A-Way Recliner. I love them both. They are so comfortable. With my back and leg problems, I need the Power Recline and Lift. It works great. The Head Rest is great if you're watching TV or workin on your Laptop. This is were I sleep. My back and legs are so much better when I get up in the morning. Now, I get a good nights sleep.
Thank You La-Z-Boy.
Carolyn K.
★★★★★
Great Sleep Chair
I am loving my new chair. Larger guys like me might find it a tiny bit narrower than they prefer but I like the cozy feeling. I sleep in this chair and it keeps me from moving to a position that ultimately hurts my neck and lower back. The only minor issue I have is that while the motors are very quiet they could be quicker and the controls could benefit from position memory.
Grant I.
Is the Astor Lift Recliner Right for You?
After reading everything up to this point, you might have the necessary information about choosing the Astor or not, if you're still unsure, here are some factors to consider of you are deciding if the Astor is right for you. This section will go over overall budget, functionality and style.
In terms of cost, the Astor lift recliner is more expensive than other lift recliners due to it being in the platinum series. However, do not let this prevent you from purchasing because La-Z-Boy is built to last! Made with high quality materials and construction, our furniture is considered an investment.
As for functionality, the Astor seats taller individuals that have in a larger living area. If you're looking for smaller spaced furniture, a lift recliner might be harder to place than you think, since it has many bulky features to its structure. What's more, although it has a generous seat width of 19 inches, the Clayton lift recliner at 23 inches wide might be a better choice for someone looking for a roomier fit.
Lastly, in terms of style, the Astor is a very "grandfather-looking chair" as one of our design consultants put it. Lift chairs are also meant for those who have mobility issues, which means it's normally better for older individuals who have decreased movement in their body.
However, even though life chairs are catered more towards an older generation, those younger who also have mobility issues might also enjoy the Astor as well. To learn more about La-Z-Boy Gift Ideas, take a look at this article.
What's Next?



No chair, including La-Z-Boy's power lift recliners, are one size fits all. If you're shopping for someone else, it's vital to have the user visit the store if at all possible.
Product Info Request
Please provide us with your name and email and we'll get back to you as soon as possible regarding this item.