Review of the La-Z-Boy Clayton Gold Power Lift Recliner Chair
August 2, 2021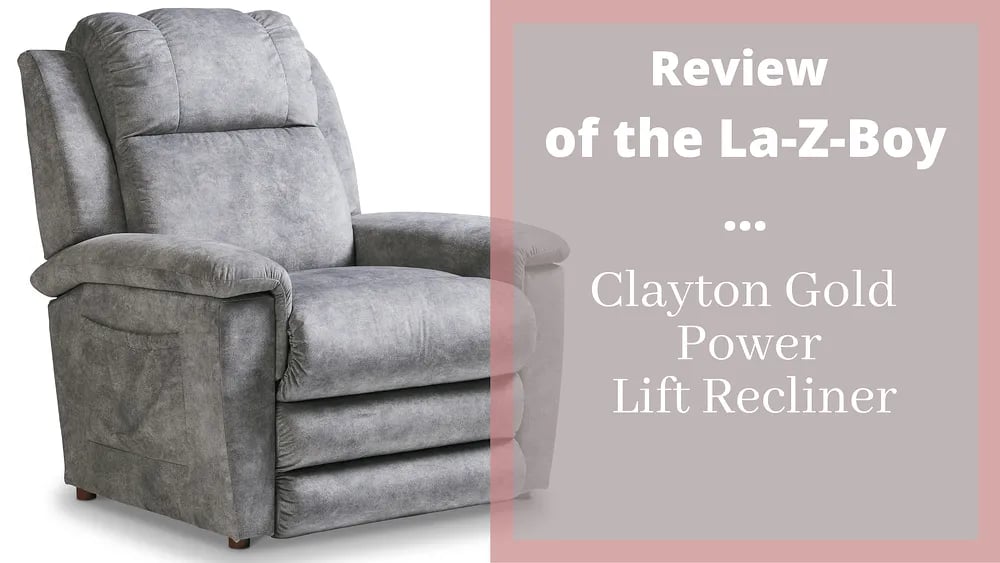 A chair that does it all! Seems too good to be true, right?!
The Clayton Gold Power Lift Recliner takes comfort to another level by literally lifting you in and out of an effortless zone of comfort. With the touch of a button, the Clayton transports you from a reclining to a standing position, all while offering a luxurious heat and massage feature.
Functionality aside, Clayton's rugged good looks make it hard to go unnoticed. Its robust arms, plush headrest, and crisp seams have never made comfort look so good.
La-Z-Boy clients love the Clayton Gold Power Lift Recliner. In fact, the Clayton is one of the Top 5 Best Selling La-Z-Boy Lift Chairs in Ottawa & Kingston.
Perhaps you would love the Clayton Lift Recliner too?
At La-Z-Boy Ottawa & Kingston, we have helped hundreds of clients find their ideal recliner chair that meets their needs, preferences, style, and budget.
By reading this in-depth review, you will be one step closer to knowing if the Clayton Gold Power Lift Recliner is right for you.
Unique Features
The stylish Clayton Lift Power Recliner is a Family Favourite at La-Z-Boy. It is jam-packed with features that offer comfort, relaxation, and convenience.
The one-piece seat and back move together, eliminating gaps and providing full-body support in all reclined positions. The Clayton can lift from a reclining position to a fully standing position at just the touch of a button.
La-Z-Boy offers four series of power lift chairs in which recliner styles have some unique features. The Clayton is a Gold Lift Chair … independent back and legrest motion, covered base, and full seat.
The Clayton is upholstered in premium-grade fabrics that are tested to resist wear and fading with normal use. Moreover, the Clayton's high-grade foam seat cushions will maintain its comfort and appearance over time.
The chair can be placed 13.5 inches from the wall as it requires to be plugged into an AC outlet. With this, you can control the Clayton with an ergonomically designed wired controller that can tuck conveniently into a side storage pocket when not in use.
In case of power failure, the Clayton comes with a battery backup, which requires two 9V batteries.
Now let's not forget about the best part … heat and massage. The Clayton features a 3-setting heat feature in the back and seat regions of the chair. Additionally, choose from 6-motor vibration massage which powers 3 alternate massage modes: constant, wave, and pulse. Customize your massage by adjusting the momentum to your preferred speed.
To learn more, take a look at the article about the Heat & Massage Upgrade at La-Z-Boy.
With so many mechanical features, this comfortable recliner may also be considered a large piece of hardware. In fact, the Clayton can withstand 500 pounds of weight.
With this, the Clayton is an ETL safety-certified and listed product. So as you move through positions, you can rest assured that the legrest auto-stop safety feature will protect not only your chair but also any furry friends that may find themselves under your recliner.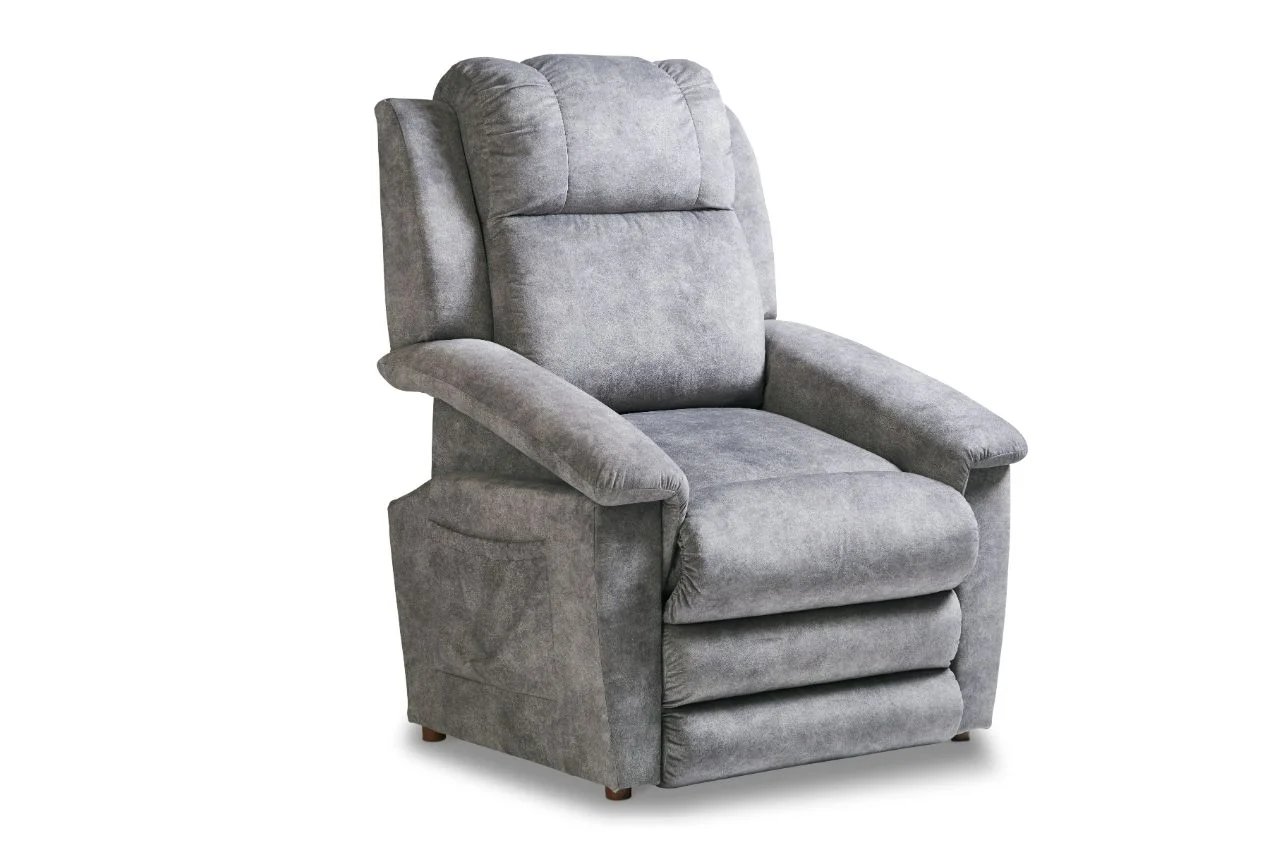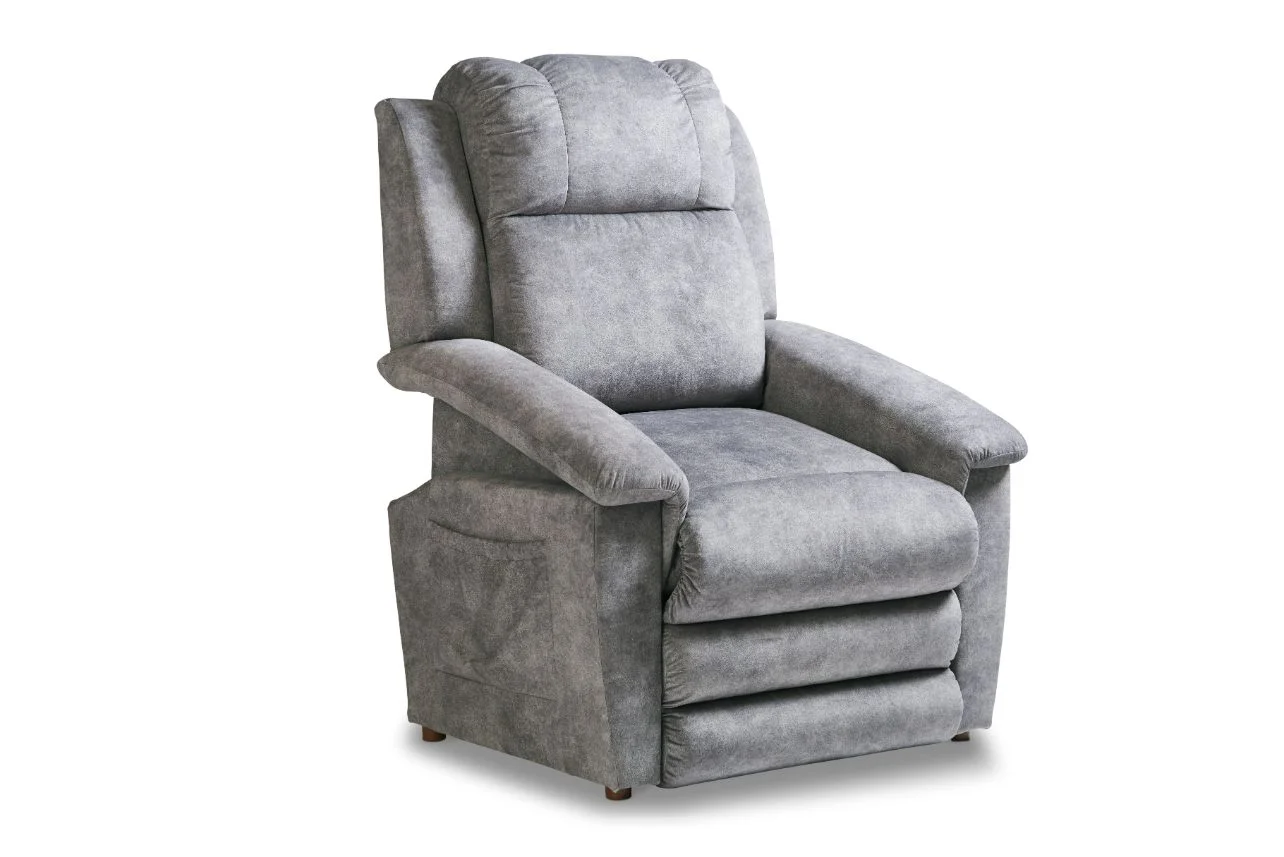 Size & Dimensions
When it comes to size and dimensions, the Clayton Lift Power Recliner is considered on of our larger lift recliners at La-Z-Boy.
The Clayton is best suited for someone who is extra tall at a height of 6'3" and up.
While your height can be a considerable factor, it is important to note that height guidelines are NOT set in stone. The way you sit in a furniture item can drastically affect how someone might find a seat comfortable.

This is why we highly recommend coming in-store and taking a sit test to determine if the Clayton is right for your unique body type. To learn more, take a look at our article How to Find a Recliner That is The Best Fit For You.
Take a look at these dimensions for a better idea of the size of the Clayton:
Clayton Power Lift Recliner: 143 lb

Body Depth: 40.5 in




Body Height: 45.5 in




Body Width: 42 in

Seat Depth: 23.5 in




Seat Height: 22 in




Seat Width: 23 in
At La-Z-Boy, everything is customizable, including the Clayton Lift Power Recliner. You can make the recliner uniquely yours with a variety of available customizations and upgrades.
Fabric & Leather Options
Your choice of fabric is crucial in determining the overall look and feel of your Clayton recliner. With this, the Clayton has several hundred cover options to choose from allowing you to custom-create a unique look.
Choose from five select fabric covers, specifically chosen for the Clayton, or from hundreds of others in a variety of colours, patterns, and textures.
Leather is not available in any lift chair, as it could pose a danger when lifting you out of the chair due to its sleek surface.
If you are bound to your lift chair while recovering from a surgery or are simply more comfortable lounging, you'll inevitably be consuming food while reclining. Things can get messy when spills happens but La-Z-Boy also offers a wide selection of speciality fabrics...
Stain Resistant
Innovative iClean Technology surrounds each fabric fibre, creating a barrier that repels spills before turning into stains.
Tested and formulated to withstand the scratches and wear that a pet can cause to ensure a durable and easily washable fabric.
Antimicrobial properties surround each fibre to protect against mould, mildew and odour-causing bacteria.

Performance
Superior stain and fade resistance properties make fabrics easy to clean and incredibly durable.

Eco-Friendly
Conserve Sustainable Fabrics are soft, durable and made from recycled water bottles.

Energy Restoration
Restore by Nanobionic® features a mineral-based fabric coating that transforms natural body heat into energy using infrared technology.
Cushion Upgrade
High-quality polyurethane foam gives recliner cushions increased softness and support while providing exceptional durability.
Firmer seat options are available at an additional cost. For more information view our Motion Furniture Collection catalogue and our in-depth Review of La-Z-Boy's Chair and Sofa Seat Cushions.
Please note that reclining furniture purchased prior to January 2021 had the option to upgrade to airform

cushions. This cushion includes a two-inch layer of premium quality memory foam added on top of the standard foam base within the seat, chaise and leg rest of the unit.
Rechargeable Battery Pack Add-On
The Clayton Lift Power Recliner requires a power source, but if you prefer your chair not to be tethered to a wall, consider purchasing the Rechargeable Lithium-Ion Battery Pack.
For $300, this battery pack replaces the Clayton's corded power supply, allowing you to place it anywhere in the room.
Learn more about the La-Z-Boy Rechargeable Battery Packs: Features, Functionality, & Pro Tips.
Cost
The Clayton falls within the mid-price range of lift recliners sold at La-Z-Boy and the luxury, high-end price range of lift recliners on the market.
The Clayton Lift Power Recliner is a part of the Gold Series, starting at a cost of $3,599.
Please note that La-Z-Boy prices listed in this article are subject to change without notice. Information is current as of May 19, 2023. Contact your local Ottawa or Kingston location by phone or in person for up-to-date pricing.
La-Z-Boy offers four types of luxury-lift power recliners: Bronze, Silver, Gold, and Platinum. Each of these lift recliner types or series has recliner styles with some unique features. Increased features and functionality have an impact on price. Therefore, you can expect to pay more for styles in the gold and platinum series.
Did you know you can save the tax when you provide a doctor's note? Lift chairs are considered to be zero-rated for tax purposes when you have a requisition from your doctor. You will also save the taxes on delivery and warranty charges related to the lift chair!
Warranty
The Clayton is covered by a limited lifetime warranty at La-Z-Boy to ensure the protection and satisfaction of your investment.
The Limited Lifetime Warranty covers the repair or replacement of the frame, spring systems, and the mechanism, given that they are quality-crafted and built for long-lasting comfort.
While still quality-crafted, other aspects of the product, such as fabrics and cushions, are not meant to last a lifetime. These parts are still covered by the La-Z-Boy Manufacturer's Warranty for a given period of time.
More specifically, it is important to note that the electrical parts, motors, lift, and base are covered for up to three years.
To learn more about the warranty at La-Z-Boy, take a look at the article Are La-Z-Boy Recliners Guaranteed for Life?
Maybe you have kids, pets, guests, and the like in your home, and maybe you're not sure if making a commitment to comfort is worth it when there are so many things to consider. Thankfully, La-Z-Boy offers a 5-year Protection Plan ensuring your peace of mind.
To further protect your purchase, La-Z-Boy offers an extended warranty plan at an additional cost.
Customer Reviews
With a 4.6 star rating in North America, the Clayton Lift Power Recliner is loved by many La-Z-Boy clients. Find out what customers are saying in the following 4 and 5-star reviews:








Is the Clayton Lift Recliner Right for You?
There is no doubt that the Clayton Lift Power Recliner is a comfortable piece of furniture, but it may not be right for everyone.
First, and foremost, it is crucial that the Clayton is within your spending budget. As a luxury, high-end lift power recliner, the Clayton is a significant investment. With this, the Clayton is ideal for someone who is willing to make a large investment in their comfort.
With this being said, the Clayton Lift Recliner does not reach the zero gravity position, only the Platinum Lift Chairs have this feature. In turn, the Clayton might not be the right investment for someone who is seeking the benefits of the zero gravity position.
Given the large dimensions of the Clayton, this lift recliner is ideal for a larger person, as it is between the height of 6'3" and up.No need to squeeze into a small recliner, the Clayton provides ample room for relaxation.
If you are looking for a large recliner but the Clayton is not the ideal choice for you, check out a list of the Best La-Z-Boy Recliners for Tall People.
Finally, as a lift chair with heat & massage features, the Clayton is great for someone who experiences mobility issues or is recovering from an injury.
The lift feature can allow you to ease in and out of comfortable positions safely without straining your muscles or causing tension. Moreover, the heat & massage can be very beneficial for aching injuries and may lead to a quicker recovery.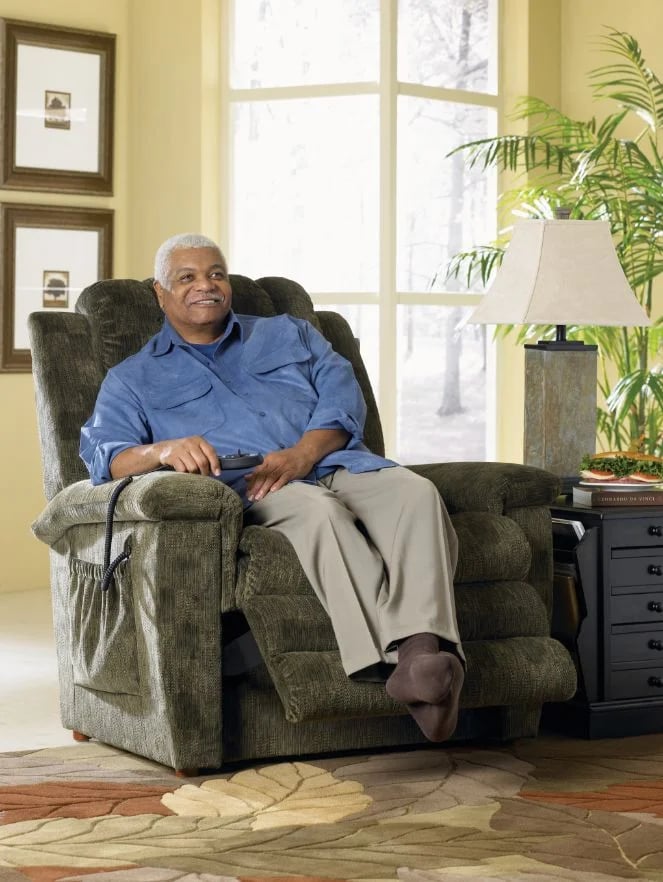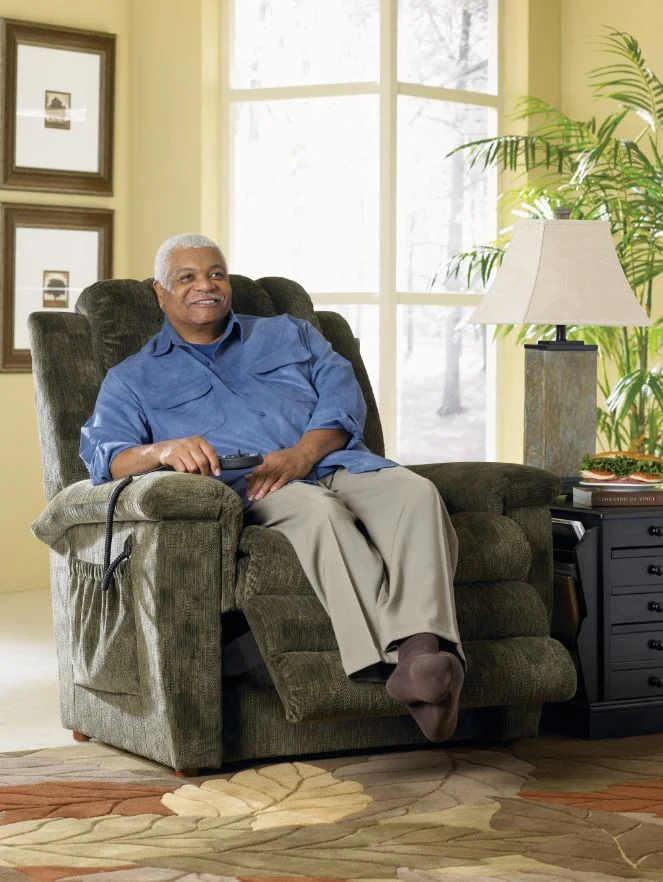 Product Info Request
Please provide us with your name and email and we'll get back to you as soon as possible regarding this item.