La-Z-Boy Furniture for PMQ Housing (Military Housing)
January 24, 2022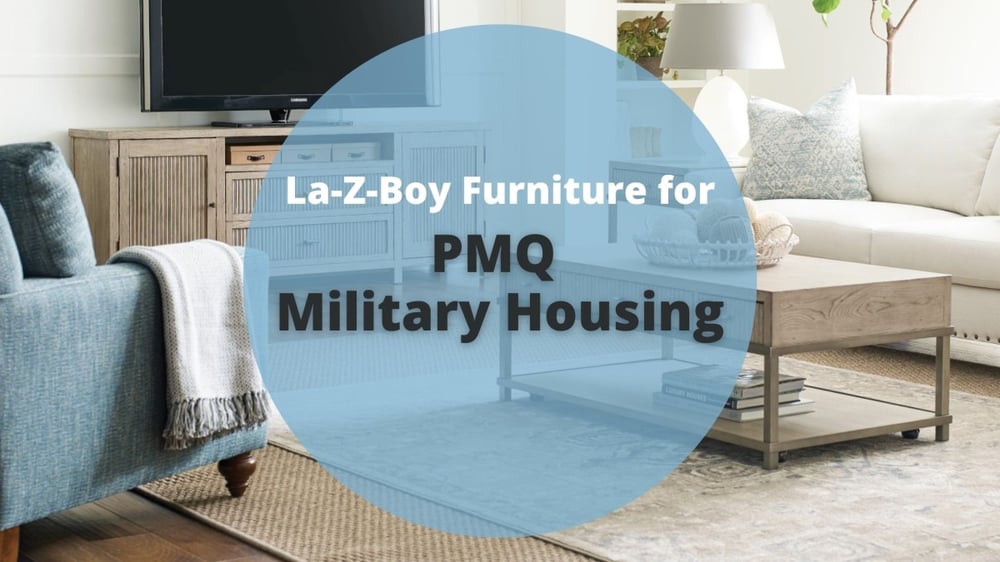 The Canadian Military and their families deserve an abundance of gratitude for their endless sacrifices and support for our country. At La-Z-Boy Ottawa & Kingston, we believe that Military families are especially deserving of a comfortably furnished home.
In fact, our La-Z-Boy Kingston showroom is located near the Fort Henry Military base. With this, Kingston is the home of many Military families who often visit La-Z-Boy for comfortable home furniture.
As a Military Brat herself, our very own interior designer, Mary Lee Smyth, understands that Military families often reside in PMQ Housing, which typically has small floor plans. Given the sometimes limited living space, she acknowledges that Military families are looking for quality furniture that can fit into a small space and easily relocate with them.
This article aims to assist Military families by offering expert advice on furnishing a PMQ home. More specifically, Mary Lee outlines important factors to consider and highlights specific La-Z-Boy furniture that is ideal for Military housing.
In this article ...
More About PMQ Housing
Before diving into Mary Lee's expert advice on furnishing a PMQ home, let's learn more about the nature of PMQ Housing.
First and foremost, PMQ stands for Private Married Headquarters or Permanent Married Headquarters.
By definition, PMQ Housing is military housing located near Canadian military stations provided to families of Canadian forces service personnel. Married quarters are now called Residential Housing Units (RHUs).
PMQ Housing took off following the Second World War. To accommodate families of the Military, the Canadian Government developed family housing neighborhoods near military stations. These neighborhoods often had churches, schools, banks, service stations, and recreational facilities.
Given that many of these houses were developed in the 1950s, they are considered small by today's standards. More specifically, PMQ housing in Canada ranges from 612 to 1881 square feet.
Further, PMQ Housing features some old-fashioned architecture and infrastructure, such as small doorways and inadequate lighting.
With this, Military Families must be strategic and creative in the way they furnish their homes. Everything must be scaled down in order to fit a comfortable living arrangement into a small space.
Moreover, given that members of the Military are subject to relocate from base to base, Military families want to invest in versatile furniture that can fit into any space, rather than re-furnish every time they move.
Continue reading to learn about the important factors for Military Families to consider when furnishing their PMQ Home!
Factors to Consider when Furnishing a PMQ Home & La-Z-Boy Furniture Suggestions
1. Scale Down
Given that Military families are typically confined to a small space, Mary Lee suggests sizing down in furniture.
With so many options available, it is still possible to create a comfortable and complete furniture arrangement, but with small-scale furniture.
Small Furniture at La-Z-Boy
At La-Z-Boy, we offer a wide variety of small furniture, ideal for PMQ Housing.
First, it is worth mentioning our Top 5 Sofas for Small Spaces. This selection consists of reclining and stationary sofas that are built with smaller dimensions.
Of this selection, Mary Lee emphasizes the Kennedy Apartment Sized Sofa. This sofa replicates the regular Kennedy Sofa, but on a smaller scale that is ideal for an apartment space.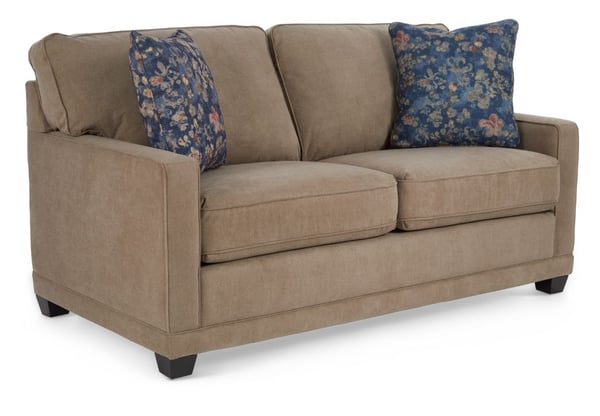 Mary Lee also suggests purchasing a loveseat, instead of a sofa. Similar to an apartment-sized sofa, La-Z-Boy loveseats offer the comfort of a sofa but on a smaller scale, suitable for two lovebirds.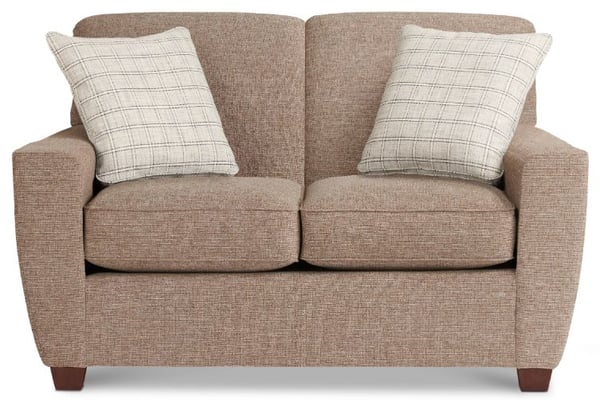 If you have your heart set on a sectional, but PMQ Housing does not offer the space, Mary Lee says a sofa with a chaise piece is a smaller alternative. In fact, the La-Z-Boy Piper Sofa is offered with a chaise and ottoman piece that offers comfort similar to a sectional.
The chaise piece offers great versatility as it has the ability to sit on the left or right side of the Piper. With this, you can adjust the positioning of the chaise cushion to suit a new home.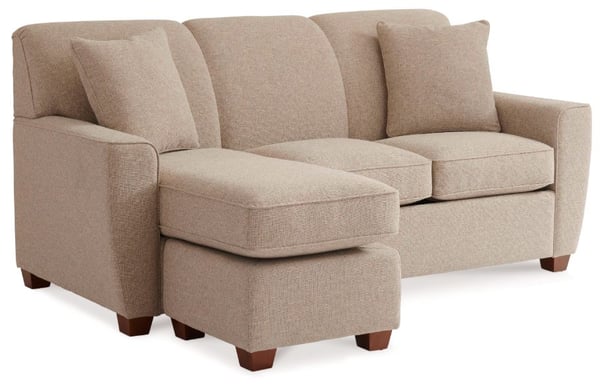 A great way to complete a small living room arrangement is with a chair. La-Z-Boy offers a variety of compact accent chairs and we even have a selection of Recliners for Small Spaces.
When it comes to reclining furniture, both chairs and sofas, La-Z-Boy offers a "Wall Away" option. Wall Recliners can recline mere inches away from the wall and are a great choice for those looking to save space.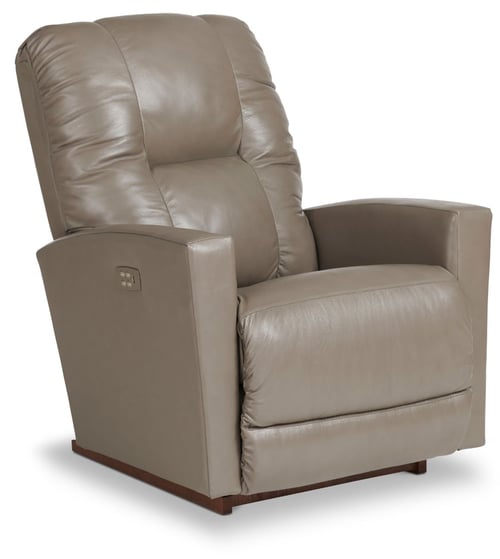 Not only will this furniture fit into a small PMQ home, but it will effortlessly fit through some of the smaller doorways. With small doorways and a small floorplan, it is extremely important to measure a PMQ home prior to selecting furniture.
Check out, How to Measure a Room for detailed instructions.
Keep in mind that although Mary Lee recommends sizing down, there is no need to sacrifice comfort! At La-Z-Boy, we pride ourselves on producing furniture of quality materials and craftsmanship, no matter the size.
2. Invest in Multifunctional Furniture
Second, Mary Lee highly recommends multifunctional furniture.
She compares living in a small space to living on a boat, "everything should have 2-3 purposes".
Given that PMQ Housing offers minimal square footage, multifunctional furniture ensures that each square foot is being optimized.
Multifunctional Furniture at La-Z-Boy
In addition to small furniture, La-Z-Boy also offers a variety of multifunctional furniture that is ideal for Military Housing.
Mary Lee first suggests investing in a sofa bed. A sofa bed has the ability to transform into a comfortable bed for overnight guests, essentially turning a living space into a spare bedroom.
You may consider one of the Top 5 Sofa Beds at La-Z-Boy Ottawa & Kingston. While sofa beds at La-Z-Boy are offered in full or queen, Mary Lee recommends the full-size sofa bed in terms of size.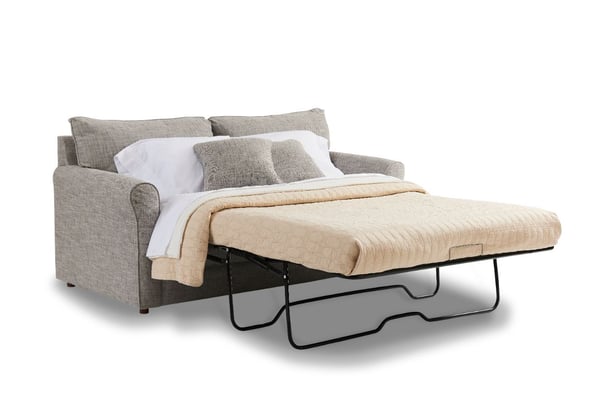 Moreover, La-Z-Boy also offers sleep chairs, such as the Leah Twin Sleep Chair. If you don't have space for a sofa bed, a Sleep Chair can offer an extra sleeping space on an even smaller scale.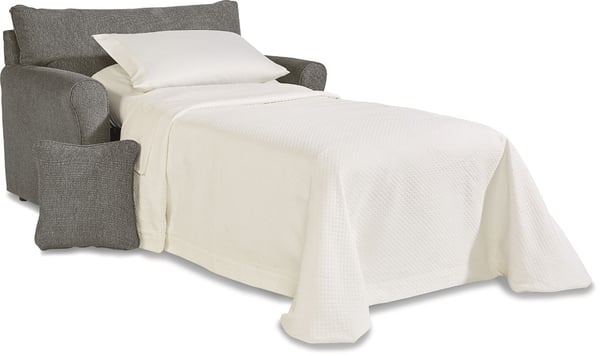 Another example of multifunctional furniture at La-Z-Boy is the Leo Ottoman. Mary Lee loves the Leo Ottoman because it has so many purposes. It can be used as a seat, the top can flip over to become a table, and the middle of the ottoman offers extra storage space.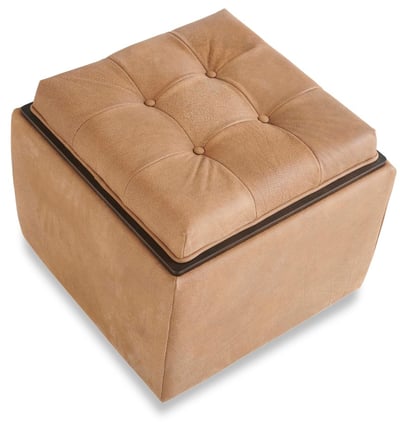 She also suggests purchasing a coffee table that has shelving and drawers. Take a look at the Darrington Rectangular Cocktail Table or the Fortune Rectangular Coffee Table.
Finally, Mary Lee thinks our nesting tables at La-Z-Boy are pieces of furniture that serve multiple uses and take up little space. Two side tables, for the price of one, can easily expand to provide two surfaces, and just as easily be tucked away into each other.
Take a look at the Leone Nesting End Tables.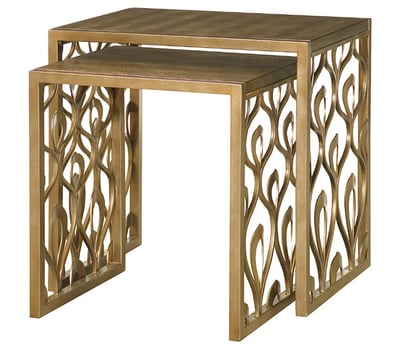 3. Create a Neutral Colour Scheme
Next, Mary Lee suggests choosing upholstery furniture that has a neutral colour palette.
She says, "neutral colours go with everything". By choosing neutral furniture, you ensure that your selection suits your current PMQ home, and perhaps another PMQ home if the family is relocated.
With this, Mary Lee says to use colourful accents, such as pillows or area rugs, to liven up the space.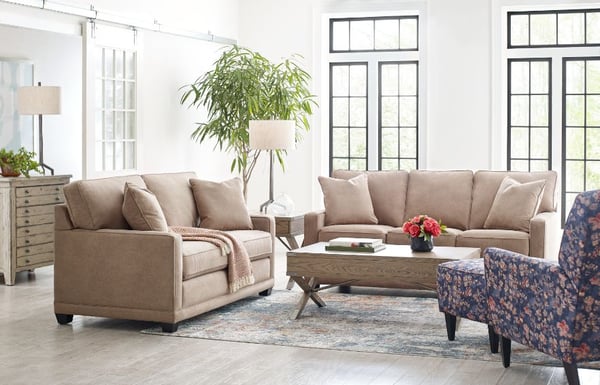 Upholstery Customization at La-Z-Boy
At La-Z-Boy, all upholstery furniture is customizable. A significant part of this customization is choosing your desired upholstery cover.
La-Z-Boy has over 800 fabrics and leathers to choose from, and of this selection, there are many neutral fabrics and textures available.
We understand that choosing a fabric isn't easy, especially with so many options available. To weigh your options, take advantage of our free swatch program. Choose up to three fabric swatches and they will be mailed to your doorstep.
4. Go for Durability
PMQ Housing is home to many children and pets! We all know how rambunctious young kiddos and furry companions can be, so Mary Lee recommends purchasing furniture with highly durable upholstery.
Further, Mary Lee explains that many PMQ homes are built without a mudroom. In turn, family members walk right into the living room, making it a challenge to keep dirt off the floors.
She suggests also purchasing an area rug that is made of durable materials such as polypropylene or polyester, to resist dirt and odour build-up.
Performance Fabrics at La-Z-Boy
Among our extensive fabric selection at La-Z-Boy, we also offer a variety of performance fabrics that have superior stain and fade-resistant properties.
Mary Lee suggests the following performance fabrics for durability and cleanliness ...
iClean
Innovative iClean technology surrounds each fabric fibre, creating a barrier that repels spills before turning into stains.
Pet Friendly
Pet Friendly Fabric is tested and formulated to withstand the scratches and wear that a pet can cause, to ensure a durable and easily washable fabric.
Antimicrobial
Antimicrobial properties surround each fibre to protect against mould, mildew, and odour-causing bacteria.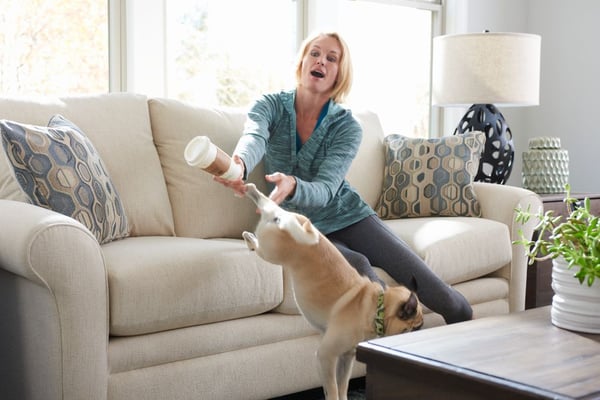 5. Accessorize with Lamps
Mary Lee also sheds light on the fact that most Military Homes were built with insufficient lighting. No pun intended!
Back in the 1950s, homes were built without pot lights and typically had one single ceiling light.
In turn, Mary Lee suggests brightening the space with table lamps.
Table Lamps at La-Z-Boy
La-Z-Boy offers a wide range of accents and decor, including a variety of stylish table lamps.
A design consultant or interior designer, like Mary Lee, would be happy to help you pick out a table lamp to suit your space. Perhaps a small table lamp that complements your furniture arrangement.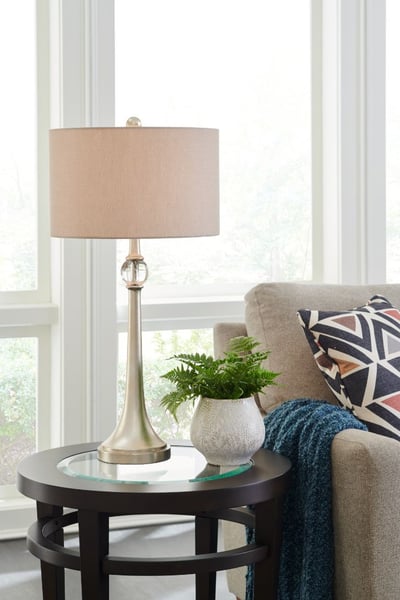 6. Work with an Interior Designer
Finally, Mary Lee suggests working with an interior designer to create a seamless furniture arrangement ideal for your current and future Military homes.
More specifically, Mary Lee says an expert designer can help you choose living room furniture that can be arranged in two to three different ways. This will provide confidence that your living room furniture will fit comfortably in any space if you were to relocate.
Interior Design at La-Z-Boy
At La-Z-Boy, we offer complimentary interior design services. Our expert team of designers will help you choose furniture and create a stylish room design based on your unique needs, preferences, and space.
For more information, Interior Design Services at La-Z-Boy: What to Expect.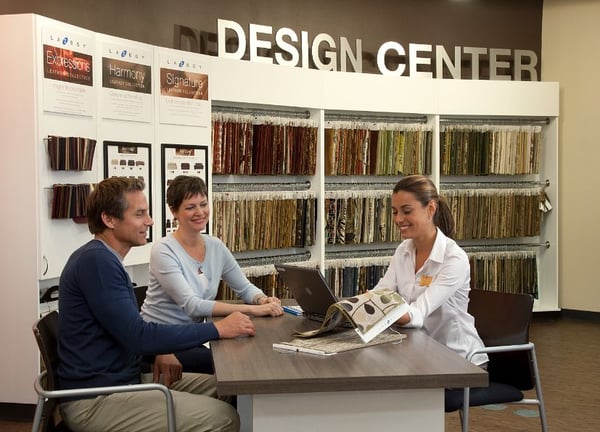 Military Discount at La-Z-Boy
Last but not least, it is very important to emphasize the fact that La-Z-Boy offers a Military discount on our products.
At La-Z-Boy, we offer Military families 10% off regular price products. This discount cannot be applied to any promotional offerings.
To receive this discount, simply show a design consultant your Military credentials.
What's Next?
If you are a Military family who resides in PMQ housing, we hope you found this article helpful!
If you find yourself stationed to CFB Kingston, our design consultants at La-Z-Boy Kingston would be happy to help you find the perfect furniture arrangement for your home. Something stylish, comfortable, and compact that can move with you anywhere.
Further, the Kingston interior designer, Mary Lee, can help you customize your furniture selection and create a personalized floor plan that fits seamlessly in any space.
Get started today by visiting us at the local Kingston showroom. If you prefer to plan ahead, schedule a visit online.
We can also help you at any of our Ottawa locations as well!
Related Links:
Small Space Design for Condos and Apartments
10 Interior Design Trends to Look Out for in 2022
Product Info Request
Please provide us with your name and email and we'll get back to you as soon as possible regarding this item.