Polanco vs. La-Z-Boy: A Comparison of Living Room Furniture Retailers
July 20, 2022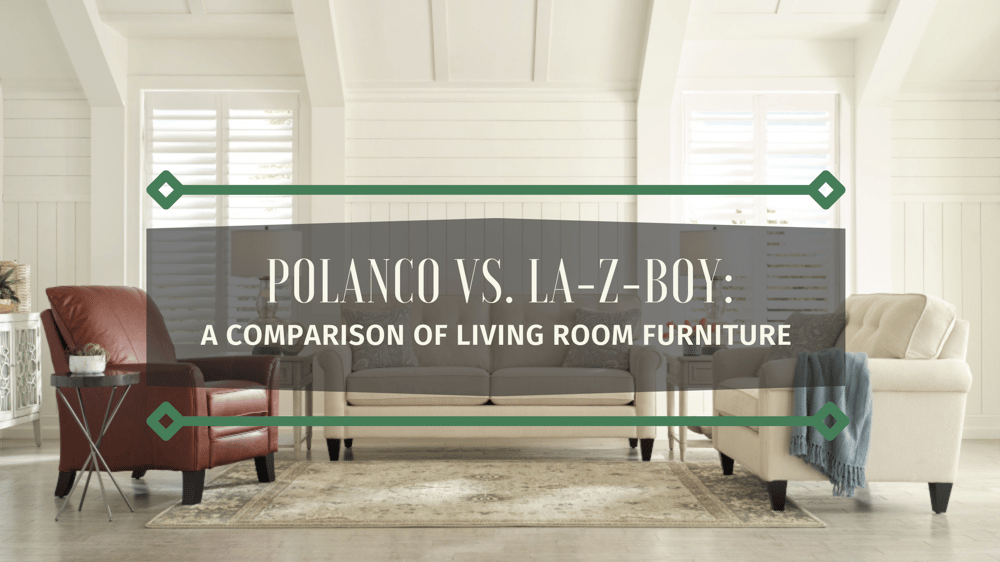 Est. Reading Time: 9 Mins
When looking for great quality furniture, there are many different places in Ottawa to choose from. Whether you're looking in a suburb like Gloucester or shopping closer to the city in Hunt Club, there are many different furniture stores scattered across the Ottawa.
However, with so many good-quality furniture stores, how will you know which store is right for you?
At La-Z-Boy, we are known for selling high-quality and comfortable living room furniture. More specifically, we are known for the infamous recliner chair.
While we are proud of the products and services we offer, we also realize that we are not always for everyone. With this, we look to our competitors and compare their furniture selection and services.
Take Polanco, for example. This local Ottawa furniture store sells good quality furniture as well, much like La-Z-Boy. So, with that being said, how does Polanco compare to La-Z-Boy?
This article will take a look at the different furniture selections and services that both Polanco and La-Z-Boy have to offer. This will hopefully give you a better perspective on which furniture store is right for you.
In This Article…
Brief Descriptions of Each Retailer
Before we dive into the detailed comparison, let's familiarize ourselves with both retailers.
Polanco Home Furniture Ottawa
Polanco (otherwise known as Polanco Home Furniture & Interior Decor Solutions) is a family-owned business that has been operating in Westboro since 1999.
For the past 20 years, Polanco's main goal has been to build long-lasting furniture products, as well as make long-lasting relationships with clients.
Polanco also prides itself on having knowledgeable consultants at a customer's disposal, so they can answer any questions a client may have. These consultants not only offer furniture selections but can also help with interior decorating.
Polanco has also consistently won Ottawa's top choice furniture retailer for 6 years straight.
La-Z-Boy Ottawa & Kingston
La-Z-Boy is an American company that was first established in Michigan, United States over 90 years ago.
Although an American-born company, the Ottawa and Kingston locations have been locally owned and operated by the Maxwell family since 2011 and have been a successful branch of the furniture company since its inception.
La-Z Boy prides itself on its furniture quality, style, and comfortability, which is why one of its popular phrases is "style meets comfort."
La-Z-Boy's primary specialty is living room furniture, but they also sell furniture for other rooms of the home, including the dining room, and bedroom. Additionally, La-Z-Boy also offers a wide variety of home accessories and decor.
Living Room Furniture Selection
Both Polanco and La-Z-Boy carry a wide range of home furniture to choose from.
With that being said, for the purposes of this comparison article, we will focus on both retailers' living room furniture selections.
Polanco Living Room Furniture Selection
Polanco has living room furniture designed to create stylish contemporary and modern homes. According to their website, Polanco offers sofas, sectionals, ottomans, chairs, coffee tables, and decor items.
With that being said, Polanco outsources all of its furniture from partnered retailers and manufacturers to obtain these Canadian-made furniture pieces.
La-Z-Boy Living Room Furniture Selection
La-Z-Boy focuses on offering comfortable, quality, and stylish home furniture and decor.
With that being said, there is an emphasis on creating high-quality and comfortable sofas, sectionals, and of course, the well-known recliner chair.
La-Z-Boy furniture is offered in stationary, manual reclining, and power reclining. While all of these choices vary in price, it is up to you to decide which option is better.
Aside from upholstered living room furniture, La-Z-Boy also offers a range of occasional tables from the La-Z-Boy incorporated sub-divisions Hammary, American Drew, and Kincaid. This selection includes coffee tables, side tables, and entertainment units. To complete a living room arrangement, you can also find an assortment of accessories and decor.
Where It Is Made
Polanco and La-Z-Boy differentiate greatly when it comes to the origin of their furniture products. Let's take a look at where all of this furniture actually comes from.
Where is Polanco Furniture Made?
As mentioned before, Polanco prides itself in having Canadian-made furniture in its showroom. As mentioned before, Polanco's furniture is outsourced from different retailers and manufacturers, meaning they do not manufacture their own products.
Some manufacturers can be found in Canada, with furniture pieces made in cities as close as Toronto!
All of their products are either hand-made and/or bench-made, meaning the style and details in their furniture is more appreciated.
Their leather selection is also made with the finest Italian leather.
Where is La-Z-Boy Furniture Made?
First, it is important to highlight the fact that all furniture sold at La-Z-Boy is manufactured by La-Z-Boy.
La-Z-Boy is a global manufacturer operating in North America, Asia, and Europe. La-Z-Boy's products are primarily made in North America for North American markets, with their global headquarters being in Monroe, Michigan.
Our recliners, chairs, sofas, and sectionals that are sold in Ottawa and Kingston are mostly manufactured in Dayton, Tennessee.
For more information, check out the article Where La-Z-Boy Furniture is Made.
Customization Options
Not everyone sells it, but custom furniture is becoming a popular demand for homeowners nowadays. When it comes to customization options, there is a lot to discuss between both Polanco and La-Z-Boy.
Polanco Furniture Customization Options
Along with their Canadian-made regular furniture, Polanco does sell custom manufactured furniture, at the request of a customer.
According to Polanco's website, their furniture options and customizations "help tailor your living room, allowing for a space that is unique to the rest of your room."
Like La-Z-Boy, Polanco offers both stationary and reclining chairs, as well as different sizing options for sofas. Customers can choose to change the depth and width of a sofa (loveseat, apartment-size, etc.), change the upholstery cover, and select a wood leg finish colour.
With ottomans and coffee tables, customers can also customize the wood finish colour and the upholstery cover.
La-Z-Boy Customization Options
Similarly, upholstery furniture at La-Z-Boy is highly customizable.
With over 800 fabrics and leathers to choose from, there are many possibilities to make your furniture unique to your own personal style.
Aside from upholstery customization, La-Z-Boy living room furniture is also customizable in wood finish, nailhead trim, and welt trim, depending on the chosen frame.
Further, furniture items at La-Z-Boy have many upgrades, such as the upgrade to power. With power, select models are available with even more additional upgrades, such as heat & massage, power lift options for recliners, and adjustable headrest & lumbar.
Power furniture at La-Z-Boy requires control panels and remotes to use them. To learn more about using our Control Panels & Remotes, check out this article.
It is important to remember that all upgrades at La-Z Boy come at an additional cost.
Learn more by reading Custom Furniture at La-Z-Boy: What to Expect?
Interior Design Services
Whether your living room furniture is customizable or not, interior design services can be helpful in ensuring that the style of dining room furniture fits seamlessly into the design of your home.
Polanco Interior Design services
Polanco does offer some form of interior design services. More specifically, they offer decorating services and consultations.
Polanco's decorating service allows customers to redecorate any room of their choosing, with the assistance of an interior designer, of course. This plan includes a detailed floor plan with proposed furniture placement, a shopping list of Polanco furniture & decor items, as well as a paint colour proposal.
On top of that, Polanco also offers clients preferred pricing on all items purchased:
One Room: $250

Two Rooms: $350

Three Rooms: $450
With design consultations, customers have the ability to request an in-home decorator, giving them a more custom and personalized experience. This hourly paid service allows customers to specifically ask for the following consultations:
Space Planning/Layouts

Furniture & Decor Selection

Lighting Selection Consultation

Paint Colour Consultation

Window Treatment Consultation (Drapery, Blinds, etc.)

Renovation Consultation
The cost of these hourly services is $120/hour.
If you are comparing the cost of interior designers, check out the article How Much Does an Interior Designer Cost in Ottawa & Kingston?
La-Z-Boy Interior Design Services
In contrast, La-Z-Boy does offer complimentary interior design services in our stores. La-Z Boy's interior designers will work with you one-on-one to offer personalized furniture and design recommendations.
In turn, they will create a complete room design based on your personal style and preferences. Moreover, you will receive a complete room mood board and a 3D model of your room design before finalizing your order.
You can either set up an appointment or book a virtual call to work with an interior designer.
For more information, check out the article Interior Design Services at La-Z-Boy: What to Expect.
Cost
Polanco and La-Z-Boy furniture vary slightly in terms of cost.
Ultimately, the quality of materials and craftsmanship impacts the overall cost of the products sold at both Polanco and La-Z-Boy.
Generally speaking, furniture at La-Z-Boy falls within the mid to high price range on the market. In contrast, Polanco is around the same ballpark but seems to fall more towards the higher price range.
Given that the products from Polanco are made by a range of manufacturers, the quality and price of their product selection are broader.
Cost Breakdown: Polanco vs. La-Z-Boy
Below is a cost breakdown of both Polanco and La-Z-Boy living room furniture.
Keep in mind that prices for living room tables, seats, and storage units at Polanco are varied by collection but usually fall under the same umbrella.
| | | |
| --- | --- | --- |
| | Polanco | La-Z-Boy |
| Sofa | $3,500 - $5,500 | |
| Sectional | $5,800 - $10,000 + | |
| Recliner/Chair | $1,800 - $5,000 | |
*All La-Z-Boy prices mentioned in this article are subject to change depending on customizations and general increases. We aim to update all cost-related articles twice per year. This article was last updated on June 17th, 2022. Please contact a design consultant at La-Z-Boy Ottawa or Kingston for an accurate and up-to-date quote of the product(s) you are interested in.
Warranty
Whether you shop at Polanco or La-Z-Boy, there is no doubt that living room furniture is an investment.
Both furniture retailers offer a warranty with the sale of their products in order to help protect the long-term value of your investment.
Polanco Warranty
Polanco does not have a universal warranty for all of its furniture.
The warranty is based on the retailer where the furniture product is manufactured. In turn, the warranty on furniture sold at Polanco will vary depending on the manufacturer of the product.
La-Z-Boy Warranty
The quality of La-Z-Boy's furniture is known to last as a long-term investment.
Should anything happen to your furniture if purchased at La-Z Boy, La-Z-Boy products carry a manufacturing warranty that covers damage caused by manufacturing error or workmanship.
The mechanical and frame parts are covered for a lifetime while other parts are covered for 1-3 years. This warranty is applicable across all upholstery categories on a consistent basis.
Take a look at the article Are La-Z-Boy Recliners Guaranteed for Life for a detailed breakdown of the recliner warranty at La-Z-Boy.
At an additional cost, La-Z Boy also offers an extended protection plan that covers up to five years of accidental damage. Depending on the product, the cost of this warranty is relative.
To learn more about this extended warranty, check out our article to see if La-Z-Boy's Extended Warranty is Worth it.
Delivery
Polanco and La-Z-Boy both have different delivery services available for an additional cost. To learn more details about specific delivery fees to your area, contact the retailer.
Polanco Delivery
At Polanco, local delivery costs about $125. This delivery fee stretches pretty far out of town, servicing neighbouring townships like Renfrew.
However, because Polanco is locally owned and operated, any delivery that is far out of town will affect the cost. Out-of-town deliveries can range up to $200 or higher depending on how far out it is. If you're from Kingston, the delivery fee would be $250, for example.
Delivery services include white glove delivery with furniture assembly, which does not have an additional cost. Polanco delivery people assemble the furniture in the home. They will then remove all plastic wrapping and packaging materials that the furniture may have come in.
La-Z-Boy Delivery
Similarly, La-Z-Boy offers a white glove delivery service that includes set up, assembly, re-arranging furniture, and the disposal of old furniture at an additional cost.
At La-Z-Boy, local Ottawa & Kingston delivery costs $129.99 and out-of-town delivery costs $169.99.
With La-Z-Boy delivery services, an existing piece of furniture can also be moved somewhere else in your home at no additional cost. Further, if you have taken advantage of the design services, the delivery men will set up your furniture based on your predetermined floor plan.
Additionally, we offer the option to dispose of any old furniture in a local landfill at an extra charge of $40 / per piece.
To learn more about delivery at La-Z-Boy, check out our delivery service page: La-Z-Boy Ottawa and Kingston Furniture Delivery Service.
Where to Buy (Ottawa & Kingston)
As you decide where to shop, you will notice that La-Z-Boy has many Ottawa & Kingston locations listed below, whereas Polanco only has one Ottawa location.
Polanco Furniture Locations
La-Z-Boy Locations
What's Next?
After reading this article, you are now more knowledgeable about two local furniture retailers in Ottawa. But the question remains, which store is the right one for you?
Now that you know all of the key differences between Polanco Furniture and La-Z-Boy, it is up to you to make a decision and choose the retailer that will best fulfill your living room needs.
Visit one of our La-Z Boy Ottawa & Kingston stores today or schedule a visit online before coming in.
Our design consultants are always eager to lend a helping hand. Take advantage of our complimentary interior design services to see how your living room furniture could fit in your home.
Related Articles:
The Brick vs. La-Z-Boy: Accent Chairs
Review of La-Z-Boy's Paxton Sectional
Product Info Request
Please provide us with your name and email and we'll get back to you as soon as possible regarding this item.