Where to Get Custom Furniture in Ottawa
February 28, 2023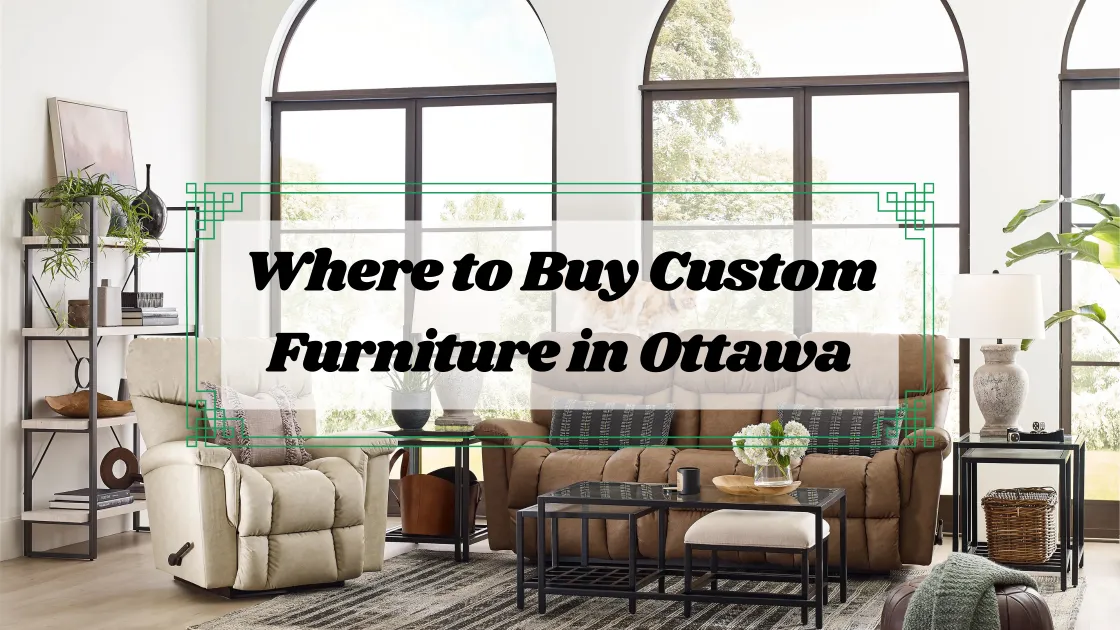 Est. Reading Time: 5 Mins
When deciding what furniture you want to purchase, are you looking for generic, run-of-the-mill furniture, or are you looking for something that speaks to you on a personal level?
Sometimes there's one thing we see on a furniture piece that makes us say, "If only I could change this, it would go great with other pieces in my home." With custom furniture, you have the ability to change your furniture to your liking, depending on the number of options available.
As a manufacturer and retailer of custom home furnishings for over 90 years, at La-Z-Boy, customers have a wide variety of customization options to choose from.
Depending on the furniture product, you can customize the upholstery from 800 fabric or leather covers, change the wood or glass finish colours, or upgrade to include power controls with most of our recliners.
With that said, even though La-Z-Boy has a custom living room and dining room furniture available, we recognize that we are not meant for everyone. Because of this, we look to other retailers that offer customizable furniture to recommend the best you'll find in Ottawa.
The list of custom furniture in Ottawa is in alphabetical order.
In This Article…
1. Blueprint Home
The first furniture store is Blueprint Home, a custom furniture store that is located on Wellington street. Having originated 20 years ago, Blueprint is the first of its kind in Ottawa, offering "fresh, elegant, and modern style furniture for your home."
In terms of their furniture options, Blueprint offers many products for your living room, ranging from stationary furniture to occasional tables and ottomans to decor items like carpets, lighting and tabletop items.
Within their custom furniture options, there are many available choices. Depending on the product, you can customize the size of the furniture frame, cushion density, the type of style or material you want for smaller chairs, and wood finish colours on arms and legs.
Almost every furniture product can have a different upholstery cover if requested.
| | |
| --- | --- |
| Delivery | ✔ |
| Interior Design | ✔ |
| Warranty | ✔ |
| Financing | ✘ |
Locations:
2. The Emporium
Next on our list is The Emporium, located in the center of town bordering the famous Ottawa Rideau Canal. What sets them apart from the other stores on this list is that they have interesting and unique ways to customize their furniture options.
Not only do they offer furniture for living rooms, dining rooms and bedrooms, but they also sell storage units and household products that can work in any room of your home.
Since this furniture store specializes in wood furniture, they can customize the wood finish and species on your desired furniture piece. What's more, living room furniture products, such as sofas and loveseats, can be customized by size, upholstery, and welt trim.
There are also upholstery treatment options, like adding a slipcover to certain furniture items. Slipcovers are easy to clean since they can be removed and tossed into the washing machine. Plus, they are versatile and interchanged for different fabrics and colours without buying a new sofa.
| | |
| --- | --- |
| Delivery | ✔ |
| Interior Design | ✔ |
| Warranty | ✔ |
| Financing | ✘ |
Locations:
3. EQ3
EQ3 is another custom furniture store found in the bustling streets of downtown Ottawa. Located in the Byward Market, EQ3 allows downtown wanderers to take a break from the hustle and bustle and shop for furniture in a calm environment.
Although their showroom may not be very large, they do offer many options, including furniture for the living room, dining room, bedroom, office, and outdoors, plus other home accessories.
Within their custom furniture options, customers can choose to change the upholstery colour, the size of their furniture and the wood & glass finish colour on certain furniture products.
| | |
| --- | --- |
| Delivery | ✔ |
| Interior Design | ✔ |
| Warranty | ✔ |
| Financing | ✔ |
To learn more about EQ3 vs. La-Z-Boy, check out this article.
Locations:
4. Ormes Furniture
Another locally owned furniture business in Ottawa is Ormes. Initially established on Spark street in 1861, Ormes has been in Ottawa ever since.
Ormes' selection includes anything from the living room, dining room, bedroom and office furniture. Their furniture is outsourced from different retailers and manufacturers to offer options to their customers, including brands like Marshall Mattresses, Stickley and Stressless.
Aside from their furniture selection, Ormes offers a 3-tiered custom upholstery program grouping furniture styles in a price range. Each tier provides higher-quality furniture frames and added customization. This program, however, is limited to specific living room furniture frames, including sofas, loveseats, sectionals and chairs.
| | |
| --- | --- |
| Delivery | ✔ |
| Interior Design | ✘ |
| Warranty | ✔ |
| Financing | ✘ |
To learn more about Ormes vs. La-Z-Boy, check out this article.
Locations:
5. Polanco Home
Polanco Home Furniture is another furniture retailer in the Ottawa area. Not only is Polanco known for their good-quality furniture products, but for their excellent interior design services.
In terms of customization options, Polanco works with many different suppliers to offer various customization options. Since these companies specialize in upholstered and wood furniture, you can choose to custom order almost any product you see on Polanco's website.
What they do offer in specific customization options is harder to determine since each supplier provides different options. For example, one supplier called Handstone focuses on made-to-order wooden furniture pieces, like case goods and dining room sets.
| | |
| --- | --- |
| Delivery | ✔ |
| Interior Design | ✔ |
| Warranty | ✔ |
| Financing | ✘ |
To learn more about Polanco vs. La-Z-Boy, check out this article.
Locations:
6. Timberware
Taking a different approach to custom furniture, Timberware offers a separate service from the other stores on our list. Although not a traditional furniture store, Timberware works on creating unique and custom-made wooden furniture for any room.
From the products shown on their website, Timberware offers and makes many different case goods, such as occasional tables, bookshelves, media units and other wood items like kitchen cabinetry and office desks.
They also offer dining tables, but not dining chairs, since these require higher quality craftsmanship than other furniture pieces.
Moreover, they also offer furniture refinishing services to help refine and restore your beloved wooden furniture pieces.
| | |
| --- | --- |
| Delivery | ✔ |
| Interior Design | ✘ |
| Warranty | ✔ |
| Financing | ✘ |
Locations:
What's Next?
Now that you know some of the best places in Ottawa to shop for custom furniture, it is up to you to decide which store suits your unique needs and preferences.
While you're shopping for custom furniture, La-Z-Boy also has a wide selection of high-quality and comfortable furniture to help you revamp your living space. Whether you're shopping at La-Z-Boy or elsewhere, it is always important to ensure you're properly fitted in your furniture.
You can start shopping by visiting any of our showrooms located in Ottawa or Kingston, or you can schedule a visit online before coming in.
Our design consultants are always eager to lend a helping hand. Take advantage of our interior design services to see how our furniture can fit in your home.
To see a glimpse of what we have to offer, take a look at some of our best-selling furniture items:
Related Articles:
How Long Does Custom Furniture Take to Build?
When is the Best Time to Buy Furniture?
Product Info Request
Please provide us with your name and email and we'll get back to you as soon as possible regarding this item.