Review of the La-Z-Boy Forum Power Recliner
April 29, 2020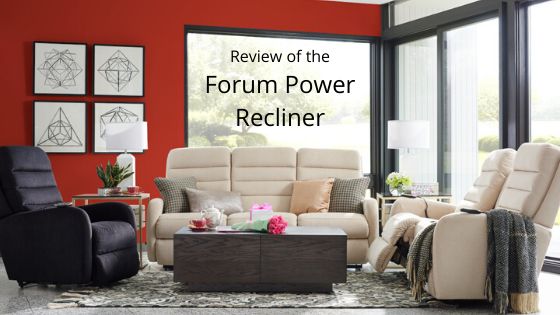 ***Please note that the Forum Power Recliner is currently discontinued. If you like this review, go to

lzb.com

for all the latest Power Recliners available.***
Are you looking to find out more about La-Z-Boy Ottawa/Kingston's number one selling power recliner? You may be wondering what the Forum power recliner's features and benefits are. Is it the right fit for you and your home?
As inventors of the reclining chair back in 1927, you can rest easy knowing your power recliner possesses 90 years of innovative design experience. They provide the smoothest, most secure motion and offer unmatched comfort in every position at the touch of a button.
La-Z-Boy has been making the Forum power recliner since 2015, and it's become our most popular power recliner.
Wendy Tomlinson has been the manager at both our Gloucester and Nepean store locations. She has recently taken on a new role as our 'CFL manager' where she works to support all store managers and helps provide the best possible client experience.
During her ten years with La-Z-Boy, she and her sales consultants have helped fit hundreds of customers to their perfect recliner.
Wendy says, "the Forum is perfect for people who are looking for an attractive recliner with clean lines but also looking for comfort and support."
This review of the Forum power recliner will cover:
1. Features unique to the Forum power recliner:
The Forum power rocking recliner features a tall foam back for extra head support. It has a chaise seat and footrest for continuous leg support and comfort.
The slim, contemporary silhouette is on-trend and ideal for smaller spaces. Use the side-mounted 4-button control panel to recline and raise your feet independently for a wide range of relaxing positions.
2. Dimensions: Forum Recliner
The Forum is thirty-one inches across from outside arm to outside arm with a tall back of 43 inches. It has a very tall back and can accommodate heights anywhere from 5.5" to 5.11".
Wendy says, The Forum has a relatively small scale and works great for people who are "long and lean."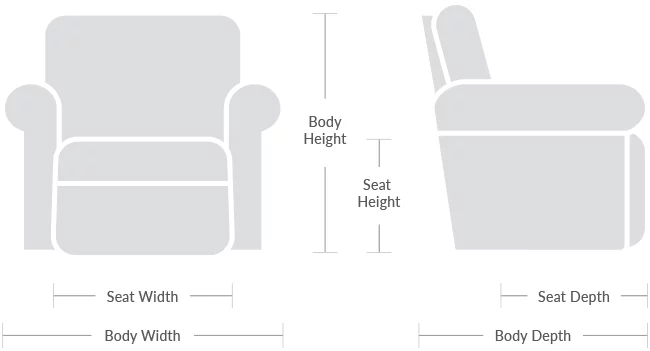 Rocking Recliner Weight: 91 lbs.

Body Depth: 38"




Body Height: 42"




Body Width: 41.5"

Seat Depth: 21"




Seat Height: 20.5"




Seat Width: 21"
Body Width: 31.0
Seat Width: 21.5
Body Height: 43.0
Seat Height: 19.5
Body Depth: 37.5
Seat Depth: 20.0
3. Different Chair Options for Forum Recliner
Rocking Recliner: A manual recliner with a handle on the outside arm to raise the leg rest for reading, relaxing or watching TV. When you're not reclining, it's a relaxing rocker with a smooth, graceful motion.
Wall Recliner: Same as the manual rocking recliner the 'wall away' allows you to place this recliner mere inches from a wall.
Rocking Recliner w/ Massage & Heat: Same as the manual rocking recliner but with heat and massage.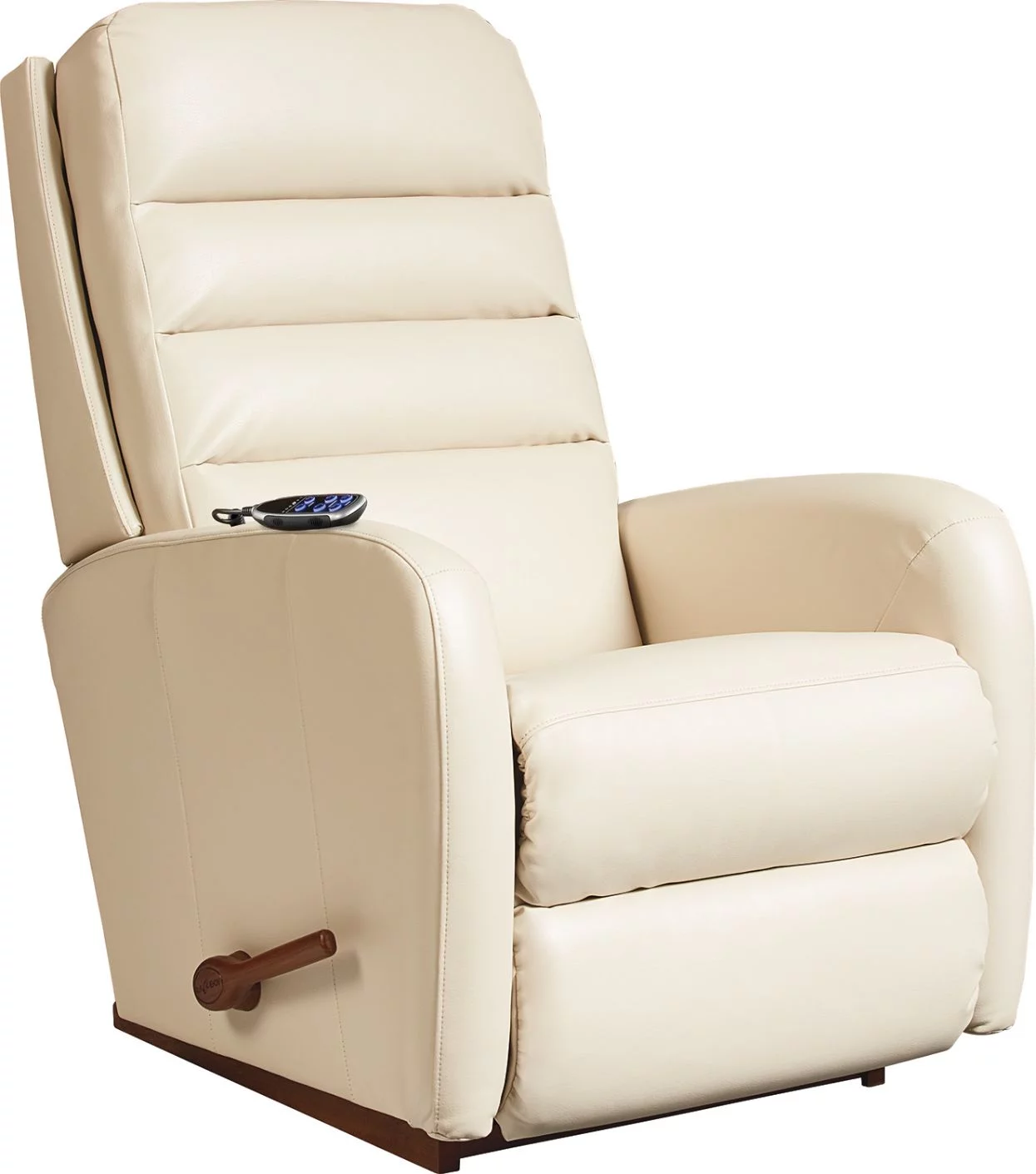 Power Wall Recliner: Same as the power recliner the 'wall away' allows you to place this recliner mere inches from a wall.
Power Rocking Recliner w/ Massage & Heat: Same as power recliner but with the option of heat and massage.
Power Rocking Recliner w/ Head Rest & Lumbar: A power recliner with an unlimited number of relaxing positions. Plus, a USB charging port and two memory settings that save your favourite reclining positions. Available with wall away and heat & massage upgrades.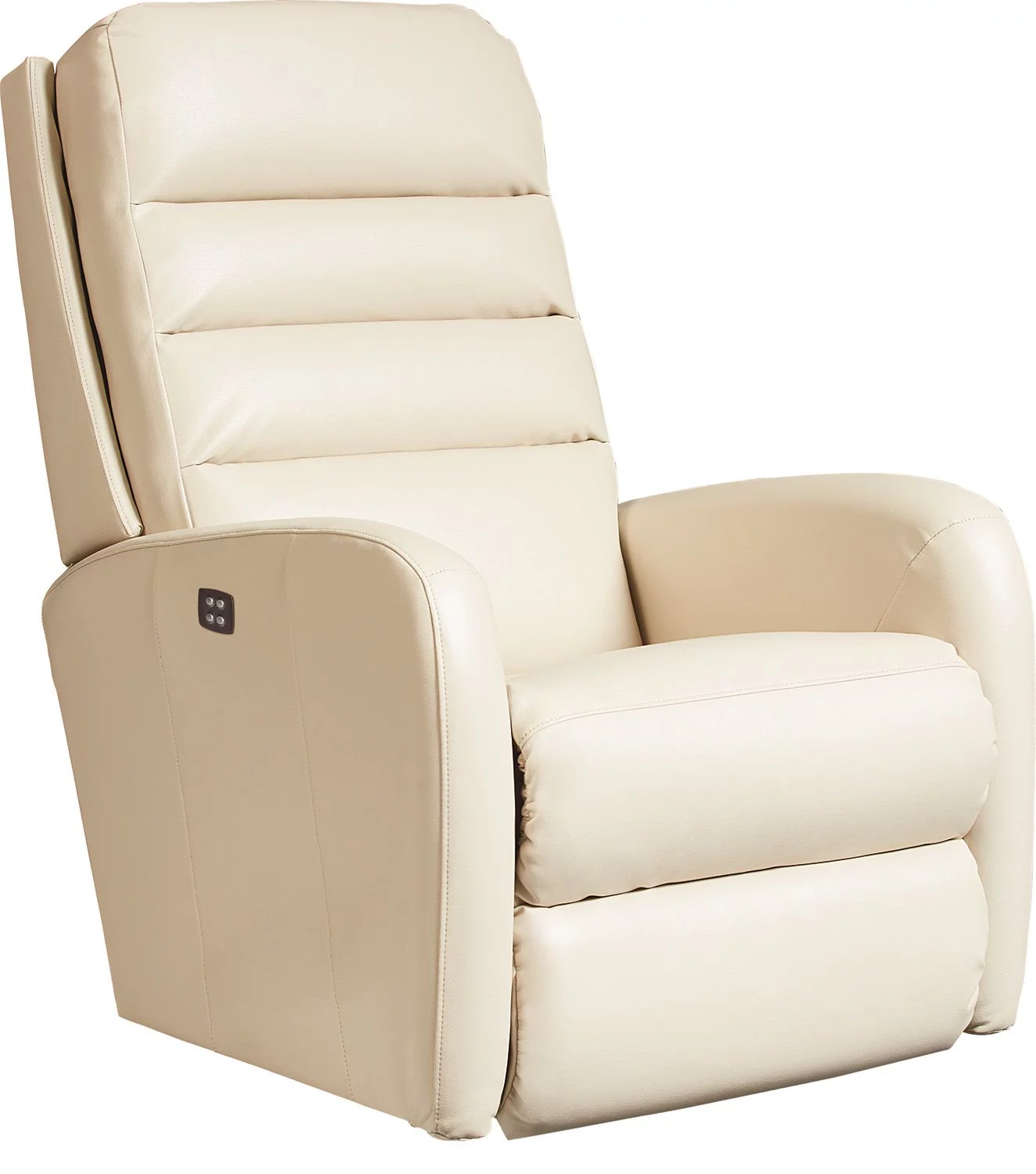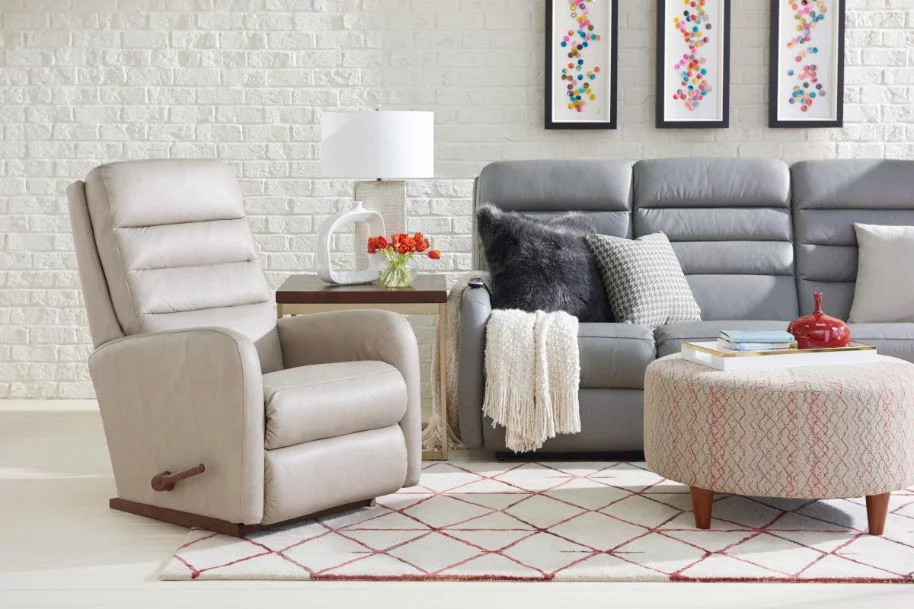 4. Forum Furniture Family
To help you create a cohesive design, La-Z-Boy offers style sets.
Other furniture available in the Forum family includes sofa and loveseats:
Forum Power Wall Reclining Sofa w/ Headrest & Lumbar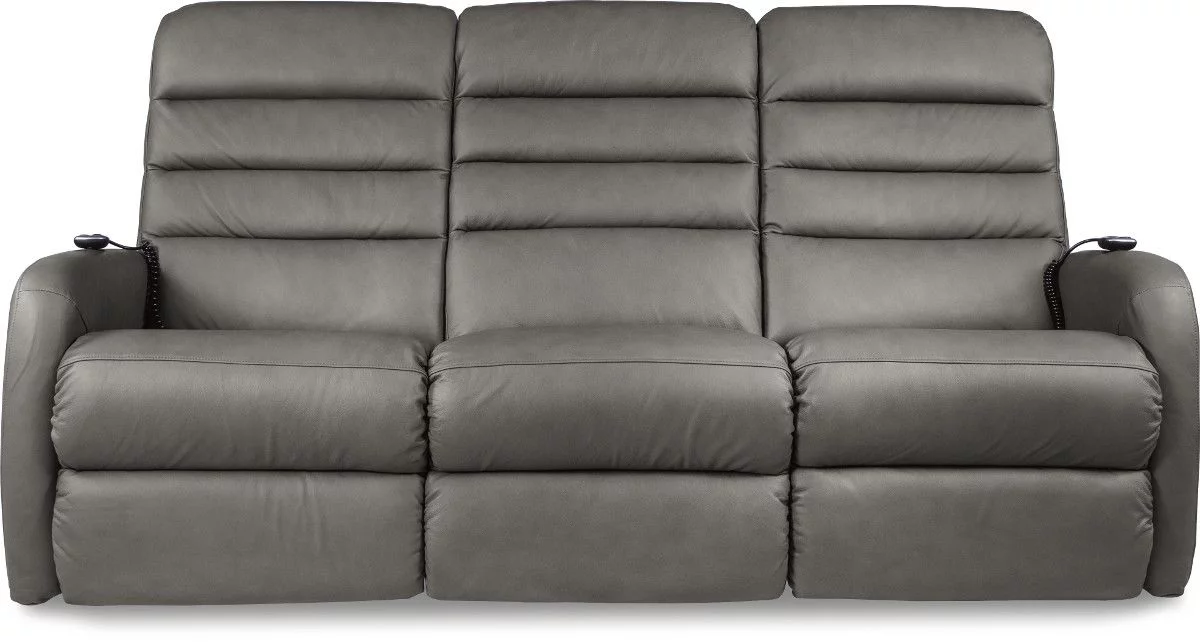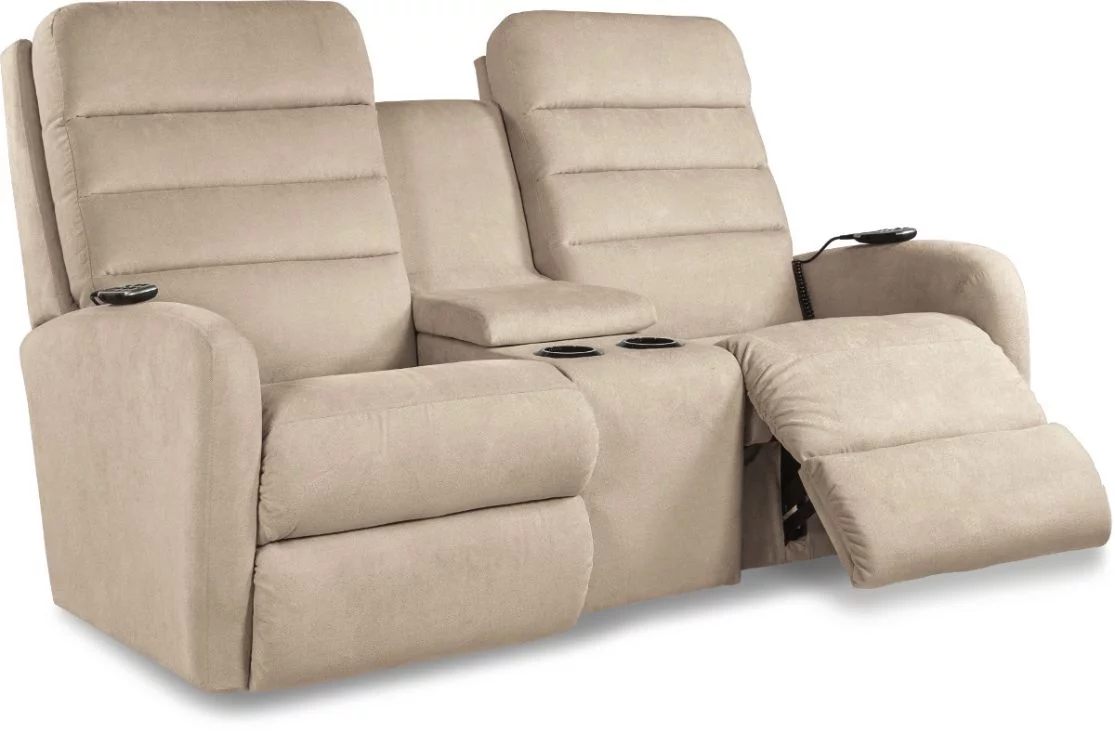 5. Options for the Forum
Fabric:
This Forum recliner is available in over 900 different fabric and leather covers. It comes in a wide variety of colours, patterns, and materials, including iClean performance fabrics.
The Forum is also available in our "conserve" fabric. Soft, durable, and sustainable fabric made out of recycled water bottles. As many as 110 recycled water bottles are used to create a sofa with eco-friendly material.

Seat Cushions:
The Forum power recliner comes with a standard seat cushion or upgrades to an Airform™Seat Cushion.
The Airform cushion provides responsive cushioning and contoured support so you can enjoy the ultimate in comfort. The 2″ layer of airform™ helps reduce pressure with the added benefit of an airform™ layer on the chaise and leg rest for softness and support. Nice if you enjoy a firm seat.
Wood finish options:
Comes standard in brown mahogany but can upgrade to other colours.
Power remote controller options: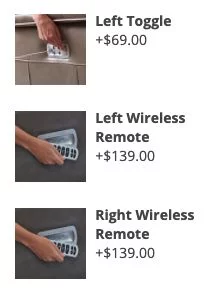 6. How much does it cost?
The cost of a Forum Power rocking recliner starts in the medium level range of recliners. See how much a recliner costs.
Power recliners will cost several hundred dollars more than traditional manual recliners. This is primarily due to the motor and mechanisms included in the construction.
Each rocking recliner style with headrest and lumbar is priced independently. They range from $1500 to $3000 and upwards depending on included options.
Your choice of fabric or leather upholstery is a crucial decision and can significantly affect the price of your recliner. With over 900 hundred cover options, you can custom-create a look that's uniquely yours.
7. Is the Forum power recliner right for me?
Wendy says that the "Forum recliner is perfect for someone long and lean and between 5.4" and 5.11" tall ."
The Forum has a much more narrow fit than our other bestsellers, such as the James, Rowan and Pinnacle. It also has less of a pitch than the others, meaning it sits up straighter.
Although this recliner works for a range of heights, It may not work for the petite or extra tall person.
If you're under 5.4," you should check out the Harbor town or the Collage power recliner.
If you're over 5.11," you should check out the Talladega or the Astor power reclining chairs.
8. What people are saying about the Forum recliner:
This recliner currently has a five-star rating in North America:


"The Forum has the minimalist look of an airline first class seat. But the comfort and flexibility far exceeds that of anything on an airplane!
The power function takes some getting used to as I was accustomed to pushing down the foot support in my previous recliner to get out of the chair.[sic] " Robert P.


"This chair replaced my 21 year old La-z-boy. I wasn't sure if I would like leather but I am so glad I decided to get it. I like the power chair and all it has to offer. In actuality, my son took my old one because it's still in good shape.[sic]" Ron & Tracy D.

"Very comfortable chair and modern design. The chair could be a little wider in the seat but I love the chair.[sic]" S.A.
Next Steps:
You fill your home with your favourite people and things. Your furniture should reflect the many sides of your life – stylish, durable, sensible and full of personality.
Wendy says the Forum power recliner works well for those who like a modern yet comfortable power recliner that sits up straight. Even though the Forum is smaller in size, it fits most people. She says it's often the go-to for couples of different heights looking for matching chairs in their living room.
The quality, style and variety La-Z-Boy have to offer will ensure you find the perfect match for your needs. We are happy to help you navigate all the options and tailor a recliner that is just right for you!
If you're still not sure which one to choose, you can check out our recliners page. Or contact us at any one of our Ottawa and Kingston La-Z-Boy locations for more information.
Product Info Request
Please provide us with your name and email and we'll get back to you as soon as possible regarding this item.