White Living Room Ideas: Pros and Cons
May 4, 2023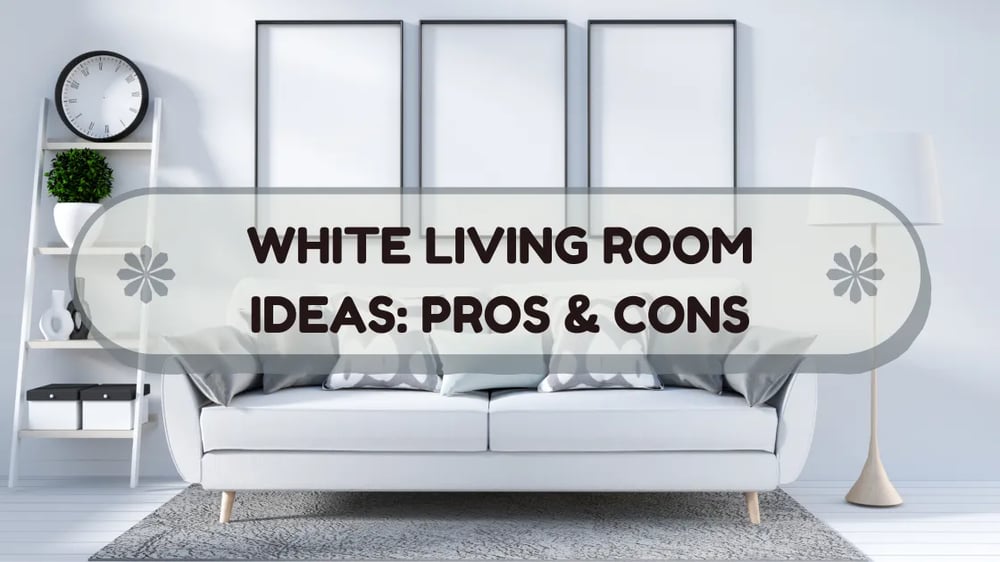 Est. Reading Time: 7 Mins
When developing an idea for your living room, you might have a certain colour in mind for either your furniture or your walls. Or maybe you don't have any colours, and you're struggling to figure out which one will work with your home.
Sometimes a blank canvas can leave us with a creative block, making us indecisive about how we want to approach a certain idea. But what if you embraced the blank canvas? What if your living room was just… white?
A minimalist approach to a living room has been a popular design trend for a while now, and there are no signs of it going anywhere soon. Keeping your walls or furniture a neutral colour, like white, is a prime example of a minimalist aesthetic.
Mary Lee Smyth, the interior designer at La-Z-Boy Kingston, tells us white living rooms can complement almost any aesthetic you're going for. "If you're unsure of an idea, white is always a safe colour because it goes with everything."
Although white can be a useful colour, there might be some drawbacks to the colour you might not know about. This article will tackle some of the pros and cons you might encounter if you choose the colour white for your living room.
In This Article…
Advantages to a White Living Room
Before we take a look at why a white living room might not be a great idea for you, let's share some knowledge as to why someone would prefer one.

1. Minimalistic but Versatile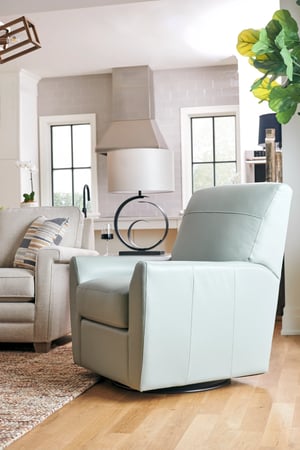 As mentioned before, white living rooms bring a more minimalistic approach to the style of your space. After all, white is one of the more common colours to use in a colour palette since it can go with pretty much everything.
Because of this, we see white and other light neutral colours in almost every room we go in. "It's a break from colour–a visual palette cleanser if you will," Mary Lee says.
Whether used sparingly or liberally, white has a calming effect that can make any space look inviting. It can also add a touch of sophistication, making a room look more pristine and clean.
Using white in your space depends on how you incorporate it. As Mary Lee explains, since white is the most common colour in any room, it's also the most versatile, making it a perfect complement to any style or material you choose.
According to Mary Lee, some materials that can go well with white are leather, glass, wooden barn boards, metal, wrought iron, and more.

2. Play Around with Textures and Focal Points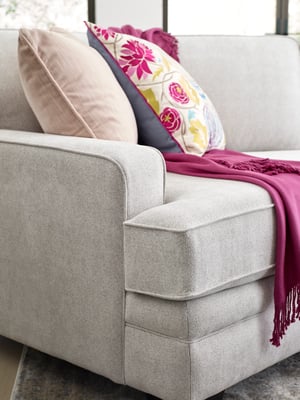 Even though your living room might lack colour, it does not mean that it can't still look or feel appealing. What this means is that you can play around with different materials other than fabric, to help accentuate your room's feel.
With a white living room, textures become a more important part of your room, according to Mary Lee. "You can use a white leather sofa and pair it with a wool rug, for that soft and rugged combination."
And it isn't just physical options that can help accentuate your room's appeal. You can also use colours to your advantage to create focal points.
Now you might be thinking, the point of a white living room is to not have colours, right? Yes, but it doesn't mean any colours are immediately banned from your room.
When people use white or neutral colours in a room, they often highlight other features they want to showcase. For example, colourful focal points, such as paintings or sculptures, can help frame a centrepiece, which can visually capture a guest's eye.
Neutral colours like white can help emphasize specific elements in a room, even if they're not works of art. Perhaps you want an accent colour in your room, and you decide to add coloured pillows, throws or even an accent chair. These components help create an eye-catching accent that pops against a neutral backdrop.
"If you think of the room itself as a supporting cast member and the accent pieces as the main cast, you can easily pick which pieces you want to emphasize in a room," Mary Lee says.
To learn more about How to Choose the Right Wall Art, take a look at this article.

3. Easier to See Flaws
While this might sound like a disadvantage more than an advantage, easily pinpointing mistakes in your room can be a good thing.
If you're someone who likes to pay attention to detail, you might notice that there are chips or flakes on your wall before guests do. If that's the case, keeping your walls white might be better for you in the long run.
Not only can you catch mistakes easily, but you can also catch them before they worsen over time.
Mary Lee says if you check your furniture and your walls every week or so, you can stay on top of your living room almost all the time.
4. Open Up Your Living Space
Although some might think white is a bland colour, it can help to effectively open up a room and add brightness. Adding white to your space can create a light and airy atmosphere, making the room feel inviting.
Sometimes adding lighter colours can be better than adding darker colours. The reason is that dark colours like black and brown can make a living room feel more closed and small than it actually is. This might not be so ideal if your space is small.
You could also add a mirror opposite any window. That way, you can open up the space and balance the lighting in your room.
Disadvantages to a White Living Room
While a white living room can entice people, there will always be disadvantages, no matter what. Here are some things to look out for if you want to include white in your furniture or walls.

1. Who is Living with You?
According to Mary Lee, the type of clients wanting a white living room are those who live alone or do not have any children or animals.
Although you might love the idea of including white living room furniture or white walls in your room, there might be some external factors that may prevent you from maintaining this clean colour's appearance.
While white living rooms can look very clean, it is also very easy for them to look dirty. Ever noticed that you clean your white surfaces more around your house than in other spots? White exposes stains, spills and dust more than any other colour.
This means you might feel more inclined to upkeep your living room more often. However, this might sometimes feel difficult, especially if you have any rambunctious kids or messy animals living with you.
And unfortunately, you might even risk seeing permanent stains more easily since your light walls and furniture are more susceptible to this.
2. Be Careful with Lighting
Lighting is everything, especially when your main colour is white. While darker colours can feel like your room is small, sometimes, if you have a lot of white with large windows, you might feel like there's too much light in a room.
This can make you or others feel overwhelmed, making your room look too harsh or too warm for your liking. "Too much white can make people feel like they're in a sandstorm, feeling blinded by all this light and not feeling there's any visual breaks," says Mary Lee.
But it isn't just natural light that can get in your way; it can also be the type of interior lighting you use that affect how your furniture colour looks.
For instance, if you had pot lights to highlight a specific room area, your white sofa may touch that area and appear as two different shades of white. This can cause your furniture to look discoloured, undermining the sophisticated and clean look of your living room.
This is why it is important to figure out the right amount of light and shade of white to put in your space.
According to Mary Lee, incorporating cooler shades of white can mitigate the impact of natural lighting issues. Additionally, placing table lamps strategically between white furniture pieces can help to balance the lighting in the room. "White can be a hard colour to play around with, but once you get that balance in your room, you and your guests will appreciate your room much more."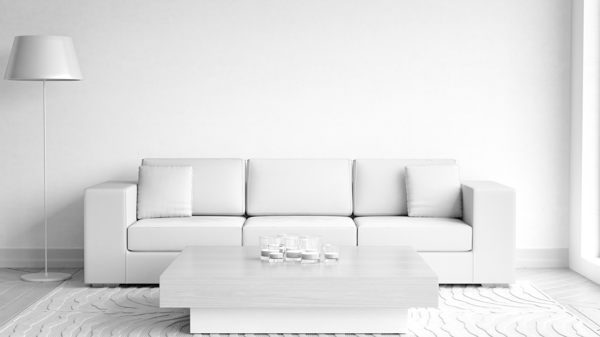 3. Choosing the Right Colour Shade
As mentioned before, white can be a hard colour to tackle. What makes this colour even more challenging is the fact that, like other colours, there are many different shades of white that people can choose from.
When you mix and match different shades of other colours, like purple or blue, it can create a more layered room. However, this does not translate well when adding different shades of white to a room.
Mary Lee says that playing with white can sometimes feel like a minefield. "One wrong step and your whole room is ruined, and it's all because you weren't careful with picking the right shade of white."
Say you were interested in a sea-shell white that looked very clean and pristine. You decide to get different fabrics of that same colour to match your walls and furniture. You have the right shade for your sofa, but there isn't a shade that matches as well for the chair you want.
Instead of a sea-shell white, there's only a beige, creamy white to go with your chair. Since that's the closest to your colour, you go for it. The problem is that your beige creamy white makes your chair look darker and dirtier than the rest of your sea-shell white room.
This is why consistency in an all-white living room does matter. Otherwise, your furniture or walls might stand out for the wrong reasons.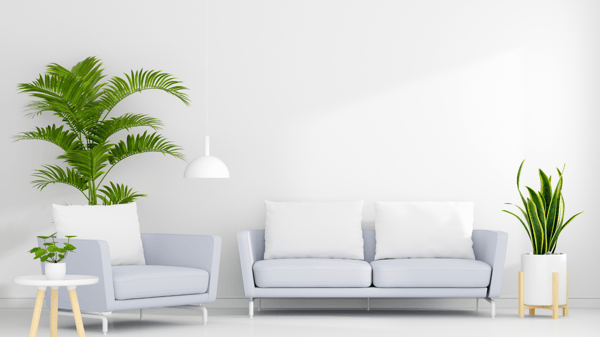 4. White Rooms Can Be Boring
Although white living rooms can seem attractive in theory, you might feel uncertain about whether they're the best choice for you in practice.
If you don't have any colourful art pieces or accent colours in your white living room, or you think the texture isn't enough, you might think your space is bland and lacks creativity.
Some guests might even appreciate your white living room a little too much and feel too conscientious about not wanting to ruin your clean and sterile-looking environment. This can lead to visitors feeling unwelcome and on edge.
While that might be the case, that is totally fine. Although white is a versatile colour and can go with almost any style, it isn't for everyone. Sometimes a blank canvas isn't what it's cracked up to be! Maybe you're someone who loves to see colours mingle with one another.
After all, another popular design trend is the slow progression from neutral colours to colourful rooms taking shape. If you're looking for colour inspiration, like Choosing the Right Sofa Colour, take a look at this article.
Breakdown of the Pros & Cons of a White Living Room
If you're having trouble weighing our important factors, the table below helps summarize all of the pros and cons described above. Take a look!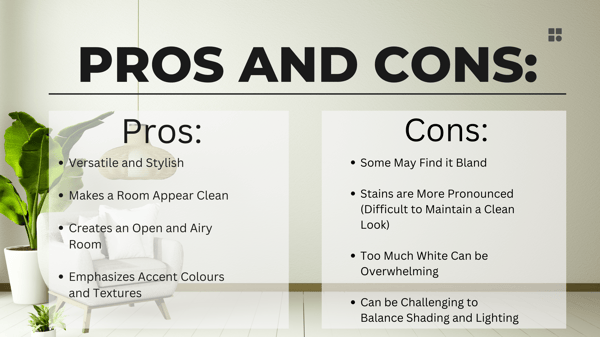 What's Next?
As you can see, a white living room can be challenging to accomplish, but it isn't impossible! With the right approach and design choices, a white living room can be a stunning and inviting space that you and your guests will love.
If you're shopping at La-Z-Boy, for example, you could invest in specialty covers to help protect against stains and messes. To learn more about our iClean, Pet Friendly Fabrics, and Antimicrobial Covers, take a look at these articles.
If you feel as though you still are not making the right decision for your room, don't worry. We can help with whatever problem you might be facing.
At La-Z-Boy, we offer complimentary interior design services to help create the room of your dreams. Our interior designers, along with our expert design consultants, are always eager to lend a helping hand.
If you're interested in learning more about our La-Z-Boy sofas, check out some of these articles:
If you want to speak to someone about your living room, visit us at any of our local Ottawa & Kingston showrooms. You can also book an appointment online before coming in.
Related Articles:
Product Info Request
Please provide us with your name and email and we'll get back to you as soon as possible regarding this item.