Affordable Ways to Furnish your Living Room
January 3, 2022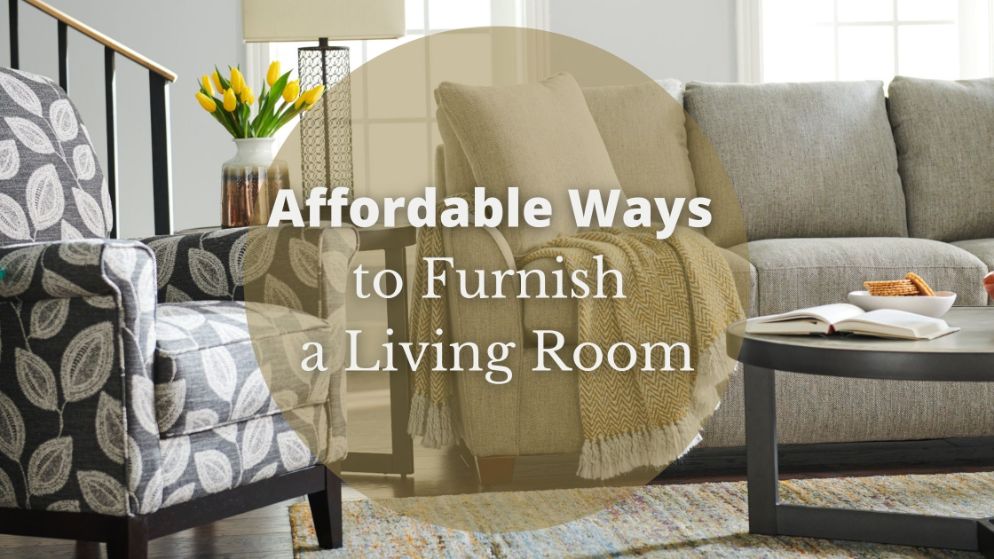 Whether you are furnishing the living room for the first time or redesigning a tired arrangement, furnishing a living room is no cheap endeavour.
Once you account for seating, occasional tables, an area rug, and decor, furnishing a living room can cost anywhere from $2,800 to $7,600.
With this being said, there are strategic and creative ways to furnish a living room on a budget!
At La-Z-Boy, we are known for selling high-quality upholstery and living room furniture. Our interior designers are also experienced in creating stylish and personalized living spaces. In turn, our clients often ask our advice on affordable ways to furnish a living room.
With insight from Mary Lee Smyth, the interior designer in Kingston, this article will outline 6 tips on furnishing your living room on a budget. Further, learn about creating ways to revamp your living room WITHOUT buying new furniture.
In this article ...
6 Ways to Furnish your Living Room on a Budget
1. Identify your Budget & Stick to it
First and foremost, Mary Lee suggests identifying your budget. Set a budget that is realistic and then stick to it.
As you begin shopping, it can be easy to get distracted by shiny and fluffy things. Remember to keep yourself in check and stay within the realistic budget that you set for yourself.
2. Have a Shopping List & Check Off Items Over Time
A crucial step in creating a budget is knowing what you are shopping for. Do so by creating a detailed shopping list of everything you will need to purchase for your living room.
Remember, to stay on budget, you should put your needs before your desires on this preliminary shopping list.
A basic living room shopping list may look something like this:
Sofa
Accent Chair
Coffee Table
Side Tables
Lamp
Area Rug
Window Coverings
Artwork & Decor
Amongst this list, consider some existing living room items that you could repurpose. Perhaps you have some old favourites that could be incorporated into your new design and save you money in the process.
Once you have identified your shopping list, place these items in order of importance or priority.
Mary Lee says the focal point of your living room should be the piece of highest priority. Given that the focal point of most living rooms is the seating arrangement, it is usually a good idea to start by purchasing a sofa.
Remember, you do not have to purchase your entire shopping list all at once, says Mary Lee. The best way to afford a complete living room arrangement is to patiently purchase items over time.
Start with your sofa and slowly work your way down the list as you can afford it, suggests Mary Lee.
Once you have purchased your must-have items, incorporating standout decor is another great way to add style and personality without breaking the bank.
3. Take Advantage of Promotions & Sales
Given that living room furniture can be expensive, you want to make sure you are getting the best bang for your buck. A very effective way of staying on-budget is by taking advantage of furniture promotions and sales.
Luckily, there are many promotions and sales in the furniture industry year-round. With this being said, there are actually specific times of year that are best for buying affordable, marked-down furniture.
The best time to buy affordable furniture is in July!
In July, furniture sales are typically suffering from what is referred to as 'The Summer Slump'. Around this time of year, it is common that furniture sales are low. In an effort to generate more store traffic and increase sales, furniture companies tend to apply discounts on to many of their items.
Additionally, new furniture styles are usually released in August. In order to clear the shelves and make room for incoming stock, furniture stores offer unbeatable "last chance" deals that are tough to say no to.
July is also a great time of year to buy furniture because by the summer months your pocketbook will be fully recovered from the holiday season. You will be able to shop the deals with ease.
4. Invest in Multi-Functional Peices
Another way to save money on your living room arrangement is by purchasing multi-functional furniture. Instead of purchasing two separate items, try to find furniture that serves two purposes in one.
Mary Lee says to "think about living on a boat; with limited space, everything must serve at least two or three purposes".
Some examples of dual-purpose living room furniture are:
Coffee Tables with storage space such as drawers and lift-top designs
Ottomans with an optional hard surface or cushioned leg rest, as well as an interior storage space
Sleep Sofa Beds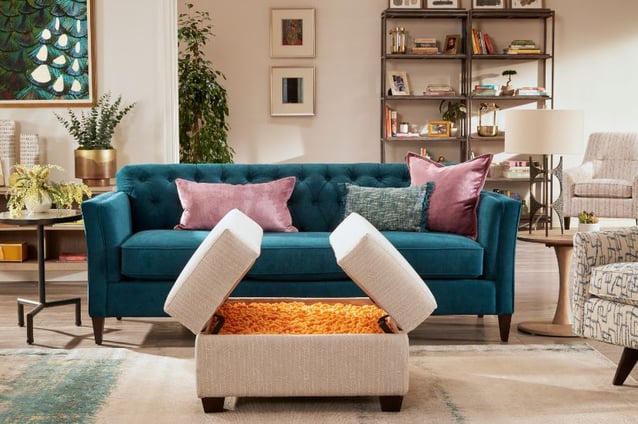 5. Choose Timeless Styles & Create a Consistent Colour Palette
Further, while shopping for furniture, don't only consider what will save you money in the present, but also consider what will save you money in the long run.
To enjoy your investment for years to come, stick to furniture with a clean and timeless style that will outlast trends. When it comes to colour, create a neutral and consistent colour palette. Pick one or two colours and select living room furniture from within those colour families.
A great way to create an affordable, timeless, and coordinated furniture arrangement is by purchasing a pre-selected living room set.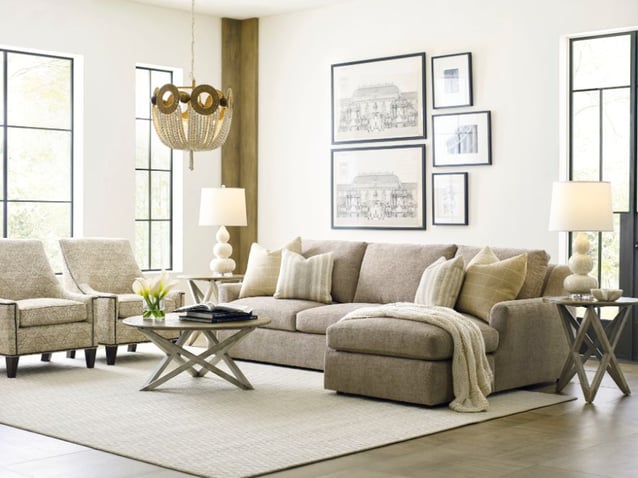 6. Don't Save of Quality !!!
Finally, Mary Lee says the one thing you should NOT save on is quality!
Ultimately, budget-friendly means nothing if the furniture isn't quality constructed, made with durable materials, and designed to last. You will find that cheap furniture pieces with low-quality items will need to be replaced every few years, costing you much more in the long run.
Especially when it comes to a heavily used piece of furniture, like a living room sofa, it is a good idea to invest in something that will last you many years to come.
How to Revamp Your Living Room WITHOUT Buying New Furniture
Perhaps you already have a fully furnished living room but are craving a new and revived design. Before purchasing new furniture, consider the following strategies to revamp your living room arrangement WITHOUT buying new!
Rearrange your Furniture
Before you spend thousands of dollars on new furniture, take a step back and try to re-envision what you already have.
Rearranging a furniture layout is an easy and fun way to create an updated living room design.
Consider 8 Practical Tips for Arranging your Living Room Furniture to gather some inspiration.
Shop in Your Home
Instead of venturing out to the store, shop for new furniture within your own home.
Perhaps there is furniture in other rooms of your house that is being overlooked or neglected. You may be able to find a new use for an old piece of dining room or bedroom furniture in your living room arrangement instead.
If you come across a piece of furniture that doesn't exactly match the colour scheme of your living room, painting or restaining furniture can make it blend right in. With that being said, you wouldn't believe how stylish it can be to mix and match furniture, including mixing patterns and wood tones.
Revive Old Furniture with Reupholstery & New Cushions
Over time, the cover of a sofa or chair can lose its luster. When the upholstery is damaged or outdated, many people face the decision between repairing or replacing … but commonly decide to buy something new.
Before pulling out the pocketbook, first consider reupholstering your sofa for a brand new look!
Simply updating the cover of a sofa or chair can give the piece a brand new look and feel. While reupholstery does come at a cost, it can be cheaper than purchasing new.
Re-Style Furniture with New Cushions
Another way to re-style living room furniture is by buying some new throw pillows. A pop of colour or a fun pattern can make a big difference, bringing new life to your upholstery pieces.
Check out How to Accessorize with Throw Pillows.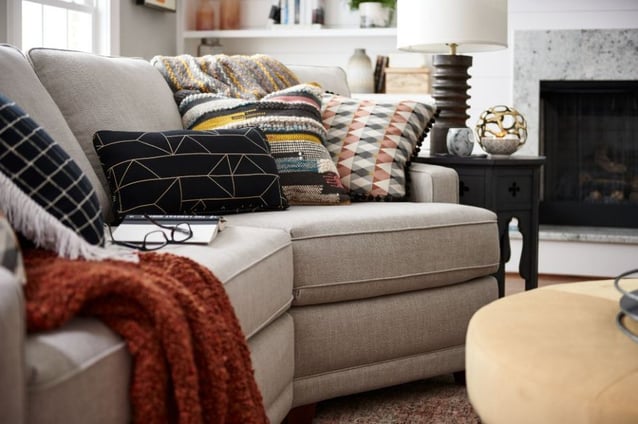 Update the Walls & Decor
Furniture is only one component of a living room. Another way to jazz up the space is to update the walls.
There are many creative ways to decorate your walls, including:
New paint colour
Hang a tapestry
Create gallery wall with photos
Further, decorations and accessories can go a long way in determining the overall look of your living room. Instead of purchasing new furniture, consider updating the decor that surrounds it.
Purchase a new area rug. Hang new drapery. Buy some greenery. Create a new coffee table centerpiece.
Find even more inspiration in the article Ideas for Decorating your Living Room.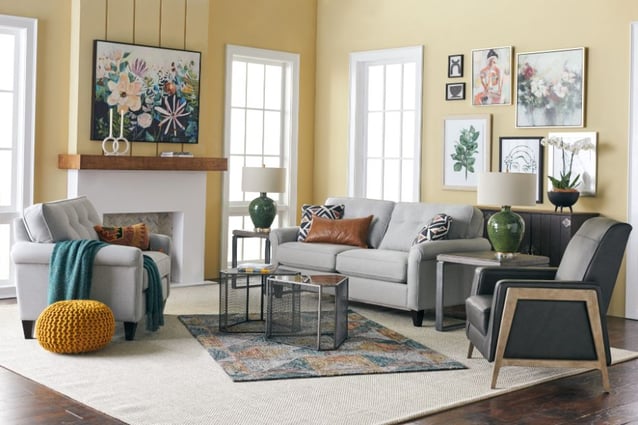 Affordable Living Room Furniture at La-Z-Boy
With an emphasis on quality and comfortable furniture, La-Z-Boy has an extensive selection of living room furniture including sofa, sectionals, chairs, and coffee tables.
With this being said, we understand that La-Z-Boy is known for a high price tag. More specifically, our products at La-Z-Boy fall within the mid to high-end price range on the market. This cost is ultimately reflected in the quality of materials, methods of construction, and longevity of our products.
In order to cater to clients with a variety of budgets, we do our best to offer affordable options.
On-Going Promotions at La-Z-Boy Ottawa & Kingston
We strive to cater to all budgets at the La-Z-Boy Ottawa & Kingston showrooms. If you visit a store or our website, you will notice that we have many seasonal two to three week sales that change throughout the year. Products on sale and discounted for these promotions are identified on the floor with a 'Weekly Special' tag.
We also have designated products tagged in our showrooms as 'Smart Buy' and 'Val-Pak'. These longer, often year-round promotions, are driven by La-Z-Boy corporate product selection and prices. They aim to offer our clients furniture with La-Z-Boy quality at an affordable price point.
Taking advantage of our on-going promotions is a great strategy for furnishing your living room on a budget!
'Weekly Special' Product Promotion
At La-Z-Boy Ottawa & Kingston, we offer an additional discount on a selection of approximately 15-20 assorted pieces of furniture with every seasonal sale.
Unlike the Smart Buy furniture, this discounted furniture selection is constantly changing. You can identify these products by the Weekly Special tag.
To browse our current La-Z-Boy products on sale, take a look at our Sale Page.
'Smart Buy' Product Promotion
The 'Smart Buy' promotion at La-Z-Boy Ottawa & Kingston consists of one item in each of our furniture categories that we handpick to be the category's entry-level price. These furniture frames, offered in select fabrics or leathers, have bargain prices and incredible value. In fact, these items are considered the best value in the showroom in regard to price.
The Smart Buy selection consists of a couple different furniture frames, including a recliner, chair, a stationary and a reclining sofa, and more.
You can identify a Smart Buy item by its tag on the showroom floor. These pieces are not included in seasonal sales and promotions because these are meant to offer our clients an everyday low price.
The selection of Smart Buy products is subject to change about every six months. With that being said, some popular Smart Buy furniture can carry on for years.
'Val-Pak' Product Promotion
The Val-Pak, short-form for Value Pack, is another corporate promotion offered at La-Z-Boy Ottawa & Kingston. This promotion is dictated by the fabric selection.
At La-Z-Boy, each piece of furniture is designed with a small variety of select fabrics in mind, usually about 5-10. These fabrics are chosen to complement the unique look and particular frame of any given product. Further, a piece of furniture in its select fabric offers the best-value, in comparison to customizing the fabric from one of our 800 other options.
To offer an affordable customization option, La-Z-Boy corporate chooses a limited variety of furniture frames in an expanded selection of about 35 to 140 fabrics, give or take. This selection is known as the 'Val-Pak".
La-Z-Boy furniture in a fabric from the Val-Pak is priced at the same cost or slightly higher than the 5-10 select fabrics available providing a lot more cover options.
Val-Pak products and fabrics can be identified by a tag.
Amongst these discounted products, you will find a range of Affordable La-Z-Boy Chairs and Affordable La-Z-Boy Sofas.
Furniture Financing at La-Z-Boy
Another way to afford a living room arrangement is by financing your purchase.
At La-Z-Boy, we understand that living room furniture, whether it be on sale or not, can put some strain on the pocketbook.
That is why at La-Z-Boy, we have a partnership with Flexiti Financing in order to provide furniture financing options for our clients.
With this, La-Z-Boy offers the opportunity to finance your purchase at a 0% interest rate as long as the purchase is paid off within a given period of time. Based on the plan you choose, there are different options available to pay off your investment over either 3 months, 6 months, 12 months, 24 months, or 36 months. Further, depending on the plan chosen, you may be required to pay a financing fee at the time of purchase.
To learn more about furniture financing, take a look at our article Furniture Financing: Everything you Need to Know.
What's Next?
So there you have it! You are fully equipped with the tips and tricks necessary to furnish an affordable living room arrangement.
If you are interested in purchasing living room furniture at La-Z-Boy, our design consultants would be happy to find you living room furniture that suits your space, style, preferences, and budget!
Further, by taking advantage of our complimentary interior design services, our team of expert designers can help you choose furniture that seamlessly fits into your home design.
Visit us at a local Ottawa or Kingston location to find what you are looking for today. If you prefer to plan in advance, schedule an appointment online.
Related Links:
How Much Does a La-Z-Boy Living Room Cost?
Product Info Request
Please provide us with your name and email and we'll get back to you as soon as possible regarding this item.