How to Properly Maintain Your Area Rug: 8 Maintenance & Cleaning Tips
September 2, 2022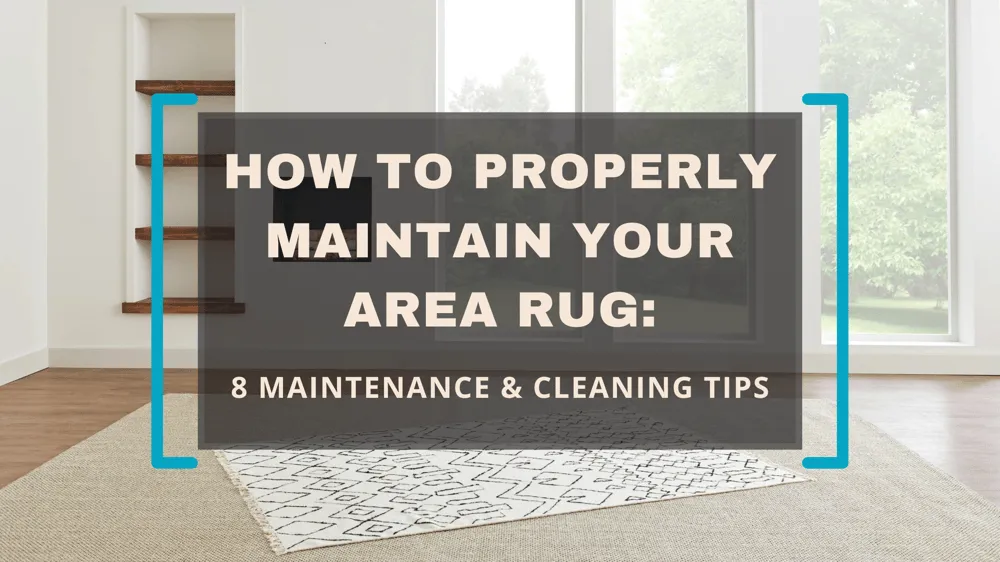 Est. Reading Time: 8 Mins
Picture this…
You're relaxing in the comfort of your own home after a long week at work. You decide to whip up a snack because you want to catch up on one of your favourite shows. The snack of the day is chips and salsa; what could go wrong?
Sitting down to enjoy your meal, you think to yourself, "hmm… I'm a little thirsty." As you get up from your seat, you accidentally knock over your chips and salsa.
*Gasp* everything is red and green and full of tomatoes!!! Your pants, your sofa, your ottoman, but worst of all, your area rug. THE HORROR!!
Okay… it might not be as dramatic as that, but causing a mess on any of your furniture items is never a fun moment.
According to Magaly del Castillo, an interior designer at La-Z-Boy Cyrville, area rugs might be one of the bigger items in your living room that suffer from damage that is out of your control. This includes the normal wear and tear of foot traffic, distress from pet claws, occasional crumbs, or accidental spills.
With this, it is important to clean and maintain your area rug over time. However, some things methods of cleaning and maintenance might do more harm than good.
Luckily, we've got you covered. This article includes 8 tips on how to upkeep an area rug properly.
In This Article…
1. Vacuum Your Area Rug Regularly
One of the most effective ways to clean an area rug is by using a vacuum.
Sometimes, things like dirt, dust, and crumbs will accumulate in the crevices of your rug. "You might not notice them, but they're there," says Magaly. In fact, some of these things could create smells after a while, leaving your area rug with an unpleasant odour.
Magaly recommends vacuuming your area rug regularly to ensure that nothing but the materials of the area rug is hiding inside your decor item.
Magaly does warn, however, that some vacuums have higher suction than others. If this is the case, when vacuuming your area rug, make sure to turn your vacuum to a lower setting to prevent what's called sprouting. "You can also remove your beater bar from your vaccume so that the area rug doesn't sprout," she says.
A beater bar is the part of the vacuum that has bristles inside that curve all along the bar. They essentially help push dirt and other solid items into the vacuum. If you cannot remove your beater bar, you can still keep your vacuum at a lower setting.
Sprouting can occur either from animals with sharp nails or from vacuuming your rug in a strong setting. To remove loose sprouts from your area rug, simply use scissors or sewing clippers.
Magaly says to never pull on sprouts, or else more of the materials will get removed, leaving either a gap in the rug or more sprouting to occur.
Rug sprouts are similar to Fabric Pilling, which you can learn all about in this article.
https://www.naturalrugco.com/pages/how_to_clean_your_natural_fiber_rug
2. Clean Spills Immediately
An area rug's worst nightmare is staining. One of the bigger problems people face when owning an area rug is accidentally dropping food or spilling drinks.
If something like this ever happens, it is important to clean a spill up immediately. Otherwise, you'll be left with a potential stain on your rug that will stand out. "It might also blend in if you have a funky pattern in your rug," says Magaly, "But you will know that it's there, which can be very annoying."
Magaly also says the best way to clean a stain off an area rug is by using a paper towel or a white cotton towel. "Never rub, because it'll force the stain deeper into the rug, which could make it permanent," she says.
Rubbing can also help spread the stain to other areas, making it bigger and more noticeable. Instead of rubbing, blotting the stains away is the better solution. Another way to prevent spills or foods from staining your area rug is by using stain removers.
Some manufacturers even have the option to add stain-resistant materials that could prevent stains on your rug. These can be more costly, however, so remember that when considering this option.
La-Z-Boy has stain-resistant fabrics for our furniture products. You can learn more about our iClean Fabrics by checking out this article.
https://koeckritzrugs.com/no-party-fouls-clean-wine-spills-mess-carpets-area-rugs/
3. Be Careful with Certain Cleaning Products
Cleaning products, such as stain remover can be helpful when upkeeping your area rug. However, some cleaning products can do more harm than good.
Magaly always recommends using warm water to help get rid of any stains. "This is the most effective way because you never know what the chemicals in some products can do to your furniture or decor items," she says.
If you do use cleaning products, it is important to choose the right product. The best type of cleaning product for your area rug completely depends on the rug's dying process. You can always find this out on a company's website or by asking the store you purchased your area rug.
With that being said, use even the right cleaning products with caution. Cleaning products of any kind will remain on your area rug for long periods of time, and if they stay long enough, they could cause a smell that is undesirable to you and others. More on odours later.
Magaly also warns never to use Rug Doctors. Rug Doctors are special carpet vacuums that you can use to clean harsh stains off your carpets. If you have an expensive area rug, Magaly says not to use a Rug Doctor because it might cause an odour as well.
If you prefer not to clean a stain yourself, getting an area rug professionally cleaned works just as well, according to Magaly.

4. Watch Out for Shedding
If you have a fur or wool area rug, you may notice shedding. Unfortunately, no matter the quality, all fur or wool area rugs will eventually be shed. That said, vacuuming your rug in a strong setting can accelerate this process.
The best way to avoid lots of shedding is to be less aggressive with your vacuum when going over these softer areas in your room. Any excess fur that's around your area rug can also be vacuumed and dusted.
5. Fold Creases the Opposite Way
Area rugs will inevitably crease. This creasing is caused by the furniture that is placed on top of them or from doors that are in their vicinity.
Although normal, area rug creases are one of the biggest worries, people can have about their rugs. Magaly says old and new area rugs can suffer from folded creases. "When an area rug is packaged," she explains, "it is either rolled up or packaged in a way that could create creases."
No need to worry! There is a solution to this problem. Some rugs, like wool rugs, will eventually settle over time.
But what about an area rug that has creased or folded improperly due to heavy furniture or other factors? If your area rug doesn't seem to be settling after a while, simply fold it the opposite way that the rug is folding. That way, your crease balances out on each side, eventually letting your rug settle.
https://www.smartchoicecarpet-ny.com/oriental-rug-repair/blocking-and-stretching/
6. Avoid Colour Fading by Rotating
Keeping your area rug looking presentable is also important in keeping your living room looking fresh and clean. This means you should watch out for colour fading.
Mostly due to sunlight, rug fading is a potential problem people can face. "Fading happens everywhere," says Magaly, "Area rugs will fade, fabric will fade, leather will fade, you will fade, I will fade, everything fades over time."
Now, you might think that there really isn't much of a solution if fading is inevitable. Well, you're wrong! Even though fading is an eventual occurrence, there are ways to slow down the fading process.
If one part of your area rug is exposed to direct sunlight in your living room, the best thing to do is to simply rotate your rug every 3-6 months so that one side isn't faded too much. "Rotate your square rugs 90 degrees and your rectangular rugs a full 180 degrees," Magaly says.
Magaly also says it's a good idea to cover your windows with blinds or curtains if it's really sunny outside. This is especially effective if you have vibrant colours on your rug, like red or orange, because these colours will fade faster.
If you are in the market for new blinds or curtains, check out The Best Stores for Window Coverings in Ottawa.
7. Be Careful of Odours
Whether old or new, area rugs can smell. Newer rugs tend to carry an odour from the chemicals and materials that the rug is made with. These smells are held within the packaging until the rug has a chance to air out.
These smells will eventually go away slowly but surely, but what about your older rug that has a smell to it? Over time, older area rugs can accumulate a smell if you don't clean your rugs regularly.
That said, cleaning your area rugs regularly can help eliminate most odours that can pile up gradually.
Magaly had this happen to her area rug, not because she wasn't cleaning it regularly, but because after she cleaned it professionally, there was still an odour.
So what did she do? "I put Arm & Hammer all across my rug and waited a day. Then the smell was gone. I vacuumed it up afterwards, and my rug didn't have a smell anymore."
Arm & Hammer is a perfect way to eliminate odours on carpet floors and coincidentally works just as well with area rugs.
8. Purchase an Underlay
You might be wondering what an underlay is. These handy area rug companions are what should be placed underneath the area rug when exposed to hard flooring.
Magaly says that underlays "help protect the bottom of the area rug from scratches and dents that come from your floor, whether its an exposed nail or something else."
The way you place an underlay is by placing the flat side on the floor and then placing the suction cups on the area rug. That way, the underlay stays on top of the area rug at all times without moving.
The underlay also helps prevent the area rug from buckling, lifting or moving altogether.
https://www.walmart.ca/en/ip/mainstays-non-slip-rug-underlay-white/6000197817384
What's Next?
With all of the horrors and worries out of the way, you now have the perfect tips and tricks to keep your area rug looking clean and presentable for everyone to see.
Magaly says area rugs are the perfect cherry on top of your living room decor. If you're looking for an area rug to help complete the look of your living room, why not stop by La-Z-Boy?
La-Z-Boy is not just known for its grand selection of recliners but also has many home decor items available, including Area Rugs.
You can start shopping by visiting one of our local showrooms located in Ottawa or Kingston. You can also schedule a visit online before coming in.
Our design consultants are always eager to lend a helping hand. Take advantage of our interior design services to see how our area rugs could fit in your home design.
Related Articles:
Review of La-Z-Boy's Surya Rugs
Product Info Request
Please provide us with your name and email and we'll get back to you as soon as possible regarding this item.