Best Furniture Items to Sleep or Nap in at La-Z-Boy Ottawa & Kingston
May 16, 2023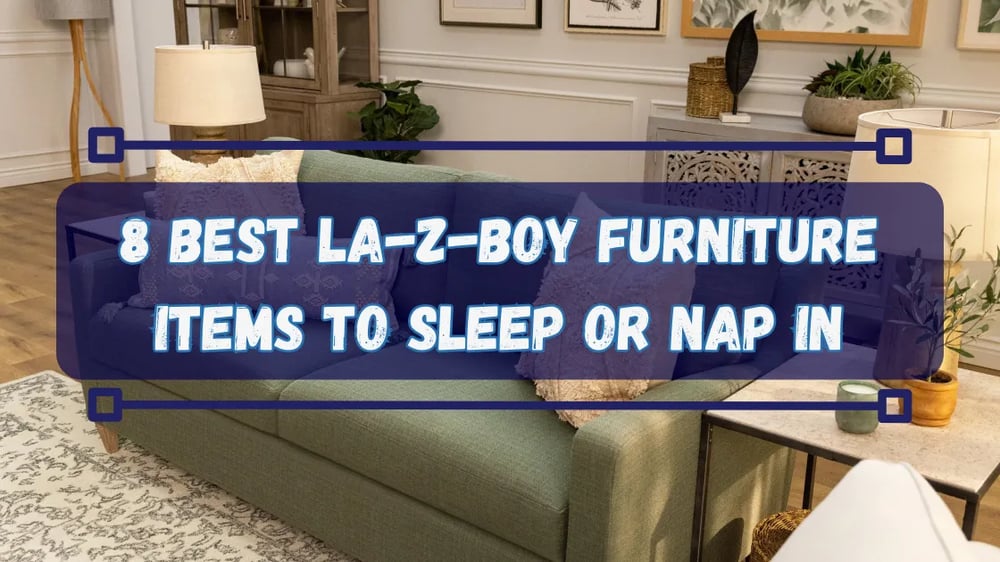 Est. Reading Time: 8 Mins
As you know, sleeping is a fundamental part of everyone's daily routine. In fact, almost a third of our lives is spent sleeping, regaining the energy we desperately need to continue our day-to-day lives.
However, while sleep is normally a habit in the bedroom, some people like to restore their energy levels outside in their living rooms.
Maybe you were passing the time with a hobby and decided it was too much effort to go to bed or you got too comfy in your seat in the afternoon and fell asleep… which is totally fine!
Whether you swear by taking naps during the day or not, everyone is looking for a comfortable furniture piece to lay down on or relax in after a long day.
At La-Z-Boy, there are many comfortable furniture frames to choose from in many different furniture styles. According to Racha Pharaon, a design consultant at La-Z-Boy Kanata, she says "depending on how you use it, La-Z-Boy furniture can be used for anything like sleeping or napping."
So, if you love your daytime naps, La-Z-Boy has you covered in stationary and recliner frames! This article will list 8 best furniture frames to sleep or rest on, handpicked by Racha and other La-Z-Boy staff.
In This Article…
What to Look for When Choosing Comfortable Furniture to Nap In
When looking for a comfortable furniture item, you want to ensure it suits your needs. So, that being said, what should you look out for when choosing a furniture piece to sleep on? What are some key factors to consider when looking at a furniture item?
One of the first things you should look out for is the fit of the sofa. This means ensuring that you feel comfortable sitting and lying down on it. After all, you wouldn't want an uncomfortable furniture item. To learn more about How to Get the Best Recliner with the Right Fit, take a look at this article.
Racha says you should also look out for the seat's firmness, specifically if the cushions are too deep or too stiff for you. "If you have a hard time getting up, you might not want cushions that are too deep since they do not provide as much support."
It's important to consider how you use your furniture when selecting a frame size and shape. Whether you're looking for a stationary or reclining sofa or sectional, make sure to test whether lying down flat feels comfortable or not.
Rasha highlights how a flatter surface can provide greater comfort and alleviate any potential pain in your back.Recliners may not be the best option for sleeping horizontally, but they can be a great option if you want to put your feet up and relax.
To learn more about Stationary vs. Reclining Furniture, take a look at this article.
Another factor to consider is the type of upholstery you want. Are you a fan of fabric or leather? When choosing fabric, Zeina Badawi, the interior designer at La-Z-Boy Kanata, explains that "fabric feels softer than leather, whereas leather can sometimes feel cold and slippery."
While this is true, some individuals may find that fabric upholstery can become uncomfortably warm, whereas the cooler texture of leather can be quite pleasant. Additionally, leather adjusts to your body temperature relatively quickly, meaning it can conform to your shape and temperature within minutes of sitting down.
To learn more about the difference between Fabric and Leather, take a look at this article.
Lastly, pillows can also impact your purchase of a furniture item you'd want to sleep in. For example, if you're trying to sleep with a throw pillow that's light and is on a leather sofa, you might risk losing it because it doesn't have much grip.
Instead, you might consider using a heavier pillow, such as a feather pillow, for sleeping on your furniture. Feather pillows provide comfortable compression and are great for those who enjoy daytime napping or need to relax after a long day. Choosing the right pillow can make a significant difference in your overall comfort and satisfaction with your furniture piece.
To learn more about Accessorizing with Pillows, take a look at this article.
Top Stationary Furniture for Napping In
Here are 4 different stationary furniture frames you can nap in, as well as some alternative suggestions sprinkled in different sections.
1. The Collins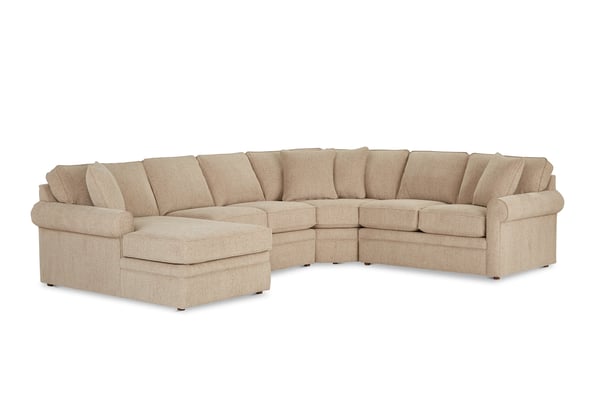 The first on our list of furniture pieces you can nap in is the Collins Sofa. This furniture frame offers a classic look with simple lines and put-together tailoring.
It also features semi-attached pillow backs for a plush look and over-scaled rolled arms that can provide lots of head support for anyone looking to nap in.
"The depth of the seat is also deep but not as deep as other sofas on the floor," Racha says.
If you want to explore similar features to the Collins, consider the Meyer.

Both furniture frames have box-border seats that provide ample support for short and long naps. While the Meyer has track arms, the Collins has rounded arms that lend a distinct aesthetic.
Additionally, the cushions on the Collins are slightly firmer, offering an extra layer of comfort and support.
Both are great options to consider when looking for a piece to rest in.
The Collins is available as a chair, loveseat, sofa, sectional, and matching ottoman. You can learn more about the Collins by reading our comparison article, Meyer vs. the Collins.
2. The Paxton

Known to be one of our best selling sectional sofa at La-Z-Boy, the famous Paxton is proven to work in many different facets, including napping and sleeping in.
Paxton's clean lines and crisp welt trim give it a neat and structured silhouette, allowing you to make your living room look cleaner. It also features the deepest cushions from any other La-Z-Boy product, making it easy for users to feel cozy.
Racha mentions that the two-seater configuration for the sofa makes it easier for people to sleep horizontally since "there isn't as much separation between the seats."
Further, the cushions are detachable, which means you can turn your sofa or sectional into a long sleeper if you have room for it.
The Paxton may be too deep-seated for some users, which is why a similar sectional, called the Alani, is recommended as well. While the Alani may only come as a sectional, it can be a good choice for a family of nappers or a couple looking for a small cuddler arrangement.

The Paxton is available as a chair & a half, loveseat, sofa, sectional and a matching ottoman. You can learn more about the Paxton Furniture Family by checking out this article or by looking at how the sectional compares to the Alani.
3. The Petra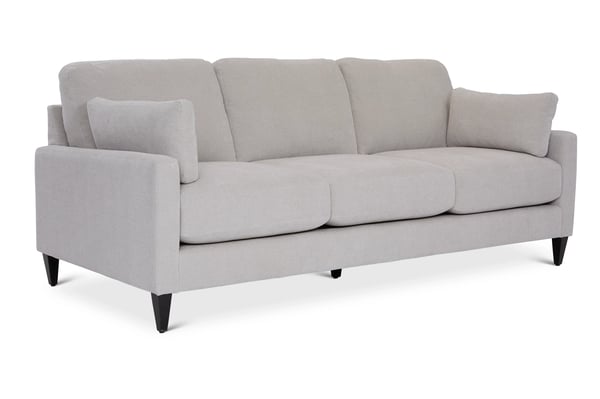 The Petra is one of the latest additions to the La-Z-Boy family of furniture frames. With its deep cushions and extra-long design, this sofa provides ample space for comfortable naps and long stretches.
With clean lines, loose cushions, trim track arms, and sleek wooden legs, the Petra offers a contemporary design for casual comfort.
Its removable back cushions allow it to double as a single bed, and it comes with separated kidney pillows for added comfort. The cushions are soft and inviting, making them perfect for cozy naps and relaxation.
The Petra is available as a chair, an apartment-sized or extra-long sofa and a matching ottoman. You can learn more about the Petra Furniture Family with its review article.
4. The Laurel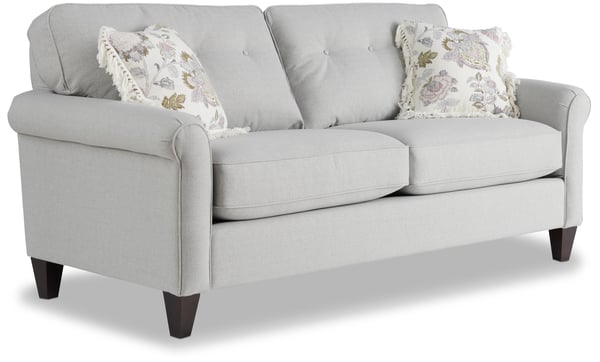 Finally, there's the Laurel, a great option for those with limited space who still want to be able to nap comfortably. While it may not be the longest sofa or have the deepest seats, it offers plenty of appeal to those looking for a cozy place to rest.
Laurel boasts a sophisticated look with button tufting that is classic in style. For people looking to kick their feet up, you can even match the Laurel Chair with the matching ottoman.
The Laurel is available as a chair & a half, sofa and a matching ottoman. You can learn more about the Laurel Furniture Family by checking out this article.
Top Reclining Furniture for Napping In
Now, turning over to the other side of the coin, reclining furniture can also offer a comfortable napping experience in many different positions. Like the last section, there will be 4 different furniture frames listed.
1. The Jay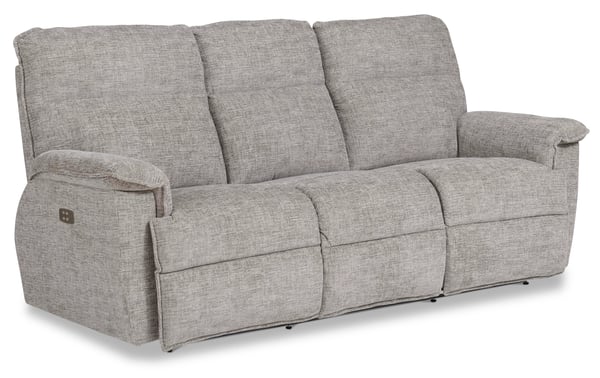 The Jay is a great option for those who prefer a transitional style and a casual, family-friendly look, thanks to its detailed flange stitching. Its pillow-soft seats and chaise legrests make it an inviting place to kick back and relax.
Racha explains that this recliner is one of the only reclining furniture families that does not have a bucket seat, which means the framing is flatter, allowing you to sleep horizontally or any way you like.
The Jay is available as a wall or rocking recliner, loveseat and sofa. You can learn more by looking at our review of the Jay Furniture Family.
2. The Reese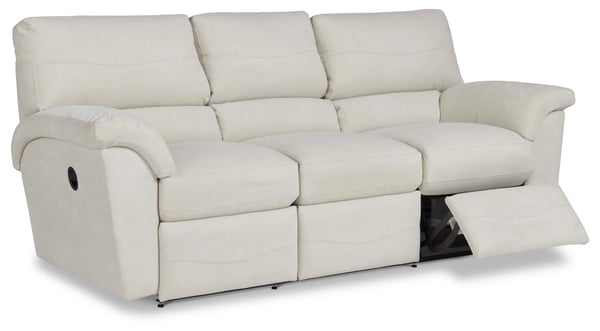 Next is another reclining option that is flat in shape, the Reese. This sofa easily brings comfort and versatility to your contemporary decor.
The Reese is designed with intricate single-needle topstitched detailing on the inside arms, legrest, seat and back, giving it a stylish look that will make you feel sophisticated while relaxing or napping in it.
The Reese also features a pub-style back and pillow top arms that are "very cushiony to the touch and nice to lay your head on," says Racha. It is also one of those furniture frames that can look good in a smaller space.
The Reese is available as a loveseat, sofa and sectional.
3. The Lennon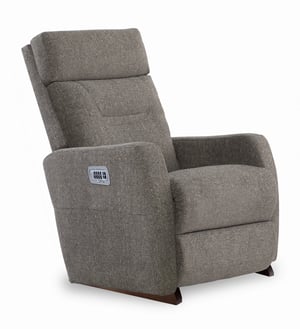 Another new addition to the La-Z-Boy family is the Lennon, which is already popular with its comfort and design.
The Lennon Wall Reclining Sofa offers a bold, contemporary style with tall backs, track arms and smoothly contoured comfort. Side handles allow you to raise the legrests and recline the backs on either end.
And, because it is a wall recliner, you can put it mere inches from a wall without worrying if it'll touch. This is a unique design that is not usually featured on anything but solo recliners.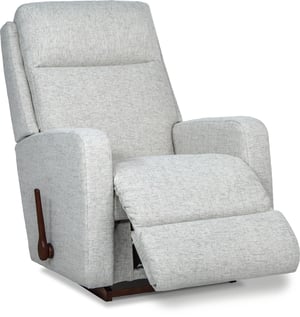 The Lennon is similar to another slim-fitting best seller at La-Z-Boy, the Finley. This recliner is also a popular piece because it creates a neutral tone in the room and can go well with any look.
While the Lennon may be similar in style to the Finley, it does differentiate itself because of the rectangular back detailing it has. It also features a heat & massage upgrade, which differs from the Finley.
The Lennon is available as a rocking or wall recliner, loveseat, and sofa. You can learn more about the Lennon Furniture Family by checking out this article.
4. The Rheeves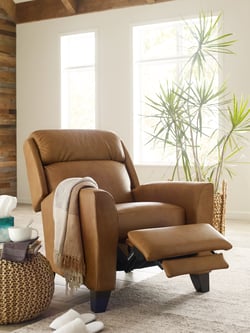 Last up is a different entry from the other frames on this list. The Rheeves is a recliner, but not how you would picture it. While the appearance of the Rheeves is stationary, it has the secret ability to recline when you push back on it!
Michelle MacLellan, another design consultant at La-Z-Boy Kanata, tells us that the Rheeves is a great choice for taking a daytime snooze in because it has "a taller back, which can make it better for taller users."
The Rheeves is a high-leg recliner that features decorative wood legs, welt trim, and a foam back for added comfort. It is also available in power.
What's Next?
We hope this list provides insight into choosing the right La-Z-Boy piece for all your slumber needs. If you're looking for a more traditional way of sleeping with your furniture, check out our list of Best Selling La-Z-Boy Sofa Beds.
If you're interested in any of the products mentioned, you can start shopping by visiting one of our local showrooms located in Ottawa or Kingston. You can also schedule a visit online before coming in.
Our design consultants are always eager to lend a helping hand. Take advantage of our interior design services to see which furniture item would suit your space and complement your home design.
Related Articles:
Review of Pet-Friendly Fabrics at La-Z-Boy
How to Fix Your Fabric Pilling Problems
Product Info Request
Please provide us with your name and email and we'll get back to you as soon as possible regarding this item.