Top 7 Best La-Z-Boy Chairs for Back Pain
June 20, 2022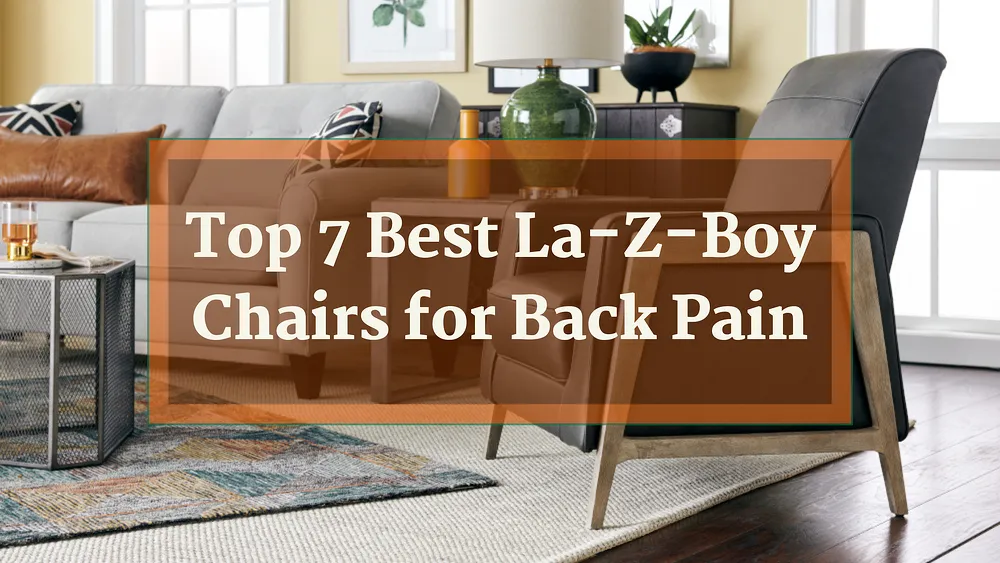 Est. Reading Time: 9 Mins
Many individuals suffer from back pain. In Canada. In fact, the Canadian Chiropractic Association (CCA) reported that more than 11 million Canadians suffer from back pain injuries or disorders, which is almost a third of all Canadians.
When looking for furniture pieces, some items may not give back pain sufferers the adequate comfort they need in order to feel relieved or alleviated. Luckily, at La-Z-Boy, we provide high-quality stylish and comfortable products that can help with back pain.
Racha Pharaon, a design consultant at La-Z-Boy Kanata, tells us that "Most La-Z-Boy chairs have upgrades that can make chairs and recliners really comfortable for those who have back pain. And the fact that our furniture is made with high-quality materials makes us a great choice for anyone looking for really comfortable and relaxing furniture."
Although there are many chairs and recliners at La-Z-Boy that can accommodate people with back pain, we have compiled a list of the 9 best stationary chairs and recliners for back pain at La-Z-Boy Ottawa & Kingston locations.
In This Article…
Shopping for Furniture with Back Pain: What to Look Out For?
Shopping for furniture can be difficult. Not to mention if you are someone who suffers from back pain-related issues, you might find your decision to be even tougher.
Whether you have back pain or not, you should always look for furniture that comfortably compliments your height and body type. When a chair matches your height and size, you should experience optimal support in the knees, lumbar, back, neck, and head.
For example, say you were a taller individual with a height of 5'10" - 6'2" and you decide to sit in a petite-scaled chair that ideally suits someone with a height of 5'3" and under. You wouldn't feel comfortable sitting in that chair because the dimensions of where your body should comfortably sit in that seat are not accurate.
When sitting on any furniture item, your body should feel comfortable. "Your feet should be able to touch the ground while your head is able to touch the head support of the back cushion," says Racha. If this doesn't happen, you might be either too short or too tall for that furniture piece.
This is especially important for those who already suffer from back pain because an ill-fitting chair could cause further discomfort.
To learn more, check out Finding a Recliner that is the Best Fit for You.
Shopping for Furniture with Back Pain at La-Z-Boy
When shopping at La-Z-Boy, Racha says that consultants and interior designers will take your unique needs and preferences into consideration when finding you the ideal furniture.
She says, "When someone comes in asking for a chair that helps with mobility issues or chronic back pain, we always make sure that the chair is the right fit and that the head and lumbar are always feeling comfortable."
At La-Z-Boy, we have a wide range of chairs in either stationary or reclining.
Recliners can either recline manually, which means pulling a lever or latch on the outside of the furniture item. If you prefer, you can upgrade to a power recliner, which allows users to recline in multiple positions with just the press of a button.
Power recliners come with power controls that navigate the available positions and features. Some La-Z-Boy power recliners also have the option to remember two comfortable reclining positions so you can recline in your favourite position faster.
Racha states that "once someone with back pain finds the right reclining position with the most support, they will feel a release in pressure on the back and lower back in particular."
To learn more about power recliners and how they compare to manual recliners, take a look at this comparison article between Manual vs. Power Recliners.
Further, power recliners at La-Z-Boy have additional upgrades to look out for if you suffer from back pain.
More specifically, the head and lumbar support upgrade at La-Z-Boy ensures that anyone, especially those with back pain, will feel comfortable for long periods of time.
To learn more about Power Recliners with Head & Lumbar Support as well as Power Recliners with Heat & Massage, check out these two articles.
7 Best La-Z-Boy Chairs For Back Pain
Below is a list of the 9 Best La-Z-Boy Chairs that can help with back pain. These chairs are broken up into three sections: stationary chairs, high-leg recliner chairs, and recliner chairs.
Stationary Chairs for Back Pain
1. The Allegra Stationary Chair
The only stationary chair on our list is the Allegra Stationary Chair, which combines a streamlined look with subtle details to complement today's casual decor. It features an inviting box seat, welt trim, slightly flared arms, and decorative tapered wood legs.
Racha says that this chair does not have a high back, meaning those who are taller might feel comfortable in the back, but maybe not so much in the head area. She also explains that the backside and the bottom of the seat give plenty of comfort and support for anyone suffering from chronic back pain issues.
The Allegra chair is also available in a swivel chair, a swivel gliding chair, and a matching Ottoman. You can learn more about The Allegra Chair by checking out this review article.
High-Leg Recliner for Back Pain
Some accent chairs at La-Z-Boy have the unexpected ability to recline while maintaining a stationary appearance. These are called high-leg or push-back recliners.
Although they do have the ability to recline, Racha informs us that they appear stationary and in turn, they blend well with stationary furniture pieces.
2. The Riley High-Leg Recliner
An artful, sculptured shape with a sophisticated flair, the Riley High-Leg Recliner can be paired with any contemporary sofa or left to showcase a corner entirely on its own.
The benefit that the Riley Recliner, and the upcoming Rheeves Recliner, is the option to upgrade to power. In manual, the high-leg recliner requires a push-back motion in order to recline, which isn't ideal for those with back pain.
In power, users no longer need to push back to recline, but instead, push a button on the control panel on the side of the chair.
In addition to the power option being more accommodating to those with back pain, the Riley also has a very supportive back cushion, according to Racha. The back of the Riley is slanted, which means the upper half of your body is placed in a relaxing position when sitting in it.
To learn more about the Riley High-Leg Recliner, check out this article.
Recliner Chairs for Back Pain
3. The Pinnacle Reclining Chair
First on our list of recliner chairs is the Pinnacle Recliner. The Pinnacle has an easygoing style that's just right for resting and relaxing.
Sink in and enjoy its plushly pillowed tall back and padded rolled arms. The chaise seat and leg rest cradle your body in a continuous zone of comfort.
The Pinnacle recliner has three different options:
Rocking Recliner: rock in a smooth and graceful motion when not reclined.
Wall Recliner: place mere inches away from a wall with still having the ability to recline.
Glider Recliner: have the ability to swivel or glide when not reclined.
The rocking and wall options can be upgraded to power with an additional option of adjustable headrest support. The power Pinnacle Recliner also has an available heat & massage upgrade, which Racha says is perfect for anyone with back pain, especially with its plush back cushioning.
The Pinnacle also has a lift reclining option. Those who have severe back pain issues may benefit from this option, especially if they have a harder time getting in and out of the chair.
The Pinnacle is also available as a loveseat, a sofa, and a sectional. To learn more about the Pinnacle Recliner, take a look at this review article.
4. The Rowan Reclining Chair
The next product recommended, the Rowan Recliner, is an exquisite combination of style and comfort. It has a sleek look, but the flared arms actually maximize the seating area.
Similar to the Pinnacle, the Rowan is offered as a rocking recliner, a wall recliner, or a gliding recliner. The rocking recliner and wall recliner can be upgraded to power.
Racha actually has recommended this chair specifically to pregnant women with back pain because of the extra lumbar support it carries. "I have recommended this to men as well, but I've heard great reviews about this recliner from pregnant women mostly," she says.
Even though the Rowan only has an adjustable headrest upgrade in power, Racha says the Rowan still has great lumbar support even without an upgrade.
The Rowan is also available as a loveseat, a sofa, and a sectional. You can learn more about the Rowan Recliner by checking out this review article.
5. The Trouper Reclining Chair
Since the Rowan was recommended more for pregnant women, Racha says the Trouper Recliner is a great male recliner alternative. An updated silhouette, complete with slightly flared arms and a sleek tall back gives the Trouper a look that's fresh and contemporary.
The sculpted bucket seat cradles anyone in softness while the padded split back provides superb head and lumbar support. These features make the Trouper a perfect recliner for anyone with back pain.
The Trouper recliner is available as a rocking recliner and a wall recliner in both manual or power. The Trouper is also available as a loveseat, a sofa and a sectional.
You can learn more about the Trouper Recliner by checking out this review article.
6. The Astor Reclining Chair
Designed especially for larger users, the Astor Recliner brings relaxation to new heights. In fact, the Astor is known as La-Z-Boy's tallest recliner. It features a deep, wide seat and comes standard with our tall base.
The tall pillow back features three separate cushions that can adjust to your body's contours. Racha explains that the three different layers of cushioning will make anyone with back pain feel relieved, especially with its power lift option.
The chaise seat and padded flared arms also provide ultimate comfort. Along with the power lift option, Astor comes as a rocking recliner, a wall recliner, and in power, has additional upgrades such as headrest & lumbar support, and a Heat & Massage.
You can learn more about the Astor Recliner by checking out this review article.
7. The Harbor Town Reclining Chair
Last but not least is the Harbor Town Recliner. This recliner offers the comfort of a recliner with a lighter silhouette and a sleek, stylish frame that's truly transitional. It features a channel-stitched back, a cushioned headrest, and decorative bentwood arms topped with pillow-like padding.
Harbor Town is a good choice for anyone with back pain that lives in a smaller space. Racha states that this recliner is small in size and does not take up much space in a room.
She also says that the wooden arms give off a rustic look to it, meaning anyone looking for a comfortable chair for their back, while trying to achieve a cottage aesthetic, will love this recliner.
The Habor Town Recliner is available as a rocking recliner, a wall recliner, and a gliding recliner. The rocker and wall recliners can be upgraded to power.
You can learn more about the Harbor Town Recliner by checking out this review article.
What's Next?
After reading this article, you have now gained more knowledge about La-Z-Boy's selection of stationary and reclining chairs that are ideal for back pain. These options will hopefully make your decision clearer in purchasing a chair that will alleviate pressure from your back.
So, now that you have a better picture of what to expect at La-Z-Boy, why not try sitting in some of our furniture pieces yourself? In addition to recliners, La-Z-Boy has many more furniture items to choose from so you can create the ideal living area arrangement for your home.
Make sure to discover your next furniture piece by doing a sit test at any of our Ottawa & Kingston Locations. You can also schedule an appointment online.
Our design consultants, like Racha, are always eager to lend a helping hand. If you'd like to work one-on-one with an interior designer, take advantage of our interior design services to see how your new chair could fit in your home design.
Related Articles:
Are La-Z-Boy Recliners Guaranteed for Life?
How to Find a Recliner that is the Best Fit for You
Product Info Request
Please provide us with your name and email and we'll get back to you as soon as possible regarding this item.