The La-Z-Boy Pinnacle Recliner: In-Depth Review
November 8, 2019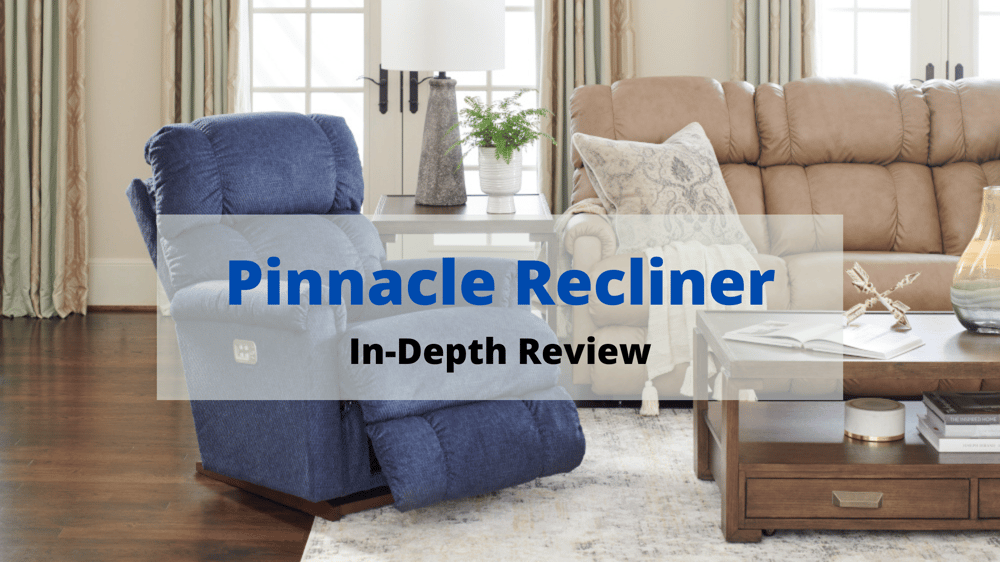 Sometimes referred to as the Pinnacle recliner rocker recliner, the Pinnacle recliner is our most versatile reclining chair.
Peter Crepin is the manager at La-Z-Boy Home Furnishings & Decor on Campeau drive in Kanata. During his many years working for La-Z-Boy Ottawa Kingston, he and his design consultants have helped fit hundreds of customers to their perfect recliner.
Peter says the Pinnacle is perfect for those who like to rest and relax. It will fit almost any adult, whether you're 5.4′ or 6.2′, and is arguably one of La-Z-Boy's most comfortable recliners. Peter even has the Pinnacle recliner in his own home and says it's his favourite chair!
In this review, find out some of the reasons why the Pinnacle Recliner is one of La-Z-Boy Ottawa and Kingston's best-selling recliners.
This review of the La-Z-Boy Pinnacle recliner will cover:
1. Features unique to the pinnacle recliner:
Size and comfort are the main reason for its popularity and it's comfortable without overpowering the room. It has rolled arms and continuous leg support. The Pinnacle was one of the very first chairs constructed with no gap in between the recliner seat and the leg rest.
2. Dimensions: Pinnacle Recliner
The Pinnacle has a relatively small scale while still being able to accommodate people in a broad range of sizes. Thirty-three inches across from outside arm to outside arm with a tall back 41 inches.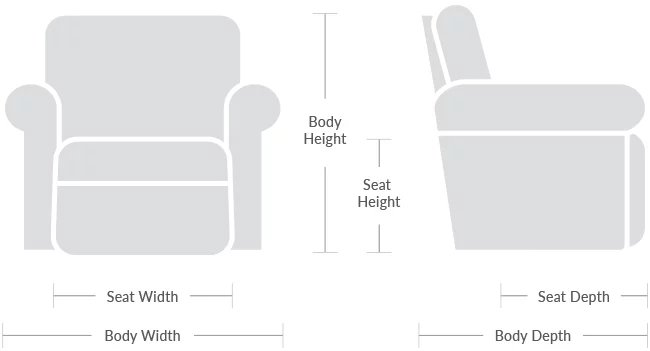 Body depth: 38.5′
Body Height: 41″
Body Width: 33"
Seat depth: 21.5′
Seat Height; 18.5′
Seat Width: 19"
3. Different Chair Styles of the Pinnacle:
Pinnacle Rocker Recliner "reclina rocka"
Reclines up and down using a hand wand; it has a three-position footrest and ratchet system to recline back. You can and add a swivel base to move left and right and up and down.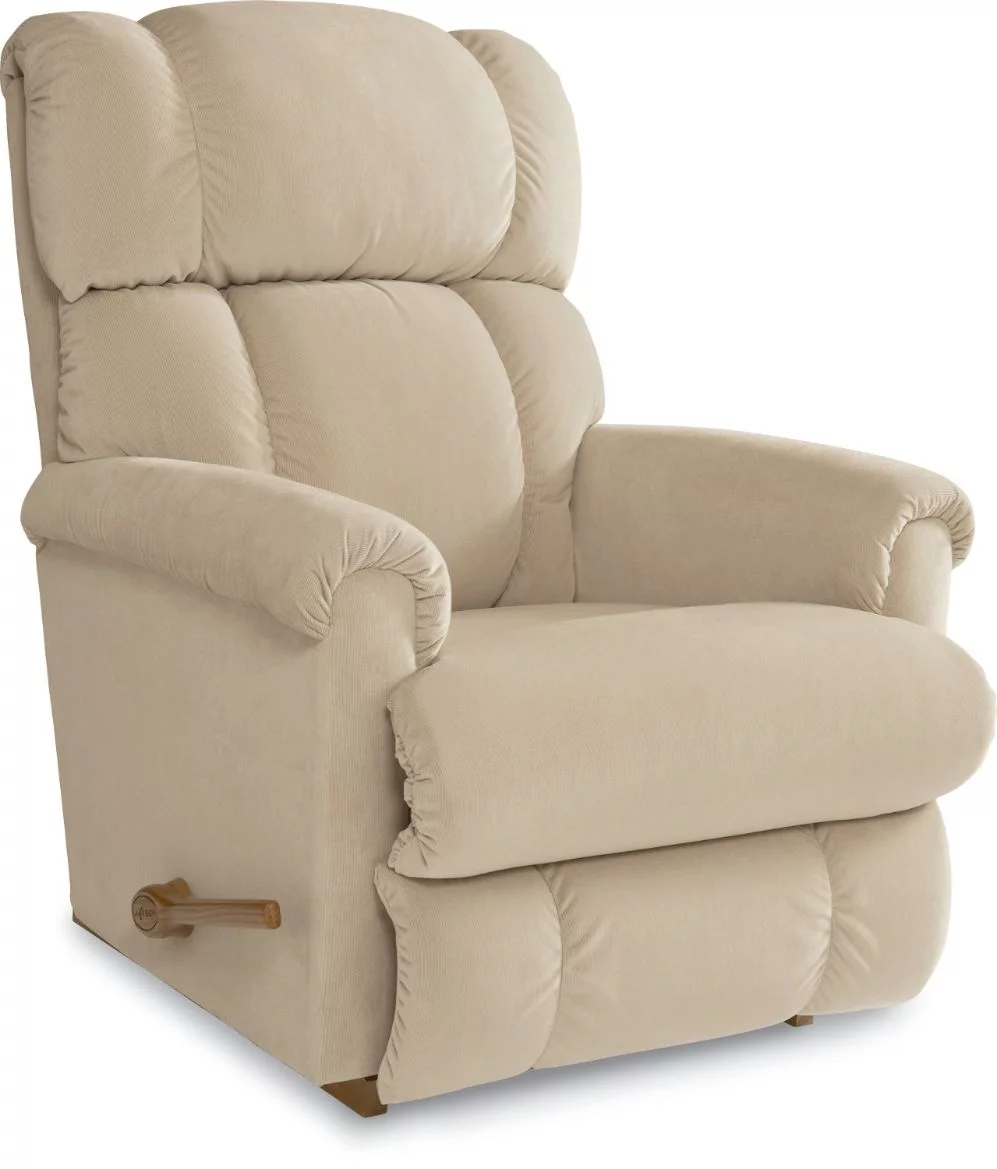 Pinnacle Wall Recliner
Also has three positions but no ratchet system so it won't go back as far. The advantage of the wall away is that the chair can be much closer to the wall, about 8" as opposed to one foot. Comes in handy in a smaller space with less wiggle room.
The disadvantage of the wall away is that it won't recline as far back as the rocker recliner. The wall away is available in manual or power.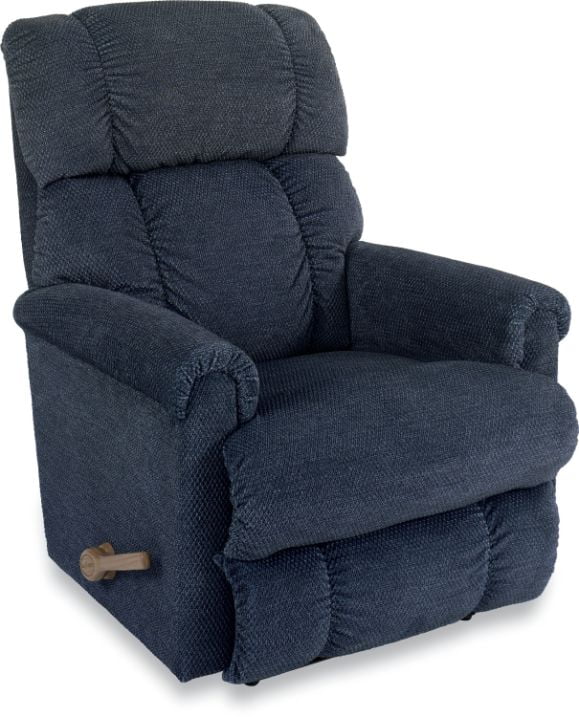 The Pinnacle Glider Recliner
The glider moves back and forth. It comes with a swivel base and a one-position footrest. (up or down) You can swivel and glide. Very popular for new parents looking for a chair to feed and rock their newborns. (this option isn't available with power)
Check out La-Z-Boy's best chairs for your nursery.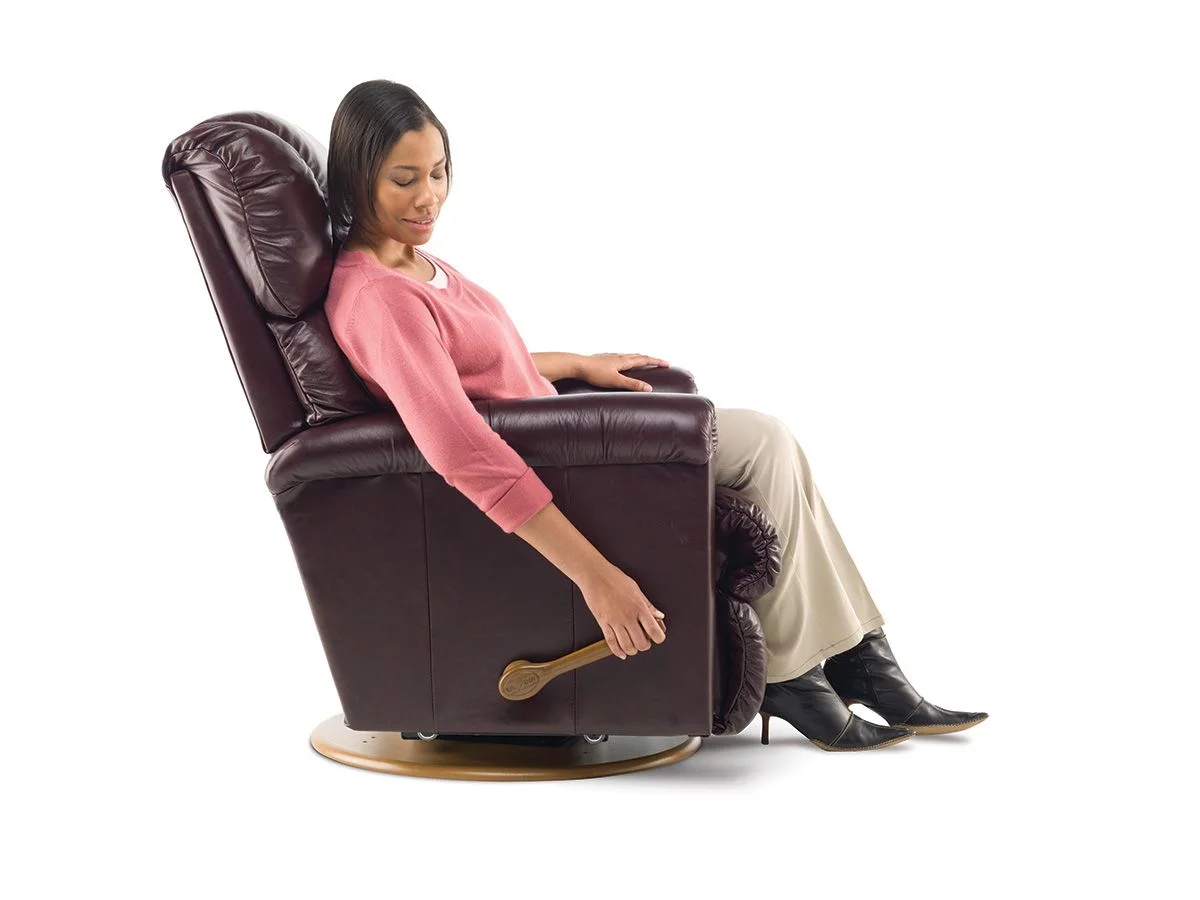 Pinnacle Power Rocker Recliner
Rather than pulling the lever up and down, the power chair can easily move you to multiple positions. Press the button to move the leg rest up and press another, so the headrest goes back. The Pinnacle power recliner is one of La-Z-boy Ottawa & Kingston's best selling power recliners.
Upgrade to the La-Z-Boy has introduced the 1HR Pinnacle. It has a movable headrest, lumbar, and controls for foot and headrest.
Power recliners with headrest and lumbar now have a new control panel with easy-to-use toggles. Its features include a home button, two memory settings, and a USB charging port. You can also upgrade to a wireless remote. Also, if you lose it, don't worry, you can press a button on the side of the chair, and the remote will beep.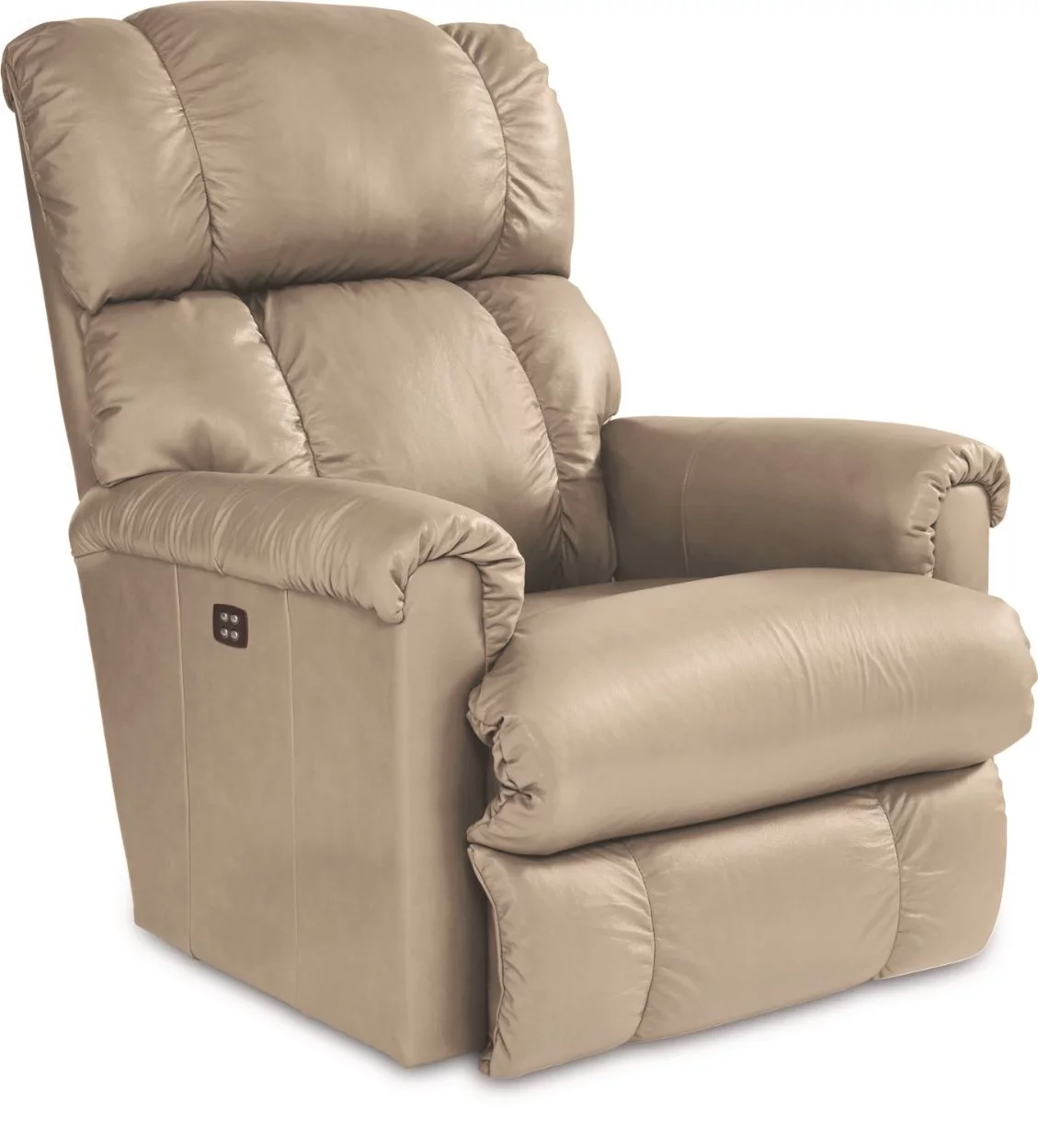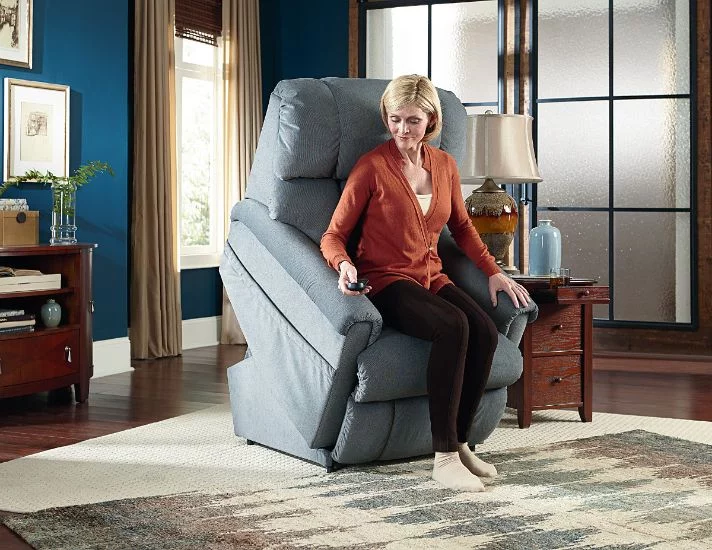 4. Product Options & Upgrades: Pinnacle Recliner
La-Z-Boy upholstery furniture is customizable to match your unique preferences, including the Pinnacle Recliner.
Upholstery Cover
Your choice of fabric or leather upholstery is a pivotal decision when selecting a recliner for your home. The Pinnacle has over 900 hundred cover options so you can custom-create a look that's uniquely yours. Choose from the latest colours, patterns and textures. There are options to suit every style and budget.
Select iClean fabric colours included in the variety of fabrics available. These fabrics offer a barrier of protection that repels spills before they turn into stains.
If you have pets, you might consider taking advantage of our Pet-Friendly fabric that has a high level of cleanability and durability, including the iClean technology.
Another specialty fabric option at La-Z-Boy is the antimicrobial fabric. This fabric protects against mould, mildew, and odour-causing bacteria
A subset of covers is available in "conserve" fabric. Soft, durable, and sustainable "conserve" fabric is made out of recycled water bottles. We use as many as 110 recycled water bottles to create a sofa with this eco-friendly material.
As with conventional furniture fabrics, conserve covers are wear-tested for safety, quality and durability. So, they stay comfortable and beautiful for years after delivery. They come in a wide range of colours and patterns to complement your room.

Seat Cushions:
Firmer seat options are available at an additional cost.
Please note that reclining furniture purchased prior to January 2021 had the option to upgrade to airform™ cushions. This cushion includes a two-inch layer of premium quality memory foam added on top of the standard foam base within the seat, chaise and leg rest of the unit.
Extra Options:
Handle options: Standard wood, left side handle, elongated handle, arc handle, arc left side handle, left elongated handle.

Finish options: brown mahogany or coffee finish

Base options: swivel or tall base

Hand wand for power options
5. How much does it cost?
At the date of publication, the cost of the Pinnacle Recliner started at $1,569 and upwards depending on your choice of customizations and upgrades.
*All La-Z-Boy prices listed in this article are subject to change. We aim to update all cost-related articles twice per year. This article was last updated in October 2022. Please visit lzb.com and select an Ottawa or Kingston La-Z-Boy store location to view the most up-to-date pricing.
6. Is the Pinnacle Recliner Right for Me?
As mentioned above, this is a very comfortable recliner and is suitable for most body types, however, some people don't like the traditional "Lazy Boy" puffy look. They may be looking for something more contemporary. That's why it's essential to 'test drive' your chair before you buy to ensure you find your perfect fit.
If a sleeker style is critical, check out our best-selling contemporary recliners such as the Rowan or Forum.
To learn more about getting the right recliner fit check out How to find a recliner that's the best fit for you. Or watch the video below.
7. Customer Reviews:
What some clients are saying about the Pinnacle recliner:
This recliner currently has a 4.7/5 star rating in North America:

"We have had two Pinnacle wall-always in genuine leather for five years. Sit in them every day and they are still perfect. Bought this latest one in the rocker style in fabric. My wife says it is the most comfortable chair she has ever sat in. That is high praise " [sic] Anthony C

I just came home from the hospital with a broken back, six broken ribs, a bruised lung, and broken collarbone. I sent my mother out to buy a recliner for my convalescence and she ordered this one. It's amazing—incredibly comfortable but also able to stand me on my feet until my core muscles heal. It gives massages at several different speeds/styles and has a heat function. The remote control also allows independent parts to operate for maximum comfort…..back, leg rest, etc. This recliner is well worth every penny, especially to a person with as many broken bones as I have. It's been a Godsend! [sic] Denu220

"Had it about two months, so far well made and it does what it's supposed to. Kinda slow-moving, but I knew that when I bought it." [sic] Pavel N
Next Steps:
La-Z-boy has been making the Pinnacle for over 25 years now, it's perfect for resting and relaxing. It is not only a favourite in Ottawa Kingston, but it's the number one bestseller in North America! It is worth a trip to a La-Z-Boy showroom to give it a try.
Whichever recliner you choose, we're happy to help. We can answer your recliner pricing questions at any of our La-Z-Boy locations in the Ottawa and Kingston area.
We also provide a complimentary in-home design service if you need help designing a room worthy of your recliner.

Product Info Request
Please provide us with your name and email and we'll get back to you as soon as possible regarding this item.