Best Furniture Stores for Coffee Tables in Ottawa
July 12, 2021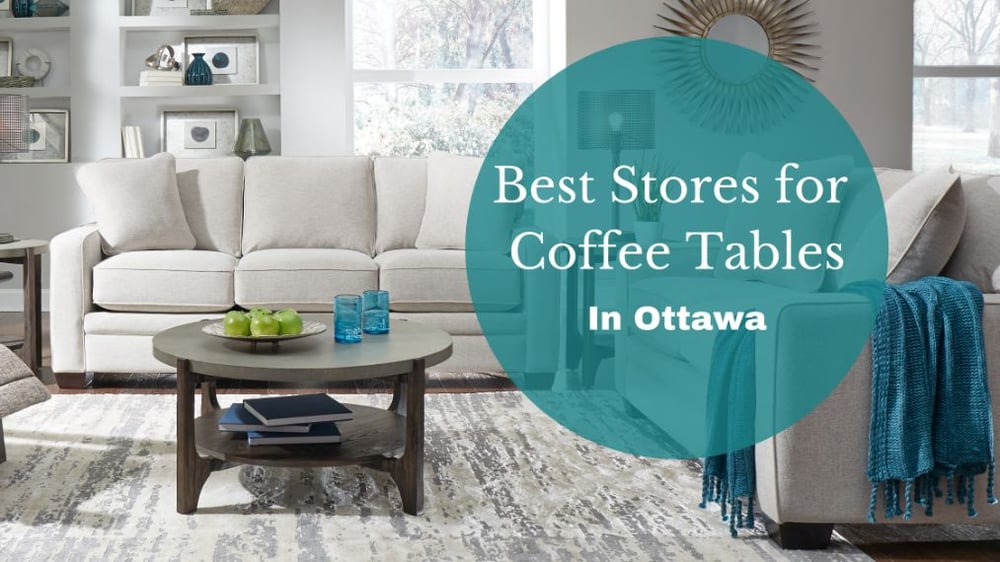 The focal point of a beautifully designed living room furniture arrangement is a stylish and functional coffee table.
Whether you are looking for an artistic statement piece, something functional with storage, or a temporary piece to use and abuse, a coffee table is essential in any home.
As a reputable furniture store in Ottawa, many of our clients at La-Z-Boy ask about where to buy coffee tables in the area.
While La-Z-Boy is known for our comfortable and quality upholstery, we also carry a selection of coffee tables from our American Drew, Kincaid, and Hammary collections, which are incorporated in many of our design projects.
With this, we realize that we are not for everyone or every budget. To that end, we have identified 12 excellent furniture retailers in Ottawa that offer coffee tables of different qualities, styles, and budgets.
Depending on your coffee table requirements and preferences, you may find what you are looking for amongst these luxury, affordable, or low-budget options.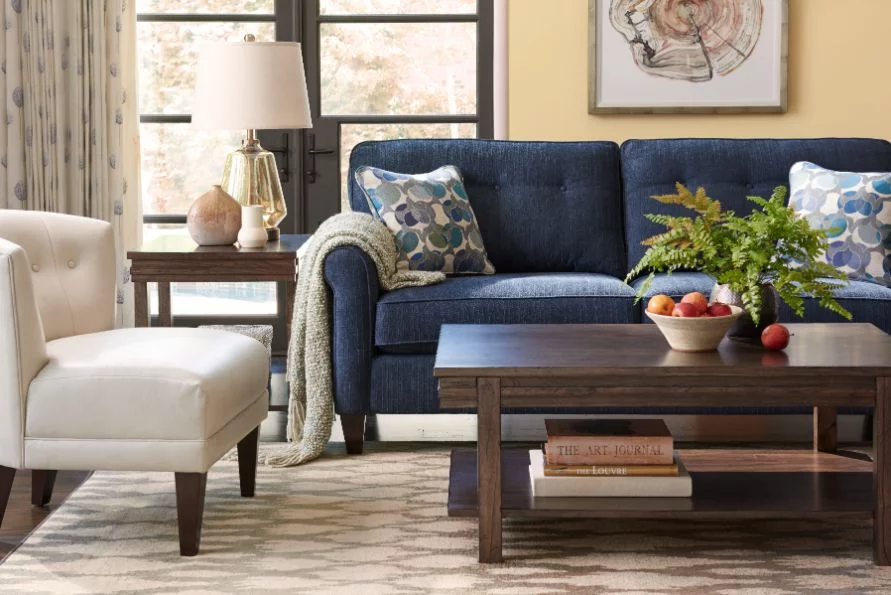 Luxury Coffee Tables – $$$
Luxury coffee tables are made from top-quality materials and involve detailed craftsmanship. In fact, most luxury coffee tables are handmade and customizable.
Someone with a large budget, who desires a unique and artistic statement piece in their home, may seek a coffee table from one of the following high-end furniture retailers in Ottawa.
1. Cadieux Interiors
1280 Old Innes Rd, Ottawa
Cadieux was first established in 1962 and quickly evolved into a high-end home furnishing retailer. This Canadian lifestyle brand claims to prioritize offering new and unique products. Cadieux has an "appreciation for the finer things in the home".
When it comes to coffee tables, Cadieux has a modern and eye-grabbing selection.
2. Dala Decor Furniture & Design
1790 Woodward Dr, Ottawa
Operating out of a 3,000 square foot showroom, Dala Decor Furniture & Design aims to create unique and custom spaces. As such, they carry unique and high-quality furniture pieces.
The coffee tables offered at Dala Decor are edgy and industrial-looking. The selection features a lot of rustic materials such as metal, stone, marble, copper, and some wood. The coffee tables at Dala Decor range from about $299 to $3,700.
3. Mikaza
153 Preston St, Ottawa
Located in a thriving Ottawa neighborhood, known as Little Italy, Mikaza offers contemporary designs without compromising quality. Operating since 2008, Mikaza sources its furniture products from many Canadian manufacturers, plus their own manufacturers and design experts.
The coffee tables offered at Mikaza are detailed and stylish. With an array of materials, such as solid wood, glass, and metal, Mikaza coffee tables are very modern and edgy. The cost of Mikaza coffee tables ranges from about $260 to $3,000.
4. EQ3 Byward Market
60 Byward Market Square, Ottawa
EQ3 is a Canadian-rooted furniture company with a headquarters located in Winnipeg. The furniture retailer claims to be "guided by a uniquely Canadian approach to design" offering "timeless, not trendy", products.
The coffee table selections at EQ3 are classic and simple. In a variety of styles and materials, the cost of a coffee table at EQ3 ranges from $299 to $2,869.
5. West of Main Furniture Store
2437A Kaladar Ave, Ottawa
Only steps from the Glebe, the West of Main Furniture Store is built on a passion for "creating unique and unforgettable spaces". The furniture retailer claims to be a "designer furniture store" offering trendy, minimalist, and boho home furniture and decor.
The coffee table selection at West of Main features the creativity of talented artisans, inspired by cultures from around the world. From sturdy to sleek, to artistic, West of Main has a wide variety of coffee tables to choose from. The coffee tables range from about $788 to $5,918.
Mid-Range Coffee Tables – $$
Coffee tables within the mid-price range are high-quality, stylish, and long-lasting. While they may not resemble an art exhibit, they still tend to add a stylish element to your living room.
Someone seeking a durable, stylish, and functional coffee table, may find what they are looking for amongst the suggestions below.
6. Blueprint Home
1301 Wellington St. W, Ottawa
First established 20 years ago, Blueprint Home is an urban furniture store located in the heart of Ottawa's trendy West Wellington Village. Blueprint Home aims to offer a variety of stylish furniture suited for downtown, the suburbs, or the lake home.
Blueprint Home offers a variety of sleek and minimalist coffee tables. In many shapes, sizes, and materials, Blueprint coffee tables can fit amongst different styles of home decor. The coffee tables at Blueprint Home range from $500 to $2,000.
7. Dufresne Furniture & Appliances
1901 Cyrville Rd, Ottawa
290 W Hunt Club Rd #10, Ottawa
The Dufresne Furniture & Appliances brand has been evolving since way back in the 1940s. Still operating as a family brand, offering furniture products that fit both the lifestyle and design preferences of their customers.
Dufresne has a range of coffee table styles from modern to traditional. This selection is quality, yet affordable, ranging from about $258 to $1,007.
8. Leon's Furniture
1718 Heron Rd, Ottawa
2600 Queensview Dr, Ottawa
Leon's Furniture is a Canadian furniture retailer founded in Wellington, Southern Ontario. With locations across Canada and two locations in Ottawa, Leon's is one of Canada's largest furniture retailers. Leon's offers a variety of furniture product styles, and select pieces are Canadian-made.
The coffee table selection at Leon's is vast in a wide assortment of shapes, sizes, styles, and materials. The cost of a coffee table at Leon's ranges from about $129 to $1,699.
9. Polanco Furniture
177 Richmond Rd, Ottawa
Since 1999, Polanco Furniture has been a family-owned retailer located in the heart of Westboro Village. Polanco is a specialty furniture store with about 90% of their furniture products being Canadian-made.
The selection of coffee tables at Polanco is made from mostly solid wood with touches of marble, gold, glass, and metal. These coffee tables coordinate with many styles of home decor. The cost of a coffee table at Polanco Furniture ranges from about $400 to $2,000.
10. Upper Room Home Furnishings
545 W Hunt Club Rd, Nepean
1344 Youville Dr, Orléans
255 Kanata Ave, Kanata
With three locations in Ottawa, Upper Room Home Furnishings opened as a family-run business in 2004. Upper Room carries quality and comfortable furniture products.
The selection of coffee tables at Upper Room is primarily traditional, with select options in a more modern or contemporary style. The majority of Upper Room's coffee tables are made from wooden materials, while others feature glass and metal elements. The coffee tables at Upper Room range from about $349 to $2,230.
Coffee Tables On a Budget – $
Finally, coffee tables on a budget tend to feature low-quality materials and simple designs. They may not be as durable or eye-catching as the options mentioned above.
To that end, budget coffee tables can serve a great purpose in a home. If you are looking for something temporary or something that you don't have to worry about getting damaged, a coffee table from a retailer below may be just what you need.
​
11. The Brick
1960 Cyrville Rd, Ottawa
565 W Hunt Club Rd, Nepean
8231 Campeau Dr, Ottawa
The Brick first originated in 1971 and now operates with 209 locations and seven distributors across Canada. With mass product distribution and large showrooms, the Brick is known for selling a wide variety of household products, including furniture, at affordable prices.
The coffee table selection at the Brick is vast in shape, size, and style ranging from about $99 to $799.
12. Structube
100 Trainyards Dr c4, Ottawa
2735 Iris St #3, Ottawa
1832 Merivale Rd, Nepean
Structube was first established in 1974 in Montreal. What started as a Canadian family business has now become a growing furniture retailer. Structube now has 70 retail locations within Canada, and its mission is to offer "amazing styles at low prices."
The coffee table selection at Structube is made from assorted materials, such as wood, glass, and metal. Generally, the style of Structube's coffee tables is simple and trendy. The cost of the coffee tables ranges from about $99 to $599.
What's Next?
You are now equipped with a detailed list of excellent furniture retailers that offer coffee tables at a range of prices. Depending on what you are looking for in style, durability, and functionality, this list should help guide your choice!
While you can't go wrong with these mentioned furniture retailers, we are also here for you at our three local and family-owned La-Z-Boy Ottawa stores.
Take advantage of our complimentary design services as you search for your perfect coffee table. Our expert interior designers would be thrilled to show you our coffee table selection from the American Drew, Kincaid, and Hammary catalogs. With a combination of helpful samples and their expertise in home design, they can help you find the ideal coffee table for your lifestyle and space.
Visit us at a local Ottawa or Kingston La-Z-Boy showroom or plan ahead by scheduling your visit online.
We look forward to meeting you and helping you find the perfect complement to your living room furniture arrangement.
Related Links:
7 Best Furniture Stores in Ottawa
Where to Find High-Quality Furniture in Ottawa
​
Product Info Request
Please provide us with your name and email and we'll get back to you as soon as possible regarding this item.