Open Concept Kitchen, Dining & Living Room: 3 Helpful Tips
October 27, 2021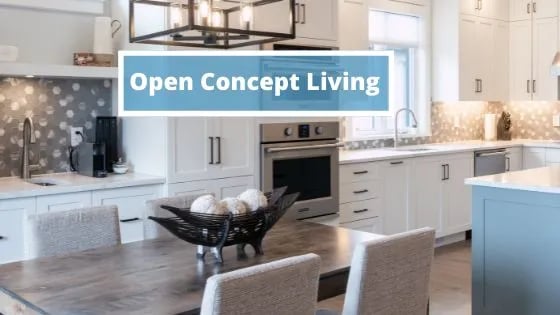 By Dea Attar
Remember when our homes were divided into small rooms, and there was no question what the purpose of each room was? (Kitchen, living room, dining room, etc.)
As the world around us continues to evolve, it comes as no surprise that the ways we build and design homes are changing too.
Your house, that man-made dwelling that holds all of your daily activities, is changing to reflect modern life. Moreover, the notion of moving from closed-off rooms to open concept living continues to gain popularity. We are seeing this now more than ever, especially in urban and suburban living environments.
Ideally, with an open concept design, the rooms transition into each other seamlessly. So if you're cooking dinner in the kitchen, you can socialize with family and friends within view, and you don't have to miss out on any of the news!
Open Concept Living Space Pros and Cons
Why People Like Open Concept Design
Open concept interior design allows for flexible and informal arrangements. In addition, it offers better:
Communication

Sociability

More natural lighting
Disadvantages of open concept homes
Open concept homes can be harder to design than those with closed room layouts.
Some challenges may arise when trying to decorate it. You might ask yourself, will my rooms look cluttered? Can I achieve a unified look? What about wall space for my artwork?
In this article, we will discuss the three Fs:
Function (intent)

Flow

Focal points



These design tips have helped my clients design an open concept house that works best in their homes: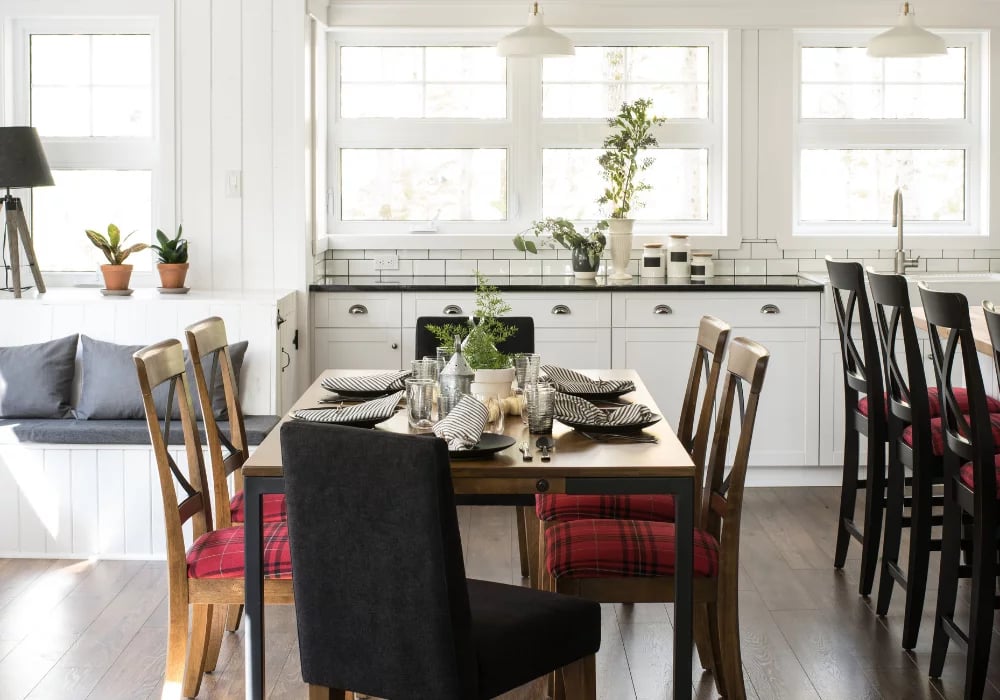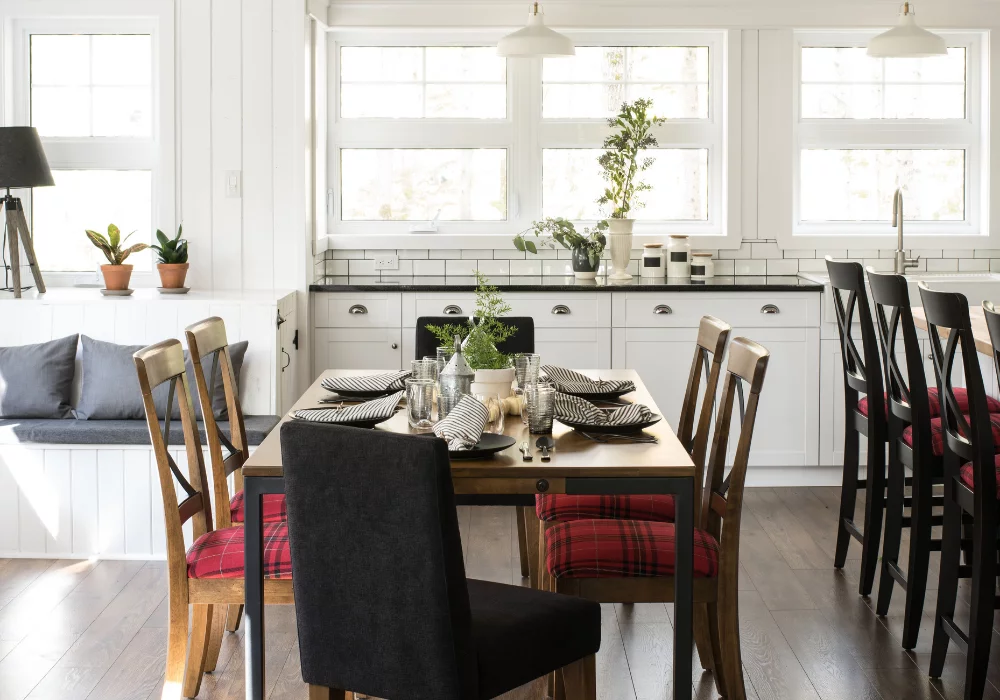 1.
Separation of

Function

and Clear Design

Intent

for Your Open Concept Space
In an open concept, there are no walls separating the different functions served in the living room, dining room and kitchen. (see sketches below) Hence, it is very important that every area shows a clear design intent in order to prevent visual clutter and identity loss.
For example, the living room furniture shouldn't occupy the dining room nook and vice versa. Instead, it should be clear to those using the space what the room is for. "This is where we eat meals and this is where we watch TV."
This rule is easy enough to implement when the floor plans are straightforward.
(As shown in image 1)
It gets more difficult to achieve design intent when the layout is more complex. (As shown in image 2)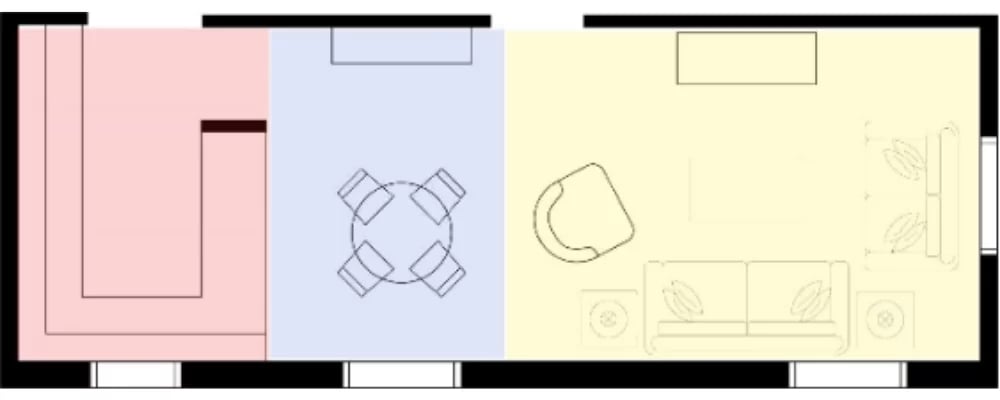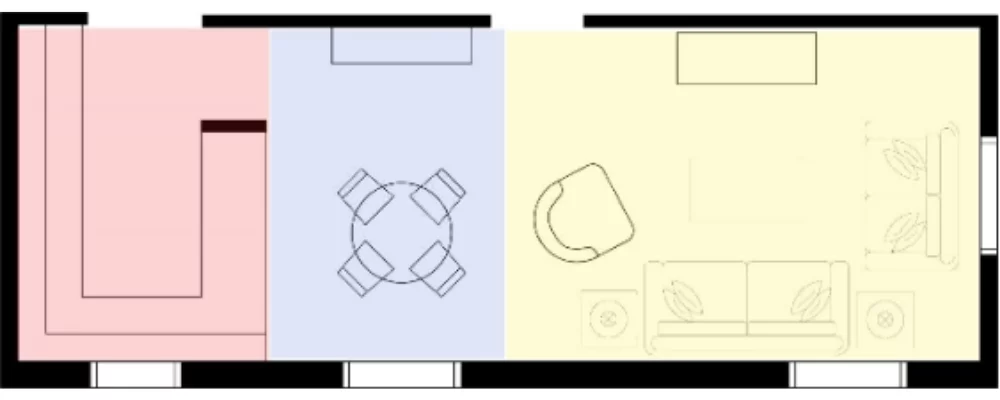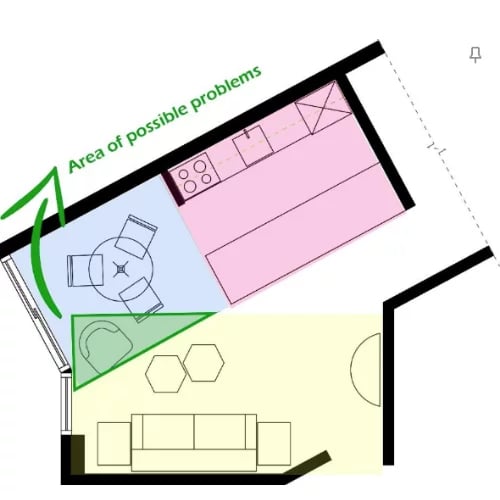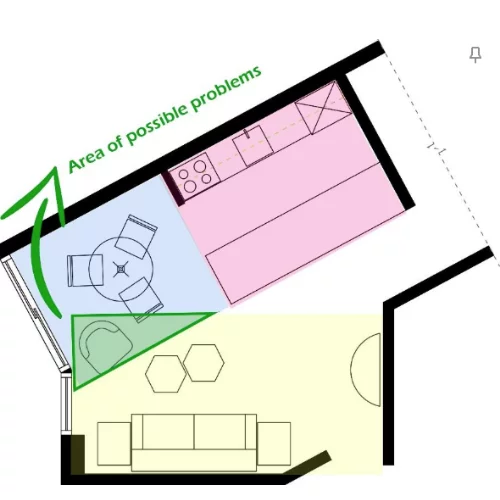 2.
Design
Flow
And Continuity For Open Concept Rooms:
It is very important for the design to flow from one area to the next in an open floor layout. This means coordinating colours, finishes, furniture styles and themes. There's no need to go matchy-matchy, but everything should work together.
For instance, if you opt for a country theme in your kitchen with all the rustic finishes, then you should consider going with a similar concept for your dining table.
In other words, a farmhouse chic table with distressed wood finishes can fit the space perfectly. However, a table with contemporary glossy finishes and shiny metals can look alien in the room.
Check out our design article How to make your living room flow for more design flow solutions.
3.

Living Room with Competing

Focal Points

:
Perhaps the biggest challenge you can face with open concepts is the lack of walls to work with.
For example, the living room might have one wall with only a fireplace in the center. In a case like this, it's advisable to combine focal points such as the TV and fireplace into one*. This way, you can save more wall space and allow for easier and more flexible furniture placement.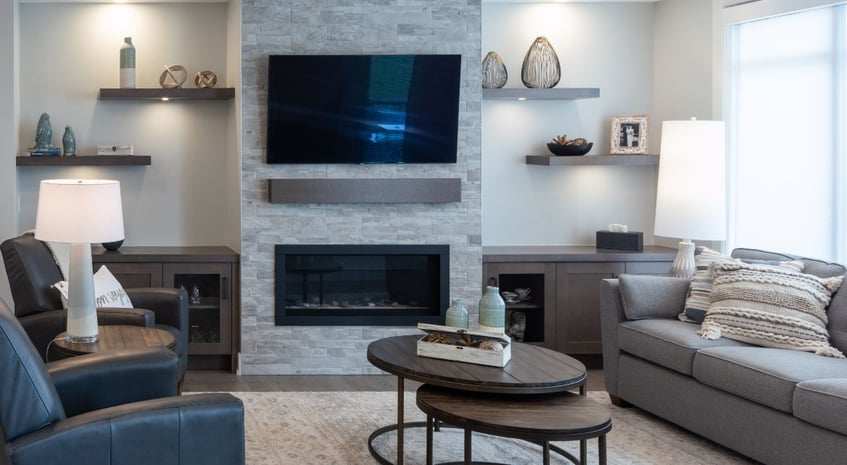 *In this scenario, you need to check the city codes for safety regarding the type of fireplace and the distance between the fireplace insert and the TV.
Check out this example of a newly designed open-concept home (with the tv over the fireplace) in our latest La-Z-Boy Design Story.

Check out another example of an open concept living/dining room in this Modern Interior Design Makeover.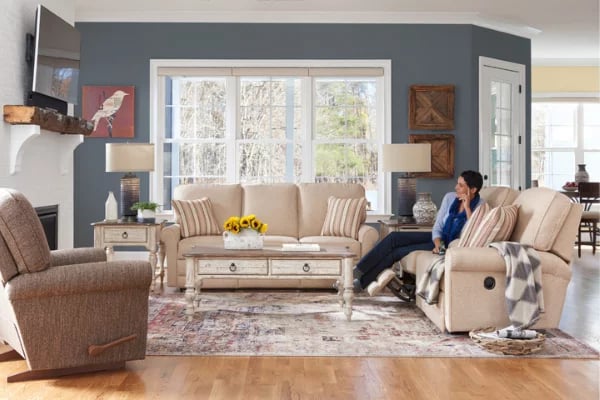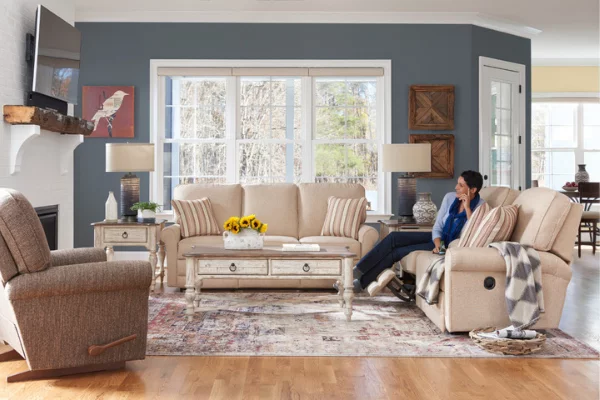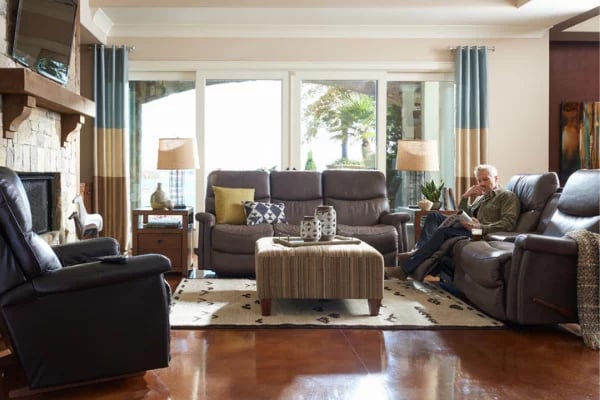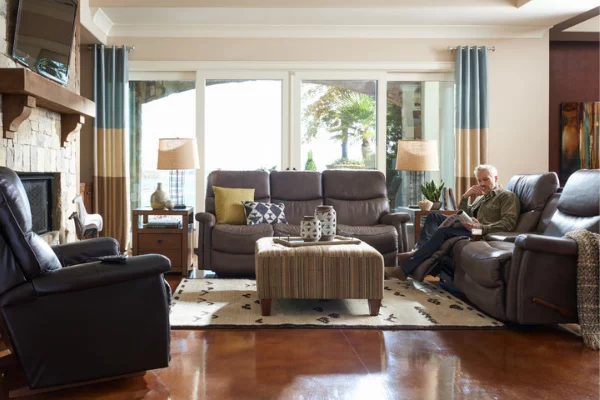 Next Steps
My final advice to you would be to make a plan first. This way, you can eliminate the problems you might encounter and envision the final layout.
We understand that designing an open concept home can be challenging. That is why we offer a complimentary in-home design service should you need help designing the room of your dreams!
Visit us at one of our local Ottawa or Kingston locations or schedule an appointment with a design consultant online. Start designing your open concept space today.
Product Info Request
Please provide us with your name and email and we'll get back to you as soon as possible regarding this item.