Top 5 Home Interior Designers in Ottawa
November 18, 2022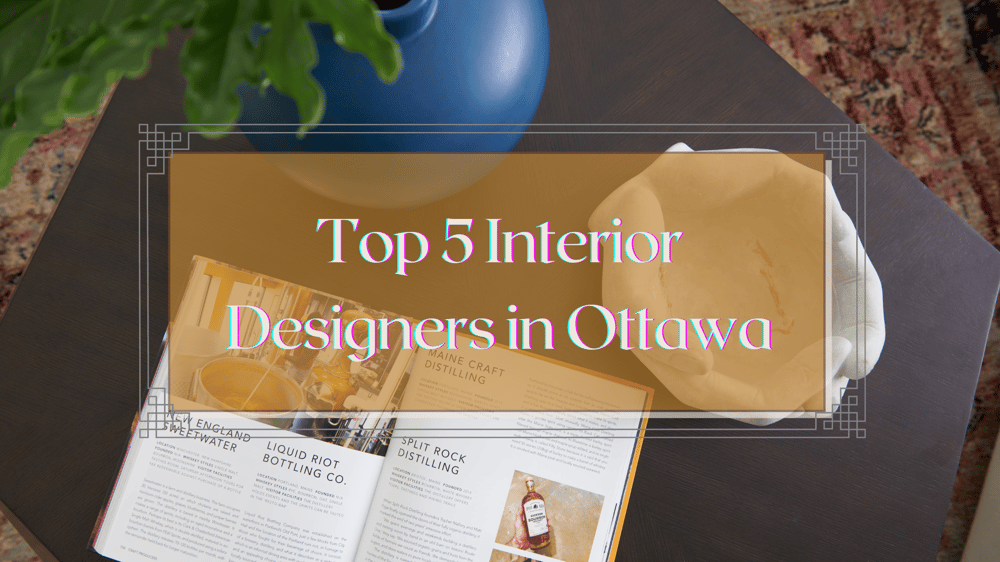 Est. Reading Time: 5 Mins
When decorating or renovating a home, you'll want to ensure that the furniture and decor are well coordinated in every room.
In the process of furnishing and decorating a home, it is common to feel overwhelmed with ideas and unsure of where to start. Or maybe you have no ideas at all!
If this is the case, you might benefit from receiving advice from an interior designer. Interior designers work with you to determine what style, look, and feel you want in your home. Maybe you have a taste for traditional furniture, or perhaps you have a preference for a modern look. You may even consider a niche design style like Scandinavian or Parisian.
Whatever the taste is, an interior designer will be able to help out in some way!
At La-Z-Boy, we have a talented team of designers and offer complimentary interior design services. However, we realize that our design services might not be right for everyone.
This is why we have compiled a list of the best interior design services in the Ottawa area. This list is sorted in alphabetical order.
In This Article…
1. CPI Interiors
First on our list, CPI Interiors is an interior design company in Ottawa, situated in Stittsville.
Self-proclaimed as the premier residential interior design service in the Ottawa area, CPI's primary goal is to help make their client's homes beautiful by "listening attentively to their needs and values" and pulling furniture and decor items from other showrooms in Ottawa.
Composed of a dozen interior designers, CPI offers design services in Ottawa and surrounding areas like Almonte, Arnprior, Carleton Place, etc.
Among their interior design services, CPI offers Paint Consultation, Custom Closet Design, New Home Selections, Condo/Apartment Design, Partial/Full Room Makeovers, and Renovations.
All services have their own way of operating, but their general process is booking a 15-minute initial call (or conversation in their showroom) to get a general idea of your goal. This is followed by a complimentary initial consultation, which includes a home tour.
The team then begins the design phase, which eventually leads to a presentation of their idea, and then finally, reveal day, where your home gets transformed with their services.
The initial consultation and phone calls are free, but every other service has a price, which is dependent on the size of the project. Furniture purchases are not included in the cost of the design services.
Location:
2. EQ3 Furniture
Next, EQ3 is a modern & contemporary furniture store located in Ottawa's Byward Market. It is the only furniture store listed on this list, as well as the only company located downtown.
Not only does EQ3 sell their own furniture, but they also provide free interior design services that incorporate its furniture in the design. The furniture, however, is purchased separately from the interior design services.
Founded in 2001, EQ3 encourages collaboration between designers and customers alike to create the home of your dreams.
EQ3's design services claim to offer a "holistic process," meaning each designer takes the time to review all aspects of a room (furniture, colour palettes, lighting, decor, etc.) to see what can be done to bring a design vision to life.
Virtual appointments are a newer specialty due to the ever-changing COVID-19 pandemic. Now, if people are uncomfortable or unable to access the store in person, customers can talk to interior designers through video chat.
To learn more about EQ3, take a look at our comparison article between EQ3 vs. La-Z-Boy.
Location:
60 Byward Market Sq, Ottawa
3. Grassroots Design and Build
Grassroots is another Ottawa-based design company that, according to their website, "happen to be a lot of fun to work with."
This award-winning company has a team that consists of designers, carpenters, painters, and contractors that help create a "stunning and functional space that is as unique and individual as you are."
Since they do not have their own furniture, they pull from exterior resources to find furniture and decor items. Furniture and decor prices will be separate from the cost of design services.
Their services include:
$300 initial consultation
Followed by $130-175 hourly charges
$400 paint consultation
Online Design consultations through the GrassRooms application ($300 for one room, $400 for two and $500 for three)
$400 in-home styling
Location:
4. LeClair Decor
Built towards a young and stylish audience, LeClair Decor is a design company specializing in modern and contemporary design services to help diversify its clientele.
"We've always believed that a home comes to life when crisp, modern lines are paired with warmer textures and natural elements. It's this signature Warm Modern aesthetic, in combination with our streamlined project management system, that sets us apart and has garnered us an international following." - LeClair's Philosophy.
LeClair uses furniture from their mother company, LD Shoppe, to help furnish their client's rooms. Their furniture selection includes furniture for all rooms, such as the living room, dining room, bedroom, entryway, home office, and outdoors. Out of their decor items, they sell mirrors, area rugs, lighting, and artwork.
As for their design services, LaClair has a full design service that includes a design phase, constant communication, and decorating process. The price is dependent on each project.
Location:
5. Tanya Collins Design
Last but certainly not least is Tanya Collins Design. Created by Tanya Collins herself, Tanya is an established interior designer who has experience in decorating homes for over 20 years.
Along with her team, Tanya Collins works on various projects, which include designing the CHEO Dream Home for a consecutive 5 years now.
Tanya Collins Design source their furniture from furniture retailers in Ottawa but also can pull furniture from sites like Wayfair depending on what the client is looking for.
Tanya Collins offers initial on-site/in-person consultations for $150-$250/hour, depending on the designer.
Tanya Collins Design does not have a fixed location.
Interior Design Services at La-Z-Boy Ottawa & Kingston
At La-Z-Boy Ottawa & Kingston, we also offer complimentary interior design services with the purchase of La-Z-Boy furniture. Ottawa's La-Z-Boy locations offer design services from Magaly del Castillo in Cyrville, Zeina Badawi in Kanata, and Michelle MacLellan in Hunt Club. If you live closer to the Kingston area, you will receive design services from Mary Lee Smyth.
Each designer from our Ottawa & Kingston Locations has a well-rounded and unique perspective on interior design, which makes either one a great resource to consult when designing your home.
Your interior designer will work with you one-on-one to understand your vision, select La-Z-Boy furniture & decor, create a 3D room plan, and bring your vision to life.
To learn more about What to Expect from Our Interior Design Services, check out this article for our step-by-step process.
What's Next?
You are now more familiar with some of the best interior design services in Ottawa. It is now up to you to decide which design service is right for you!
If you are interested in our interior design services at La-Z-Boy, make sure to stop by any of our Ottawa & Kingston locations to get started. You can also book an appointment before coming in.
If you're interested in learning more about our furniture products, take a look at some of our best-selling furniture articles:
To see another list of Interior Designers in Ottawa, check out this list made by Deslaurier Custom Cabinets. If you're interested in learning about some of the Interior Design Services in Kingston, make sure to check out our list here.
Related Articles:
How Much Does an Interior Designer Cost
Product Info Request
Please provide us with your name and email and we'll get back to you as soon as possible regarding this item.