The Margaret Power Lift Recliner: In-Depth Review
May 5, 2020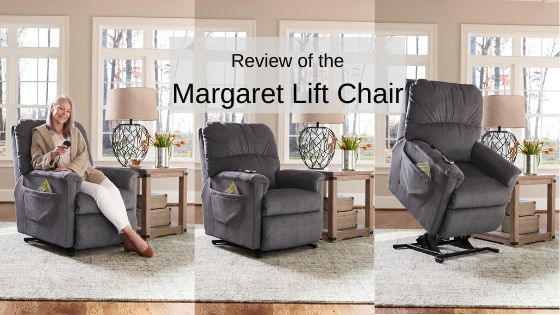 ***Please note that the Margaret Power Lift Recliner is currently discontinued. If you like this review, go to lzb.com for all the latest Lift Recliners available.***
Are you looking to find out more about La-Z-Boy's newest addition, the Margaret power lift recliner? You may be wondering what the Margaret's features and benefits are, as well as whether it is the right fit for you.
As inventors of the reclining chair back in 1927, you can rest easy knowing your lift recliner possesses 90 years of innovative design experience. They provide the smoothest, most secure motion and offer unmatched comfort in every position at the touch of a button.
Wendy Tomlinson has been the manager at both our Gloucester and Nepean store locations. She has recently taken on a new role as our 'CFL manager' where she works to support all store managers and helps provide the best possible client experience.
During her ten years with La-Z-Boy, she and her sales consultants have helped fit hundreds of customers to their perfect recliner.
Wendy says the Margaret power lift recliner is the smallest of our family of lift chairs and has simple features. She says it's her "go-to lift chair for petite-sized clients."
Power lift recliners are a comfortable and practical answer for people as they age or to anyone that requires assistance getting in and out of a chair. In this review, find out why the Margaret made our list of best-selling lift chairs in Ottawa and Kingston.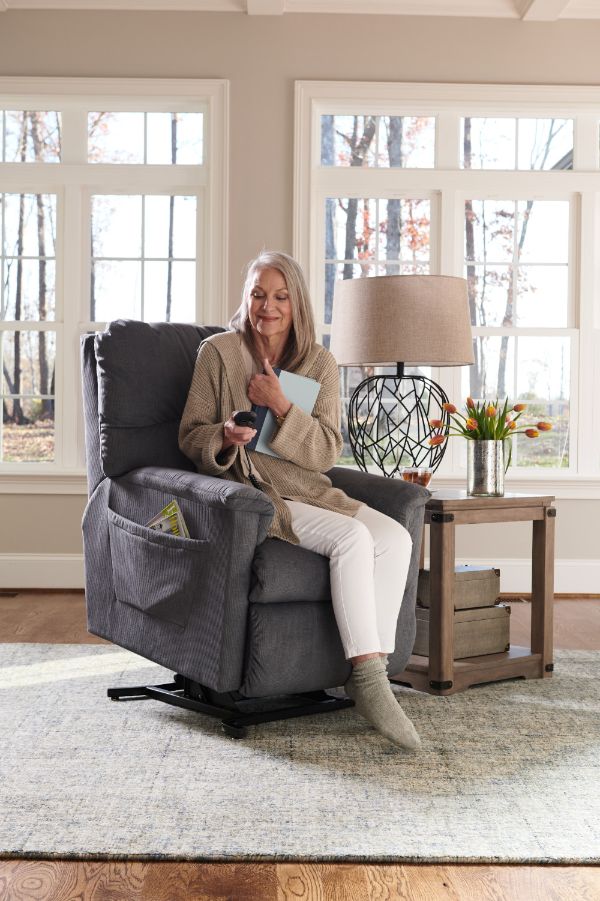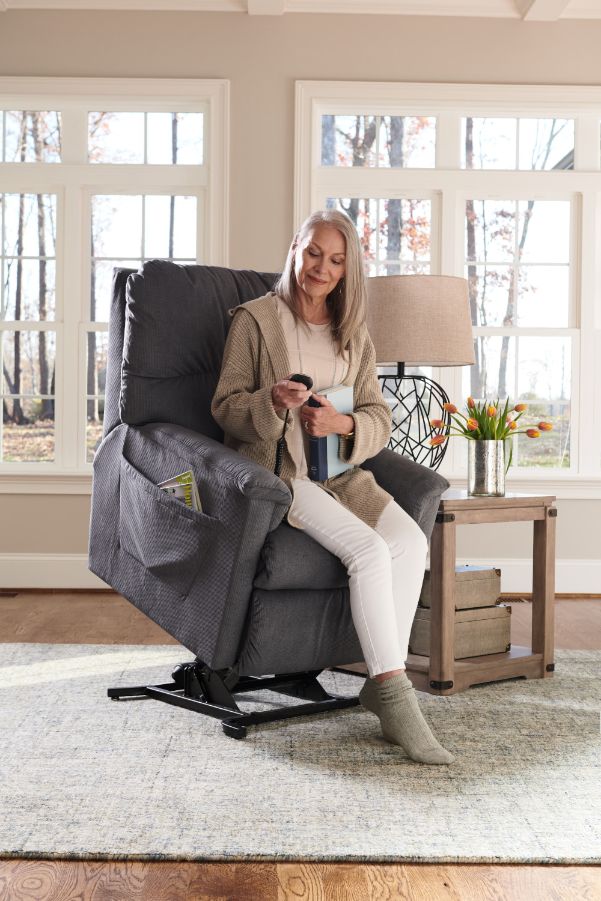 1. Unique Features
La-Z-Boy's newest lift chair addition, the Margaret Bronze Power lift chair, is a petite scale model recliner. The Margaret designed for smaller users has a shorter seat height and a one-piece chaise seat for continuous comfort.
Press a button on the wired remote to get in or out, or fully recline. The heavy-duty tubular steel base gives Margaret a strong, stable foundation. And, its casual style blends with your existing pieces. The bucket-style seat and back move together, eliminating gaps and providing full-body support in any reclined position.
This chair can be placed just 2 inches from a wall, so it fits beautifully in small spaces. Make it yours with your choice of fabrics and available upgrades.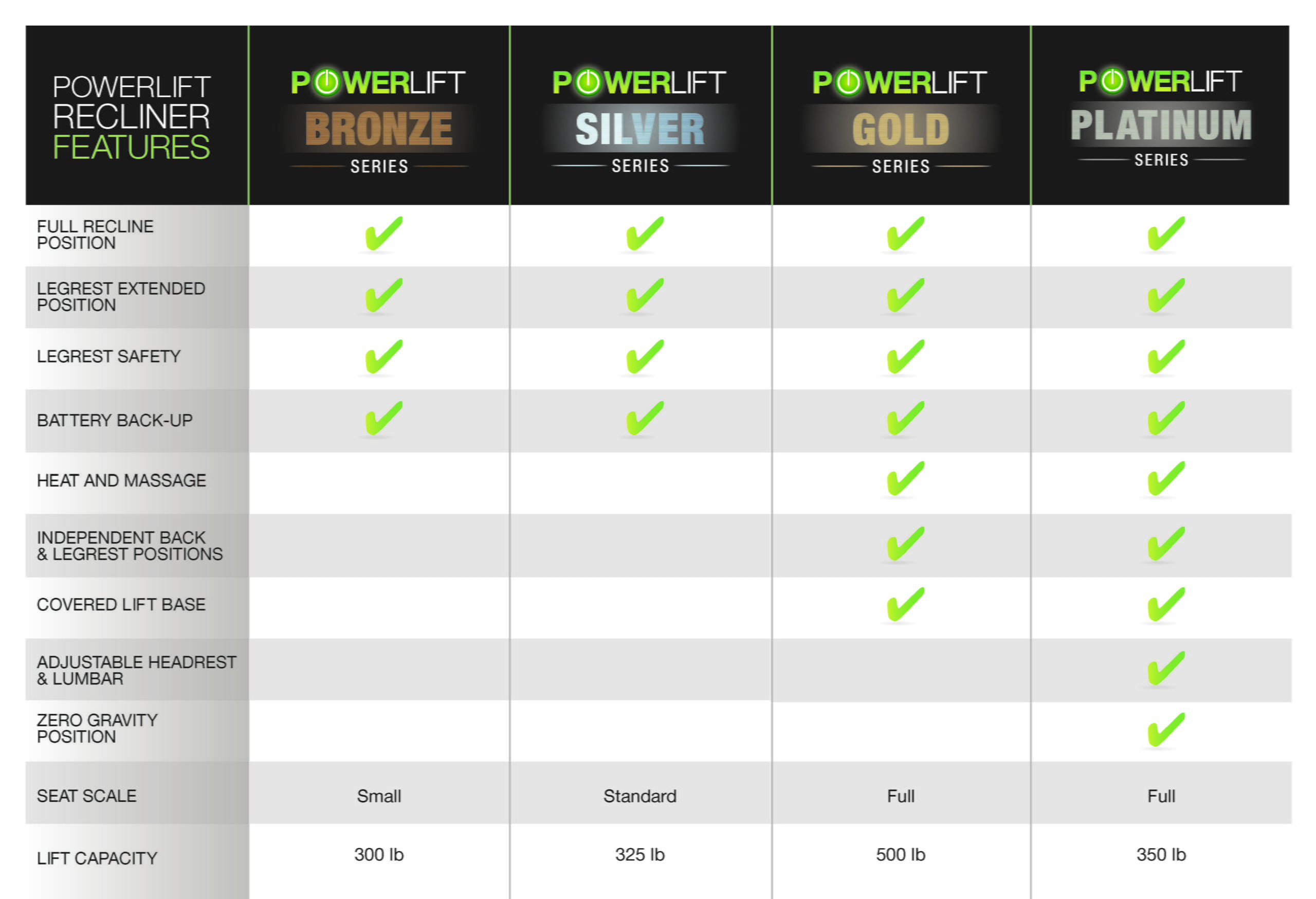 Other Features of the Margaret Power Lift Chair
Chaise leg rest (no gaps in the leg rest)

Fibre-filled back

Cushioned arms

Convenient side pocket

300-lb. weight capacity

UL/ETL Listed

Non-skid adjustable glides for use on area rugs, deep carpet or hard floors

Legrest autostop safety feature

Battery backup safety feature (requires 2 9V batteries)

Customizable with your choice of fabrics and cushions

Plugs into an AC outlet
Seat Width: 18
Body Width: 29
Body Height: 41
Seat Height: 19.5
Body Depth: 39.0
Seat Depth: 19.5
3. Options and Upgrades
Take some time to investigate your options so that your new lift chair doesn't just suit your home; it suits your way of living. The Margaret power lift recliner has various customization options available. Wendy says the Margaret looks like a regular chair, and it mixes well with other furniture in your living room.
Upholstery / Cover Options
Your choice of fabric upholstery is a pivotal decision when selecting a recliner for your home. The Margaret has several hundred cover options so you can custom-create a look that's uniquely yours. Choose from a wide variety of colours, patterns and textures.
Life can be hard on furniture, so our fabrics are wear-tested for quality and durability, ensuring they stay beautiful for years to come.
Select iClean fabric colours included in the variety of fabrics available. These fabrics offer a barrier of protection that repels spills before they turn into stains.
If you have pets, you might consider taking advantage of our Pet-Friendly fabric that has a high level of cleanability and durability, including the iClean technology.
Another specialty fabric option at La-Z-Boy is the antimicrobial fabric. This fabric protects against mould, mildew, and odour-causing bacteria
A subset of covers is available in "conserve" fabric. Soft, durable, and sustainable "conserve" fabric is made out of recycled water bottles. We use as many as 110 recycled water bottles to create a sofa with this eco-friendly material.
As with conventional furniture fabrics, conserve covers are wear-tested for safety, quality and durability. So, they stay comfortable and beautiful for years after delivery. They come in a wide range of colours and patterns to complement your room.
Leather is not available in any lift chair as it could pose a danger when lifting you out of the chair.
Seat Cushions
High-quality polyurethane foam gives recliner cushions increased softness and support while providing exceptional durability.
Firmer seat options are available at an additional cost.
For more information view our Motion Furniture Collection catalogue and our in-depth Review of La-Z-Boy's Chair and Sofa Seat Cushions.
Please note that reclining furniture purchased prior to January 2021 had the option to upgrade to airform™ cushions. This cushion includes a two-inch layer of premium quality memory foam added on top of the standard foam base within the seat, chaise and leg rest of the unit.
4. Determining the Right Fit
This chair works extremely well for someone who's older or who has mobility issues.
Wendy says the "Margaret works well for a petite stature because of its short seat. It looks like a regular chair (in a seated position) in your living room and mixes in well with other non-reclining furniture. A larger lift chair would stand out more."
The Margaret lift recliner has simple features, one button for up and down, and is simple to use. If you're looking for more elements like heat and massage, you may prefer another lift chair like the Pinnacle.
There is no tall back for those of taller stature. If you are over 5.4 or If you like to sleep in your lift chair, this is not the one for you. Although there's nothing stopping you from taking a cat nap!
Learn more about our entire line up of lift recliners.
Next Steps
No chair, including La-Z-Boy's power lift recliners, are one size fits all. If you are shopping for someone else, it's vital to have the person who will be sitting in the chair, try it out if at all possible. You need to test the lift chair in both sitting and reclining positions to confirm that your heel does not hang over the footrest, and your ankles are supported.
The Margaret power lift recliner is relatively new and only just hit our floors in 2018. In that short time, it has certainly filled a niche for those smaller sized persons looking for a lift chair. It's the second most popular lift chair in Ottawa & Kingston next to the Pinnacle Lift recliner chair and the best-selling lift chair in North America.
Product Info Request
Please provide us with your name and email and we'll get back to you as soon as possible regarding this item.