Cost to Furnish a Bedroom: Budget & Cost Breakdown
November 8, 2021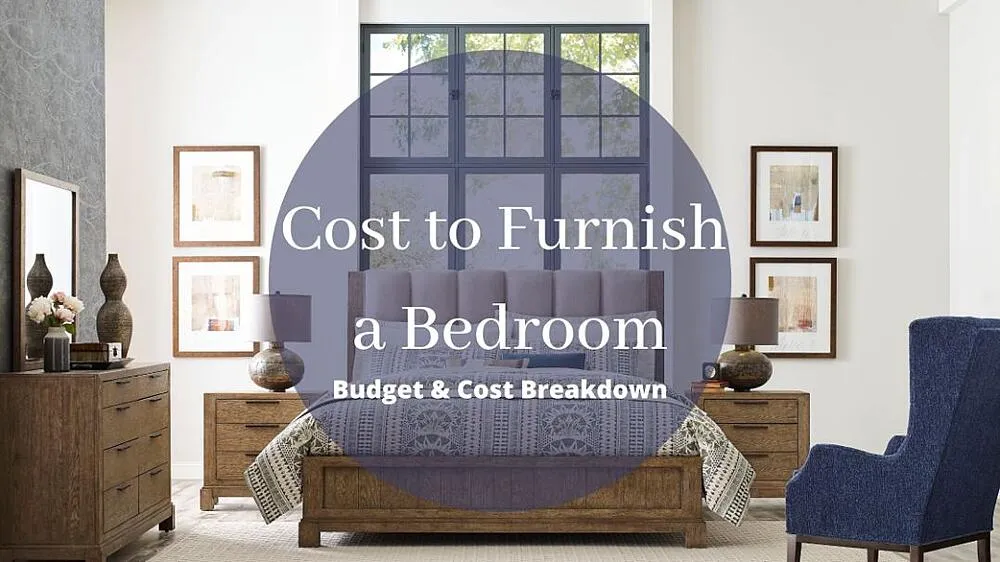 *We aim to update cost articles twice per year to ensure that the costs listed reflect the current market. This article was last updated in March 2022.
Did you know that we spend a third of our lives asleep?! Therefore, we spend about a third of our lives in our bedroom. And we spend even more time lying around in bed!
The bedroom is arguably the most important room in the home. Although this room is not shown off to guests, it is a personal and sacred space for rest, romance, and relaxation.
In turn, the way we furnish a bedroom is very important. It creates a zone of comfort and sets the atmosphere for rest.
Although we've been the world's leading manufacturer of reclining chairs for over 90 years, La-Z-Boy is passionate about bringing comfort and quality to every room in the house, including the bedroom. Through partnerships with manufacturers such as American Drew and Kincaid, we offer a comprehensive selection of high-fashion bedroom collections.
Many of our clients ask for our advice on furnishing a bedroom from start to finish, especially regarding cost!
This article will guide you in creating a bedroom furniture budget with a detailed breakdown in bedroom furniture costs. By the end of this article, you will have a clear idea of what you should expect to spend on furnishing a bedroom.
In this article ...
3. Cost of Bedroom Furniture at La-Z-Boy
Creating a Bedroom Furniture Budget
The first step of creating a budget is to know what you are budgeting for.
When it comes to furnishing a bedroom, start by considering the size of the bedroom and the number of people that will use it. Is this bedroom for two rambunctious twins or one quiet teenager.
Further, some bedrooms hold more importance than others. You will likely allocate a larger budget for the master bedroom than an occasionally used guest room.
With this in mind, make a detailed list of the furniture you will need to fill the space and comfortably host your family and friends. Do you already have a few pieces that you love? Perhaps some old favourites can be incorporated into your new design and save you money in the process.
Although there are many items and details that contribute to making a bedroom a comfortable sleep oasis, the following budget is solely based on bedroom furnishing essentials. Put your needs before your desires in this preliminary furnishing budget.
Take a look at the chart below to get a better idea of what we will consider 'bedroom furnishings for the purpose of this article:
A Furnishing Budget SHOULD Include ...

A Furnishing Budget Should NOT Include ...

Furniture
Rugs
Artwork
Accessories/Decor
Light Fixtures
Window Coverings

Paint
Moldings/Trim Work
Cabinetry
Flooring
Stone Work
Countertops
Electronics
Appliances
Once you have made a complete and detailed shopping list, it is time to make another crucial budget decision … save or splurge? Whether this bedroom is something you want to invest in is entirely up to you.
If you are settling into your forever home and furnishing your dream master bedroom, you may want to pull out all the stops. Alternatively, if you are furnishing a nursery that will quickly be transformed into a teenager's bedroom, you may consider saving some pennies.
It is a good idea to analyze your shopping list, item-by-item, and decide which items are worth splurging on and which items you can bargain for.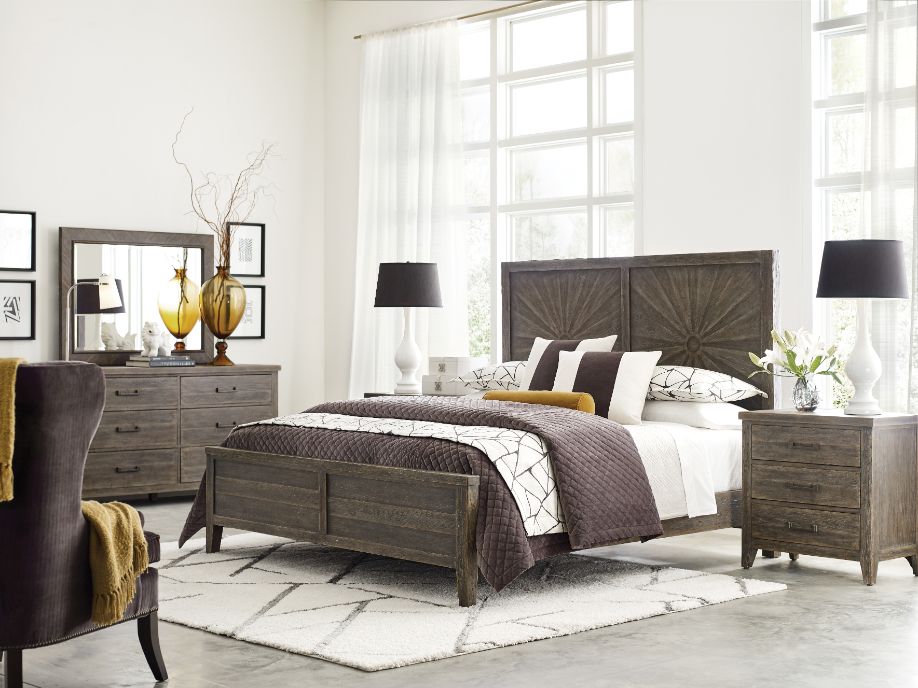 Breakdown of Bedroom Furniture Costs
There are a few essential elements that make a bedroom. First and foremost, a BEDroom is defined by a BED. That is why a comfortable bed frame and mattress are absolutely necessary.
Moreover, it is standard to incorporate a bedside table and lamp. To create a cozy bedroom atmosphere, include an accent chair, a cozy rug, and textured drapery.
Perhaps your bedroom doubles as your wardrobe. In this case, it is not uncommon to find a dresser or two accompanied by a full-length mirror.
Below is a chart outlining the average cost ranges of typical bedroom furniture. Once again, these costs may vary depending on the size of the bed and the quality of furniture you choose to invest in.
Bedroom Furniture Budget (at a glance)
*Take note that the symbol ~ means approximately.
| | |
| --- | --- |
| Furniture | Average Cost Range |
| Bed Frame | ~ $150 - $2,500+ |
| Nightstands | ~ $100 - $1,000+ |
| Bedroom Lighting (i.e Lamps) | ~ $200 - $900+ |
| Dresser | ~ $300 - $2,000+ |
| Full-Length Mirror | ~ $50 - $550 |
| Accent Chair or Bench | ~ $400 - $1,000+ |
| Area Rug | ~ $100 - $4,000+ |
| Decor / Accessories | ~ $250 - $1,200 |
| Window Coverings | ~ $300 / per set |
| Total Cost to Furnish Bedroom | ~ $2,050 - $13,750+ |
As you can see from the chart above, there are many elements that go into creating a bedroom. Keep in mind that purchasing a bedroom set can be a convenient and affordable way to furnish a bedroom.
Bedroom sets are typically sold in packages of three to seven pieces of coordinated bedroom furniture. Instead of putting together a bedroom one piece at a time, purchasing a bedroom set offers a seamless look. Not to mention, it saves you a lot of time in the shopping process.
Check out the article Where to Find a Bedroom Set in Ottawa.
Now continue reading for a more detailed breakdown of bedroom furniture costs, piece by piece.
You will notice throughout the article that the cost of most bedroom furniture depends on the materials used and construction methods. More specifically, given that most bedroom furniture is made of wood, the cost of this furniture is directly related to the quality of wood used in the making of the furniture.
Cost of a Bed Frame
The bed is the centerpiece of any bedroom. It is the anchor, surrounded by all other furniture in the room.
When furnishing a bedroom, it is a good idea to start by choosing a bed frame. The size of the bed frame will depend on the size of the room and who will be using it.
For example, a crib belongs in a nursery, a twin or bunk bed belongs in a small child's room, a double is appropriate for a teenager, a queen is lovely for a young adult, and you will typically find a king bed in the master bedroom.
The size of the bedframe is the biggest indicator of cost but prices also vary depending on the quality and durability of the materials used. Stylish elements such as a padded or elaborately carved headboard will also increase the cost of a bed frame.
The cost of a bed frame can range anywhere from $150 to $2,500 or more. On average, most people spend about $300 on a bed frame.
Ultimately, the amount you spend on a bed frame is entirely up to you. It may be worthwhile to splurge on a bed frame that you intend to keep for years, and save on a bed frame that is more temporary.
Cost of a Mattress
Additionally, although it may not be considered furniture, a mattress is a very essential aspect of any comfortable bedroom.
The cost of a mattress ranges from about $200 to $3,500 or more. On average, most people spend about $1,000 on a mattress.
Similar to a bed frame, the cost of a mattress is dependent on the size, quality of materials, and construction.
On a budget, you will find a foam or innerspring mattress made from basic materials. In the mid-price range, you will find a foam, innerspring, or hybrid mattress made from quality materials. A luxury mattress consists of hybrid or latex, made from high-end materials.
Below are a couple of reputable mattress stores in Ottawa ...
Hardy Mattress & Feather Inc.
Sleep Country Canada
Matelas Lapensée Mattresses: Lapensée Mattresses are used in the bedrooms of the

CHEO Dream Home

, furnished by La-Z-Boy.
Mattress Mart
Once your furnishing budget is complete, be sure to account for the cost of a duvet, pillows, and bedsheets. You want your bed to be cozy after all!
Cost of a Nightstand
Incorporating a nightstand or two is a way to nicely frame the shape of the bed. From a practical standpoint, nightstands offer a convenient surface to place a glass of water, a book, and keep a bedside lamp.
Ranging from about $100 to $1,000 or more, you'll find a wide range of nightstand costs on the market. Most bedside tables are quite small. In turn, the cost of a nightstand is less dependent on size, and more dependent on materials and the level of craftsmanship.
For example, a simple bedside table that is made from low-quality materials and mass-produced can be as inexpensive as $50. Alternatively, an heirloom quality nightstand handmade from the finest of materials can cost up to $2,000.
The amount you spend ultimately comes down to your budget and how long you intend on enjoying this piece of furniture.
Cost of Bedroom Lighting (Lamps)
Perfect for story time and setting the mood, lamps are also a great way to add unique decor to your bedroom.
Table lamps are most commonly placed on a nightstand in the bedroom. Further, a floor lamp nicely compliments a bedroom when placed in a corner.
There are many decorative considerations when choosing a lamp for your space but it is also important to factor in cost.
Generally speaking, a lamp costs anywhere between $200 to $900 or more. The cost is dependent on the quality of materials, the level of craftsmanship, and the overall style.
Cost of a Dresser
Depending on the layout of your bedroom, you may or may not have a closet or walk-in closet for that matter.
The cost to furnish a walk-in closet is a topic on its own. Check out this Guide to Bedroom Closet Renovations and How Much Does a Custom Closet Cost.
For bedrooms that do not have an attached walk-in closet, it is common for the bedroom to double as a wardrobe. With this, many bedrooms require a dresser or two.
The cost range of a dresser is very broad, similar to the cost range of a nightstand. The cost of a dresser is dependent on the size, the number of drawers, the quality of materials, and the level of craftsmanship. You can expect to spend between $300 to $2,000 on a dresser.
Cost of a Full-Length Mirror
If you are getting dressed in your bedroom, it is likely that you would appreciate a full-length mirror to check out your stylish outfit.
Depending on the size and quality of hardware, and glass, a full-length mirror ranges from about $50 to $550.
If the mirror needs to be professionally installed on the wall, be sure to account for the cost of installation. The labor cost of hanging a mirror is within the range of $50 to $150 per hour. This process takes between 30 minutes to an hour depending on whether the mirror is recessed or surface-mounted.
Cost of an Accent Chair or Bench
So we have covered the costs of the essentials, but sometimes larger bedrooms need a few extra pieces of furniture to fill the space.
It is common to find an accent chair or bench in a large master bedroom. An accent chair looks nice in a corner and can be used as a reading chair. A chair & a half or a rocking chair is a great addition to any nursery as a place for mom & dad to rest.
Although it might not be a traditional 'accent chair', a teenager may love a bean bag in their bedroom!
Further, a bench looks beautiful at the end of a bed. Sometimes a bench can dual as seating as well as an extra space for bedroom storage.
In general, an accent chair or bench ranges from about $400 to $1,000 or more.
The cost of an accent chair or bench is dependant on several factors:
The size, shape, & functionality
The quality of materials
The type of upholstery
The level of craftsmanship
The retailer you shop with
Although an accent chair or bench is not a necessary component of a bedroom, it can be a great addition if your budget allows for it.
Cost of an Area Rug
If your bedroom has hardwood flooring, incorporating an area rug can pull the furniture arrangement together and create a cozier atmosphere.
An area rug costs between $100 to $4,000. The cost of an area rug is dependent on a variety of factors including size, materials, construction, style, and overall quality.
With so many factors to consider, it can be difficult to choose the perfect area rug. In fact, there are multiple ways to incorporate an area rug into your bedroom furniture arrangement, dictating the size, style, and cost of the area rug you choose.
The most common place for an area rug in a bedroom is under the bed, as it anchors and frames the largest piece of furniture. This calls for a large area rug, perhaps as large as 12 by 15 feet to accommodate a king-sized bed.
If you are hesitant to invest in a rug that is largely covered by the bed, you may opt for an area rug beside the bed. This rectangular-shaped rug is called a runner. A long runner can line the full length of the bed, while a smaller, accent runner can offer a cozy landing spot for your feet in the morning.
Finally, you may consider placing a couple of small rugs throughout the room, highlighting multiple pieces of furniture.
Check out a Review of Surya Area Rugs offered at La-Z-Boy.
Cost of Bedroom Decor/Accessories
Once you have accounted for the cost of furniture, you may have room leftover in the budget for some decor and accessories. When decorating in layers you can let your personality really shine through and add texture, depth, and interest.
There are many ways to decorate a bedroom:
Artwork
Photo Gallery Wall
Bookshelf
Decorated Shelving
Throw pillows/blankets
With so many options to choose from, it is difficult to put a price range on bedroom decor and accessories. Depending on your preference, you can spend anywhere from $250 to $1,200 or more on bedroom decor.
No matter how much you decide to spend, it is most important that your bedroom decor reflects your unique personality and tastes.
Cost of Bedroom Window Coverings
Finally, a bedroom with windows will require some form of window coverings. This is necessary to achieve privacy and block the harsh sunlight from waking you up early in the morning. With that being said, window coverings can also be very decorative.
The cost of bedroom window coverings will depend on a variety of factors:
Type of Window Coverings: blinds, shades, drapes, etc.

Size of Window

Quality of Materials

Installation Cost

Generic vs. Custom
On average, you can expect to spend about $300 per set.
Cost of Bedroom Furniture at La-Z-Boy
To many clients' surprise, La-Z-Boy has a wide selection of bedroom furniture.
American Drew and Kincaid, are two subdivisions of La-Z-Boy incorporated, that offer heirloom-quality furniture, including bedroom furniture. This includes bed frames, dressers, nightstands, chests, benches, and mirrors.
Products manufactured by American Drew are timeless, yet re-imagined for today's fashions. Kincaid provides solid wood furniture deriving from its most natural form. The company aims to provide honest value and heirloom quality in its products.
The cost of American Drew and Kincaid bedroom furniture falls within the mid to high price range of the market. This cost is ultimately reflected in the quality of materials and level of craftsmanship.
To get a better idea of what you can expect to pay, below is a breakdown of American Drew and Kincaid bedroom furniture costs.
| | | |
| --- | --- | --- |
| | American Drew | Kincaid |
| Bed Frame | ~ $2,600 to $5,500 + | ~ $2,650 to $6,670 + |
| Dresser | ~ $3,500 to $5,290 + | ~ $4,325 to $5,960 + |
| Nightstand | ~ $1,130 to $3,000 + | - |
*All La-Z-Boy prices listed in this article are subject to change. We aim to update all cost-related articles twice per year. This article was last updated on March 22, 2022. Please visit lzb.com and select an Ottawa or Kingston La-Z-Boy store location to view the most up-to-date pricing.
Some American Drew and Kincaid bedroom furniture can be admired on the La-Z-Boy showroom floor. But there is much more where that came from! If you are shopping for American Drew or Kincaid bedroom products, our design consultants would be happy to help you and show you the entire selection from the complete catalogues.
The design consultant can provide you with detailed information about the products that catch your eye, such as dimensions and material samples.
Anything from the catalogue can be ordered and delivered to a local La-Z-Boy location.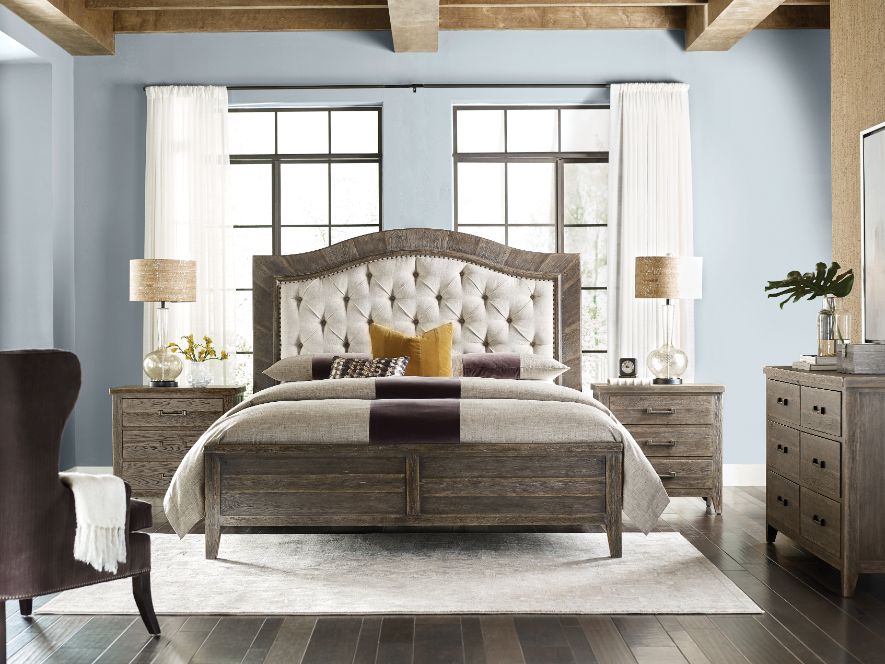 What's Next?
So there you have it! Furnishing a bedroom can cost anywhere between $2,050 - $13,750 or more.
With this budget in mind, you are ready to start shopping!
We understand that furnishing a bedroom from scratch can be a daunting task, especially if you struggle with home design. That is why we offer complimentary design services at La-Z-Boy. Our expert designers can assist you in designing a bedroom that will become your personal oasis, matching your exact tastes and preferences.
Visit us at a local Ottawa or Kingston location to get started today. If you prefer to plan in advance, schedule an appointment online.
Goodnight & Bonne Nuit!
Related Links:
How Much Does it Cost to Furnish a House?
How Much Does it Cost to Furnish a Basement?
Product Info Request
Please provide us with your name and email and we'll get back to you as soon as possible regarding this item.