Best-Selling Buffets & Barstools at Canadel
May 18, 2022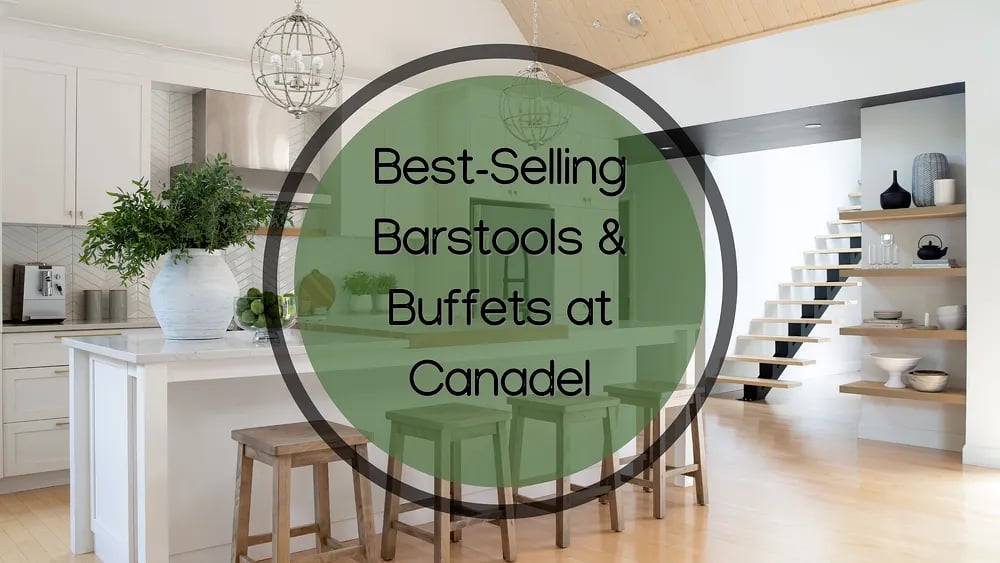 Est. Reading Time: 7 Mins
Are you having a hard time finding a place to store your fancy china or dining room cutlery? Or maybe you have another dining room furniture piece, like an island, but aren't sure if you're using it properly.
This is when the underdogs of the dining furniture world shine!
Whether you call it a buffet, a sideboard, a hutch, or whatever else, this piece of dining room furniture is perfect for anyone looking for extra storage or needing to fill an empty space.
Barstools are also a great answer if you are creating a more casual dining area with a high-top table or an island.
According to Lina Najia, a design consultant at La-Z-Boy, she says "Dining room buffets and barstools can come in all different shapes and sizes." From big to small and all things in between, Canadel is sure to have something that will cater to your dining room needs.
This article will discuss the selection of buffets and barstools, customization options, and best-sellers.
In This Article…
Who is Canadel?
Canadel is a Canadian furniture company that specializes in custom dining room furniture.
Being in business for over 30 years, they are experts in knowing how to make quality crafted dining room furniture.
One thing La-Z-Boy customers may not know is that Canadel furniture is a part of our dining selection at La-Z-Boy Ottawa & Kingston, with a flagship Canadel showroom attached to the La-Z-Boy Kanata showroom.
Much like La-Z-Boy, Canadel prides itself on selling high-quality dining room furniture. With this, Canadel has six collections to choose from, including Canadel, East Side, Gourmet, Downtown, Champlain, and Loft.
In addition, they provide extensive customization options, made easier with the Canadel UDesign tool, which provides the online customer with over 9 million furniture combinations and options to choose from.
Top 3 Best Selling Canadel Barstools & Buffets
Canadel has many different barstool and buffet configurations to choose from, thanks to its many customization options. This section will list the top 3 barstools and top 3 buffet options that customers are frequently drawn to at Canadel.

Barstools
The first barstool on our list of top Canadel barstools comes from the Canadel Core collection, which is a very popular collection. In fact, Canadel Core will make a recurring appearance throughout this article.
This barstool's seat is cushioned making it very comfortable to sit on. It has very straight lines and a clean look, which is what most people are drawn to, according to Lina.
Lina also says that this barstool fits a modern and a classic look, so anyone looking for this kind of style will enjoy this barstool design.
You can find this barstool in UDesign with the code SNF08002TB01M24.
This image shows another best-selling Canadel Core barstool, which also has clean lines in the design but is a little smaller than the other barstool mentioned above.
It also has a rounded seat, with the ability to swivel at a full 360-degrees. This barstool does not come with a back, so those looking for extra back support may not like this barstool.
However, because there is no back, this barstool is easier to tuck into any table that has a barstool height, optimizing your living space.
You can find this barstool in UDesign with the code SNS08004TB01M24. To learn more about Canadel Dining Room Furniture for Small Spaces, check out this article.
Finally, this barstool has a clean look with a modern/classic aesthetic, also under the Canadel Core collection.
You will notice that the seat is upholstered and the back is not. There are pros and cons to this design. While an upholstered back is comfortable to rest on, this design is much easier to clean if something stains it.
Lina also mentions that the wooden back doesn't stick out too much, making it easy for anyone to use it in a small space as well.
You can find this barstool in UDesign with the code SNF08039TB01M24.
Buffets
The first dining buffet mentioned on this list is from the Canadel Modern collection, which is the newest collection from Canadel.
Lina mentions its very modern look, having the signature brass gold accent colour that this collection is known for. "It's gold but it isn't as gold as other furniture items in this collection; it's a more subtle gold," she says.
The wood finish also accentuates the modern look, having a matte finish as opposed to the traditional wood finish that some Canadel products have.
You can find this barstool in UDesign with the code BUF06330GL25MM1.
The next dining buffet comes from the East Side collection, which is a multipurpose buffet that can also be used as a bookshelf.
This is because of its open concept design, giving off more versatility than other dining buffets in other collections. This might be why this buffet is a best seller, being able to serve more than one need.
It has a more modern and industrial look to it, making people who love these aesthetics drawn to it.
You can find this barstool in UDesign with the code BUF04072NA03ET1.
The last dining buffet on this list is a new buffet that comes from the Loft collection, which has a similar aesthetic to East Side. Lina notes that it has a box-shaped look, meaning it has a more clean design.
Lina also mentions it has a more rustic farmhouse aesthetic, meaning anyone who loves a cottage look will love this dining buffet.
You can find this barstool in UDesign with the code BUF05434NA02RT3.
Canadel Buffet and Barstool Customizations
Along with their extensive dining buffets and barstools, including the aforementioned best-sellers, Canadel offers a variety of dining furniture across an assortment of stylish collections.
This section will cover all of the customization options for dining buffets and barstools throughout each Canadel collection.
All of these customization options can be found either using the UDesign tool. Make sure to check out our step-by-step tutorial on how to use this intuitive tool.
Dining Buffet Selection & Customizations
Canadel offers a large buffet selection across each collection. With that in mind, each collection offers unique buffet styles with some collections having more to choose from than others.
For example, the self-titled Canadel collection has four styles in it, which is the only collection to have four distinct styles (Modern, Classic, Core, Farmhouse). Given this, Canadel's flagship collection has the most options out of all collections.
Below is a list of each Canadel collection and the number of dining buffets each collection offers.
| | |
| --- | --- |
| Canadel Collections | Number of Dining Buffet Styles Number |
| Canadel | 19 |
| East Side | 3 (+1 Kitchen Island) |
| Gourmet | 5 |
| Downtown | 5 |
| Loft | 5 (+2 Kitchen Islands) |
| Champlain | 4 |
Among this selection, you will find buffets in multiple different shapes and styles. Some of them are smaller, larger, or more ornate than others, but they all share the same function of adding storage space to your dining room.
Dining buffet customization options include wood finish and glass colours. The wood finish and glass colours at Canadel are abundant and depend on the collection you're looking at. Some collections have more colours to choose from than others, so keep that in mind if you're looking for a broad colour palette.
Dining Barstool Selection & Customizations
Similar to buffets, Canadel offers a variety of barstools in each collection. Below is a list of each Canadel collection and the number of different barstools they carry.
| | |
| --- | --- |
| Canadel Collections | Dining Barstool Number |
| Canadel | 24 |
| East Side | 5 |
| Gourmet | 6 |
| Downtown | 5 |
| Loft | 6 |
| Champlain | 13 |
When it comes to the customizations for dining barstools at Canadel, there is much more to talk about. As opposed to the dining buffets, barstools have much more customizations available.
Just like with buffets, each collection is different with its customization options. Wood finish colours and upholstery matching are abundantly available across all collections. Some collections even share fabric catalogues so you don't have to look very far to find a fabric colour that you may like for another barstool in another collection.
With that being said, some customization options are unique to certain collections. For example, leather and velvet upholstery options do not feature in each collection. These selections are actually only featured in Downtown and Champlain.
Moreover, Downtown is the only collection that features quilted options for barstools and dining chairs, whereas Loft is the only collection to feature metal leg options for barstools.
However, all collections will feature multitudes of back or backless barstool options, arm or armless, padded or non-padded seats, swivel or non-swivel, as well as round or square options.
You can even customize the nail head on an upholstered barstool if you really want it to hit a certain style or aesthetic.
Finally, there are two different height options available for Canadel barstools. If you're looking for a standard barstool height, 30" barstools are available. You can match these with any kitchen island of your choice to give it the full functionality of a true island.
There is also the shorter 24" barstool option for those who are looking for something shorter.
To learn about selecting the right barstool height, check out our Guide to Finding the Right Stool Height.
What's Next?
You have now been introduced to the underdogs of the dining room furniture world. Even better, you have been introduced to our best-selling buffets and barstools at Canadel. Why not check out these wonderful pieces of furniture for yourself.
La-Z-Boy has Canadel furniture selections in all of our Ottawa & Kingston showrooms. Make sure to check one out, or visit the Canadel showroom next to the La-Z-Boy Kanata location.
You can also book an appointment with our interior design experts for any burning questions you may have.
If you're interested in learning more about Canadel customization options, check out our article that talks all about Canadel Customizations.
Related Articles:
Everything You Need to Know About Canadel Customizations
Quality of Wood & Craftsmanship at Canadel
Product Info Request
Please provide us with your name and email and we'll get back to you as soon as possible regarding this item.