Review of La-Z-Boy's Sadie Furniture Family: Chair, Sofa & Ottoman
March 9, 2023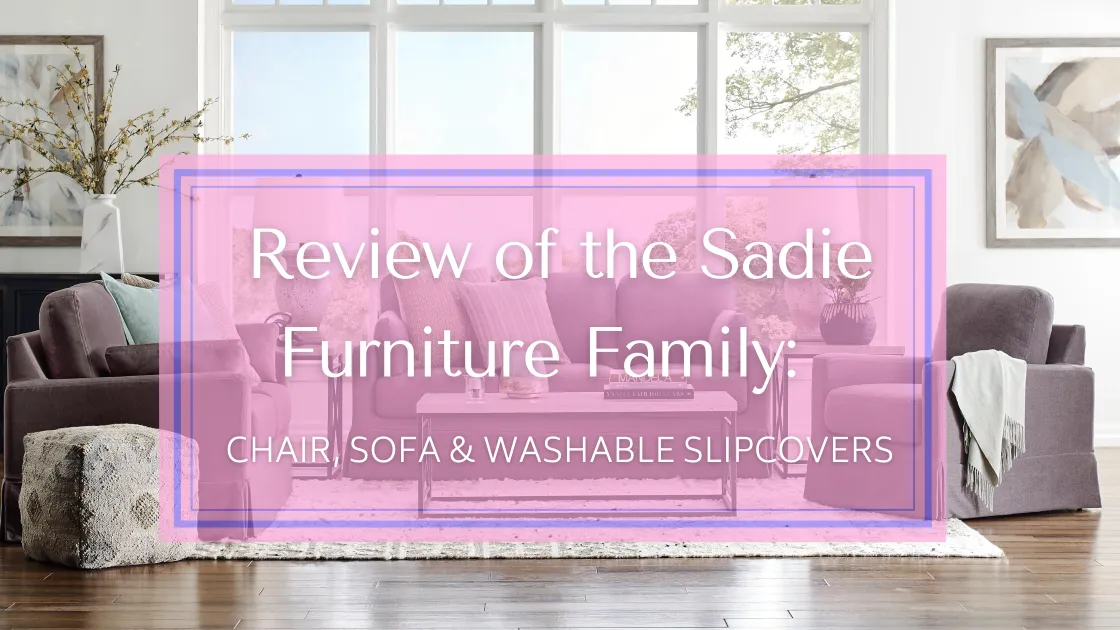 Est. Reading Time: 9 Mins
Sometimes stains can be inevitable. Even though La-Z-Boy has stain-resistant fabrics and leathers available for our upholstered furniture, some substances can be tougher to get rid of than others.
If only there were a way to wash your upholstered furniture easily, like when you place your clothes in the washing machine when a tough stain persists.
Well… this scenario may become your reality, given a new furniture frame at La-Z-Boy.
With new furniture products introduced in our Ottawa & Kingston showrooms, La-Z-Boy looks for unique pieces that are easy to incorporate into any home.
The Sadie furniture family is easily washable by placing the fabric in your washing machine. Racha Pharon, a design consultant at La-Z-Boy Kanata, tells us, "Each Sadie furniture size includes a slipcover."
Now that you know about Sadie's unique cleanability, what else differentiates Sadie from other furniture families at La-Z-Boy? This article will cover everything you need to know about the Sadie furniture family, including unique features, cost, and if the Sadie is right for you.
In This Article…
Sadie Furniture Family (Available Frame Options)
Before we dive into our squeaky-clean furniture family, let's familiarize ourselves with each frame.
Sadie Stationary Chair
Firstly, the Sadie is available as a stationary chair, which is great for those looking for individualized comfort in style.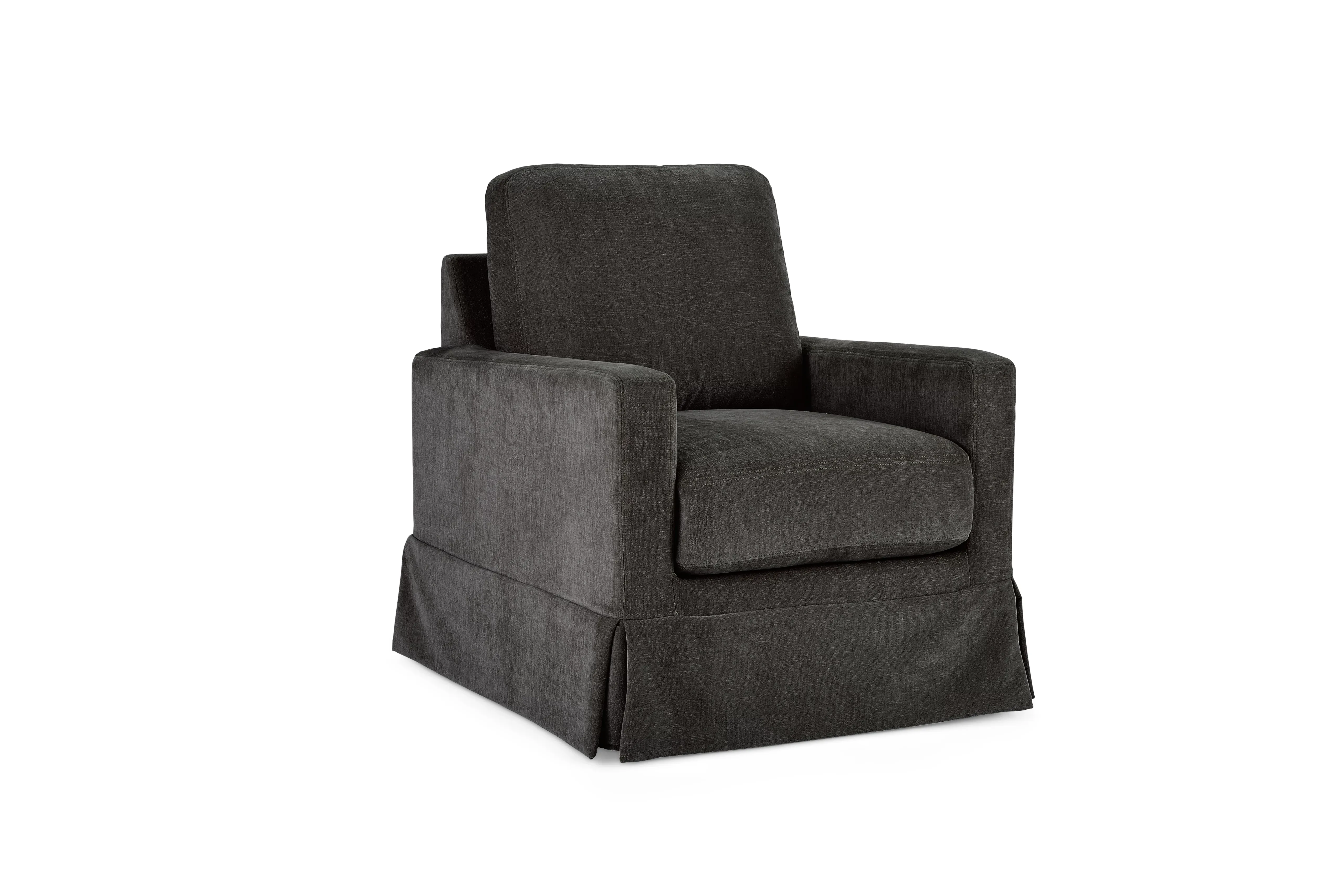 Sadie Stationary Sofa
The Sadie is also available as a stationary sofa to share comfort with others. Moreover, the Sadie is also available in an apartment-size sofa, coming with two cushions, a size ideal for smaller spaces. The apartment-size sofa is slightly bigger than a loveseat and can still seat three people instead of two.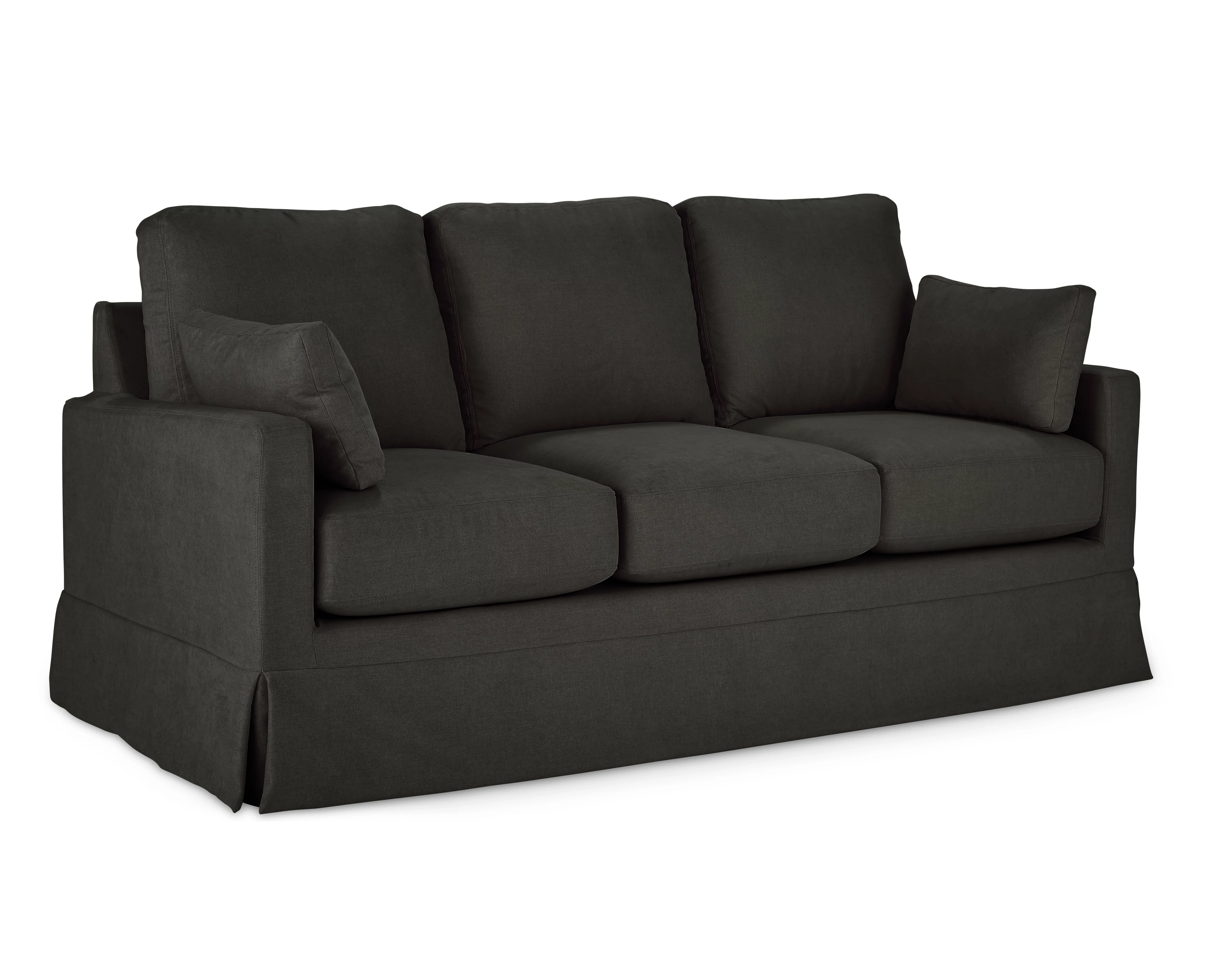 Sadie Ottoman
Additionally, you can pair the Sadie Chair or Sofas with the Sadie Ottoman. You can use this ottoman as a footrest to kick back and relax or as an extra seat for guests.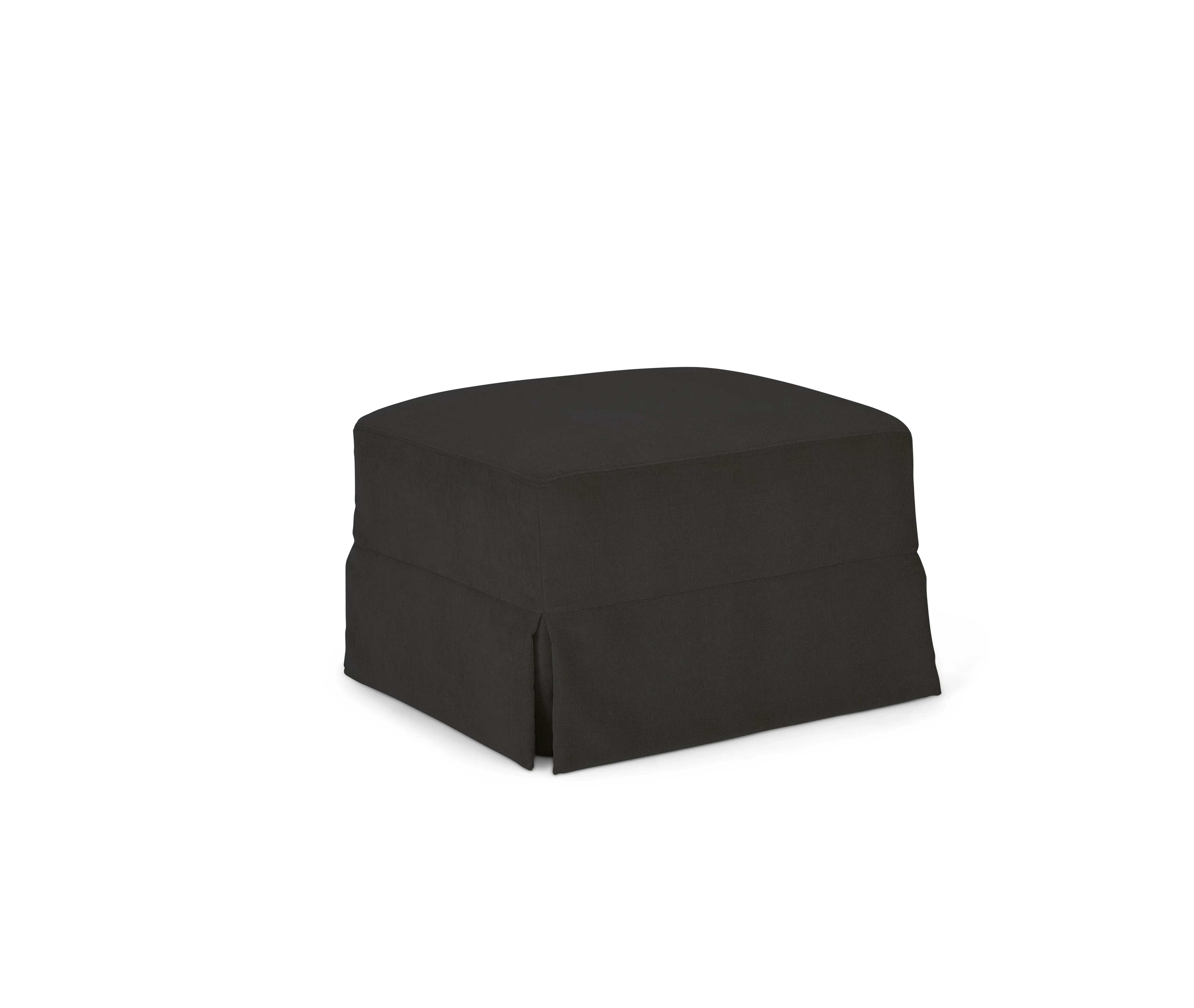 Unique Features
Now that we're familiar with the different furniture frames in the Sadie, let's take a look at some of Sadie's unique features.
Generally speaking, the Sadie's look has traditional and modern elements, according to Racha. "Although the bottom skirt of the sofa is very traditional, the arms are not rolled, so I would place it more as transitional," she says.
Along with the pleated skirt and the squared arms, the Sadie also features a deep cushion, which is almost reminiscent of the Paxton Furniture Family but is not as deep.
The back cushions are also removable, so you can conveniently remove the slipcovers from all sides of the frame.
Speaking of this sofa slipcover, there are many different colours to choose from, which are all interchangeable, depending on how many you decide to purchase.
How to Use the Sadie Slipcover
Since the Sadie sofa with slipcover is the first introduction of its kind, you may need clarification on how to use a slipcover. Here are instructions for installing and caring for your slipcover:
Slipcover Instructions
Remove all pieces from the packaging. You may notice wrinkles initially, but those will smooth out over time. If you wish to remove them quickly, use an iron or hand steamer when NOT on the furniture frame.


Insert the seat and back cushions into their respective slipcovers.




Zip them closed once properly inserted.




Drape the body cover over the unit by starting at the back and pulling the cover down. Smooth out wrinkles as you go, and attach the hook and loop tape at the base of the frame.




Place the cushions on the frame and relax in style!



Slipcover Care Steps
Remove the slipcovers from your furniture frame. Remember to close all zippers before putting them in the laundry.

Gently blot the slipcovers with a dry cloth for immediate wet stains. If the spill is dry, dampen the cloth with 1 cup of water and ¼ teaspoon of clear detergent and gently spot clean.

Wash with any mild liquid detergent on a gentle cycle. You can wash your slipcovers with other clothing, but a separate load with less crowding is recommended for better results. Do not use bleach or dry clean afterwards.

Tumble dry low until slightly damp. Remove immediately and refit your slipcover on your furniture frame and cushions to avoid wrinkles.
Sizes & Dimensions
The size and dimensions of a furniture piece can make or break your decision. When purchasing new furniture items, it is always important to Measure Your Room.
The size of the Sadie Sofa is 76" wide, which, according to Racha, is considered small compared to La-Z-Boy's other sofa selections. Because of this, those looking to furnish a smaller space might enjoy any furniture item from this family.
Further, because of the depth of the seats, those with an average height or taller are best complimented for this furniture family.
Ultimately, we recommend that you visit a La-Z-Boy showroom and take the Sadie for a sit test with the help of a La-Z-Boy design consultant.
In the meantime, you may find helpful pointers in the article How to Find the Right Sofa Size For You?
Sadie Chair Dimensions (Inches)
Chair Weight: 55 lbs.

Body Depth: 36.5"




Body Height: 37"




Body Width: 30"

Seat Depth: 22.5"




Seat Height: 20"




Seat Width: 21.5"
Sadie Sofa/Apartment Sofa Dimensions (Inches)
Sofa/Apartment Sofa Weight: 115/105 lbs.

Body Depth: 36.5"




Body Height: 37"




Body Width: 76" (67" for Apartment Sofa)

Seat Depth: 22.5"




Seat Height: 20"




Seat Width: 64.5" (58" for Apartment Sofa)
Options & Upgrades
When looking at Sadie's options and upgrades, there are plenty of choices. It is important to remember that all options and upgrades come at an additional cost, meaning the price of your Sadie furniture is subject to increase.
Fabric Options
La-Z-Boy has over 800 fabrics to choose from, making the experience of personalizing your furniture seemingly endless.
Racha reveals that the Sadie comes in 2 patterns with 9 different select fabric colours. These fabric options do not increase the base price of your Sadie.
You will be subjected to an additional fee if you choose to purchase any fabrics that are not included as select covers.
As for leather, no leather covers are available for the Sadie furniture family. If you're wondering about the Leather Selection at La-Z-Boy, check out this article.
In addition to the cover options mentioned above, the Sadie is available in specialty fabrics with unique features and benefits …
Stain Resistant Covers
Innovative iClean Technology surrounds each fabric and leather fibre, creating a barrier that repels spills before turning into stains.
Tested and formulated to withstand the scratches and wear that a pet can cause to ensure a durable and easily washable fabric.
Antimicrobial properties surround each fibre to protect against mould, mildew, and odour-causing bacteria.
Performance
Superior stain and fade resistance properties make fabrics easy to clean and incredibly durable.
Eco-Friendly
Conserve Sustainable Fabrics are soft, durable and made from recycled water bottles.
Energy Restoration
Restore by Nanobionic® features a mineral-based fabric coating that transforms natural body heat into energy using infrared technology.
Cushion Upgrade
At an additional cost, firmer seat options are available. With this, you can upgrade the seat and back cushions.
For more information, please see our stationary furniture collection catalogue and our in-depth Review of La-Z-Boy's Chair and Sofa Seat Cushions.
Extra Slipcovers
At an additional cost, any of the select fabrics mentioned above are available as fabric slipcovers. Given the unique ability to remove the slipcover from the Sadie, you can add extra slipcovers to your total to provide more versatility.
This feature allows you to dress your sofa in different colours, depending on your preference.
Cost
In terms of cost, Racha notes that the Sadie furniture products fall within the mid-price range at La-Z-Boy.
While the cost of the Sadie furniture is considered quite standard at La-Z-Boy, it is important to note that La-Z-Boy furniture is considered more expensive in the market. This cost is reflected in the quality of materials and craftsmanship of our products.
The investment becomes worthwhile if you are looking for long-lasting furniture.
Sadie Chair

Sadie Sofa

Sadie Apartment Sized Sofa

Sadie Ottoman

Starting at




$1,599

Starting at




$2,999

Starting at




$2,999

Starting at




$799

Sadie Chair Slipcover

Sadie Sofa Slipcover

Sadie Apartment Sofa Slipcover

Sadie Ottoman Slipcover

Starting at




$699

Starting at




$1,299

Starting at




$1,299

Starting at




$339
*All La-Z-Boy prices listed in this article are subject to change. We aim to update all cost-related articles twice per year. This article was last updated on February 22nd, 2023. Please visit lzb.com and select an Ottawa or Kingston La-Z-Boy store location to view the most up-to-date pricing.
Warranty
The Sadie furniture family is covered by La-Z-Boy's Limited Lifetime Warranty. This warranty covers the repair or replacement of the frame, spring systems, and mechanism, given that they are quality-crafted and built for long-lasting comfort.
While still quality-crafted, other aspects of the product, such as fabrics, leather, and cushion, are not meant to last a lifetime. However, these parts are still covered by the La-Z-Boy Manufacturer's Warranty for a given period of time.
To learn more about the warranty at La-Z-Boy, take a look at the article Are La-Z-Boy Recliners Guaranteed for Life?
To further protect your purchase, La-Z-Boy offers an extended warranty plan at an additional cost.
Is the Sadie Furniture Family Right For You?
Now that you know more about the Sadie furniture family, you may still wonder if this furniture is right for you. To help you decide, let's take a last-minute look at the budgeting required for the Sadie, its functionality and the overall style.
In terms of your budget, the Sadie is unique in that it can be styled in not just one fabric cover but multiple, given slipcover options. However, additional slipcovers translate to a more expensive bill, which may not be ideal for everyone.
Also, remember that La-Z-Boy's prices fall within the market's mid to high-end furniture prices. However, the reason behind the bigger price tag is because of the high-quality materials used to make our furniture.
Good quality furniture outlasts pieces made with lower-quality materials, ensuring you don't have to replace the furniture in the near future.
If you're willing to spend a little extra to save money down the road, purchasing at La-Z-Boy might be right for you.
If you want a selection of our Most Affordable Sofas, take a look at this article.
With the functionality of the Sadie, Racha believes that the washable feature is great for families who are always on the go. "If you can't find time to clean your furniture, you can always slip it into the wash with your load of laundry."
She also says that the size is great for smaller spaces. However, the furniture might make your room look empty if placed in a larger room, such as an open-concept space. If you're looking to arrange furniture in an open-concept space, take a look at this article.
Finally, the style of the Sadie may not suit all furniture lovers. Although pleated skirts on furniture are coming back in style, only some enjoy this look.
However, Racha says that the Sadie style would be more appealing to an older audience, "especially senior women who love the clean and pleated skirt design."
Racha does mention that the seats are also a little bit deeper than expected, which might not be ideal for some, but mature adults might also enjoy the fact that it is easy to wash. "Just unzip the cushions, and you can have a clean sofa without straining your back."
Lastly, suppose you're looking for more home design versatility. In that case, you can purchase not one, but multiple slipcovers, for a different coloured sofa whenever you feel like making a change in your room.
This type of inspiration is great if you love redecorating your room each season.
What's Next?
Now that you have a more knowledgeable understanding of the Sadie furniture family, why not highlight the Sadie in your home?
You can start shopping by visiting one of our local showrooms located in Ottawa or Kingston. You can also schedule a visit online before coming in.
Our design consultants are always eager to lend a helping hand. Take advantage of our interior design services to see how the Sadie furniture could fit in your home.
If the Sadie doesn't quite match your needs, take a look at some of our other furniture family reviews:
Related Articles:
Best-Selling Sofas at La-Z-Boy
Product Info Request
Please provide us with your name and email and we'll get back to you as soon as possible regarding this item.