Attachable vs. Detachable Cushions at La-Z-Boy
May 30, 2022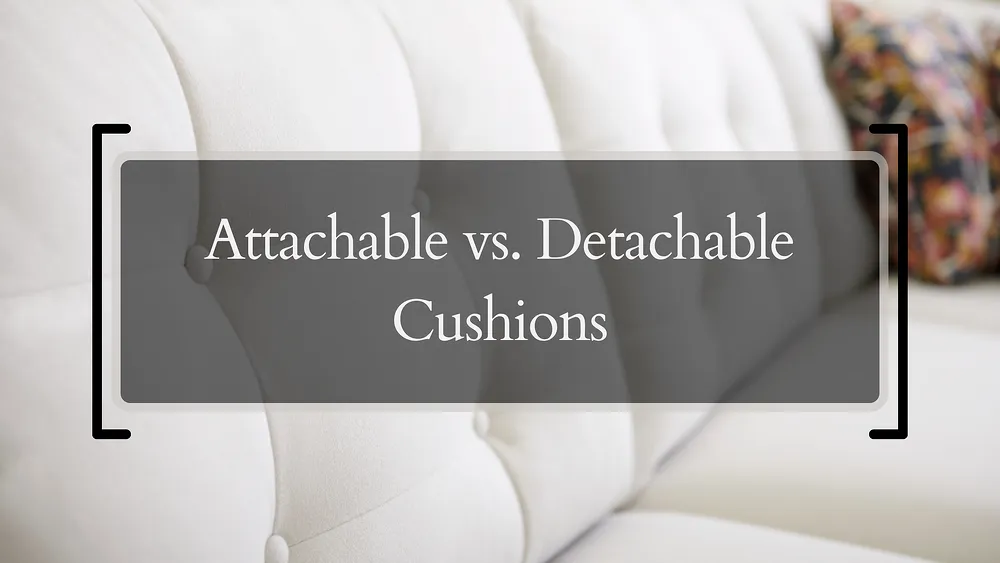 Est. Reading Time: 7 Mins
Living room furniture cushions. You wouldn't think there would be much of a difference between attached and detachable cushions, but actually, there are plenty!
Magaly del Castillo, an interior designer at La-Z-Boy Cyrville, tells us that "La-Z-Boy cushions are brilliant; whether attachable or detachable, we are sure to have a comfortable selection for everybody."
But you might be wondering, what are these differences, and what are the advantages and disadvantages to each cushion selection at La-Z-Boy? Most importantly, what type of cushion is best for your living room furniture?
This article will discuss the comparison of each cushion selection, as well as which selection might be right for you.
In This Article…
What is Considered an Attached vs. Detached Cushion?
Before we list the advantages and disadvantages of the different cushion options, let's take a look at what is considered an attached vs. a detachable cushion.
Attached Cushions
Simply put, attached cushions are cushions that are attached to the furniture frame.
If you were to look at a furniture piece on its side, you'll notice that the back cushions have their materials sewn onto the frame to keep the cushions in place when people get up or sit down.
Magaly also mentions that La-Z-Boy has select furniture with tight back cushions, which do not have a pillowy or loose cushioning. Instead, the fabric of the cushion and the furniture frame is one.
"Even though these cushions have a tighter back, they are no less comfortable than any regular sofa at La-Z-Boy," says Magaly.

Detachable Cushions
Detachable or detached cushions are cushions that do not have a piece of fabric that attaches them to the furniture frame. Instead, they are loose and do not sit in place when someone sits down on them.
Detachable cushions seem to mould more nicely with someone's body shape than attached cushions, according to Magaly.
Semi-Detachable Cushions
She also mentions that La-Z-Boy has semi-attached cushions available, which are an in-between of attached and detachable cushions, although they act as detachable cushions.
Semi-attached cushions still don't lose their positioning when someone sits down or gets up, and it is covered partly with a fabric that is attached to the furniture frame.
"There is a zipper that can still detach the cushion if needed," says Magaly, "but it isn't necessary to detach it if you don't want to."
Pros and Cons of Attached vs. Detached Cushions
Attached and detached cushions each have their own benefits. With that, there are also disadvantages to both that you may not know about.
Let's take a look at 4 pros and cons to consider when determining which type of cushion is right for you.
1. Cushion Upkeep
When it comes to the upkeep of a cushion, attached cushions require less maintenance than detached cushions.
The attached cushions are… attached, meaning they stay in place when someone wants to sit on them. Detached cushions do not have this luxury, which means they tend to need someone to reposition them if they look off place.
Similarly, attached cushions don't need to be fluffed up anytime someone sits on them. Detachable cushions tend to need fluffing and repositioning every now and then. The bigger the furniture item, the longer it'll take for you to reposition every cushion.
2. Cleaning Your Cushions
Generally speaking, detachable cushions are much easier to clean than attached cushions. This is because you can easily remove detachable cushions for cleaning while attached cushions must stay in place.
With that being said, Magaly explains that La-Z-Boy's attached cushions have zippers. This allows the furniture owners to take the cushion out of the casing and clean the cushions if need be.
However, as mentioned before, not every attached cushion is like this. If you were to go out to an alternative furniture store that has attached cushions, they might not have a zipper to remove the cushion from the furniture.
When it comes to detached cushions, on the other hand, cleaning isn't as complicated. Detached cushions are already detached, meaning you can easily slip them off your furniture should you need to clean.
Detached cushions also make it easier to clean your furniture because you can take them off and properly clean any nooks and crannies that need to be vacuumed or dusted.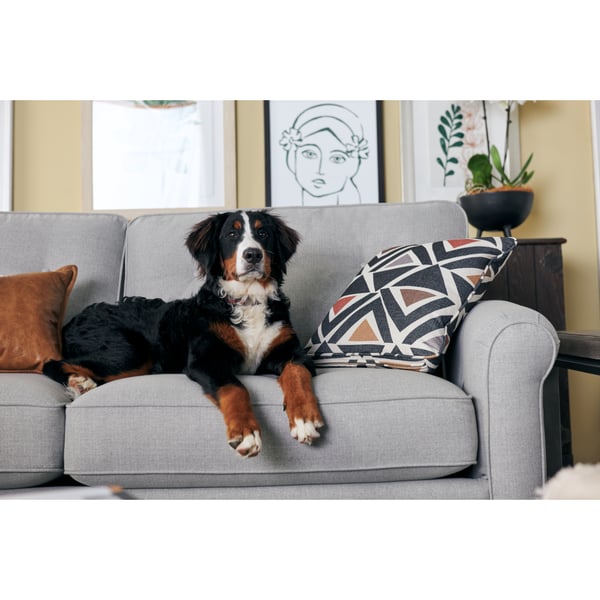 3. Wear and Tear
In terms of wear and tear, detachable cushions are easier to repair or replace.
Detachable cushions can be easily interchanged with another cushion from the same sofa if you choose to do so.
If you feel as though your favourite cushion is getting less comfortable, you can always swap or flip a cushion from another spot on your couch. "As much as we don't like to admit it," says Magaly, "we are all more Sheldon Cooper-like people than we think."
As much as this may seem like an advantage, it can also come across as a disadvantage. Detachable cushions, though interchangeable as can be, actually go through wear and tear faster than attached cushions.
Wear and tear happens faster on detachable cushions because they are not attached to the furniture frame.
Attachable cushions are able to keep their form longer because they are attached. When cushions become detached, cushions lose their original shape faster, making them lumpier and less comfortable quicker.
When wear and tear occurs on a sofa with detachable cushions, they create more of a gap between the seat and back, making it look more worn out than it should be.
4. Cost
Finally, you might assume that both attachable and detachable cushions are similar. However, one option, unfortunately, has more costly than the other.
Funny enough, furniture with detached cushions actually costs more to make than attached cushions. You might think it would be the other way around, due to the extra material that connects the cushion and the furniture frame, but this is not the case.
The attached cushions actually use less fabric than detached cushions. Manufacturers cut their time shorter by not adding a wall of fabric that faces the furniture frame, and instead of connecting the fabric to the furniture frame. This results in less fabric used overall.
Ultimately, the cost of attached vs. detached cushions will be dependent on the manufacturer and the furniture retailer you shop with.
Cost of La-Z-Boy Cushions
Speaking of cost, upholstery furniture at La-Z-Boy falls within the mid to high price range on the market. This is due to the high-quality materials used to make our furniture, including quality cushions.
However, Magaly says that there is no price difference when it comes to detached cushion furniture pieces vs attached furniture pieces at La-Z-Boy.
The only factor that would change the price of a cushion is an upgrade. At La-Z-Boy, we offer various cushion upgrades to make your cushions either firmer or softer.
You can learn more about La-Z-Boy's cushion options by checking out this article.
Attached vs. Detached: Which Type of Cushion is Right for You?
Now that you know the pros and cons of each cushion option, which do you think is right for you?
To answer this question, you must consider the practicality of your cushion.
Magaly mentions that the most important factor when choosing a cushion is the upkeep of said cushion. As mentioned before, detachable cushions pose more of a battle to stay positioned because they aren't attached to the furniture.
With this, certain age demographics might not be able to keep up with the upkeep of detachable cushions.
For example, older individuals might want to choose attachable cushions because they require less maintenance. Similarly, young adults with children might also appreciate minimal upkeep.
It is also important to consider comfort. Attached cushions tend to provide extra lumbar support, making it a better choice overall for individuals who use their furniture for long periods of time requiring ample back support.
Choosing the right cushion can also depend on who else you're living with.
Say you have small children who like to bounce on your couch for fun. Though they might be small in size, they can still cause a lot of damage to the seam of the cushions if they jump too much on them, making their attachable ability less effective. In this case, detachable cushions are a better choice.
Examples of La-Z-Boy Furniture with Attachable and Detachable Cushions
Magaly says La-Z-Boy furniture has a "come hither" look, meaning our furniture pieces call to customers to sit on them because of their "excellent cushions."
Here are some examples of La-Z-Boy products with attached and detached cushions.
La-Z-Boy Furniture Options with Attached Cushions
Here are 3 examples of La-Z-Boy furniture options with attached cushions.
1. The Mackenzie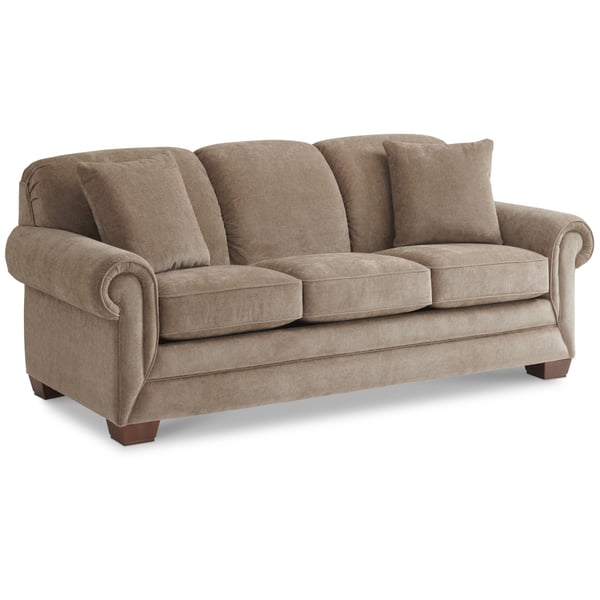 Timeless and on-trend, the Mackenzie Sofa features a sophisticated look that blends easily with your existing pieces. Its rolled, pleated arms, foam back, and ComfortCore® cushions deliver just the right amount of comfort and support for a short or a long sit.
There is also a matching ottoman available separately.
2. The Piper
One of the newest additions to La-Z-Boy's family of furniture is the Piper. Piper's sleek, streamlined style fits in with just about any decor from ultra-modern to comfortably casual.
Simple, smooth Premier standard seats offer long-lasting comfort and support while the elegant, modern arms and decorative wood legs bring just a touch of an upscale vibe.
3. The Haven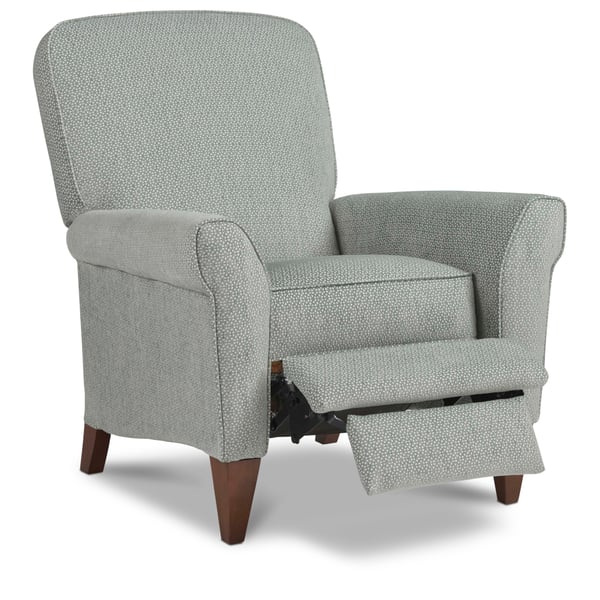 A popular furniture item at La-Z-Boy is the versatile Haven. The Haven recliner is a cool combination of classic design and laid-back reclining comfort. Updated styling includes uniquely sculpted rolled arms, a tight back, tapered wood legs, and decorative welt trim on the back seat and arms.
To learn more about the Haven, read our review article to see if this recliner is a great choice for your home.
La-Z-Boy Furniture Options with Detached Cushions
Here are 3 examples of La-Z-Boy furniture options with detached cushions.
1. The Paxton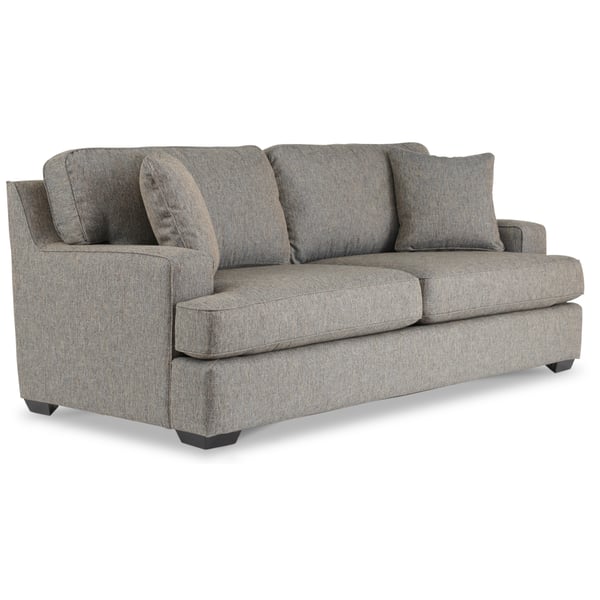 The Paxton, whether it be the sofa or the sectional, invites you to kick back and get cozy. Its clean lines and crisp welt trim give it a neat and structured silhouette. Paxton features deep, T-shaped seat cushions, low-profile wood legs, and chamber-filled back cushions that maintain their shape and support over time.
To learn more about the Paxton Sectional, check out our review article.
2. The Alani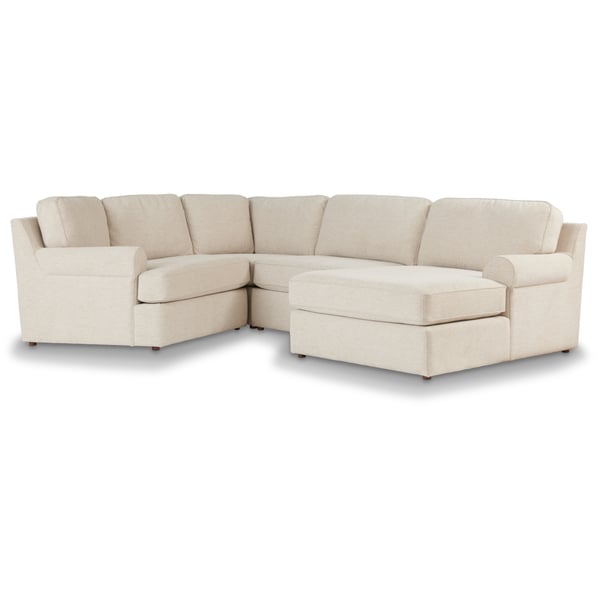 Another great choice for anyone looking for a sectional, the Alani's deep, wide seats and loose pillow back might make you never want to leave.
This clean-lined, casual design looks at home in any space with our popular rolled arms, welt trim, and decorative wood legs for just enough detail.
To learn more about the Alani Sectional, take a look at our review article. You can also compare both the Alani and the aforementioned Paxton by checking out our comparison article.
3. The Ferndale
Lastly, formerly part of our Urban Attitudes collection, the Ferndale is a recliner with understated style and unlimited possibilities. Unique key-shaped arms and a slim, inset back cushion give its clean lines a modern edge, while a solid wood base and tall tapered legs add sophistication.
Ferndale also comes with a matching ottoman, which completes the look and transforms this stylish chair into a space made for relaxing.
What's Next?
"Overall, what is best for the customer is what feels more comfortable for you," says Magaly. That is why we encourage you to visit a local La-Z-Boy showroom and take a seat in our wide selection of upholstery furniture.
If you are interested in purchasing a La-Z-Boy product, why not discover more from us by checking out any of our Ottawa & Kingston locations. You can also schedule a visit online before coming in.
Our design consultants are always eager to lend a helping hand. Take advantage of our complimentary interior design services to see how your attachable or detachable furniture cushions can fit into your home.
Related Articles:
Loveseat vs. Sofa: Size, Cost, Function & How to Choose
7 Problem with La-Z-Boy Furniture
Product Info Request
Please provide us with your name and email and we'll get back to you as soon as possible regarding this item.