Review of the Dixie Queen Sleep Sofa Bed at La-Z-Boy
December 6, 2021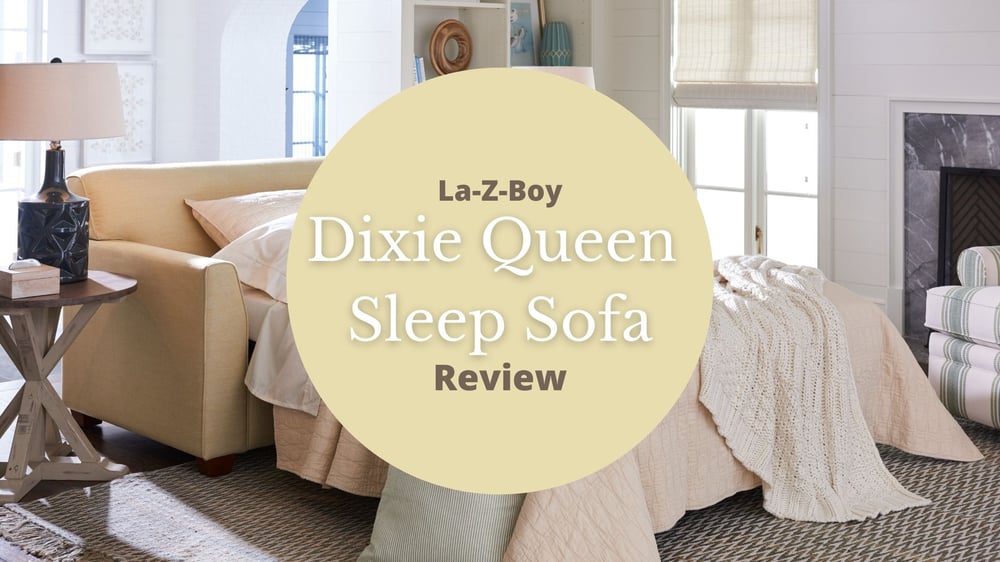 ***Please note that the Dixie Queen Sleep Sofa is currently discontinued. If you like this review, go to lzb.com for all the latest Sofa Beds available.***
Are you looking for a practical and versatile sofa that boasts in style?!
The Dixie Queen Sleep Sofa is "easy on the eye, elegant, and understated", says Magaly Del Castillo, the interior designer at La-Z-Boy Cyrville.
With clean lines, a tight back, and decorative tufting, Magaly says the Dixie is a little more elegant than the other sofa beds offered at La-Z-Boy.
Although it did not quite make the list, the Dixie Queen Sleep Sofa is an honourable mention among the Top Five Selling Sofa Beds at La-Z-Boy Ottawa & Kingston.
The Dixie is a great choice but is it the right choice for you?
Read on for an in-depth review of the Dixie Queen Sofa Bed with expert insight from interior designer Magaly.
In this review ...
Unique Features
Sizes & Dimensions
Options & Upgrades
Cost
Warranty
Customer Reviews
Is the Dixie Queen Sleep Sofa Bed Right for You?
Furniture Family (Other Available Frames)
Unique Features of the Dixie Sofa Bed
The Dixie Queen Sofa Bed is stylish and versatile. With clean lines and just the right amount of designer touches, the Dixie sofa has a simple silhouette that blends perfectly with any decor.
Angled arms frame the Dixie's tight, button-tufted back for a look that's modern yet sophisticated, while welt detail and decorative wood legs finish the look.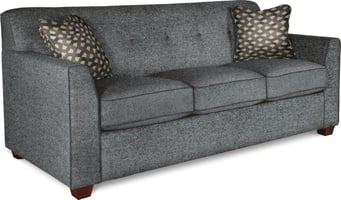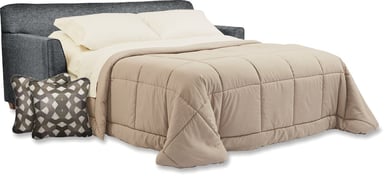 As stationary furniture, the Dixie is manufactured with premier construction. Premier furniture takes La-Z-Boy construction to the next level, including quality-crafted frames padded to enhance the style's design lines.
Features of Premier Construction ...
OSB, hardwood solids, and laminated hardwood frame construction
Fully padded outside back, outside arms, and front post
No-Sag Sinuous wire seat and back springs
La-Z-Boy non-skid Logo Decking
ComfortCore® Seat Cushions
Two 18" Knife-Edge Accent Pillows with Welt Trim
Self Healing Zippers
Tubular steel sleep mechanism – maximum support tested to 400 lbs
Comfort Tilt Headrest – read and watch TV in comfort
Mattress support bracket – keeps mattress from moving
Double cross bar back/leg support –support while sleeping and sitting (no uncomfortable bar hitting your back when sleeping
Roomy and ready for guests, the Dixie has a hidden queen mattress that transforms this cozy sofa into a luxurious bed.
With lasting durability, overnight guests will also appreciate the Queen size Supreme Comfort quilted innerspring mattress that measures 5'5" thick. It features an innerspring coil system topped with an extra layer of padding. This supreme mattress system is designed for cushioning and support.
Keep in mind that the term "sleep sofa" in the furniture industry often refers to the ability of a sofa to create a platform for sleeping. At La-Z-Boy, a sleep sofa entails a traditional sofa bed with a pull-out mattress.
Learn more about the difference between a sofa bed and a sleeper sofa.
Dixie Sleep Sofa Bed Sizes & Dimensions
According to Magaly, the Dixie is a compact sofa bed. With a body width of 80.5 inches, the Dixie Queen Sofa Bed almost qualifies it as an apartment-sized sofa. This can be attributed to the Dixie's narrow arms which take up minimal real estate, says Magaly.
With this being said, keep in mind that the size of the Dixie will significantly expand once transformed into a Queen bed.
With a general idea of the Dixie's size, it is still crucial to measure your room in order to ensure that it will fit comfortably in your space, both in the shape of a sofa and bed.
Moreover, it is important to consider how the Dixie Queen Sleep Sofa will support your unique body type in the upright position. Generally speaking, the size of the Dixie is recommended to those between the height of 5'10" to 6'2".
More specifically, Magaly says that the shallow seat and short back provides excellent lumbar support for those with shorter legs and a longer torso.
The best way to be sure that the Dixie Queen Sleep Sofa offers the comfort and support that you are looking for is to visit a La-Z-Boy showroom and try it out for yourself. A design consultant will help you perform a sit test to ensure the sofa fit is right for your unique body type.
Body Depth: 37

Body Height: 36.5

Body Width: 80.5

Seat Depth: 23

Seat Height: 21.5

Seat Width: 67.5

Queen Mattress Dimensions: 71.5" L x 60" W x 5.5" H

Recommended Queen Sheet Size: 110" L x 90" W (approx.)

Options & Upgrades for the Dixie Sofa Bed
Everything at La-Z-Boy is customizable, including the Dixie Queen Sleep Sofa. You have the ability to make the Dixie uniquely yours with a variety of options and upgrades.
Upholstery/Cover Options
The upholstery cover you choose for your Dixie Sofa Bed greatly impacts its overall look and feel.
The Dixie is offered in a variety of select fabrics that complement its unique look and particular frame. The select fabric for the Dixie is called Knight, offered in Mocha, Pepper, and Pebble.
In addition to these select fabrics, we have over 800 fabric and top-grade leather options to choose from at La-Z-Boy. In the case of the Dixie Sofa Bed, it is important to note that the Dixie is not offered in leather.
Further, the Dixie Sofa Bed is not offered in specific patterns. Magaly says that due to the tufting and design of the seat cushions, "a pattern on the Dixie would look like a JigSaw puzzle gone wrong". It is best to stick to a simple colour and beautiful texture on the Dixie.
This wide selection of fabric includes the following premium-grade specialty fabrics…
Stain Resistant
Innovative iClean technology surrounds each fabric fibre, creating a barrier that repels spills before turning into stains.
Tested and formulated to withstand the scratches and wear that a pet can cause, to ensure a durable and easily washable fabric.
Antimicrobial
Antimicrobial properties surround each fibre to protect against mould, mildew, and odour-causing bacteria.
Performance
Superior stain and fade-resistant properties make these fabrics easy to clean and incredibly durable.
Eco Friendly
Conserve Sustainable Fabrics are soft, durable, and made from recycled water bottles.
Seat Cushions
Raise the bar on comfort even higher by upgrading the seat cushions of your Dixie Queen Sleep Sofa.
Upgrade to ComfortCore GEL cushions, often described as a firmer seat. Its construction includes a layer of airform responsive foam and gel-infused memory foam.
Mattress Options
The Dixie Queen Sleep Sofa comes with a Supreme Comfort™ quilted innerspring mattress that measures 5.5" thick.
There are two available mattress upgrades:
SlumberAir Mattress System: Features a 6" cushion of air over a 4" innerspring coil base. It inflates with an easy-to-use hand-held pump which allows you to customize the firmness level.
Memory Foam Mattress System: It features high resiliency memory foam that conforms to all body types for complete support and returns to shape after each use.
Depending on the size, the mattress upgrade costs about $500.
Throw Pillows
The Dixie Sleep Sofa comes with two matching throw pillows. If you are going for a bolder look, consider selecting contrasting accent pillows to make your Dixie pop.
Additionally, you can choose to add cord or fringe to the pillow edge for a more decorative appeal.
For upgraded comfort opt for a FeatherLite fill feathers.
Finish Options
Transform the look of your Dixie Sleep Bed by uniquely customizing the wood finish on the decorative legs. The standard finish on the Dixie is Brown Mahogany.
It is also available in:
Dixie Sleep Sofa Cost
***Please note that the Dixie Queen Sleep Sofa is currently discontinued. Other available Sleep Sofas are available at the top and bottom of this article.***
The Dixie Queen Sleep Sofa falls within the mid-price range of sofas offered at La-Z-Boy.
At the date of publication, the starting cost of the Dixie Queen Sleep Sofa was $3,099.
For up-to-date pricing, take a look at La-Z-Boy.com. Keep in mind that these prices are subject to increase with customizations and upgrades.
*All La-Z-Boy prices listed in this article are subject to change. Please visit lzb.com and select an Ottawa or Kingston La-Z-Boy store location to view the most up-to-date pricing.
Warranty
The Dixie Queen Sofa Bed is covered by a limited lifetime warranty at La-Z-Boy in order to ensure the protection and satisfaction of your investment.
The Limited Lifetime Warranty covers the repair or replacement of the frame, spring systems, and the mechanism, given that they are quality-crafted and built for long-lasting comfort.
While still quality-crafted, other aspects of the product, such as fabrics\ and cushions, are not meant to last a lifetime. These parts are still covered by the La-Z-Boy Manufacturer's Warranty for a given period of time.
To further protect your purchase, La-Z-Boy offers an extended warranty plan at an additional cost.
Customer Reviews of the Dixie Sleep Sofa
As a best-seller, the Dixie Queen Sleep Sofa is enjoyed by many La-Z-Boy clients and is highly acclaimed.
In fact, the Dixie Queen Sleep Sofa is rated 4.9 out of 5 stars.
A star rating can only tell you so much, find out what customers are saying about the Dixie Queen Sleep Sofa …




Is the Dixie Queen Sleep Sofa Right for You?
Magaly says the Dixie Queen Sleep Sofa is perfect for those empty nesters who are transforming their children's bedrooms into stylish guest rooms or multifunctional office spaces.
With this, the Dixie Queen Sofa Bed is a great choice for someone who is looking for something stylish and sophisticated, yet practical and versatile.
More specifically, the Dixie Queen Sofa Bed is ideal for a client who wants a sophisticated sofa that has the ability to transform into an extra bed for guests.
Given that the Dixie has a relatively small footprint, Magaly says that Dixie fits well in most spaces, making it ideal for a guest room or even an office. She says that the shape and size of the Dixie can easily be maneuvered through most doorways.
Falling within the mid-price range at La-Z-Boy, the Dixie Queen Sofa Bed is the right choice for someone who is willing to invest in a good-quality piece that will be long-lasting.
Dixie Furniture Family (Other Available Frames)
At La-Z-Boy, many furniture models are available in multiple frame options, such as a sofa,
chair, and sectional. This offers the option to create a living room furniture arrangement with a cohesive look.
If you love the Dixie Queen Sofa Bed, you may also be interested in the Dixie stationary chair, loveseat, sofa, and ottoman.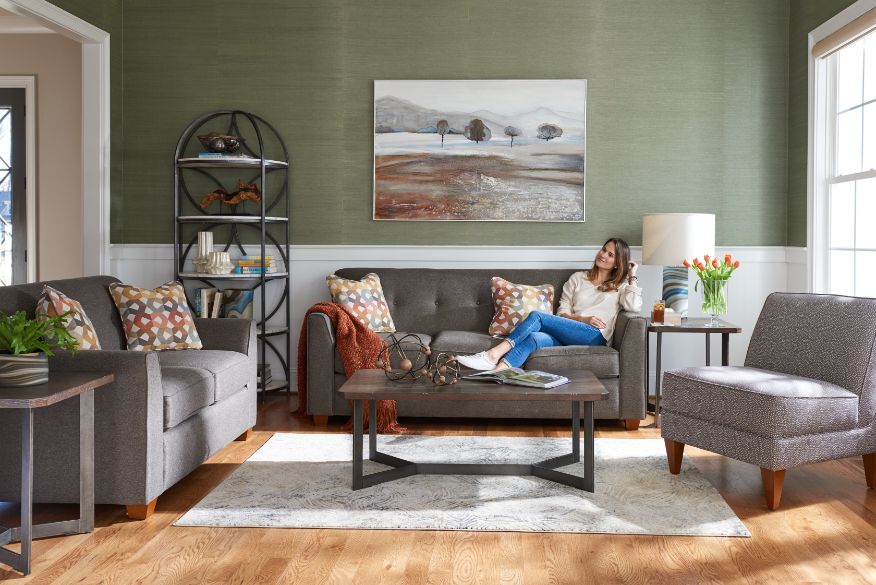 What's Next?
If the Dixie Queen Sleep Sofa is what you are looking for, why not start shopping today?
Our expert consultants would be thrilled to ensure that the Dixie is the right fit for your space and the exact style you are looking for.
You may also consider taking advantage of our complimentary interior design services. Our talented designers can help you make fabric selections and customizations, seamlessly coordinating your Dixie Sleep Sofa with your home decor.
If the Dixie isn't exactly what you are looking for, you may find what you are looking for in one of the best selling sofa beds:
Visit us at a local Ottawa or Kingston location to find what you are looking for today. If you prefer to plan in advance, schedule an appointment online.
Related Links:
Murphy Bed vs. Sofa Bed: A Detailed Comparison
8 Best Furniture Retailers to Buy a Sectional Sofa Bed in Ottaw
Product Info Request
Please provide us with your name and email and we'll get back to you as soon as possible regarding this item.