Review of the La-Z-Boy Leah Twin Sleep Chair
January 10, 2022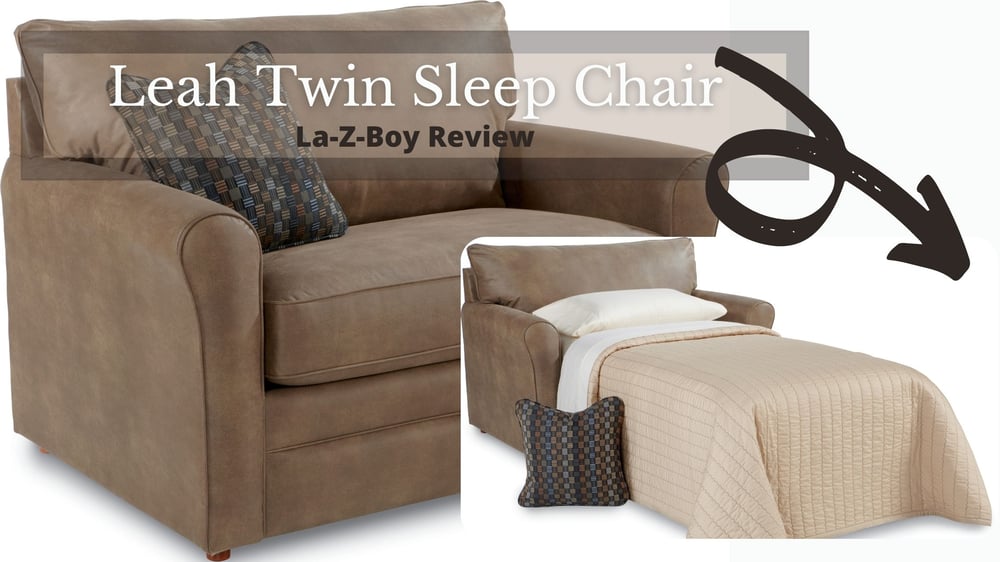 Are you looking for a stylish and comfortable chair with the ability to transform into a bed?
The Leah Twin Sleep Chair is the perfect accent chair that can comfortably host an overnight guest. With its comfort and versatility in mind, the Leah is actually one of the 5 Best Selling Chair & a Half's at La-Z-Boy Ottawa & Kingston.
Magaly Del Castillo, the interior designer at La-Z-Boy Cyrville, says "the Leah is a fabulous little piece that can live many different lives". In fact, she refers to the Leah Chair as a "chameleon" because it can fit seamlessly into many spaces, furniture arrangements, and design styles.
The Leah Chair is a great choice but is it the right choice for you?
Read on for an in-depth review of the Leah Twin Sleep Chair with expert insight from interior designer Magaly.
In this Review ...
Unique Features of the Leah Twin Sleep Chair
Turn any room into a stylish and functional guest room with the Leah Twin Sleep Chair!
Its sleek profile is perfect for smaller spaces, yet it opens up to become a super comfortable twin bed, complete with a Supreme ComfortTM quilted innerspring mattress that measures 5'5" thick.
By day, this sleeper is a true beauty, with curving rolled arms, welt trim, and a patented ComfortCore® cushions that provides optimum support for a long or short sit. Further, the Leah Chair includes one stylish 18" accent pillow.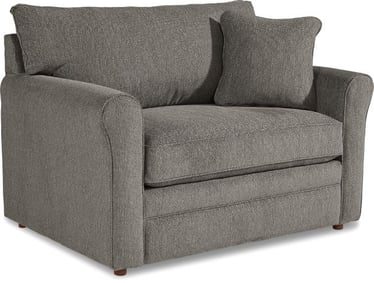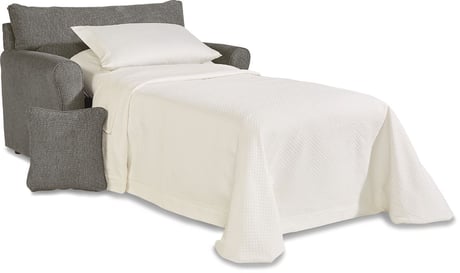 When it comes to quality, it is important to note that the Leah Twin Sleep Chair is manufactured with premier construction.
Premier furniture takes La-Z-Boy construction to the next level, including quality-crafted frames padded to enhance the style's design lines.
Features of Premier Construction ...
OSB, hardwood solids, and laminated hardwood frame construction
Fully padded outside back, outside arms, and front post
No-Sag Sinuous wire seat and back springs
La-Z-Boy non-skid Logo Decking
ComfortCore®

Seat Cushions

One 18" Accent Pillow with Welt Trim
Self Healing Zippers
More Premier Construction Features Unique to Sleep Chairs ...
Tubular steel construction– which increases side to side stability and safely supports more weight (maximum support tested to 400 lbs)
Mattress retainers – keeps mattress from moving and easy opening and closing of mechanism
Double cross bar back/leg support –support while sleeping and sitting (no uncomfortable bar hitting your back when sleeping
Dual upper and lower crosswire sleep support system improves comfort and prevents the rollover effect
Recessed middle support eliminates the uncomfortable cross-bar effect
Helically suspended synthetic mattress deck is designed to conform to the body and provide the finest sleeping comfort in addition to a long, useful life
Exclusive double locking heard rest secures on sides, providing additional stability and support while reading or watching TV
Low profile steel frame members along the sides are recessed well below the mattress surface so no pinch points and a more comfortable night's sleep
The part of the frame that supports the seat cushions is curved and recessed (saddle seat construction) so frame out of the way when being used as a chair/sofa.
Sizes & Dimensions
As previously mentioned, the Leah Twin Sleep Chair has a small footprint, making it ideal for smaller spaces. As a chair & a half, the width of the seat still offers spacious comfort.
With a narrow arm, deep seat, and high back, Magaly says "the size of the Leah Chair is phenomenal" as it provides comfort while being able to fit into small spaces.
Keep in mind that the size of the Leah Chair will expand once transformed into a Twin bed.
With a general idea of the size of the Leah Chair, it is still crucial to measure your room in order to ensure that it will fit comfortably in your space, both in the shape of a chair and bed.
Moreover, it is important to consider how the Leah Twin Sleep Chair will support your unique body type in the upright position. Generally speaking, the size of the Leah Chair is recommended to those between the height of 5'10" to 6'2".
The best way to be sure that the Leah Twin Sleep Chair offers the comfort and support that you are looking for is to visit a La-Z-Boy showroom and try it out for yourself. A design consultant will help you perform a sit test to ensure the sofa fit is right for your unique body type.
Overall Dimensions: 54W x 38.5D x 38H

Body Width: 54

Body Depth: 38.5

Body Height: 38

Seat Width: 40

Seat Depth: 20.5

Seat Height: 21

Twin Mattress Dimensions: 71.5" L x 32" W x 5.5" H

Recommended Twin Sheet Size: 66" L x 96" W (approx.)

Options & Upgrades
At La-Z-Boy, all upholstery furniture is customizable, including the Leah Twin Sleep Chair.
You have the ability to make the Leah uniquely yours with a variety of options and upgrades.
Upholstery/Cover Options
First and foremost, the upholstery cover that you choose for your Leah Chair greatly impacts its overall look and feel.
The Leah Twin Sleep Chair is offered in the select fabric called Mckittrick. This fabric comes in five different colours, including smoke, charcoal, taupe, indigo, and mist. These options are specifically chosen to complement the produc'ts unique look and particular frame.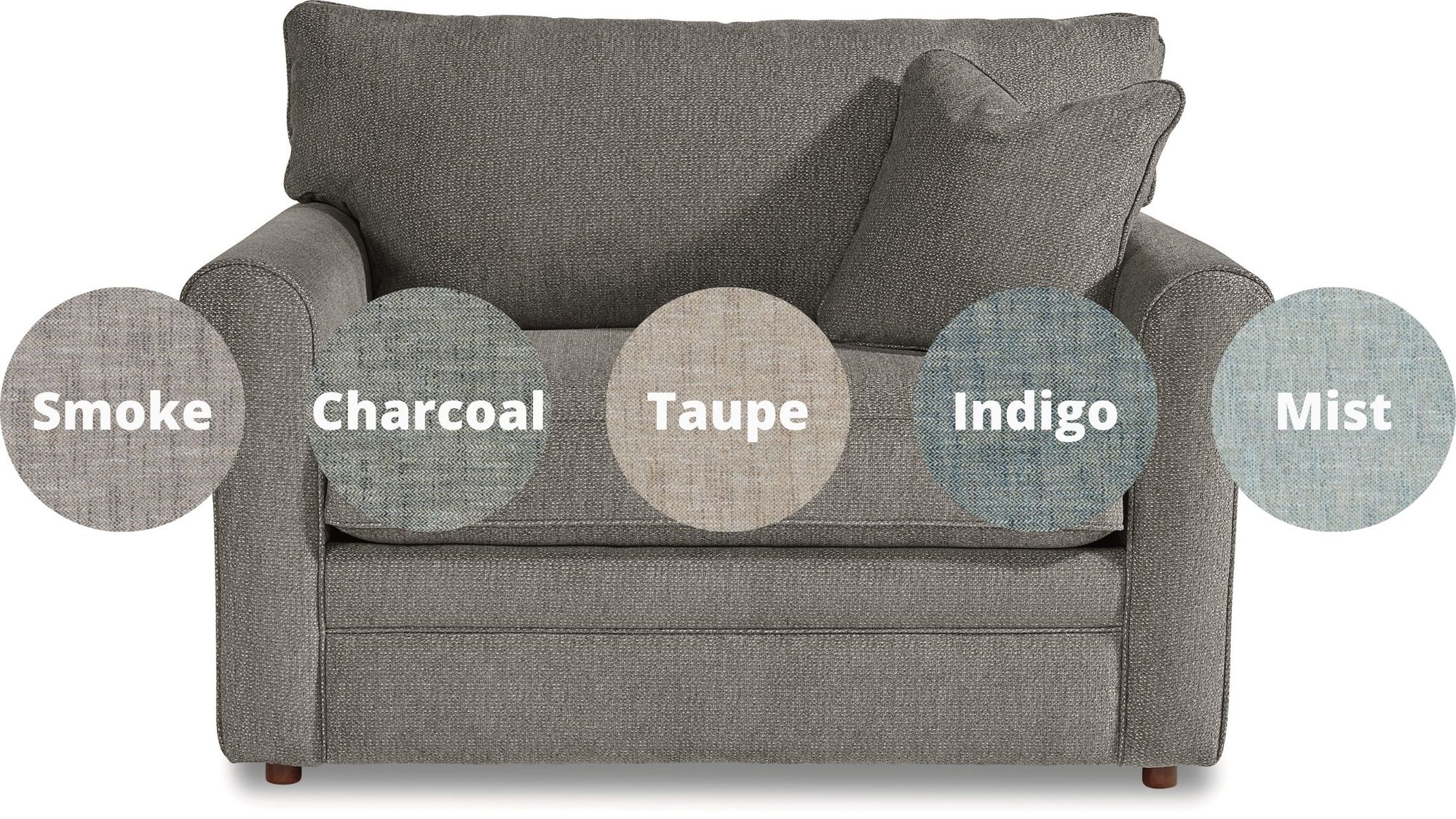 Further, the select fabrics offer the best value at starting prices.
Magaly loves the Leah select fabric. She says it has a sturdy texture with neutral colours interwoven, giving the fabric great dimension. She compares the feeling of the fabric to a man's suit as it is structured and not overly soft to the touch.
It is important to note that the Leah Twin Sleep Chair is not offered in leather, but its' still available in recycled leather.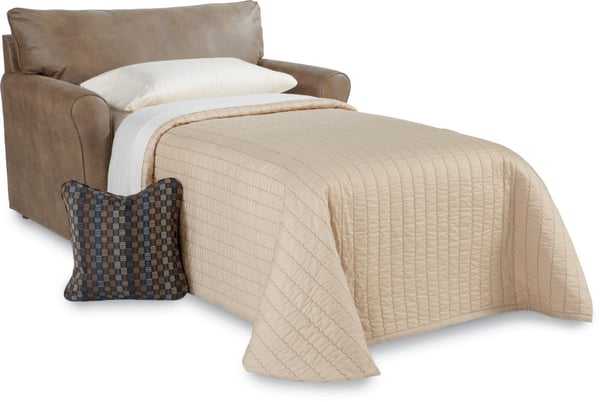 In addition to the select fabric, at La-Z-Boy we have over 800 fabricoptions. Within this wide selection of upholstery, the Leah Sleep Chair is also offered in the following premium-grade specialty fabrics.
Stain Resistant
Innovative iClean technology surrounds each fabric fibre, creating a barrier that repels spills before turning into stains.
Pet Friendly
Pet Friendly Fabric is tested and formulated to withstand the scratches and wear that a pet can cause, to ensure a durable and easily washable fabric.
Antimicrobial
Antimicrobial properties surround each fibre to protect against mould, mildew, and odour-causing bacteria.
Performance
Superior stain and fade-resistant properties make these fabrics easy to clean and incredibly durable.
Eco Friendly
Conserve Sustainable Fabrics are soft, durable, and made from recycled water bottles.
Seat Cushions
Raise the bar on comfort even higher by upgrading the seat cushions of your Leah Chair.
Upgrade to ComfortCore GEL cushions, often described as a firmer seat. Its construction includes a layer of airform responsive foam and gel-infused memory foam.
Mattress Options
The Leah Twin Sleep Chair comes with a Supreme Comfort™ quilted innerspring mattress that measures 5.5" thick.
There are two available mattress upgrades:
SlumberAir Mattress System: Features a 6" cushion of air over a 4" innerspring coil base. It inflates with an easy-to-use hand-held pump which allows you to customize the firmness level.
Memory Foam Mattress System: It features high resiliency memory foam that conforms to all body types for complete support and returns to shape after each use.
Throw Pillows
The Leah Twin Sleep Sofa comes with one matching throw pillow. If you are going for a bolder look, consider selecting a contrasting accent pillow to make your Leah pop.
Additionally, you can choose to add cord or fringe to the pillow edge for a more decorative appeal.
For upgraded comfort opt for a FeatherLite fill feathers.
Cost
The Leah Twin Sleep Chair falls within the mid price range at La-Z-Boy.
At the date of publication, the starting cost of the Leah Twin Sleep Chair was $2,259.
For up-to-date pricing, take a look at La-Z-Boy.com. Keep in mind that these prices are subject to increase with customizations and upgrades.
*All La-Z-Boy prices listed in this article are subject to change. Please visit lzb.com and select an Ottawa or Kingston La-Z-Boy store location to view the most up-to-date pricing.
Warranty
Some products in the Leah Twin Sleep Chair are covered by a limited lifetime warranty at La-Z-Boy in order to ensure the protection and satisfaction of your investment.
The Limited Lifetime Warranty covers the repair or replacement of the frame, spring systems, and the mechanism, given that they are quality-crafted and built for long-lasting comfort.
While still quality-crafted, other aspects of the product, such as fabrics, and cushions, are not meant to last a lifetime. These parts are still covered by the La-Z-Boy Manufacturer's Warranty for a given period of time.
To further protect your purchase, La-Z-Boy offers an extended warranty plan at an additional cost.
Customer Reviews
The Leah Twin Sleep Chair is enjoyed by many La-Z-Boy clients and is highly acclaimed. In fact, the Leah Chair is rated 4.9 out of 5.
Star ratings can only tell you so much, find out what customers are saying about the Leah Sleep Chair ...



Is the Leah Twin Sleep Chair Right for You?
According to Magaly, the Leah Twin Sleep Chair is perfect for someone looking to turn a second or third bedroom into a multifunctional TV room, den, or office.
Given the small footprint of the Leah Chair, it can fit into a spare room. Further, the dimensions of the Leah Chair are ideal for a person between the height of 5'10" and 6'2" when seated in an upright position.
But let's not forget Leah's versatility! The Leah Twin Sleep Chair can quickly turn into a sleeping space for a guest pulling out into a single bed.
With this, the Leah Twin Sleep Chair is ideal for someone who will host the occasional guest. If they plan on hosting more than one occasional guest, the Leah Twin Sleep Chair mattress may be too small, and instead, they may prefer a sleep sofa.
In terms of style, Magaly says the Leah Chair can fit seamlessly with many styles and furniture arrangements, making it an easy addition to any space.
Finally, the Leah Twin Sleep Chair falls within the mid price range at La-Z-Boy. With this, the Leah Chair is the right choice for someone looking to make an investment in a quality, comfortable, and multi-functional piece of furniture that will last them years to come.
Furniture Family (Other Available Frames)
At La-Z-Boy, many furniture models are available in multiple frame options. When it comes to a sleeper, varying frames offer different sized mattress options.
If you love the Leah Twin Sleep Chair, but would prefer something larger, you may instead be interested in the Leah Full Sleep Sofa or the Leah Queen Sleep Sofa.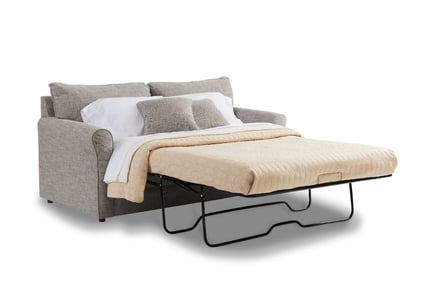 In fact, the Leah Queen Sleep Sofa is one of the 5 Best Selling Sofa Beds at La-Z-Boy Ottawa & Kingston. For more detailed information, read the in-depth Review of the Leah Queen Sleep Sofa.
What's Next?
If the Leah Twin Sleep Sofa is what you are looking for, why not start shopping today?
Our expert consultants would be thrilled to ensure that the Leah is the right fit for your space and the exact style you are looking for.
You may also consider taking advantage of our complimentary interior design services. Our talented designers can help you make fabric selections and customizations, seamlessly coordinating your Leah Twin Sleep Chair with your home decor.
If the Leah Chair isn't exactly what you are looking for, you may find what you are looking for in one of the following:
Visit us at a local Ottawa or Kingston location to find what you are looking for today. If you prefer to plan in advance, schedule an appointment online.
Related Links:
Murphy Bed vs. Sofa Bed: A Detailed Comparison
8 Best Furniture Retailers to Buy a Sectional Sofa Bed in Ottawa
Best La-Z-Boy Chairs for your Nursery
Product Info Request
Please provide us with your name and email and we'll get back to you as soon as possible regarding this item.