La-Z-Boy Reese Sectional: An In-Depth Review
May 19, 2020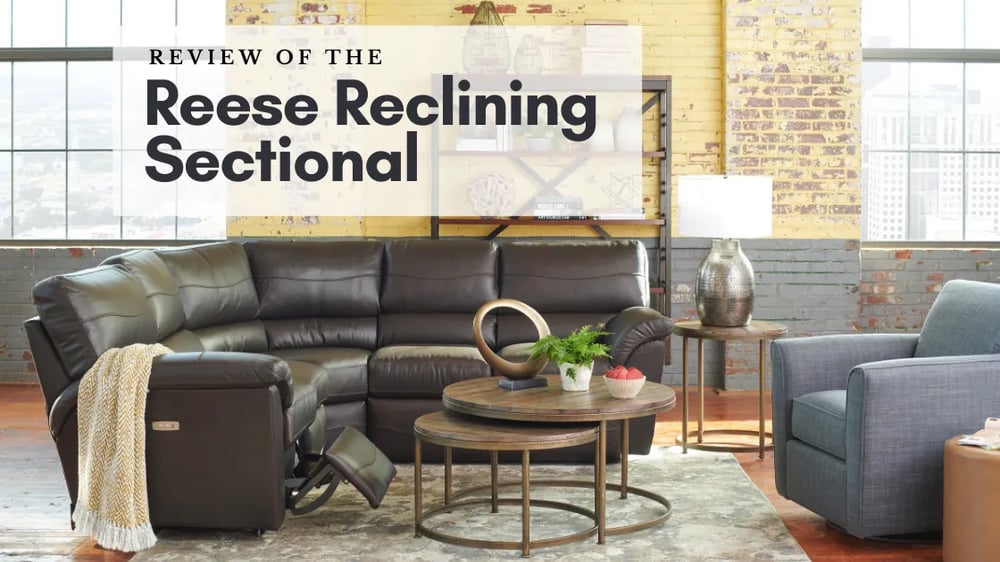 Are you looking to find out more about the Reese Sectional Sofa? You may be wondering, what are the Reese's features and benefits and is it right for me?
Learn all about the Reese reclining sectional in this review. Find out why the Reese sectional is one of our five best selling sectionals lists in Ottawa and Kingston and why it's the 4th most popular in North America!
Marianne Kola has been a design consultant with La-Z-Boy for 15 years. Originally at our Hunt Club location, she moved to the Cyrville store to help service the more prominent french-speaking community.
Marianne says the Reese is a big oversized sectional that works well if you have lots of space. It's got plenty of room and is extremely comfortable.
Marianne loves the Reese sectional. In fact, she loves it so much, she bought the Reese in brown leather for her own home! She says "it's the perfect sofa on which to take a nap!"
Unique Features
Adorned with single-needle topstitching on the arms, leg rest, seat and back, the Reese sectional has a casual design with ample seating. Reese features pillow top arms and a tall, pub-style back that provides support for your head or neck while you relax or watch TV. A variety of pieces make it easy to configure your perfect sofa. Customize with a wide array of fabrics and available upgrades.
This recliner is described as somewhat of an ambidextrous look, with the ability to look good seemingly in any room.
More specifically, Reese's design features single-needle topstitched detailing on the inside arms, legrests, seat, and back. It also features a pub-style back, making it look and feel nice and plushy.
Speaking of plush, Reese also features pillow top arms, creating an ideal spot for any leisure activity you choose to indulge in.
Mark believes that the plushness encompassing the recliner makes this chair more comfortable than others. However, there is also a sturdier feel to this recliner customers may not expect.
Nonetheless, Mark explains that the sturdy feel is quickly overcome once the customer lays back and reclines into its hugging shape.


Size & Dimensions
The size and dimensions can tell you a lot about a furniture item. To ensure that the Reese can fit in your home, it is always important to measure your space.
The Reese is a little bulky in shape but definitely shorter in height than other reclining sectionals. Because of this, the Reese sectional is mostly recommended for those between the heights of 5'4" and under.
While your height can be a considerable factor, it is important to note that height guidelines are
NOT
set in stone. The way you sit in a furniture item can drastically affect how someone might find a seat comfortable.
This is why we highly recommend coming in-store and taking a sit test to determine if the Reese is right for your unique body type. To learn more, take a look at our article How to Find a Recliner That is The Best Fit For You.
Here are the measurements for each piece:
Reese Reclining Sectional Dimensions (Inches)
Trouper Armless Chair/Recliner (Weight: 40/64 lbs.)

Body Depth: 38"




Body Height: 40"




Body Width: 24"

Seat Depth: 21.5"




Seat Height: 20.5"




Seat Width: 24"

Trouper Left/Right Arm Sitting Recliner (Weight: 80 lbs.)

Body Depth: 38"




Body Height: 40"




Body Width: 33"

Seat Depth: 21.5"




Seat Height: 20.5"




Seat Width: 21"

Trouper Left/Right Arm Sitting Reclining Loveseat (Weight: 120 lbs.)

Body Depth: 38"




Body Height: 40"




Body Width: 57"

Seat Depth: 21.5"




Seat Height: 20.5"




Seat Width: 45"

Trouper Rounded Corner (Weight: 63 lbs.)

Body Depth: 38"




Body Height: 40"




Body Width: 60"


Seat Depth: 23"




Seat Height: 20.5"




Seat Width: N/A
Options and Upgrades
Take some time to investigate your options so that your new sectional doesn't just suit your home; it suits your way of living. The Reese furniture set has various customization options available.
Fabric & Leather Options
With over 800 fabrics and leathers to choose from, customers have a wide variety of colours, textures, and patterns to suit every taste and style.
When choosing fabrics, the Reese comes in 7 select fabric covers with 2 different textures. Select fabrics are specifically chosen to match a particular furniture frame and do not affect the starting price.
There is also 1 select leather option available, including a stone colour.
La-Z-Boy offers alternative leather options such as leather match and recycled leather. It's important to remember that choosing any type of leather will result in additional costs for the furniture. You can learn more about La-Z-Boy's Leather Selection by checking out this article.
Leather options, even select leather, will always increase the overall cost. Ultimately, choosing fabric or leather is up to you if you're willing to spend more on leather products.
Please note that this article's leather or fabric options may be discontinued or unavailable without prior notice. We recommend contacting your local Ottawa or Kingston La-Z-Boy store by phone or in-person to confirm availability. We apologize for any inconvenience caused by any changes to our upholstery selection.
Alongside our extensive range of covers, the Reese is also available in specialty fabrics that offer unique features and benefits…
Innovative iClean Technology surrounds each fabric and leather fibre, creating a barrier that repels spills before turning into stains.
Tested and formulated to withstand the scratches and wear that a pet can cause to ensure a durable and easily washable fabric.
Antimicrobial properties surround each cover to protect against mould, mildew, and odour-causing bacteria.
Performance
Superior stain and fade resistance properties make fabrics easy to clean and incredibly durable.
Conserve Sustainable Fabrics are soft, durable and made from recycled water bottles.
Restore by Nanobionic® features a mineral-based fabric coating that transforms natural body heat into energy using infrared technology.
Cushion Upgrade
At an additional cost, Reese cushions can also be upgraded to include firmer cushioning, meaning over time, your furniture will remember your unique figure and enhance the comfort of your furniture. This could be a great option for people with mobility issues, allowing you to get in and out of your furniture more comfortably.
​For more information on whether this upgrade is right for you, view our Motion Furniture Collection catalogue.
Sectional Furniture Options & Configurations
Reese's sectional consists of 7 module pieces that can be used to design a unique configuration that suits your comfort preferences and space.
With these available module pieces, your Reese sectional can be made as big or as small as you wish. End pieces include a left and right arm sitting recliner and loveseat. You can also place a corner section to create the famous L-shape for which sectionals are known. for additional seating, you can add an armless recliner or chair.
There are 5 different basic sectional configurations below to show what your sectional can look like. You can also choose to go with your own unique design if you don't prefer any of these choices.

Cost
The price of the Reese sectional comes in at the mid-high range of the sectionals now available on the market. The quality of construction, the large size of the Reese and customization options are the main reasons for the higher price bracket. To learn more about the costs of sectional sofas in our Ottawa Kingston market, read our article on how much sectionals cost.
The starting price of the Reese in the smallest configuration begins at about $3,899.
*All La-Z-Boy prices listed in this article are subject to change. We aim to update all cost-related articles twice per year. This article was last updated on June 20th, 2023. Contact your local Ottawa or Kingston location by phone or in person for up-to-date pricing.
Warranty
The Reese is covered by La-Z-Boy's Limited Lifetime Warranty. This warranty covers the repair or replacement of the frame, spring systems, and mechanism, given that they are quality-crafted and built for long-lasting comfort.
For full details of the Limited Lifetime Warranty, check out this full La-Z-Boy warranty breakdown.
While still quality-crafted, other aspects of the product, such as fabrics, leather, and cushion, are not meant to last a lifetime. However, these parts are still covered by the La-Z-Boy Manufacturer's Warranty for a given period of time.
To further protect your purchase, La-Z-Boy Ottawa & Kingston offers an extended warranty plan at an additional cost. To learn more about the Extended Warranty Plan and if it's right for you, take a look at this article.

Beautiful, durable sectional. By far the best couch I've owned!
We have this sectional. Bought it April of 2015 and it's held up very well with heavy use on the end recliners. This replaced a sectional from Boscovs that fell apart within months. You get what you pay for. I came here looking at possibly buying two end of the sectional power recliners.. not because they have worn out but I'm afraid when they eventually do we won't be able to get replacements. Pleasantly surprised they still sell the same couch. 95% of the time the recliners are used meaning we can just replace the ends in a couple years. Beautiful couch and very durable. Very pleased with it.[sic]
Eric V.

Roomy and comfortable
This had become "Mom's spot" but it's popular grew until Mom never had it to herself anymore. Thankfully, there was enough room for Mom, 2 dogs, and 1-2 kids to all still be comfortable.[sic]
Stephanie & Jonny D.
Love this unit except one thing…the button control is out of reach when reclined making you have to work against the reclined position to reach the control. A person with longer arms may find it just right.[sic]
Mark R.
Is the Reese Sectional Right For You?
While the Reese Rocker Recliner is a comfortable and versatile piece of furniture, we understand that it is not the right choice for everyone. So is this reclining chair right for you?
As previously mentioned, the cost of the Reese falls within the mid to high price range on the market. For someone looking to make a significant investment in long-lasting furniture, La-Z-Boy's Reese is a great choice.
Alternatively, someone looking for an entry-level recliner for temporary use, say 3-5 years, might prefer something more affordable.
Also mentioned before, The Reese is smaller in the back. So, someone who is over 6 feet might not feel as comfortable in this type of recliner compared to someone who is 5'9. Shorter people at about 5'4 would also benefit from this recliner a lot more than others.
When it comes to functionality, the Reese Rocking Recliner is ideal for someone who wants a personal chair to rock and recline. With that being said, some customers find that the handle on the manual recliner chair is a bit lower to the ground than other recliners.
Specifically, our shorter customers seem to have had a harder time reaching the handle as opposed to people who were taller. Those that experience this issue may prefer one of our 5 Best La-Z-Boy Recliners for Short People.
Finally, when it comes to style, the Reese is versatile in appearance, meaning most contemporary or modern homes will be complemented by this rocking chair.
Spaces that don't have open concept environments may not be the most suitable place to put this recliner, since it is a rocking recliner that requires ample space.
What's Next?



You fill your home with your favourite people and things. Your furniture should reflect the many sides of your life – stylish, durable, sensible, and full of personality.
The traditional Reese sectional has been around since 2008 and has become a customer favourite.
This oversized sectional provides seating for the whole family and is perfect for a large family or finished basement. A variety of pieces make it easy to configure and customize your perfect sofa sectional.
The quality, style, and variety that La-Z-Boy has to offer will ensure you find the perfect match for your needs. We are happy to help you navigate all the options and tailor a sectional that is just right for you at any one of our Ottawa and Kingston La-Z-Boy locations.
We are here to help. You can browse our furniture online and schedule a virtual or in-person visit.
Imagine how exceptional a newly designed space for your Reese sectional could be if you collaborate with an expert in design! We offer a complimentary in-home design service to help you achieve your vision. Our in-home designers have the expertise to guide you through the process and help you create that space you've always wanted.
For more details regarding these arrangements, download our Reese product manual.
Related links:
Top five La-Z-Boy Sectionals in Ottawa & Kingston
Product Info Request
Please provide us with your name and email and we'll get back to you as soon as possible regarding this item.