La-Z-Boy Talbot Stationary Sofa - Review
November 29, 2019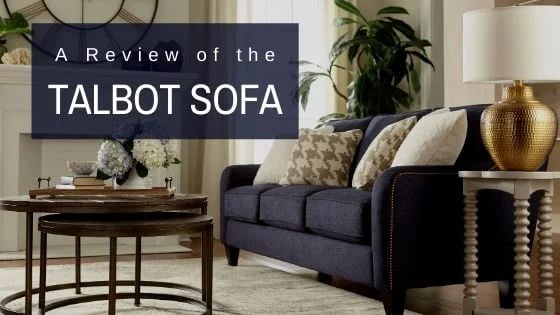 ***Please note that the Talbot Sofa, as well as other Talbot products, is currently discontinued. If you like this review, take a look at some similar review articles.***
Review of the Cleo Furniture Family
Review of the Kennedy Furniture Family
Review of the Mackenzie Furniture Family
In this review, find out why the Talbot Sofa is the third best selling sofa in Ottawa and Kingston.
Sandra El Nounou is a design consultant at La-Z-Boy Home Furnishings and Décor in Nepean. She shared that during her three years with the company, the Talbot is her top-selling sofa.
With a background in interior design, Sandra particularly loves that the Talbot sofa blends easily with any décor. She explains, "the beauty of the Talbot is that it has a nice transitional look." It has graceful curves and is smaller in scale, making it not too bulky. This couch is ideal for apartments or compact living spaces.
Unique Features
Padded outside arms and backs

give the sofa frame a fuller, more rounded appeal.

Sofa features

La-Z-Boy® Premier construction

with a quality-crafted frame consisting of kiln-dried hardwood and furniture-grade laminates. It is engineered for lasting durability.

La-Z-Boy® Limited Lifetime Warranty

covers all-wood frame parts and springs.

Fused bag pillows

allow the blown fibre to fill the corners to provide a full look and feel and prevent escape.

Self-healing zippers

can be fixed effortlessly by zipping and unzipping past the point of misaligned teeth or where it has popped open with usage.

Tailor-made decking

applied under the seat cushion as a raised print. This non-skid feature helps to keep the seat cushion from sliding forward.

ComfortCore seat cushions

have seven layers with four different foam densities to provide the best comfort and support level for various areas of the seat. ComfortCore carries a three-year warranty.

Five iClean™ select fabric colours

available at the starting price. These fabrics offer a barrier of protection that repels spills before they turn into stains. Simply blot most spills with a paper towel.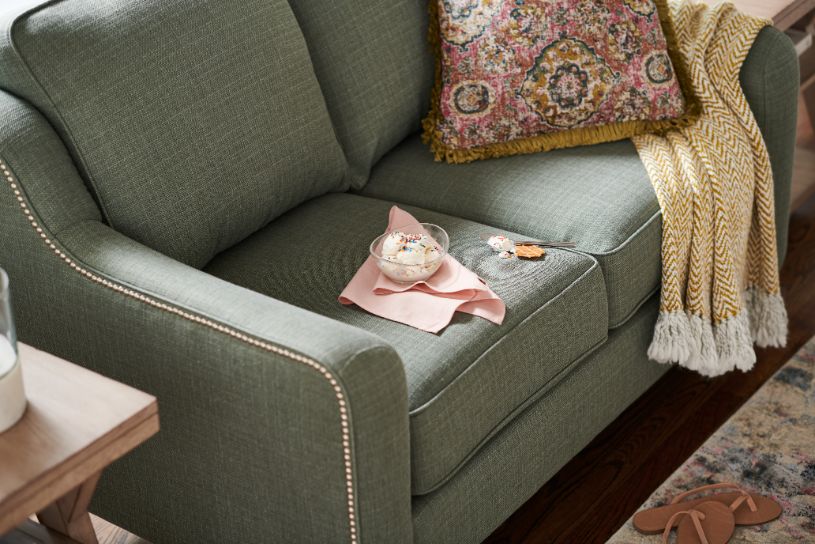 Talbot Stationary Sofa Dimensions
One size does not fit all when it comes to comfort. Based on its dimensions, the Talbot sofa is a good fit for most petite to average height individuals. A taller person may prefer a bit of a deeper seat.
Sandra also notes this couch has a great arm height at 25 inches. At this height, the sofa arm would be parallel or aligned with most side tables.


Seat Width: 67.0 inches Body Height: 37.0 inches Seat Depth: 20.5 inches
Body Width: 78.5 inches Seat Height: 21.0 inches Body Depth: 35.5 inches
Talbot Furniture Family
No home is complete without a sofa. Whether your style is modern, sophisticated or all about home entertainment, the sofa you choose defines your space. To help you create a cohesive design, La-Z-Boy offers style sets. Other furniture available in the Talbot family include: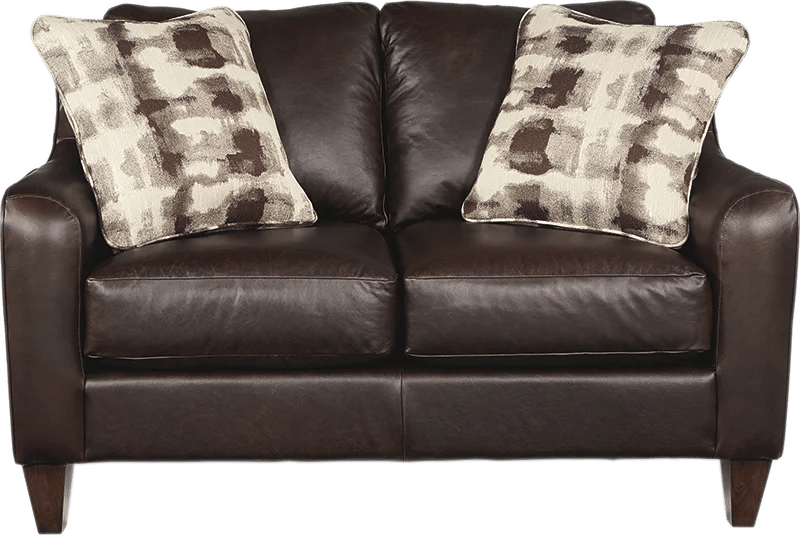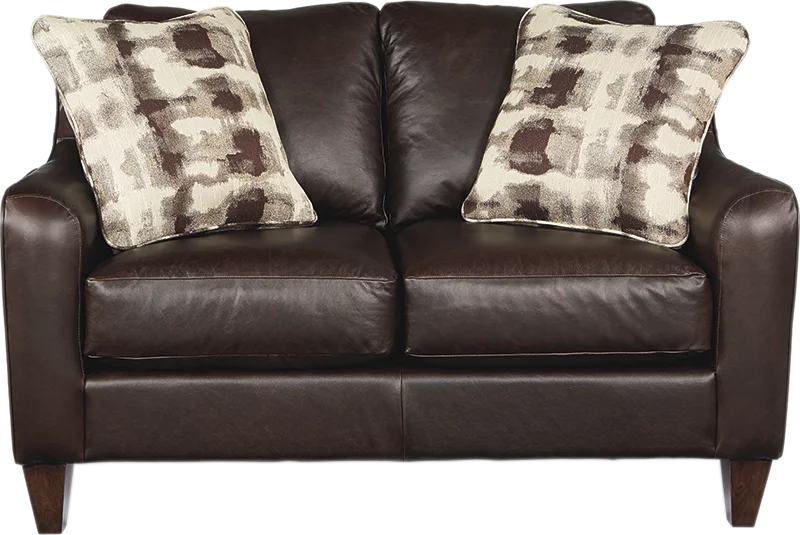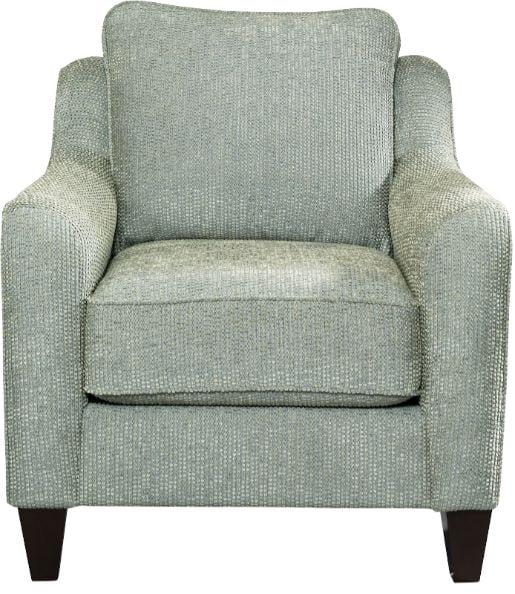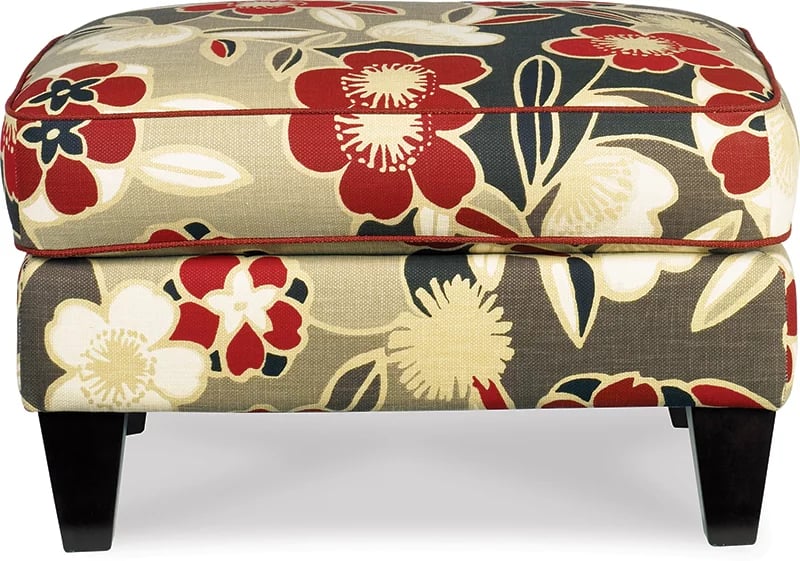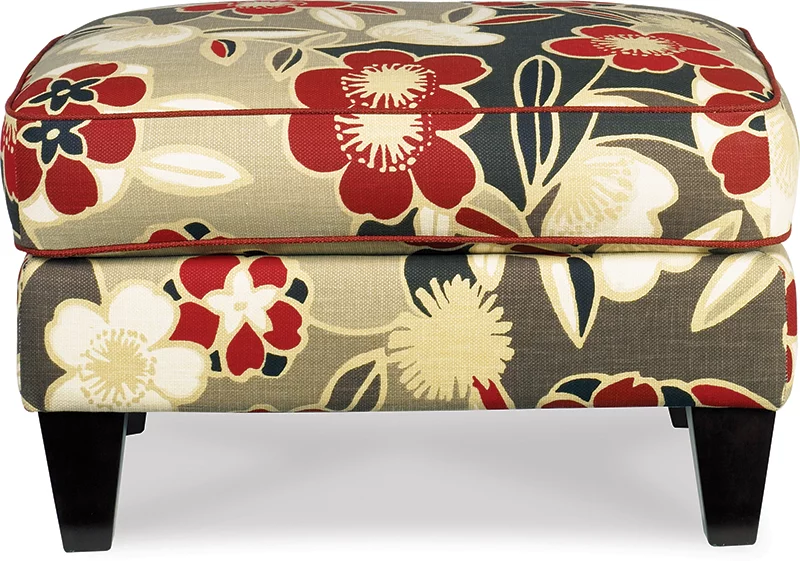 Cost
The cost of the Talbot sofa is in the lower range of the dozens of styles we offer. As a stationary frame, there are no reclining or power options with this style. See how much a sofa costs.
At the date of publication, the cost of the Talbot Sofa started at $3,179. From there, the cost increases depending on different fabric or leather chosen and other selected options.
*All La-Z-Boy prices listed in this article are subject to change. We aim to update all cost-related articles twice per year. This article was last updated in October 2022. Please visit lzb.com and select an Ottawa or Kingston La-Z-Boy store location to view the most up-to-date pricing.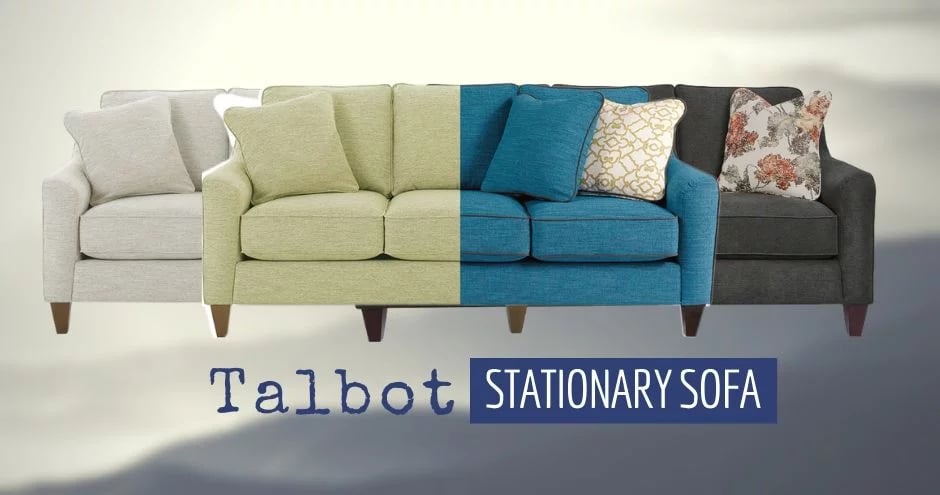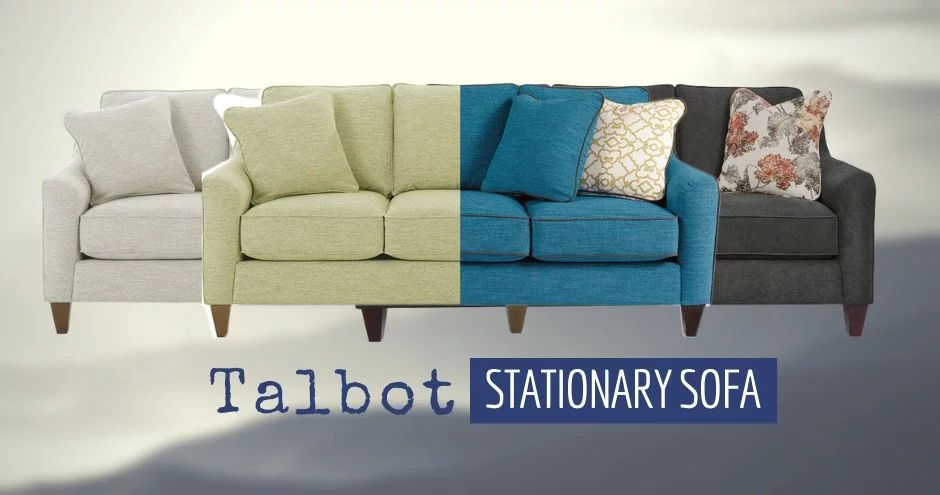 Options and Upgrades
Take some time to investigate your options so that your new sofa doesn't just suit your home; it suits your way of living. The Talbot furniture set has various customization options available.
Upholstery / Cover Options
Your choice of fabric or leather upholstery is a pivotal decision when selecting a sofa for your home. The Talbot has over 900 hundred cover options so you can custom-create a look that's uniquely yours. Choose from the latest colours, patterns and textures. There are options to suit every style and budget.
Select iClean fabric colours included in the variety of fabrics available. These fabrics offer a barrier of protection that repels spills before they turn into stains.
If you have pets, you might consider taking advantage of our Pet-Friendly fabric that has a high level of cleanability and durability, including the iClean technology.
Another specialty fabric option at La-Z-Boy is the antimicrobial fabric. This fabric protects against mould, mildew, and odour-causing bacteria
A subset of covers is available in "conserve" fabric. Soft, durable, and sustainable "conserve" fabric is made out of recycled water bottles. We use as many as 110 recycled water bottles to create a sofa with this eco-friendly material.
As with conventional furniture fabrics, conserve covers are wear-tested for safety, quality and durability. So, they stay comfortable and beautiful for years after delivery. They come in a wide range of colours and patterns to complement your room.


Seat Cushions
At an additional cost, firmer seat options are available, plus you can choose to upgrade both the seat and back cushions.

Please note that furniture purchased prior to January 2021 had the option to upgrade to ComfortCore® GEL seat cushions. This cushion has seven layers of comfort technology that includes gel-infused memory foam that provides exceptional support as it conforms to your body.
Wood Finish
Give your sofa legs a completely custom look with a different wood finish. Match your current décor or add a striking contrast. The Talbot sofa comes with a standard coffee finish. Options can include alternate leg designs for a one-of-a-kind look. There are two optional finishes: brown mahogany and graphite.
Contrasting Welt Trim
Welt trim provides a tailored look to cushions and pillows but takes on an entirely new dimension in a contrasting colour. An unexpected touch, this decorative detail adds instant personality and highlights the sculptural lines of any silhouette. The Talbot has over 50 different colour and pattern choices for trim.
Nail Head Trim
Commonly used in more traditional pieces, nail head trim is making a comeback. It accentuates the design lines of sofas, adding a handcrafted look that is both rustic and contemporary. The Talbot has brass, platinum and black nail head colour options.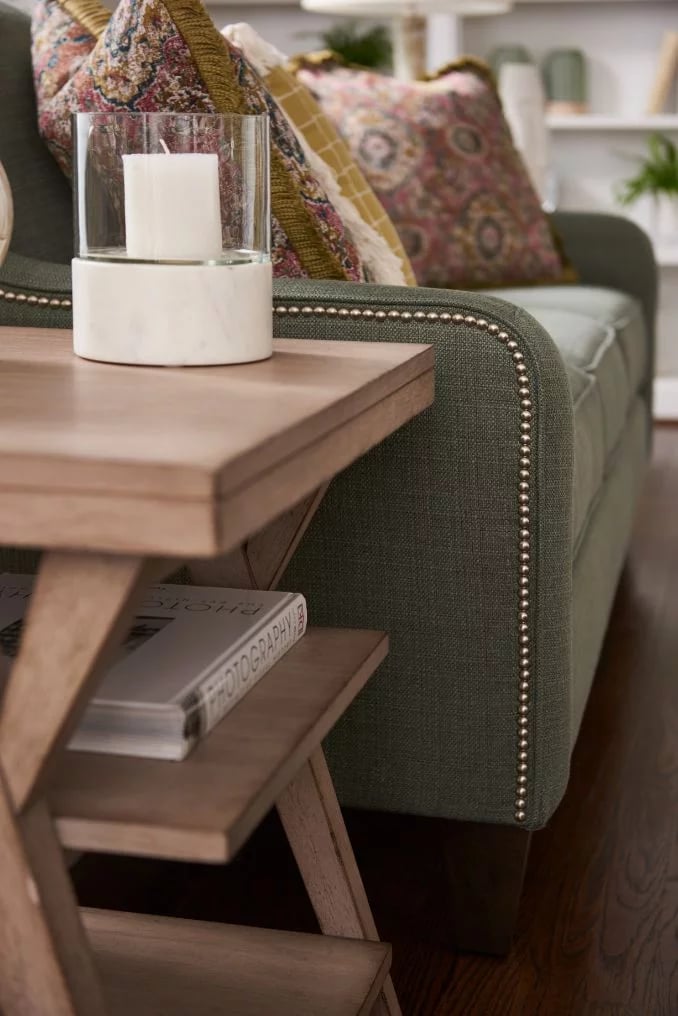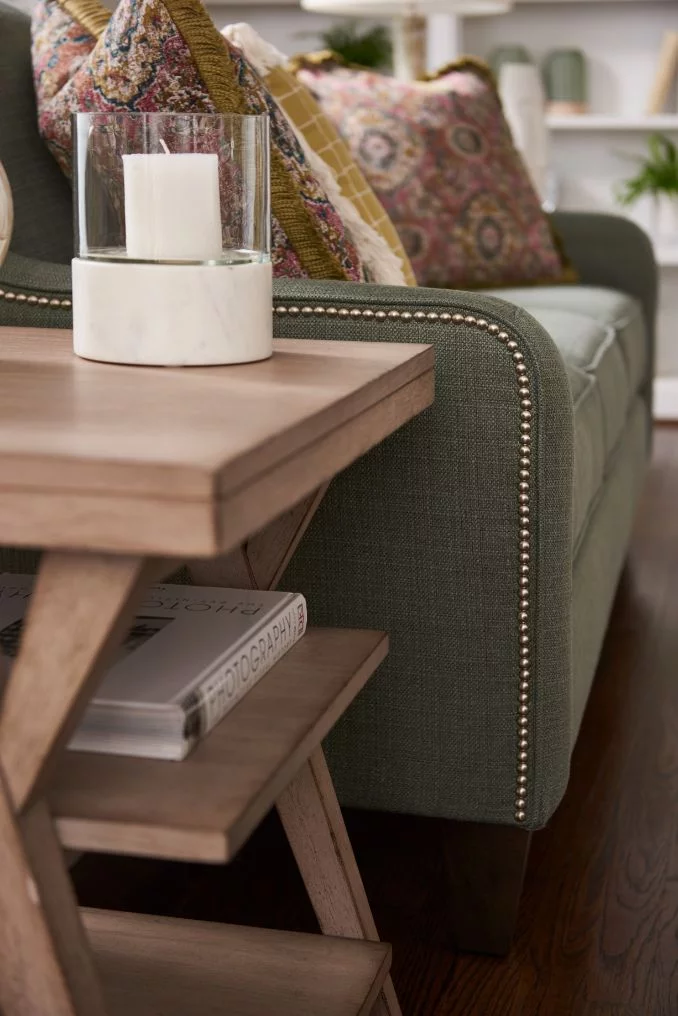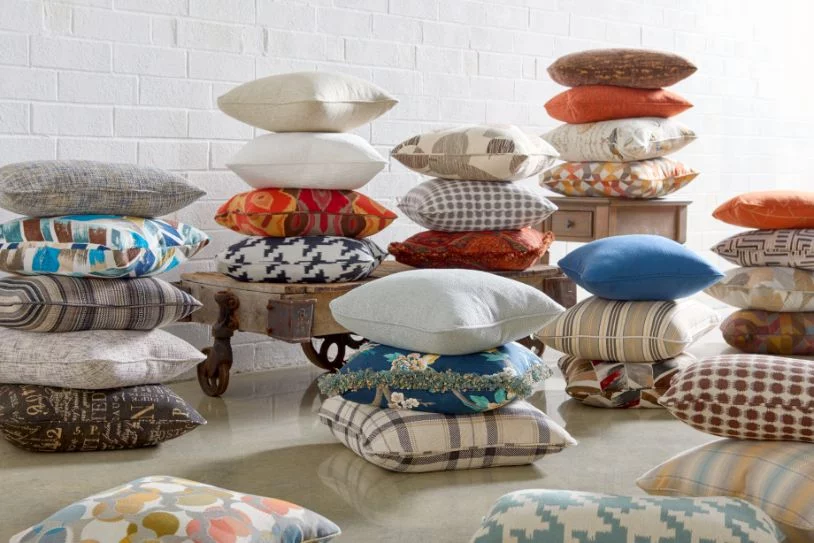 Pillows
Looking for that perfect accent piece? The Talbot sofa comes with matching pillows. But if you are going for a bolder look, you can opt to get them in a contrasting cover that will set your furniture apart. Also, you can choose to add either a cord or fringe pillow edge treatment.
Add down fill feathers and upgrade your pillows to FeatherLite Comfort.
Customer Reviews
This sofa currently has a 4.7 rating in North America. Find out what customers are saying in the following five star reviews.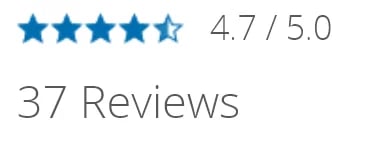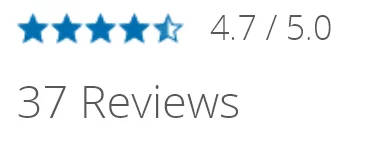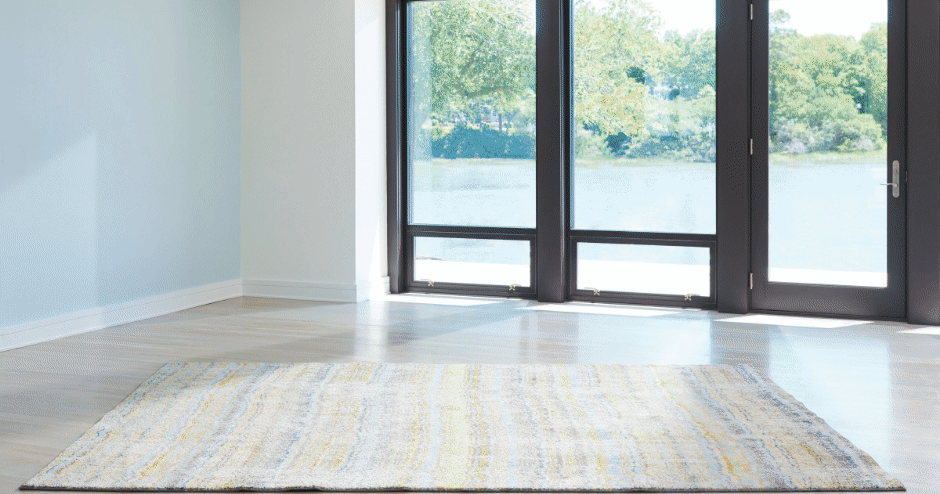 Next Steps
Your home is multi-faceted – part sanctuary, work zone and playroom. It's a place filled with your favourite people and things. Your furniture should reflect the many sides of your life – stylish, durable, sensible and full of personality. If you feel the Talbot sofa can meet your high demands and take center stage in your living room, it is worth a trip to one of our stores to meet in person!
This sofa is perfect for those that want a clean, tailored and stylish look that might be tight on space. It is also easily paired with many different styles if you are not replacing your entire furniture set or keeping some key pieces in the room. We are happy to help you navigate all the options and tailor a couch that is just right for you at any one of our Ottawa and Kingston La-Z-Boy locations.
Imagine how exceptional a newly designed space for your Talbot sofa could be if you collaborate with an expert in design! We offer a complimentary in-home design service to help you achieve your vision. Our in-home designers have the expertise to guide you through the process and help you create that space you've always wanted.
Product Info Request
Please provide us with your name and email and we'll get back to you as soon as possible regarding this item.