Top 5 Furniture Staff Picks at La-Z-Boy Ottawa & Kingston
February 16, 2023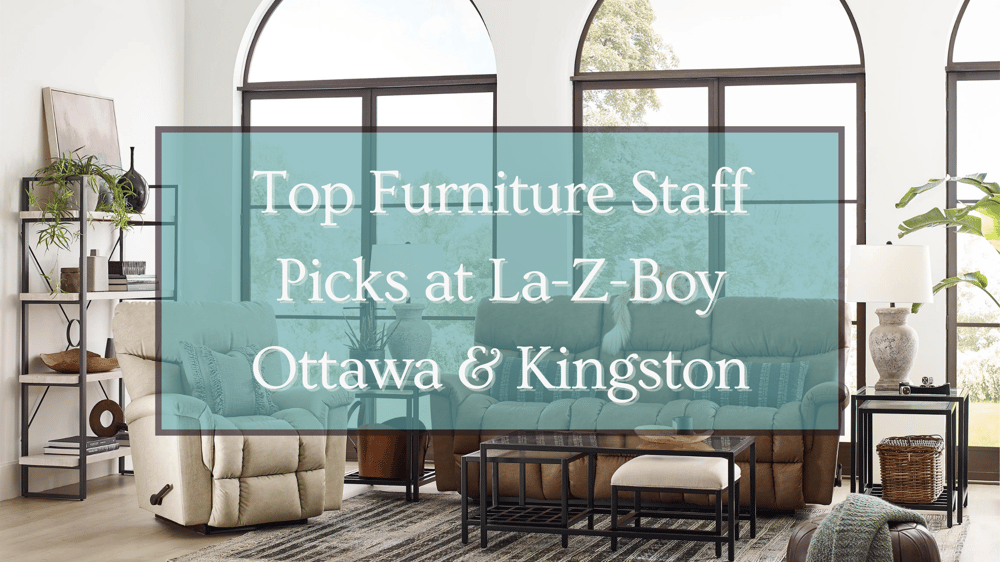 Est. Reading Time: 5 Mins
At La-Z-Boy, we value what our customers have to say about our furniture. It is so important to us we have a section in our review articles that highlight the good and bad about our products.
However, with so much focus on what the customers think about our furniture, you might wonder about our staff's opinion.
La-Z-Boy Ottawa & Kingston is home to four separate locations across both cities–one in Kingston and three in Ottawa. With over 100 total employees, there are many opinions on which furniture frame is a favourite.
In this article, we have compiled a list of the 5 most common answers our staff gave as their favourite furniture frames. Some of these are best-sellers, while some are newcomers that have made an impression!
In This Article…
1. The Paxton

First on our list, as well as the most popular amongst the La-Z-Boy staff, is the Paxton. The Paxton has been around for quite some time now, solidifying its presence with the employees as a customer and staff favourite.
Known as a casual and relaxed furniture frame, the Paxton invites you to kick back and get cozy. Featuring clean lines, crisp welt trim, and deep t-shaped cushions, it has a structured and neat silhouette that can sometimes be hard to vacate.
Within the Paxton furniture family, the Paxton Sectional and Sofa have gained recognition as standouts within the La-Z-Boy family. The Paxton Sofa is a two-seater sofa, something not common to most of our sofa frames.
And not only is the Paxton Sectional considered one of La-Z-Boy's Top-Selling Sectionals, but it has also been showcased multiple times in CHEO Dream Homes.
The Paxton is available as a chair & a half, a loveseat, a sofa, a sectional, and a matching ottoman. To learn more about the Paxton Furniture Family, take a look at this article. The Paxton often gets compared to the Alani furniture frame, which you can learn more about in the article The Paxton vs. The Alani.
2. The Finley
The second furniture frame on this list is from our recliner selection. As you may already know, La-Z-Boy invented the reclining chair. Our staff recognizes the popularity of our La-Z-Boy recliners and is in tune with what customers want. It is no surprise that the Finley recliner is one of our popular recliners from 2022.
The Finley reclining family incorporates a contemporary and comfortable style. Also known for being one of the 5 Best-Selling Recliners overall, The Finley is a unique modern recliner. It features a slim appearance with sleek track arms, a tall foam back, and an ultra-plush chaise and leg rest that cradle your body in a continuous zone of comfort.
In addition to its slim silhouette, an added space-saving feature of the Finley is that most of the pieces are wall reclining furniture. Wall recliners allow you to recline fully while keeping your furniture mere inches away from a wall.
To learn more about the difference between Rockers vs. Wall Recliners, take a look at this article.
The Finley is also available as a rocking, wall & gliding recliner, a wall reclining loveseat, and a wall reclining sofa. You can learn more about the Finley Furniture Family by checking out this article.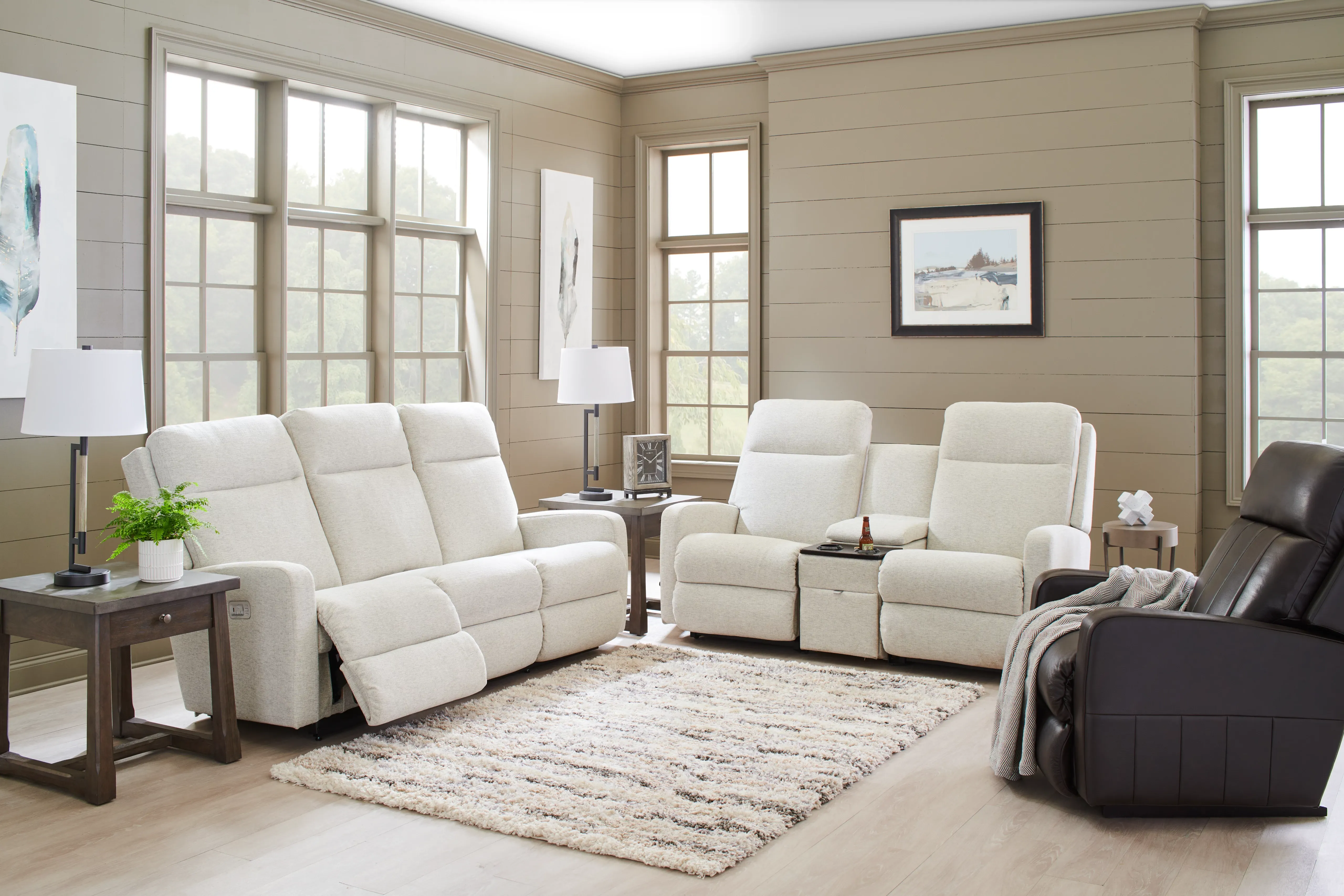 3. The Rowan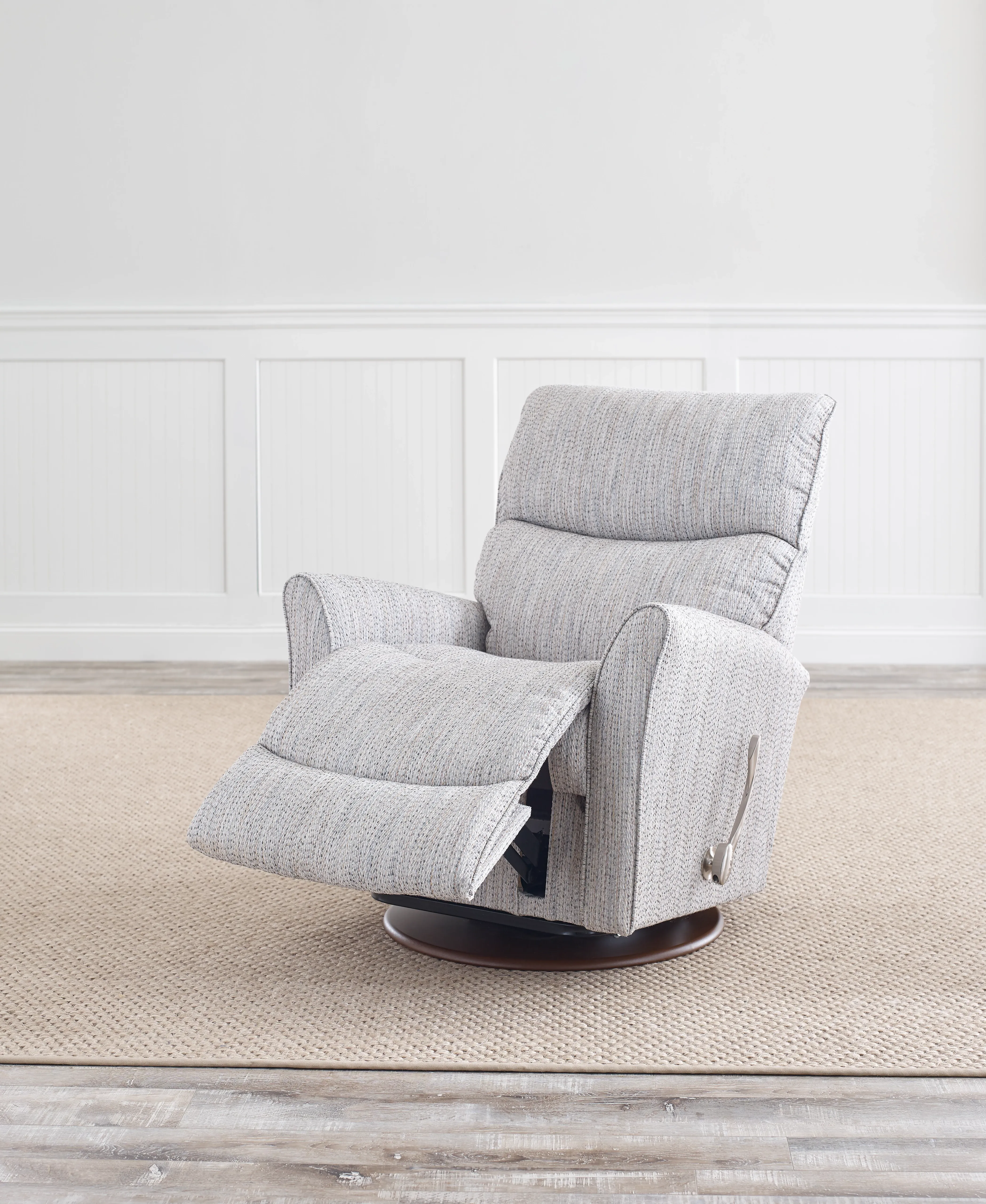 Another reclining furniture family that makes a statement is the Rowan. Both staff and customers cannot get enough from this recliner, mostly because it is also slim like the aforementioned Finley, but because it does not look slim in appearance.
With Rowan, the feeling of downsizing your furniture does not feel as apparent. Along with its clean lines and smaller scale, it has slightly flared and winged accents on its extremities. This is prominent on the arms and the back of the frame. Rowan's flared back also makes it comfortable for those with back pain.
The Rowan is also one of the only furniture families to include a rocking reclining loveseat, something that is very unique to La-Z-Boy and a standout from the other frames on this list.
The Rowan is also available as a rocking, wall & gliding recliner, a rocking & wall reclining loveseat, and a wall reclining sofa. You can learn more about the Rowan Furniture Family by checking this article.

4. The Meyer
Taking a step back from recliners is this furniture family called the Meyer. This staff picks is a no-brainer. Because of the popularity of its Best-Selling Sofa, La-Z-Boy later introduced the Meyer Sectional, which made quite the impression with its introduction.
Showcasing three deep seat cushions on the sofa and an extra wide stance, the Meyer is considered one of our wider furniture frames at La-Z-Boy, including the chair and the loveseat. Featuring a casual look and welt detailing, with our customization options, you can make interesting contrasts in colour with contrasting welt trims.
Speaking of accents, the Meyer Loveseat can make a great Accent Loveseat if you're looking for a furniture piece to stand out in your room.
The Meyer is also available as a chair, a loveseat, a sofa, a sectional, and a matching ottoman. The Meyer often gets compared to the Collins furniture family, which you can learn more about in the Meyer vs. the Collins article.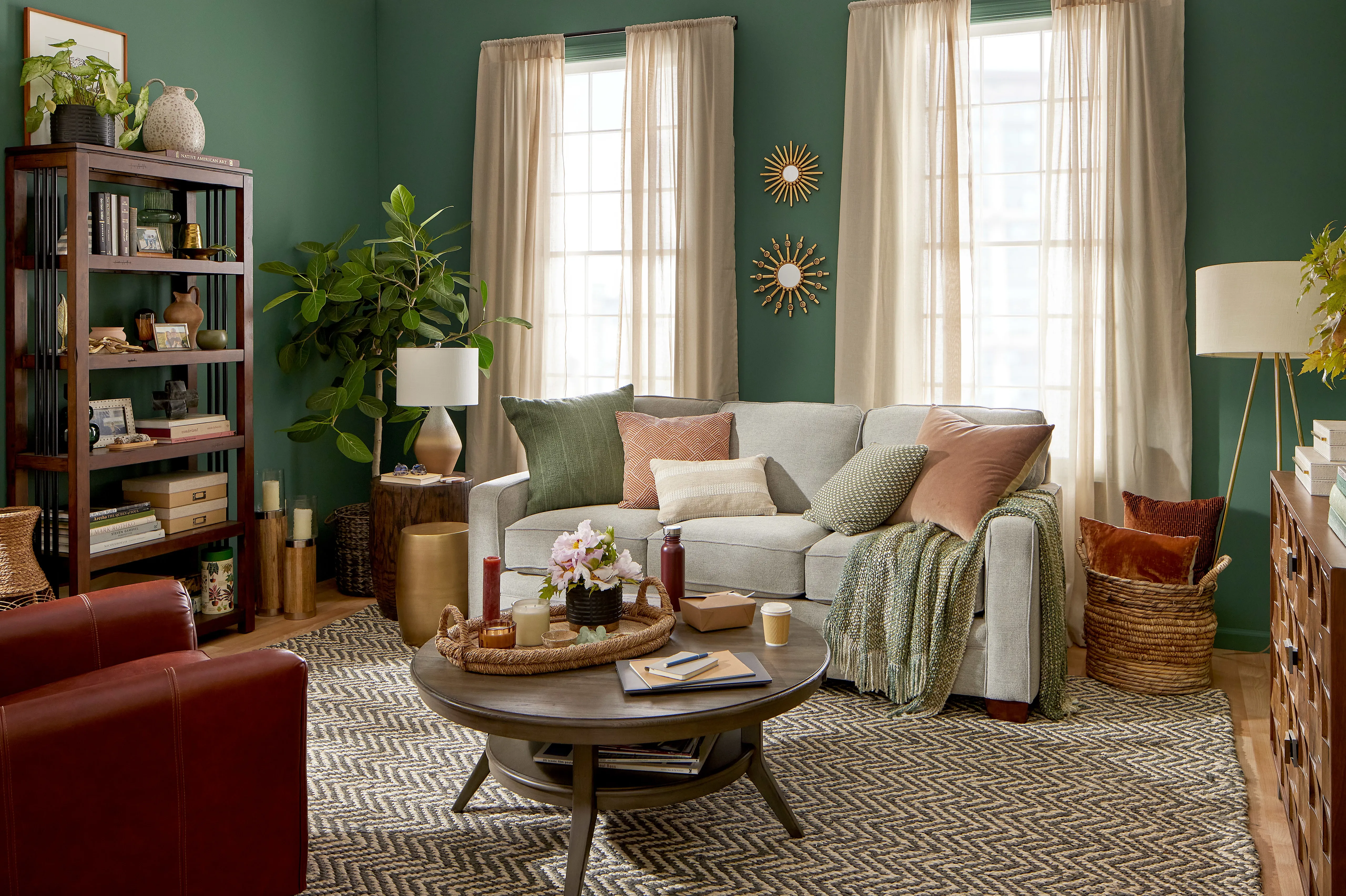 5. The Piper
Last but not least is one furniture family that has not been around for as long as the others. Even though this is the case, Piper has still managed to make a huge impression on the La-Z-Boy staff and customers alike. So much so that it is considered one of our Best-Selling Stationary Loveseats.
Having been on the La-Z-Boy floor for two years, the Piper is a streamlined style that fits just about any decor, from ultra-modern to comfortably casual. It also features elegant, modern arms and decorative wood legs that bring just the right amount of an upscale vibe to your living room.
What's interesting about the Piper furniture family is that it is the only furniture frame at La-Z-Boy with a chaise option with its sofa. Usually, modular pieces like cuddlers and chaise seats are found in sectional configurations.
But the piper family includes a sofa with a chaise seat making it a versatile piece with the option to place the chaise cushion and ottoman on the left or right. To learn more about Sectionals with Chaise Seating, check out this article.
The Piper is available as a loveseat, a sofa (also as a sleeper), a sofa w/ chaise (also as a sleeper) and a matching ottoman. You can learn more about the Piper Furniture Family by checking out this article.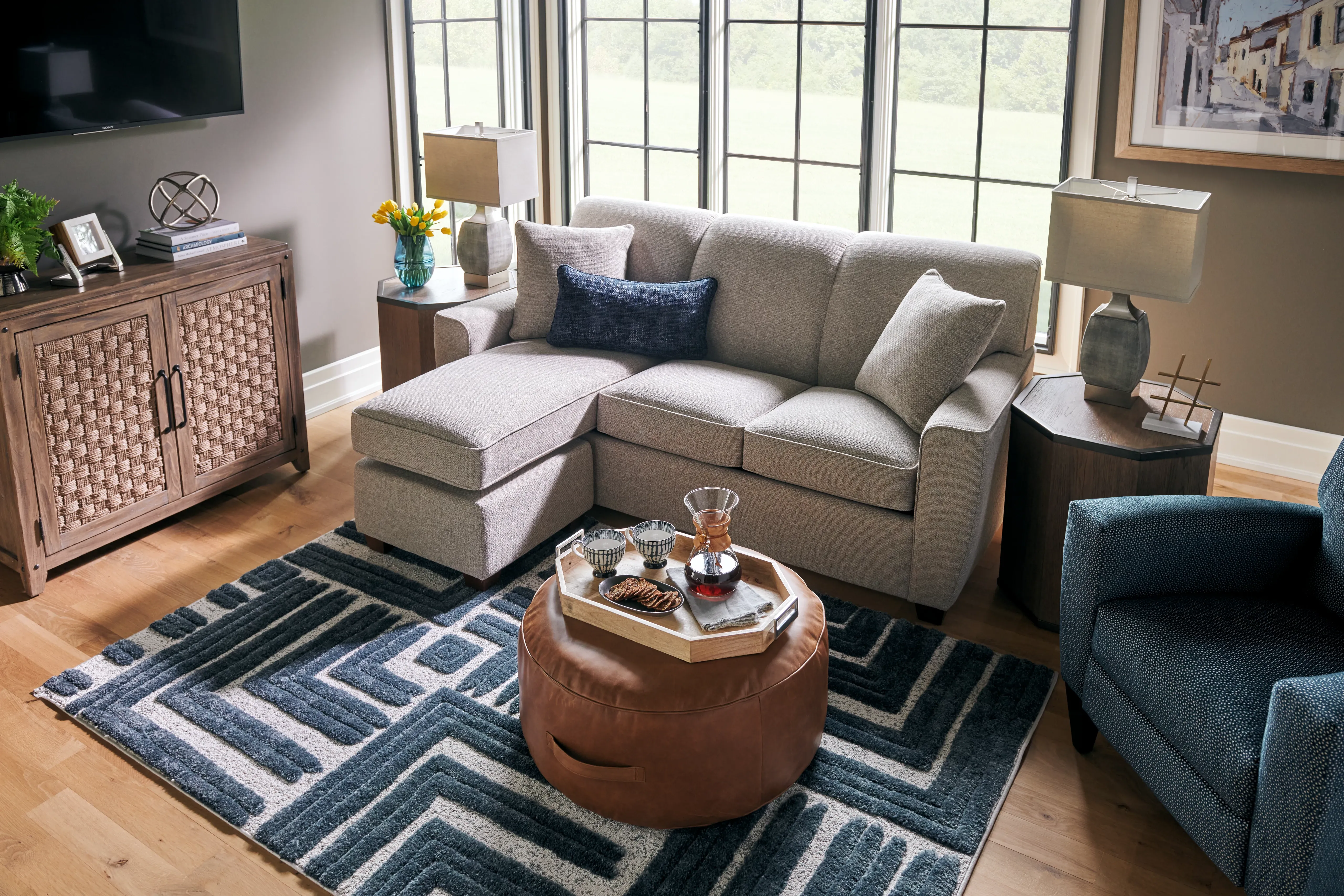 What's Next?
As you can see, the staff surely knows what they like and are evenly divided between our stationary versus reclining frames. Now that you know what kind of furniture frames our La-Z-Boy team has their eyes on, why not try out these and our other furniture pieces in person?
As mentioned before, La-Z-Boy has local showrooms located in Ottawa or Kingston. Come visit any of our locations today, or schedule a visit online before coming in.
Our design consultants are always eager to lend a helping hand. While in the store, why not ask your design consultant what their favourite furniture frame is? You two might have a furniture style in common!
Take advantage of our interior design services to see which one of our staff picks would suit your space and complement your home design.
Related Articles:
La-Z-Boy Recliners for Tall People
Best-Selling La-Z-Boy Power Recliners
Product Info Request
Please provide us with your name and email and we'll get back to you as soon as possible regarding this item.