6 Tips for Choosing the Right Wall Art for Your Living Room
April 13, 2023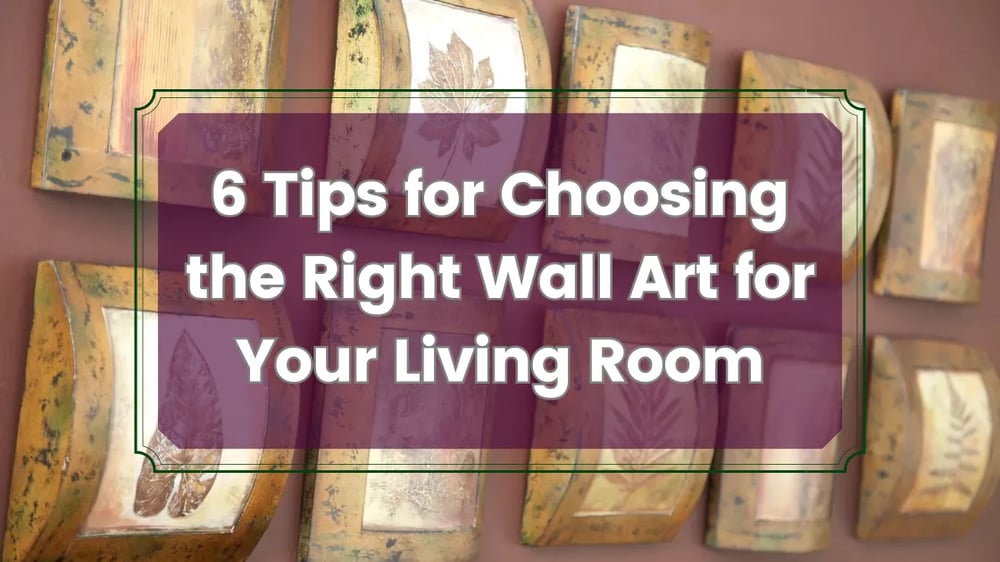 Est. Reading Time: 5 Mins
As you enter a living room, what catches your eye first? While you may not have a definitive answer, if your initial response is furniture, you are indeed correct.
Any type of furniture, whether it be a sofa, a loveseat or a reclining chair, takes up the most visual space in a room. It also helps that certain furniture pieces can be paired with accents in the room, which make them stand out more.
But what can these stand-out pieces in a room be? Well, Dea Attar, the interior designer at La-Z-Boy Hunt Club, shares her thoughts on this, "I think furniture can be well complimented, depending on the type of decor you choose to place in your living room."
Home decor items can include anything from decorative coffee table ornaments to table lamps to, you guessed it, the art we place on our walls.
Although hanging wall art may seem easy, it can be challenging for some to determine what will complement their living room. In this article, we will discuss 6 factors to consider when pairing wall art with your living room furniture.
In This Article…
1. Determine What Kind of Wall Art You Want
When it comes to wall art, people often envision a standout art piece that can transform a room's ambiance or a framed photograph representing a cherished memory.
However, wall art can be categorized by so much more. According to Shutterfly, wall art is a type of decoration ranging from canvases to framed pictures to other artistic embellishments that can be hung up.
Dea adds to this description and says, "Anything that can look decorative on a wall is considered wall art."
Other pieces of decor that are considered wall art can be: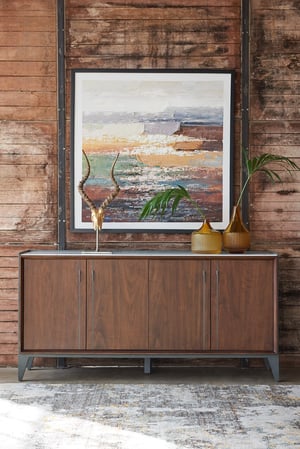 While often overlooked, wallpaper can be considered wall art since it is a decorative piece that enhances the appearance of your walls, elevating the overall look of the room.
2. Choosing the Right Spot & Size
Once you determine the type of wall art that you want in your room, the next thing you need to figure out is the right spot and measurements.
Choosing a spot is easier than you think. Most of the time, people love to hang their wall art over their furniture since it creates a focal point in the room. But you can choose a wall without anything on it if the art piece makes sense. The main goal, however, is to make the area look appealing and interesting.
Once you've determined the placement, you can move on to measurements. Whenever adding a new furniture item or large decor item, it is important to Measure Your Space. When figuring out if you want a piece of wall art, measure the wall's length and width.
The next step would be to determine the size of your wall art. Excluding wallpaper, wall art should not cover the entirety of your wall. As a simple guideline, Dea recommends choosing a piece that covers at least ⅔ of the width of the wall, assuming it is only one piece of art.
If you're thinking of adding another or a collage of pieces, you should still aim for an invisible ⅔ width-centred border. "You also want to make sure it is at eye level so that it doesn't look awkwardly placed," she says.
Knowing the dimensions of the wall and the desired size of the wall art is crucial for achieving a balanced look in your space. However, if you plan to hang the artwork over a sofa rather than a bare wall, there are additional factors to consider.
It's recommended that the wall art is at least ⅔ the size of the wall and hangs approximately five inches above the top of the sofa while maintaining a minimum distance of ten inches from the ceiling.
As per Dea's advice, a maximum distance of 10 inches from the ceiling is optimal for hanging wall art. "Some pieces will have different lengths and widths so you can play around with this number so that you can reach that 5-inch minimum from the sofa."
3. Staying On Theme
Incorporating a theme into your room's design can guide your selection of wall art and ensure a streamlined look. Some themes, such as oceanic, farmhouse, or Parisian, are more specific, while others, like contemporary, modern, or transitional, offer broader options.
If you're decorating a traditional living room, choosing rectangular frames may be a better fit, whereas abstract art pieces can add a modern touch to a contemporary space.
There is also the option to mix and match old and new decor elements to create contrasting accents. This can help create a unique-looking room and help compliment your furniture in nice and unexpected ways.
Once you have a concept in mind, you will know which art pieces you'll want for your living room.
4. Consider Colours and Patterns
One of the more important things to consider when choosing wall art is keeping on theme with the colours in your room.
Colour is very important when furnishing any home. It sets the tone and mood you want to present in your living room. Are you looking for a more neutral living room, or are you looking for something more bohemian? These are important questions to ask yourself when you think about colour.
Your wall art should blend in and balance the colour palette set in your room. However, if you're looking for something to stand out, your wall art could even become the accent piece in your room. These side-by-side pictures show how the colours in the painting are more defined depending on the colour of the sofa.
Dea says, "Colour coordinating your wall art with your furniture can make for a more balanced room."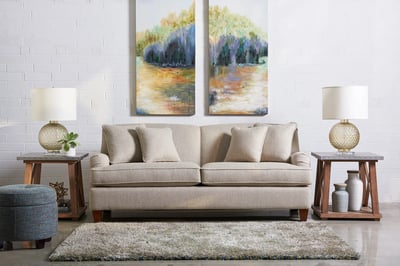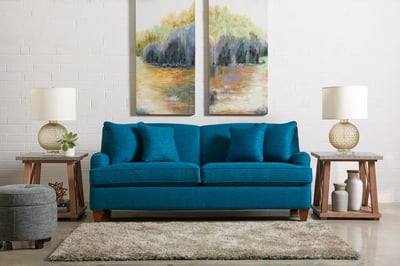 You may also consider different patterns like you do with colours. For example, if you're a fan of checkered or strips, you can integrate these patterns into your living room through wall art and other accent pieces.
5. Consider Texture
While figuring out colours is important, deciding on texture is another factor to consider.
Now, you probably don't want you or your guests to physically touch your wall art when hung up. But, if you choose an art piece that isn't flat and has texture, it can really add depth and dimension to your space.
Textured wall art is a more contemporary decor style, and it may not be for everyone. But, this has become a more popular approach for those looking to push the boundaries of normal and wanting to try something different.
"Now, sculptures don't need to be held by gravity, they can be hung up on your wall," says Dea. This idea of creativity can also be shown with unique dining room lighting and other home decor accessories.
6. Keep Empty Space in Your Room
While you are trying to add wall art to your room, you also have to consider the empty space in your room.
Sounds a little counterintuitive, right? The main reason for getting wall art is to cover the empty space in your room, right? While it is important to cover up empty space in your room with decor, it is also important not to cover your entire room with wall art either.
When entering a room, you want your decor and furniture to attract your guests visually. However, having two covered art walls instead of an empty wall can create a visually busy room.
Dea says that taking a minimalistic approach when hanging wall art is key to creating a visually appealing space. "Sometimes one wall is covered by windows, and the other is covered by art pieces. But what about that third wall? Do nothing to it!"
This is why minimalism has remained an ongoing design trend and can work in many different home aesthetics.
What's Next?
With all this information, you can now safely consider what to do when hanging up wall art in your room.
If you feel as though you still are not making the right decision for your room, do not worry. We can help with that!
At La-Z-Boy, we offer complimentary interior design services to help create the room of your dreams. Our interior designers, along with our expert design consultants, are always eager to lend a helping hand.
Wall art doesn't go without furniture. To get familiar with our La-Z-Boy products, check out our best-sellers:
If you want to speak to someone about wall art and home decor, visit us at any of our local Ottawa & Kingston showrooms. You can also book an appointment online before coming in.
Related Articles:
How to Decorate Your Living Room for Each Season
Product Info Request
Please provide us with your name and email and we'll get back to you as soon as possible regarding this item.