Decor-Rest vs. La-Z-Boy: Living Room Furniture
January 22, 2021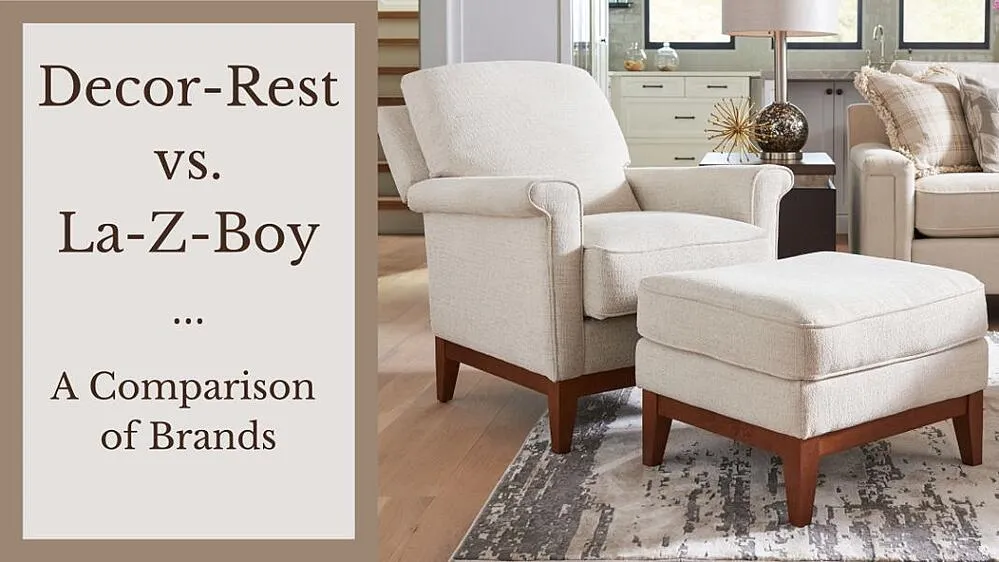 Everyone's home is unique. It consists of carefully selected furniture that represents your own personality, preferences, and lifestyle.
Although choosing a piece of furniture may seem simple, there are actually several factors that go into making that decision.
To choose the right piece, you will want to determine your preferences regarding quality, comfort, style, and cost, all of which are determined by the brand that designs and manufactures the furniture.
With this, choosing a furniture brand might be the most important decision of all.
Luckily, there is no shortage of unique furniture brands to choose from. In fact, as of 2017, Canada alone has more than 7,000 furniture manufacturer brands.
With such a variety of brands to choose from, it can be difficult to narrow down your final choice.
Decor-Rest and La-Z-Boy are two examples of reputable and quality furniture brands and manufacturers available in Canada.
While we are proud of the products and services offered by our La-Z-Boy brand, we also realize that we are not for everyone. It is important to consider all of your options when making such a significant investment in furnishing your home.
While both brands are great choices, the comparative information in this article will guide you in deciding which furniture brand best suits your individual needs and preferences.
Let's Get to Know Both Brands
Decor-Rest Furniture
Operating since 1972, Decor-Rest Furniture is a family-run company that originated in Toronto, Ontario. The Decor-Rest furniture company has since expanded to be a global manufacturer.
350 dedicated craftspeople and administrators at Decor-Rest continue to adapt to fast-paced and ever-changing retail trends.
The brand specializes in upholstered high-quality furniture catering to a variety of styles. This includes both stationary and motion sofas, sectionals, and chairs.
The manufacturer offers its products in an array of exclusive fabrics and top-grade leather upholstery, allowing for the possibility of unique customization.
La-Z-Boy Ottawa & Kingston
In comparison, the La-Z-Boy brand originated in the United States and has been known for manufacturing and distributing quality and comfortable furniture for over 90 years.
As a public company with over 10,000 employees, La-Z-Boy furniture is sold in thousands of residential retail outlets in the United States and Canada. La-Z-Boy products are also distributed with a license in other countries around the globe.
La-Z-Boy is well-known for designing the original reclining wood-slate chair in 1927. The name itself has become synonymous with the recliner category in much the same way that Kleenex is sometimes used interchangeably with tissue.
While the company has evolved into a modern brand offering a variety of furniture products, La-Z-Boy still operates based on its founding principles.
Specifically, at La-Z-Boy, there is an emphasis on integrity, ethics, and environmental vigilance in all operations.
What Products are Offered?
Decor-Rest and La-Z-Boy are similar in that both specialize in manufacturing high-quality and comfortable upholstery furniture. Product offering includes both stationary and motion sofas, sectionals, and recliners.
There are some differences in the products they offer and differences in what they offer beyond upholstery.
Decor-Rest
As previously mentioned, Decor-Rest produces a variety of classic and contemporary upholstery furniture, including sofas, sectionals, chairs, and ottomans.
While these living room seating products are available in both stationary and motion, Decor-Rest predominantly focuses on solid stationary furniture, with a more limited selection in reclining and motion.
In addition, the Decor-Rest brand also offers ottomans and sofa bed sleepers.
Decor-Rest claims that all upholstery products are made with attention to detail, quality, and comfort. They are also customizable.
Decor-Rest products are offered in a variety of colours, and fabrics, including performance fabrics. Upholstery products are also customizable in 100% top-grade leathers. In addition, Decor-Rest offers customization on the finish of wood, nail studs, and metal.
Although Decor-Rest mostly caters to furnishing the living room, they also manufacture headboards meant for the bedroom.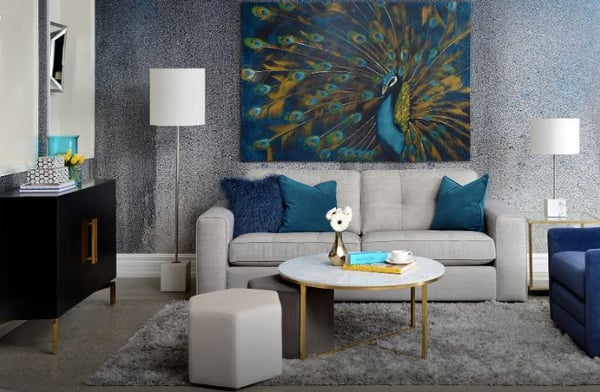 La-Z-Boy
As the inventor of the iconic recliner, La-Z-Boy places an emphasis on upholstery living room products such as sofas, sectionals, loveseats, and reclining chairs.
La-Z-Boy products take a timeless approach to style and aim to create 'comfort first' furniture.
With a wide variety of upholstered living room furniture, La-Z-Boy offers high-quality products in both stationary and motion.
In comparison to Decor-Rest, La-Z-Boy places much more emphasis on quality motion furniture with a wide variety of selections and luxurious upgrades designed to provide personalized comfort.
Like Decor-Rest, all upholstered products at La-Z-Boy are customizable in an amazing assortment of fabrics and leather including performance and environmentally friendly options. La-Z-Boy clients also have the ability to upgrade their selection by opting for high-grade seat cushions, or alternative trim.
In contrast to Decor-Rest, La-Z-Boy offers additional product features such as wall away recliners, power options, headrest & lumbar, heat & massage, and lift chairs.
In addition to living room products, La-Z-Boy also offers a wide variety of furniture products that serve in alternate rooms of the home such as the bedroom, kitchen, and dining room.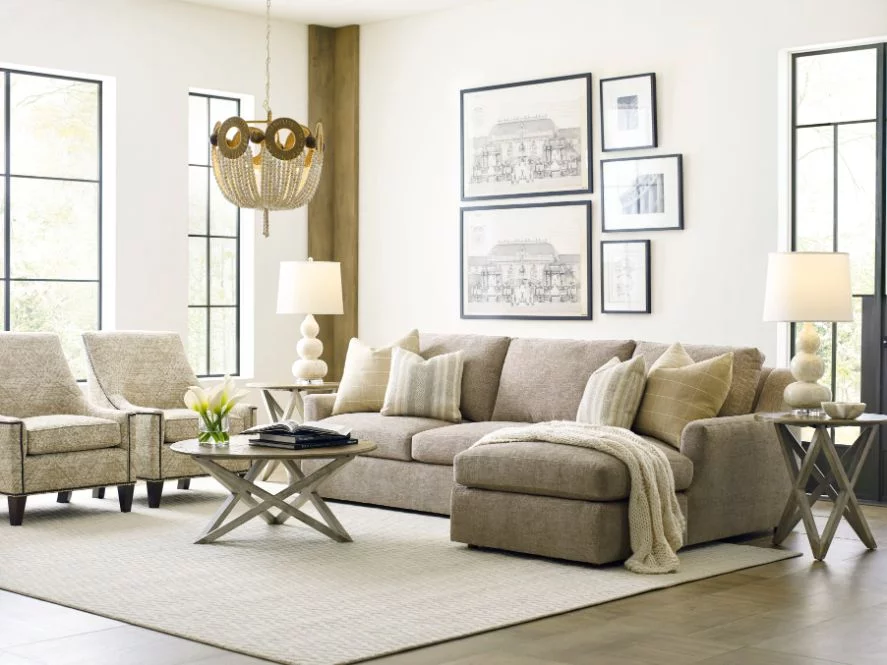 How is it Made?
Decor-Rest and La-Z-Boy are both known for manufacturing quality and comfortable products, but each brand has its own approach to doing so.
Since Decor-Rest has minimal motion furniture in its line-up, this section will highlight the manufacturing methods unique to each company when it comes to producing stationary sofas.
Decor-Rest
As a manufacturer, Decor-Rest constructs its stationary sofas with several specific techniques.
First, all Decor-Rest sofas have unique channelled backs and are filled with siliconized fiber, preventing flattening or shifting. Stabilizer bars support these back cushions and offer warped free stability, extra support, and durability.
The back of the sofa is also backed with sinuous springs made with a 12 gauge no-sag construction. The sinuous springs also support the seating sprung with 8 gauge no-sag construction. These seats have 5 springs per seat offering extra support.
The frame itself is designed and engineered from the air or kiln-dried North American maple or birch hardwood. The corners of the frame are double-dowelled, corner blocked, glued, and secured with screws.
The arms and deck of the sofa are padded offering extra comfort. Attached to the deck is a large deluxe edge roll that is meant to hold the seat cushion in place.
Finally, Decor-Rest sofas cushions are made with environmentally green soya foam manufactured without CFCS.
La-Z-Boy
La-Z-Boy is known as the #1 manufacturer of recliners and reclining furniture, but has applied its expertise in furniture design and motion upholstery to stationary sofas.
Most stationary Sofas at La-Z-Boy are made with premier construction allowing customers to rest comfortably knowing that their stationary frame is built with the active family in mind.
Standard Features of Premier Construction:
OSB, hardwood solids, and laminated hardwood frame construction.
La-Z-Boy frames are made with an exclusive engineered hardwood jointed together. A frame of such high quality ensures the longevity of the sofa and supports regular use.
Fully padded outside back, outside arms, and front post.
The padding on La-Z-Boy sofas gives a finished appearance and supports the fabric and frame. It allows the sofa to hold its original shape without the fabric wrinkling or loosening over time.
No-Sag Sinuous wire seat and back springs.
La-Z-Boy sofas are developed with a high-quality seat and spring mechanism that ensures added strength and support when seated. These sofas are also constructed with a mesh layer in between the springs, frame, and cushioning in order to avoid any wear over time.
La-Z-Boy non-skid Logo Decking.
The raised La-Z-Boy logo keeps seat cushions in place when going from a seated position to standing.
For added comfort and optimal firmness, Premier La-Z-Boy sofas are made with patented ComfortCore cushions. The 7-layer zoned cushion technology offers added support for the spine, hips, and behind the knees.
For more information on La-Z-Boy Cushion technology, take a look at the Review of La-Z-Boy's Chair and Sofa Seat Cushions.
La-Z-Boy sofa toss pillows are lined with accordion fabric for added loft. This helps the pillows stay fuller, and longer, needing less maintenance.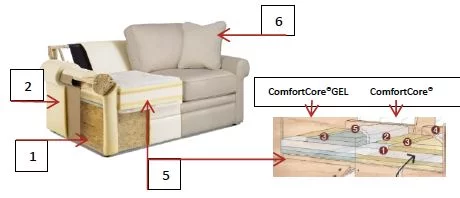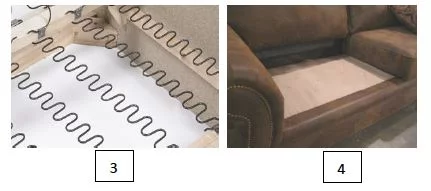 Premier construction aside, all La-Z-Boy furniture products sold from an Ottawa or Kingston location go through a rigorous quality check before being shipped to your doorstep.
This includes a preparation process prior to product delivery. The product is unboxed in order to make sure there are no manufacturing defects. If necessary, the product will be touched up, and finally sent on its way. Our inspectors are trained by La-Z-Boy to ensure that the product is made to the highest standard.
Finally, not only is our furniture at La-Z-Boy made with quality craftsmanship but it is also made with care.
Where is it Made?
Decor-Rest
Decor-Rest is predominantly a Canadian manufacturer operating out of a headquarters and 250,000 square foot factory in Toronto, Ontario.
Although Decor-Rest products are assembled within Canada, the materials used in the making of Decor-Rest products are shipped from overseas.
As a Canadian manufacturer, Decor-Rest not only caters to the Canadian market but has also expanded its sales force into the United States, with a warehouse located in Hudson, North Carolina.
La-Z-Boy
La-Z-Boy brand is a global manufacturer with operations in North America, Asia, and Europe. La-Z-Boy's products are primarily made in North America for North American markets.
The global headquarters of La-Z-Boy is in Monroe, Michigan but the majority of our recliners, chairs, sofas, and sectionals that are sold in Ottawa and Kingston are manufactured in Dayton, Tennessee.
For more information, check out the article Where La-Z-Boy Furniture is Made.
What's the Price Tag?
When it comes to price range, Decor-Rest and La-Z-Boy products are comparable. La-Z-Boy falls within the mid to high price range category, while Decor-Rest products are generally priced slightly lower in the mid-price range.
The cost that Decor-Rest products are sold to consumers is determined by the individual authorized Decor-Rest dealers. Therefore, the exact cost of Decor-Rest products tends to vary from retailer to retailer and based on distances from the manufacturer to account for freight differences.
In contrast, La-Z-Boy products are primarily sold at La-Z-Boy retailers, but similar to Decor-Rest, La-Z-Boy products are also sold at alternative licensed and approved dealers. The retail price is set by the independent retailer and not La-Z-Boy Inc.
For a general idea of retail prices, let's compare the retail cost of stationary sofas from each brand.
Sold at Upper Room Home Furnishing, stationary Decor-Rest sofas range from about $1,199 to $5,000, in both fabric and leather options.
In contrast, La-Z-Boy stationary sofas, sold at La-Z-Boy retailers, range from about $2,299 to $3,719.
*All La-Z-Boy prices listed in this article are subject to change. We aim to update all cost-related articles twice per year. This article was last updated in October 2022. Please visit lzb.com and select an Ottawa or Kingston La-Z-Boy store location to view the most up-to-date pricing.
To understand more about sofa costs and the factors that affect sofa costs, take a look at the article, How Much Does a Sofa Cost?
Is There a Warranty Plan?
Furniture can be a significant investment, especially when you are paying for the quality and comfort of reputable brands such as Decor-Rest and La-Z-Boy. When purchasing products from either brand, it is reassuring to know that the value of your purchase is protected.
As manufacturers, both Decor-Rest and La-Z-Boy products are sold with comprehensive furniture protection warranty plans.
Decor-Rest
Decor-Rest products have a limited warranty plan which is granted to the retail purchaser. Depending on the component in need of repair or replacement, the warranty covers the product for 1 year, 2 years, 3 years, 5 years, or a lifetime.
Lifetime Warranty
According to the Decor-Rest warranty plan, "a lifetime means the normal life of the product".
The Lifetime warranty protects frames and springs.
5 Year Warranty
Cushions and lux foam cushions are covered by Decor-Rest warranty for up to 5 years.
3 Year Warranty
All reclining mechanisms are covered for up to 3 years.
2 Year Warranty
Leather is covered by warranty for up to 2 years.
1 Year Warranty
Sofa bed mattresses, electronics embedded within power products, and the fabric is covered for 1 year.
Decor-Rest Warranty does not cover:
Heavy spoiling or abuse

Improper or unapproved cleaning methods

Fading due to direct sunlight to a dry environment

Protective finishes

Tears, pilling, fading or shrinking

Flattening of nap on velvets and velvet types
La-Z-Boy
La-Z-Boy takes pride in its product quality and craftsmanship that aims to meet and exceed industry standards. At La-Z-Boy, the team strives to consistently deliver products that live up to the La-Z-Boy name.
With this, the La-Z-Boy reclining mechanism is unique to the brand. La-Z-Boy manufactures and stamps all of its own mechanisms. Additionally, La-Z-Boy is diligent in serving and supplying all of its own parts.
In turn, La-Z-Boy products are sold with a manufacturing Limited Lifetime Warranty which covers the frame, mechanism parts, and the spring/spring system for a lifetime. In contrast to Decor-Rest, La-Z-Boy's Lifetime Warranty covers these parts for the true life of the furniture, while Decor-Rest only covers these parts for 3 years.
For an extra cost, La-Z-Boy also offers a more comprehensive service protection plan that covers up to 5 years of accidental damage. The cost of this protection plan extension is relative to the price of the product.
For more information on La-Z-Boy's warranty and protection plan take a look at the article Is La-Z-Boy Warranty Worth it. You may also find some useful tips on how to maintain the look of your furniture in the article 2020 Furniture Care Tips.
Where to Shop in Ottawa & Kingston?
Decor-Rest Retailers
Sofa World
1163 Saint Laurent Boulevard, Ottawa

1841 Merivale Road, Ottawa
The Upper Room Home Furnishings
255 Kanata Avenue, Ottawa

545 West Hunt Club Road, Ottawa

1344 Cyrville Road, Ottawa
1901 Cyrville Road, Ottawa

290 Hunt Club Road, Ottawa
*It is important to note that there are unfortunately no Decor-Rest locations in Kingston
What's Next?
Decor-Rest and La-Z-Boy are both fantastic furniture manufacturers. With a detailed comparison of both brands, the choice is now yours! La-Z-Boy continues to uphold the founding principles of comfort, innovation, and industry-leading craftsmanship.
We are proud of the products we offer at La-Z-Boy and are confident that our skilled consultants can help find the perfect piece of furniture to meet your style, preferences, and lifestyle.
In addition to our products, we also offer an array of services, such as custom furniture and interior design, that ensure the furniture you choose fits seamlessly into the style of your home.
Visit us at one of our local Ottawa or Kingston locations or schedule an appointment to meet a personal consultant.
Last Edited On June 1st, 2022
Product Info Request
Please provide us with your name and email and we'll get back to you as soon as possible regarding this item.