La-Z-Boy Devon Reclining Sectional: In-Depth Review
February 28, 2020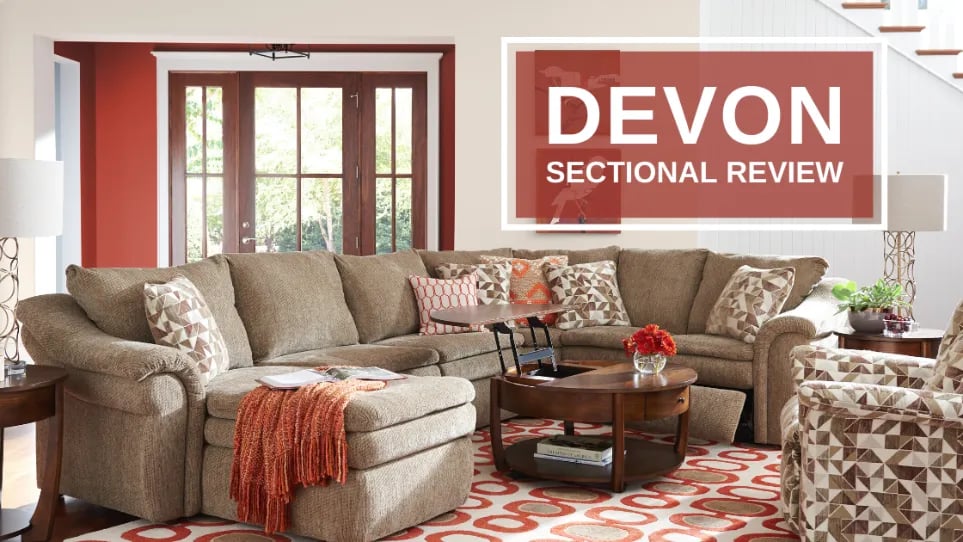 Are you looking to find out more about the Devon sectional sofa? You may be wondering, what are the Devon's features and benefits and is it right for me?
In this review, find out why the Devon sectional couch is one of our five best-selling sectionals lists in Ottawa and Kingston. It's our second best-selling reclining sectional behind the Trouper sectional and number three in North America!
Jenna Leblanc is a design consultant at La-Z-Boy Home Furnishing and Décor in Kanata. During her last two years at La-Z-Boy, she's helped hundreds of clients find their perfect seats.
Jenna says, "when clients come into the store looking for a comfy sectional, it's the first thing I show them. The plush neutral fabric that we have on the showroom floor appeals to many people. It works well for a basement recreation room or any other spacious room, and it is, of course, extremely comfortable."
Unique Features
The Devon is one of the larger and most versatile sectionals La-Z-Boy has to offer. With a wide variety of pieces to choose from, you can configure the Devon to rooms of virtually all sizes and shapes.
Generously scaled, it features casual pillow-top seats, ultra-plush pillow backs, and padded curved arms. Standard cushions include high-grade foam seat cushions that maintain their comfort and appearance. Double-picked blown fibre fill for improved cushion loft and shape retention or upgrade to AirForm cushions.
The Devon also features modular pieces with 20" accent pillows, which gives you more comfort and relaxation in its family friendly seating.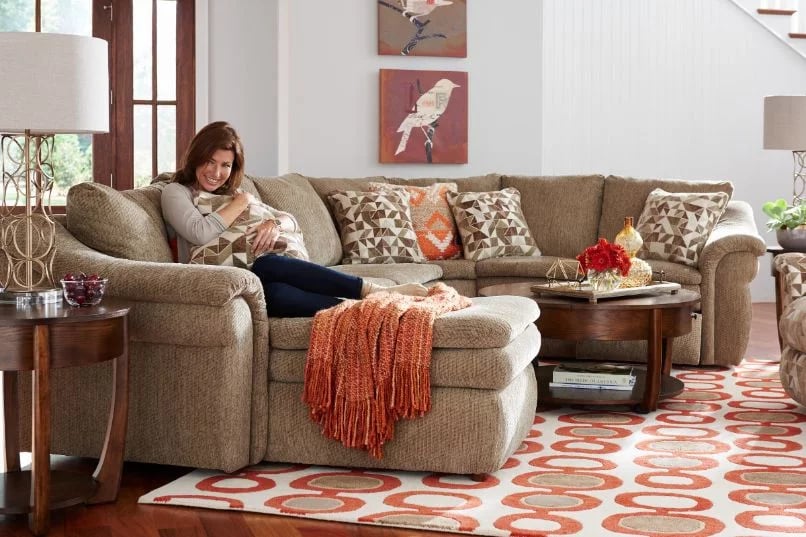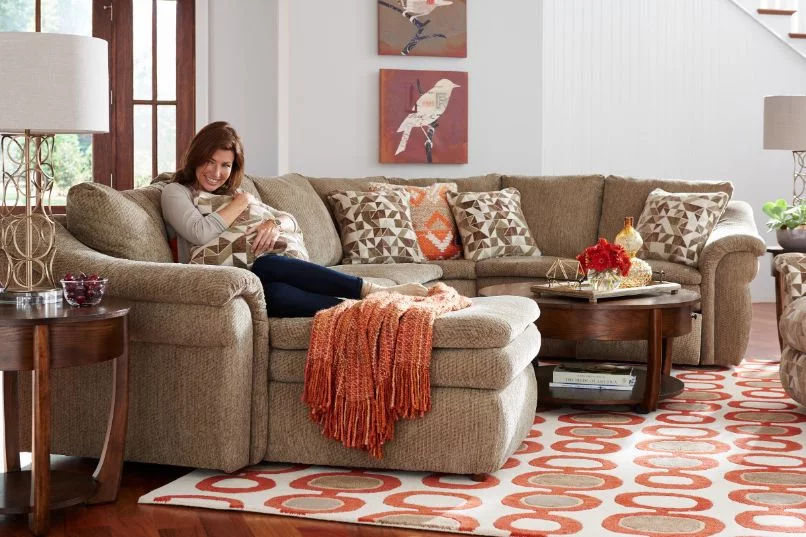 Size & Dimensions



The size and dimensions can tell you a lot about a furniture item. To ensure that the Devon can fit in your home, it is always important to
measure your space
.
Because of the ability to change its size, the Devon can suit a number of spaces. However, because it is a reclining sectional, it might not be able to fit in a small space.
One size does not fit all when it comes to comfort. Based on its dimensions, the Devon sectional is a good fit for almost everyone.

While your height can be a considerable factor, it is important to note that height guidelines are
NOT
set in stone. The way you sit in a furniture item can drastically affect how someone might find a seat comfortable.

This is why we highly recommend coming in-store and taking a sit test to determine if the Devon is right for your unique body type. To learn more, take a look at our article How to Find a Recliner That is The Best Fit For You.
Options and Upgrades
Take some time to investigate your options so that your new sectional doesn't just suit your home; it suits your way of living. The Devon furniture set has various customization options available.
Fabric & Leather Options
With over 800 fabrics and leathers to choose from, customers have a wide variety of colours, textures, and patterns to suit every taste and style.
When choosing fabrics, the Devon comes in 5 select fabric covers with 2 different textures. As for leather selections, the Devon is only limited to recycled leather.

Select fabrics are specifically chosen to match a particular furniture frame and do not affect the starting price.
It's important to remember that choosing any type of leather will result in additional costs for the furniture. You can learn more about La-Z-Boy's Leather Selection by checking out this article.
Leather options, even select leather, will always increase the overall cost. Ultimately, choosing fabric or leather is up to you if you're willing to spend more on leather products.
Please note that this article's leather or fabric options may be discontinued or unavailable without prior notice. We recommend contacting your local Ottawa or Kingston La-Z-Boy store by phone or in-person to confirm availability. We apologize for any inconvenience caused by any changes to our upholstery selection.
Alongside our extensive range of covers, the Devon is also available in specialty fabrics that offer unique features and benefits…
Innovative iClean Technology surrounds each fabric and leather fibre, creating a barrier that repels spills before turning into stains.
Tested and formulated to withstand the scratches and wear that a pet can cause to ensure a durable and easily washable fabric.
Antimicrobial properties surround each cover to protect against mould, mildew, and odour-causing bacteria.
Performance
Superior stain and fade resistance properties make fabrics easy to clean and incredibly durable.
Conserve Sustainable Fabrics are soft, durable and made from recycled water bottles.
Restore by Nanobionic® features a mineral-based fabric coating that transforms natural body heat into energy using infrared technology.
Cushion Upgrade
At an additional cost, Devon cushions can also be upgraded to include firmer cushioning, meaning over time, your furniture will remember your unique figure and enhance the comfort of your furniture. This could be a great option for people with mobility issues, allowing you to get in and out of your furniture more comfortably.
Pillow Options
Devon comes with pillows, which means you can customize those as well. You can accessorize your pillows by adding an accent colour to them, as well as contrasting welt, cording or fringe. Luckily for you, the Devon also includes 2 additional select accent pillow options, meaning those will not affect your price.
If you want to get specific, you can also request feather padding for your pillows instead of the usual foam padding.
Sectional Furniture Options & Configurations
Devon's sectional consists of 11 module pieces that can be used to design a unique configuration that suits your comfort preferences and space.
With these available module pieces, your Devon sectional can be made as big or as small as you wish.
End pieces include a left and right side sitting recliner, loveseat and chaise. You can also place a corner section to create the famous L-shape for which sectionals are known.
There are 8 different basic sectional configurations below to show what your sectional can look like. You can also choose to go with your own unique design if you don't prefer any of these choices.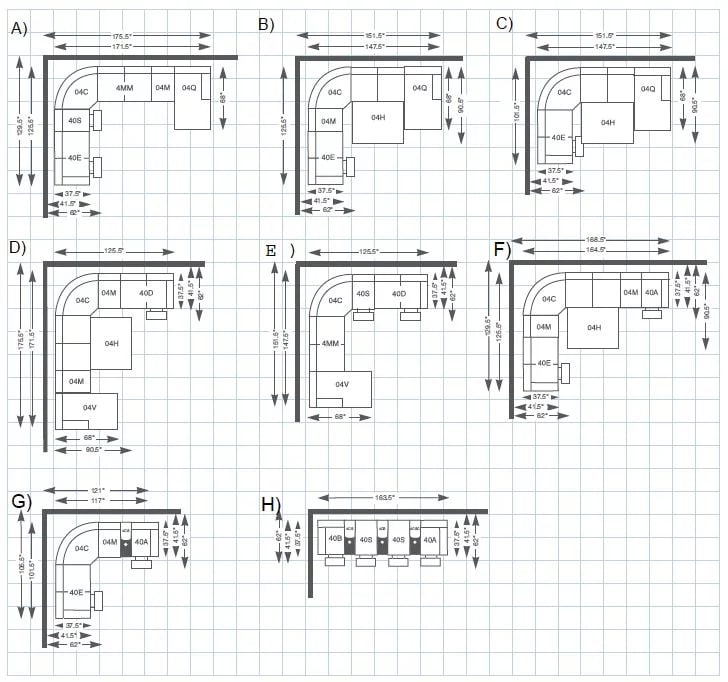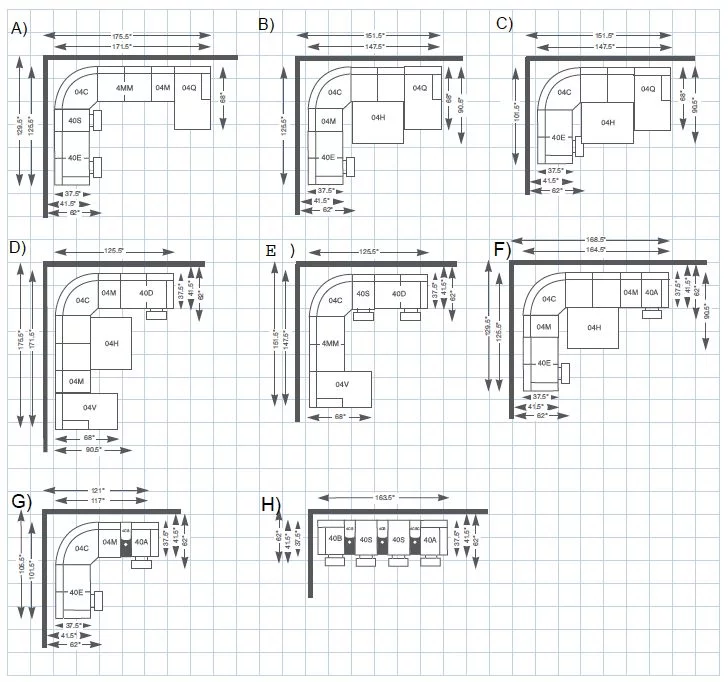 As you select your sectional configuration, take a look at our article on How to Arrange a Sectional Sofa: Top Considerations.
Cost
The price of the Devon sectional comes in at the mid-high range of the sectionals now available on the market. The quality of construction, the large size of the Devon and customization options are the main reasons for the higher price bracket. To learn more about the costs of sectional sofas in our Ottawa Kingston market, read our article on how much a sectional costs.
Jenna says, "the Devon prices out beautifully, you get a lot of couch for a really good price. if you build something this large with either the Meyer or the Collins, it can be quite a bit more expensive."
In its smallest configuration, the starting price is $3,639. From there, the cost can be as expensive as $10,000 depending on different upholstery chosen, increased number of seats, sofa bed, and other options selected.
*All La-Z-Boy prices listed in this article are subject to change. We aim to update all cost-related articles twice per year. This article was last updated on June 21st, 2023. Contact your local Ottawa or Kingston location by phone or in person for up-to-date pricing.

Warranty
The Devon is covered by La-Z-Boy's Limited Lifetime Warranty. This warranty covers the repair or replacement of the frame, spring systems, and mechanism, given that they are quality-crafted and built for long-lasting comfort.
For full details of the Limited Lifetime Warranty, check out this full La-Z-Boy warranty breakdown.
While still quality-crafted, other aspects of the product, such as fabrics, leather, and cushion, are not meant to last a lifetime. However, these parts are still covered by the La-Z-Boy Manufacturer's Warranty for a given period of time.
To further protect your purchase, La-Z-Boy Ottawa & Kingston offers an extended warranty plan at an additional cost. To learn more about the Extended Warranty Plan and if it's right for you, take a look at this article.
Customer Reviews
This sectional currently has a 4.5-star rating in North America. Find out what customers are saying in the following reviews.

"I?? My new couches, I have long legs and these are perfect for me. It was hard to pick from so many colors which included pillows too. In the end I'm extremely happy & the charging for cell at every arm is a huge plus ?? THANKS LAZY BOY [sic]
Robyn P

A great piece of furniture. Very comfortable.[sic]
Jerry I

Measure, measure, measure
"Beautiful unit. Comfortable, stylish, just make sure and measure the area you are to put it in. Barely fit the way we originally had it. Rearranged the living space to accommodate sectional and now it fits perfect.[sic]
William O.
Is The Devon Sectional Right for You?
While we've heard plenty about this comfortable sectional, you might not be sure about the Devon right for you. Here are some last minute factors to consider before deciding if the Devon is right for you.
There are a lot of fabrics cut and sewn and ready to go and as a result, the Devon is less expensive compared to similar-sized sectionals. Jenna says, "It's a pretty big favourite for a lot of families because of its versatility. You can put a sofa bed in it, add reclining seats, chaises, and it's really really plush. One of the softest ones we have!"
If you have the room and comfort is your number one priority, Jenna says you can't go wrong with the Devon.
The Devon is not streamlined or modern, and some say it's not their style because they don't want anything "puffy." Because of its size, it will not fit into small spaces.
Jenna doesn't recommend putting it in an open-concept space with its back exposed. It's not smooth or streamlined from behind, so it should be placed against a wall." For an open concept room, she'd recommend something from our Duo furniture collection, such as the Edie sectional.
The Devon sectional's versatility and it's price point make it a good fit for many families.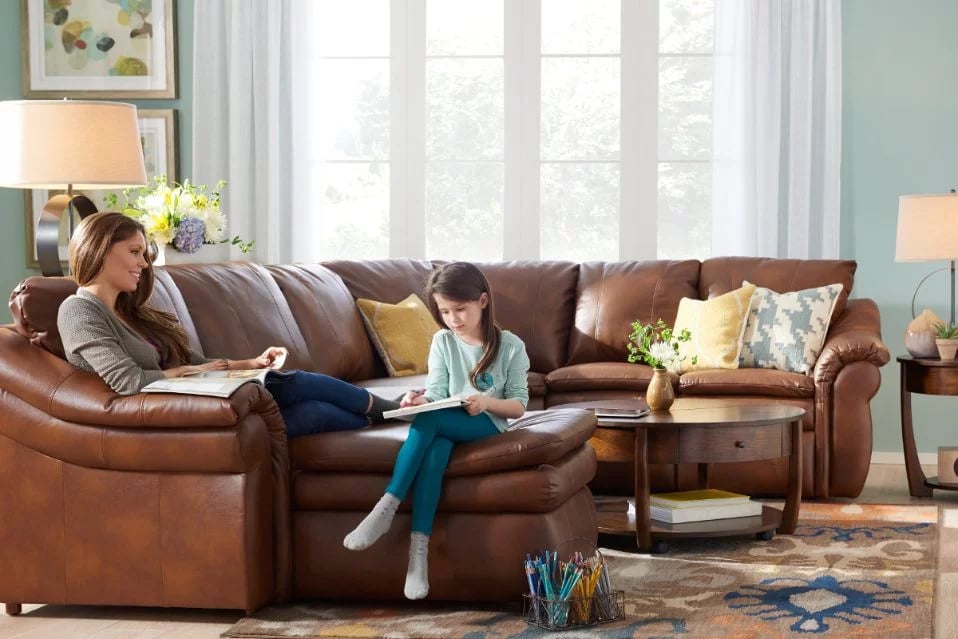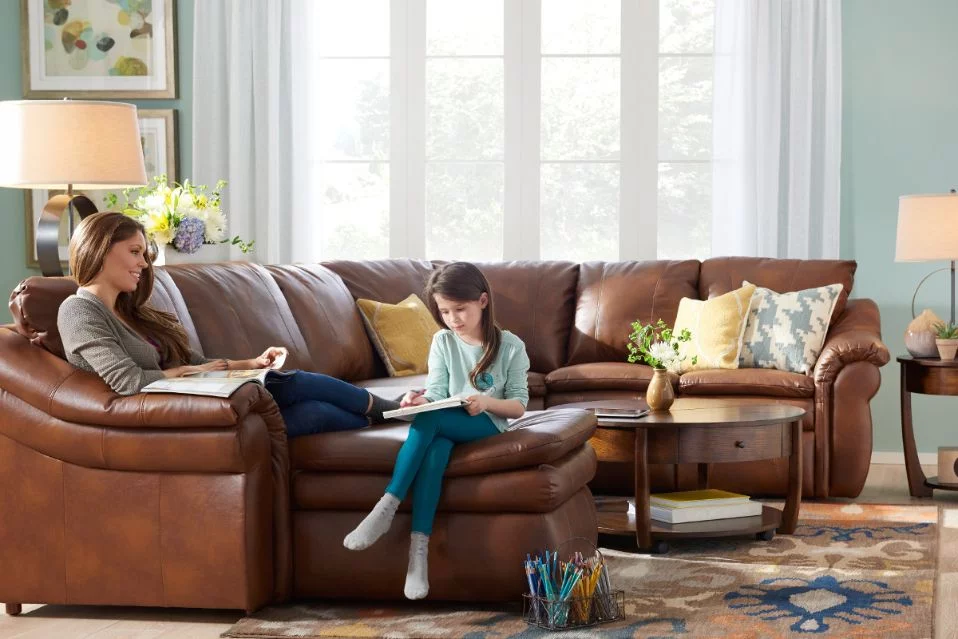 What's Next?



You fill your home with your favourite people and things. Your furniture should reflect the many sides of your life – stylish, durable, sensible, and full of personality.
You can start shopping by visiting one of our local showrooms located in Ottawa or Kingston. You can also schedule a visit online before coming in.
Our design consultants are always eager to lend a helping hand. Take advantage of our interior design services to see how the Kennedy furniture could fit in your home.

Product Info Request
Please provide us with your name and email and we'll get back to you as soon as possible regarding this item.