How Much Does a La-Z-Boy Sectional Cost?
October 12, 2020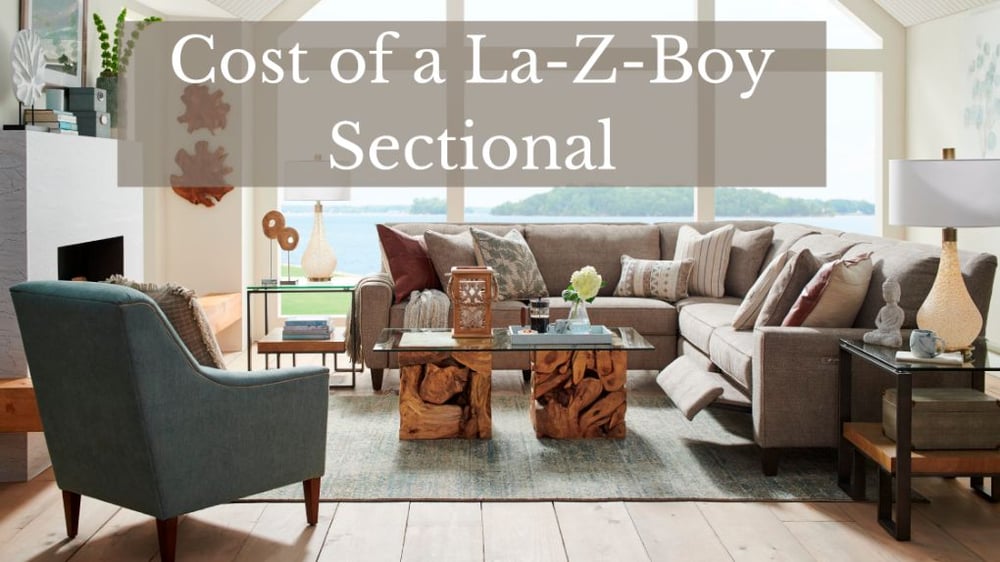 Are you looking to enhance your living space? It may be time to upgrade that traditional sofa and replace it with an inviting sectional sofa.
With big plush cushions and extra seating options, a sectional can bring everyone in your home together comfortably. Whether it be for hosting a wine and cheese night or gathering the whole family for a movie marathon, a sectional sofa raises the bar on home comfort.
But not only is a sectional sofa big … it's a big investment too!
The cost of a new sectional sofa will play a critical role in your final purchase decision.
So you may be wondering, how much does a La-Z-Boy sectional cost?
At La-Z-Boy, we offer a wide selection of sectionals in a variety of shapes, styles, and sizes. The cost of our sectionals varies depending on your preferences.
Generally speaking, our sectionals fall within the mid to high price range category. You can be assured that the final cost of a La-Z-Boy sectional is ultimately reflected in the level of quality and comfort provided.
Read on for a more detailed explanation of what you can expect to spend on your new La-Z-Boy sectional. This article will provide an outline of the sectionals we offer in a variety of price ranges. Further, learn about additional factors that may affect the final cost of your sectional.
What we Offer at La-Z-Boy
Choosing a sectional is not always an easy task. A sectional is a large piece of furniture and has the ability to define your living space.
In order to accommodate all living rooms, we offer different types of sectionals in a variety of shapes and styles.
Types of Sectionals
The intended use of a sectional in your home will drive your purchase decision. You may want a stylish and formal stationery sectional meant for hosting guests or you may be looking for a cozy reclining sectional that provides the utmost comfort.
At La-Z-Boy, we offer several types of sectionals meant for different purposes.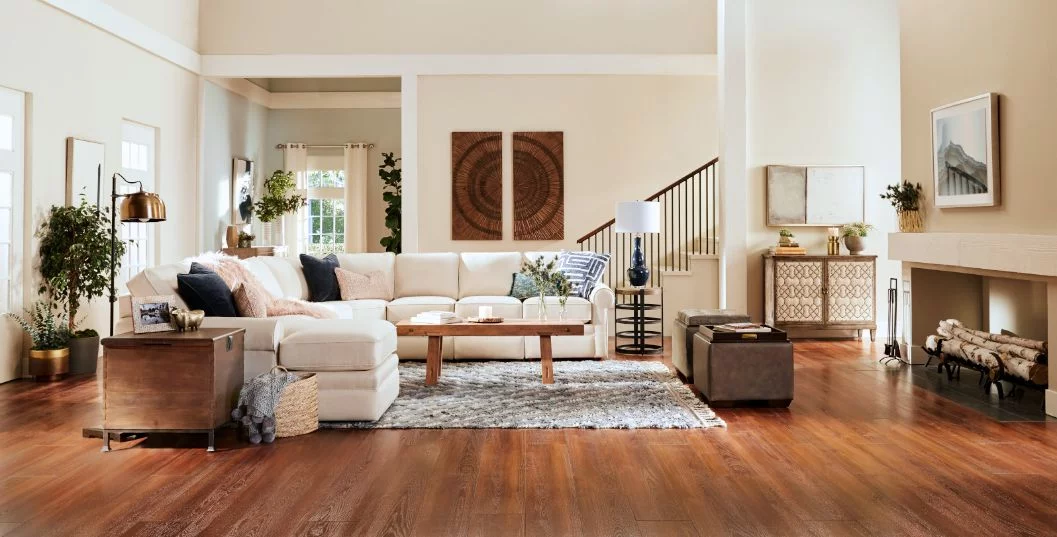 Stationary
Our stationary sofa configurations range from two to ten pieces. If you prefer a non-reclining sectional, a stationary sectional portrays a contemporary lifestyle and is perfect for entertaining guests.
General Price Range: ~ $3,908 – $8,257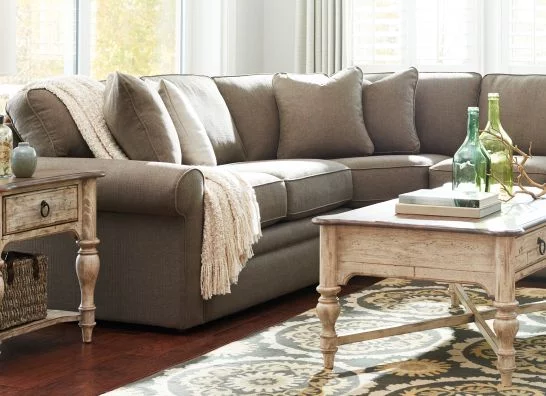 Reclining
A reclining sectional provides additional seating with added comfort. In a reclining sectional, you can kick back with soft support to your head, neck, and lumbar region.
General Price Range: ~ $5,197 – $8,257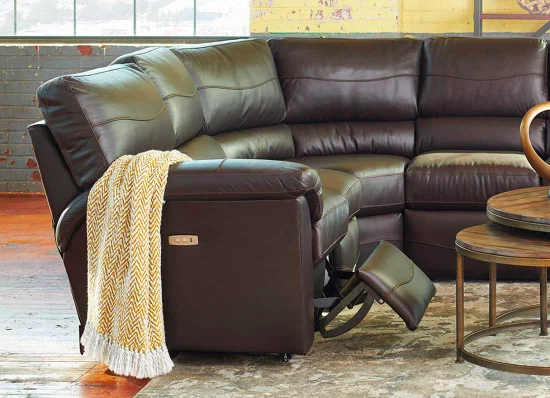 Power
Our power sectionals allow you and your loved ones to recline comfortably at just the touch of a button.
General Price Range: ~ $5,197– $8,257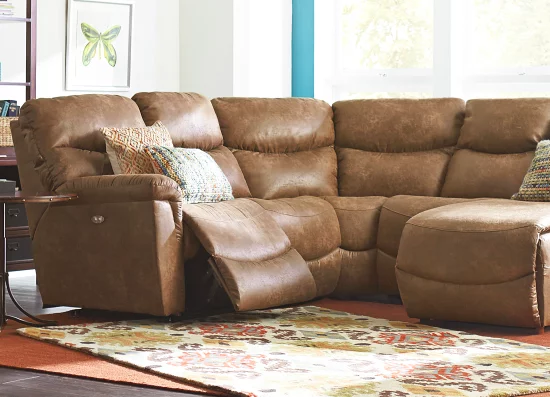 Sleepers
A sleeper sectional allows you to maximize your living space while simultaneously making extra room for overnight guests. Our La-Z-Boy sleeper sectionals pull out into a full-size innerspring mattress while offering an elevated headrest.
General Price Range: ~ $3,908 – $5,567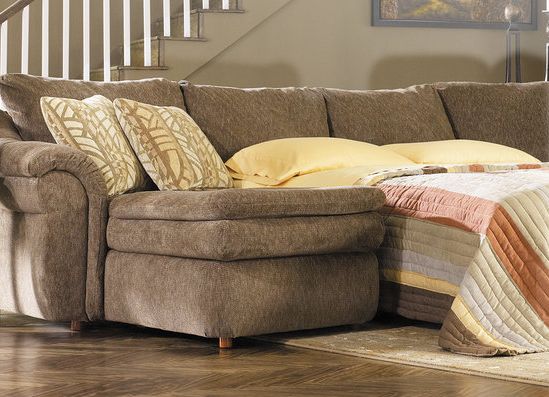 Sectional Shapes
Whether you plan to put your sectional in a cozy basement or an open concept living room, the shape of your sectional will determine the layout of the room you place it in.
To accommodate rooms of all models and sizes, our La-Z-Boy sectionals are offered in a variety of shapes.
L-Shape
An L-Shaped sectional resembles the letter L as one side of the sectional is longer than the other.
This shape fits well in a large room with lots of wall space.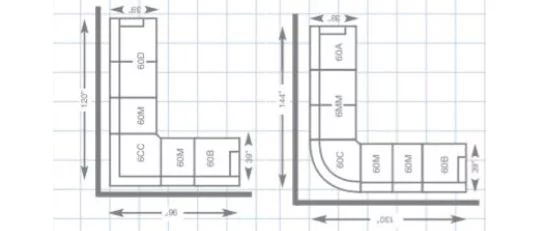 U-Shape
A U-Shape sectional resembles the letter U although sometimes one side may be shorter than the other.
The U-shape is great for inclusivity and filling a large space.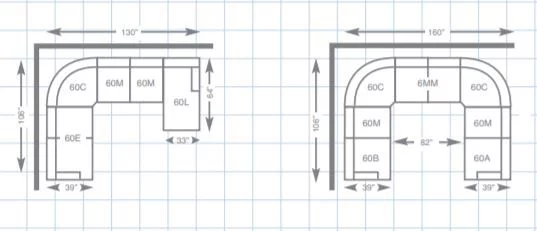 Sectional with Chaise
A sectional with chaise is essentially a sectional with an added chaise lounge at the end.
This option is a great statement piece while also allowing for lots of room to spread out comfortably.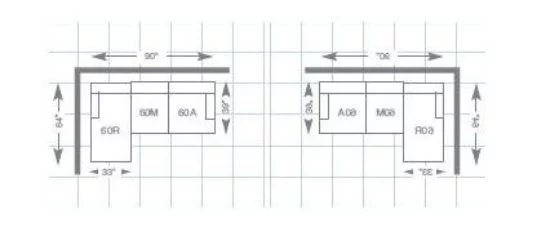 Curved Cuddle Corner
The curved cuddle corner is a great shape that can be added to any sectional. This shape offers a round corner or a 90-degree option for any sectional.
A curved cuddle corner is a perfect way to get close to a conversation or cuddle with a loved one.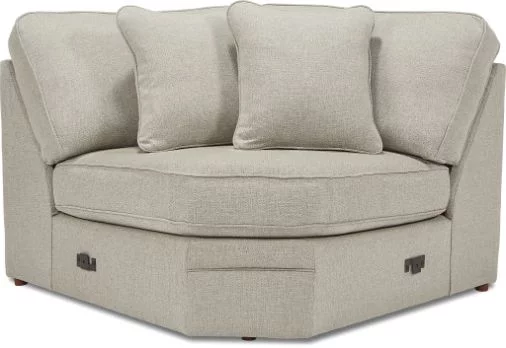 Right-Facing vs. Left-Facing
Depending on where you intend to place the sectional in your room, you have the option between a right-facing sectional vs. a left-facing sectional.
If you have chosen an L-Shape sectional or a sectional with a chaise, the longer end of the sectional can either be placed on the right or left side.

Sectional Styles
While there are many practical considerations involved in choosing a sectional, it is also important to ensure that the sectional you choose fits seamlessly with your home's style and decor.
At La-Z-Boy, we offer stylish sectionals designed to appeal to a variety of tastes. Our sectionals are designed to fit three main styles: Family Favourites, Comfortably Casual, and Modern Retreat.
Family Favourites
Our Family Favourites collection is designed to provide comfortable and versatile recliner chairs. This style appeals to the look of natural elements, bringing the outdoors inside. With this, Family Favourite sectionals are typically offered in leather or in neutral colour pallets.
The La-Z-Boy Devon sectional is a great family favourites option starting at $5,567.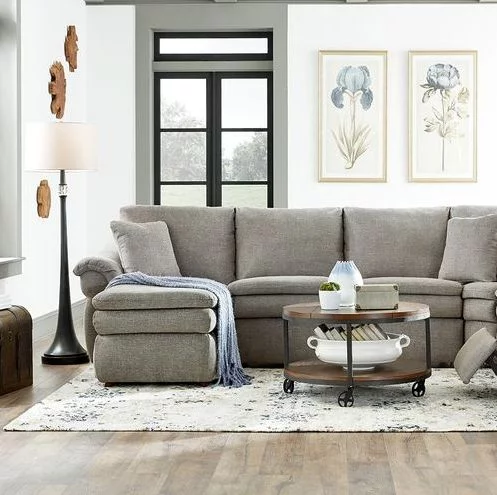 Comfortably Casual
The Comfortably Casual collection is designed by combining the richness of the past with the clean styles of the present. Our comfortably casual sectionals embody both modern and traditional style elements in a combination of textures, rich colours, and strong patterns.
The La-Z-Boy Aspen sectional comes from our comfortably casual collection starting at $5,197.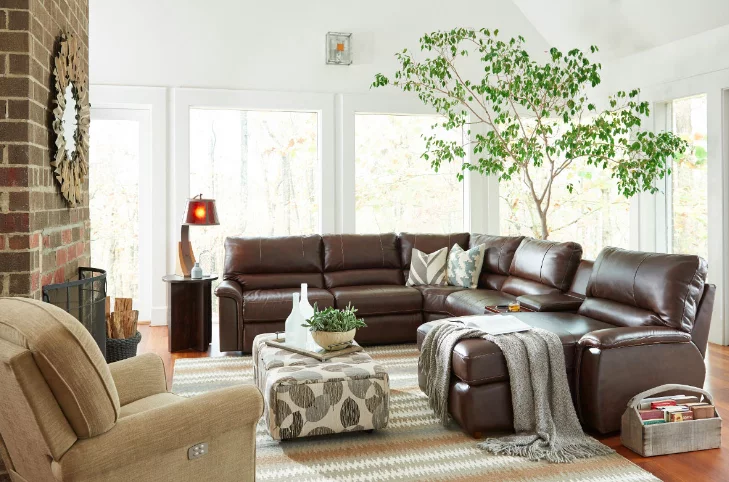 Modern Retreat
Our Modern Retreat collection emphasizes clean lines and accessory-free spaces. Recliners designed for this line are offered in a variety of textures but appeal to an uncluttered and functional space.
The La-Z-Boy Tribeca sectional is an example of a modern retreat sectional designed with simplicity starting at $3,497.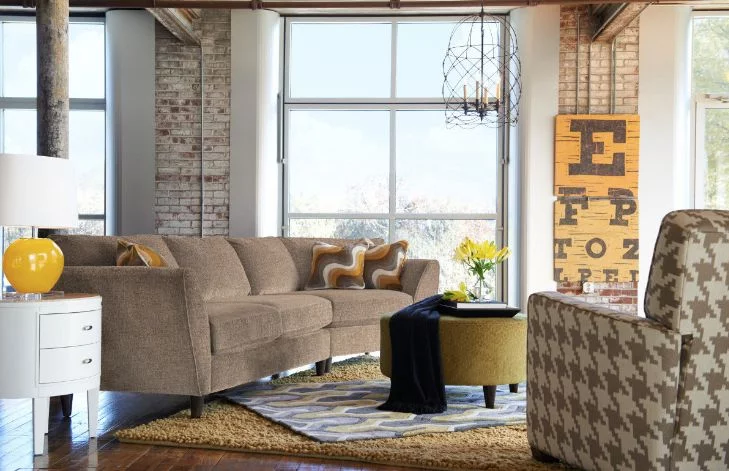 To learn more about identifying your design style while choosing a sectional, let one of our designers at La-Z-Boy help you …
How Much Does a La-Z-Boy Sectional Cost
Now that you have a better understanding of what sectionals we offer in terms of type, shape, and style, let's look deeper into how much they cost.
In general, a La-Z-Boy sectional can range anywhere from $3,900 to $25,000. The cost is dependent on the size and quality of the model, upgrades, and configurations you choose.
More specifically, a smaller sectional model typically costs anywhere from $3,900 to $5,000. As the models get bigger, the prices begin to increase, averaging at about $5,000 to $8,000. Our largest and most high-end sectionals range from $8,000 to $25,000.
*All La-Z-Boy prices listed in this article are subject to change. Please visit lzb.com and select an Ottawa or Kingston La-Z-Boy store location to view the most up-to-date pricing.
To give you a better idea of what types of sectionals we offer and at what price, below are examples of popular La-Z-Boy sectionals in three price range categories: least expensive, mid-range, and high-end.
Least Expensive:
$5,000
Meyer Sectional in small configuration
The Meyer model is an example of a stationary sectional that falls within the least expensive price category. In the small configuration, the Meyer sectional starts at about $5,300.
The Meyer sectional is one of our most popular La-Z-Boy sectionals delivering quality, comfort, and durability. The simple style elements of this sectional fit seamlessly into any room and is perfect for family living.
Reese Sectional in small configuration
The Reese model is an example of a motion sectional within the least expensive price category. In the small configuration, the Reese sectional also starts at $5,500.
Our Reese sectional reclines back while embodying a casual appearance. This sectional is designed for family-sized comfort.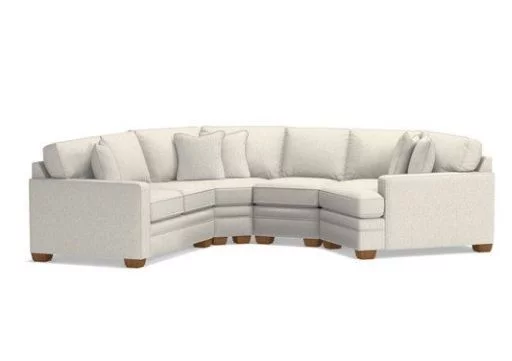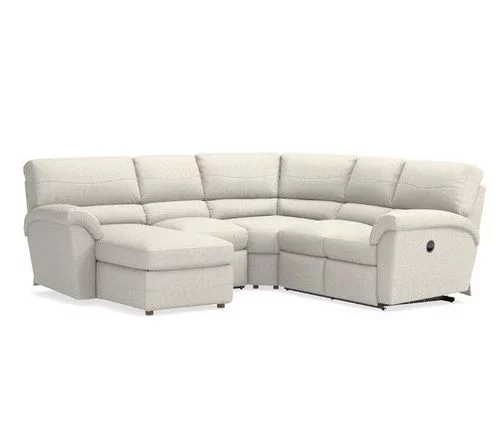 Mid-Range:
$7,000
Paxton Sectional in large configuration
The Paxton sectional is a great example of a stationary model in the mid-price range category. In the large configuration, the Paxton starts at $8,200.
With wide arms and plush cushions, the Paxton is perfect to sink into and get cozy. This model is a part of the comfortably casual collection portraying clean lines and defining welt trim.
Trouper Sectional in large configuration
Starting at $7,500, the large Trouper sectional is a motion model in the mid-price range category.
The Trouper sectional is a comfortable model that you can get lost in with its large bucket seats and supportive cushions. This design is casual and family-friendly, perfect for a home movie night.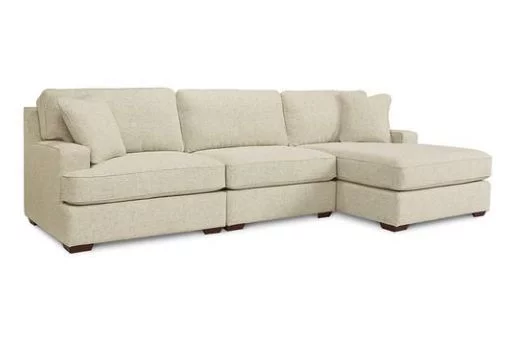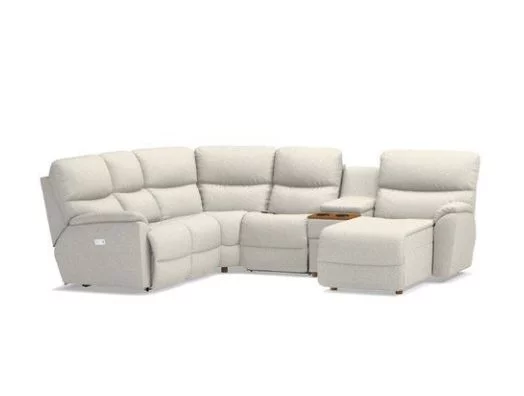 High-End:
$23,000 – $25,000
Collins Sectional in large configuration
The stationary Collins sectional upholstered in leather is considered a high-end model offered at approximately $25,000.
The Collins is designed with simple lines and welt trim in order to fit seamlessly into any home. This sectional comes with patented ComfortCore cushions providing the utmost support while you rest.
Dawson Sectional in large configuration
The large Dawson sectional offered in leather is an example of a high-end motion sectional. This model costs approximately $23,000.
This model is generously scaled as it is designed with extra-wide seats for your comfort. You can lay back into the Dawson sectionals' resilient foam cushions and enjoy its casual design in any room.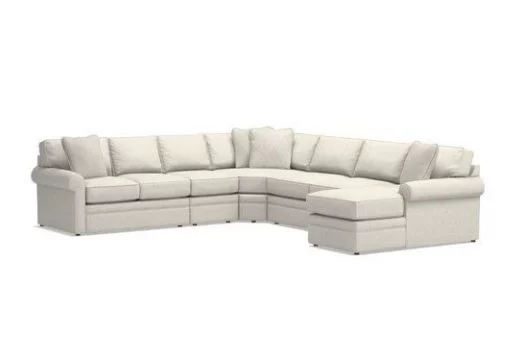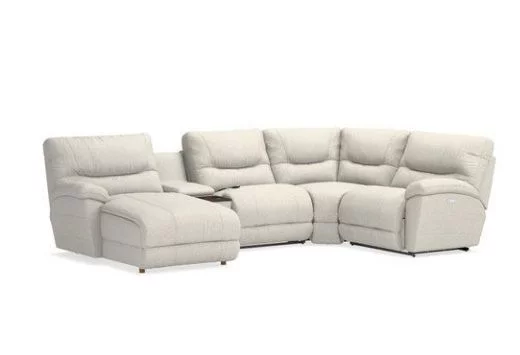 Options and Upgrades Available for a Sectional & How it Affects Price
Given that a sectional is such a significant investment, you want to ensure that the sectional you purchase is perfect for you. Luckily, every sectional offered at La-Z-Boy is completely customizable to specifically meet your preferences when it comes to size, shape, and style.
With this being said, any customization or upgrade to your chosen model will often increase the final price of your sectional. These additional costs vary depending on how extensive the upgrade or customization may be.
You have the option to …
Choose specific upholstery (upgrade fabric, leather, high performance iclean):

$0 – $1,900

Customize wood finish or welt trim:

$75 – $200

Add more seating

Upgrade with additional reclining options:

$50 – $200 extra

Upgrade to power:

$200 – $1,000 / per seat

Add power headrests

Add a console for storage & beverages

Add a cuddle corner

Cushion upgrade:

$300 – $600

Add decorative pillows:

$50 – $400

Turn your sectional into a sofa bed
Other Factors that Affect the Sectional Cost After Purchase
Additional Warranty
As you can see by now, purchasing the perfect sectional chair is a significant investment. That is why it is important to protect that purchase and ensure that your chair is covered by a warranty plan.
La-Z-Boy products are sold with a manufacturer's warranty that covers 1-3 years of damage caused by manufacturer error or workmanship.
At an extra cost, you may consider purchasing La-Z-Boy's additional comprehensive service protection plan that covers up to 5 years of accidental damage.
Learn more about the furniture protection plan offered by La-Z-Boy in the Ottawa/Kingston area.
Financing
While you may be ready to sink into a new sectional today, you may want to check with your pocketbook first. In order to afford the cost of a sectional, it is quite common for customers to finance this purchase and pay it off over time.
Financing is a great way to enjoy the comfort of a sectional now while taking off the strain of having to pay right away. Depending on the financing plan you choose, and how long you take to pay it off, this option could result in additional fees.
To learn more about furniture financing, check out the article Furniture Financing: Everything you need to know.
Delivery Costs
Finally, large sectionals often require delivery service. With this, expect an additional charge for the final delivery of your purchased sectional.
At La-Z-Boy, we offer a traditional white glove delivery service. For a flat fee of $99, we provide an all-encompassing delivery service that includes the delivery and set-up of furniture as well as the removal of any waste.
Take a look at this video to know what to expect when it comes to La-Z-Boy delivery …
Ready to Find your Perfect Sectional?
After reading this article, you should now have a good understanding of what sectionals we offer at La-Z-Boy and how much you can expect to spend on this addition to your home.
With your budget set and your pocketbook prepped, it is time to start shopping!
To get started, take a look at our Top 5 Selling La-Z-Boy Sectionals.
Then when you are ready, come visit us at one of our local Ottawa or Kingston La-Z-Boy locations. If you prefer, you also have the option to book an appointment with a personal consultant.
We look forward to helping you find the perfect sectional that will fit comfortably and seamlessly into your home. While it is a big investment, we will make sure it is an investment that you can feel confident about.