Top 5 Modern Leather Accent Chairs at La-Z-Boy Ottawa & Kingston
March 28, 2023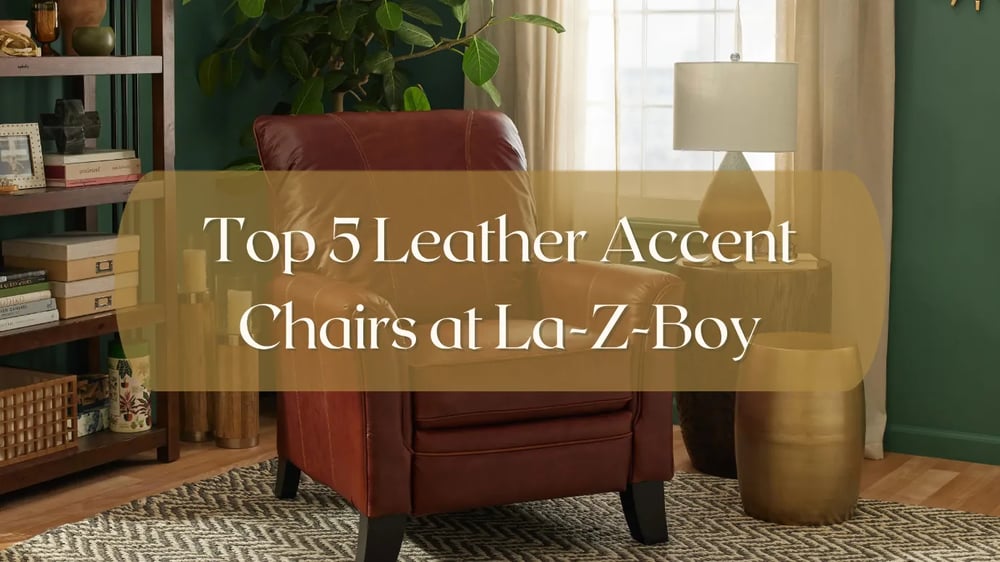 Est. Reading Time: 5 Mins
Looking to add a touch of personality to your living room? Look no further than an accent chair. Not only can it tie together the overall aesthetic of the space, but it can also serve as a statement piece. But what happens when you introduce a leather accent chair into the mix?
If you already have fabric furniture and want to incorporate variety, you can add layers of texture and durability to your room with a leather chair. Michelle MacLellan, an interior designer at La-Z-Boy, says there are many benefits to incorporating a leather accent chair in your living room.
And, at La-Z-Boy, some accent chairs work better as leather chairs than with fabric. In this article, we will focus on our top modern leather accent chairs in Ottawa, hopefully giving you an idea of what you may like in your home.
In This Article…
Why Choose a Leather Accent Chair?
You can find many different accent chairs on the market, but you might be wondering why you should choose a leather one instead for your living room.
To begin, an accent chair is a furniture piece that catches the attention of anyone who enters the room. Depending on your chosen pattern, you can help accentuate a room with different patterns and textures and add a broader colour palette.
With a leather chair, not only do you add more texture, but you also add more durability to your furniture. Michelle says, "Leather lasts much longer than fabric, so if it's a chair that you're using every day, it is definitely worth the investment."
At La-Z-Boy, you can also help protect your leather chair from stains and germs with iClean and Antimicrobial Covers. Remember that these performance covers are an extra charge but can come in handy if you plan to use your leather accent chair frequently.
To learn more about our Leather Selection at La-Z-Boy, take a look at this article.
Now that we know why it can be beneficial for you to have a modern leather accent chair, let's take a look at some examples at La-Z-Boy Ottawa and Kingston.
1. The Riley Leather Accent Chair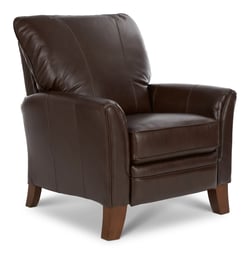 First, we have the Riley Chair, an artful, sculptured chair with a sophisticated flair. The Riley is considered one of our Secret Recliners; while appearing stationary, those sitting in it can push back on the arms and reveal a reclining footrest.
Michelle notes the clean look that the Riley has, as well as the flared arms that adds to the overall look. "It also works with many straight-lined modelled sofas and looks great with a twin pairing," she says.
This leather accent chair looks great in a darker colour for all of those monochromatic enthusiasts who can't get enough of black and white patterns!
The Riley High-Leg Recliner is also available as a Power Recliner. You can learn more about the Riley Chair by checking out this article.
2. The Scarlett Leather Accent Chair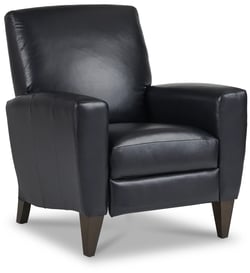 Next is the Scarlett accent chair, another high-leg recliner at La-Z-Boy. The Scarlett is a fresh and clean furniture frame that allows you to create a perfect room. This versatile chair features casually tapered arms and tall wooden legs.
Since it is a great accent chair in general, choosing a fabric or leather cover isn't easy, but it does mean it can create a personalized look in a living room.
Michelle loves the current Scarlett displayed in our Cyrville showroom. "It's this bright red colour that looks gorgeous next to any sofa or sectional." However, this isn't the only leather colour it would look great in. Michelle also suggests that the chair would pair beautifully with neutral shades such as grey or cognac.
Like the Riley, the Scarlett High-Leg Recliner is also available as a power recliner. You can learn more about the Scarlett Chair with this article.
3. The Eldorado Leather Accent Chair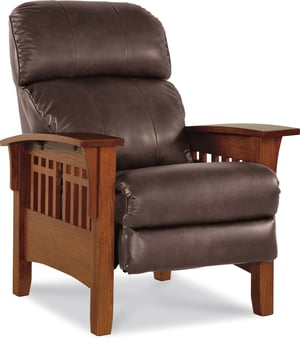 Next up is the Eldorado, a stunning high-leg recliner with a unique spin on classic design elements.
Michelle mentions this recliner in her selection because of its distinct wooden arms that give it a modern farmhouse look. "You don't normally see comfortable chairs with wooden arms, but with the Eldorado, it works," she says.
This mission-inspired chair is enhanced with modern reclining comfort and features not just customizable wood accents but plush padded cushions that provide optimal support when in any position.
With the wooden arms and the leather combination, Michelle says a great contrasting colour to the brown mahogany arms would be a black leather accent chair.
To learn more about the Eldorado High-Leg Recliner, take a look at this article.
4. The Marietta Leather Accent Chair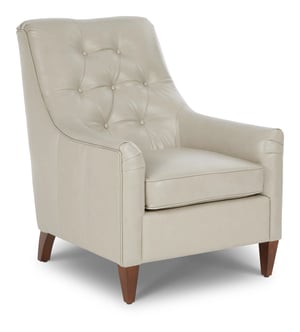 Taking a step away from the high-leg recliners, the Marietta is a stationary chair which includes diamond button-tufted back detailing.
Michelle thinks the Marietta is gorgeous from every angle. It has an elegant, modern silhouette, a curved back, and low, subtly flared arms. The arms make it visually pleasing because it looks like it doesn't take up much space. The chair also includes welt trim that traces its graceful lines for a classically tailored look.
Michelle believes that a grey or black leather accent chair is the way to go with the Marietta, "especially with the button-tufted details, which makes it look more pronounced. It is gorgeous!"
The Marietta also makes for a great Stationary Accent Chair, which you can learn more about in this article.
5. The Reegan Leather Accent Chair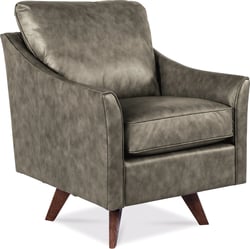 We cannot have a modern leather chair article without the Reegan. This unique accent chair is one of only two high-leg swivel chairs at La-Z-Boy–the other one being the Bellevue Chair.
Perched upon a 360-degree swivel base, the Reegan is visually pleasing above and below the seat, thanks to its tall tapered wooden legs. Adding a mid-century modern vibe to any room, the Reegan features box-border seats, a soft pillow back and welt trim accentuating its tailored lines.
Although the fabric choices for Reegan are known to raise expectations, Michelle says this chair can also look good in leather. She suggests cognac as a standout choice and notes that it would pair well with a sofa in between two chairs.
To learn more about the Reegan High-Leg Swivel Chair, take a look at this article.
6. The Midtown Leather Accent Chair - Honourable Mention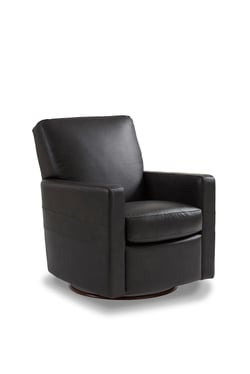 As an honourable mention, the Midtown chair is also an option to consider if you're looking for another black leather accent chair.
With clean lines, a tight back and subtly curved track arms, the midtown boasts a streamlined stance that's perfect for smaller spaces. Since it is also a swivel chair, it has a 360-degree swivel, similar to the Reegan, but the Midtown does not have a high-leg swivel base.
The Midtown is also available as a Swivel Gliding Chair, which allows you to move in a smooth and graceful motion quieter than a Rocking Recliner. You can learn more about Midtown Swivel Chair by checking out this article.
What's Next?
We hope this list provides insight into choosing the right La-Z-Boy leather accent chair for your home.
If one of these leather accent chairs caught your eye, why not check it out in person?
You can start shopping by visiting one of our local showrooms located in Ottawa or Kingston. You can also schedule a visit online before coming in.
Our design consultants are always eager to lend a helping hand. Take advantage of our interior design services to see which accent chair would suit your space and complement your home design.
If you want to learn more about the Cost of an Accent Chair at La-Z-Boy, take a look at this article to see which furniture frame is right for you.
Related Articles:
How to Care for Leather Furniture
6 Common Problems with Leather Furniture
Product Info Request
Please provide us with your name and email and we'll get back to you as soon as possible regarding this item.