How to Mix Furniture Styles: Tips and Tricks
October 13, 2017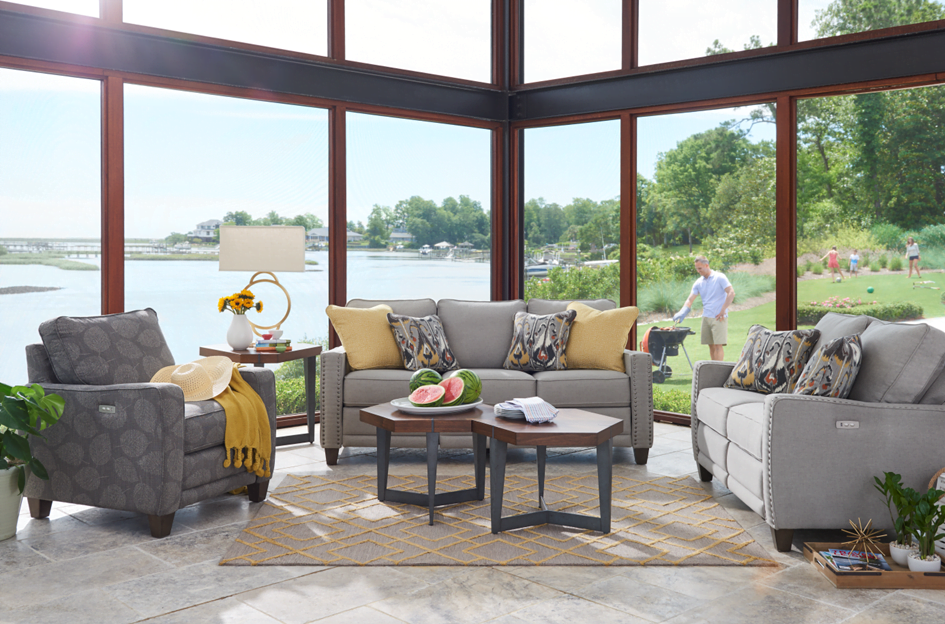 Mixing Different Styles Of Furniture
By Zeina Badawi in-home designer
Have you ever wondered how to mix different furniture styles? Homes that layer in different styles are dynamic and interesting. However, too much mixing and your eye doesn't know where to go and winds up confused and unhappy. The most successful rooms seek some common ground, where everything finds a way to get along.
It's hard to combine beautiful furniture styles, especially when it's about his & hers chairs! A stationary sofa and a recliner chair; different pieces and wood finishes.
Here are a few tips about how to mix aesthetics without getting a raised eyebrow.
Make sure the items "work" together by paying attention to style, shape, scale, colour, and patterns.
In This Article:
2. How to choose a recliner with stationary features?
More on Mixing Patterns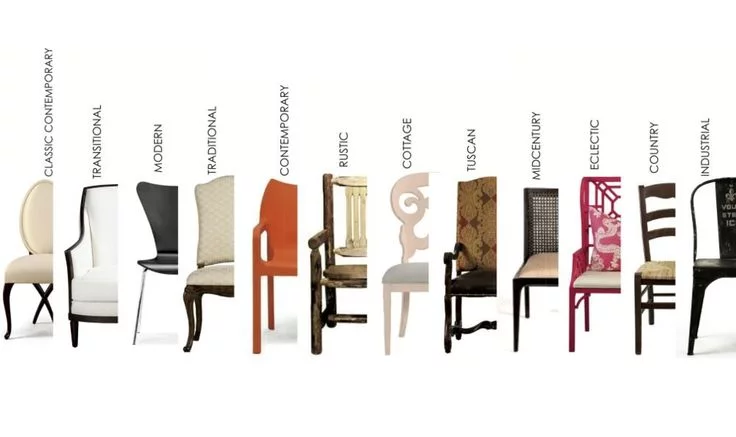 STYLE
Choosing two mid-century modern pieces or two traditional pieces will create a more cohesive look.
SHAPE
Using clean lines in all pieces, or rounded backs, or even similar leg/foot shapes in furniture can tie them together.
Another rule on how to mix furniture styles:
1- same seat height
2- same depth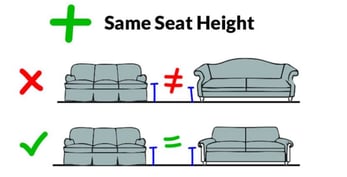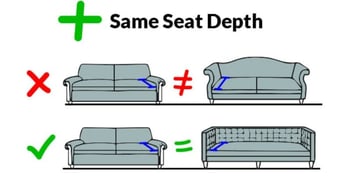 Find at least two other similarities in the furniture pieces such as:
Shape or style
Colour or fabric
Back height



The best way to think of balancing shapes is by what we call in design "visual balance".
When dealing with dissimilar objects, you can "cheat" the eye by creating visual balance so that they no longer look so dissimilar.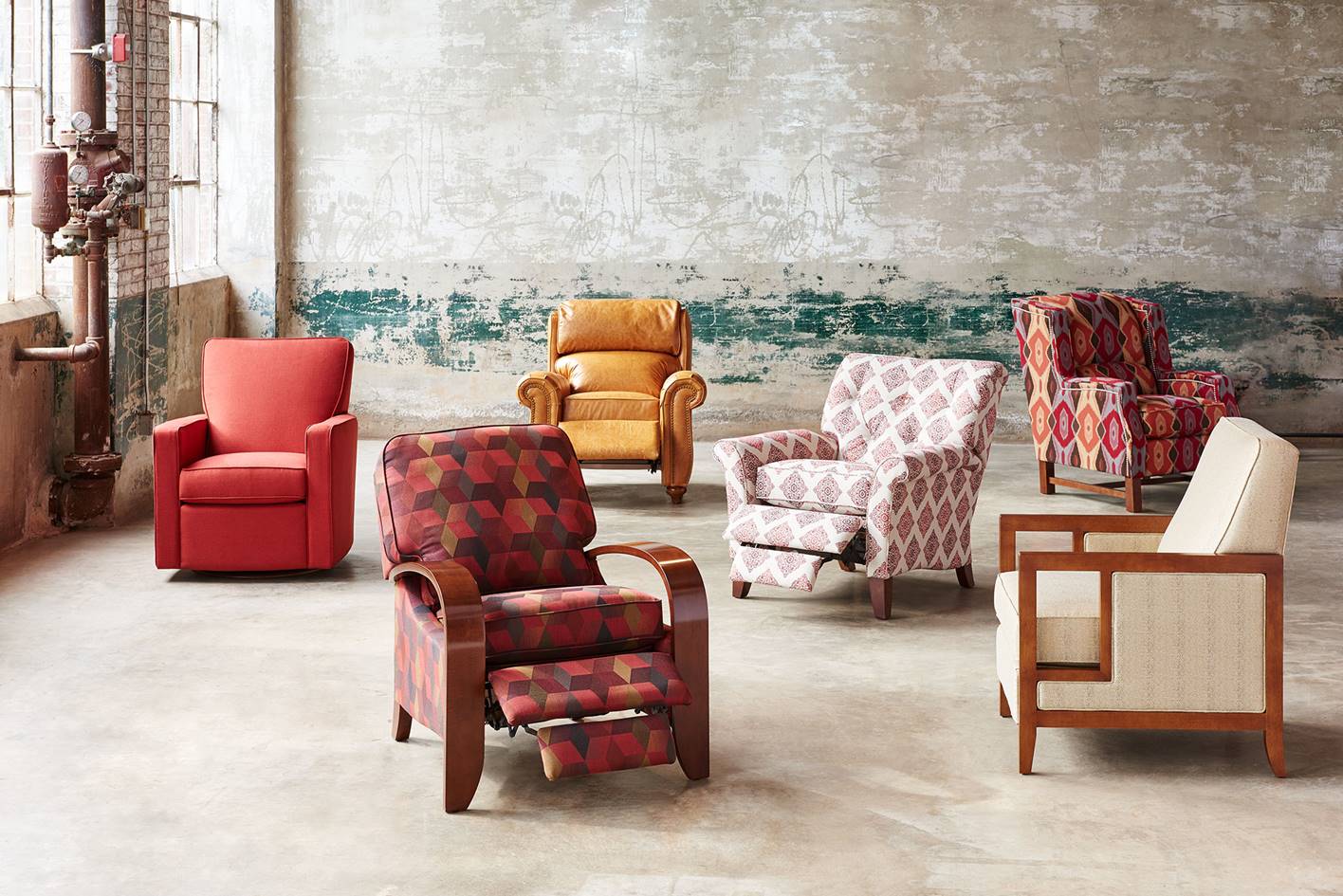 SCALE
Using "apartment-sized" pieces or "oversized" pieces generally will work, but mixing smaller pieces with larger ones can create balance problems. When we pair pieces that are different together, we want to think about how they can complement each other in scale.
COLORS & PATTERNS
Choosing pieces in the same colour family is an easy way to unite them. Meaning there should be a link between different design pieces. This can be done with help of colour, fabric or pattern.

Try to mix colour and print, leather and fabric and don't be afraid of going bold with patterns. This is the best solution to mix furniture styles and shapes together.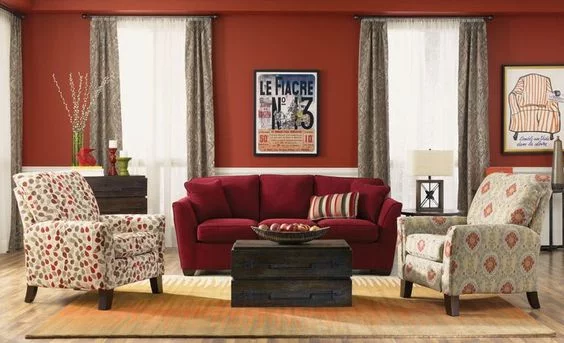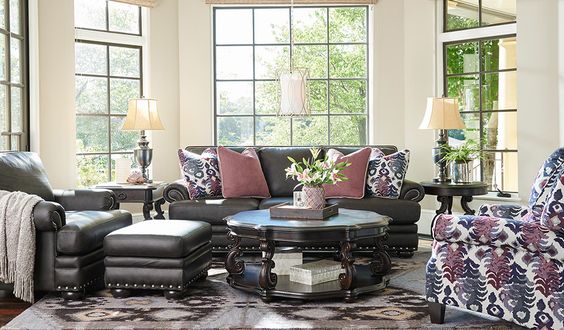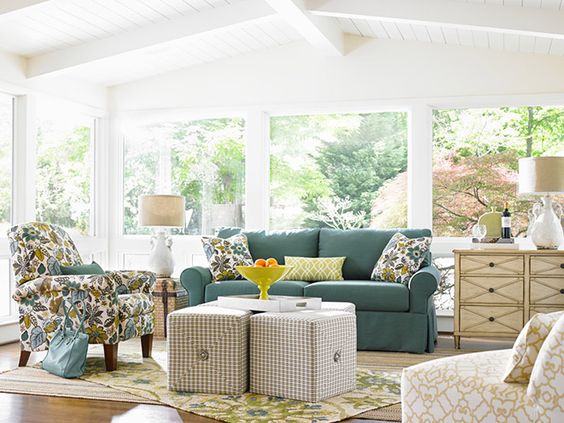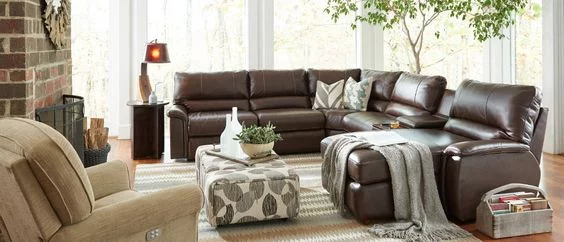 How to choose a recliner with stationary features?
Another trick when mixing stationary with a recliner is to choose different textures. For example, leather and fabric can be a great combo and help with a smooth transition in style.


Go With Push Back Recliners

Push back the chairs and recline without a lever or button. These chairs require the person to lean back and exert pressure on the back of the chair in order to recline. Push-back chairs or "secret recliners" are typically sleek and, with the absence of a lever, make it look like any other armchair.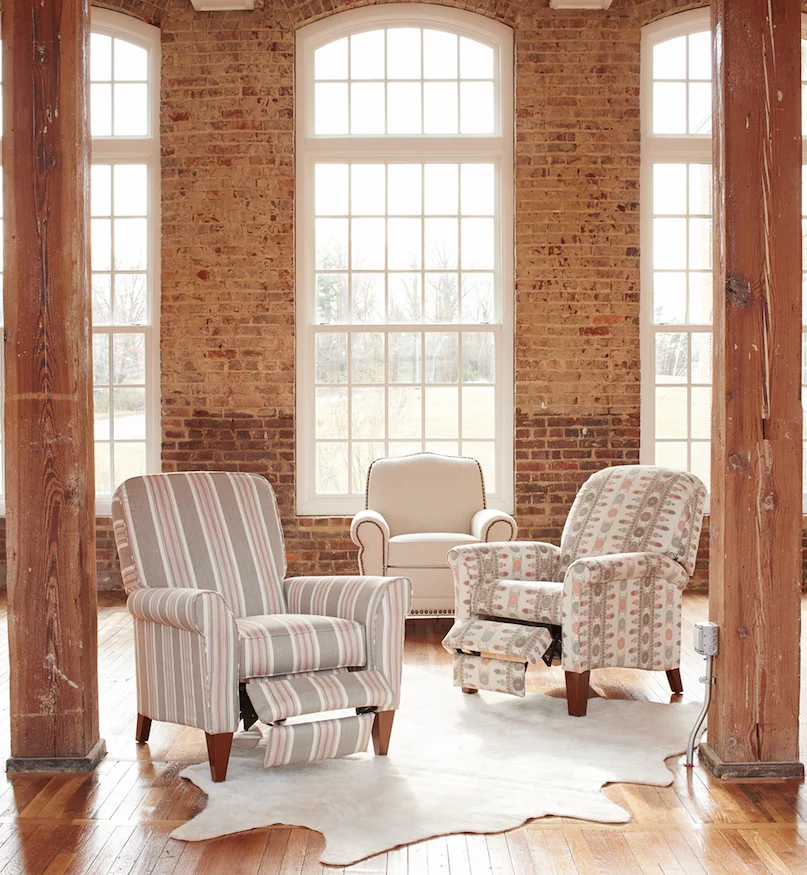 Introducing Duo Collection
La‑Z‑Boy Duo is a revolutionary new product line that features the sophisticated look of stationary furniture with the unexpected power to recline at the push of a button.
"When developing Duo, our goal was to bring the great look of stationary sofas together with the comfort of a motion piece," said Gregg Schweir, vice president of research and development for La‑Z‑Boy. "Today, most reclining furniture has a distinct look, and we rose above that stereotype by creating a beautiful reclining sofa that was not limited by styling options."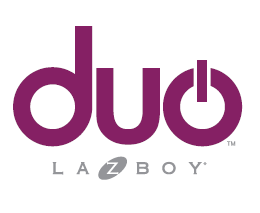 When it comes to designing the perfect room, it's all about the details. Duo can be placed anywhere in a room, even up against a wall. Patented ComfortCore® cushions bring added comfort, and the optional battery pack provides power for days – making it possible for Duo to float anywhere in the room without cords. The footrest itself rotates front and back, ergonomically adjusting based on a person's height.
In addition, Duo sofas and loveseats have a smooth upholstered outside back without spilt lines or seams – typically visible on reclining pieces. That makes it a perfect piece when you decide to mix furniture styles and your house.
"For a couple designing the perfect room, there was always a compromise between style and function – especially in small spaces," said Paula Hoyas, vice president of merchandising for La‑Z‑Boy. "Customers can now get exactly what they want without having to decide between design and comfort – it's a perfect match. Duo represents a new look in reclining comfort."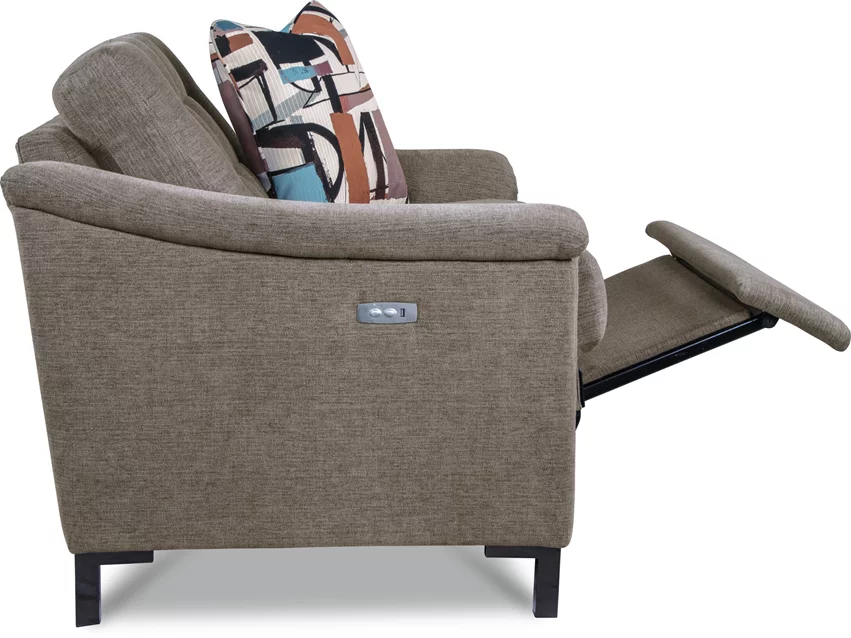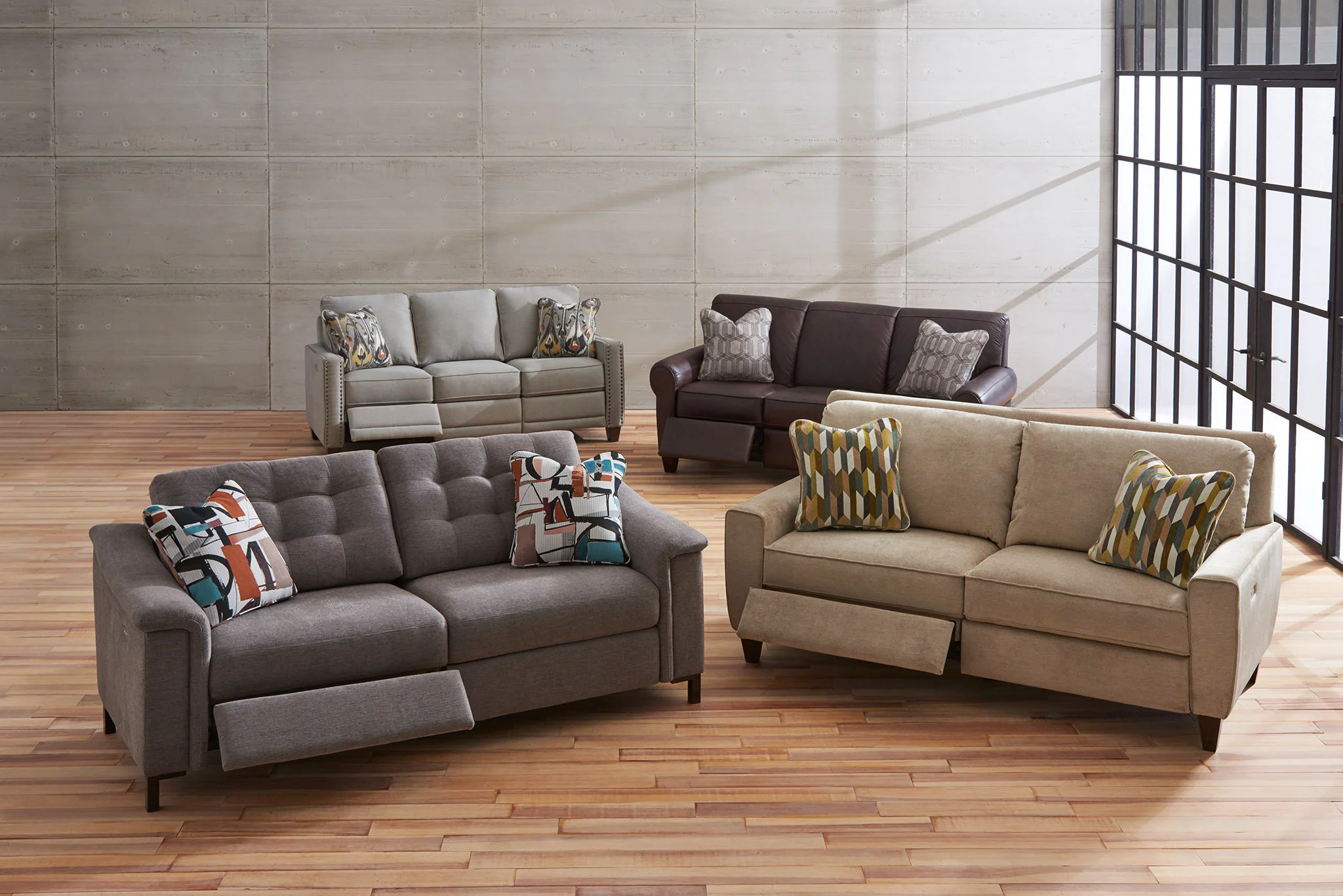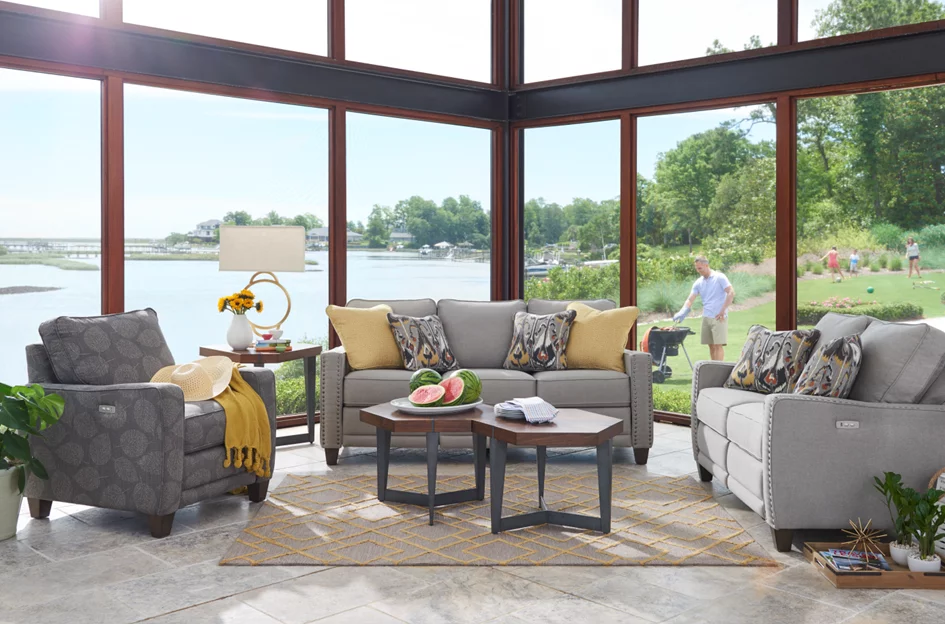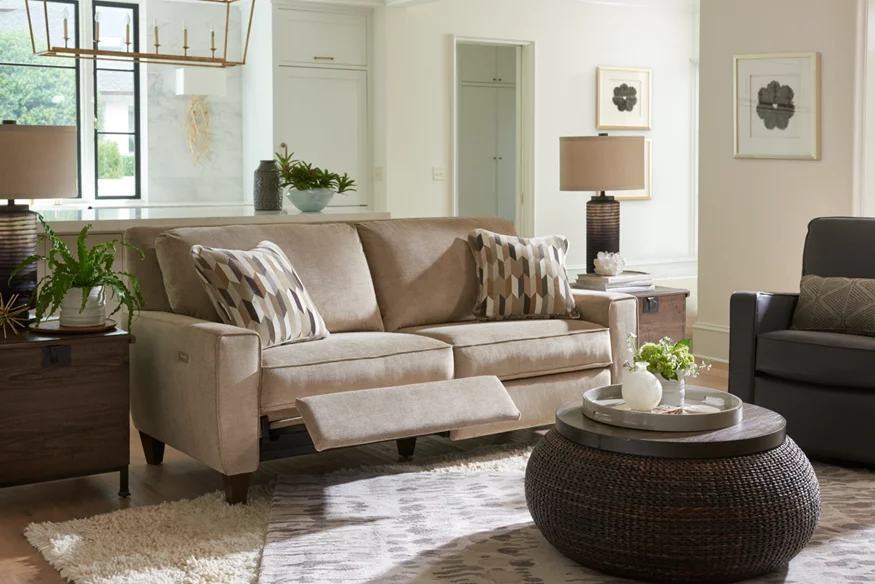 "We are lucky to live in a time where we can mix furniture styles and play with different themes. It used to be that matching furniture sets were a sign of luxury, but today, there is a move away from having all pieces in a room be identical. Today we call it - eclectic flair. Something I always say, you need to know the rules to break the rules!" - Zeina Badawi


Visit us at a local Ottawa or Kingston La-Z-Boy location, or if you prefer, plan ahead by scheduling a visit.
Related Blogs:
8 Practical Tips for Arranging Your Living Room Furniture
What is Traditional vs. Contemporary Furniture Style?
Product Info Request
Please provide us with your name and email and we'll get back to you as soon as possible regarding this item.