10 Interior Design Trends to Look Out for in 2023
December 5, 2022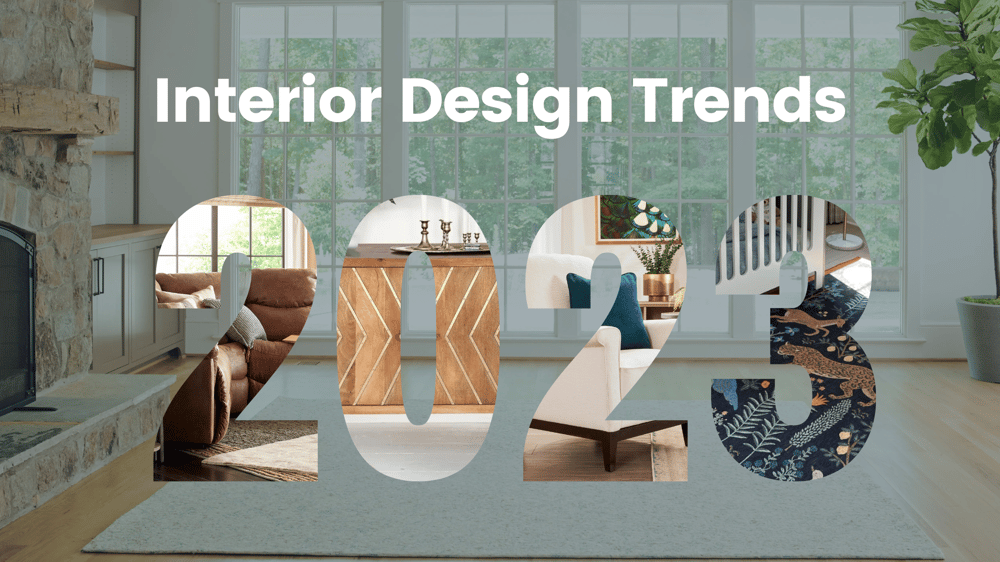 Est. Reading Time: 8 Mins
As 2022 comes to a close, we look forward to seeing what 2023 has in store.
Beginning a new year can sometimes feel daunting and scary, but it doesn't have to be. Instead, embrace the new year with new ideas, creations, and forms of expression!
As the years go by in the design world, we see trends come and go. Some trends stick around and give ongoing life to people's homes, while new interior design trends continue to emerge, offering new perspectives that have yet to be fully discovered.
As the inventor of the iconic modern reclining chair, La-Z-Boy certainly knows a thing or two about innovation and keeping up with the newest trends.
With the help of our talented interior designers, La-Z-Boy Ottawa & Kingston has compiled a list of 10 interior design trends that you can expect to see in 2023.
In This Article…
1. Monochromatic to Colour Explosion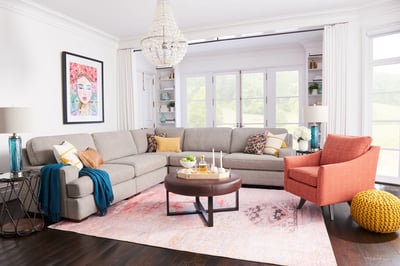 Expect to see a bold approach to interior design in the upcoming year.
Since the beginning of 2022 – and a little bit of 2021 – many colour specialists have noticed a turn away from neutral colours and toward more bold and colourful palettes.
Since the pandemic and a series of unfortunate world events over the past few years, it is certainly not an exaggeration to say that the world may have slumped into a depressive state.
With people stuck at home for long periods of time, they found themselves looking at the same old neutral colours that they liked in the past, and some people thought, "why don't I add a little bit of colour in my house?"
Thus donned a new trend for the resurgence of bold colours in the household. Mary Lee Smyth, the interior designer at La-Z-Boy Kingston, tells us, "The last time we've seen bold colours like this was in the 80s when neon took over fashion trends."
Now, people are starting to slowly lean back towards bold colours again, adding a purple accent wall to reflect royalty or adding pastel accents to represent flowers blooming in the spring.
This evolving colour trend is reflected in Pantone's recent Colour of the Year, as well as the upcoming New York Fashion Week for 2023.
2. Restorative Blues
Along with the change from monochromatic pallets to bold colours, one of the colour trends that La-Z-Boy has recognized throughout the decade has been a burst of the colour blue that people can't seem to get enough of.
No, this isn't because La-Z-Boy's primary colour is blue, but we have noticed popular shades of blue being requested by an increasing number of customers.
And it isn't just La-Z-Boy seeing this trend either.
Blue has dominated colour trends for the last 10 years now. This is mainly because people see the colour blue as a soothing colour, according to Mary Lee. The colour blue is also known to instill a hopeful and calm mindset.
"Blue can have a lot of meaning for people," she says, "It can be a reminder of the calming waves on a beach, or a beautiful blue sky on a summer's day."
La-Z-Boy recognizes these shades for their new popularity: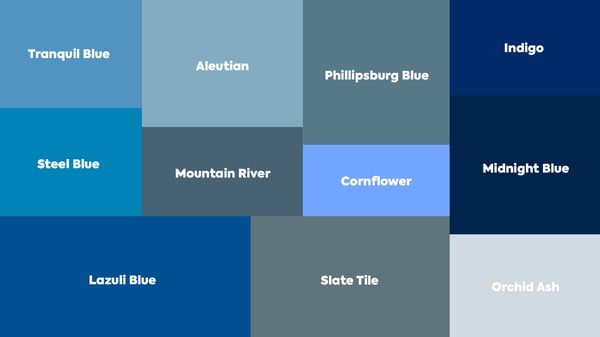 If you're looking to pair the colour blue with a complimentary colour, shades of green, red and orange work very well to create dynamic spaces.
3. Less is More With Minimalism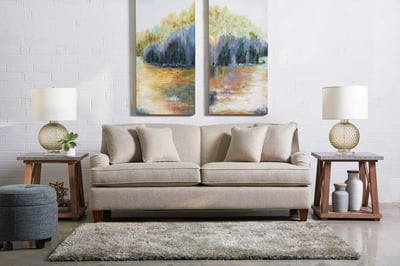 Although not a new trend by any means, minimalistic design has been around for quite some time. Even though new trends like bolder colours are emerging, minimalism still stands strong, with many individuals gravitating towards simple approaches to designing their rooms.
Minimalism means maintaining a singular idea for a room's design that isn't too complicated.
For example, if your accent chair has curves, everything else should have curves too. If you have a central colour like blue, from our last example, everything should complement the colour blue nicely. If you have ornate art pieces like glass tables, your room should reflect that.
A simplistic design style can possibly lead to more dynamic ideas than you might've previously envisioned.
4. It's All About Curves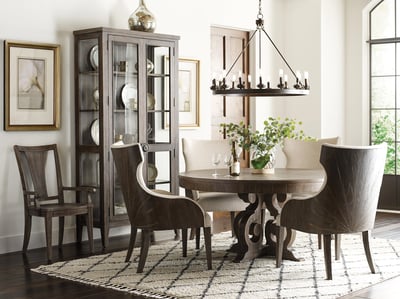 Making another comeback from last year, there's no surprise that curves are maintaining their popularity.
The reason why curves have become so popular over the years is that they create a sense of softness that is easy on the eye, yet stands out. In contrast, sharper edges create more of an intense approach to furniture that people seem to be losing interest over.
Wherever you will find furniture, you will find curves! Swivel chairs, sofas, sectionals, dining room sets, and many more.
You might even see curved arches in houses becoming a more popular trend this year as well. Curved arches visually draw attention to the height of your walls, making your room appear as though it is more spacious than it actually is.
If you're looking for inspiration for curved arches, take a look at the 2022 CHEO Dream Home, furnished by La-Z-Boy.
5. Being One With Nature... Indoors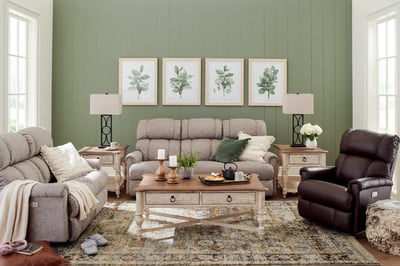 The year 2022 was all about bringing the outside in, and this trend is projected to continue into 2023.
Since 2020, many people have become more appreciative of nature and the soothing colours they bring. Natural elements like flowers, leather, trees, and wood are very transparent in this design trend.
"Everything may look complete or clean, but your furniture decor does what its supposed to do," says Magaly del Castillo, the interior designer at La-Z-Boy Cyrville. This statement perfectly describes rustic and industrial-themed looks, which are popular aesthetics in this category.
Studies have shown that adding greenery to your home helps with stress, allergies, and productivity. People are looking to create calming and more charismatic spaces within their households, which you will notice is an overall theme with most of the design trends this year.
Natural living spaces also can include more sustainable and eco-friendly furniture. As a furniture company, La-Z-Boy prides itself on sustainability, which is shown through our sustainable fabric.
Our Eco-Friendly line of fabric, for example, is completely made out of natural materials and plastic water bottles. You can learn more about sustainable design ideas with this article.
Adding plants to your interior decor is also a popular design idea. There is even a name for this design trend since it is so popular! To learn more about Biophilic Design, take a look at this article.
6. Something Borrowed Into Something New
Not exactly how that old saying goes, but there are a lot of younger age groups that are purchasing heirloom furniture pieces from second-hand furniture stores. There is also a trend in upcycling old materials.
Upcycling is a growing trend that involves bringing unused items back to life, giving them a rebirth of sorts. This and reusing family heirlooms has become an increasingly popular trend over the years, with the intention to throw less away and conserve older materials for new life.
Family heirlooms typically refer to high-quality furniture items that have been passed through a family for generations. After many years, they are considered antiques.
La-Z-Boy knows all about creating furniture pieces that will last a long time, due to the quality of materials we use to make our furniture. With that, La-Z-Boy products have the potential to become family heirlooms themselves.
Furniture items with lower-quality materials may have a lower price tag. However, these products lack sustainability. As a result, these furniture items are tossed away, eventually ending up in landfills.
This is why upcycling and antique furniture is becoming increasingly popular, so that people can lessen their furniture waste as a whole.
For Tips On Keeping Your Old Furniture Looking New, take a look at this article.
7. Soul Spaces
When decorating and furnishing your home, you want to make sure that you incorporate your own personal touch added to create a unique space. Your home is meant to be your happy place. Somewhere where you can feel content, calm, and comfortable.
Home-furnished products need to nourish the soul and spirit, which is why soul spaces are becoming an integral part of people's design.
Emerging from last year's trend of unleashing your unique personality through design, this "soul spaces" design trend is all about creating a personal sanctuary for you and the people you live with.
Soul spaces allow people to become expressive by creating unique designs that people haven't seen before. This is where niche design trends like Parisian-style apartments, retro/vintage, Japandi and cottage core are picking up steam.
Most of these spaces offer an eclectic mix of styles and patterns that all amalgamate towards creating something expressive for your own enjoyment.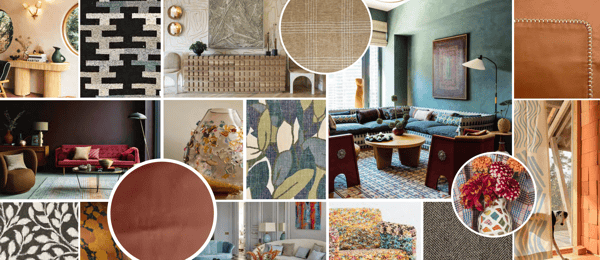 8. Cozy Living
Staying consistent with the general trend of creating a calm and relaxing environment, creating a cozy space is something that people are looking towards in the new year.
"Some people – I think – feel like your living room needs to give you a warm hug after a long day," says Mary Lee, "I think this is becoming more apparent in people's living room designs."
Although minimalistic design in furniture is an emerging trend, some people want more warmth in their rooms. This can either mean plushier furniture pieces or more focus on relaxation as a whole.
A way to redefine your space as a cozy environment is by adding recliners or comfortable furniture to your home. In addition, warm neutral colours can work to create a more balanced and cozy colour palette.
Some interior design styles that go well with creating a cozy living space include Scandinavian, Hygge, minimalism, and modern farmhouse.
Our dining furniture partners, Canadel, have a Modern Farmhouse collection of dining room furniture that you can take a look at with this article.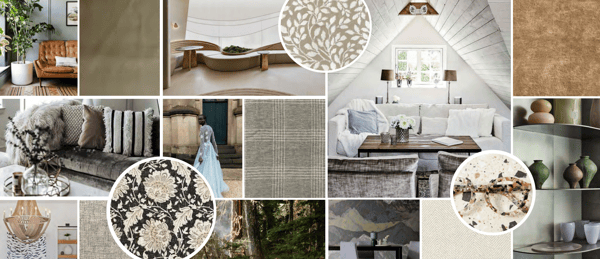 9. Multifunctional Spaces
Many homeowners are choosing to purchase furniture that serves more than one purpose. This is another trend that has continued since last year.
Similar to the minimalistic approach to interior design, less furniture is more with this philosophy of living.
Instead of getting media units that store your extra belongings, coffee tables can be used as extra storage spaces. Consider an ottoman as a footrest, table surface, or storage unit. Need extra sleeping space? Sofa beds are a great multifunctional solution.
These multifunctional furniture pieces can be utilized in almost any room but work exceptionally in small spaces.
10. Bringing the Light In
We are seeing people embracing the outside light and keeping it inside their homes. This aligns with the trend of embracing nature in home design.
Natural lighting is a perfect way to reduce electricity usage and is known to help boost productivity and promotes a happier mindset.
This interior design trend involves incorporating larger windows in your home so that you can let more light in during the day. You might also find yourself adding a sunroom to your home design, which dedicates itself to natural lighting while staying indoors.
You can learn all about How to Design and Furnish a Sunroom with this article.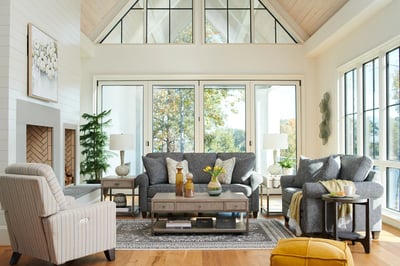 What's Next?
Now that you are up to speed with the 2023 interior design trends, it is up to you to decide which design trend speaks to you.
If you're interested in any of these trendy ideas, there is no better place to start than by talking to an interior designer.
La-Z-Boy has expert interior designers eager to lend a helping hand with your home design. Make sure to check out any of our La-Z-Boy Ottawa & Kingston Locations or book an appointment before coming in.
La-Z-Boy also offers good quality furniture products that will help emphasize your personal taste and design. Make sure to check out some of our best-selling articles to get ideas on what may pique your interest.
If you're curious about past design trends, take a look at our design trends of previous years for 2022, 2021 and 2020.
Related Articles:
Ideas for Decorating Your Living Room
How Long Does Custom Furniture Take?
Product Info Request
Please provide us with your name and email and we'll get back to you as soon as possible regarding this item.