Interior Design Trends of 2020: Tips from Professional Designers
February 21, 2020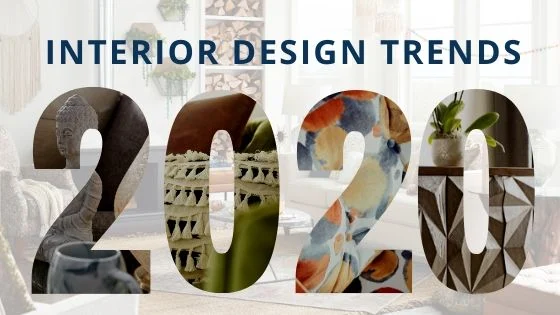 Interior Design Trends To Draw Inspiration
An Ontario winter season with record-breaking snowfall and frigid temperatures may have you suffering from the winter blues. Consulting this year's interior design trends is just what the doctor ordered! Unless, of course, you are migrating south for the season. What is popular in home design for 2020 can provide the inspiration you need to inject some warmth and new life into your space.
According to Wiarton Willie, there is an end in sight to our shovelling. As the only albino weather forecaster in the world, he has predicted an early spring. So, whether you are looking to make a big impact with small changes in your home or tackling a room renovation, now is the perfect time to start! You'll want to finish before the big thaw when you can once again see your neighbours over the snowbanks and want to venture outside.
Your home is where you come to life. At La-Z-boy, we know that understanding the entire environment is crucial to creating something unique for you and your family. Every home should be comfortable, remarkable and joyful. Moreover, filled with furniture that's both relaxing and stylish.
As the inventors of reclining furniture back in 1927, La-Z-Boy has been setting trends for over 90 years. Along with the rest of the industry, new products, design trends and innovations are revealed at High Point Market. Known as fashion week for home furnishings, it is the world's largest tradeshow with 11.5M square feet of space. Although it is not open to the public, every April and October, the show attracts over 75,000 people.
Leading home fashion trends and new products take approximately four to six months to hit retail showroom floors. Our expert designers, Dea Attar and Zeina Badawi, share their insider knowledge on the 2020 interior design trends from October Market and the industry. These include:
• 2020 colours of the year
• 3 home design themes
• Mixing metals
2020 Colours of the Year
Each year, authoritative colour expert Pantone and paint companies release their colour of the year. You will start seeing these colours in many applications, including clothing and also within the home.
PANTONE 19-4052 Classic Blue
As the authority on colour, Pantone chose 19-4052 Classic Blue, a cool colour that is elegant in its simplicity. Their pick is one most will love as bluish hues are a favourite across the world!
Based on Pantone's colour word-association studies, safety, protection, and stability are the first automatic reactions to the blue colour family. Reminiscent of the evening sky at dusk, Classic Blue will have you thinking about winding down for the day and getting some peace and relaxation.
If you incorporated Patone's 2019 Living Coral into your decor last year, you are in luck! Much of today's design trends are a mix of the two colours as they complement each other well. These colours are also adaptable to either a bold or soft pastel colour palette.
BENJAMIN MOORE 2102-70 FIRST LIGHT
A soft, rosy hue, First Light, is the backdrop for a bright new decade. Benjamin Moore's corresponding Colour Trends 2020 Palette offers modern paint pairings and a timeless way to lighten things up. There is a colour trends brochure to provide inspiration and examples, as well as a Pinterest board.
BEHR S340-4 BACK TO NATURE
Back to Nature is a therapeutic and revitalizing green hue that engages the senses. Also, it pairs well with other colours both inside and outside your home. Natural elements inspired Behr's colour trends palette. Each hue works well alone or in combination to create a unique look for your home and style.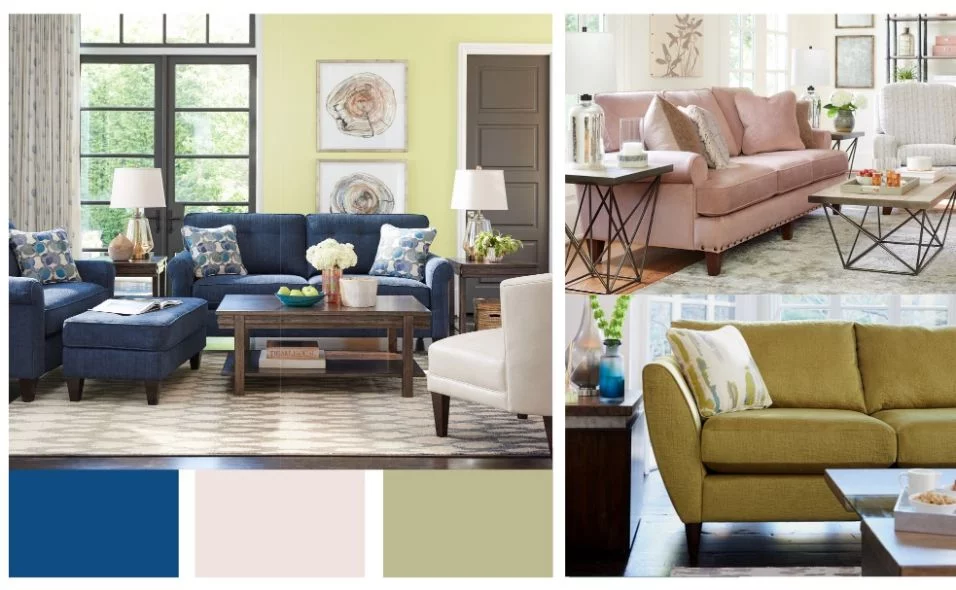 HOW TO ADD COLOUR TO YOUR ROOM
Zeina says she is often asked, "why should I care about the colours of the year?" and "how do I use the colours in my space?".
People find themselves in one of two camps. First, you are starting from scratch and have purchased a new home or apartment. Secondly, you already have your room furnished.
If you find yourself staring at blank builder white walls and an empty room, you could let the latest colour trend influence your decision when purchasing paint. You may, however, wonder if you will get tired of it. Colours influence perceptions, and how people are affected by different colour stimuli varies from person to person.
Blues are serene and mentally calming, as described by the feelings invoked by Pantone's Classic Blue colour trend. Knowing what mood or ambience you would like your room to portray is an essential factor when choosing colour.
The paint colour on the wall is not the only way to infuse trending colours in your room. If you don't yet have any furnishing, choosing that colour for upholstery on an accent chair or ottoman is a great choice.
If you already have your room furnished and have an established pattern or style, there are many other options for incorporating these colours. Should your colour pallet be mostly neutral, you can paint an accent wall or door. Further, introducing accents for hints of the colour will minimize your investment in case you want to refresh next year. These accents can include:
• Pillows
• Wallpaper and drapes
• Beddings
• Area Rugs
• Flowers and tabletops
• Art
Adding pops of colour through accessories will give your room some added interest. Don't be afraid to mix in more than one colour. If they are complementary and work well together, it will feel like the accessories were collected over time.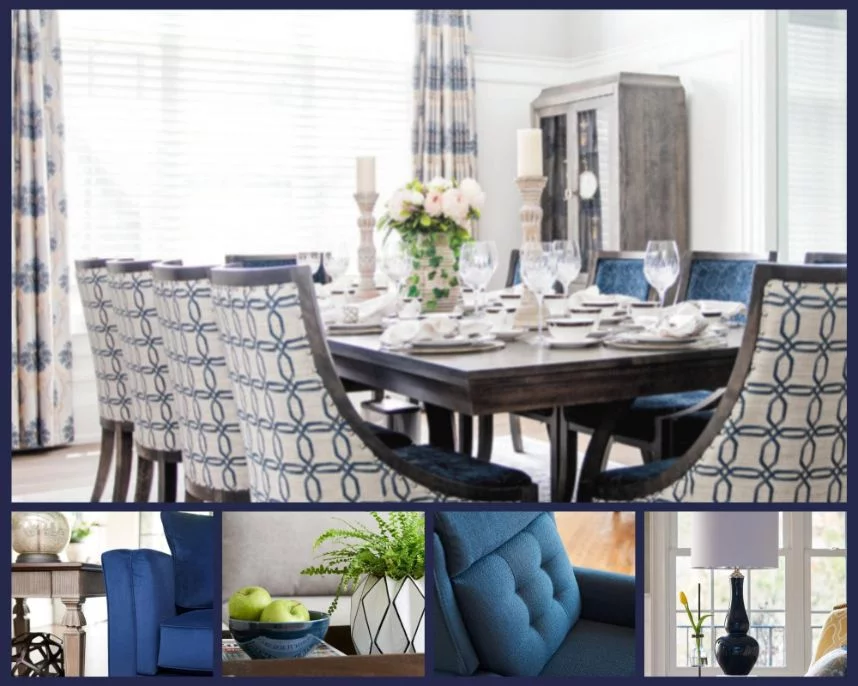 3 Home Design Themes
When reviewing trends in interior design for 2020, it is not just about colour picks for the year. Other factors to consider are causes, patterns, textures, materials, and attitudes influencing styles.
At High Point Market in October 2019, La-Z-Boy identified three themes that encapsulate current design trends. They have some common traits and colour schemes but have different personalities. Everyone can find a flavour they can use in their own home.
Let's take a look at each in detail, including what kinds of accessories you can include to complete each look.
Holistic Haven
Holistic Haven's core concept centres on health and wellness, that home should be a place of peace and rejuvenation. The need to detox ourselves and our environment inspires sustainably founded principles. For instance, utilizing natural and recycled fibres and elements. Plus, earthy textures and organic shapes.
Biophilic design incorporates nature into all facets of the space. People are less afraid of natural plants in their home although, they do take extra care. Florals, fauna, foliage are included in the patterns of fabrics, wallpaper and artwork. Soft colour palettes of blues & greens, corals, blush & lilac combined with earthy neutrals counter stress by inducing an environment reflective of nature and water. It is about bringing the outdoors in!
Embracing the holistic haven look doesn't have to mean sustainable. But for those who go the extra step, La-Z-Boy offers conserve™ Sustainable Fabrics, the soft and durable fabrics made from recycled water bottles. For every piece of furniture made with conserve, up to 110 water bottles are saved. Who knew protecting the planet could be so on-trend?
Accessories include:
• Plants
• Furniture that has a natural shape or use natural materials
• Artwork or wallpaper with leaves, foliage and flowers
• Basket accents (planters are popular!)
• Birds and other fauna
Cultural Fusion
In blending cultures from around the world, Cultural Fusion creates an interior experience that is both authentic and contemporary. The palette consists of warm, delicate neutrals contrasted with rich earthy colours such as cinnamon and coffee. Artisan elements further portray a handmade aesthetic. Notable cultures interwoven in this trend are Aztec, African, Southwest, and Japanese.
Harmony with the environment is also common to the Cultural Fusion design trend. You'll find a lot of wood, smooth lines, and indoor greenery. Wood furniture is always a welcome, and an accent wall in barnwood would make a big impact.
Typically you'll have neutral, unembellished furniture and the accessories provide the style and personality of the decor. For example, you can make a statement with a buffet that has a patterned ornate door. This adds a layer of texture to the room.
Accessories include:
• Bold geometrical or textured woven pillows
• Jute carpets
• Mixing leather and fabric accents
• Cooper and metal accents
• Sculptural artwork
• Bold lighting and chandeliers
• Area rugs for the dining room
• Wood or metal picture frames
• Basket accents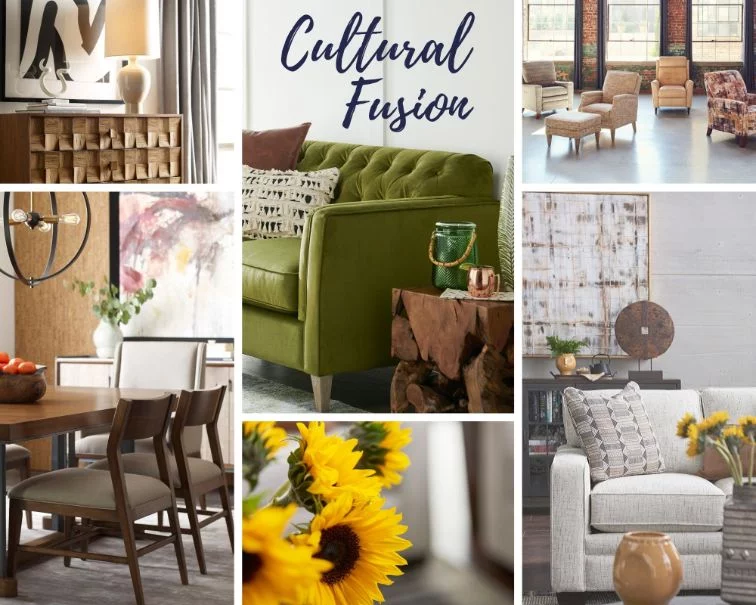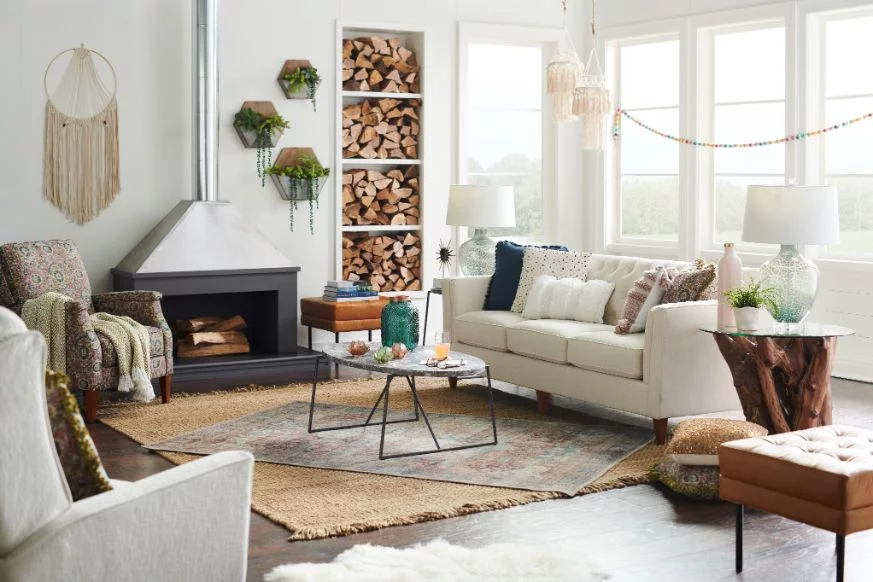 Modern Retro
Rust, mustard, avocado, and turquoise are making a comeback, and it's going to be groovy! Modern Retro showcases bold colours, prints, and textures in an unconventional and offbeat way.
It is reminiscent of the 70's and mid-century mod décor. Styles are also influenced by the geometric Art Deco period and accented with daring patterns on chairs, rugs and pillows. Bold shapes are emphasized with unique textures such as velvet, corduroy, and shag.
Furniture is minimalist in design to balance the richness of colour and shape and acts as a showcase. Arms tend to be slightly flared, and the base consists of angled legs. Accent furniture legs are often tapered and dainty.
"This style is coming back," Dea explains, "the only difference is there are more neutral colours to offset the rest of the vibrant palette, so it does not seem as busy." The room is more muted. As a result, you'll be less likely to get tired of your new interior design.
Another distinction of the Modern Retro design trend is the texture of the fabric used for the focal furniture piece. At first, it may seem neutral or plain, but you'll want to jazz up your sofa or sectional with a lush fabric that has multiple colours. Complete the room with eclectic tables or ottomans, and accessorize with a mix of natural materials like warm wood and gold-tone metal.
Accessories include:
• Velvet fabrics
• Gold finishes in artwork
• Retro inspired wallpaper
• Tone on tone accent furniture
• Geometric style mirrors
• Style arc or tripod lamps
• Chevron bookcase
• Textured consoles and buffets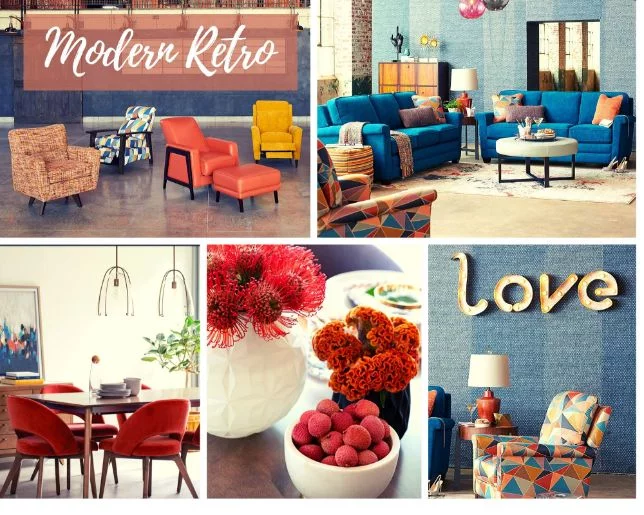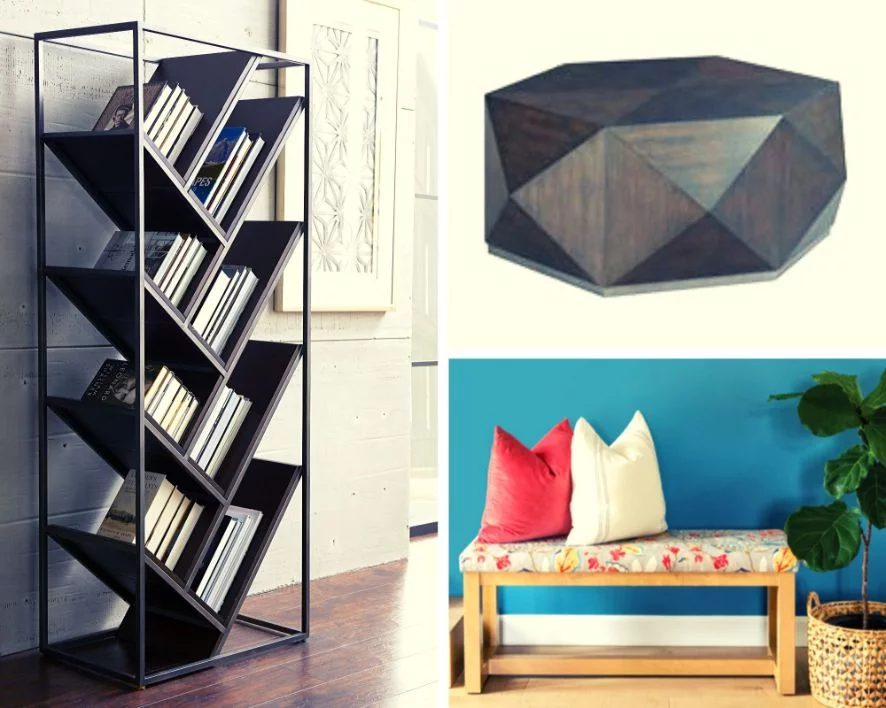 Are you drawn to one of these three themes and already have an idea of what you would like to incorporate in your home? If not, don't fret. They present an endless array of design and decor options, and everything does not have to match. Nor do you have to commit to adopting all the elements as it can be reflected in your choice of furniture or a few simple accessories. Mixing and matching styles and materials can set your design apart.
What's important is your home is a reflection of your personality and you create a space that tells your unique story. Pick pieces and elements that you can easily incorporate into your home to make the style your own and one you love.
Can You Mix Metals in Your Home Decor?
Zeina and Dea admit to getting asked this question a LOT! Variations include "I currently have everything in chrome, is it okay to bring in another finish?"
The short answer to these questions is YES! Mixing metals can be a thing of beauty, but only when done correctly. There are a few guiding rules that can help you mix metals to add depth and interest in your room.
1. Use the Same Tone of Metal
Stick with either cooler tones (brass, copper, gold) or warmer tones (aluminum, stainless steel, silver metals). Cast iron and other black metals are considered neutrals and can be easily showcased with warm or cool-toned metals.
2. Don't Mix Matte and Polished
Keep the finish of your metals consistent. Therefore don't mix matte and polished or shiny metals unless you know how to do it properly. Mixing two finishes can add an eclectic feel, which translates well to the Modern Retro design trend.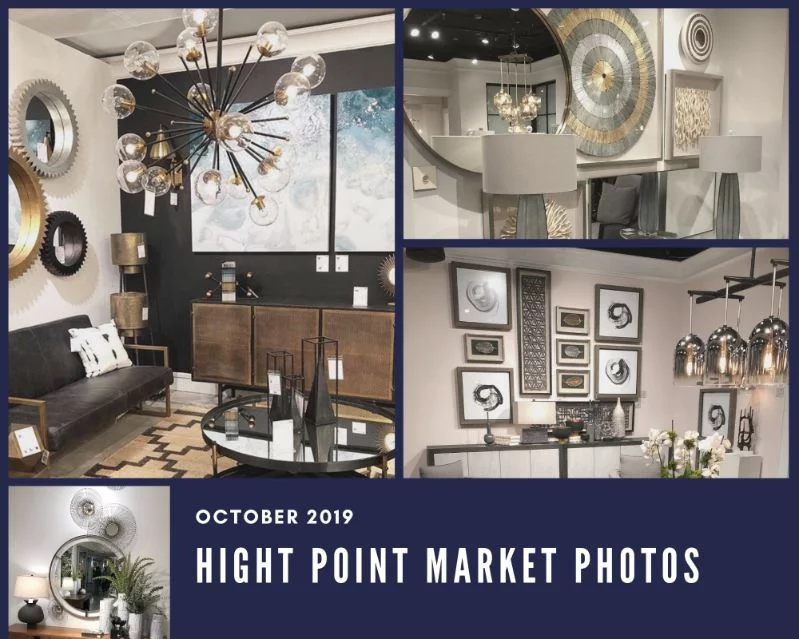 3. Introduce a Neutral Metal
In general, if you are concerned with combining two finishes, the best alternative is to incorporate a neutral black or cast iron metal. These neutrals will allow you to bring in a new texture and add visual interest. Picture frames on the wall can coordinate with other metal in the room found in the furniture and other accessories. The goal is to repeat the colour or tone enough to make a statement and create continuity.
Tip: when mixing different coloured metal frames on a gallery wall or in a room, keep the artwork similar to create a cohesive look.
Copper and unlacquered brass are a big trend this year. They have emerged as options in faucets, hardware and lighting. You can mix this gold-tone with chrome or neutral metal; you just need to do it the right way and follow the above tips.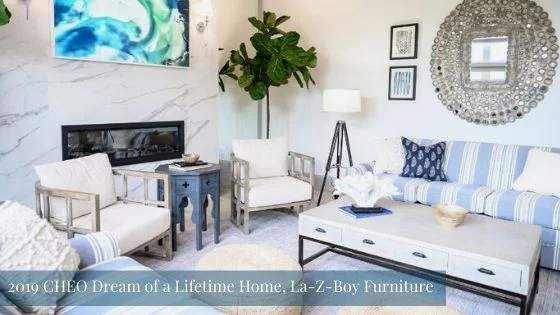 NEXT STEPS
As we cross the threshold into a new era, our lives are busy, and technology continues to race ahead of our ability to process it all. Understandably, 2020 design trends reflect a new desire to soften, texturize and bring the outdoors in.
Are you looking for some additional design inspiration? Check out our gallery of before and after photos from our La-Z-Boy Ottawa & Kingston in-home design projects.
Whether you're starting new or your home needs a fresh update, La-Z-Boy's extensive library of furniture and accessories is continually evolving to offer the latest styles. You'll find a style that matches what you love and how you live. With hundreds of fabric and leather options, you can custom-create a look that's all your own. Choose from the latest colours, patterns and textures.
Product Info Request
Please provide us with your name and email and we'll get back to you as soon as possible regarding this item.