5 Common Problems with Wooden Furniture at La-Z-Boy (& Solutions)
September 23, 2022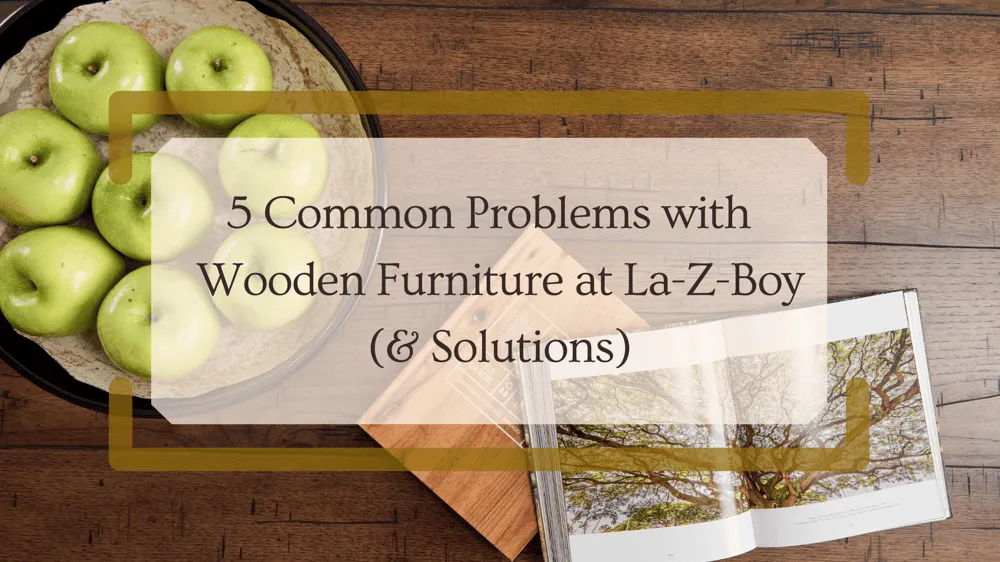 Est. Reading Time: 7 Mins
When it comes to wooden furniture, you might not initially think of La-Z-Boy.
Since our inception, La-Z-Boy has been known for selling quality, comfortable and upholstered furniture. After all, you wouldn't want a living room sofa to be made of just wood.
That's not what we mean by wooden furniture. The wooden furniture we're talking about is dining room furniture, bed frames, and occasional tables like coffee, end tables, and media units. Yes, La-Z-Boy sells more than just comfortable recliners and sofas!
In fact, La-Z-Boy Incorporated has sub-divisions such as Hammary, American Drew, and Kincaid, which supply high-quality occasional tables, dining room furniture, and bedroom furniture. Further, La-Z-Boy Ottawa & Kingston has a partnership with Canadel Custom Dining, offering customizable dining room furniture.
Although La-Z-Boy's wooden furniture is made with high-quality materials and craftsmanship, it is common to run into particular issues with any piece of wooden furniture.
Fear not! "With every problem, there is a solution," says Storm Shields, a service department supervisor at La-Z-Boy Cyrville. This article will outline a few common problems that people face with wooden furniture, as well as solutions to those problems.
Along with Storm's help, Magaly del Castillo, an interior designer at La-Z-Boy Cyrville, also has helpful advice to share with everyone.
In This Article…
1. Delivery Damage & Quality Control
One of the more common problems that Storm hears about are things that happen before your furniture even arrives at your doorstep. Delivery damages and quality control issues are problems that occur among manufacturers and delivery teams.
Even though this is a problem she hears about, Storm emphasizes that she does not hear about these problems all the time. "We sell a lot of dining room furniture, and every once in a while, some furniture products get damaged while in the delivery stage," she says.
Quality control issues occur in the manufacturing process before your furniture gets delivered to your home. Common quality control issues include wood finish stains being unfinished, construction defects, rusted metal framing and much more.
Further, delivery damages refer to furniture pieces that have broken due to someone or something breaking these items unexpectedly or accidentally.
Some delivery damages include minor things like dents in the furniture and peeled wood finish colouring but can also include major issues like a broken furniture leg.
Solution
Given that these issues occur in the manufacturing and delivery stage, these damages are completely out of your control. La-Z-Boy knows that accidents happen during the manufacturing and delivery process, which is why these issues are covered under our Limited Lifetime Warranty.
La-Z-Boy's warranty also covers the repair or replacement of the furniture frame, furniture mechanisms, and dining furniture defects. The warranty does not cover any accidental damages that were caused throughout the time you owned the furniture.
This protection is limited to a year with the basic warranty. Canadel's warranty is the same as La-Z-Boy's warranty.
To further protect your purchase, La-Z-Boy offers an extended warranty plan at an additional cost. To learn more about the warranty at La-Z-Boy, take a look at the article Are La-Z-Boy Recliners Guaranteed for Life?
Storm also warns those who buy more distressed-looking tabletops since these designs are meant to look like they have imperfections. "Sometimes a client may notice a dent or a scratch in their furniture and we have to determine if that was made because the furniture is rustic looking, or if it was actually an accident."
Rest assured, these scenarios do occur on rare occasions. Some of Canadel's collections, like East Side and Champlain, as well as Hammary, American Drew, and Kincaid, display rustic appearances. You can learn more about them with their review articles.
2. Watermarks On Your Wooden Furniture
Whether it be a missing coaster or an unfortunate spill that became a stain, drinks are the most common antagonist of wooden furniture.
Magaly says, "any drink, including water, can leave a mark on your wooden tabletop. Even if you have the best wood finish out there, drinks will stain wood."
Watermarks usually occur when someone either leaves their drink on a wooden surface for a long period of time or if someone spills their drink but doesn't clean it up in time. This, unfortunately, leaves a mark on your tabletop that becomes harder to clean over time.
Liquids from drinks can also seep through the cracks of wood, becoming a bigger issue when discussing distressed wood.
Solution
Now, these stains may seem permanent to you, but it doesn't have to be with the proper solution!
The first solution is to clean the spill immediately, Magaly says. "If you don't act quickly, that's when the stain becomes harder to clean."
However, with some tabletops like distressed wood finishes, these tougher stains are, unfortunately, inevitable.
There is still a solution to getting rid of these stains! By using a humidifier, you can essentially dehydrate the area, leaving your watermark unseen. Humidifiers carry a low heat temperature so that you can avoid any permanent heat damage to your dining room table.

3. Rusty Metal Areas
Dining furniture and occasional furniture usually have metal materials that hold the frame of the wooden pieces together. For example, dining tables with extending lead extensions include exposed metal mechanisms.
But what happens if that material rusts? You're leaf extensions might not come out as smoothly as before.
Magaly and Storm both express that rust is an annoying occurrence with metal materials, which normally happens when metals, like iron and steel, get exposed to acidic substances like water.
Solution
Is there a way to get rid of rust on metal? Well, actually, there is.
With the right products, rusted metal can be restored to an almost new look. By scraping off rusted flakes and powdery surfaces with a wired brush, you can make your metal look almost brand-new again.
After you're done scrubbing the metal area with your brush, simply use a rust-inhibitive primer, which you can purchase at any home hardware store. Primers come in either a spray form or a paint form.
Depending on the amount of rust, you might need to put more effort into these steps, which may include purchasing an additional specialized primer. However, no matter the amount of rust, these steps should work easily.
4. Mould & Rotting in Wooden Furniture
https://renovatedfaith.com/smell-out-of-furniture/
When trees become damp, they are more likely to develop fungal growths, which cause them to either stay intact or rot from the inside out.
This also applies to wooden furniture. If left in either a humid or damp environment for a long period of time, wooden furniture can develop mould or rot as well.
This unwanted moisture can occur from spills that are left uncleaned or households without central AC. Most of these wooden furniture problems occur with patio furniture but can happen to any wooden furniture if not properly taken care of.
To identify if your wood is moulding, look out for white spores circulating or surrounding a certain area. You might've also heard of the term "dry rot," which is the same as wood mould, but instead of spores appearing, your wood furniture starts to fall apart.
Storm says, "These are very rare instances for interior wooden furniture, but can happen to patio furniture more often."
Solution
The best way to prevent moulding or rotting is by taking the proper measures in furniture care. This means avoiding damp or humid areas as much as possible.
This might be more difficult with outdoor furniture, but keeping your furniture stored from harsh weather conditions like snow and rain, will help keep your furniture looking good and healthy.
If you do see mould on your wooden furniture, fear not. By simply using a damp cloth with warm water, you can easily get rid of small mould build-up. If your mould problem is more major, natural cleansers like white vinegar or vodka can help eliminate your problem.
This is also the same solution for dry rot. Although you may have lost some parts of your furniture due to pieces wilting away, you can still stop the problem and continue to enjoy your furniture if there is minimal damage.
5. Dust Mites in Your Wooden Furniture
Another rare occurrence in wooden furniture, dust and wood mites can appear naturally in almost any household if the humidity levels are just right. They are also known to inhabit wooden furniture.
One major factor that determines where dust mites will occur is … well, places that have a lot of dust accumulation. This can include places we normally see, like underneath the couch and coffee table. Wood mites only appear in places that have a lot of wood.
Dust or wood mites also appear in humid conditions because they absorb moisture in the air to stay hydrated.
Keep in mind that in addition to destroying your furniture, dust mites also impact people's health in either minor or major ways. Since they are microscopic and absorb moisture in the air, dust mites are known to cause allergy symptoms, like watery eyes, itchy noses, and sneezing. For those with asthma, dust mites can cause asthma attacks
Solution
Now, dust mites might seem a little frightening, but preventing them in your household is as easy as cleaning your house regularly.
Dusting your house regularly, as well as cleaning your wooden furniture with damp cloths weekly, will help prevent the appearance of mites in your home.
If you suspect that dust or wood mites are in your home, however, ensure you're flipping the side of the cloth each time you wipe. Otherwise, you risk spreading these bugs elsewhere.
La-Z-Boy also has a Wood Care Kit that is used to tackle problems just like this! By using the dust & anti-static solution as well as the polish solution included in the kit, you can easily keep your wooden furniture away from wood mites.
Storm mentions that the wood care kit is not included with every La-Z-Boy purchase but can be if requested. Make sure to talk to our design consultants to learn more about our wood care kit.
What's Next?
With any furniture product, you can't always avoid potential problems, although we try our best. But fear not; there are always solutions to these problems if they do occur.
If you ever have a problem with La-Z-Boy wooden furniture or any furniture item we sell, do not hesitate to reach out to any of our Ottawa & Kingston Locations. Our service team can always lend a helping hand.
Additionally, our design consultants are eager to assist you in finding the ideal furniture for your home. If you are furnishing a new room, consider taking advantage of our interior design services by coming in-store or by scheduling an appointment online.
If you want to further familiarize yourself with our Dining Collection, take a look at our article Everything You Need to Know About Canadel Customizations.
Related Articles:
Tips On Keeping Your Old Furniture Looking New
Canadel Dining Chairs vs. Dining Benches
Product Info Request
Please provide us with your name and email and we'll get back to you as soon as possible regarding this item.