Stressless vs. La-Z-Boy Recliner: A Comparison in Quality, Comfort & Cost
January 5, 2021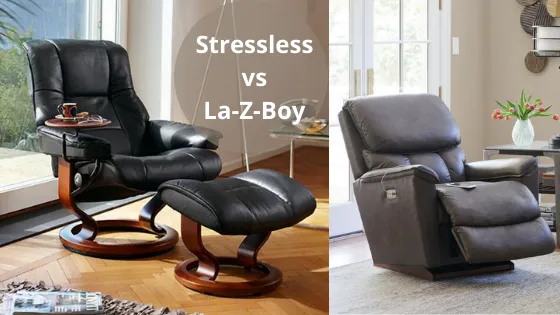 | Design Style | La-Z-Boy recliner | Stressless chair |
| --- | --- | --- |
| Traditional | ✔ | |
| Transitional | ✔ | ✔ |
| Contemporary | ✔ | ✔ |
| Modern | | ✔ |
| Manual Mechanisms | La-Z-Boy recliner | Stressless chair |
| --- | --- | --- |
| Reclining | ✔ | ✔ |
| Rocking | ✔ | |
| Swivel 360 | ✔ | ✔ |
| Glider | ✔ | (1x available) |
| Wall Away | ✔ | |
Both Stressless & La-Z-Boy offer
Customizable high-quality furniture built to last.

Both provide ergonomic support and proper back support. Each of them offers different kinds of comfort that should be tested by the consumer.

Guaranty/warranty.

Both are investments, but you will pay a bit more for Stressless

Leather and fabric covers*
(*Leather requires more care and should be wiped down at least once a week. Leather vs. Fabric)
Stressless Compared to La-Z-Boy
Price:
The entry-level Stressless Chair and ottoman in the classic base start at approximately $2,400. The cost will increase up to $7,000 depending on the styles and options chosen.
The least expensive La-Z-Boy recliner starts at approximately $1,310. The cost will increase depending on the options and fabric chosen for the chair.
For more information, check out the article explaining the Cost of a La-Z-Boy Recliner.
*All La-Z-Boy prices listed in this article are subject to change. We aim to update all cost-related articles twice per year. This article was last updated on October 25th, 2022. Please visit lzb.com and select an Ottawa or Kingston La-Z-Boy store location to view the most up-to-date pricing.
Service:
Service plans for the Stressless chair will depend on the dealer from where you purchase.
The manufacturer's warranty covers ten years on the internal mechanism. There are five years of coverage on the base, two years on LegComfort Battery and a year on leather and fabric upholstery.
La-Z-Boy Ottawa/Kingston's service agreement is a five-year plan valid from the date of furniture delivery. This service offer is for the duration of the contract without additional charges to the original purchaser.
The la-z-boy manufacturer's warranty covers a lifetime warranty on mechanical, springs assembly and frame. It covers 3 years for electrical components. One year on regular fabric and leather.
Delivery:
Stressless chairs take about six weeks for specific colours; otherwise, it will take 14 weeks to ship from Norway.
La-Z-Boy recliners take a week or two for delivery if the chair you're looking for is in stock. Otherwise, it will take eight weeks to ship from within North America.
La-Z-Boy's delivery costs are $129.99 for local, and out-of-town delivery costs $169.99.
Additionally, we offer the option to dispose of any old furniture in a local landfill at an extra charge of $50 / per furniture seats.
For more information on furniture lead times check out how Covid-19 is affecting Furniture delivery.
Next Steps
As you now know, there are many reclining chair options, each with its pros and cons. Whether you decide on Stressless or La-Z-Boy, you now have the information needed to make an informed choice.
La-Z-Boy has over 90 years of experience in furniture. There's a reason La-Z-Boy is the number one selling recliner in North America. The quality and variety of La-Z-Boy recliners will ensure you find the perfect match for your needs. If you're still not sure which one to choose, you can check out our recliners or contact us today. We're happy to answer your recliner pricing questions at any one of our La-Z-Boy locations in the Ottawa and Kingston area.
We know that functionality is essential in building a comfortable life, not just a stylish one. That is why we offer complimentary in-home design service should you need help designing the room of your dreams! OR, take this quick chair assessment to find out the perfect style for you!
Related links:
Recliners: The definitive buying guide
Where is La-Z-Boy Furniture Made?
Product Info Request
Please provide us with your name and email and we'll get back to you as soon as possible regarding this item.