Top 5 Accent Chairs to Pair with Your Sofa at La-Z-Boy
December 17, 2021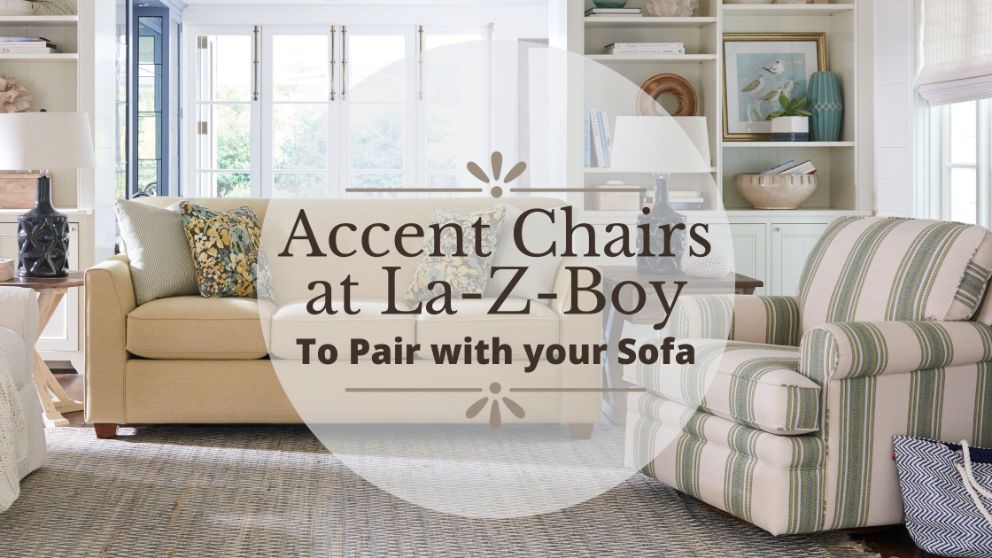 Creating the perfect furniture arrangement, including pairing an accent chair with your sofa, is like a balancing act. There are many factors to consider, such as assessing your available space, choosing a focal point, allowing for comfortable conversation, and ensuring there is smooth traffic flow.
More specifically, when creating a furniture arrangement, you must choose a combination of pieces that coordinate in harmony with each other. A common living room arrangement consists of a sofa and an accent chair, centred around a coffee table and television.
At La-Z-Boy, we sell a wide variety of quality and comfortable living room furniture, including a huge selection of sofas and chairs. This selection consists of both stationary and reclining pieces, with an array of customization options and upgrades, offering something for everyone.
Further, our expert interior designers are experienced in creating seamless living room furniture arrangements that suit each individual client. In turn, our clients at La-Z-Boy often ask our advice on the best accent chairs to pair with a sofa.
Mary Lee Smyth, the interior designer at La-Z-Boy Kingston, has suggested five accent chairs, some stationary and some reclining, that pair beautifully with a sofa. She even suggests La-Z-Boy sofas that partner well with each recommended chair.
Read on for 5 perfectly paired La-Z-Boy chairs and sofas to gather inspiration for your own living room!
In this article ...
1. Roxie Chair & Colby Sofa
The first accent chair that comes to mind is the Roxie Swivel Chair, says Mary Lee. In fact, the Roxie is one of the 5 Best Selling Accent Chairs at La-Z-Boy Ottawa & Kingston.
Though she may look casual, the Roxie Swivel Chair works hard to complement any décor. This versatile chair adds a stylish spin to any room, with a 360-degree swivel base to keep you at the center of attention. The Roxie is also offered as a Swivel Glider Chair, that sits on a 360-swivel base while also gliding back and forth.
Rolled arms and a deep T-seat cushion, all with welt trim, give Roxie definition and structure, allowing it to mix easily with any existing sofa.
Moreover, Mary Lee says the size of the Roxie fits a variety of people with many different body types, only adding to its versatility.
It is also important to highlight that the Roxie is built with La-Z-Boy's Premier Construction. To put it simply, Premier construction includes quality-crafted frames padded to enhance the style's design lines. This includes ComfortCore® cushions that provide optimum support for a long or short sit.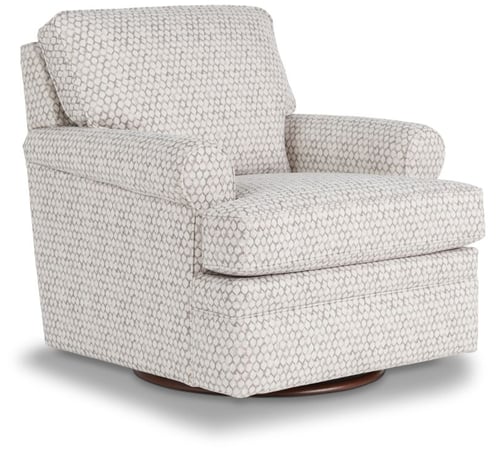 According to Mary Lee, the Roxie Swivel Chairs pairs perfectly with the Colby duo Reclining Sofa. She says that the style of the Colby matches the sophisticated look of the Roxie while offering the unexpected ability to recline.
Part of our duo®series, Colby features graceful rolled arms, decorative wood legs, padded outer arms, and a padded outer back. Colby's versatile frame can be dressed up for a formal setting, or dressed more casually for a family room. The Colby also features Premier Construction and Patented ComfortCore® seat cushions.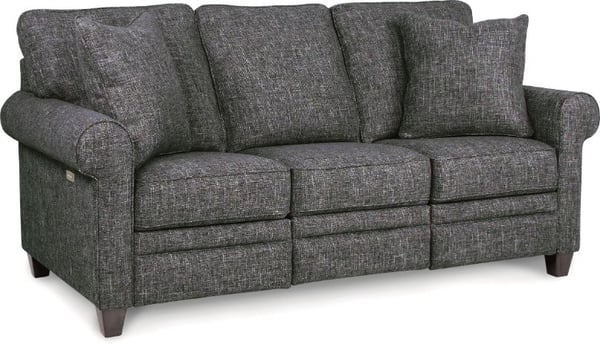 By pairing the Roxie Chair and Colby Sofa, you can create a stylish and versatile living room arrangement, with both stationary and reclining comfort.
2. Scarlett Chair & Talbot Sofa
The next accent chair Mary Lee suggests is the Scarlett High Leg Reclining Chair.
With its fresh, clean silhouette, the Scarlett High Leg Reclining Chair gives you unlimited possibilities to create the perfect room. This versatile chair features casually tapered arms and tall wooden legs. To the surprise of many, this designer chair is actually a recliner. Simply push back to enjoy two positions of instant reclining comfort.
With small proportions, the size of the Scarlett is most comfortable for shorter individuals, with a height between 5'4" to 5'9". Mary Lee says the Scarlett fits many women very well. With such a small footprint, the Scarlett is one of the Top 5 La-Z-Boy Recliners for Small Spaces.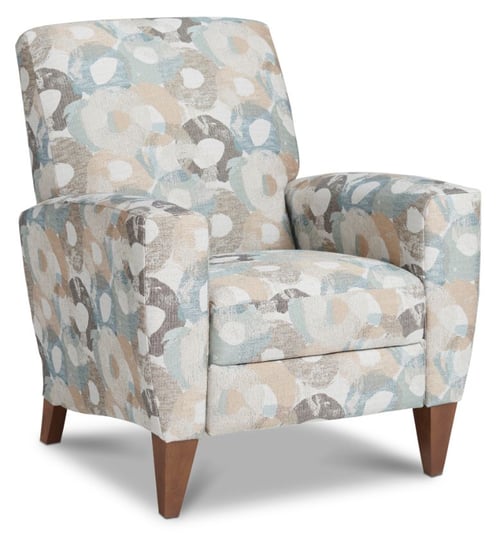 To balance the size of the Scarlett chair, Mary Lee recommends pairing it with the Talbot Stationary Sofa.
The Talbot Sofa is clean and informal featuring optional pillow accents, contrasting welt, and nailhead trim. The Talbot is also built with La-Z-Boy's quality Premier Construction offering countless hours of durability and comfort.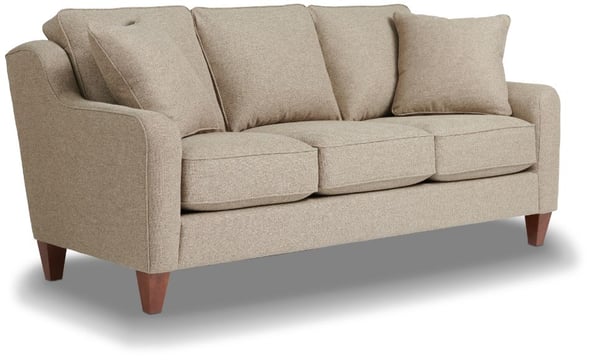 In comparison to the Scarlett, the Talbot Sofa has a larger scale, best suited for taller individuals between the height of 5'10" and 6'2". Mary Lee says this combination creates a seating arrangement that is comfortable for men and women of different heights.
Further, given that the Scarlett reclines and the Talbot is stationary, this furniture pairing also offers versatile positions of comfort, says Mary Lee.
3. Finley Recliner & Finley Sofa
If you are looking for a stylish accent chair with full reclining capabilities, Mary Lee suggests the Finley Recliner. The Finley is considered one of our Most Modern Recliners at La-Z-Boy.
Offering reclining comfort in contemporary styles, the Finley Recliner features modern lines, sleek track arms and a tall foam back that gives it a neat and structured look. The ultra-plush chaise seat and leg rest cradle the body in a continuous zone of comfort.
The Finley Recliner is offered as a Wall Recliner or a Rocker Recliner. These recliners can also be upgraded to power for reclining comfort at just the touch of a button. In power, the Finley can be upgraded further to include an adjustable headrest & lumbar.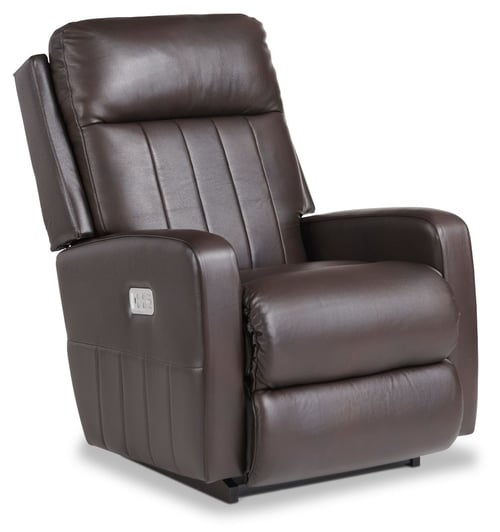 Pairing nicely with the Finley Recliner is the Finley Wall Reclining Sofa. The Wall Reclining Sofa has the ability to recliner mere inches from the wall.
Mary Lee says "don't underestimate the power of choosing a furniture arrangement from within the same furniture family". Placing Finley pieces together creates symmetry in a living room, she adds.
Like the Finley Recliner, the Finley Reclining Sofa can be upgraded to power, with another option to include adjustable headrest or headrest and lumbar support.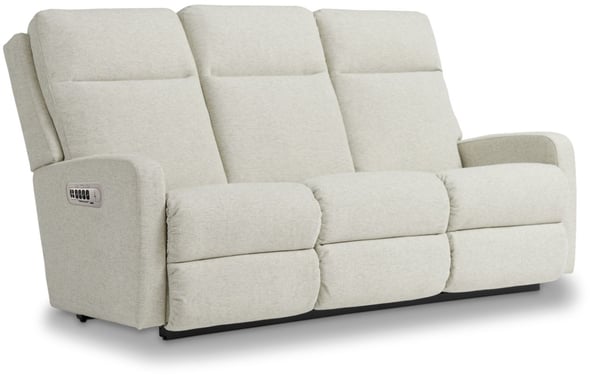 Mary Lee says the Finely Recliner and Sofa are perfect for those who want the ability to recline but don't like the look of traditional, plush recliners. The Finley products, especially in leather, create a very sleek living room arrangement, says Mary Lee.
For more information on the Finley Recliner and the Finley Sofa, take a look at the Review of the Finley Furniture Family.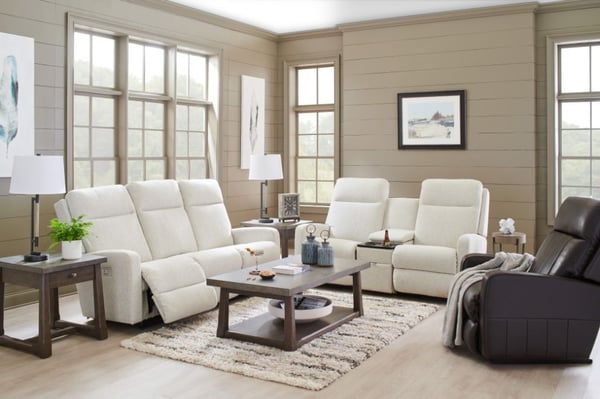 4. Paxton Chair & Paxton Sofa
The Paxton Chair & a Half is another great accent chair, recommended by Mary Lee. In fact, the Paxton is one of the Best Selling Chair & a Half's at La-Z-Boy Ottawa & Kingston.
The Paxton Chair and a Half is the casual and relaxed seating that practically begs you to kick back and get cozy. But, its clean lines and crisp welt trim give it a neat and structured silhouette. Paxton features a deep, T-shaped seat cushion, low-profile wood legs, and a chamber-filled back cushion that maintains its shape and support over time.
You may also consider purchasing the matching Paxton Ottoman for leg support.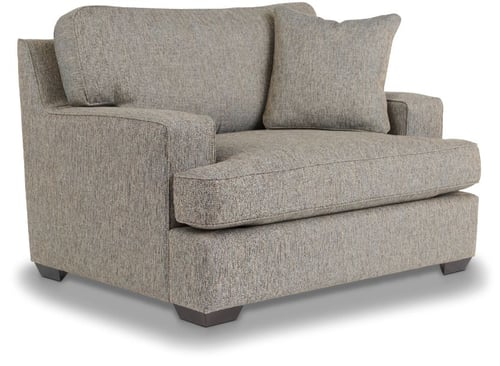 Paired with the Paxton Sofa, Mary Lee says this is the "power house combination".
The Paxton Sofa has the same look and feel of the Chair & a Half, but instead, it features two long seat cushions offering the option for shared comfort.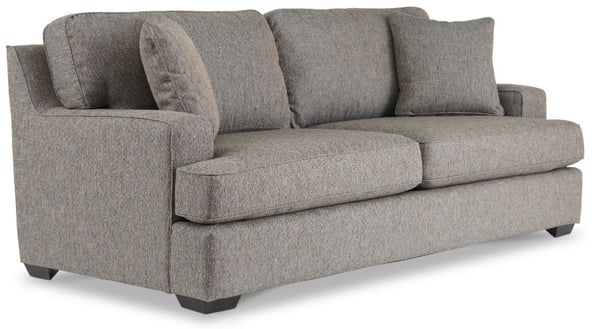 Both the Paxton Chair & a Half and Paxton Sofa are stationary pieces. They feature La-Z-Boy's Premier Construction with Patented ComfortCore® seat cushions.
If you love the look of the Paxton, you may also be interested in the Paxton Sectional as it is one of our Best Selling Sectionals at La-Z-Boy Ottawa & Kingston.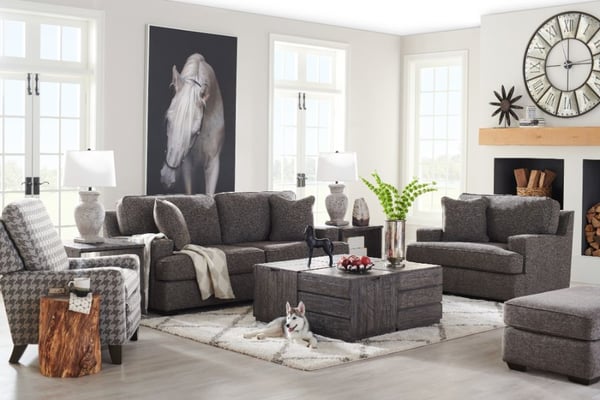 5. Greyson Recliner & Paxton Sofa
Finally, Mary Lee suggests the Greyson Recliner for someone looking for an accent chair with big, plush, reclining comfort.
Perfect for a man cave furniture arrangement, the Greyson offers exceptional comfort and exceptional detailing. The Greyson Recliner features pillow top arms and an extra-deep chaise seat and legrest that create a continuous zone of comfort in the reclining position.
Further, the Greyson is a large scale recliner, comfortable for tall individuals between the height of 5'10" and 6'2". In fact, the Greyson is one of the Best Recliners for Tall People at La-Z-Boy.
The Greyson Recliner is offered as a Wall Recliner and Rocking Recliner, with an option to upgrade to power. Further, the Greyson can be upgraded to include an adjustable headrest and lumbar support.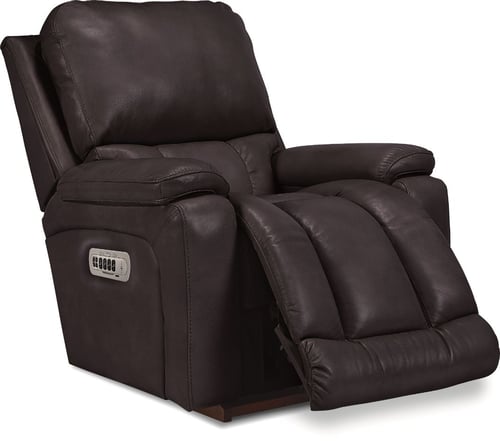 Mary Lee says the Greyson also pairs nicely with the Paxton Sofa. Especially for a family, the Paxton offers deep, comfortable seat cushions, perfect for kids to cuddle up on. Meanwhile, Mary Lee says the Greyson Recliner is the perfect place for Dad to kick-back and relax as well.
Further, the stationary style of the Paxton Sofa coordinates well with the Greyson Recliner. If you would prefer a more symmetrical look, you may prefer to pair the Greyson Recliner with the Greyson Sofa instead.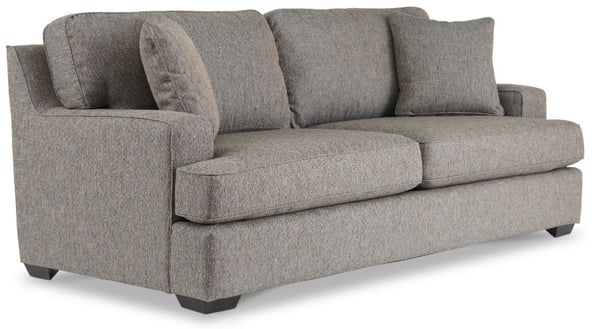 For more information on the Greyson Recliner and Greyson Sofa, check out the Review of the Greyson Furniture Family.
What's Next?
After reading this article, you should be full of inspiration for a furniture arrangement for your living room. Thanks to Mary Lee, you have five stylish and comfortable accent chair and sofa combinations to choose from!
Keep in mind that each piece of furniture suggested is completely customizable to suit your unique needs and preferences. With over 800 fabrics and leathers to choose from, it is popular to choose a patterned fabric to make your accent chair stand out. Alternatively, you may choose a chair and sofa in the same fabric to help them blend together.
If these recommendations do not interest you, not to worry because there is much more where that came from. By taking advantage of our complimentary interior design services, an interior designer at La-Z-Boy would be happy to give you a personalized recommendation based on your unique space, style, and comfort preferences.
To get started, visit us at a local Ottawa or Kingston location, or if you prefer to plan ahead, schedule a visit online.
Related Links:
Loveseat vs. Sofa: Cost, Function, and How to Choose
Best La-Z-Boy Chairs for your Nursery
Product Info Request
Please provide us with your name and email and we'll get back to you as soon as possible regarding this item.