Review of the La-Z-Boy Roxie Swivel Chair
December 31, 2021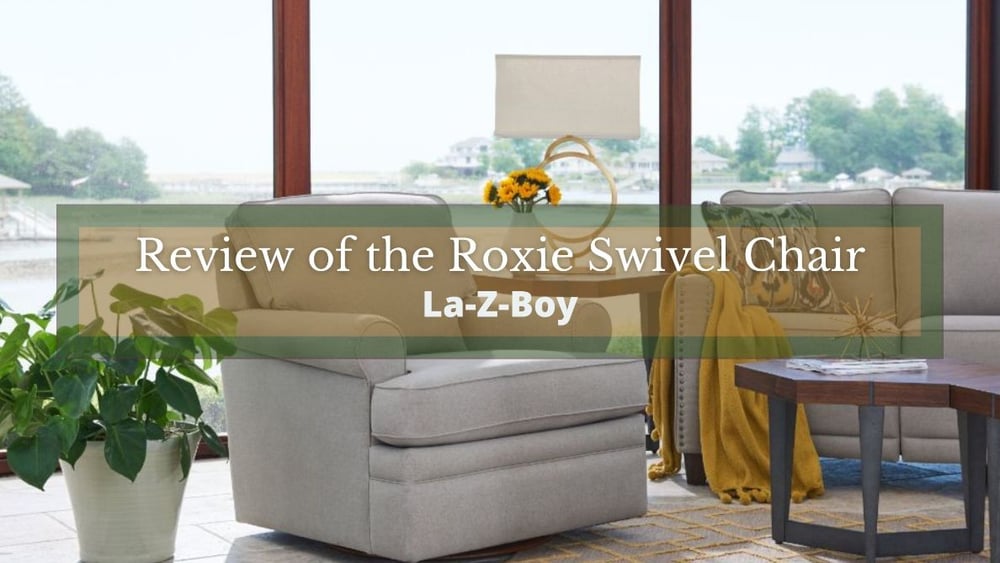 Are you looking for a versatile occasional chair with a spin on comfort?
Though she may look casual, the La-Z-Boy Roxie Swivel Chair works hard to compliment any decor. Alone or in a pair, the Roxie has a universal charm that works in any room.
Mary Lee Smyth, the interior designer at La-Z-Boy Kingston, loves the Roxie Chair and she is not alone! The Roxie is one of the 5 Best Selling Accent Chairs at La-Z-Boy Ottawa & Kingston. More specifically, the Roxie Chair is a great Accent Chair to Pair with your Sofa in a living room arrangement.
From a design perspective, Mary Lee says the Roxie can be used in so many different ways. "In leather, the Roxie can look like a sophisticated chair that belongs in an English pub. Or in a soft patterned fabric, the Roxie sits perfectly in a nursery", says Mary Lee.
The Roxie Chair offers endless design possibilities. Is the Roxie Swivel Chair right for your home design?
Read on for an in-depth review of the Roxie Swivel Chair to determine if this chair is the best choice for you.
In this article ...
Unique Features of the Roxie Swivel Chair
The Roxie Swivel Chair is a versatile chair that adds a stylish spin to any room, with a 360-degree swivel base to you at the center of attention. Rolled arms and a deep T-seat cushion, all with welt trim, gives Roxie definition and structure.
While the Roxie chair offers style, it also boasts in comfort. The padded outer arms and padded outer back invite a snuggle. Further, the Roxie features ComfortCore® cushions that provide optimum support for a long or short sit.
The Roxie Swivel Chair is also offered as a Swivel Glider Chair. This alternative base not only offers a 360-degree swivel, but also glides back and forth in a smooth motion.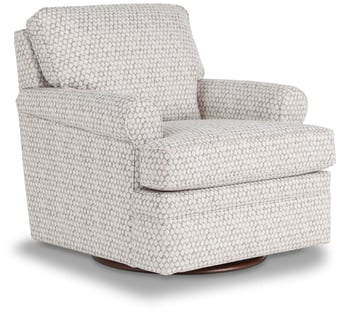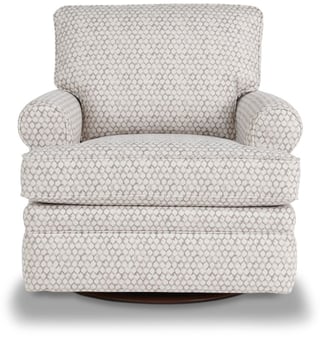 Sizes & Dimensions
The look of the Roxie can complement any home design, but it is also important that the size of the Roxie fits your space.
When it comes to size, Mary Lee says the Roxie has an average-sized frame. With a lower back, she adds that the Roxie looks great in front of a window without blocking the natural light.
While the Roxie fits comfortably in many spaces, it is still crucial to measure your room in order to ensure that you have enough space for it to fit comfortably.
Moreover, it is important to not only consider how the Roxie Chair will fit into your space but also how it will support your unique body type. Generally speaking, the dimensions of the Roxie Chair are best suited for individuals of an average to tall height, between 5'10" and 6'2".
For more information about selecting the correct fit, take a look at our article on Sofa Fit. This information in this article also applies to the fit of a stationary chair, like the Roxie.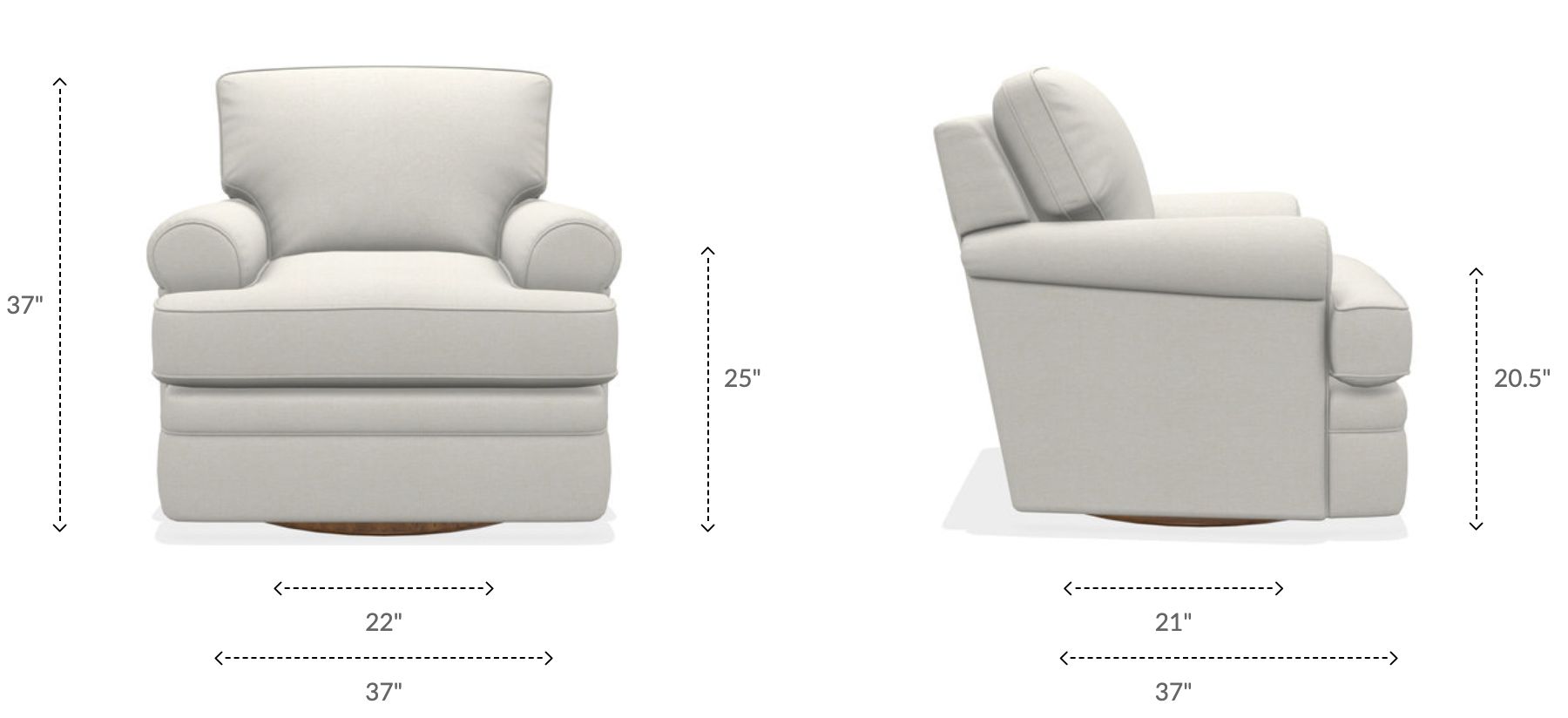 Body Depth: 37

Body Height: 37

Body Width: 37

Seat Depth: 21

Seat Height: 20.5

Seat Width: 22
Options & Upgrades
Everything at La-Z-Boy is customizable, including the Roxie Swivel Chair. You have the ability to make the Roxie uniquely yours with a variety of options and upgrades.
Upholstery/Cover Options
The upholstery cover you choose for your Roxie Chair greatly impacts its overall look and feel.
The Roxie Swivel Chair does not have a select fabric associated with it. Instead, the Roxie is offered in over 800 fabric and leather options.
Amongst this wide selection of fabric includes the following premium-grade specialty fabrics…
Stain Resistant
Innovative iClean technology surrounds each fabric fibre, creating a barrier that repels spills before turning into stains.
Tested and formulated to withstand the scratches and wear that a pet can cause, to ensure a durable and easily washable fabric.
Antimicrobial
Antimicrobial properties surround each fibre to protect against mould, mildew, and odour-causing bacteria.
Performance
Superior stain and fade-resistant properties make these fabrics easy to clean and incredibly durable.
Eco Friendly
Conserve Sustainable Fabrics are soft, durable, and made from recycled water bottles.
Seat Cushions
Raise the bar on comfort even higher by upgrading the ComfortCore® seat cushions of your Roxie Chair.
Upgrade to ComfortCore® Gel Cushions.
In addition to the standard ComfortCore® cushioning, this upgrade includes a casing made of 1.5" thick, 3.7 density Airform responsive foam that conforms to your every curve allowing muscles to relax and rejuvenate. Further, the Gel-infused 1″, 2.4 density memory foam distributes pressure and lessens the initial "firmness" of the Airform, and provides a soft but supportive foundation.
At an additional cost, firmer seat options are available, plus you can choose to upgrade both the seat and back cushions.
For more information please see our stationary furniture collection catalogue and our in-depth Review of La-Z-Boy's Chair and Sofa Seat Cushions.
Please note that furniture purchased prior to January 2021 had the option to upgrade to ComfortCore® GEL seat cushions. This cushion has seven layers of comfort technology that includes gel-infused memory foam that provides exceptional support as it conforms to your body.
Contrasting Welt
The shape of the Roxie is crisp and tailored. With contrasting welt trim, the Roxie looks even crisper, with added personality and decorative detail.
Finish
The base of the Roxie can be customized with an optional finish.
Standard Mahogany is the finish of the Roxie base. Instead, you can opt for a Coffee finish if you'd prefer.
With this being said, Mary notes that the base of the Roxie is mostly hidden by the perimeter of the chair. The base can only be seen from a distance.
Cost
The Roxie Swivel Chair falls within the mid-price range at La-Z-Boy.
The starting cost of the Roxie Swivel Chair and Roxie Swivel Gliding Chair are $1,669 and $1,639, respectively.
Keep in mind that these prices are subject to increase with customizations and upgrades. For up-to-date pricing, take a look at La-Z-Boy.com.
*All La-Z-Boy prices listed in this article are subject to change. We aim to update all cost-related articles twice per year. This article was last updated on March 10th, 2022 Please visit lzb.com and select an Ottawa or Kingston La-Z-Boy store location to view the most up-to-date pricing.
Warranty
The Roxie Swivel Chair is covered by a limited lifetime warranty at La-Z-Boy in order to ensure the protection and satisfaction of your investment.
The Limited Lifetime Warranty covers the repair or replacement of the frame, spring systems, and the mechanism, given that they are quality-crafted and built for long-lasting comfort.
While still quality-crafted, other aspects of the product, such as fabrics\ and cushions, are not meant to last a lifetime. These parts are still covered by the La-Z-Boy Manufacturer's Warranty for a given period of time.
To further protect your purchase, La-Z-Boy offers an extended warranty plan at an additional cost.
Customer Reviews
As a best-seller, the Roxie Swivel Chair is enjoyed by many La-Z-Boy clients and is highly acclaimed.
In fact, the Roxie Swivel Chair is rated 4.9 out of 5 stars.
A star rating can only tell you so much, find out what customers are saying about the Roxie Swivel Chair …




Is the Roxie Swivel Chair Right for You?
The Roxie Swivel Chair is a beautiful occasional chair, but is it the right chair for you?
Generally speaking, the Roxie is great for someone looking for an accent chair to add to a living room furniture arrangement, or to stand alone in a reading nook, bedroom, or nursery. In fact, Mary Lee says the Roxie can fit seamlessly into any room in the home.
More specifically, the swivel and gliding feature of the Roxie is great for new parents. The smooth motion is very soothing for parents and their newborn child, replicating the comforts of the womb.
As previously mentioned, the size of the Roxie Chair is most comfortable for those between the heights of 5'10" to 6'2". With that being said, the quality comfort of the ComfortCore® cushioning can offer a cozy seat for those of many sizes.
It is important to note that the Roxie does not have the ability to recline. In turn, someone who wants to kick their legs up and seeks reclining comfort may not find what they are looking for in the Roxie Chair. Instead, they may prefer one of our 5 Best Selling Recliner Chairs at La-Z-Boy Ottawa & Kingston or a Secret Recliner Chair.
Finally, the cost of the Roxie Swivel Chair falls within the mid-price range at La-Z-Boy. In turn, the Roxie is a good choice for someone who is prepared to make a significant investment in comfort that will last for years.
Alternatively, a client who is looking for temporary furniture on a small budget might find a better alternative amongst our Affordable Chair selection at La-Z-Boy.
What's Next?
If the Roxie Swivel Chair is what you are looking for, why not start shopping today?
Our expert consultants would be thrilled to ensure that the Roxie Swivel Chair is the right fit and exactly what you are looking for.
You may also consider taking advantage of our complimentary interior design services. Our talented designers can help you make fabric selections and customizations, seamlessly coordinating your Roxie Swivel Chair with your home decor.
If the Roxie isn't exactly what you are looking for, even more reason to keep browsing and learn more about what we have to offer at La-Z-Boy. To get started, take a look at some of our other best selling accent chairs:
Whether you are interested in the Roxie or something else entirely, visit us at a local Ottawa or Kingston location to find what you are looking for today. If you prefer to plan in advance, schedule an appointment online.
Related Links:
Best La-Z-Boy Chairs for Your Nursery
8 Practical Tips for Arranging your Living Room Furniture
Product Info Request
Please provide us with your name and email and we'll get back to you as soon as possible regarding this item.