Canadel vs. Ashley HomeStore: A Comparison of Dining Room Furniture Retailers
April 22, 2022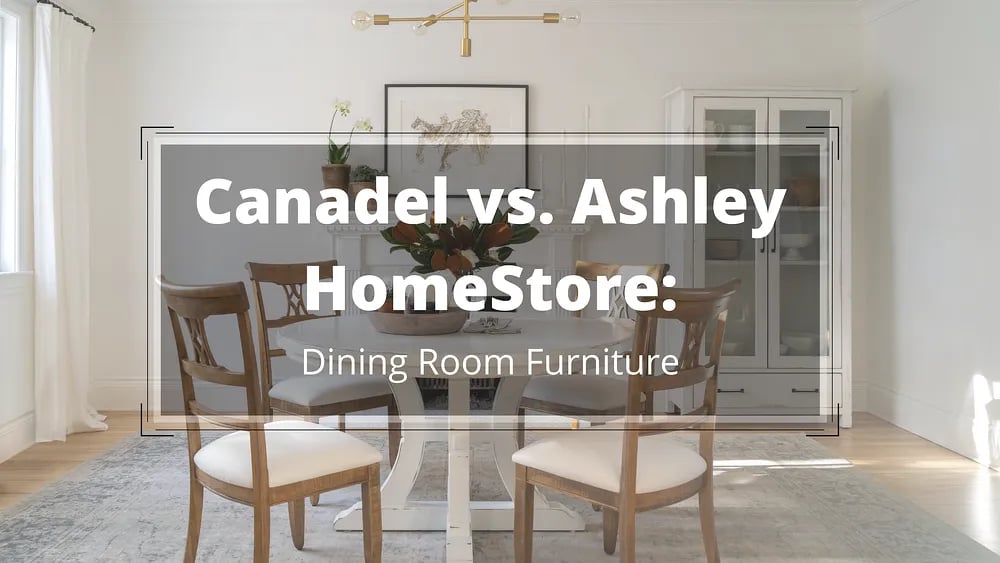 Est. Reading Time: 12 Mins
Dining rooms! The place where everyone comes together to share a delicious meal… or by a fast food restaurant because the host was too lazy to make something. No judgment!
Whether it is a homecooked meal or an eatery of your choice, everyone loves to gather at the dining room table. Some people like to show off their aesthetically pleasing dining room sets, making others think "Wow! Where can I get something like that?"
They might've bought their dining furniture at one of the two furniture stores that we'll be discussing today.
Ashley HomeStore, the all-rounded furniture store, and Canadel, experts on custom dining room furniture, have been around for quite some time now. Each retailer offers something special for anyone looking for dining room furniture specifically.
But, this begs the question, which dining room selection is the better choice for you? What are the key differences between Canadel and Ashley HomeStore's dining furniture selection?
This article will outline everything you need to know about both dining furniture retailers and compare them in order for you to determine which retailer is best for you!
In This Article…
Brief Descriptions of Each Retailer
Before we describe what each retailer provides regarding dining room furniture, let's take a look at each furniture retailer as a whole.
Canadel
Canadel is a Canadian furniture company that has been in business for over 30 years, specializing in making high-quality custom furniture.
Much like La-Z-Boy, Canadel prides itself on selling high-quality furniture.
In addition, they offer extensive customization options, made easier with the Canadel UDesign tool. This platform provides the online customer with over 9 million furniture combinations and options to choose from.
A fun fact about Canadel furniture is that it is part of our dining selection at La-Z-Boy Ottawa & Kingston, with a flagship Canadel showroom attached to the La-Z-Boy Kanata showroom.
Ashley HomeStore
Alternatively, Ashley HomeStore is a furniture retailer that specializes in a wide variety of furniture pieces all around the house. Unlike Canadel, where you can only purchase high-quality dining room furniture, Ashley sells anything from dining room sets to living room sofas, mattresses, accent chairs, dressers, bookcases, kids' furniture, and even outdoor furniture.
Ashley HomeStore has been around since 1997. Starting in Anchorage, Alaska, they have been selling all types of furniture for many to enjoy over the years. Not only do they sell to places in Canada, but they also sell to customers all around the world including the United States, Mexico, as well as some parts from Asia and the Middle East.
Dining Room Furniture Selection
Both Canadel and Ashley HomeStore carry a wide range of home furniture to choose from.
While Canadel focuses solely on dining room furniture, Ashley HomeStore sells a wide variety of home appliances and furniture for any room in your house. For the purposes of this comparison article, we will focus on Ashley HomeStores's dining room furniture selection.
Canadel Dining Room Furniture Selection
Canadel offers a variety of dining room furniture characterized by six main collections: Canadel Core, Downtown, Loft, Gourmet, East Side, and Champlain. Each collection offers its unique twist on traditional dining room sets, taking on stylish and eye-catching appearances.
Among these six collections, you will find a wide range of dining room tables, dining chairs, stools, benches, buffets, and kitchen islands.
All dining furniture offered at Canadel is customizable, which will be discussed further within the Customization section of this article.
Ashley HomeStore
Similarly, Ashley HomeStore has many different dining room furniture options to choose from.
On the website homepage, users can choose what they want to look at by selecting any category they wish. This includes options like dining room tables, chairs, barstools, benches, storage & cabinets, and even complete dining room sets.
There are also sub-sections of dining furniture such as "Small Spaces" and "Inspiration" that curate dining furniture for an intended purpose or style.
Further, Ashley's website has a "Dining Room Exclusives" page that shows all the furniture items that are currently on sale or popular purchases.
This is something that Canadel does not offer on their website, which seems to heavily focus on the customization options through the UDesign tool, and on showcasing each of their collections through their different web pages.
Key Similarities & Differences
While both furniture retailers offer dining furniture, there are some key similarities and differences to their selection.
Just by a glance, it seems as though Ashley HomeStore has more collection options than Canadel does, ranging from more than just 6 collections.
Given that Ashley has more dining collections, it may be assumed that Ashley has a larger selection of dining furniture in general. With that being said, Canadel's customization options, which will be discussed later in the article, drastically broaden Canadel's dining furniture selection beyond the base items.
When it comes to style, some collections from these retailers may look the same, but there are some that do have a unique design.
For example, Ashley's Vollardi collection is a HomeStore Special and offers a more contemporary and clean look to it, which is unique to Canadel's mostly rustic and wooden furniture.
Ashley also seems to display a lot of rustic-looking furniture as well, with some pieces looking like they can be included in Canadel's East Side or Champlain collections.
Where it is Made
It is important to find out where each retailer gets their furniture from. Luckily, we can tell you where both Canadel and Ashley HomeStore's furniture is made.
Canadel
Canadel's products are all built to order at its 6 production plants located in Louiseville, Quebec. Each production plant, excluding the fifth plant, specializes in finished goods made under the Canadel brand.
In addition to the 6 production plants, Canadel also has two wood transformation plants in St. George de Beauce, Quebec.
Ashley HomeStore
Ashley HomeStore's main headquarters is located in Arcadia, Wisconsin. There, Ashley produces home furnishings, including upholstery living room, bedroom, dining, and accents, as mentioned above. They manufacture and distribute home furniture products throughout the world.
Further, Ashley's largest plant is located in China. They have smaller plants within North America as well as other international manufacturing locations.
Customization Options
Custom dining room furniture is becoming a bigger demand for customers looking for unique furniture pieces to go into their homes. When it comes to customization options, there is a lot to discuss between both Canadel and Ashley HomeStore.
Canadel Customization Options
One thing that Canadel prides itself on is its vast choice of customization options, thanks to the UDesign tool. UDesign is a Canadel specific application that allows the user to make customizations to the furniture without the need of an interior designer present.
Customers have a seemingly infinite amount of customization options to choose from, including the size, shape, and height of a furniture piece, adding extensions to dining tables, choosing the back and arms for a chair, and much more!
There is also a Signature Program, which allows customers to incorporate more specific customization requests through an online form, should they not be satisfied with the customization options included in UDesign.
You can also mix and match customization options from different furniture collections into one dining set, which is something the UDesign tool cannot do. Be warned, however, because the request can be denied at any time, if manufacturers cannot complete the order or if the request is not possible to do.
There is also a longer delivery time for furniture pieces made with the Signature program (6-10 weeks).
Canadel's collections all vary in different customization options, which you can learn way more about in our article Everything You Need to Know About Canadel Custom Dining Options.
Ashley HomeStore Customization Options
Unfortunately, Ashley HomeStore does not offer any customization options. Should you want any custom dining room options, Canadel seems to be the only option when comparing the two retailers.
Interior Design Services
Whether the dining furniture is customizable or not, interior design services can be helpful in ensuring the style of dining room furniture fits seamlessly into the design of your home.
Canadel Interior Design Services
Canadel does not offer any interior design services independently from La-Z-Boy locations.
With that being said, given that La-Z-Boy does sell dining room furniture from Canadel, La-Z-Boy interior designers do have general knowledge of Canadel furniture. In turn, they can provide interior design services to customers who are looking for custom dining room furniture from Canadel.
Ashley HomeStore Interior Design Services
Similarly, Ashley also does not offer any professional interior design services. However, customers who have any questions at home about any home furnishing inquiries are able to contact Ashley's designers through text message.
Text messages to interior designers are available at all times and responses usually take no longer than 24 hours to get back to people. All you have to do is text "design" to 274539 (ASHLEY) to ask any burning question you may have in any room of your house.
Cost
Canadel and Ashley HomeStore vary greatly, in terms of cost.
Canadel specializes in custom dining while the Ashley HomeStore takes a more generalized approach to dining room furniture. This factor, along with the quality of materials and craftsmanship, impacts the overall cost of their products.
Here is where each retailer stands in their cost.
Canadel Cost
Generally speaking, dining furniture at Canadel falls within the mid to high price range on the market.
The cost of Canadel furniture can be attributed to a couple of factors: the quality of materials, level of craftsmanship, and customizability.
Canadel does not list its prices online. Instead, all prices are given to the customer after the customizations are finished.
Custom dining room furniture does not usually include a price because the cost is dependent on the complexity of labour and the materials used. Once the retailer knows what materials are used in the furniture pieces, then Canadel will provide a price quote.
Ashley HomeStore Cost
In contrast, dining furniture at Ashley HomeStore falls within the low-mid price range on the market.
Unlike Canadel, Ashley HomeStore does include their prices online, since custom dining room furniture is not their specialty.
Further, given that Ashley has a more generalized look to their dining room furniture, their furniture products are less expensive than Canadel's custom dining room furniture.
Though Ashley's dining room furniture products are cheaper than Canadel's options, it, unfortunately, means that these pieces may not last as long as the high-quality furniture products from their counterpart. This is something that is important to keep in mind when purchasing less expensive furniture options.
Cost Breakdown: Canadel vs. Ashley HomeStore
Below is a cost breakdown of both Canadel and Ashley HomeStore dining room furniture.
Keep in mind that prices for dining room tables, seats and storage units at Ashley HomeStore are varied by collection but usually fall under the same umbrella.
| | | |
| --- | --- | --- |
| | Ashley HomeStore | Canadel Custom Dining |
| Dining Table | $200 - $1,700 | $1,139 - $4,029 + |
| Dining Chair | $130 - $600 + | $499 - $1,029 + |
| Dining Stool | $80 - $500 + | $499 - $1,379 + |
| Dining Bench | $170 - $1050 + | $299 - $1,249 + |
| Buffet/Storage Unit | $1,650 - $4,300 + | $2,369 - $6,819 + |
*All Canadel prices mentioned in this article are subject to change depending on customizations and general increases. We aim to update all cost-related articles twice per year. This article was last updated in May, 2023. Please contact a design consultant at La-Z-Boy Ottawa or Kingston for an accurate and up-to-date quote for the product(s) you are interested in.
Warranty
Whether you shop at Canadel or Ashley HomeStore, it is no doubt that dining room furniture is an investment. Both furniture retailers offer a warranty with the sale of their products in order to help protect your investment.
Canadel warranty
All Collections at Canadel are covered by Canadel's 1-year warranty, which covers the repair or replacement of chair frames, tabletops, fabric tearings, or any unforeseen circumstances.
Given that each piece of furniture is quality-crafted and built to last, Canadel also offers an extended 5-year warranty plan at an additional cost.
This not only goes to further protect your purchase, but it is also transferable when you purchase new Canadel Furniture if you are looking to replace old additions.
Ashley HomeStore
As for Ashley HomeStore, their warranties work similarly to Canadel's. Some may last longer than a year, but warranties, such as the basic manufacturer's warranty, last about a year on average. These manufacturer warranties are of course all dependent on which supplier is manufacturing these furniture pieces.
These manufacturer's warranties cover any basic damages and defects that may occur upon receiving your Ashley HomeStore furniture, all the way to however long the warranty lasts.
Similar to Canadel, Ashley HomeStore also offers an additional Product Protection Plan that protects the furniture beyond the scope of the manufacturer's warranty. More specifically, the product protection plan covers any unforeseen accident or circumstances that may occur within a 5-year time frame.
At an additional cost, this protection plan covers any defects within the construction or manufacturing of the product, any leather or wood cracking, peeling or lifting, and in-home spot removal services for any accidental staining.
If customers don't end up using their Product Protection Plan, customers have the option to put this purchase towards Ashley's Peace of Mind Promise Certificate. This allows the customer to use their protection plan on any other furniture product they choose.
This way, customers won't have to worry about spending any additional money on a brand new protection plan, which they still may or may not use. One Peace of Mind certificate can be given to a customer per every $1000 purchase.
There are limitations to this certificate, however, meaning some products at Ashley HomeStore, like appliances cannot be used under the Peace of Mind plan. The certificate is also valid for 180 days after the initial Product Protection Plan expires.
Delivery
Canadel and Ashley both have different delivery services available for an additional cost. To learn more about these delivery fees, contact either retailer.
Canadel Delivery
In terms of delivery, Canadel actually has a faster delivery time than any other dining room store that does custom dining furniture.
Usually, custom furniture takes about 6-10 weeks to get delivered to someone's place. However, Canadel averages about a 4-6 week delivery time, making them faster than their other competitors.
This delivery time does not include furniture made with the Signature program, however, which adds an additional 6-10 weeks to the delivery time.
When it comes to delivery, Canadel has the same delivery fees as La-Z-Boy. There is a $129.99 delivery fee for local locations and $169.99 for any out-of-town locations. The delivery includes set up, assembly, arranging, and the disposal of old furniture at an additional cost.
For an additional fee of $25 per furniture piece, we can assist with either moving out old furniture from different rooms or bringing it to the curb. We offer the option to dispose of any old furniture in a local landfill at an extra charge of $50 / per furniture seat.

To learn more about delivery at La-Z-Boy, check out our delivery service page: La-Z-Boy Ottawa and Kingston Furniture Delivery Service.
Ashley HomeStore Delivery
In comparison to Canadel, delivery lead times at Ashley HomeStore vary among dining room products. Sometimes a certain product like a dining room table or chair may take as little as 2-4 weeks to get delivered to a customer's home.
However, if certain pieces are no longer in stock, some deliveries can take up to 14 weeks, which is a much bigger time jump.
Ashley offers free contactless delivery to your door, on in-stock products over $250, as well as a $99 fee for out-of-town deliveries.
Currently, the delivery team will not enter a client's home and, instead, leave your furniture outside your house. If you live in an apartment, you can arrange for them to leave it in the lobby. It's up to the client to bring the furniture inside, unpack and assemble the new items themselves.
Where to Buy (Ottawa & Kingston)
Canadel and Ashley HomeStore have many different locations across Ottawa & Kingston, which you can take a look at using the list below.
You will notice that Canadel has other locations listed below as well, due to partnerships with other retailers, aside from La-Z-Boy Ottawa & Kingston. With that, keep in mind that you can purchase Canadel dining furniture at any La-Z-Boy Ottawa or Kingston location.
Canadel Locations
Ashley HomeStore Locations
2776 Princess St, Kingston

530 W Hunt Club Rd, Ottawa
What's Next?
After reading this article, you can see that there are a lot of pros and cons between each company. Now, the tables turn to you on which dining room furniture you think is best for your home.
Now that you know the key differences between Canadel Custom Dining and Ashley HomeStore, why not go out and take a look at these wonderful pieces of furniture yourself?
Both retailers have many different furniture options to choose from, not just in dining room furniture, but all kinds of furniture!
Visit one of our La-Z Boy Ottawa & Kingston stores today or the Canadel Kanata showroom. You can also schedule a visit online before coming in.
La-Z-Boy offers not just Canadel dining furniture in showrooms, but also has dining furniture options from American Drew, Kincaid and Hammary are available for anyone to see.
If you would also like to learn more about Canadel's UDesign tool, check out this helpful tutorial.
Our design consultants are always eager to lend a helping hand. Take advantage of our complimentary interior design services to see how your dining room furniture could fit in your home.
Related Articles:
La-Z-Boy vs. Ashley HomeStore: Living Room Furniture
Product Info Request
Please provide us with your name and email and we'll get back to you as soon as possible regarding this item.