Top 5 Coffee Tables with Storage at La-Z-Boy
May 23, 2022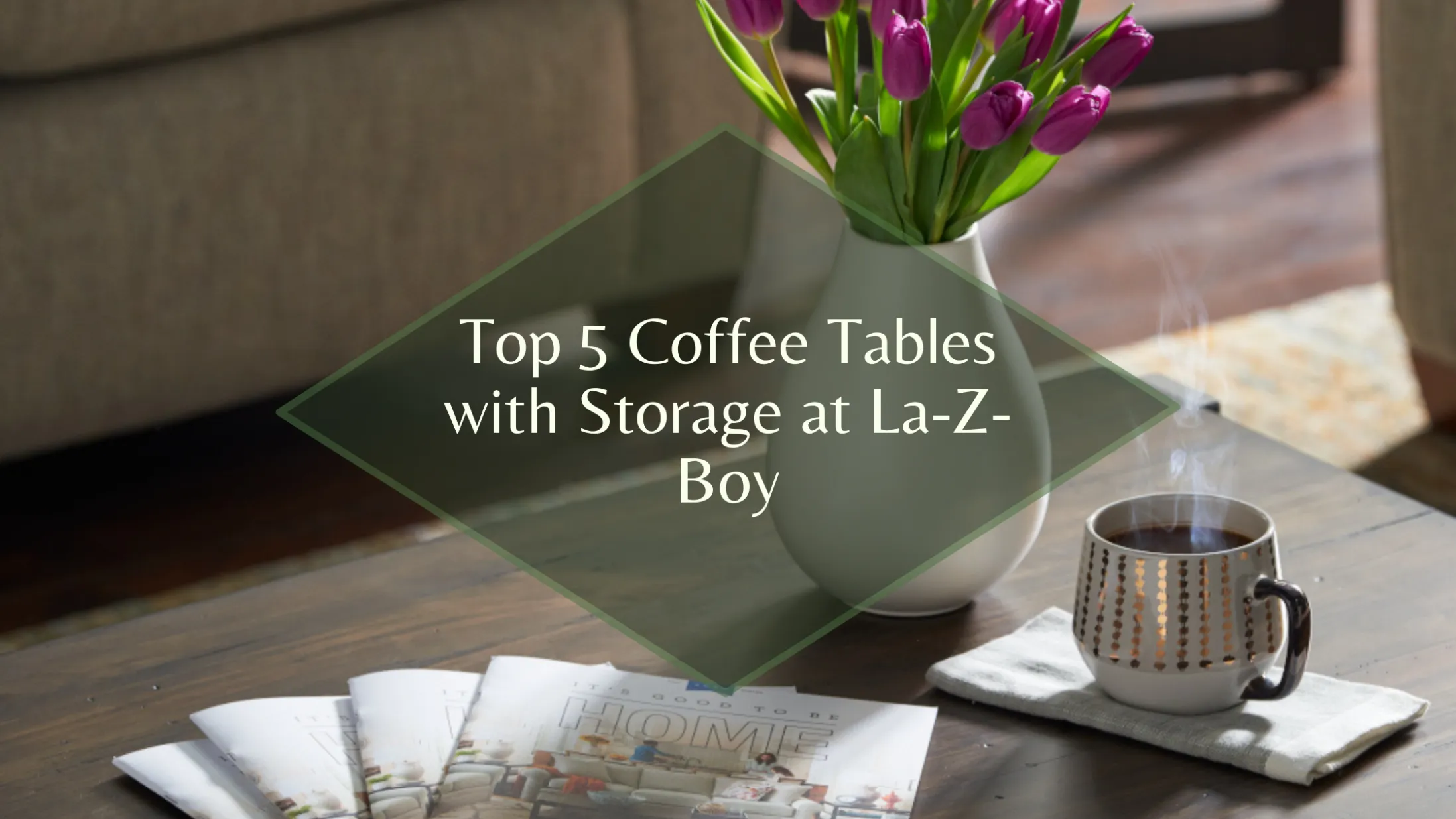 Est. Reading Tables: 4 Mins
When you think of La-Z-Boy, what is the first thing that comes to mind? Well, most people would say recliners. We are the inventor of the recliner chair after all.
But La-Z-Boy sells much more than just reclining furniture. Along with our stationary sofas, chairs, and sectionals, we sell all kinds of dining room pieces, home decor bedroom furniture, and occasional furniture.
More specifically, La-Z-Boy offers a range of coffee tables through the company's sub-divisions: Kincaid, American Drew, and Hammary.
But you might be wondering, do some of these coffee tables offer storage space?
You came to the right place! La-Z-Boy does in fact offer multiple coffee tables with storage. To help narrow down your selection, we have put together a list of the 5 best-selling coffee tables with storage at La-Z-Boy.
This article will cover each coffee table's unique features, as well as the dimensions, and the ideal people these pieces might suit best, in order to determine if any of these are right for you.
Further, Mary Lee Smyth, an interior designer at La-Z-Boy Kingston, will offer her professional opinion on each piece, making your choice even easier.
In This Article…
1. Annas Coffee Table
The first coffee table on this list is the Annas Coffee table, featured in the Mill House series by Kincaid.
Kincaid's furniture pieces have more of a traditional and classic style to their designs, according to Mary Lee, and Annas does not deviate from this theme.
This nice and big square coffee table has a stained look to it and has two drawers on one side, with an opening space on the other side.
Annas also has a rustic look to it, meaning anyone who loves a farmhouse or hand-me-down aesthetic would love this coffee table in their home.
2. Milling Chest Coffee Table
Part of the Hidden Treasures series of furniture by Hammary, the Milling chest coffee table has a more loft/industrial aesthetic to it.
With its exposed dovetail corners, Milling Chest features heavy black metal legs and a metal frame around the bottom of the furniture piece. This means that this coffee table is really sturdy and can easily seat someone, should anyone need to.
The inside bottom is also cedar lined, meaning should you want to store blankets in this coffee table, it would keep the blankets nice a fresh.
This coffee table is 52" in length 18" in height and 19" in width, meaning it is a bigger coffee table than others on this list. It also means that there is more storage space than other coffee tables on this list. So it can be beneficial if you need lots of storage space.
3. Palmer Coffee Table
Under the Creston collection over at Hammary, this big cubic coffee table holds a more contemporary look to its design.
It has a very simple design, compared to other products made by Hammary, and has an inlay top.
This coffee table is also 38"x38" and 18" in height, which is the standard measurement for a coffee table, according to Mary Lee.
In Mary Lee's words, Hammary tends to be more "artsy-fartsy with its designs, but runs cheaper than American Drew or Kincaid." This means that if you're looking for a design that's more out-of-the-box, the Palmer coffee table, or something similar, might be right for you.
4. Truck Coffee Table
From the Lyle Creek-Hamilton collection at Hammary, this coffee table is rectangular and has a darker colour on the body with a lighter top. These colours are called smoked charcoal and toasted caramel.
According to Mary Lee, a coffee table with a lighter top works well if you are someone who likes to watch movies in your living room.
When it comes to light tops in dim-lit areas, you're actually able to see easily where to rest your beverage or food item. Sometimes people tend to misjudge or not know where the table edges are, causing people to bump and hurt themselves accidentally.
This coffee table also comes with optional casters for better mobility.
5. Southbury Cocktail Table
Lastly, this rectangular cocktail table from the Southbury collection at American Drew is a very practical coffee table.
Cocktail tables have the same use as coffee tables, just with a different name. Southbury's rectangular cocktail table features a parchment finish with a dark top, bringing out a distressed yet elegant look.
This table, in particular, works well with silver or grey colours, according to Mary Lee.
She also mentions that the drawers included are soft-closing, meaning they do not make a lot of noise when they close.
Coffee Table Alternative at La-Z-Boy
Mary Lee notes that there is an upward trend in designing ottomans that double as coffee tables.
If you are looking for something that has comfortable seating, somewhere you can store your belongings in, and somewhere to put your snacks and drinks on while relaxing in your living room, La-Z-Boy ottomans are perfect for all three of these uses.
Mary Lee specifically points out the Cory Ottoman as a great example. The La-Z-Boy Cory Ottoman doubles as a seat, footrest, storage space, or coffee table.
The Cory is 45" in length and 20" in height, meaning it is bigger than other items listed in this article. Because of this, you are able to seat more than one person on this comfortable seat, if you really wanted to.
The Cory Ottoman, as with any La-Z-Boy ottoman, has the potential to match any La-Z-Boy upholstery furniture or can have an independent accent cover, if you so choose.
If you are interested in La-Z-Boy ottomans and would like to learn more, check out our article on the Top 5 Best Selling Ottomans at La-Z-Boy.
Shopping for Coffee Tables at La-Z-Boy
When going into a La-Z-Boy showroom, you might notice that there aren't any coffee tables displayed anywhere. If you saw something online and are wondering where to find it, any design consultant will be able to help you.
Design consultants have access to Hammary, Kincaid and American Drew catalogues and also provide in-depth detail about each product and answer your burning questions.
Design consultants can order anything from the aforementioned catalogues, so if you see something that entices you, do not hesitate to ask them for it.
What's Next?
Now that you know more about the best-selling coffee tables with storage at La-Z-Boy, why not come in and check them out for yourself?
La-Z-Boy has many more occasional living room furniture options to choose from, thanks to American Drew, Hammary, and Kincaid. If you want to know more about these three brands, make sure to check out their review articles.
Visit one of our La-Z Boy Ottawa & Kingston stores today or schedule a visit online before coming in.
Our design consultants are always eager to lend a helping hand. Take advantage of our complimentary interior design services to see how your desired coffee table can fit with your living room design.
Related Articles:
Best Furniture Stores for Coffee Tables in Ottawa
How to Choose the Right Size & Shape Coffee Table for Your Living Space
Product Info Request
Please provide us with your name and email and we'll get back to you as soon as possible regarding this item.