The Cost of Dining Room Chairs: Factors that Affect Cost & Deciding How Much to Spend
March 15, 2021
The dining room is an important room in any home. This is where we gather with our friends and family to enjoy meals, special occasions, and milestones together. With this, the dining room furniture that you select for this room should be just as special as the memories made in it!
La-Z-Boy has been selling quality and stylish case goods since the year 2000. This includes dining room furniture from the Hammary, Kincaid, and American Drew collections. Further, La-Z-Boy Ottawa & Kingston are associated with the Canadel Custom Dining store in Ottawa.
When shopping for dining furniture at La-Z-Boy Ottawa and Kingston or the Canadel Custom Dining store, people often want to know how much will dining chairs cost?
When we think of furnishing a dining room, we initially think of the dining room table; this is the centerpiece of a dining room, after all. But what is often overlooked, and subsequently left out of the budget, are the dining room chairs.
As you might imagine, this is a difficult question to answer. Given the range of quality and options available, there is a corresponding range in dining chair prices. Not to mention, many dining room chairs are sold as apart of a set in which the cost of each chair is rolled in with the cost of the table.
At Canadel, you have the ability to mix and match from a selection of tables, chairs, and benches, essentially building your own dining set based on your personal preferences and customizations.
Whether you intend to buy dining room furniture as a set or individually, it may be helpful to know how much you should expect to spend on an individual dining room chair.
This article will give you a better understanding of the factors that affect the cost of dining chairs and provide you with cost averages in multiple different price categories. Further, you'll acquire some tips on how to decide how much you should spend on dining chairs.
Although this article will be focused on the individual cost of a dining room chair, you may also be interested in learning about The Cost of a Dining Room Table as you create your overall budget.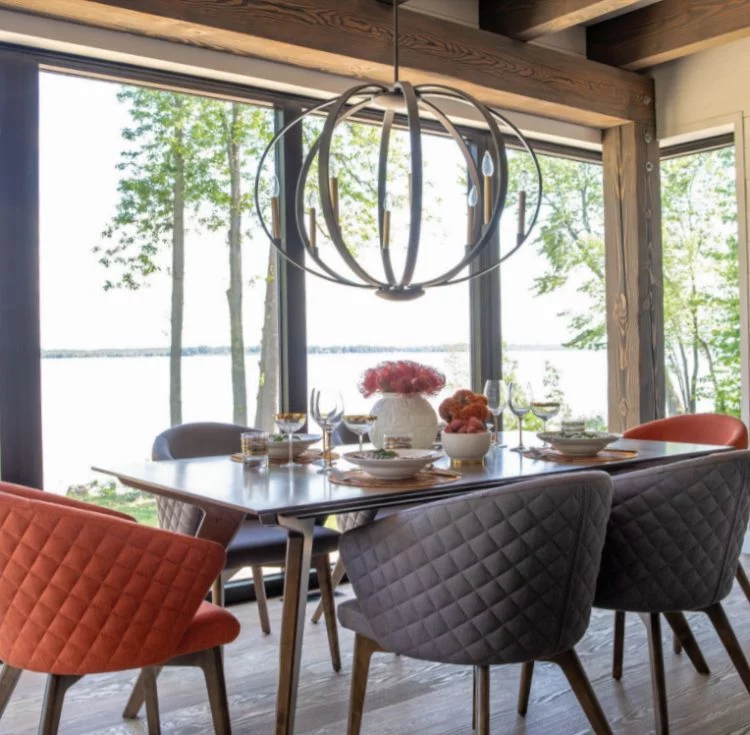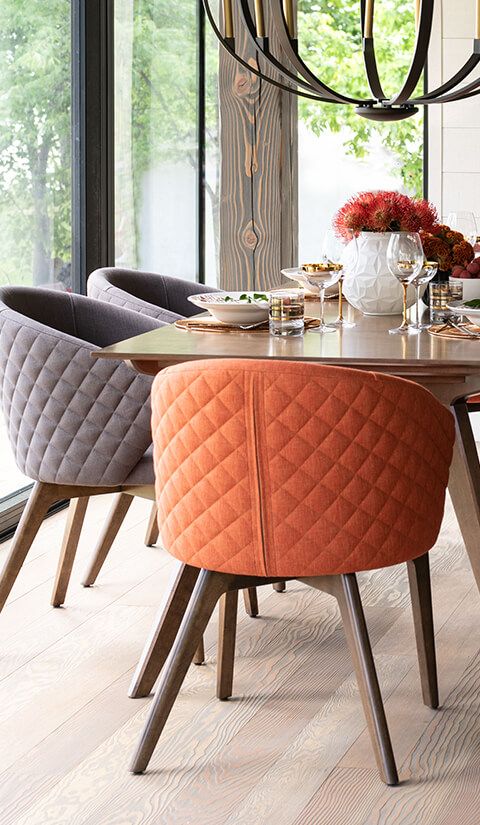 What Are You Paying for? Factors that Affect Cost …
Before diving into the numbers of it all, it is important to understand the factors that affect the final price tag of any given dining chair.
Whether you are on a budget or have decided to splurge, you want to know what it is that you are paying for and if it is worth investing your money.
Overall, the cost of a dining chair is determined by 3 main factors:
Quality

Materials

Size, Style & Design
Quality
The quality of a dining chair is an obvious indicator of cost. The quality is based on where and how it was made.
When considering the "where" of it all, this refers to whether or not the chair was made in a local shop or an overseas factory. A dining chair handmade by a local craftsman is typical of higher-quality than a chair made in a factory in China.
Further, a dining chair made overseas is likely manufactured and mass-produced, requiring minimal time and labour to be made.
In contrast, a one-of-a-kind dining chair made by a local artisan requires more time, labour, and care for detail. This enhances the quality of the chair and is reflected in a higher cost.
There are also certain manufacturing methods that contribute to the quality of a dining chair. Many of these methods can be detected just by examining a chair.
First, a high-quality chair is structurally sound, meaning that it should not wiggle when you sit in it. It is also a good idea to run your hand over the surface of the chair. A high-quality chair should be smooth to the touch with no splintering or snags.
Another good way to assess the quality of a chair is by looking at the back leg and back of the chair. If the long back leg extends into the back-rest of the chair, as in made from one piece of wood, this is a clear indicator of quality.
A lower-quality chair will have back legs and a back-rest made up of multiple pieces glued together.
If the dining chair's back slats and dowels are glued, fitted, or run through a crimper, this indicates quality and higher-cost given that this method requires extensive hand assembly.
Similarly, a dining chair with a curved back is high-quality and more costly. A curved back can require over a week of work as the manufacturer must steam, bend, coil, and repeat until the back meets its desired shape. This labour is ultimately reflected in the cost.
Type of Wood or Materials
Additionally, the cost of a dining chair is determined by the quality and cost of the materials used to make it.
The most common materials used to make dining chairs are wood, rattan, plastic, and metal.
Wood is the most common material used in the making of dining tables. This premium material is the most expensive.
Hardwoods, such as oak, cherry, and walnut, generally cost more because they are more durable. Alternatively, softwoods, such as pine and acacia, cost less because they are of lower density and weaker.
Both Rattan and Metal are typically cheaper than wooden dining chairs. Rattan is a material used to make dining chairs that give off a bohemian or palm-based look. This material is lightweight, yet surprisingly durable. Metal dining room chairs are great for giving off an industrial feel.
Plastic is generally the most low-quality and inexpensive material used to make dining chairs. Although these chairs may not last long, they are great for children as plastic is resilient against spills.
Finally, some dining chairs are cushioned and upholstered. The use of these materials enhances the quality and increases the cost of the chair. Depending on the quality of the cushion and fabric, upholstered dining chairs can prove to be quite expensive.
Size, Style & Design
The size, style, and design are other indicators of the cost of a dining chair. These factors impact the quantity and quality of materials used and affect the amount of labour required to make the chair.
For example, a large and sturdy dining chair with a cushioned seat, patterned upholstery, and armrests, is likely high-quality and more expensive. Other style elements, such as leg design and wood finish, can play a part in the final cost.
In comparison, a simple and small plastic dining chair with minimal style elements is likely very inexpensive.
Cost of a Dining Room Chair: $20 – $2,000 & Up
Dining room chairs are sold at a wide range of prices. Depending on the factors described above, a dining chair can cost anywhere from $20 to $2,000 and more.
The amount that you choose to spend on a dining room chair is a personal choice that ultimately comes down to your budget, lifestyle, and style preferences.
Below are three distinct dining chair price ranges and the quality that you can expect from each range.
On a Budget: $20 – $300
There are a variety of different dining chairs that you can find between the price of $20 to $300.
Dining chairs in this price range are typically lower quality. When it comes to style, chairs in this price range are very simple and minimalist.
On the lower end of the spectrum, you may find either used dining chairs or dining chairs made from inexpensive materials that you will likely have to assemble yourself.
Upwards of $100, you are likely to find basic dining chairs made of softwoods, plastic, rattan, or metal.
Chairs in this price range may be a great option if you intend on replacing the chairs within a few years. They may also be a great choice if you expect damage from children or pets.
Where to Shop On a Budget in Ottawa:
Mid-Range: $300 – $600
Chairs within this price range are generally good-quality, sturdy, and made of solid hardwoods. They are more stylish and up-to-date with current home décor trends. This may include cushions and upholstery.
Although dining chairs in this price range are well-crafted and of good quality, they may require some repair, restoration, or reupholstery depending on how long you intend on keeping them.
Where to Shop Mid-Range in Ottawa:
High-End: $600 – $2,000 & Up
Dining chairs above $600 start to be considered high-end. These chairs are made up of the utmost quality and finest materials.
Dining chairs in this price bracket are considered 'designer', made with solid woods, often upholstered, and extremely stylish. Further, dining chairs in this price range may be customizable in design in order to match your current home decor.
Chairs upwards of $1,000 are typically hand-made and locally crafted. If you decide to invest in high-end dining chairs, they will likely last you through generations.
Where to Shop High-End in Ottawa:
The New Oak Tree

The Emporium

The Upper Room
Deciding How Much to Spend …
You now have the information you need when it comes to the cost of dining room chairs and what factors affect these costs.
How much you decide to spend is entirely up to you. With such a wide range of costs, it can be challenging to determine your budget.
When deciding how much to spend, ask yourself a few questions …
How will you be using this chair? Who will be using this chair? How long do you intend to use this chair?

How many chairs will you need?

What room will this chair go in? Will the chair go in a formal dining room used twice a year? Or will it be used more casually for everyday dinners?

Are you buying chairs for an existing table? Will the chairs need to match the existing décor? Will the chairs need to be tailored/customized to coordinate with your table and interior decorating?

What will be comfortable to sit in for extended periods of time?
By answering these questions, you will get a better idea of whether your new dining room chairs are something worth investing in or not.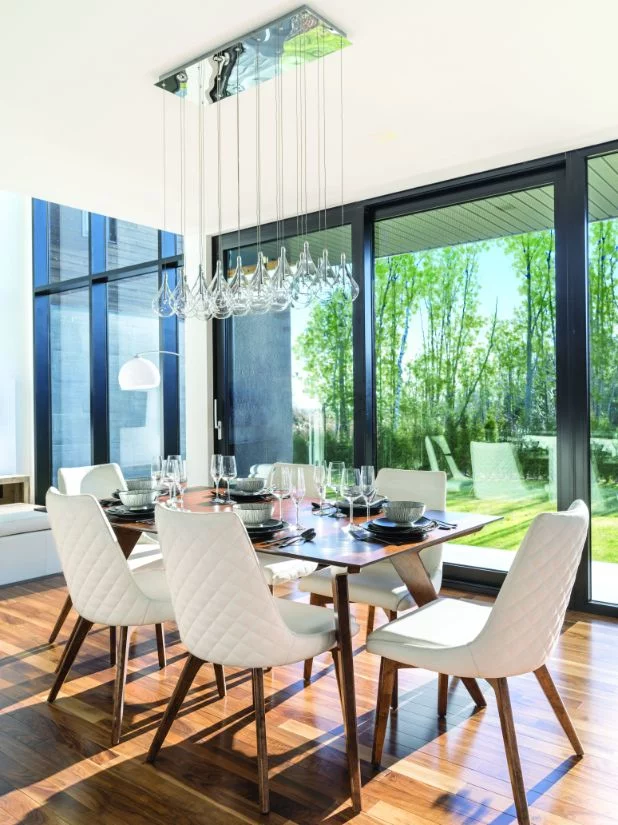 Dining Chairs at La-Z-Boy
La-Z-Boy Ottawa & Kingston offers a range of dining room furniture from other manufacturers.
American Drew, Kincaid, and Hammary are sub-divisions of La-Z-Boy incorporated offering high-quality, unique case-good products for a complete home furnishings selection. This includes a wide selection of stylish, heirloom-quality dining furniture.
Dining chairs at La-Z-Boy range from about $550 to $1,500 per chair or more.
*All La-Z-Boy prices listed in this article are subject to change. We aim to update all cost-related articles twice per year. This article was last updated on March 22, 2022. Please visit lzb.com and select an Ottawa or Kingston La-Z-Boy store location to view the most up-to-date pricing.
Dining Room Chairs at Canadel
Moreover, La-Z-Boy Ottawa & Kingston works closely with Canadel Custom Dining with a showroom located in Kanata, attached to our Kanata La-Z-Boy showroom.
Established in 1982, Canadel is a family-owned company based out of Quebec, Canada. Canadel specializes in high-quality, hand-crafted, and customizable dining room furniture manufactured in North America.
Canadel offers dining room chairs in a variety of stylish collections including Core, Champlain, Loft, Downtown, Gourmet, and East Side.
With these options in mind, Canadel offers sizes, styles, and options at a variety of price points.
Canadel dining room chairs range from about $350 to $1,000, or more. The final price of any given Canadel dining chair is dependent on incremental costs due to customizations.
*All Canadel prices mentioned in this article are subject to change depending on customizations and general increases. We aim to update all cost-related articles twice per year. This article was last updated on March 22, 2022. Please contact a design consultant at La-Z-Boy Ottawa or Kingston for an accurate and up-to-date quote of the product(s) you are interested in.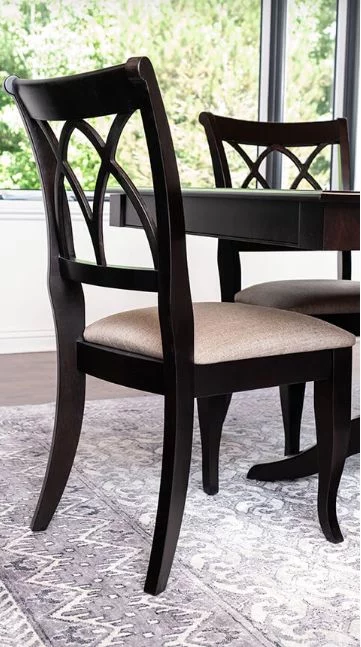 On the other end of the spectrum, the dining chairs from the Canadel Core collection are considered the most expensive option at Canadel.
According to Michelle MacLellan, a design expert at La-Z-Boy Kanata & Canadel Ottawa, the difference between the entry-level chairs and the core program at Canadel is the luxurious fabrics available, nail head options, and customizable legs and arms.
Moreover, some of the higher-end chairs in the Downtown collection have a curved back with a slight flex to them. As previously mentioned in this article, dining chairs with a curved back require extra labour and tend to be more expensive.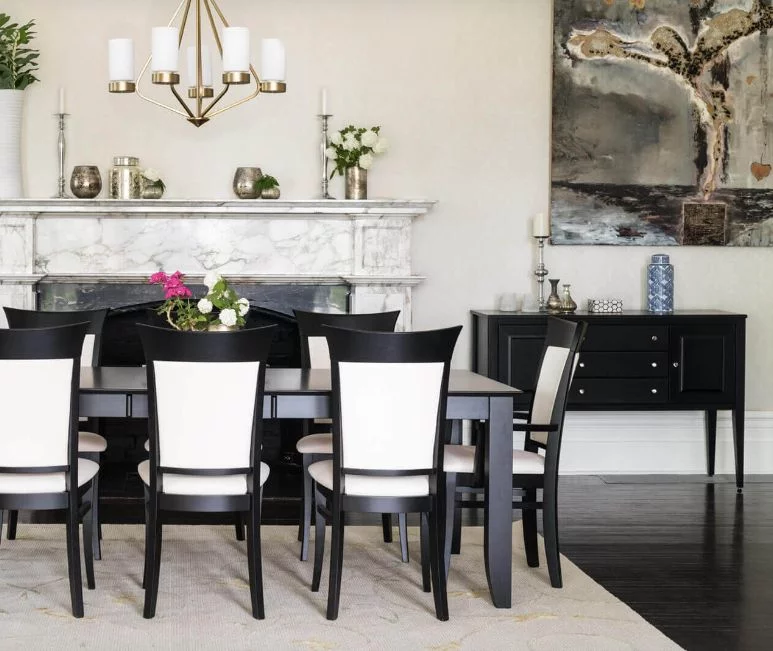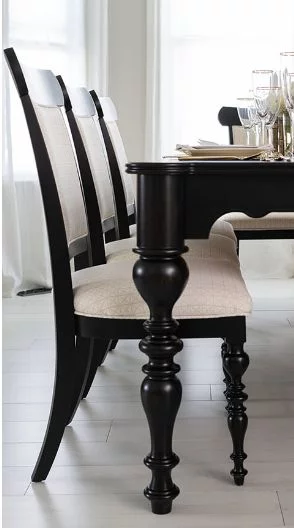 With so many customizations available, the Canadel U Design Program allows clients to envision how each chair will look in different colours, fabrics, and stains. You can also use this program to request of a preview of your chosen chairs with any given dining room table or bench.
Michelle that benches are very popular in substitution of chairs around a dining room table. Replacing dining chairs with a bench on one side of the table can be a less expensive option if you are trying to save money.
To learn more about the Canadel dining collections, check out the 2021 Review of the Canadel Collection.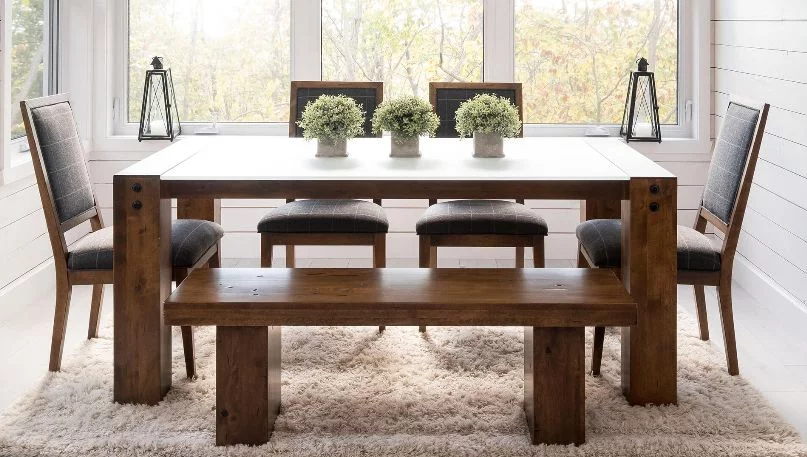 What's Next?
You now know what to expect when it comes to the cost of dining room chairs!
Although the dining room table is the main attraction, you won't forget to factor the cost of dining room chairs into your overall dining room budget.
If you are interested in purchasing some new dining chairs, why not start shopping now.
As you determine your budget for dining room chairs, be sure to consider the overall Cost to Furnish a Dining Room. Along with dining room chairs, we offer a wide range of dining room furniture, including dining tables and sideboards, at Canadel. and La-Z-Boy.
Visit us at the local Canadel showroom in Kanata. You can also find us at any local Ottawa or Kingston La-Z-Boy location. If you prefer to plan ahead, schedule a visit.
If you require more help designing your dining room, La-Z-Boy offers complimentary design services. We are also pleased to offer virtual consultations to allow you a shopping experience from the comfort of your home.
We look forward to finding you the perfect dining room chairs to frame your dining room table!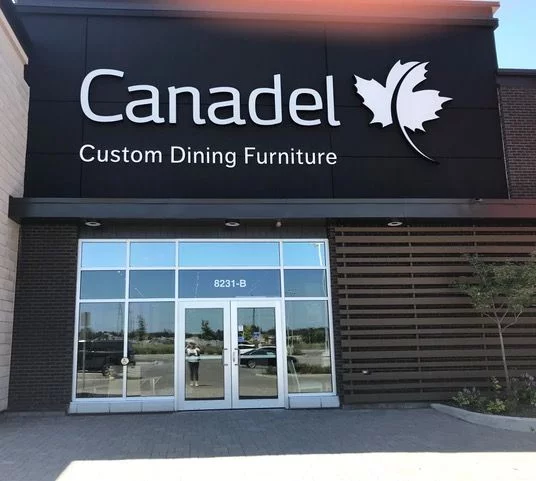 Product Info Request
Please provide us with your name and email and we'll get back to you as soon as possible regarding this item.