How Much Does a Sofa Cost at La-Z-Boy?
November 8, 2020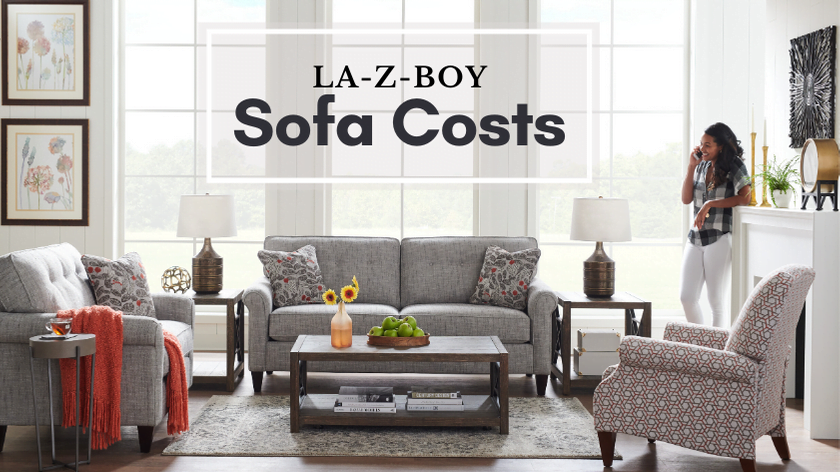 What Can You Expect to Spend on a La-Z-Boy Sofa

Are you looking for new ways to get comfortable? If so, upgrading your home's most coveted seating, aka your sofa, is likely at the top of your wish list.
Short of finding such an item under the Christmas tree from Santa (ok, more realistically beside the tree), how much a sofa costs plays a crucial role in your buying decision.
Not only is choosing the right sofa for your home a big decision, but it is a big investment too!
Your living space is multi-faceted – part sanctuary, work zone, home theatre and playroom. By extension, your sofa will have different functions. It should reflect the many sides of your life.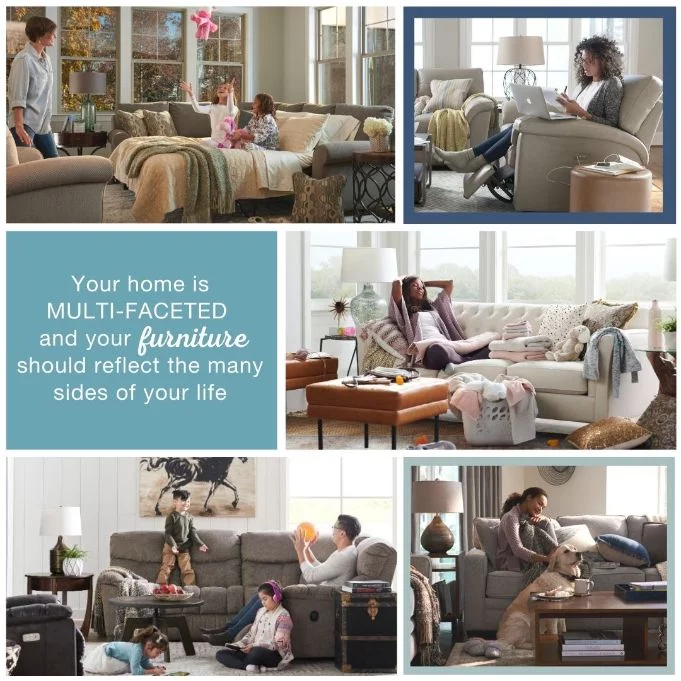 It's called a living room for a reason. That's why for over 90 years, La-Z-Boy has built custom sofas designed for actual life. We offer a wide selection of sofas in a variety of shapes, styles, and sizes. The cost of our sofas varies depending on your preferences.
At La-Z-Boy Ottawa and Kingston, we are obsessed with helping our customers find the perfect furniture for their homes. We have outfitted thousands of living spaces with a sofa centrepiece capable of multitasking and meeting the household's demands. Our design consultants know it is critical to not only understand your needs but work within your budget when helping you choose the right sofa.
Like anything that is custom-built or ordered, the cost of your new sofa can vary. We have several different collections that provide you with assorted price options. The size, shape, materials, and options will all play a part in the final cost of a La-Z-Boy sofa.
How much does a La-Z-Boy sofa cost?
You can expect to pay between $1,500 and upwards of $8,000 for a La-Z-Boy sofa depending on the type, features, and upgrades selected. Three principal price ranges include:

• Least Expensive Sofa ($1,500 – $2,299)
• Mid-Range Sofa Cost ($2,300 – $2,999)
• High-End Sofa Cost ($3000 – $8,500)

(Does not include sectional sofa pricing)
What We Offer at La-Z-Boy

Style is a choice. Great design? Well, that is on us too. As inventors of the reclining chair back in 1927, you can rest comfortably knowing our sofa collections possess over 90 years of innovative design experience.
Whether your style is modern, sophisticated or all about home entertainment, the sofa you choose defines your space. La-Z-Boy has designs to suit your home and lifestyle with a variety of shapes, sizes and features.
Sofa Construction and Quality

Quality you can see.
Our commitment to rich, wear-tested fabrics, on-trend styling and meticulous attention to detail provides furniture that will elevate any room's aesthetics.
Beautiful furniture that isn't built to last won't be able to withstand the demands of your household for long. It certainly isn't worth the withdrawal to your bank account.
That's why we offer quality-crafted frames consisting of kiln-dried hardwood and furniture-grade laminates engineered for lasting durability and backed by our Limited Lifetime Warranty.
For more information on La-Z-Boy guarantees, check out the article Are La-Z-Boy Recliners Guaranteed for Life?
Comfort you can feel.
You shouldn't have to compromise on taste to stay cozy and cradled in comfort. High-grade foam seat cushions maintain their comfort and appearance.
With a choice of over 800 fabrics and leathers, you'll inevitably discover a tactile sensory experience sure to envelop and relax.
Sofas Sizes
Whether you are looking for a sofa for a small space like an apartment or require something that can fit the entire family, our sofas come in various sizes to meet your needs and maximize your space.
Our sofa sizes include:
➊ Chair and a Half (46 – 54 inches wide) – technically, this can fall in the chair family
➋ Loveseat (54 – 79 inches wide) – usually only have room for two adults to sit
➌ Apartment Sofa (69 – 74 inches wide) – compact size for when space is at a minimum
➍ Standard three-seater sofa (77 – 92 inches wide)
➎ Sectional (varying widths depending on the number of seats or chaise)
In this article, sofa sizes and costs will include loveseats, apartment sizes and three-seaters. To learn more about what you can expect to pay for our sectionals check out the article How Much Does a La-Z-Boy Sectional Cost.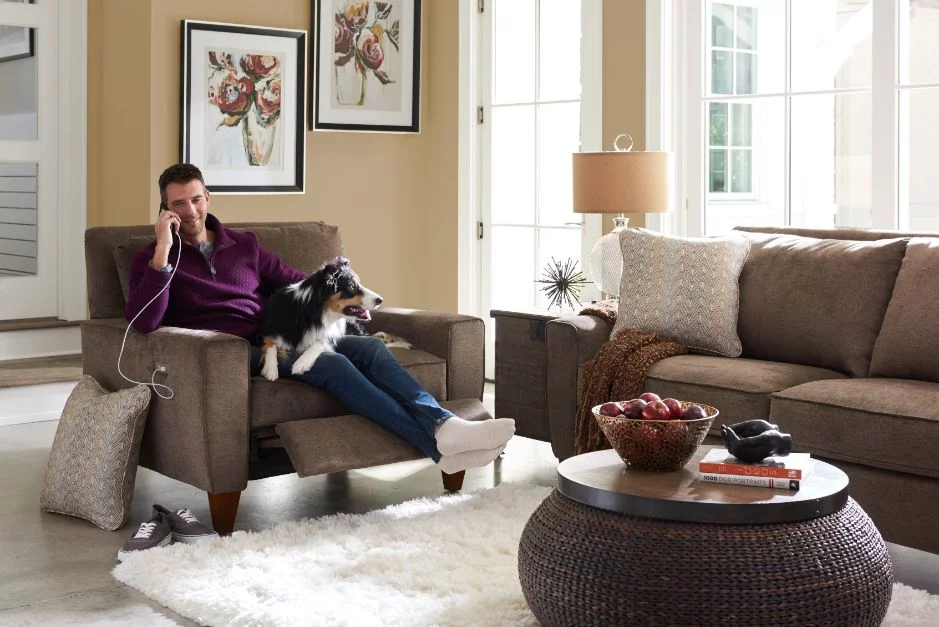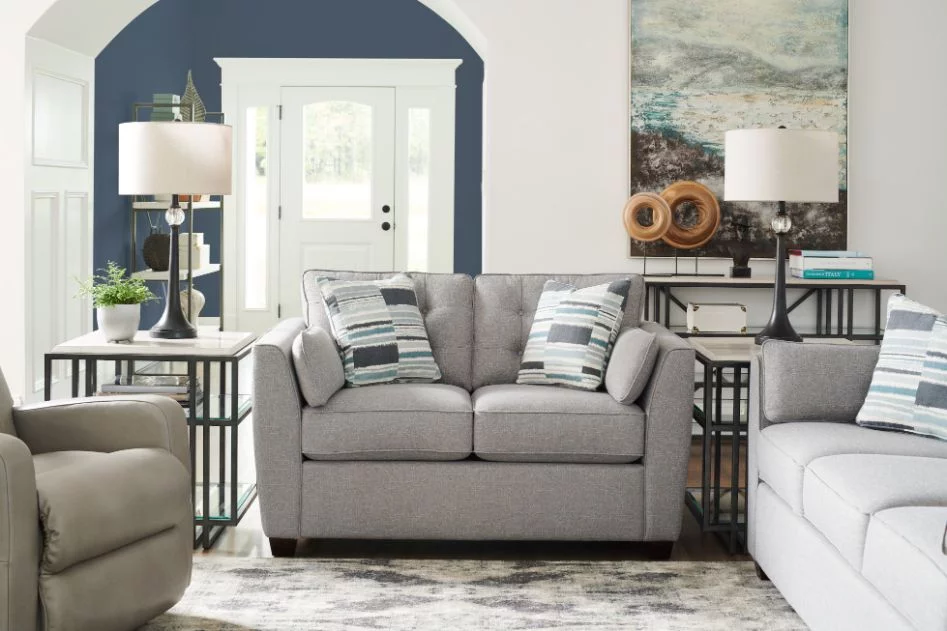 Types of Sofas
When it comes to making sure the sofa you choose fits you perfectly, it helps to have choices. That's why we offer several types of sofas that provide unique features.
How you and your family intend to use your sofa along with your top priorities will influence your purchase decision.
STATIONARY
If your idea of beauty goes beyond good looks alone, then consider our Premier stationary sofas. For added comfort and optimal firmness, they come standard with ComfortCore ® cushions and custom details that can help you create a look that's all your own.
General Price Range*: $1,499 – $2,100
Signature Leather Sofas: $2,179 – $2,799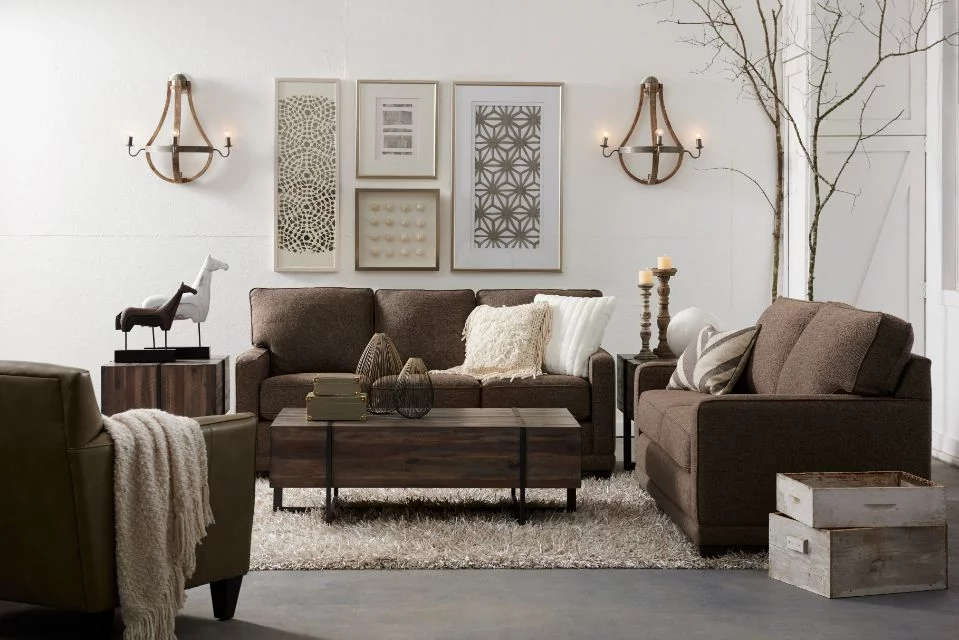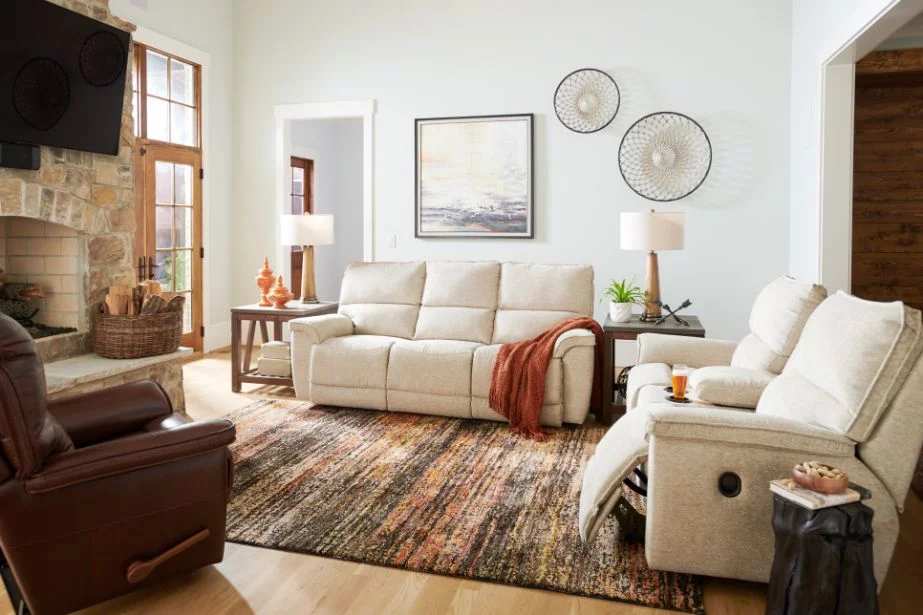 RECLINING
La-Z-boy reclining sofas raise the bar on comfort by letting you elevate your feet. Lean back in one of our reclining couches to find the perfect position for watching movies, reading or a sneaky afternoon nap.
General Price Range*: $1799 – $2499

POWER
The real power is at your fingertips! Most of our reclining sofas are available with power controls that offer smooth, effortless reclining at the touch of a button. You can also upgrade your experience with powered headrests and lumbar support for the ultimate in personalized comfort with select models.
General Price Range*: $2,299 – $3,500
($4,300 with headrest & lumbar options)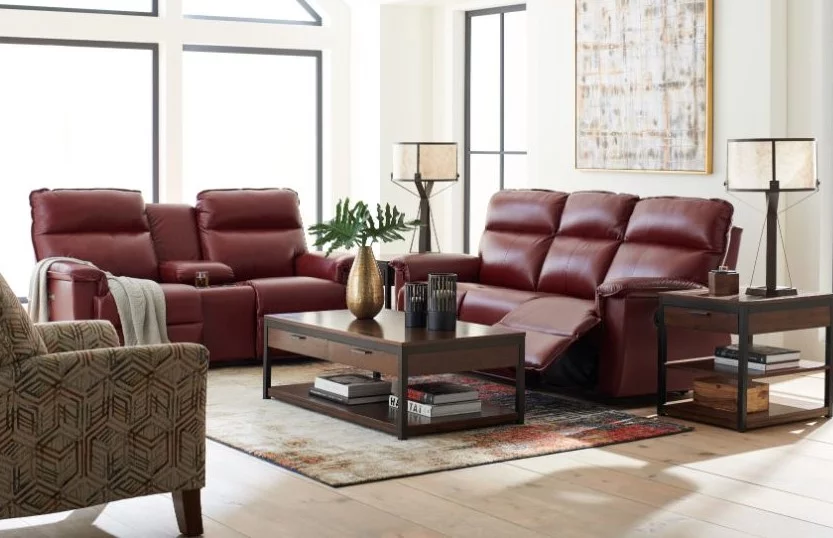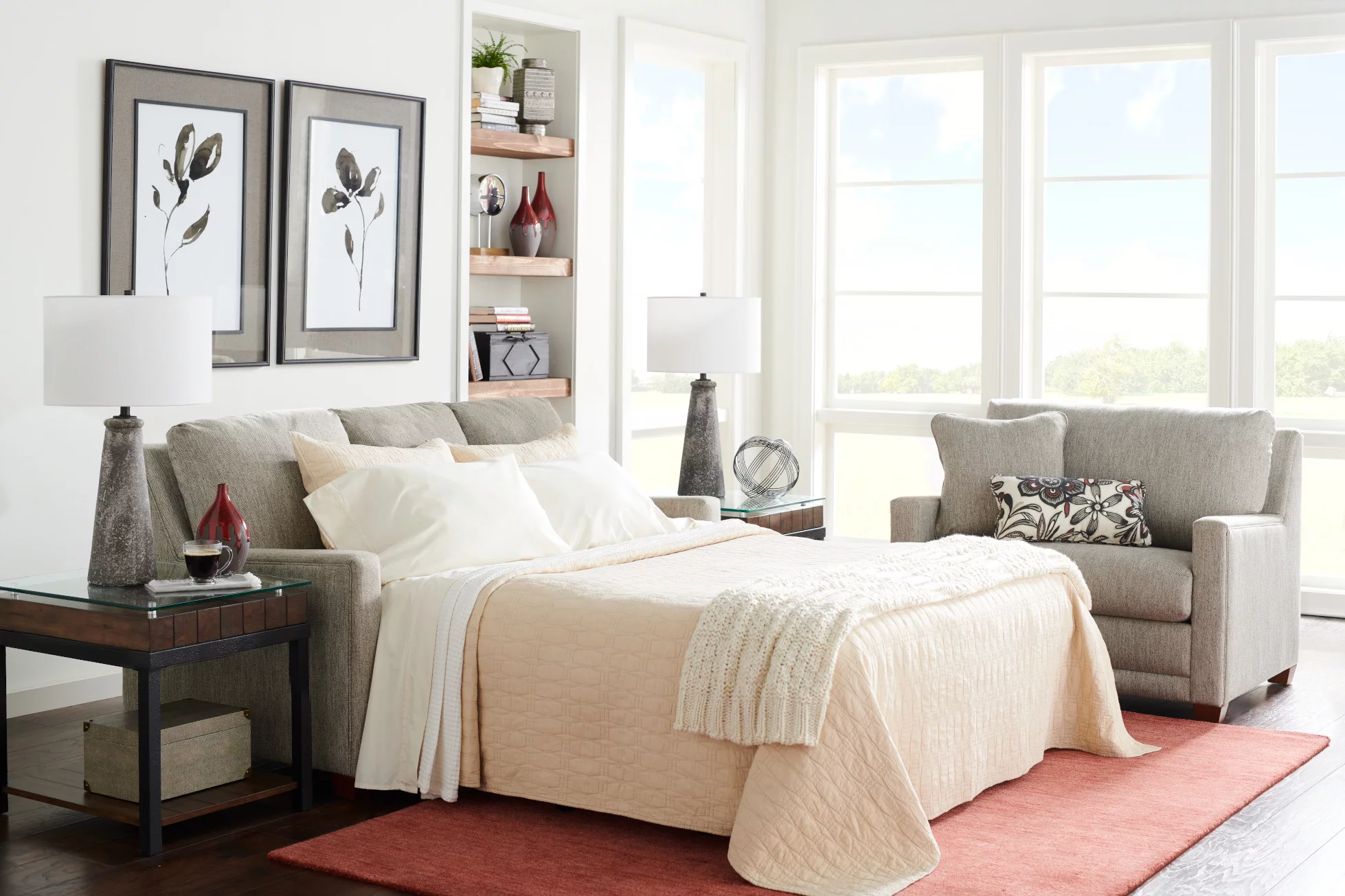 SLEEPERS
La-Z-Boy sleeper sofas allow you to maximize your living space while simultaneously making extra room for overnight guests. We offer three pull-out sofa bed sizes, including twin, queen or full, which all come standard with a luxurious innerspring coil mattress and offer an elevated headrest.
General Price Range*: $1,999 – $3,000
*Price ranges are for fabric select covers and will vary if higher grade fabrics or leathers are chosen.
Sofa Styles
While there are many practical considerations involved in choosing a sofa, it also needs to fit seamlessly with your home's style and décor. Whether you love the classics, live for the latest trends or are all about comfort, we make it easy to find a look that's uniquely yours.
La-Z-Boy sofas fit four main design styles: Family Favourites, Comfortably Casual, Modern Retreat, and Classics Revisited. Explore these collections but don't be afraid to mix things up; the looks are meant to inspire!
FAMILY FAVOURITES
Designed with enough comfort for a crowd, these versatile pieces prove there's no place like home. The Family Favourites Collection appeals to the look of natural elements, bringing the outdoors inside.
Streamlined style and luxurious, durable leather make any of the James furniture family an addition even the most style-conscious will love. Room for a crowd makes the James sofa or sectional ideal for entertaining, but with the power to recline and built-in USB ports, you may want this spot all to yourself. Upgrade your experience with a center console with cup holders and hidden storage.
The La-Z-Boy James Reclining Sofa starting at $2,299.

Our versatile sleep sofas take you from gorgeous living space to guest room in an instant. The Leah sofa bed has a sleek profile designed with curved roll arms, welt trim, and patented ComfortCore® cushions that provide optimum support for a long or short sit. It opens up to become a super comfortable queen bed, complete with a Supreme ComfortTM quilted innerspring mattress measuring 5.5″ thick.
The La-Z-Boy Leah Queen Sleep Sofa starting at $2,299.
COMFORTABLY CASUAL
This collection combines the richness of the past with the clean styles of the present. Our Comfortably Casual sofas embody both modern and traditional style elements in a combination of textures, rich colours, and strong patterns.
The Talbot Stationary Sofa in a striking pattern or print is a statement piece and an easy way to add instant chic to any room. Talbot sofa starting price $1,799.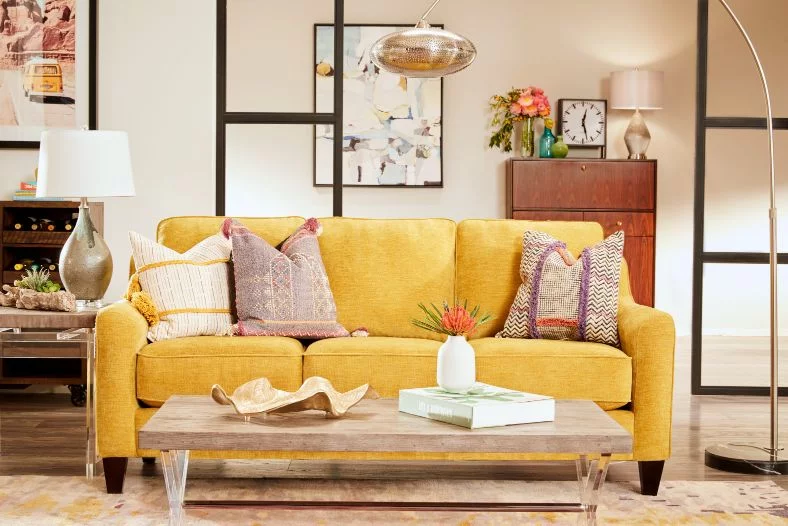 MODERN RETREAT
Designer details like angled arms and classic button-tufting are subtle while still making a statement in our Modern Retreat Collection. Meant to be lived in, these sleek styles offer room for relaxing plus the power to recline. Think of it as comfort with attitude.
The Ryder sofa is part of La-Z-Boy's duo® product line that features the sophisticated look of stationary furniture with the unexpected power to recline at the push of a button.
Ryder duo® Reclining Sofa has a starting price of $2,889.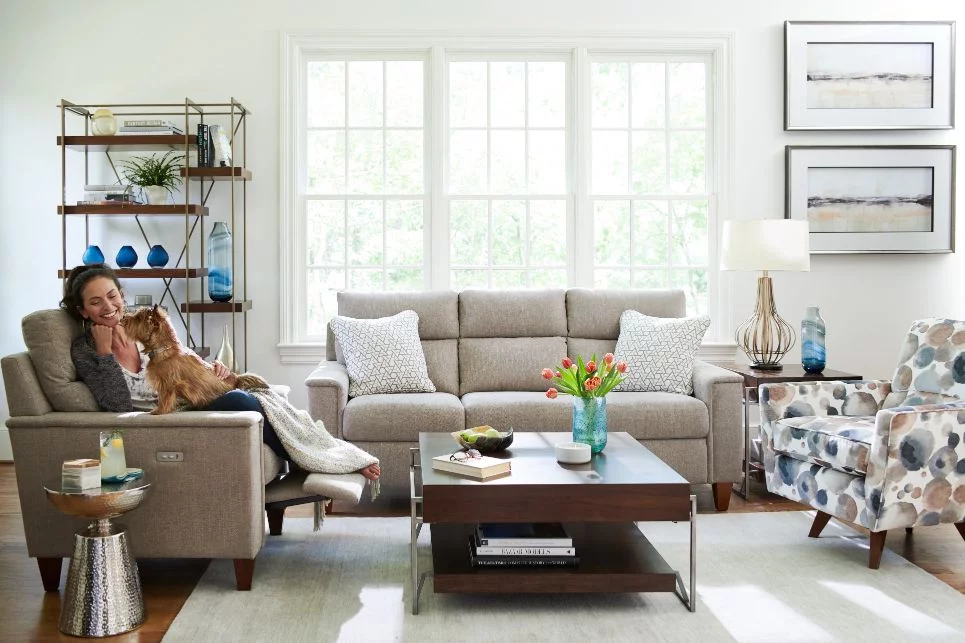 CLASSICS REVISITED
Timeless with a twist, the Classics Revisited Collection combines classic details with contemporary styling. Distinctive details, including rolled arms, button-tufting and nail head trim, pay homage to time-honoured designs while looking entirely up to date.
An updated take on the classic chesterfield design, the Alexandria sofa isn't afraid to make a statement and has a starting price of $2,129.
Its tight back boasts button tufting in a diamond pattern that's both distinctive and unique. The Alexandria sofa is also completely customizable and pairs seamlessly with other pieces from our Urban Attitudes® collection.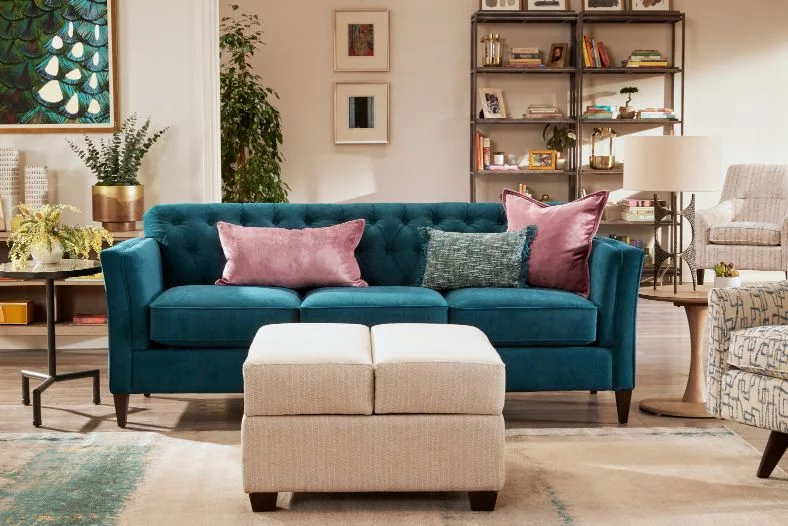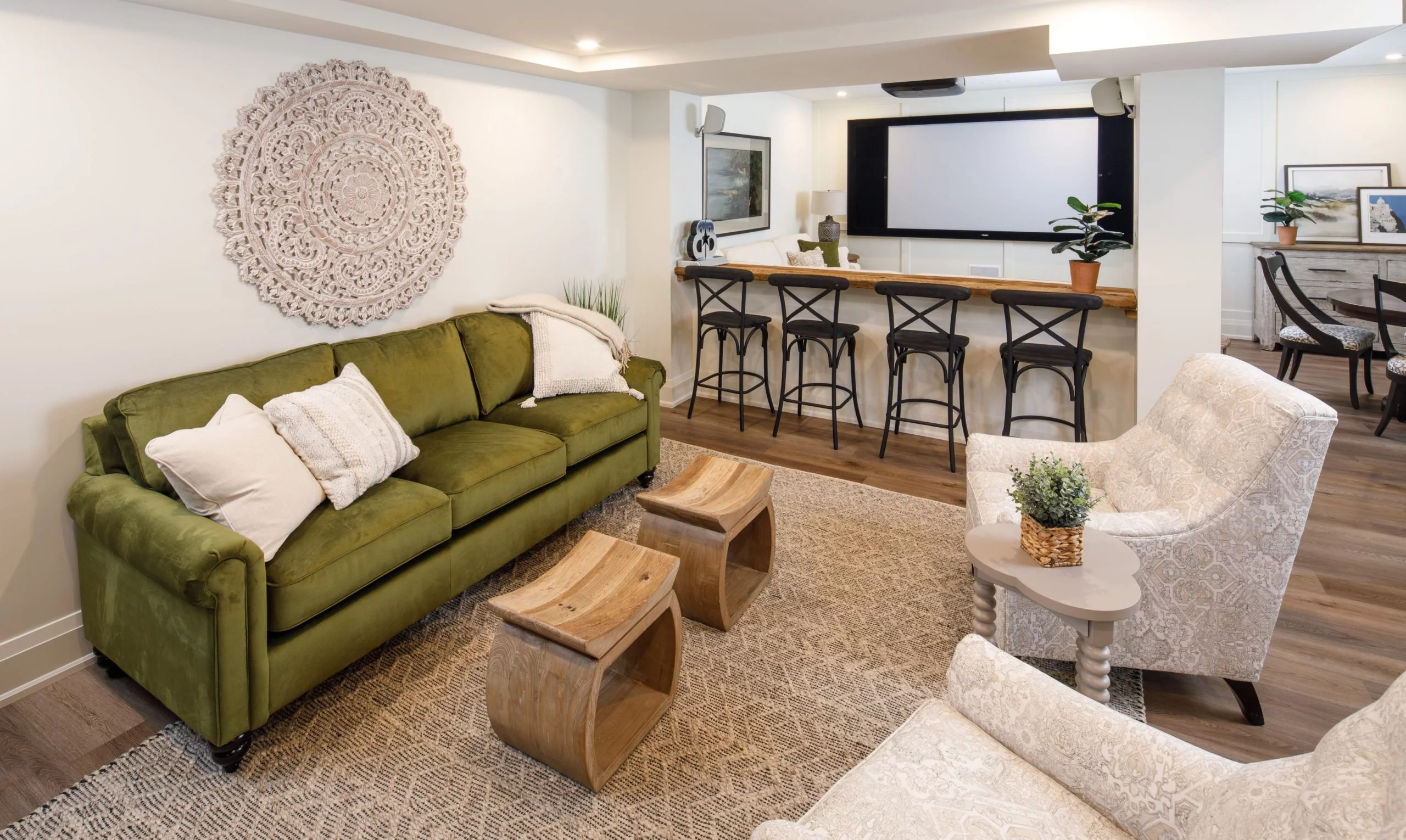 The Leighton sofa's rolled arms and turned wood legs give it a subtle sophistication while deep box border seats provide plenty of space to sit and relax. Welt trim adds distinction to the seat and back cushions as well as the curve of each arm. This timeless sofa has a starting price of $1,969.
A vibrant green Leighton sofa is showcased in the 2020 CHEO Dream Home. It appears in the living room section of the basement and speaks to the Boho Chic theme of the home.
How Much Does a La-Z-Boy Sofa Cost


Now that you have a better understanding of what sofas we offer in terms of type, shape, and style, let's look deeper into their costs.
In general, a La-Z-Boy sofa (loveseat, apartment or three-seater sizes) can range anywhere from $1,499 to $8,400. The cost is dependent on the size, model type, features and upgrades you choose.
To give you a better idea of what types of sofas we offer at what price points, below are examples of top-selling La-Z-Boy sofas in three price range categories: least expensive, mid-range, and high-end.
Least Expensive:
$1,500 – $2,299
Stationary sofas and some reclining styles fall within our least expensive price bracket in select fabric covers. Suppose you want to customize your stationary sofa with a unique higher grade fabric, leather or available options. In that case, the additional cost can push your sofa purchase into a higher price bracket.
Meyer Stationary Sofa
The Meyer sofa is one of La-Z-Boy's top-selling styles and falls within the least expensive price category starting at $1,889.
Whether you're designing a whole new room or adding a sofa to existing pieces, Meyer blends right in. It has contemporary straight lines, and you can dress it up or dress it down depending on your choice of fabric, pillows and accessories. Welt detailing enhances the crisp but casual look of Meyer's box border seats and backs, as well as its updated track arms.
Reese Reclining Loveseat
The Reese is a motion reclining model, and the loveseat made La-Z-Boy Ottawa and Kingston's top five best sellers list. It brings comfort and versatility to your contemporary décor and has a starting price of $2,189.
With single-needle topstitched detailing, the Reese features a high-quality pub-style back and pillow top arms to create the ideal spot for relaxing or cozy conversations.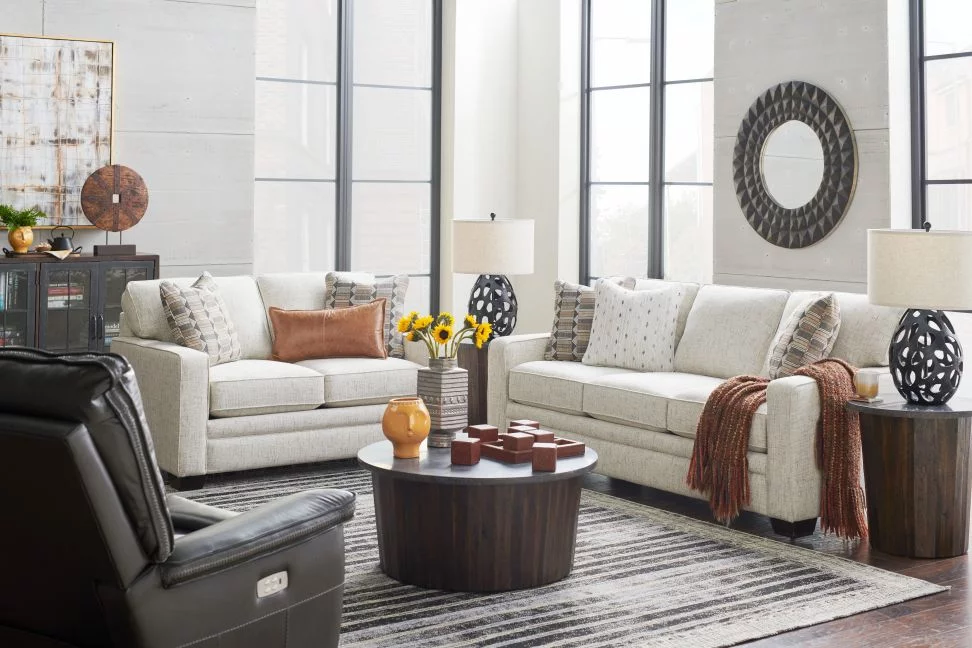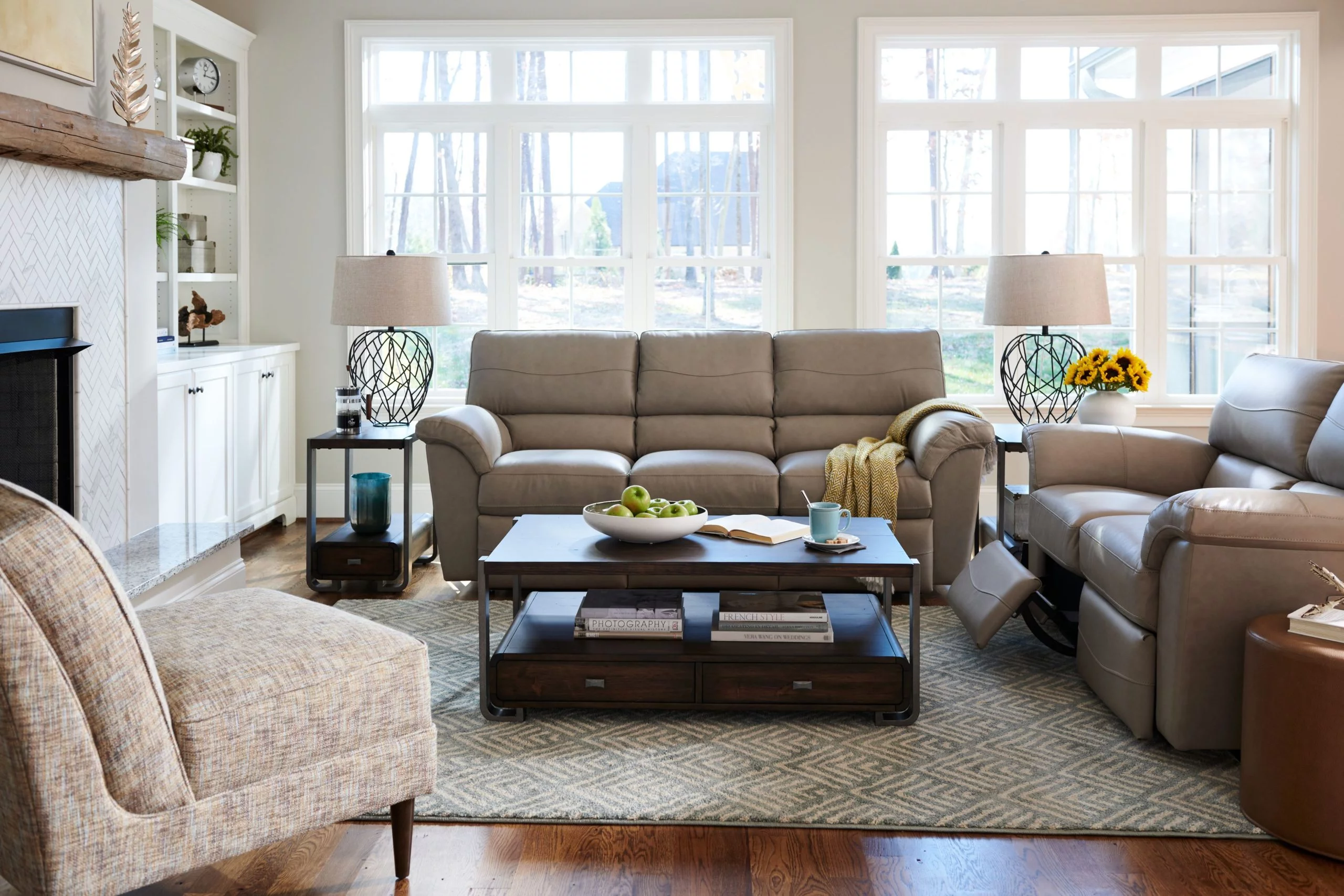 Mid-Range:
$2,300 – $2,999
Leather stationary, power reclining and sleeper sofas make up this mid-range price bracket.
Bexley Full Sleep Sofa
Make the most of your space with the style and versatility of the Bexley sleep sofa. Its clean lines and casual styling complement any décor while adding an unexpected edge. Slightly flared, key-shaped arms frame its two box-border seats for a unique yet uncomplicated silhouette.
The Bexley full sleep sofa has a starting price of $2,689.
Trouper Power Reclining Sofa
Starting at $2,719, the Trouper Power Reclining Sofa sectional is a motion model in the mid-price range category.
With dual-sided reclining power, sculpted bucket seats and full-support legrests, our Trouper sofa provides personalized comfort. Plus, each two-button power controller includes a built-in USB port to keep your favourite devices charged.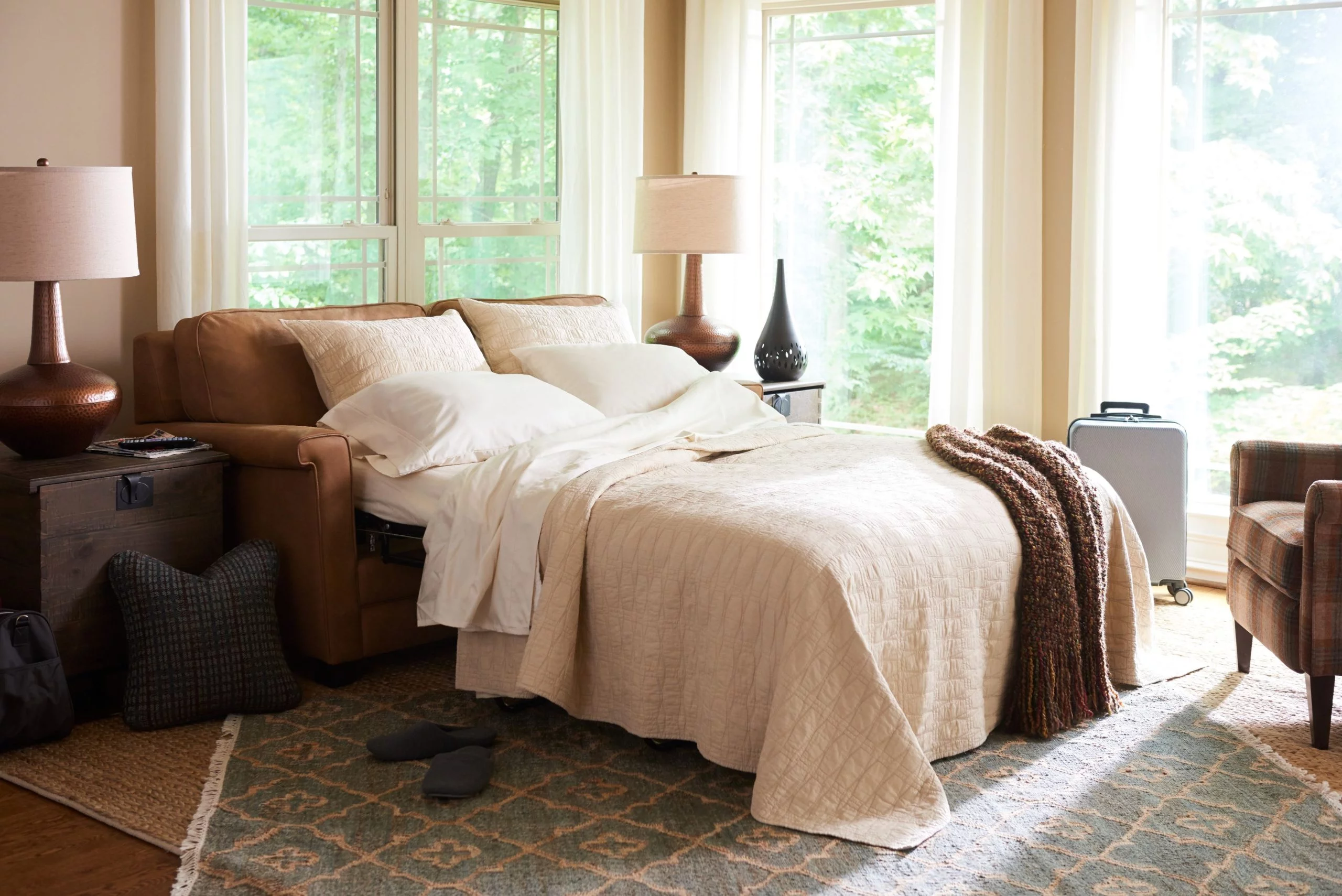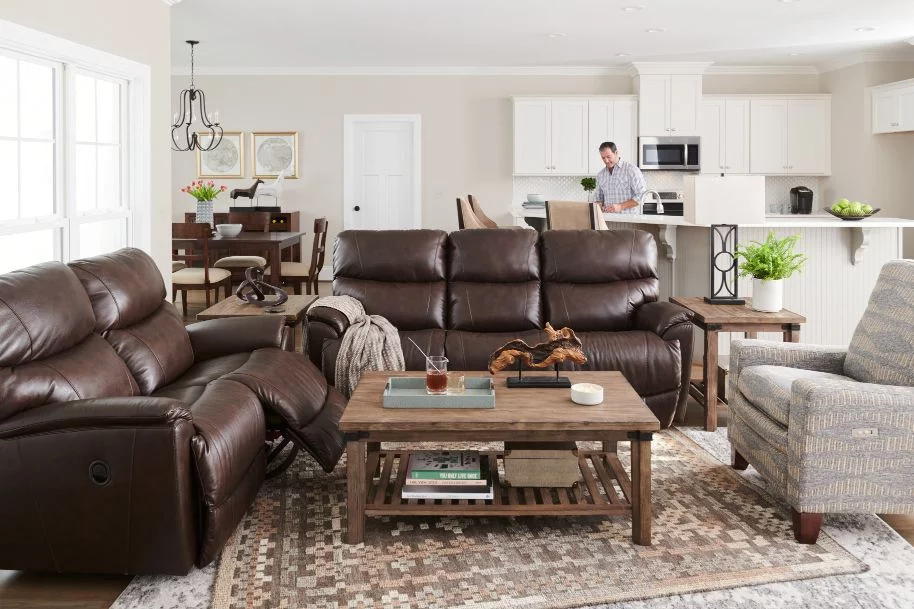 High-End:
$3,000 – $8,500
Sofas in the high-end price bracket have top of the line power features such as headrest and lumbar support customized in high-end fabrics or leather.
Tripoli Power Wall Reclining Sofa with Headrest & Lumbar
The Tripoli model features padded, flared arms and a tall, supportive foam back with a triple-cushion design. In addition to superior comfort, Tripoli has a sleek, stylish silhouette that looks right at home in a modern retreat.
This high-end model with dual control wands to activate the backs and legrests, power headrests and power lumbar supports has a starting price of $4,279.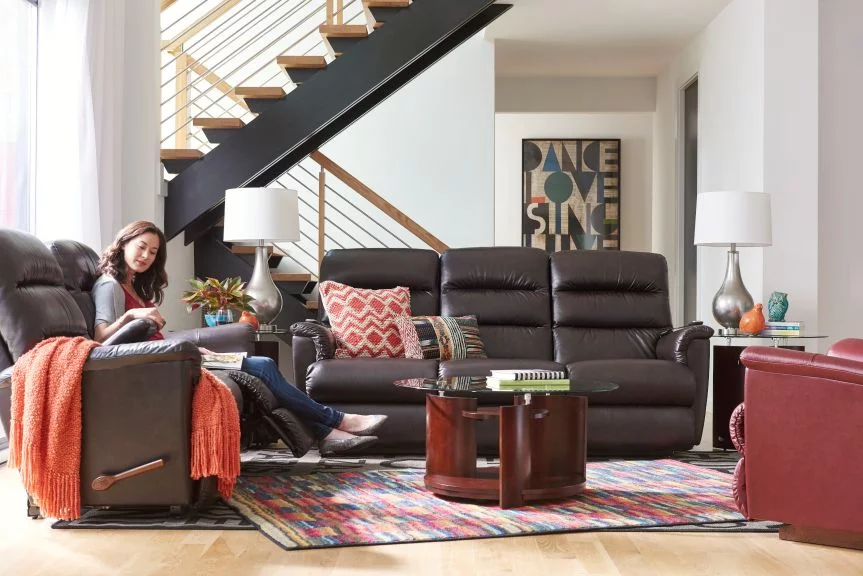 Options and Upgrades Available and How it Affects Sofa Costs

Take some time to investigate your choices so that your new sofa doesn't just suit your home; it suits your way of living.
La-Z-Boy offers many options and upgrades, so your new sofa is handcrafted to your specifications. With so many fabrics and leathers to choose from, and design details like nail heads, leg styles, wood finishes, and welt trims, you can make your sofa unique.
Any customization or upgrade added to your chosen model will often increase your sofa's final price. These additional costs vary depending on how extensive the upgrade or customization may be.
You have the option to:
• Choose specific upholstery (upgrade fabric, leather, high performance iClean™): $0 – $1,900
• Customize wood finish or welt trim: $75 – $200
• Upgrade with additional reclining options: $50 – $200
• Upgrade to power: $200 – $1,000 / per seat
• Add power headrests: $500
• Add a console for storage & beverages: $20-$50
• Seat cushion upgrade: $200 – $600
• Add decorative pillows: $50 – $400
• Turn your sofa into a sofa bed: $700
• Upgrade your sofa bed with SlumberAir or Memory Foam mattresses: $500
• Cordless freedom – optional rechargeable battery pack: $300
Other Factors that Affect the Sofa Cost After Purchase

Additional Warranty
Purchasing the perfect sofa is a significant investment. Reclining and power sofas especially have many moving parts. That is why it's vital to protect that purchase and ensure that a warranty plan covers your new sofa.
La-Z-Boy products are sold with a manufacturer's warranty covering 1-3 years of damage caused by manufacturer error or workmanship.
At an extra cost, you may consider purchasing La-Z-Boy's additional, comprehensive service protection plan that covers up to 5 years of accidental damage. The cost of the plan is contingent on furniture pricing. For example, if you paid between $1500-$2000 for your new sofa, the additional warranty would cost $199.
Learn more about the furniture protection plan offered by La-Z-Boy in the Ottawa/Kingston area.
Financing
While you may be ready to sink into your new sofa today, you may want to check your pocketbook first. To afford a new sofa, customers often finance this purchase and pay it off over time.
Financing is a great way to enjoy the comfort of a sofa now while taking off the strain of having to pay right away. Depending on the financing plan you choose and how long you take to pay it off, this option could result in additional fees.
To learn more about furniture financing, check out the article Furniture Financing: Everything You Need to Know.
Delivery Costs
Sofas just won't fit in the back of even the largest SUV; therefore, they often require delivery service.
We offer a traditional white glove delivery service. For a flat fee of $99 (for local in-town locations), the La-Z-Boy Ottawa & Kingston delivery team will unpackage, inspect & set up your delivered furniture, as well as remove any waste. The team will make sure the furniture is operational and guide you through the process to your satisfaction.
Take a look at this video to know what to expect when it comes to La-Z-Boy delivery.
Ready to Find your Perfect Sofa?
There is no doubt buying a new sofa is a big decision and investment. After reading this article, you should now have a good understanding of what sofas we offer at La-Z-Boy and how much you can expect to spend on this essential living room centrepiece.
With your budget set and your pocketbook prepped, it is time to start shopping!
To continue your research and discover if a La-Z-Boy sofa is right for you, take a look at our sofa product page.