Review of La-Z-Boy's Loveseats with Consoles: Pros & Cons
July 27, 2022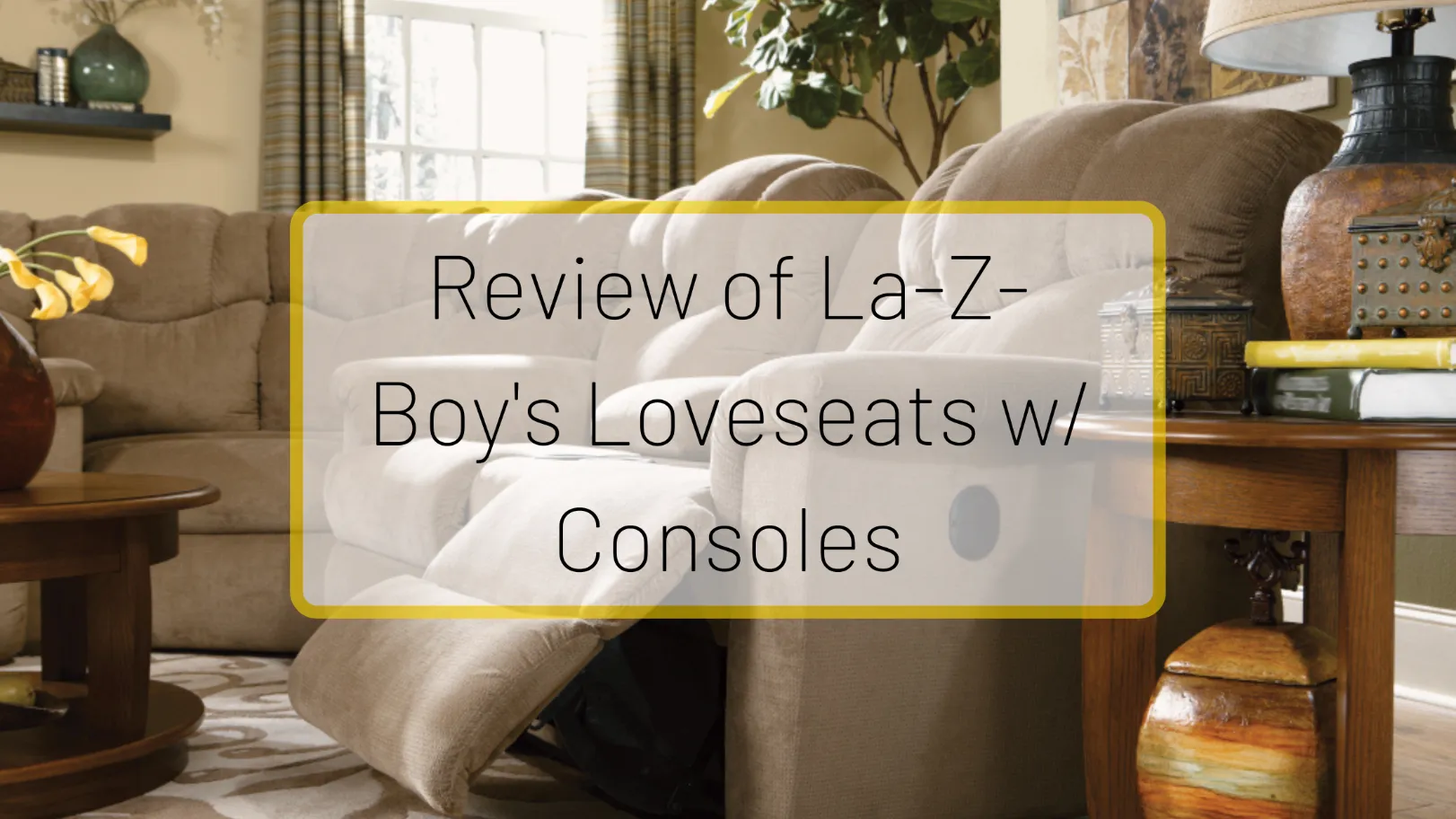 Est. Reading Time: 10 Mins
Loveseats, the perfect small sofa for anyone looking to sit next to a friend, a family member, or that special someone. But what if I told you that loveseats can offer more than just a comfortable seat.
At La-Z-Boy, some loveseats have the ability to hold drinks, charge your phone, and store items. These special loveseats have a console in the middle of both seats.
This means that both individuals can enjoy the comfort of a single seat, while still enjoying each other's company on the same furniture item. What's more, is that they can easily reach their drink while enjoying each other's company.
Racha Pharaon, a design consultant at La-Z-Boy Kanata, tells us that "Loveseats with consoles have a different seating experience than regular reclining or stationary loveseats."
With that being said, what exactly are these key differences? How does this little console change a furniture item so significantly? And most importantly, is the console upgrade right for you?
This article will cover the unique features and differences, as well as the pros and cons of a loveseat with a console.
In This Article…
Loveseat Console Unique Features
To begin, there are many unique features that make this upgraded furniture item different from its regular loveseat counterpart.
Racha informs us that the main reason why people are so attracted to a loveseat with a console is that the main feature is focused on the consoles themselves.
Not only do they have extra storage space for small things like remotes or electronics, but they also have cup holders at the very end of them. This is especially good for those who wish to spend a long time sitting while watching either a TV show or a movie.
"People who love watching their TVs will absolutely enjoy this furniture piece," says Racha.
What's more, some La-Z-Boy recliner loveseats with consoles also have the added bonus of having USB-charing ports on the console, if upgraded to power. That way you can easily charge your electronics if you're staying seated for a long time.
Lastly, the size of a reclining loveseat with a console also plays a factor, making the overall body of the frame longer in width. According to Racha, there is a 15" difference on average between the width of a regular loveseat and a loveseat with a console.
Loveseat Console Options & Upgrades
Along with any furniture items at La-Z-Boy, there are always going to be options & upgrades. Loveseats with Consoles are actually upgrades to select reclining loveseats! Make your Reclining Loveseat with Console personalized with your choice of customizations.
Fabric & Leather Options
La-Z-Boy has over 800 fabrics and leathers to choose from, making the experience of personalizing your furniture seemingly endless.
When it comes to choosing select fabrics, the selection depends on the loveseat frame you have chosen. Most furniture frames at La-Z-Boy have around 4-6 select fabric options. These fabric covers do not increase the price of your loveseat.
There are also 2-3 select leather options to choose from, with some of them also having unique topstitching. With that being said, leather loveseats tend to come with a more expensive price tag, with the price further increasing when upgraded to custom leather.
Ultimately, the choice of choosing fabric or leather is up to you, if you're willing to spend extra cash on leather products.
In addition to the cover options mentioned above, loveseats with consoles are offered in specialty fabrics that offer unique features and benefits …
Stain Resistant Fabric
Innovative iClean Technology surrounds each fabric fibre, creating a barrier that repels spills before turning into stains.
Pet-Friendly Fabric
Tested and formulated to withstand the scratches and wear that a pet can cause to ensure a durable and easily washable fabric.
Antimicrobial properties surround each fibre to protect against mould, mildew, and odour-causing bacteria.
Performance
Superior stain and fade resistance properties make fabrics easy to clean and incredibly durable.
Eco-Friendly
Conserve Sustainable Fabrics are soft, durable and made from recycled water bottles.
Cushion Upgrade
At an additional cost, a loveseat's cushions can also be upgraded to include firmer cushioning, meaning over time your furniture will remember your unique figure and enhance the comfort of your furniture.
​For more information view our Motion Furniture Collection catalogue and our in-depth Review of La-Z-Boy's Chair and Sofa Seat Cushions.
*Please note that reclining furniture purchased prior to January 2021 had the option to upgrade to airform™ cushions. This cushion includes a two-inch layer of premium quality memory foam added on top of the standard foam base within the seat, chaise, and leg rest of the unit.
Power Upgrade
All reclining loveseats with consoles have the ability to be upgraded to power.
Instead of using a handle or a latch, like on the manual furniture, the power furniture has control panels on the side of each furniture piece, allowing you to recline at the touch of a button.
The rocking and wall recliners have a side-mounted 4-button control panel used to recline in a wide range of multiple positions, while the loveseat and sofa only have two buttons to control the legrests and backs.
With the upgrade to power, a loveseat console will also feature USB ports next to the control panels in order to charge your electronic devices.
If you are unsure of how to use the control panels, check out La-Z-Boy Power Furniture: How to Use the Control Panel & Remote.
Additionally, all power upgrades also have the option to be cordless, thanks to our rechargeable battery pack. This allows you to use your power recliners anywhere without having to worry about plugging them into an electrical outlet.
If you would like to learn more about battery packs, read this review of the rechargeable battery pack offered at La-Z-Boy.
Adjustable Headrest Support
With a power upgrade, select reclining loveseats with consoles can be further upgraded to include adjustable headrest support.
With this, you can adjust the headrest with a power tilt to cradle your head and neck for a perfect reclining experience.
Adjustable lumbar support is also available for select power reclining loveseats. In this case, the lumbar support can expand or deflate to perfectly match the unique curvature of your lumbar spine.
To learn more about the headrest & lumbar upgrade, check out the Review of La-Z-Boy Power Recliners with the Headrest & Lumbar Feature.
Cost of the Loveseat Console Upgrade
According to Racha, when adding the optional console to a regular La-Z-Boy loveseat, the added cost is $100. These prices are around the same price range as the cost of a regular La-Z-Boy Sofa.
With this, the overall cost of a loveseat with a console upgrade has an average price range of $3,299 - $7,449. These prices are also subject to increase with the addition of any options and upgrades listed above.
When it comes to the overall cost, it is also important to note that La-Z-Boy furniture is considered expensive in the market. This cost is reflected in the quality of materials and craftsmanship of our products. With this, the investment tends to be worthwhile if you are looking for long-lasting furniture.
*All La-Z-Boy prices listed in this article are subject to change. We aim to update all cost-related articles twice per year. This article was last updated on October 20th, 2022. Please visit lzb.com and select an Ottawa or Kingston La-Z-Boy store location to view the most up-to-date pricing.
Warranty
A reclining loveseat with the console upgrade is covered by La-Z-Boy's Limited Lifetime Warranty. This warranty covers the repair or replacement of the frame, spring systems, and the mechanism, given that they are quality-crafted and built for long-lasting comfort.
While still quality-crafted, other aspects of the product, such as fabrics, leather, and cushion, are not meant to last a lifetime. However, these parts are still covered by the La-Z-Boy Manufacturer's Warranty for a given time.
To learn more about the warranty at La-Z-Boy, take a look at the article Are La-Z-Boy Recliners Guaranteed for Life?
To further protect your purchase, La-Z-Boy offers an extended warranty plan at an additional cost.
Pros & Cons of Loveseats with Consoles
With this detailed product information in mind, it is time to really consider if the La-Z-Boy loveseat with a console is right for you. To make your decision, consider the pros and cons of loveseats with consoles.
Seating Experience
One of the main things that a Loveseat is known for is the fact that it has only two seats. This makes it the perfect furniture item to cuddle or snuggle up to that special someone in your life.
When it comes to a loveseat that has a console, however, that intimate seating gets eliminated with the console in the middle.
Racha says, "hand-holding can still happen, but the middle console can be somewhat of an obstacle."
Loveseats with consoles are very much two individualized seats connected together by a console in the middle, making it more of a double reclining chair.
This also means that you wouldn't be able to lay down from one arm to the other like on a sofa because the console prevents that position from feeling comfortable.
If you are looking for a more inclusive seating experience with someone, this furniture product may not be right for you. Most movie buffs, however, may enjoy this type of seating because it promotes individualized comfort in the company of another, all while enjoying easy access to a beverage.
To learn more about Theatre Style Seating at La-Z-Boy, take a look at this article.
Size of a Loveseat w/ Console
One advantage that loveseats have is that they are smaller than a sofa, and bigger than a chair, making them the perfect in-between furniture frame to place in a small space, like a condo or apartment.
However, when you add a console into the mix, this can make the once petite loveseat much larger in scale. .
For example, the aforementioned 15" difference in the width of the loveseat makes this furniture almost as wide as some sofas.
If you are living in a smaller space, depending on the size of the loveseat, the size of this additional furniture piece may not be practical and may look too big or too wide.
The Cup Holders
The main thing that the loveseat is known for is the fact it has cup holders, giving you the ability to rest your drink right next to you for easy access.
Some cup holders at La-Z-Boy even have the ability to light up with a touch of a button, making it easier to see your drinks in an unlit room.
However, there are some complaints from reviewers that have said the cup holders are not easily cleanable. Some would prefer that if cup holders were removable, it would be easier for them to clean them.
Racha says that there are, unfortunately, no removable cup holders offered in any of La-Z-Boy's loveseat selections.
With that being said, she says the best way to clean the cup holders would be to use either a wet wipe or a damp cloth to clean any residue on the cup holders.
So, if you are all about comfort and convenience, the console with cupholders is a no-brainer. Alternatively, if you prefer a furniture item that is easily cleanable, the cup holders might create a problem for you.
Small Animals On Yourself Loveseat
Staying on the subject of the console, the size of the middle area creates a great pedestal for small animals. Some reviewers have even said their cats and small dogs enjoy sitting beside them on the console area.
The only problem is that some reviewers have also shared that small animals tend to be curious about the small openings underneath the loveseat where the console and the reclining seat connect.
Some loveseats with consoles do unfortunately have small gaps that are easily accessible for smaller animals. If this is the case for your loveseat, make sure to keep that area closed off with pillows or blankets so that they aren't able to reach those small areas.
Loveseat w/ Console: Pros and Cons Breakdown
To summarize the previous section, here is a breakdown of the pros and cons of a loveseat with a console:
Pros of a Loveseat w/ Console

Cons of a Loveseat w/ Console




Good for enjoying movies with friends/family




Small animals can sit next to you on the console

More individualized seating (less intimate)




Bigger than a regular loveseat




Small gaps between seats.




Can be difficult to clean
Examples of Loveseat w/ Consoles at La-Z-Boy
If you are still considering getting a loveseat with a console, here are 4 examples of what to expect when shopping at La-Z-Boy.
1. The Trouper Loveseat w/ Console
The first loveseat with a console that Racha recommends is the Trouper Loveseat.
An updated silhouette, complete with slightly flared arms and a sleek tall back gives the Trouper a look that's fresh and contemporary. It's also one comfortable recliner. The sculpted bucket seat cradles you in softness while the padded split back provides superb head and lumbar support.
You can also upgrade your Trouper loveseat to include power and headrest support. The Trouper is also available as a Rocking/Wall Recliner, a Reclining Sofa, and a Sectional.
2. The Finley Loveseat w/ Console
The next loveseat on our list is the Finley Loveseat, which Racha says is perfect for anyone looking for a more slim furniture option.
This loveseat with console certainly fits the bill with modern lines, sleek track arms, and a tall foam back that gives it a neat and structured look. The ultra-plush chaise seat and legrest cradle the body in a continuous zone of comfort.
The Finley Loveseat w/ Console is only available in power and can include a headrest & lumbar support.
The Finley is also available as a Rocking, Gliding, and Wall Recliner, a Reclining Sofa, and a Sectional. You can learn more about the Finley Furniture Family by reading this article.
3. The Morrison Loveseat w/ Console
The Morrison Power Reclining Loveseat with Console is a great example of furniture that will not make you feel uncomfortable after sitting in it for a long time.
This loveseat is designed for comfort and durability. It features tufted back and chaise seats, plus amply padded arms to cradle you in comfort.
The Morrison Loveseat w/ Console can also be upgraded to power and can include added headrest support.
The Morrison is also available as a Rocking/Wall Recliner and a Reclining Sofa. You can learn more about the Morrison Furniture Family by checking out this article.
4. The Greyson Loveseat w/ Console
Last but not least, the Greyson Loveseat w/ Console is the perfect furniture item for anyone that loves watching movies. According to Racha, some people have said that it is "The next best thing to watch movies in, without going to the movies."
Sleekly styled with alluring curves and inviting cushions, the Greyson reclining room group is destined to be everyone's favourite relaxing spot.
The curves featured on the Greyson allow the user to always be hugged, surrounding your body in three channels of cushioning, keeping you in the center of the seat.
The Greyson Loveseat w/ Console is only available in power and can be upgraded to include headrest support.
The Greyson is also available as a Rocking/Wall Recliner and a Reclining Sofa. You can learn more about the Greyson Furniture Family by checking out this article.
What's Next?
Now that you have a better understanding of what to expect from loveseats with a console at La-Z-Boy, why not start shopping for one today?
La-Z-Boy not only has loveseats with consoles but also stationary loveseats if you're looking for a more simple furniture piece. Check out our 5 Best Selling Stationary Loveseats at La-Z-Boy.
You can start shopping online for a loveseat or go to any one of our showrooms located in Ottawa or Kingston. You can also schedule a visit online before coming in.
Our design consultants are always eager to lend a helping hand. Take advantage of our interior design services to see how a loveseat could fit in your home.
If a loveseat isn't what you were looking for, take a look at our other furniture items by browsing these articles below.
Related Articles:
Top 5 Best Selling La-Z-Boy Reclining Loveseats
Product Info Request
Please provide us with your name and email and we'll get back to you as soon as possible regarding this item.