Top 5 Mid-Century Modern Sofas at La-Z-Boy Ottawa & Kingston
July 18, 2023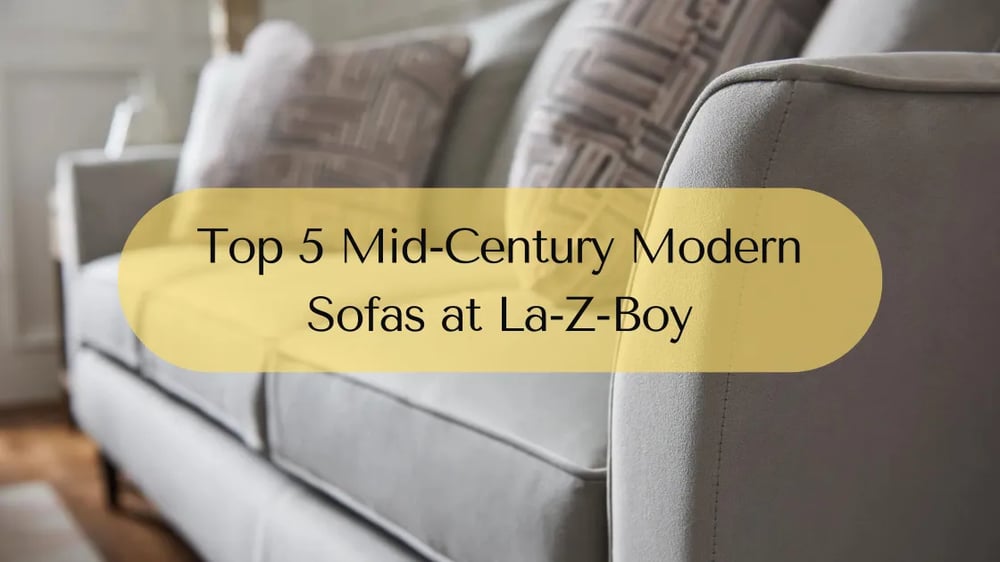 Est. Reading Time: 6 Mins
At La-Z-Boy, we are not just known for our top-selling recliners, but so much more. While our recliners do get most of the spotlight, we sell furniture of all shapes and sizes. This includes our lovely selection of sofas, which vary from style to style.
La-Z-Boy encompasses a diverse range of furniture styles, extending beyond the ones prominently advertised. Amidst the distinct furniture styles available, there exists a noteworthy category that draws inspiration from mid-century modern design.
This style, while not extensively promoted, offers a captivating blend of retro-inspired legs and contemporary elements, adding a touch of timeless sophistication to our product lineup.
Taking shape in the mid-century of the 1900s, mid-century modern has been around for quite some time and has definitely seen inspiration from newer furniture frames as well. Mary Lee Smyth, the interior designer at La-Z-Boy Kingston, says "Our sofas may not be fully MCM [mid-century modern], but some of them do display elements that take homage from the style."
With that being said, what are some of the mid-century modern furniture elements that La-Z-Boy has for some of our popular pieces?
This article will help you understand what to look out for when choosing a mid-century modern furniture piece, as well as determine if this turn-of-the-century style is right for you.
In This Article…
What is Mid-Century Modern?
Before we take a look at our list of furniture frames, you might not be as familiar as you think when it comes to the mid-century modern style. So, what is mid-century modern?
First started taking form in the 1950s at, wouldn't you know it, the middle of the 20th century, this was the birth of the style. While older and more traditional furniture emphasized ornate detailing and grand appearances, mid-century modern focused less on detailing and more on simplicity.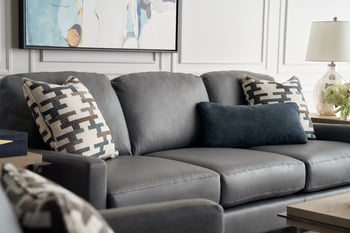 "The main reason why we originally rebelled from our ornate furniture was that, after WWII, we wanted to forget the past and move on completely from what we were used to. So different styles started taking form and the way we lived our lives changed as well," Mary Lee says.
During the mid-century modern era, furniture design embraced certain distinct characteristics. Seating tended to be deeper, offering a more relaxed and comfortable experience. The overall appearance of the furniture leaned towards a clean and streamlined look, emphasizing simplicity and functionality.
Angular shapes were prevalent, adding a touch of geometric interest to the pieces. Bold and vibrant colours became popular choices, injecting personality and energy into the designs.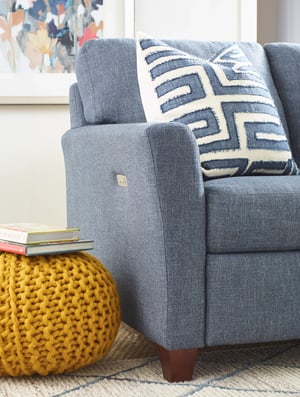 One of the biggest examples is the Eames chair, which makes many appearances on the 1950s-inspired show Mad Men. This particular chair has a curved wooden bottom and leather seating, which made a huge statement compared to the furniture of the past.
"Wood was normally hidden because it was made within the furniture; but because our furniture became open with visible wooden legs, it didn't feel as taboo anymore," she says.
Lastly, another smaller structural change to furniture included track arms instead of rolled-up rounded arms. Track arms were more angular in shape and took less room than rounded arms, which is why they worked in terms of simplicity.

Top 5 Mid-Century Modern Sofas
Now that you're aware of some of the mid-century modern elements that could come with a La-Z-Boy sofa, let's take a look at our top picks to create a mid-century modern house.
1. The Draper Sofa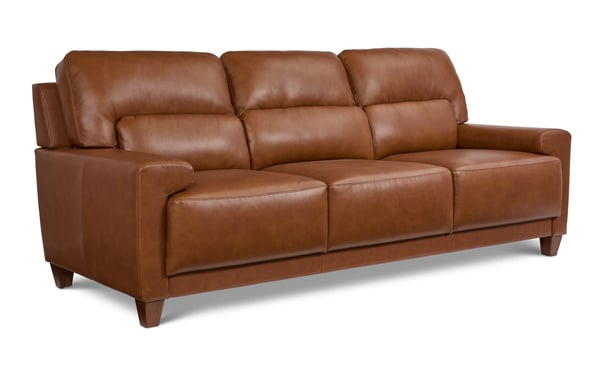 The first sofa on our list may share the same name as Don Draper, but there is no affiliation, other than its timeless look.
Draper's clean lines and modern angles blend beautifully to create the quintessential sophisticated mid-century look. What is also interesting about this sofa is its inverted t-shape sleek track arms that extend within the frame, giving a contemporary edge to its inviting look.
Mary Lee also adds that Draper's oak select leather colour makes it stand out from other furniture frames. "It's got that nice attention grabber with its oak leather finish that adds to its mid-century look."
The Draper is also available as a chair, a loveseat and a matching ottoman. You can learn more about the Draper Furniture Family with this article.
2. The Petra Sofa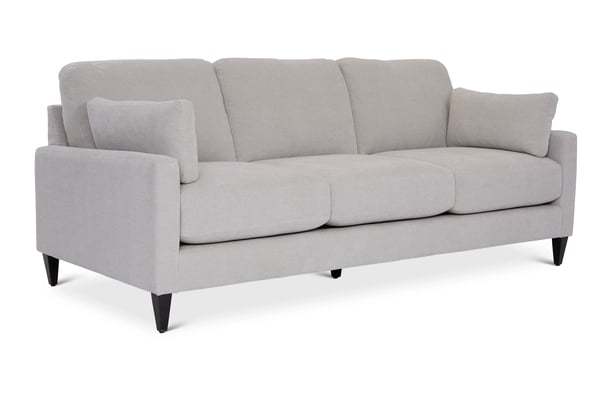 The second sofa on this list is the Petra, another newer furniture family added to the La-Z-Boy line-up. Deeper than our best-selling Paxton Sofa the Petra takes comfort and simplicity to a whole other level.
Mary Lee states that the Petra is a sofa that takes a lot of inspiration from mid-century modern styles. From its clean lines to its slim track arms and tall wood legs, this contemporary furniture is casual and comfortable for anyone. Petra also comes with kidney-shaped pillows, which were used to create a comfortable arm alongside the slim rectangular shape.
She notes that Petra's taller wood legs are its statement piece, so much so that you can vacuum underneath it without needing to raise it!
The Petra also comes as a chair & a half, an apartment-sized sofa, as well as a matching ottoman. You can learn more about the Petra Furniture Family with this article.
3. The Montrose Sectional Sofa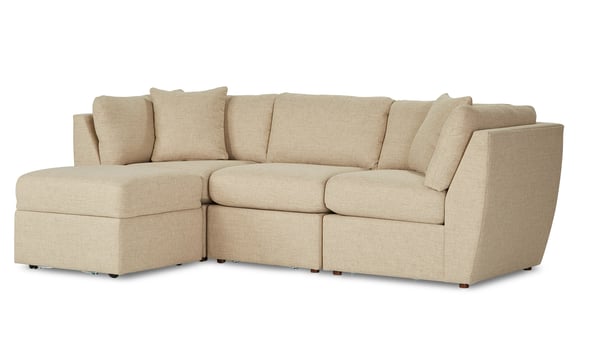 Our third selection may not be considered a traditional sofa, but can be configured into looking like one. The Montrose Sectional Sofa offers sophistication in style, casual comfort and versatility.
What's interesting about the Montrose is that its modular pieces work independently from each other or all together. The distinction lies in the placement of connectors within the furniture frame. Unlike other sectionals at La-Z-Boy, where the connectors are typically positioned on the side of the pieces, the connectors in question are located below the furniture frame.
It also has a minimal amount of pieces for a sectional at La-Z-Boy. So, even though it is versatile in shape and style, there isn't much you need to do for this furniture piece to shine.
Mary Lee states that the Montrose also works as a mid-century modern piece because of its clean lines. "Most of the time, sectionals are bulky and offer lots of add-ons, but this sectional sofa is very minimalistic and is only there for comfort."
The Montrose includes a corner piece, an armless chair, and an ottoman with storage.
4. The Roscoe Duo Sofa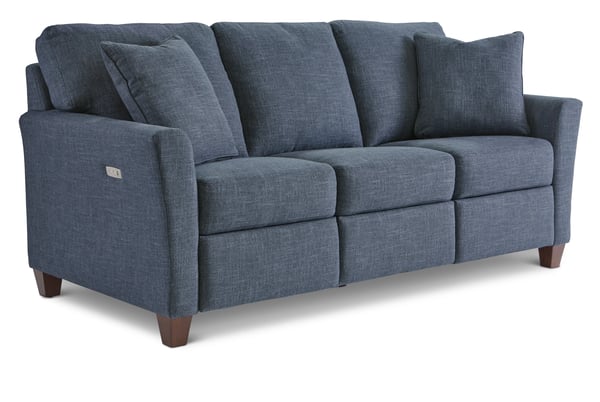 Up next is the Roscoe Sofa, the latest edition of our special Duo Collection. The Roscoe may look like a stationary sofa, however, when you sit in it you'll notice it has a power footrest, making it the best of both worlds for anyone undecided between stationary and reclining furniture.
With a refined casual style and luxe cushioning, the Roscoe is ready for any setting. Smooth looks and gently flared sabre arms add to its mid-century modern-inspired design. It also features plush power footrests and backs, which are great for any leisure activity.
The Roscoe is also available as a reclining chair and a reclining loveseat. You can learn more about Roscoe through our Duo Collection article.
5. The Meyer Sofa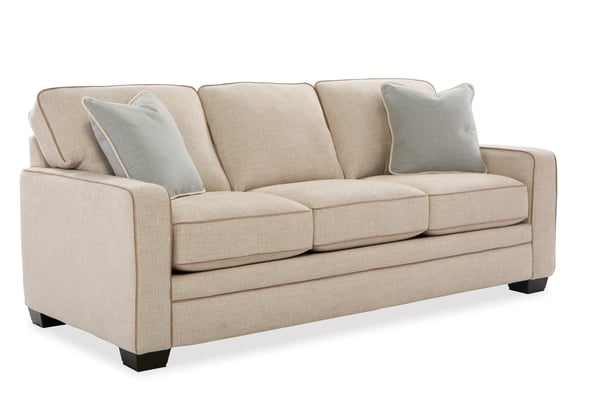 Last but not least is the Meyer Sofa, which may not look mid-century, but it does have more subtle elements that allow it to be part of this list.
The Meyer features three deep seat cushions and an extra wide stance, similar to the Petra. It also features detailing that enhances the crisp but casual look of its box-border seat and back.
The main feature that takes inspiration is the track arms, which are a little bulkier than normal, but certainly do not take up as much space as its traditional counterpart, the Collins.
The sofa's decorative wood legs add to its appeal, while the handsomely accented welt trim details, uncommon for mid-century modern sofas, enhance its overall style.
The Meyer is also available as a chair, a loveseat, a sectional and a matching ottoman. You can learn more about the Meyer Sofa with this article.

6. The Reegan & The Bellevue - Honourable Mentions
Although not sofas, Mary Lee honourably mentions our selection of high-leg swivel chairs for those looking for a mid-century modern feel but isn't committed to a massive piece of furniture like a sofa.
Both the Reegan and the Bellevue offer a different take on mid-century modern from our other swivel accent chairs. The main thing is their high legs, which are not traditionally seen on a chair this size.
"The triangle base of the tall wooden legs, and the fact that it's paired down to the minimum makes it a great homage to mid-century modern," Mary Lee says.
Both the Reegan and the Bellevue are perched upon a 360-degree swivel base, meaning you can sit in both box-border seats and feel as though you're not missing anything happening around you.
You can learn about the Reegan and the Bellevue by checking out their respective review articles.
What's Next?
We hope this list has guided you in the right direction for choosing your next mid-century modern sofa for your home.
If you're still contemplating the perfect sofa for your home, visit any of our stores and see them for yourself! La-Z-Boy has these chairs and others available to try out at any of our local Ottawa & Kingston locations. You can also schedule an appointment online before coming in.
Our design consultants are always eager to lend a helping hand, so do not hesitate to ask any questions while in-store. Additionally, don't miss the opportunity to utilize our interior designers, who can assist you in creating a design project that harmonizes seamlessly with the rest of your home.
Related Articles:
Modern Furniture Frames at La-Z-Boy
Product Info Request
Please provide us with your name and email and we'll get back to you as soon as possible regarding this item.