Review of the La-Z-Boy Miles Furniture Family: Chair, Loveseat, Sofa & Ottoman
July 25, 2022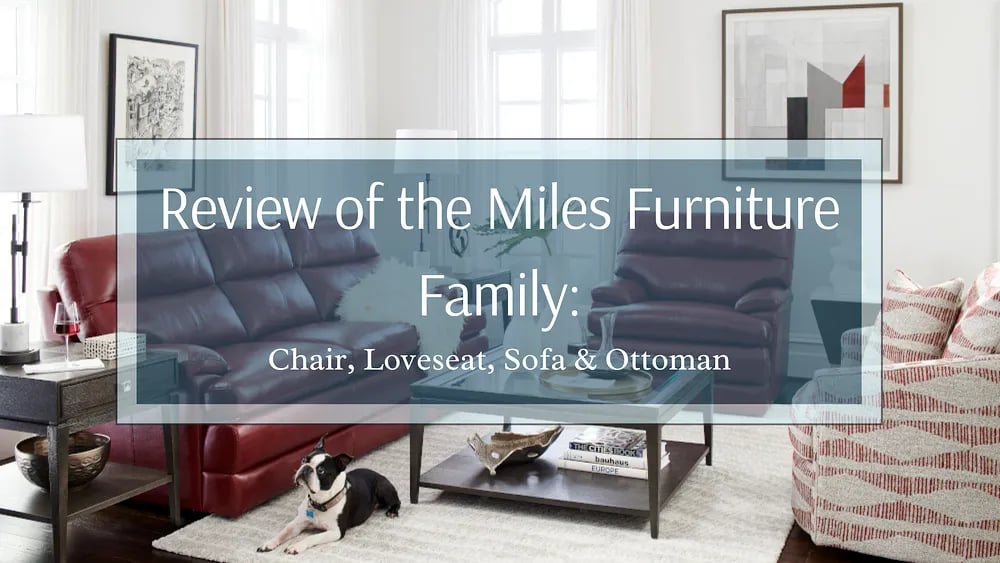 Est. Reading Time: 8 Mins
***Please note that the Miles Furniture Family is currently discontinued. If you like this review, take a look at some similar review articles.***
Review of the Trouper Furniture Family
Review of the Lennon Furniture Family
Review of the Draper Furniture Family
When it comes to finding contemporary furniture, everyone is looking for something unique and game-changing to add to their home.
At La-Z-Boy, our living room furniture selection has all kinds of unique designs and stylish pieces … not to mention, comfortable!
Take the Miles furniture family for example. Racha Pharaon, an interior designer at La-Z-Boy Kanata, says these stationary furniture pieces are new to our floor, but they seem to be making waves since being introduced.
But what makes this furniture family stand out to customers? And is the Miles furniture right for you? Well, this article will answer that question.
From its unique features, options & upgrades, and customer reviews, we will be reviewing what the Miles furniture family has to offer, as well as if this modern furniture family is right for you.
In This Article…
Miles Furniture Family (Available Frame Options)
The Miles furniture family comes in three main furniture frames. Customers can choose between the Miles Chair, Loveseat, and Sofa, as well as the matching Ottoman
Miles Stationary Chair
First, the Miles Chair has the perfect amount of individualized comfort. What's more, this stationary chair offers the right amount of comfort for anyone, big or small.
Miles Stationary Loveseat
With the Miles Stationary Loveseat, you can enjoy comfort on two seat cushions with a friend, family member, or that special someone.
Miles Stationary Sofa
Lastly, the Miles Stationary Sofa offers not one, not two, but three seat cushions, giving you the right amount of seats for family-friendly comfort.
Miles Ottoman
Additionally, you may be enticed by the Miles matching Ottoman. This stylish and classic-looking ottoman can double as a reclining alternative for your stationary furniture, or as an extra seat for when you have guests over.
Unique Features
While each Miles furniture frame differs in size, they all each have the same unique features.
The Miles furniture family features a stylish, yet classic look, with a full appearance. It features decorative wood legs in brown mahogany, which is distinctly displayed on the ottoman.
What's more, Racha says the Miles also has unique single-needle heavy-gauge top-stitching included in its design. "Top-stitching is shown on the pillow-top seat border, arm pads, back border, and the outside frame."
Beyond its look, the Miles is comfortable with double-picked blown fibre fill cushions for improved retention.
Size & Dimensions
To ensure that the large frame of the Miles can fit in your space, be sure to Measure Your Room.
When it comes to the size of the Miles, Racha says these furniture pieces are considered wide and full. "Compared to other furniture families, these furniture frames are larger than most!
This is due to their heavy bottom sections, causing them to take up more room in their shape. This is especially shown with the Miles Chair, which has an unusually longer width than other stationary chairs at La-Z-Boy.
The Miles also has a taller back, being able to seat comfortably those with a height of 5'10" - 6'2".
While your height can be a considerable factor, it is important to note that height guidelines are NOT set in stone. The way you sit in a furniture item can drastically affect how someone might find a seat comfortable.
Ultimately, we recommend always coming in for a sit test to see if the Miles is comfortable for your body type. To learn more, take a look at How to Find a Recliner That is The Best Fit For You or How to Find the Right Sofa for Your Size.
Below is a breakdown of each Miles furniture frame and its size & dimensions.

Miles Chair Dimensions (Inches)
Miles Chair Weight: 115 lbs

Body Depth: 40.5"




Body Height: 40.5"




Body Width: 41.5"

Seat Depth: 22"




Seat Height: 21"




Seat Width: 22"
Miles Loveseat Dimensions (Inches)


Miles Loveseat Weight: 145 lbs

Body Depth: 40.5"




Body Height: 40.5"




Body Width: 65.5"

Seat Depth: 22"




Seat Height: 21"




Seat Width: 46"
Miles Sofa Dimensions (Inches)
Miles Sofa Weight: 186 lbs

Body Depth: 40.5"




Body Height: 40.5"




Body Width: 89.5"

Seat Depth: 22"




Seat Height: 21"




Seat Width: 70"
Options & Upgrades
All upholstery furniture at La-Z-Boy is customizable. Give the Miles furniture family your own personal touch by choosing from a range of options and upgrades.
It is important to remember that by selecting any options and upgrades in this section, the cost of any Miles product is subject to increase.
Leather Options
At La-Z-Boy, the option to choose your own fabric or leather is seemingly endless. In fact, La-Z-Boy has over 800 covers available to personalize your furniture items, including the Miles.
Keep in mind that many of these fabric and leather options are considered upgrades and come at an additional cost.
One thing that makes the Miles different from other furniture families offered at La-Z-Boy is the fact that it only comes in leather. Miles' select leather, which does not increase the cost of your furniture, includes 2 leather covers. These covers include a pebble beige and a walnut brown.
If you want more colours to choose from, you can also upgrade your leather to Custom Leather or Custom Leather Plus options as well. These however do come at an additional cost.
Please note that this article's leather or fabric options may be discontinued or unavailable without prior notice. We recommend contacting your local Ottawa or Kingston La-Z-Boy store by phone or in-person to confirm availability. We apologize for any inconvenience caused by any changes to our upholstery selection.
In addition to the cover options mentioned above, the Miles is also offered in the following specialty fabrics that have unique features and benefits …
Crypton Leather
Along with the high-performance fabrics at La-Z-Boy, our leathers also have stain-resistant, anti-bacterial, and bleach-cleanable leather available.
Similar to the existing antimicrobial fabrics at La-Z-Boy, antimicrobial leathers help protect the surface from mould, mildew and odour-causing bacteria to appear.
Performance
Superior stain and fade resistance properties make Leathers easy to clean and incredibly durable.
Faux Leather
Faux leather is basically recycled leather that the tannery did not use because they were shaved away from the original hide grain.
Cushion Upgrade
At an additional cost, firmer seat options are available, plus you can choose to upgrade both the seat and back cushions. This could be a great option for people with mobility issues, allowing you to get in and out of your furniture more comfortably.
For more information please see our stationary furniture collection catalogue.
Cost
In terms of cost, Miles's products fall within the high price range at La-Z-Boy. This is mostly because of the restriction of leather upholstery.
While the cost of the Miles furniture is considered quite standard at La-Z-Boy, it is important to note that La-Z-Boy furniture is considered expensive in the market. This cost is reflected in the quality of materials and craftsmanship of our products. With this, the investment tends to be worthwhile if you are looking for long-lasting furniture.
Miles Chair

Miles Loveseat

Miles Sofa

Miles Ottoman

Starting at




$2,029

Starting at




$3,489

Starting at




$3,499

Starting at




$1,099
*All La-Z-Boy prices listed in this article are subject to change. We aim to update all cost-related articles twice per year. This article was last updated on June 15th, 2023. Contact your local Ottawa or Kingston location by phone or in person for up-to-date pricing.
Warranty
The Miles is covered by La-Z-Boy's Limited Lifetime Warranty. This warranty covers the repair or replacement of the frame, spring systems, and mechanism, given that they are quality-crafted and built for long-lasting comfort.
For full details of the Limited Lifetime Warranty, check out this full La-Z-Boy warranty breakdown.
While still quality-crafted, other aspects of the product, such as fabrics, leather, and cushion, are not meant to last a lifetime. However, these parts are still covered by the La-Z-Boy Manufacturer's Warranty for a given period of time.
To further protect your purchase, La-Z-Boy Ottawa & Kingston offers an extended warranty plan at an additional cost. To learn more about the Extended Warranty Plan and if it's right for you, take a look at this article.
Customer Reviews
The Miles furniture family is enjoyed by many La-Z-Boy customers. This table shows how our customers have rated each piece of furniture out of five.
| | |
| --- | --- |
| Miles Chair | 5.0 |
| Miles Loveseat | 4.9 |
| Miles Sofa | 4.8 |
| Miles Ottoman | 5.0 |
Star ratings can only tell you so much. Here is what some La-Z-Boy customers are saying about the Miles furniture family…
Is the Miles Furniture Family Right For You?
Now that you know everything you need to know about the Miles furniture family, the question still remains. Is this furniture family the right one for you? To answer this question, we must take a look at cost, functionality, and practicality.
Firstly, the price of the Miles is more expensive than other furniture families, as mentioned before. However, Racha says leather furniture, these furniture items aren't terribly expensive compared to others at La-Z-Boy.
Leather is proven to last longer than fabric furniture. This means if you were to purchase a furniture piece with a fabric cover, chances are you would replace your fabric furniture while the leather option would stay intact 5 times over.
As you debate your furniture selection, take a look at our article comparing Fabric vs. Leather. With that being said, leather furniture does come with its own set of problems that require maintenance. Keep this in mind as you make your choice.
In terms of functionality, the Miles furniture family is stationary, meaning if you're looking for a reclining option, this furniture might not be right for you. There is the added bonus of an ottoman to use for kicking your legs up, but this may not be as comfortable as a traditional recliner.
Moreover, Miles seats taller individuals more comfortably, which means shorter individuals might find it harder to feel comfortable with these furniture products.
If you're looking for something that seats you and others with average-sized heights, this furniture family may not be right for you.
Further, the Miles might not be suitable for smaller spaces, due to its size. If you're looking for furniture that suits larger or open-concept spaces, these furniture pieces will fill up your space nicely. Alternatively, the Miles furniture may be too large for a small condo or apartment.
Finally, let's talk about style. The Miles stationary furniture has a contemporary look to it while featuring a large frame and very plush cushioning. Not to mention, the Miles is only offered in leather. If this is the look and feels you are going for, the Miles might be a great choice.
In contrast, if you are looking for more traditional and tapered furniture in fabric, Racha says you may prefer a different stationary furniture frame like the Bexley.
What's Next?
Now that you have a more knowledgeable understanding of the Miles furniture family, why not discover this furniture family in person?
You can start shopping by visiting one of our local showrooms located in Ottawa or Kingston. You can also schedule a visit online before coming in.
Our design consultants are always eager to lend a helping hand. Take advantage of our interior design services to see how the Miles furniture could fit in your home.
If the Miles wasn't what you were looking for, take a look at some of our other furniture family reviews:
Related Articles:
Traditional vs. Contemporary Style Furniture
Product Info Request
Please provide us with your name and email and we'll get back to you as soon as possible regarding this item.