A Review of the La-Z-Boy Urban Attitudes Collection
August 22, 2020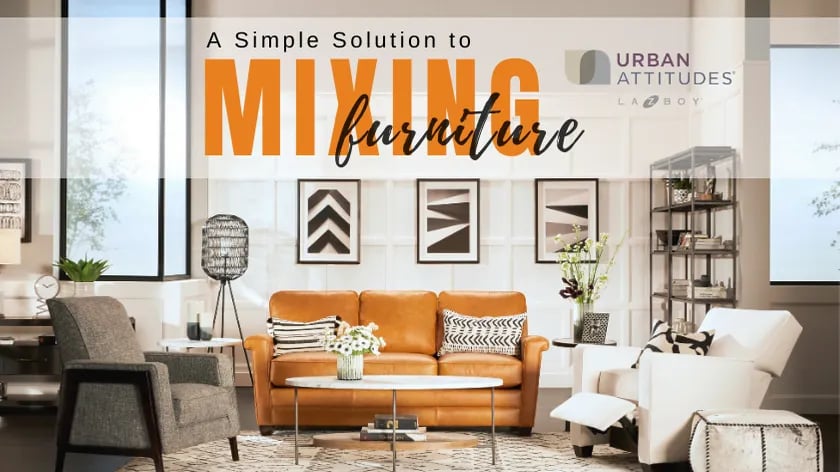 PLEASE NOTE: The Urban Attitudes Collection has been discontinued at La-Z-Boy.
Does the thought of mixing furniture to create a cohesive, well-designed room make your head spin? It may seem like an impossible task given the sheer volume of available furniture options. Look no further than the La-Z-Boy Urban Attitudes® Collection. It allows for simple furniture coordination without perfectly matching. Plus, the number of versatile pieces and cover options gives you the ability to infuse your style.
Purchasing an entire matching furniture set is a decorating mistake you will want to avoid if your goal is to inject some personality and visual interest into your space. Whether you love decorating or you've never heard of tufting, the Urban Attitudes Collection offers styles that are easily mixed and matched to make design simple.
Mixing and matching furniture can bring a sense of style to a room. Whether you're trying to stay on budget or stay within a specific style, the Urban Attitudes Collection is the perfect choice to match your sofas, ottomans and chairs seamlessly.
This review of the Urban Attitudes Collection will cover:
What is Urban Attitudes?
A fresh collection of sofas, loveseats, chairs and ottomans, Urban Attitudes is a contemporary twist on classic styles. The line of premium crafted furniture boasts clean lines and designer details that coordinate seamlessly.
As inventors of the reclining chair back in 1927, you can rest comfortably knowing styles and frames offered in the Collection possess 90 years of innovative design experience.
The Collection is designed to simplify mixing furniture to create a modern living space that's chic and stylish, yet fun and functional. The name of each piece has an urban flare. Moreover, the beautiful textures, vibrant colours and bolder patterns on dozens of specially selected fabrics evoke the spirit of the Collection.
Furniture in the Urban Attitudes series is fully customizable, helping ensure each piece is unique. From nailhead trim to contrasting welts to feather accent pillows to optional wood finishes, you can make each piece uniquely your own.
Mix and match from dozens of unique styles, covers, and finishes to create a comfortable, cohesive, and stylish room.
Product Features in the Urban Attitudes Collection
Urban Attitudes is a specific category of uniquely designed and sized pieces within the La-Z-Boy premier stationary furniture line. You can rest comfortably knowing our stationary frames are built with the active family in mind.

The collection has the same features and benefits of the La-Z-Boy® Premier construction:
➊ Quality-crafted frame consisting of kiln-dried hardwood and furniture-grade laminates
➋ Fully padded outside back, outside arms and front post
➌ La-Z-Boy non-skid logo decking-sag sinuous wire seat and back springs to keep seat cushions in place
➍ Patented ComfortCore® seat cushions – zoned seating offers added support for the spine, hips and behind the knees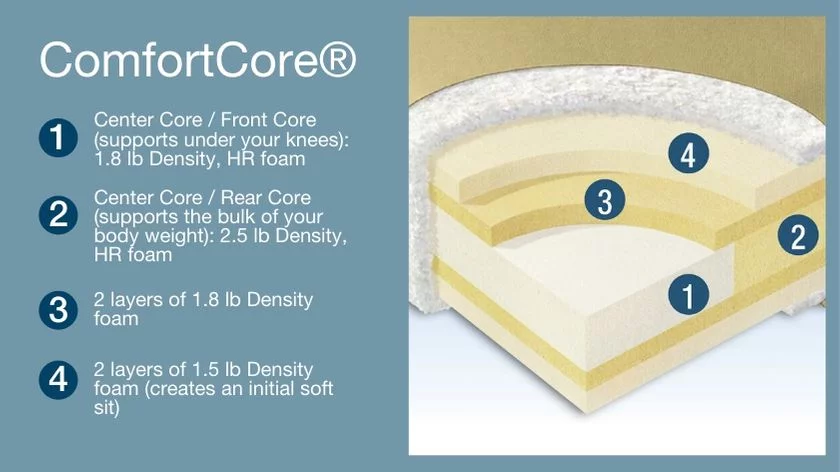 ➎ Self-healing zippers fixed effortlessly by zipping and unzipping past the point where it has popped open with usage
➏ Accent pillows lined with accordion fabric for added loft
➐ Limited Lifetime Warranty on parts, mechanism and frame

Additionally, Urban Attitudes offers a collection of pre-selected iClean™ performance fabrics to help you mix and match patterns and colours for a fool-proof design.
Mixing Product Styles in 3 Simple Design Steps
Step 1 | Select Your Urban Attitudes Sofa (2 Styles)
Your dream room starts with the right sofa. Designed to be customized, Urban Attitude sofas, loveseats and sectional pair seamlessly with other frames from the collection. From classic to contemporary, choose one to match your unique style and needs.
At La-Z-Boy, we believe there is a 'right' seat for everyone considering body dimensions. Make sure the Urban Attitudes sofa or chair seat height, depth and width are made explicitly for you.
ALEXANDRIA SOFA AND LOVESEAT
An updated take on the classic Chesterfield design, the Alexandria sofa isn't afraid to make a statement. Its tight back boasts button tufting in a diamond pattern that's both distinctive and unique. Extra cushioning softens Alexandria's sloped rolled arms while adding a modern twist. Slender, tapered wood legs complete the stately silhouette.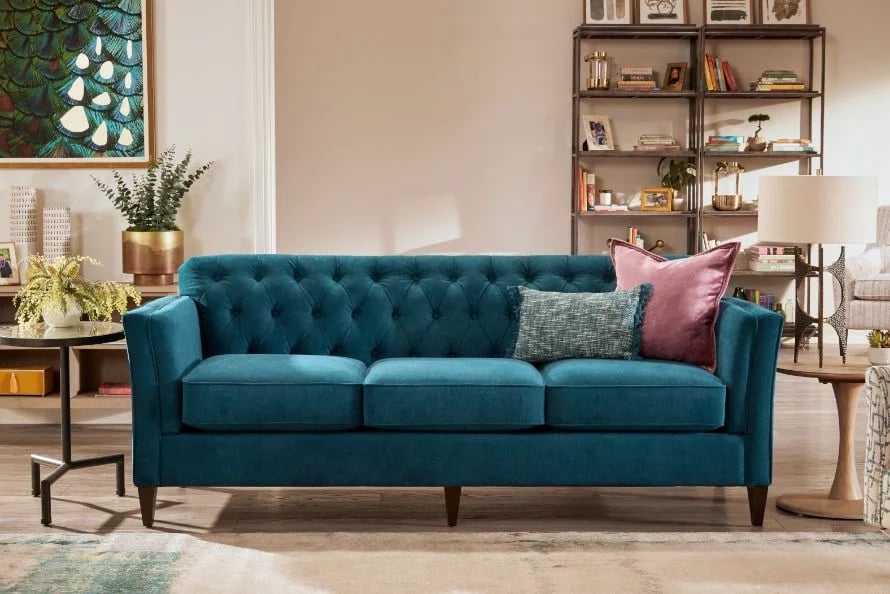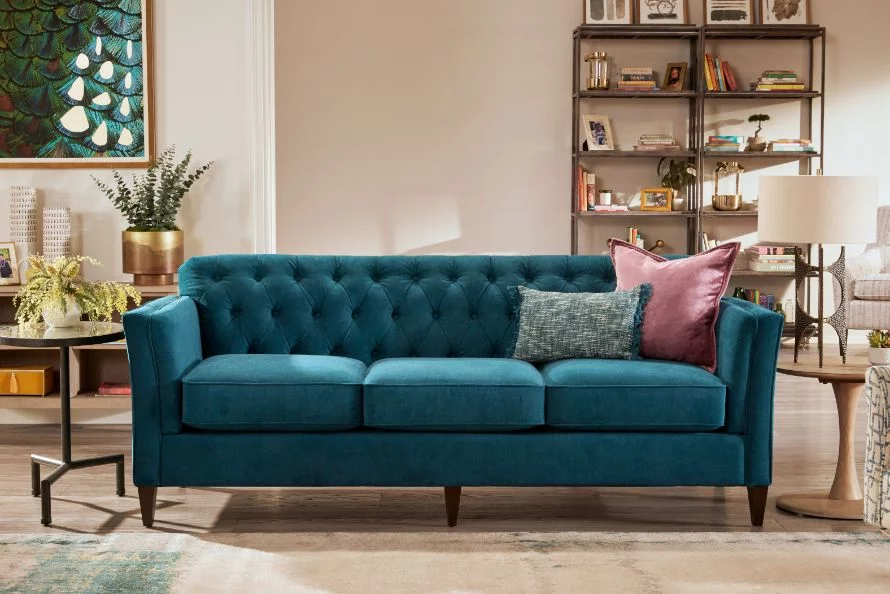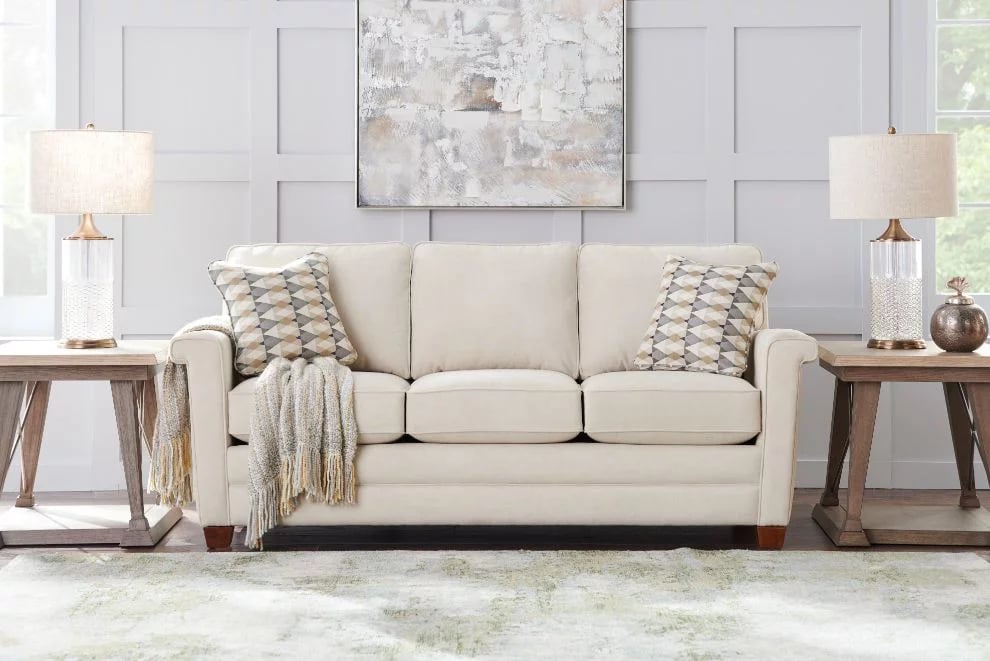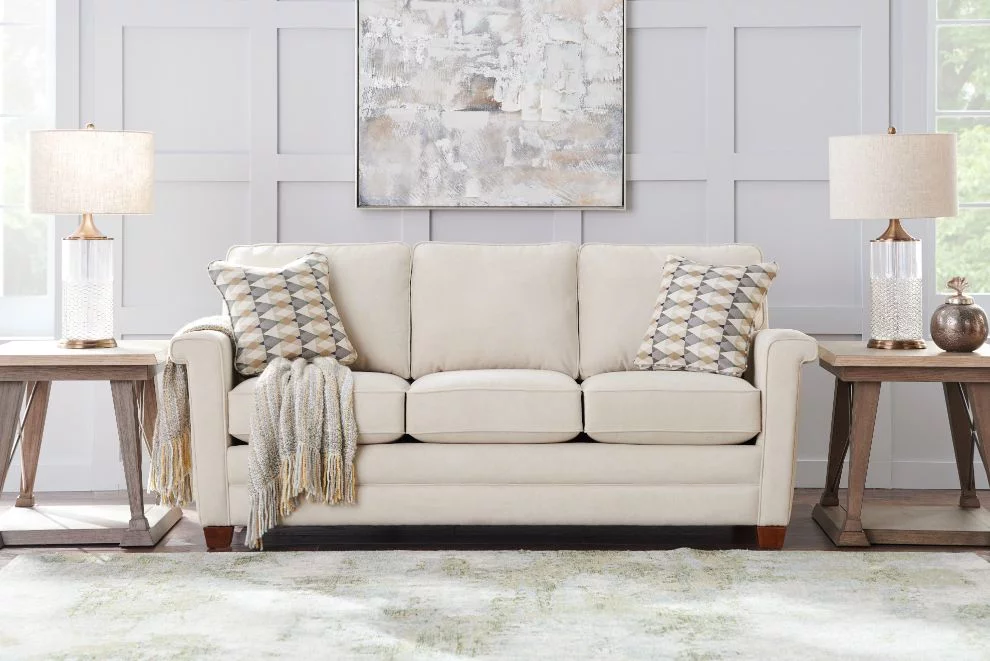 BEXLEY STATIONARY SOFA, LOVESEAT AND SECTIONAL
Whether you're designing a whole new room, or adding a sofa to existing pieces, Bexley blends right in, with its clean, tailored lines and welt trim detailing. Slightly flared, key-shaped arms frame its three roomy seats for a unique, yet uncomplicated silhouette. Also available in a full and queen sleeper.
Learn more in the Bexley Sofa Review as well as the Bexley product manual.
STEP 2 | Add Your Urban Attitudes Accent Pieces
Each sofa style can be paired with any of the eight small-scale designer chairs or five accent ottomans. Each piece coordinates flawlessly with the rest of the collection, helping you create vibrant and eye-catching combinations without sacrificing comfort.
From statement-making chairs to secret recliners, Urban Attitudes accent pieces are anything but ordinary!
1) FERNDALE PRESS BACK RECLINING CHAIR AND OTTOMAN
Ferndale is a recliner with understated style and unlimited possibilities. Unique key shaped arms and a slim, inset back cushion give its clean lines a modern edge, while a solid wood base and tall tapered legs add sophistication. Our matching Ferndale Ottoman completes the look and transforms this stylish chair into a space made for relaxing.
Learn more about the Ferndale ottoman and which other ottomans made our top 5 best sellers list.
2) CHANDLER HIGH LEG RECLINING CHAIR
A striking addition to any room, Chandler is the perfect balance of classic elements and contemporary style. And, no one would ever suspect this handsome chair is also a recliner. Push back to enjoy two positions of instant reclining comfort.
3) BRENTWOOD HIGH LEG RECLINING CHAIR
It's easy to mistake Brentwood for a vintage piece. Featuring hallmark details of mid-century design, it adds unmatched style and unexpected comfort to any room. Push back, and this retro-inspired chair becomes a cozy recliner. Flared arms with welt trim frame the box border seat cushion, while a tall tufted back and attached headrest provide soft support as you sit or recline. Exposed wings and tall conical legs add extra flair.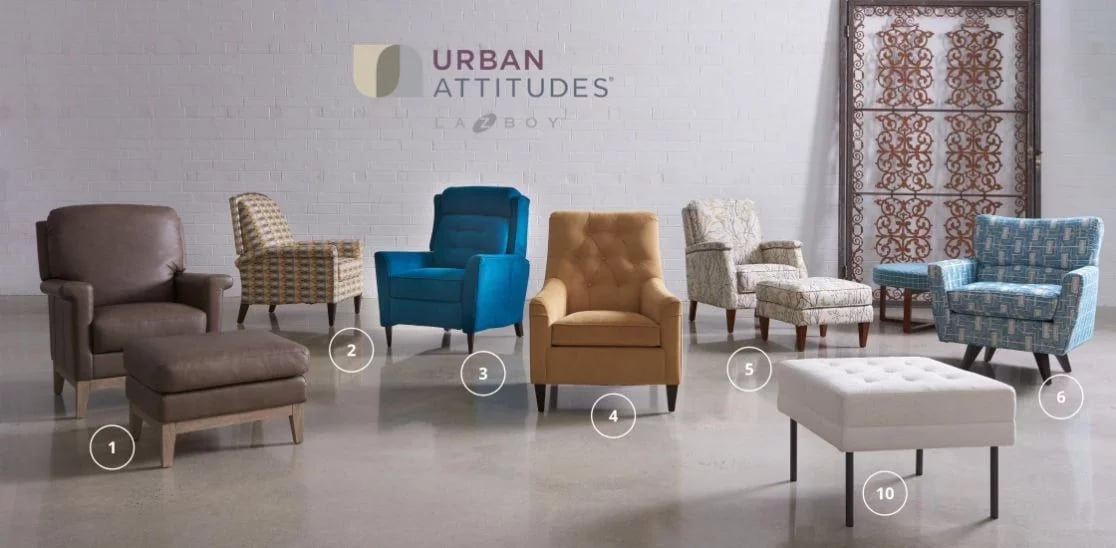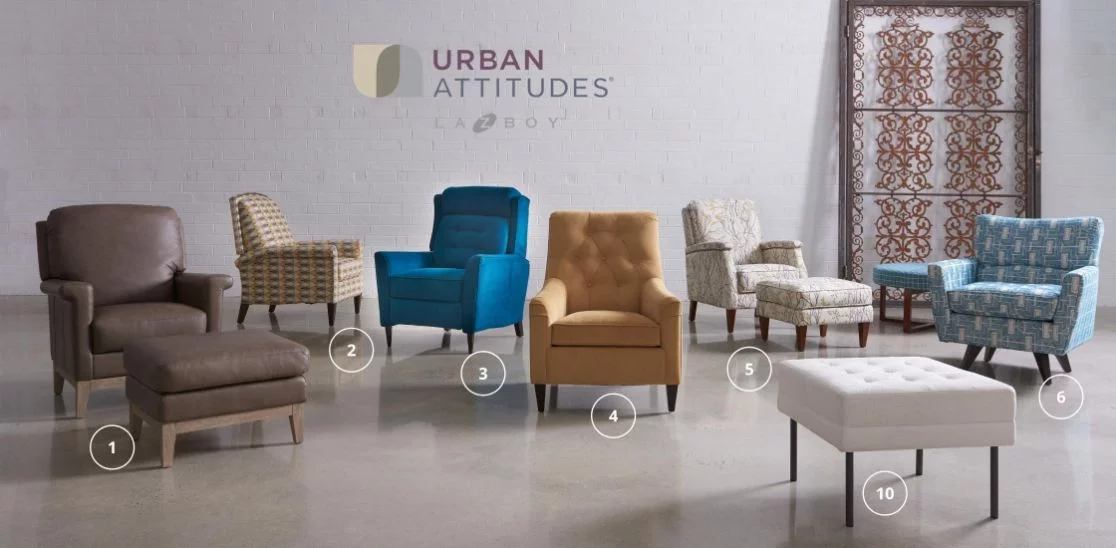 4) MARIETTA CHAIR

Gorgeous from every angle, its elegant silhouette boasts a curved back and low, subtly flared arms accented with crisp pleats. Welt trim traces Marietta's graceful lines while a tight diamond-tufted back adds to its classically tailored look. Tapered wood legs extend the chair's tall silhouette and provide a rich finishing touch.
5) CAMBRIDGE RECLINING CHAIR
Classic details make the Cambridge Reclining Chair a sophisticated choice for any room in your home. This stately chair features padded arms, a tall supportive back, decorative wood legs and elegant welt trim. And, no one would suspect it's a recliner. Push back to enjoy instant reclining comfort.
6) BELLEVUE HIGH LEG SWIVEL CHAIR
This retro-inspired chair is reinventing mid-century style. Its low-profile design features subtly flared track arms and a softly scooped, tight back. Welt trim along the outside arms and loose seat cushion highlight Bellevue's organic lines, while angled wood legs add a vintage flair. Fun and functional, with a 360-degree swivel base, this playful chair keeps you at the center of all the action.
Find out more about the Bellevue chair and La-Z-Boy's other top 5 best selling accent chairs.
7) ALBANY RECLINING CHAIR AND OTTOMAN
The Albany combines mid-century modern style with the added comfort of a recliner. But most of all, it's got plenty of personality. Dress it up in your favourite colour or pattern to make a bold style statement. Or, choose leather for a look that's a little more refined. And, no one will suspect it's a recliner. The matching Albany ottoman is sold separately.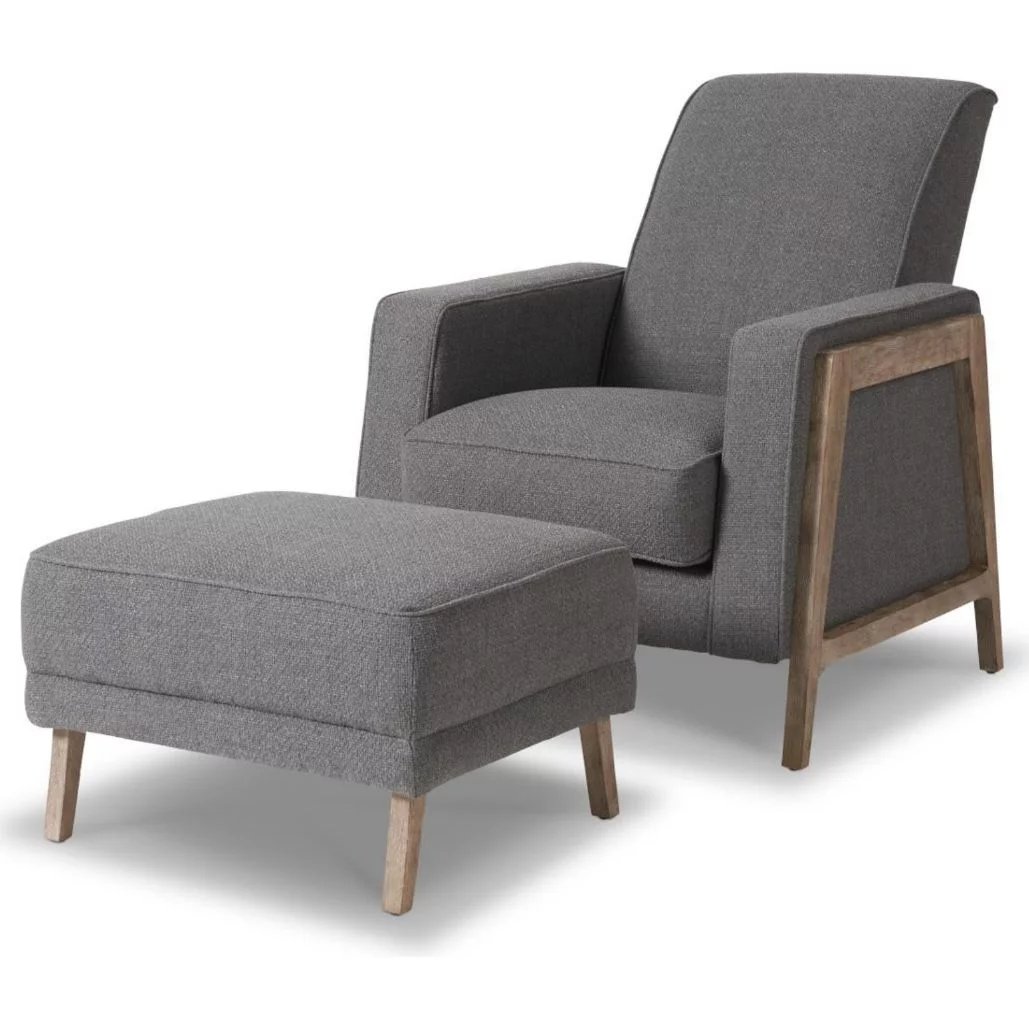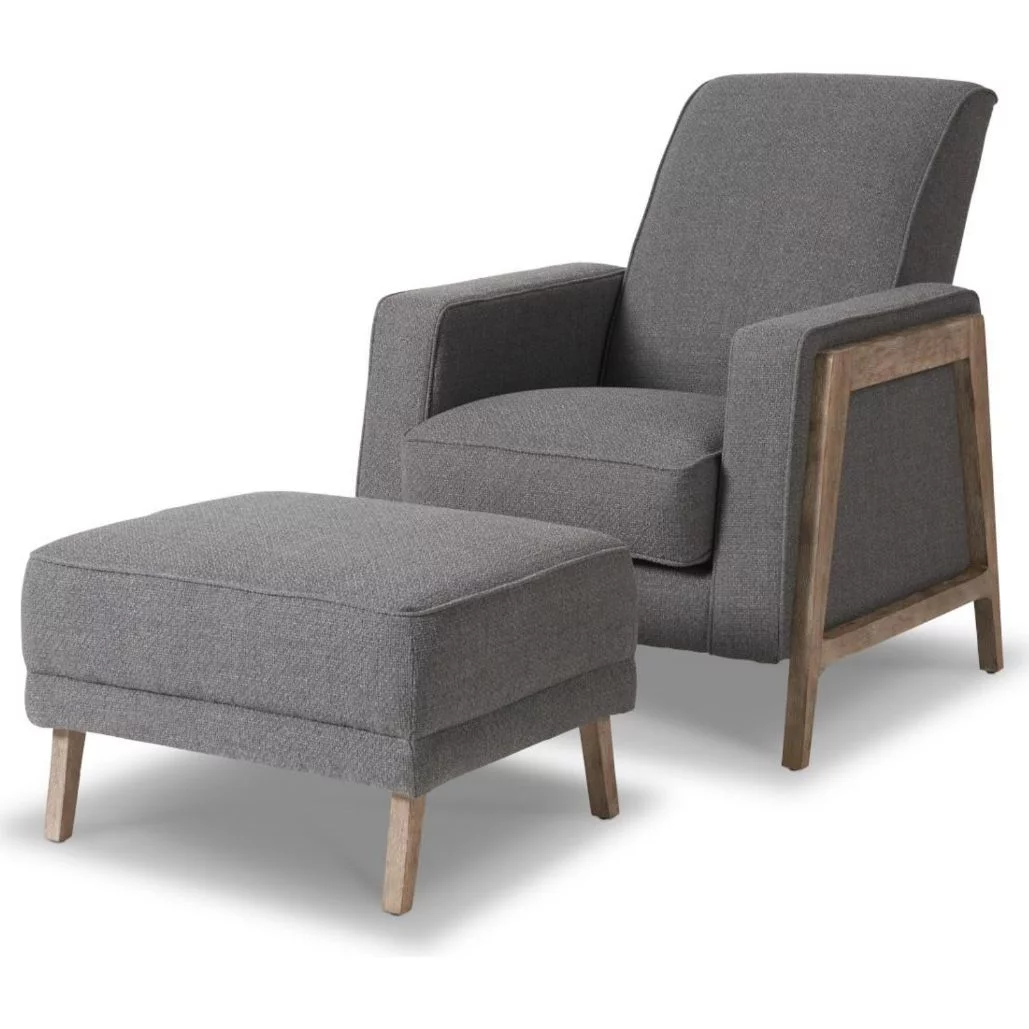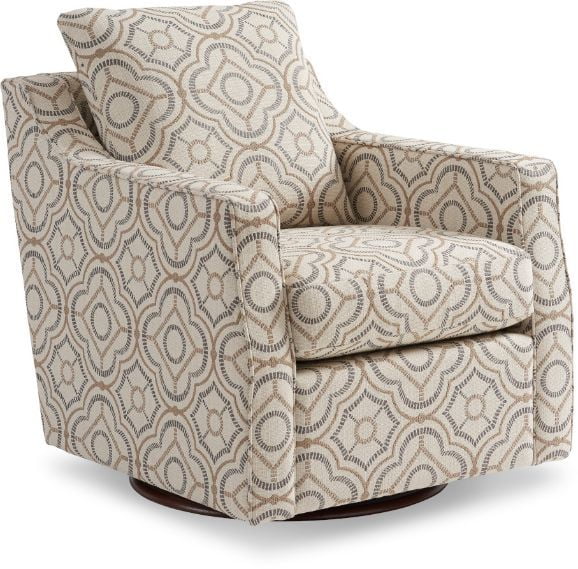 8) BIRMINGHAM SWIVEL CHAIR
Enjoy classic style and swivel freedom with our Birmingham Swivel Chair. It has a timeless design plus a 360-degree swivel base to keep you at the center of the conversation. Birmingham features elegant welt trim on the arms and a ComfortCore® seat cushion that provides optimum support for a long or short sit.
9) Logan Circle Ottoman
With clean lines and contemporary styling, the Logan Circle Ottoman is as unique as it is useful. Pair with a sofa or chair and rest your feet, or use it as an unexpected cocktail table. Its bold geometric design is underlined by an x-shaped wooden base, while a button-tufted cushion with complementary seaming and single-needle topstitching brings it all together.
10) Logan Square Ottoman
Perfect as a standalone piece or in a collection, the Logan Square ottoman adds style and versatility to any space. Create a modular seating area, cocktail bench or use as a creative end table or footrest. Tall metal legs emphasize its bold geometric design, while a button-tufted top with single-needle topstitching along the border adds a tailored sensibility.
11) Logan Storage Ottoman
Our versatile Logan Ottoman just got a significant upgrade in functionality. With its clean lines, decorative wood legs and welt trim, the Logan Storage Ottoman has a mixable, matchable style, plus the added benefit of inside storage. Whether you use it as a footrest, cocktail table or extra seating, you'll love the form, and function Logan brings to any room. The inside compartment has plenty of room for pillows, throws, DVDs or anything you need to stash away easily.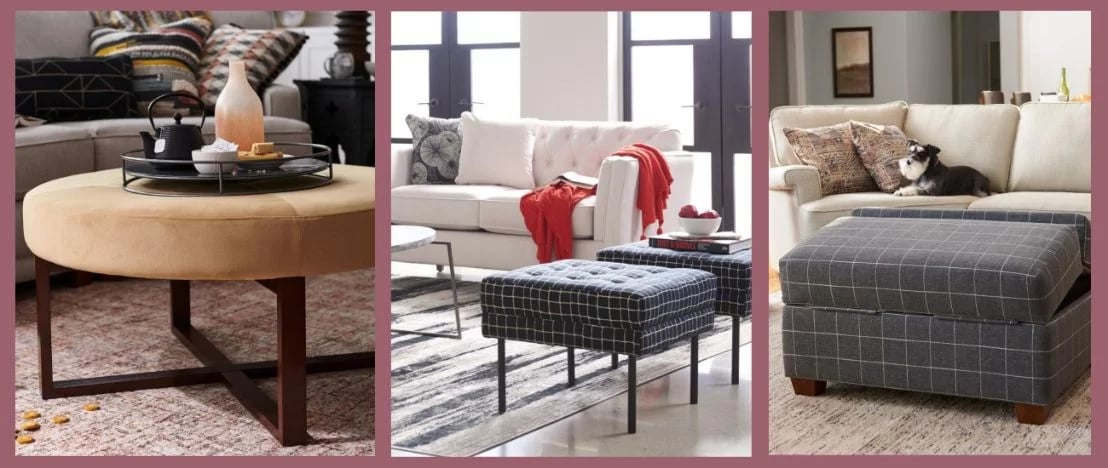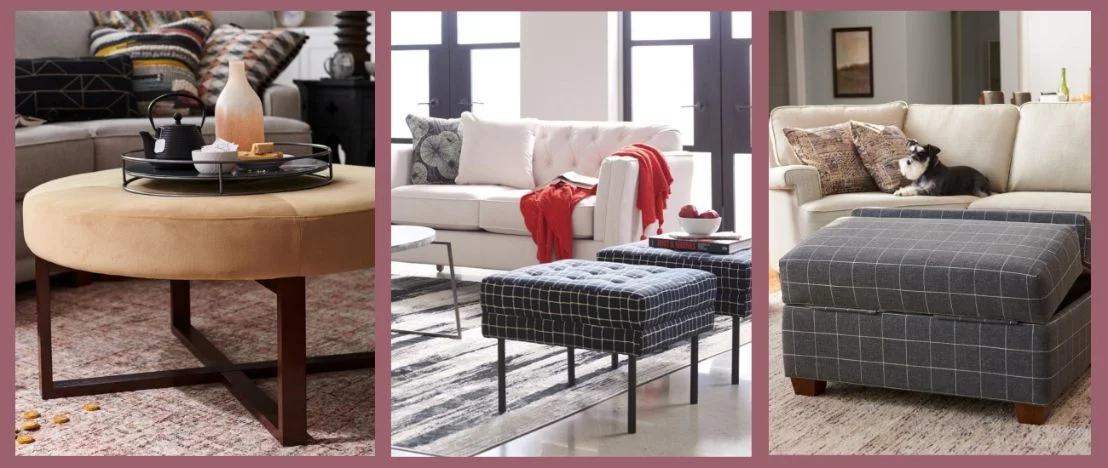 STEP 3 | Choose Your Fabrics
Urban Attitudes offers over 50 pre-selected iClean™ performance fabrics to give you a wide variety of patterns and prints to choose from at no extra charge. These fabrics provide a barrier of protection that repels spills before they turn into stains.
In our Ottawa and Kingston La-Z-Boy showrooms, the collection is accompanied by a swatch binder to make customizing fabrics and correlates easy and fun! Rest assured that no matter what fabric page you're on or how many combinations you try, they'll produce a perfectly coordinated look. Scroll through the Urban Attitudes fabric options online.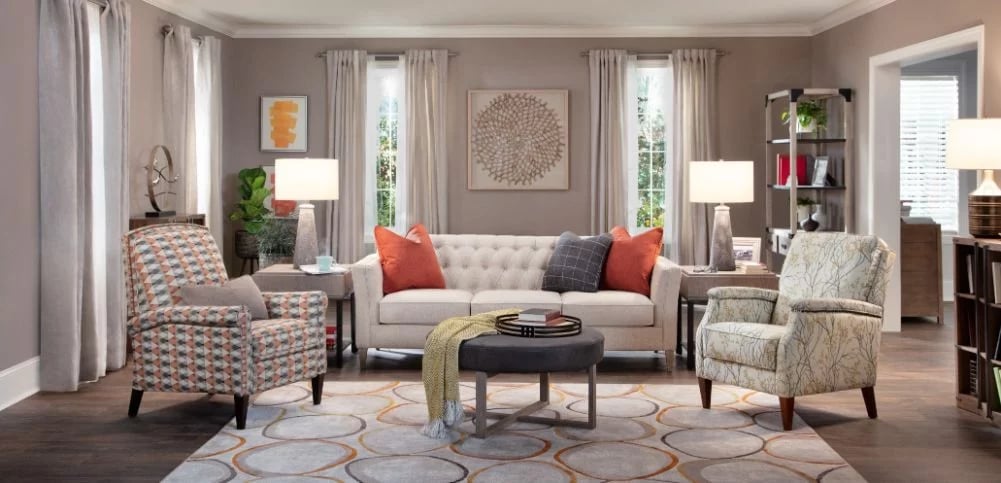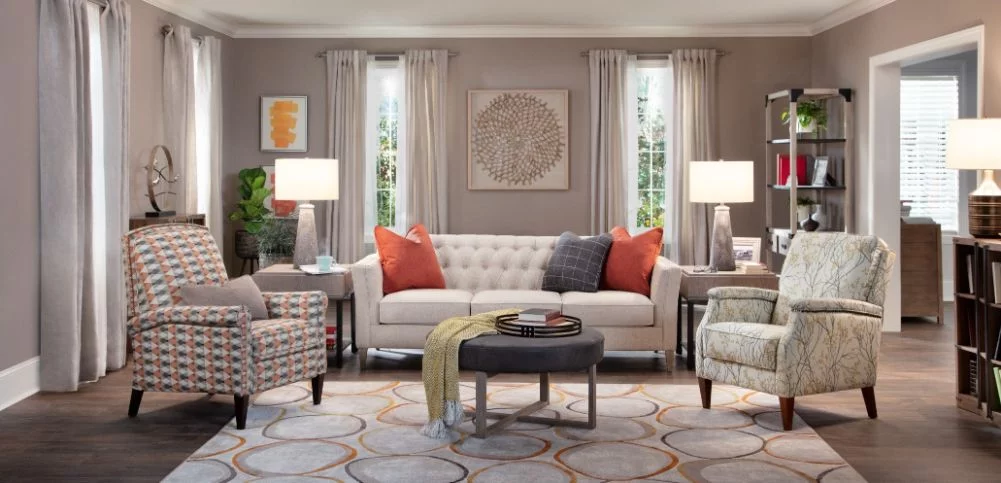 Upgrades and Options For the Urban Attitudes Collection
Take some time to investigate your options so that your new furniture doesn't suit your home; it suits your way of living. Furniture options are easy add-ons for minimal up-charges and a great way to make sure you are getting one that is precisely right for you. The Urban Attitudes series has various customizations, but some upgrades and options noted below may only be available on specific styles and frames.
Upholstery / Cover Options
Your choice of fabric or leather upholstery is a pivotal decision when selecting a sofa for your home. Styles in the Urban Attitudes Collection have hundreds of fabric and leather cover options outside of the pre-selected iClean swatches to custom-create a look that's uniquely yours. Choose from the latest colours, patterns and textures. There are options to suit every style and budget.
A subset of covers are available in "conserve" fabric. Soft, durable, and sustainable fabric made out of recycled water bottles. This eco-friendly material uses as many as 100 recycled water bottles to cover a standard sofa.
As with conventional furniture fabrics, conserve covers are wear-tested for safety, quality and durability. So, they stay comfortable and beautiful for years after delivery. They come in a wide range of colours and patterns to complement your room.
If you have pets, you might consider taking advantage of our Pet-Friendly fabric that has a high level of cleanability and durability, including the iClean technology.
Another specialty fabric option at La-Z-Boy is the antimicrobial fabric. This fabric protects against mould, mildew, and odour-causing bacteria
To see what some of our covers would look like in your home, order your free sample fabric swatches!
Seat Cushions
At an additional cost, firmer seat options are available, plus you can choose to upgrade both the seat and back cushions.

Please note that furniture purchased prior to January 2021 had the option to upgrade to ComfortCore® GEL seat cushions. This cushion has seven layers of comfort technology that includes gel-infused memory foam that provides exceptional support as it conforms to your body.
Wood Finish
Give your sofa legs a completely custom look with a different wood finish. Match your current décor or add striking contrast. Sofas in the Urban Attitudes Collection come standard in a brown mahogany finish with three optional finishes: coffee, graphite, driftwood.
Contrasting Welt Trim
Welt trim provides a tailored look to cushions and pillows but takes on an entirely new dimension in a contrasting colour. An unexpected touch, this decorative detail adds instant personality and highlights the sculptural lines of any silhouette.
NailHead Trim
Commonly used in more traditional pieces, nailhead trim is making a comeback. It accentuates the design lines of sofas, adding a handcrafted look that is both rustic and contemporary. Some Urban Attitudes styles have brass, platinum and black nailhead colour options.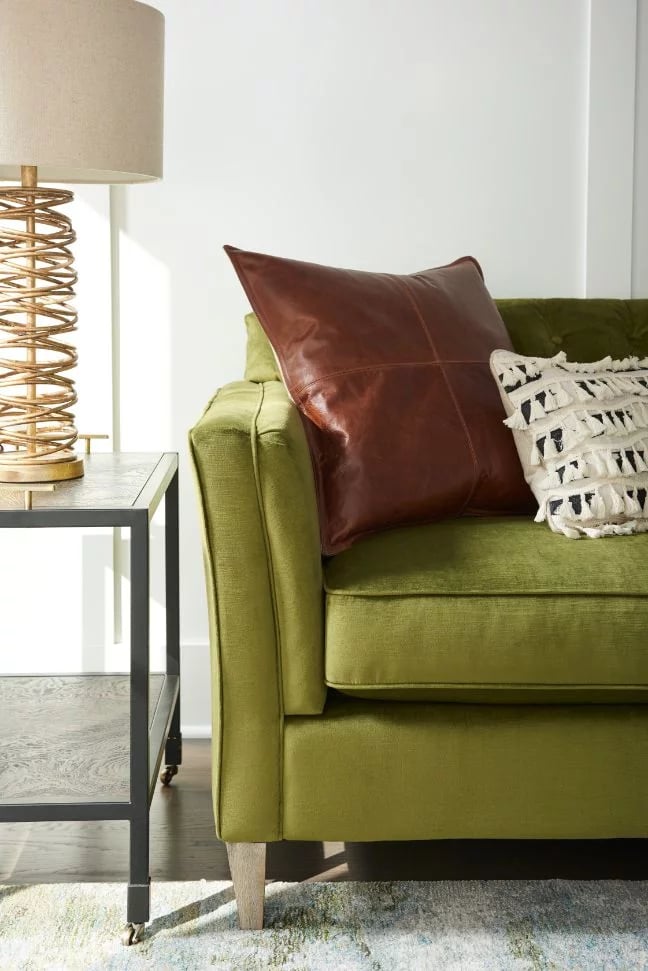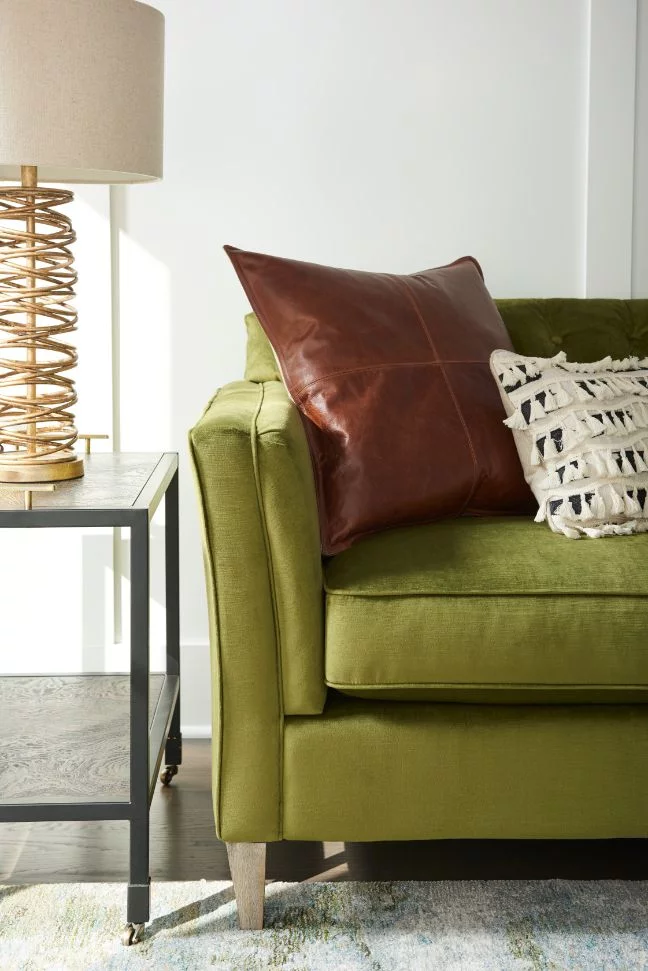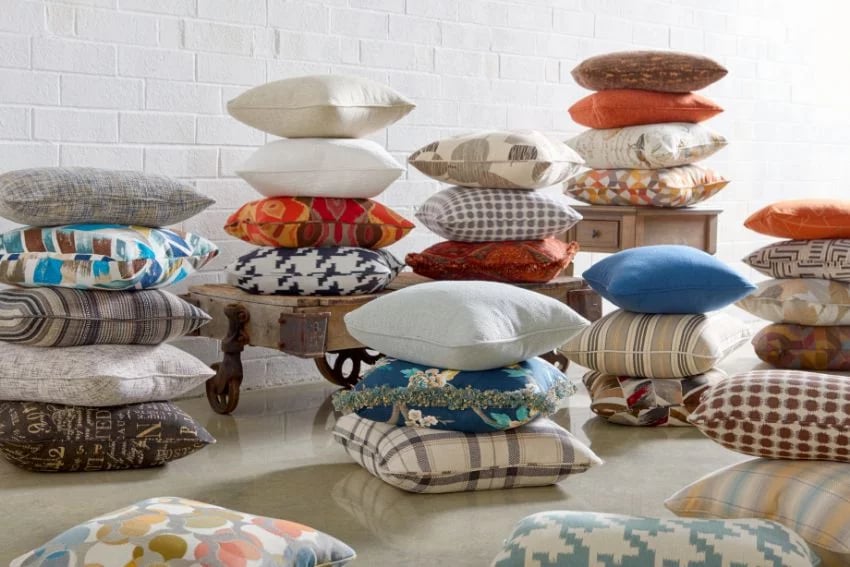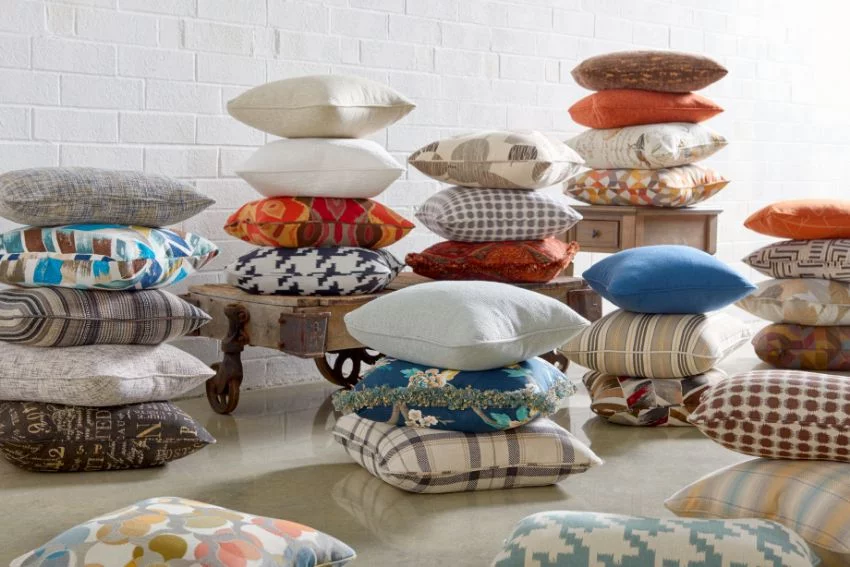 Pillows
Are you looking for that perfect accent piece? Sofas from Urban Attitudes Collection come with matching pillows. But if you are going for a bolder look, you can opt to get them in a contrasting cover that will set your furniture apart. Also, you can choose to add either a cord or fringe pillow edge treatment.
Add down fill feathers and upgrade your pillows to FeatherLite Comfort.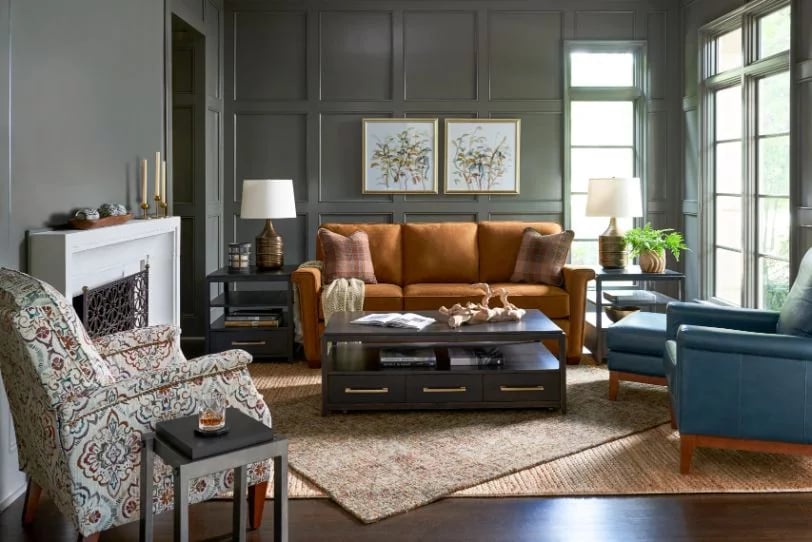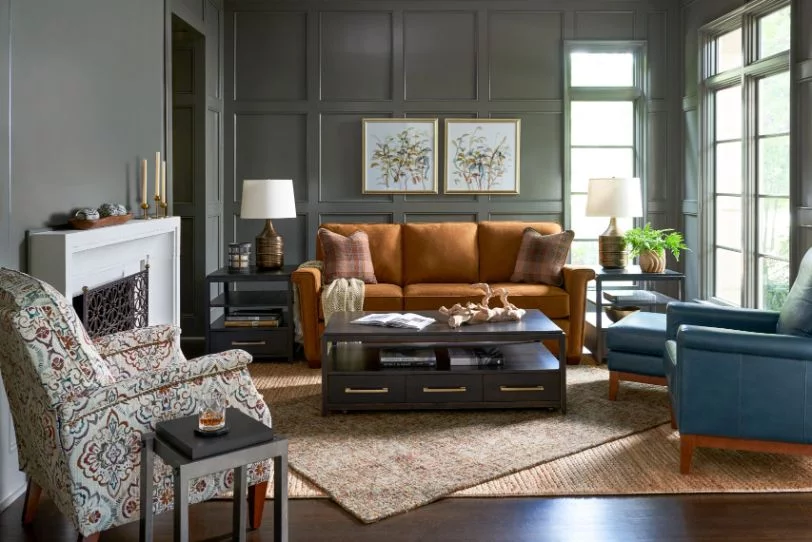 How Much Does Furniture in the Urban Attitudes Collection Cost?
Buying furniture is a significant investment. You will want to make sure you make the right choice for your specific needs.
The cost of the Urban Attitudes sofas is in the lower range of the dozens of styles we offer. As stationary frames, the Alexandria, and Bexley have no reclining or power option. See how much a sofa costs.
Individual modules of the Bexley Sofa range from $3,250 - $4,130, depending on if you're purchasing the regular sofa or the queen sleeper sofa. The Bexley loveseat has a base starting cost of $3,149. The price then increases depending on the different fabric or leather chosen and other selected options and upgrades.
Many factors influence the cost of a recliner or accent chair. Quality, customization, and upgrades, to name a few. It's essential to keep in mind how often your recliner will be used and its purpose.
The cost of a manual rocker recliner or pushback reclining chair starts in the mid-level range of recliners. See how much a recliner costs.
The Bellevue is the starting price point for the Urban Attitudes chair styles at $1,499. Chairs in the collection that can recline are around the $1,600 price range. The price will vary depending on the covers and options chosen.
*All La-Z-Boy prices listed in this article are subject to change. We aim to update all cost-related articles twice per year. This article was last updated on October 17th, 2022. Please visit lzb.com and select an Ottawa or Kingston La-Z-Boy store location to view the most up-to-date pricing.
What people are saying about the Urban Attitudes Collection:


Best fit for my Alexandria condo!
"I fell in love with this sofa and loveseat, and when I found out it was in stock, I was sold! Very comfortable, sophisticated, and can blend with many types of decor. With the back as it is, they are not as deep in floor space but still have plenty of seat depth. I'm 5'10". This gives me more room in my dining area. Excellent for small spaces. Never would have expected something this pretty from La-Z-Boy!" JULIA L.


Love this chair! (Bellevue)
"I love my chair! I love the look and the comfort. The style is so versatile, it goes with any décor. I would definitely recommend." SUSAN M.




Great purchase!
"Love my new Bexley sofa and love seat. They work perfectly in my sunroom. I like the style, the firm cushions and that it is not too deep for my feet to reach the floor when I sit there! We have had this set for approximately 6 months." BARBRA W.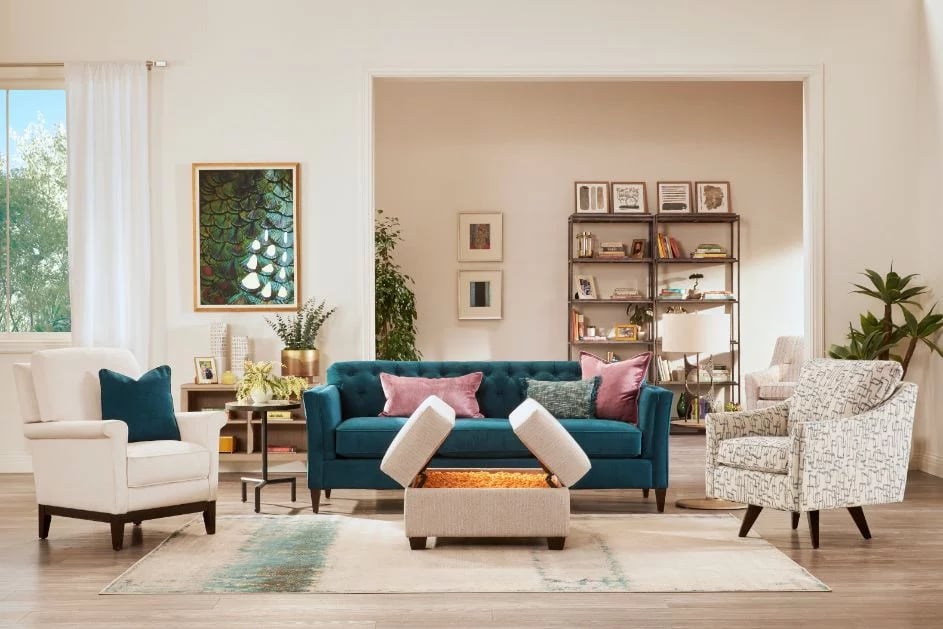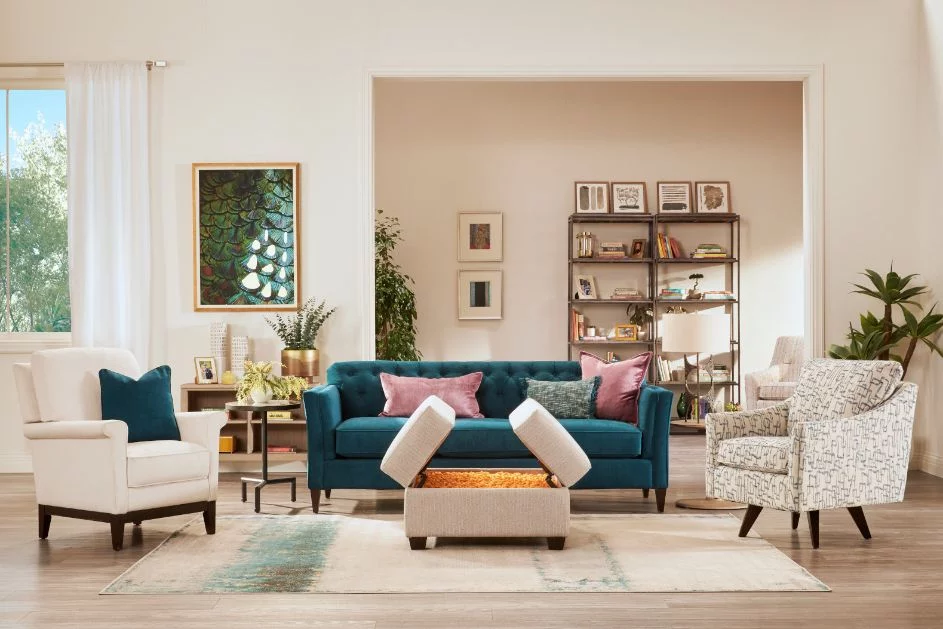 Next Steps
The Urban Attitudes Collection lets you mix and match from dozens of unique styles, covers, and finishes to create a comfortable, cohesive, and stylish room. You'll be confident about mixing furniture and creating a look that reflects your unique personality and design sense.
To experience the Urban Attitudes Collection in person and browse through the iClean fabric swatch binder, visit any of our Ottawa and Kingston La-Z-Boy locations. Alternatively, you can book ahead to schedule an in-store or virtual appointment with a personal consultant. We are happy to help you navigate all the options and tailor a room design right for you!
Still, feeling overwhelmed or not finding the right styles and frames within the Urban Attitudes Collection?
La-Z-Boy has over 90 years of experience in furniture. We offer additional furniture sets in so many shapes, styles, and sizes. Not to mention hundreds of fabric and leather choices outside of the pre-selected performance fabrics in the Collection. Consult with our expert designers through our complimentary in-home design service. Together you'll make a floorplan, select furniture, and accessories, and combine colour and fabric to bring your vision to life.
Related Links
Loveseat vs. Sofa: Size, Cost, Function, & How to Choose
Cost of an Area Rug: When to Spend & When to Save
Product Info Request
Please provide us with your name and email and we'll get back to you as soon as possible regarding this item.