Review of La-Z-Boy's Roman Reclining Chair and a Half
April 18, 2022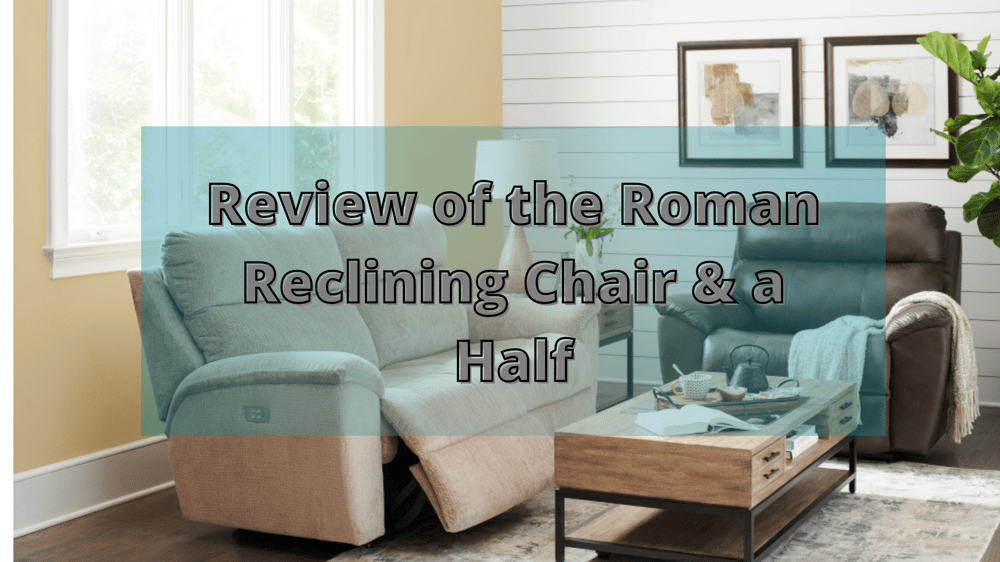 Est. Reading Time: 9 Mins
Is it a recliner? Is it a loveseat? No, it's the best of both worlds--a chair and a half!
A chair and a half is a chair that is able to sit one person, but with a little more extra room.
Whether it is sitting comfortably with your small child, or cuddling your baby in your nursery, a chair and a half is the perfect middle choice for anyone that's looking for a piece of furniture that's not too big, not too small, but just right.
Mary Lee Smyth, an interior designer at La-Z-Boy Kingston, says that the Roman Reclining Chair and a Half is "the perfect combination of cozy and cushiony for almost any use."
However, is the Roman chair and a half the right choice for you and your home?
This article will cover everything you need to know about this plushy recliner, including the size, its unique features, any possible upgrades, and more.
In This Article…
Unique Features
The Roman Reclining Chair and a Half features a bold style, along with its reclining comfort.
When looking at a recliner, Mary Lee says there's either "a more firm seat or a bucket seat."
Most people can't tell the difference initially, but looking at the recliner straight on lets you see more prominently what kind of seats are featured. Looking at the intersection where the back of the chair and the seat meet, bucket seats show a bit of a dip with the lining. "It sort of looks like a smile when you look at it straight on," Mary Lee says.
With clean lines, the Roman still manages to feature this plush, bucket seat that Mary Lee speaks of.
The bucket chaise seat and wide padded arms cradle every user, while the channelled fibre back supports your head, neck, and lumbar area.
There is also a convenient latch on the right side of the recliner, allowing you to easily adjust both the back and legrests to enjoy personalized comfort.
The Roman Chair & a Half also has a continuous line of fabric from where the seat and the back meet, all the way to the end of the footrests. This is a unique design that not all recliners have.
Size & Dimensions
First and foremost, it is important to note that as a reclining Chair & a Half with plush bucket seats, the Roman Recliner will require ample space in your home.
Consider placing it in a large room with plenty of space so you can recline with ease. If you are unsure of how the recliner will fit in your space, check out the article on How to Measure Your Room for Furniture.
The dimensions of the Roman Recliner compliment anyone who is taller and/or heavier. Shorter individuals might find that they sink too deeply into the seat, receiving minimal support.
Alternatively, someone who is 5'6 and taller should fit nicely into Roman's bucket seat, finding optimal support in their neck and lumbar.
To learn more about what recliner might be the best fit for you, take a look at the article How to Find a Recliner that is the Best Fit for You.
Roman Weight: 133lbs (150lbs in Power; 155lbs w/ Headrest)

Body Depth: 41 in




Body Height: 43 in




Body Width: 52.5 in

Seat Depth: 23 in




Seat Height: 20 in




Seat Width: 30 in
Options & Upgrades
The Roman has many different options and upgrades to choose from, helping personalize and customize your furniture, however you see fit.
It is important to remember that all options and upgrades listed below will increase the overall cost of your Roman Chair and a Half.
Fabric & Leather Options
La-Z-Boy has over 800 fabrics to choose from, making it possible for you to choose a unique and personalized fabric that lets your inner you shine!
More specifically, the Roman has many select fabric and leather options to choose from that are chosen to complement its heavy shape. There are 5 select fabric options, as well as 2 select leather options to choose from.
Any fabric and leather choices beyond the Roman select fabrics will result in an additional cost.
If you are choosing between fabric and leather for your Roman Recliner, take a look at Fabric vs. Leather Furniture for an in-depth comparison.
On the subject of leather, each leather option has top-stitching for a more stylish look. The Roman also has leather match options, meaning it is open to all of La-Z-Boy's leathers, including recycled leather.
If you want to learn more about La-Z-Boy's leather, take a look at our 2021 Leather Care Tips article.
Aside from basic fabric and leather options, La-Z-Boy also offers a range of specialty fabrics with unique features and benefits. The following specialty fabrics are also available for the Roman Chair & a Half at an additional cost.
Stain Resistant
Innovative iClean Technology surrounds each fabric fibre, creating a barrier that repels spills before turning into stains.
Tested and formulated to withstand the scratches and wear that a pet can cause to ensure a durable and easily washable fabric.
Antimicrobial properties surround each fibre to protect against mould, mildew, and odour-causing bacteria.
Performance
Superior stain and fade resistance properties make fabrics easy to clean and incredibly durable.
Eco-Friendly
Conserve Sustainable Fabrics are soft, durable, and made from recycled water bottles.
Cushion Upgrade
La-Z-Boy cushions are all made with high-grade foam, meaning your cushions will maintain their comfort and appearance for a very long time.
You can upgrade your cushions to a firmer option that will ensure comfort in your Roman even after hours of sitting in it. This cushion upgrade will come at an additional cost.
For more information view our Motion Furniture Collection catalogue and our in-depth Review of La-Z-Boy's Chair and Sofa Seat Cushions.
Please note that reclining furniture purchased prior to January 2021 had the option to upgrade to airform™ cushions. This cushion includes a two-inch layer of premium quality memory foam added on top of the standard foam base within the seat, chaise and leg rest of the unit.
Power Upgrade
The Roman Reclining Chair & a Half is also available as a Power Recliner.
Staying on theme with the manual recliner, Roman's Power Recliner has a side-mounted 2-button control panel that is used to recline. Instead of pulling on the latch, you can recline at the touch of a button.
The 2-button side panel allows the user to recline both the legrest and back simultaneously to enjoy your recliner in multiple different relaxation positions.
Additionally, there is also a built-in USB port on the control panel that allows you to charge any of your electronic devices.
If you are unsure of how to use the 2-button side panel, check out our article La-Z-Boy Power Furniture: How to Use the Control Panel & Remotes.
Further, to learn more about Power Recliners in general and why you should choose one over a Manual Recliner, read our comparison article on Manual vs. Power Recliners.
Headrest Upgrade
Along with the Power upgrade, customers can choose to add a headrest upgrade to their Roman Recliner.
This time, instead of the 2-button side-mounted control panel, there is a 4-button control panel that adds the option to adjust the headrest for optimized support.
Along with the headrest's control panel, this upgrade will still feature a USB charging port.
To learn more about the Headrest upgrade offered at La-Z-Boy, check out our review article on the Headrest & Lumbar Upgrade.
Cost
In comparison to other La-Z-Boy Recliners, the Roman Chair & a Half Recliner falls within a higher price range. The reason being is that this Recliner is built with a much larger frame than regular recliners as it is a Chair & a Half.
Mary Lee says, "It isn't as big as a loveseat, but it isn't as small as a recliner, which is why it is a more expensive independent recliner."
The table below breakdown Roman's price differences between the manual option, and its upgraded options.
Roman Reclining Chair and a Half

Manual

Starting at

$2,189

Power

Starting at

$2,539

Power w/ Headrest

Starting at

$2,789
*All La-Z-Boy prices listed in this article are subject to change. We aim to update all cost-related articles twice per year. This article was last updated on April 18th, 2022. Please visit lzb.com and select an Ottawa or Kingston La-Z-Boy store location to view the most up-to-date pricing.
Warranty
The Roman Reclining Chair & a Half is covered by La-Z-Boy's Limited Lifetime Warranty, which covers the repair or replacement of the frame, spring systems, and the mechanism, given that they are quality-crafted and built for long-lasting comfort.
While still quality-crafted, other aspects of the product, such as fabrics, leather, and cushion, are not meant to last a lifetime. However, these parts are still covered by the La-Z-Boy Manufacturer's Warranty for a given time.
To learn more about the warranty at La-Z-Boy, take a look at the article Are La-Z-Boy Recliners Guaranteed for Life?
To further protect your purchase, La-Z-Boy offers an extended warranty plan at an additional cost.
Customer Reviews
Customer reviews are the most honest reviews you will get from our furniture products.
According to each page regarding the Roman Chair & a Half, each Recliner option has a 4.6/5 to a 5/5 star rating.
However, numbers can only tell you so much about a product. Here are some real reviews from online customers…
Is the Roman Reclining Chair & a Half Right For You?
Now that we've discussed the Roman Reclining Chair & a Half in-depth, the question still remains. Is the Roman the right furniture piece for you?
Firstly, there are two factors that might've already jumped out as a red flag to some readers, which would be the cost and the size.
Yes, the Roman is more expensive than a regular recliner offered at La-Z-Boy, by a pretty big difference. However, it is important to remember that this is not a typical recliner you can find at La-Z-Boy given the large dimensions.
With this, the Roman is ideal for someone who is ready to invest in a quality, comfortable, and spacious chair that will last them for many years.
Alternatively, the Roman might be too large of an investment for someone with a smaller budget who is looking for a basic recliner.
Speaking of dimensions, Mary Lee mentions that the size of the Roman Chair & a Half is meant to hold taller and heavier individuals.
Taller individuals, with a height of 5'6" and up, will find the most comfort from the dimensions of the Roman Recliner. Shorter people, however, might not feel supported by this chair because it is so big for their body type.
If you are someone shorter and looking for a recliner, check out our 5 Best La-Z-Boy Recliners for Short People.
Further, the size is ideal for parents sitting with their small children and babies without feeling squished in a smaller seat.
If you are someone who either lives alone or does not have a small child, this chair is not the best choice for you.
In terms of sharing the seat with someone else, because a Chair & a Half can hold a full-grown person and a small child comfortably, this chair might go well, not just in a living room, but also in a nursery.
Should you choose to put your Roman in a living area, the headrest upgrade might be ideal if you have a mounted TV. That way you can tilt the headrest comfortably to where your head matches the view of your TV.
Mary Lee also mentions that men and women both love this chair & a half, maybe more so men than women, because of the "masculine look" it has. The masculine look is accentuated when leather options are included in the design, making it a great choice to put in a man cave.
However, Mary Lee also notes that if a woman were to put a red fabric cover on the Roman, it would also complement a woman's cave as well. You can learn more about Creating the Perfect Woman Cave by checking out this article.
Lastly, Mary Lee points out that some people buy the Roman specifically just to sleep or rest in. More specifically, some people may purchase this recliner for someone recovering from surgery and will need to spend ongoing time recovering in this chair.
What's more, there have also been some people buying the Roman to assist with their sleep apnea.
Taking all of this into consideration will hopefully give you a better idea of if this piece of furniture is right for you.
What's Next?
Now that you know everything you need to know about the Roman Reclining Chair & a Half, why not purchase this plushy chair today?
Visit one of our La-Z Boy Ottawa & Kingston stores today and experience the Roman firsthand! You can also schedule a visit online before coming in.
Our design consultants are always eager to lend a helping hand. Take advantage of our complimentary interior design services to see how the Roman could fit in your home.
If you enjoyed the Roman Recliner and would like to learn more about other Recliners offered at La-Z-Boy, check out more of our review articles:
Related Articles:
5 Best Selling La-Z-Boy Accent Chairs for 2022
Product Info Request
Please provide us with your name and email and we'll get back to you as soon as possible regarding this item.