James Reid vs. La-Z-Boy: A Comparison of Kingston Furniture Retailers
August 20, 2021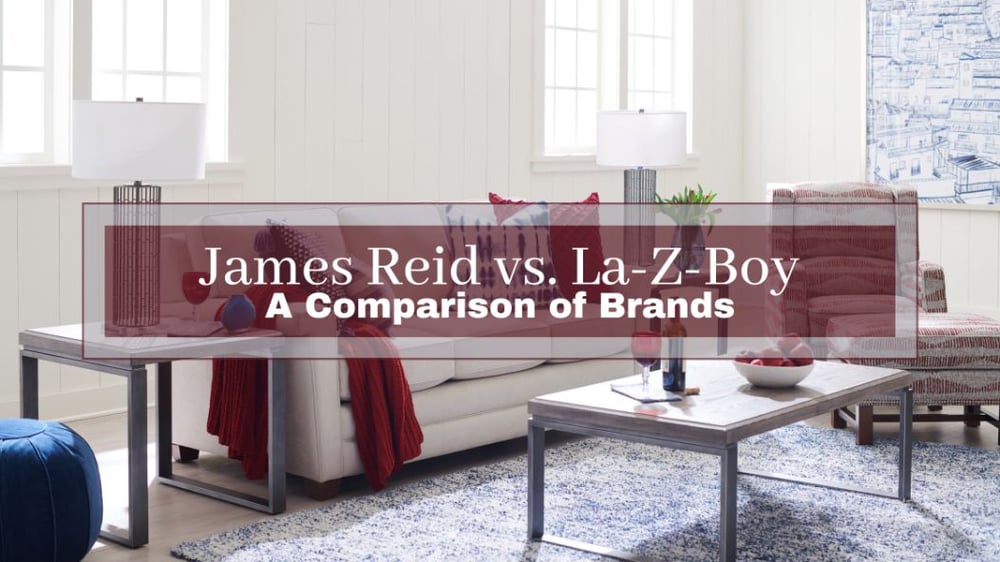 Located near the beautiful Lake Ontario, Kingston is home to students, new families, and those enjoying retirement.
As such, the rural town of Kingston is full of houses destined to become homes with an array of furniture retailers to choose from. Deciding on furniture retailers can be a difficult task as it depends on the products you are looking for, your style, expectations of quality, and overall budget.
James Reid Fine Furniture and La-Z-Boy Home Furnishings & Décor are examples of two well-known and established furniture retailers in the Kingston area.
In fact, according to Mary Lee Smyth, the interior designer at La-Z-Boy Kingston, both furniture retailers have an "immediate cache" in Kingston. "Both stores are associated with a certain expectation for quality", says Mary Lee.
At La-Z-Boy Kingston, we are proud of the products and services that we offer, but we realize that we aren't for everybody. To this end, the point of this article is not to dispute one retailer over the other, but to determine which furniture retailer is best for your individual needs and preferences based on their similarities and differences.
This article will provide you with a detailed comparison of both retailers based on the products & brands they offer, where it is made, the price, interior design services, custom furniture services, financing options offered, warranty plans, and delivery services.
Let's Get to Know Both Retailers …
Before we dive into a detailed comparison of products and services, let's first get to know both Kingston retailers.
James Reid Fine Furniture
James Reid Fine Furniture has been around in Kingston for a very long time. Believe it or not, James Reid is actually older than Canada itself as it was first established in 1854.
The store was first created by the Reid family when they first settled in Kingston, Ontario. Not only was it a Furniture store, but it was also a Funeral Home. Back in the day, furniture stores and funeral homes traditionally operated as one. These businesses used to complement each other as the furniture on display was useful for visitations and funeral services.
The Reid's took the family business to a new level in 1979, making Reid's Fine Furniture its own sole furniture retailer. The historical store is still located on Princess Street and is known as a downtown staple, offering furniture from various manufacturers.
As a family-owned and operated business, Mary Lee says that James Reid is perceived as a very honest retailer of high-end furniture in Kingston.
La-Z-Boy Home Furnishings & Décor
Similarly, the La-Z-Boy brand is associated with a great deal of history. Back in the 1920s, La-Z-Boy was first established in Monroe, Michigan, and is known for the invention of the first recliner chair.
Since then, the brand has evolved a great deal with over 300 retailers across the United States and Canada, including La-Z-Boy Kingston.
The La-Z-Boy Kingston retailer was first opened in 2005 and was acquired by the Maxwell brothers, James and David, in 2012.
Born and raised in Ottawa, the Maxwell's have continued to invest and grow the La-Z-Boy business over the last ten years to help better serve the residents in Ottawa / Kingston and Eastern Ontario.
Product Categories & Brands
When it comes to the products offered by each retailer, the product selection is quite comparable.
James Reid refers to themselves as a "fine furniture" retailer, offering high-end furniture. This is reflected in the quality, comfort, and style of the products they sell.
Similarly, La-Z-Boy specializes in quality, comfortable, and long-lasting furniture products. While style is a priority, La-Z-Boy is known for putting comfort first!
With slight differences in overall product selection, both James Reid and La-Z-Boy place an emphasis on their living room furniture selection. With this, each retailer also offers a range of furniture suited for multiple rooms of the home, including the dining room and bedroom. Further, both retailers offer a range of home accents.
Take a look at a more detailed breakdown of each retailers furniture selection:
James Reid Products
Living Room/Family Room

Dining Room

Bedroom

Home Office

Home Accents

Sofas

Sectionals

Sofa Beds

Recliners

Accent Chairs

Ottomans

Dining Tables

Dining Chairs

Dining Sets

Side Boards

Beds

Dressers & Chests

Night Stands

Occasional Tables

Bookcases

Accent Chests

Area Rugs

Lighting

Artwork
Living Room/Family Room

Dining Room

Bedroom

Home Accents

Sofas

Sofa Beds

Loveseats

Sectionals

Recliners

Accent Chairs

Ottomans

Dining Tables

Dining Chairs

Benches

Stools

Buffets

Beds

Dressers & Chests

Night Stands

Occasional Tables

Bookcases

Entertainment Units

Area Rugs

Lighting

Artwork

Decor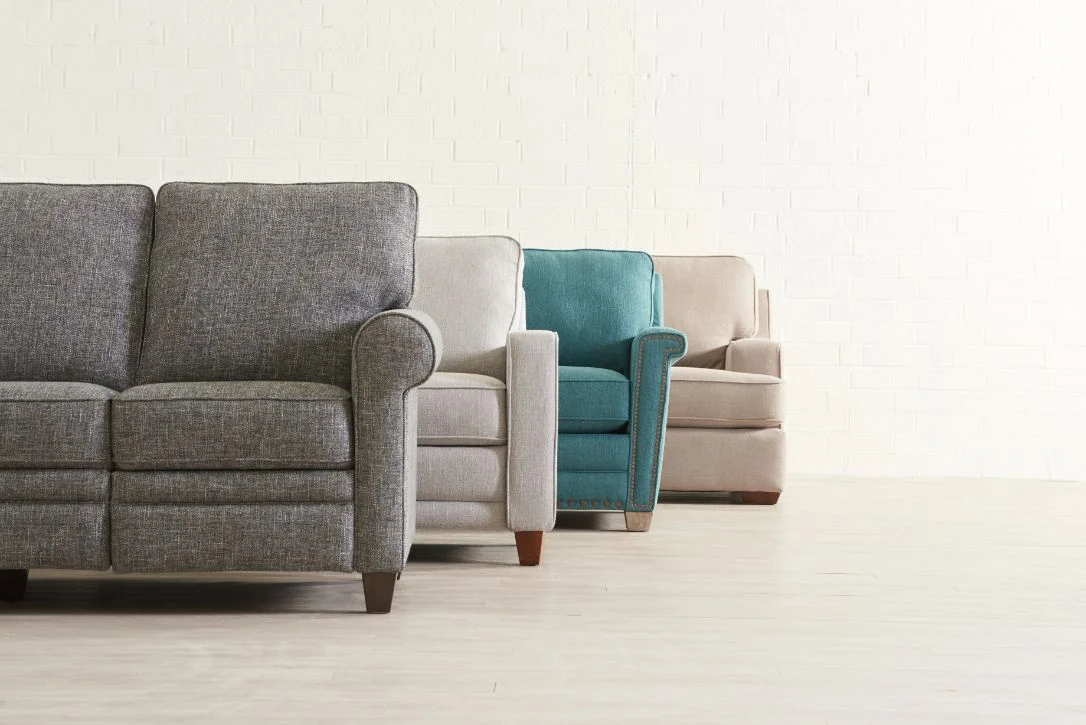 While the product selection at James Reid and La-Z-Boy is quite comparable, the major difference between each retailer is the furniture brands they offer.
Furniture sold at James Reid is sourced from several different furniture manufacturers, such as Stickley, Fjords of Norway, Century, and Bernhardt, just to name a few. By sourcing products from a range of manufacturers, James Reid is able to offer a variety of materials, construction techniques, and overall styles of furniture.
Alternatively, you will only find La-Z-Boy branded and manufactured pieces in La-Z-Boy retail stores. In turn, the La-Z-Boy product selection is all crafted based on the same standard of quality and comfort.
The upholstery pieces are manufactured by La-Z-Boy while the bedroom, dining room, and case good products are manufactured by divisions of La-Z-Boy incorporated, known as Kincaid, Hammary, and American Drew.
As a result, our salespeople are expected to know La-Z-Boy furniture like the back of their hand and will be able to answer all of your questions as well as offer up additional information relevant to the products you consider purchasing.
Additionally, the Ottawa and Kingston La-Z-Boy locations are closely linked to the Canadel Custom Dining Store in Kanata. In fact, the La-Z-Boy Kanata showroom is attached to the Canadel Dining showroom.
Canadel offers a range of high-quality, stylish, and customizable dining room furniture suited for a variety of budgets.
Where it is Made
For many consumers, where furniture is made can significantly impact one's buying decision.
Furniture sold at James Reid is made and assembled in a variety of places around the globe given that their products are sourced from a variety of manufacturers.
More specifically, James Reid products are made in the United States, Canada, Italy, and Norway. Their Brands made in Canada are Future Fine Furniture, Statum Designs Inc., and Simmons Upholstery Canada.
Similarly, La-Z-Boy is a global manufacturer with operations in North America, Asia, and Europe. La-Z-Boy's products are primarily made in North America for North American markets. The global headquarters of La-Z-Boy is in Monroe, Michigan but the majority of our recliners, chairs, sofas, and sectionals that are sold in Ottawa and Kingston are manufactured in Dayton, Tennessee. And Canadel dining made in Louisville Quebec.
For more information, check out the article Where La-Z-Boy Furniture is Made.
Price
Budget is typically a crucial factor in deciding which furniture retailer to shop with.
When it comes to cost, James Reid and La-Z-Boy are very similar, although some products offered at James Reid tend to be more expensive.
In turn, James Reid products fall within the high-end price range, while La-Z-Boy products fall within the mid to high-end price range.
According to Mary Lee, James Reid is considered to be the most expensive furniture retailer in the Kingston market.
For a better idea of cost, let's compare the cost of a sofa:
*Please note that James Reid's prices may have changed since publishing this article.
| | |
| --- | --- |
| James Reid | La-Z-Boy |
| $1,287 to $11,200 | $2,349 to $7,449 |
Interior Design
Not every shopper has an eye for colour, pattern, and design. With this, interior design services can be helpful in ensuring that your furniture choices fit seamlessly into your home decor.
James Reid does a "case-by-case" interior design service, ultimately dependent on the scope of the project. The retailer may not offer interior design help with the purchase of one or two items but will take on an interior design project of an entire room.
At La-Z-Boy Kingston, professional design assistance is complimentary with the purchase of furniture. With an appointment, an interior designer will meet with you either in your home or virtually for consultation and interior design collaboration. Your consultant will make recommendations in furniture styles, colours, and textures based on your personal space and preferences.
Take a look at What to Expect from a La-Z-Boy In-Store Design Presentation.
If you are unable to meet with a consultant, La-Z-Boy offers many other free resources online for design inspiration. Take a look at our Before and After design projects and hear from our designers themselves.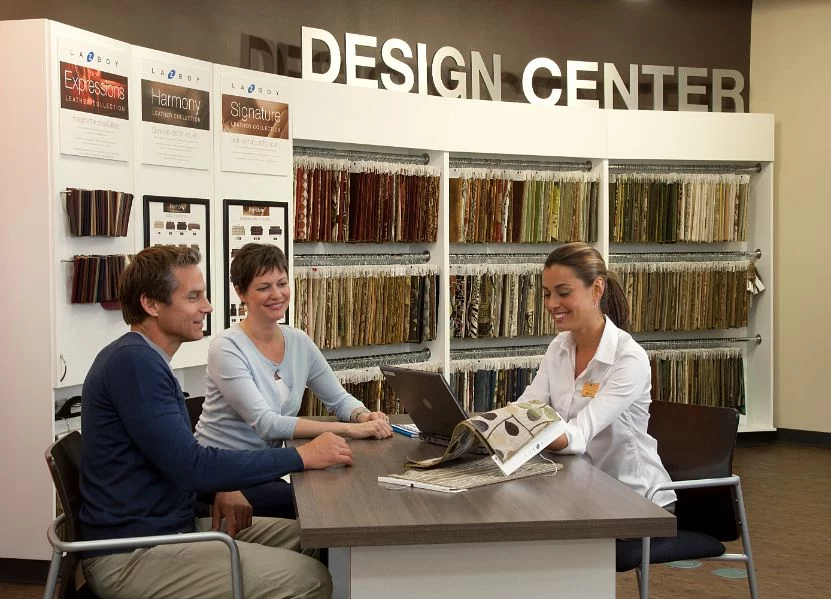 Custom Furniture
In addition to interior design services, customization is a great way to create furniture that is uniquely yours and suits your space.
At James Reid, customization is available on select products. Given that James Reid sources their products externally, the ability to customize is dependent on the manufacturer.
More specifically, James Reid's sofas and sectionals made by Miles Talbot are customizable in fabric, colour, trims, and finishes. Further, the decorative pillows are also customizable.
Alternatively, La-Z-Boy products are all made and manufactured by La-Z-Boy. In turn, anything offered in-store or online is customizable to meet your individual taste.
More specifically, La-Z-Boy offers hundreds of options in colours, fabrics, styles. Anything can be customized including textiles, accent pillows, welt trim, nailhead trim, wood finish, leg design options, and recliner optional add-ons.
To learn more about La-Z-Boy's custom furniture options take a look at the article Custom Furniture at La-Z-Boy, What to Expect.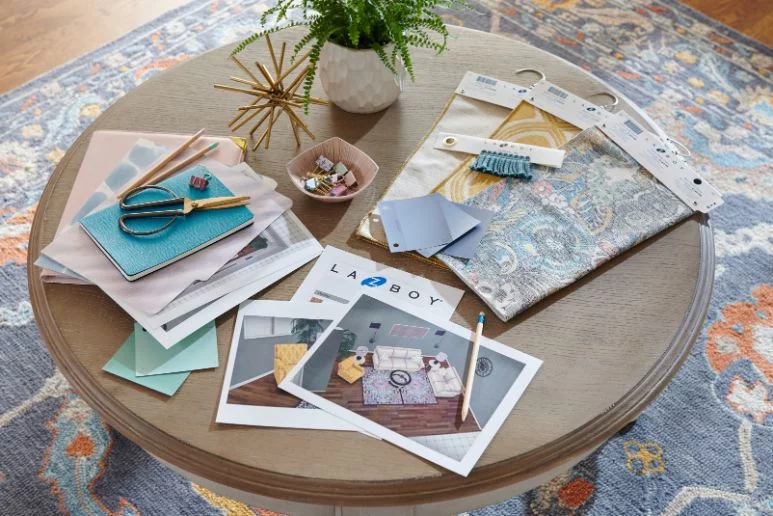 Financing
Furniture of any kind is often a significant investment, especially when shopping at high-end furniture retailers like James Reid and La-Z-Boy. The option for furniture financing can take some strain off of your pocketbook and allow you to enjoy a new piece of furniture while paying off the investment over time.
James Reid does not offer any official financing plans but claims to be flexible when it comes to the payment of their products. Currently, most clients are paying for 20% of the purchase up front and will pay in full once the furniture arrives in the warehouse for pickup or delivery. The store will often make similar arrangements depending on the circumstances.
La-Z-Boy has a partnership with Flexiti Financing in order to provide furniture financing options to clients.
With this, La-Z-Boy offers the opportunity to finance your purchase at a 0% interest rate as long as the purchase is paid off within a given period of time. Based on the plan you choose, there are different options available to pay off your investment over either 3 months, 6 months, 12 months, 24 months, or 36 months. Further, depending on the plan chosen, you may be required to pay a financing fee at the time of purchase.
To learn more about furniture financing, take a look at the article Furniture Financing: Everything you Need to Know.
Warranty
As previously mentioned, furniture is a significant investment. With this, you want to be confident that your investment is protected and will be something you can enjoy for many years.
Many furniture retailers offer a warranty on furniture in order to give you that reassurance.
Given that James Reid carries products from external brands, the warranty sold with each product differs depending on the manufacturer. When purchasing a piece of furniture, the James Reid salesperson should ensure that you are made aware of the warranty offered with that specific piece of furniture depending on the brand that manufactured it.
In contrast, La-Z-Boy is the retailer and manufacturer of their upholstery branded products. With this, La-Z-Boy products are sold with a manufacturer's warranty that covers 1-3 years of damage caused by manufacturing error or workmanship. This warranty is applicable across all upholstery categories on a consistent basis.
Take a look at the article Are La-Z-Boy Recliners Guaranteed for Life for a detailed breakdown of the recliner warranty at La-Z-Boy.
For an extra cost, La-Z-Boy also offers an additional service protection plan that covers up to 5 years of accidental damage. The cost of this protection plan extension is relative to the price of the product.
For more information on La-Z-Boy's warranty and protection plan take a look at the article Is La-Z-Boy Warranty Worth it.
You may also find some useful tips on how to maintain the look of your furniture in the article 2020 Furniture Care Tips.
Delivery Services
The final step in purchasing furniture is ensuring that it makes its way into your home safely. Given that furniture requires some heavy lifting and careful maneuvering, this task is typically left in the hands of the furniture retailer.
James Reid offers a free white-glove delivery service to Kingston residents. Delivery to surrounding areas costs $50 to $200 depending on the distance.
Prior to delivery, all furniture is carefully inspected and wrapped for safe transport. Upon arrival, the furniture will be placed in your room of choice, unwrapped, and assembled. All waste will be removed by the delivery crew.
If you require the removal of old furniture, James Reid charges a $25 minimum disposal fee.
Similarly, La-Z-Boy Kingston also offers a white-glove delivery service at a flat fee of $129.99. The La-Z-Boy delivery team provides an all-encompassing delivery service that includes the delivery and set-up of furniture as well as the removal of any waste.
Out-of-town delivery costs $169.99.
With La-Z-Boy delivery services, an existing piece of furniture can also be moved somewhere else in your home at no additional cost. Further, if you have taken advantage of the design services, the delivery men will set up your furniture based on your predetermined floor plan.
Additionally, we offer the option to dispose of any old furniture in a local landfill at an extra charge of $50 / per furniture seat.
Our delivery team is hired and trained in-house. Given that our delivery people are trained to work specifically for La-Z-Boy, our white-glove service is standardized ensuring a high level of care with every delivery.
Typically at La-Z-Boy, we estimate delivery time to take between 1-2 weeks for furniture that is in stock in our warehouse. Alternatively, custom furniture orders take up to 90 days for delivery.
Due to Covid-19, and an increase in demand, custom orders have been delayed. In fact, you may want to learn about How COVID-19 is Affecting Furniture Delivery Delays and How to Plan Ahead.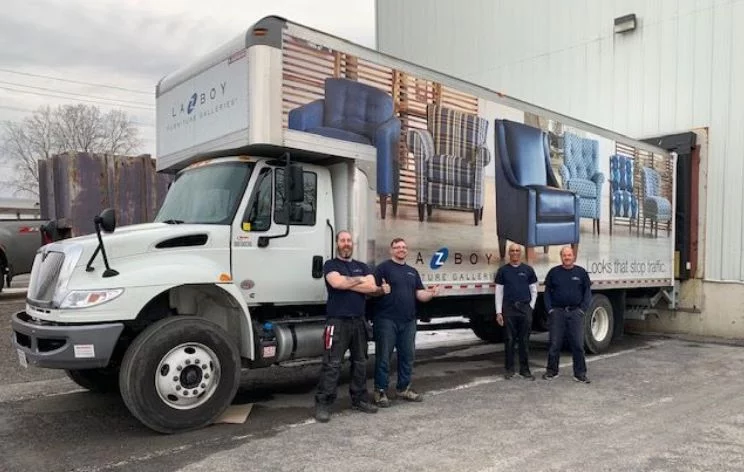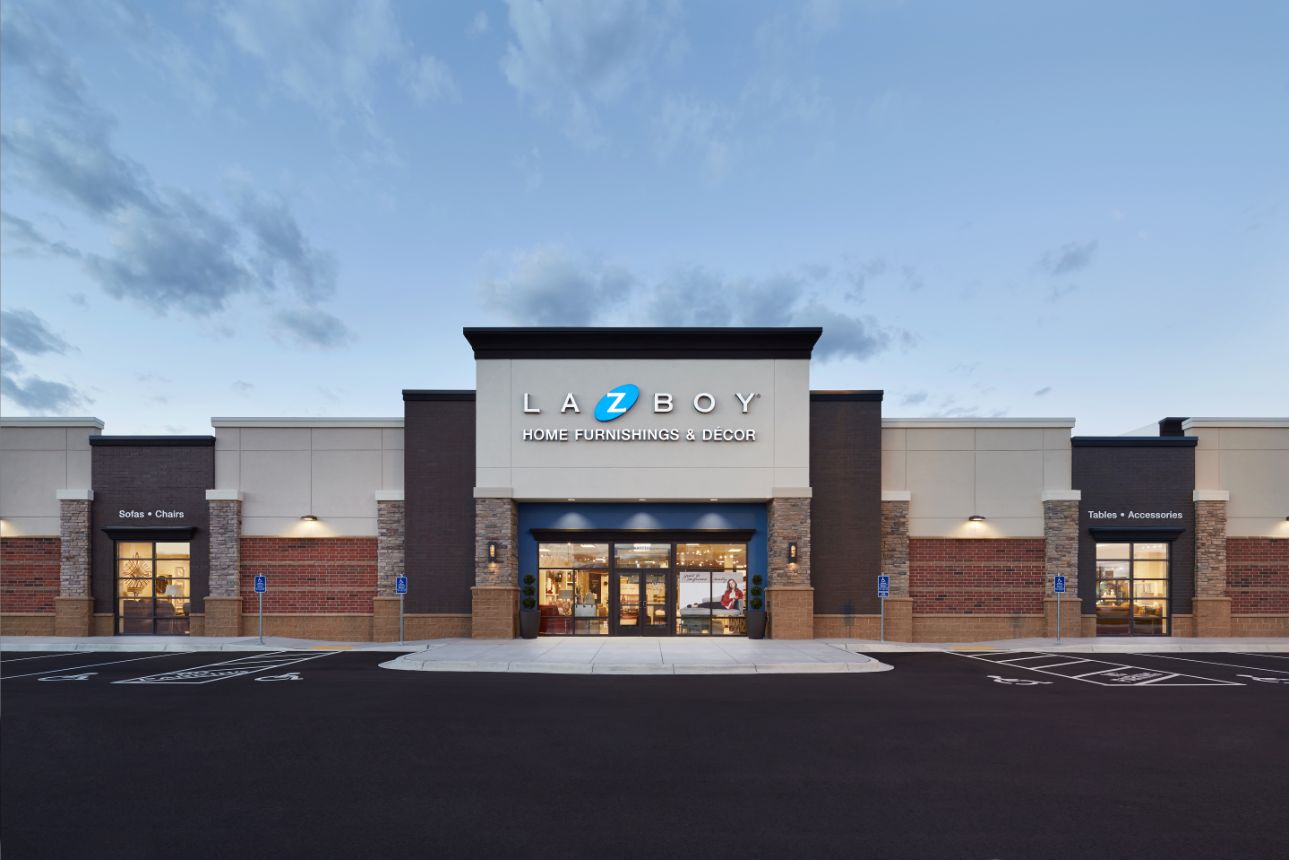 What's Next?
James Reid and La-Z-Boy are both fantastic retailers of quality, comfortable, and stylish furniture in Kingston. With a detailed comparison of products and services, you are now equipped with the information necessary to choose a retailer that best meets your specific needs and preferences.
The choice is yours!
La-Z-Boy produces high-quality furniture that is consistent in comfort and longevity. Our complimentary design services take our product services to the next level by ensuring that the furniture you purchase fits seamlessly into the style and layout of your home. Further, at La-Z-Boy, our assistance doesn't end after the purchase. Our service department is here to ensure that you are satisfied with your purchase for years to come.
If you are interested in furnishing your home with La-Z-Boy, visit us at the local Kingston location to meet with a consultant today. If you prefer, you can also book a consultation online to get started.
We look forward to meeting you and helping turn your Kingston house into a home!
Related Links:
Bennet's vs. La-Z-Boy Kingston: Similarities & Differences
6 Best Furniture Stores in Kingston
What to Expect When Purchasing Furniture at La-Z-Boy Ottawa/Kingston
Product Info Request
Please provide us with your name and email and we'll get back to you as soon as possible regarding this item.