The Brick vs. La-Z-Boy: Accent Chairs
February 28, 2022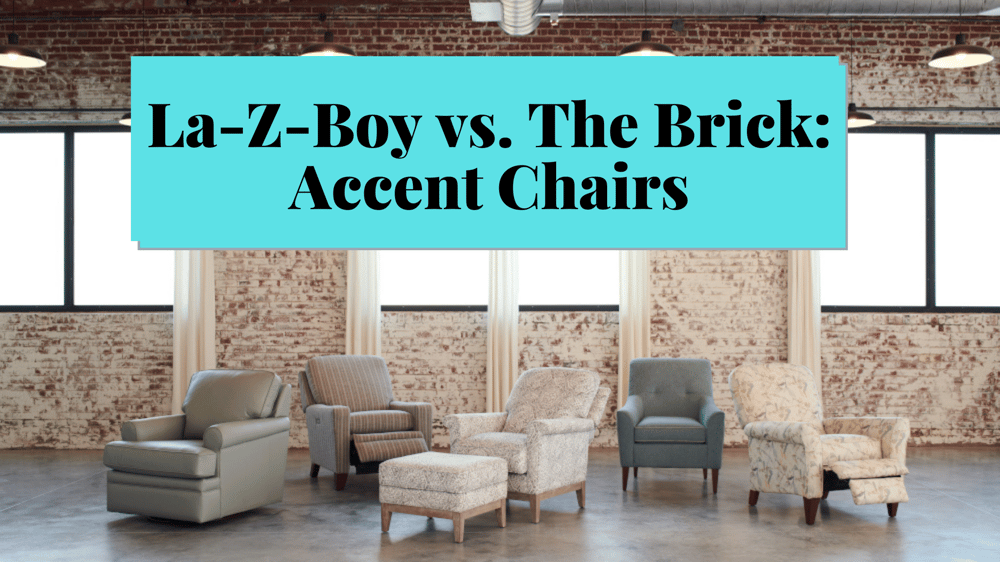 Est. Reading Time: 9 mins
When you think of a living room, what are the main pieces of furniture that you would find? People usually say three answers: a couch, a coffee table, and an accent chair.
Accent Chairs are meant to provide an extra seat of comfort and fill out any open spacing in any room–not just living rooms. They also add a different eye-catching style in your room that goes well with the rest of your furniture.
It's hard knowing which retailer might sell the best Accent Chairs in the market. For example, top sellers in Ottawa and Kingston like La-Z-Boy and The Brick both have great Accent Chair selection in their stores.
There are other retailers that you might have your eye on, but what do La-Z-Boy and The Brick have to offer in terms of Accent Chairs?
This article will provide an unbiased and detailed comparison of both retailers based on La-Z-Boy Accent Chairs and The Brick Accent Chairs and how they differ. Once you're finished reading this article, you'll have a better comprehension of what each retailer offers and which one best suits you!
In This Article...
Brief Descriptions of Each Retailer
Before we compare each retailer on their Accent Chairs, here is a brief overview of each retailer.
La-Z-Boy
La-Z-Boy is an American company first established in Michigan, United States over 90 years ago. The Ottawa and Kingston locations have been locally owned and operated by the Maxwell family since 2011 and have been a successful branch of the furniture company since its inception.
La-Z-Boy prides itself on its furniture quality, style, and comfortability, which is why one of their popular phrases is "style meets comfort." So it's no wonder why they were the inventors of the recliner chair.
La-Z-Boy's primary specialty is living room furniture, but they also sell furniture for other rooms of the home, including the dining room, and bedroom.
The Brick
Unlike La-Z-Boy, The Brick is a Canadian company first established in Edmonton, Alberta, over 50 years ago. Though La-Z-Boy might have more store locations overall, The Brick has more Canadian stores than their older competitor, with just over 200 retail stores across the country.
The Brick prides itself on affordable and sustainable furniture, making its slogan, "dedicated to saving you more," very fitting for their company's core values. The Brick does not specialize in any specific room of the home but is widely known for its comfortable and grand selection of living room couches.
Types of Accent Chairs
The Brick and La-Z-Boy both sell a wide range of Accent Chairs with unique styles and looks. Though some furniture may fall under the same categories, both retailers have distinct differences.
La-Z-Boy Accent Chairs
Most people immediately think of recliners when they think of La-Z-Boy chairs. Though this is what La-Z-Boy is known for, they have a wide variety of stationary, motion, and swivel accent chairs to choose from that will complement any room.
Stationary Accent Chairs
La-Z-Boy's Accent Chairs come in various shapes and sizes, giving any homeowner a perfect choice for any room they wish to put an Accent Chair in.
For example, stationary Chairs can be found in bulkier options like the Talbot Stationary Accent Chair, more slim options like the Nolita Accent Chair. Further, you can find a High-legged style like the Allegra Accent Chair.
You can learn more about the Talbot Accent Chair and the Allegra Accent Chair by reading their in-depth reviews.
Certain stationary Accent Chairs at La-Z-Boy come with matching Ottomans, so you can still relax with ease without using a recliner.
Motion Accent Chairs
By no surprise, La-Z-Boy also showcases many different styles of Reclining Accent Chairs, all ranging from slim, bulky, or high-legged options as well.
One of their more popular Reclining Accent Chairs complementing any living room would be the Finley Recliner, which you can learn more about, along with the rest of its Furniture Family through our in-depth review.
Swivel Reclining Chairs are also options at La-Z-Boy, showcasing the versatility that this retailer has to offer. With a 360-degree swivel base to keep you at the center of attention, each Swivel Chair, along with any other furniture at La-Z-Boy, comes with unique designs and for peak comfortability.
An excellent example of La-Z-Boy's Swivel Chair selection is the Bellevue High Leg Swivel Chair, which is part of La-Z-Boy's Urban Attitudes Collection. You can learn more about the Bellevue Accent Chair through our in-depth review
La-Z-Boy also has an impressive Duo collection, which bridges the gap between Motion and Stationary. Duo camouflages itself as a Stationary Chair but moves and reclines just like any Reclining Chair.
A great example of a Duo Accent Chair would be the Scarlette High Leg Reclining Chair, an excellent choice for small spaces.
You can learn more about how the Scarlette pairs with our Talbot Sofa with our article Top 5 Accent Chairs to Pair with Sofas at La-Z-Boy.
Chair and a Half
La-Z-Boy also offers a Chair and a Half selection for those who may want a bigger-looking Accent Chair. Chair and a Halfs work well in larger spaces, functioning the same way as any other chair you would purchase.
You can learn more about our Chair and a Half selection by reading our article Top 5 Best Selling Chair and Halfs.
The Brick Accent Chairs
Along with La-Z-Boy, you can find all of The Brick's Accent Chairs using their interactive website.
While browsing n the Accent Chairs and Chaises section, you can choose to filter anything involving the size (height, width, depth), upholstery, function, colour or finish, brand, and style of your accent chair.
Stationary Accent Chairs
Most of The Brick's Accent Chairs are considered stationary. Although this may sound discouraging for anyone looking for something with motion, The Brick offers recliners, too, which we will get to a little later.
The Brick offers many different styles of stationary Accent Chairs, such as tub-syle chairs, nesting chairs, high-legged chairs, winged chairs, and many more.
Some best-selling The Brick Accent Chairs examples are the Arni Linen-Look Accent Chair, the Adel Linen-Look Accent Chair, the Aimy Linen-Look Accent Chair, and the Ethan Faux Leather Accent Chair.
Motion Accent Chairs
Although The Brick's Recliners are not as abundant as La-Z-Boy Recliners, The Brick still has a decent amount of recliners to choose from, all ranging in different styles and sizes.
Some good examples of The Brick's Recliners are the Toreno Genuine Leather Recliner and the Matt Leather-Look Fabric Recliner.
The Brick also showcases some of its swivel chairs on their popular Accent Chair page. Though it may not be one of the most popular selections, they are still affordable and come in a wide selection.
Chaise Seats
There is one unique design of Accent Chair that the Brick seems to showcase that La-Z-Boy does not have.
Chaise Seats are more extended versions of accent pieces that can be placed in any room to fill in space and catch anyone's eye. One popular selling Chaise is the Marsha Chaise that can be purchased in velvet, linen, or leather.
Customizations & Upgrades
La-Z-Boy Accent Chairs
Although La-Z-Boy manufactures its own furniture with a wide range of shapes and sizes, your choices are more limited than The Brick's options. However, La-Z-Boy offers customization, which opens up many design possibilities, compared to the Brick.
With over 800 fabrics and leathers to choose from, the possibilities are endless to make your furniture unique to your own personal style.
Aside from customization to upholstery, La-Z-Boy Accent Chairs are also customizable in wood finish, nailhead trim, and welt trim, depending on the chosen frame.
Further, when looking at upgrades for La-Z-Boy furniture, Reclining Accent Chairs have many upgrades, such as the upgrade to power. With power, select models are available with additional upgrades, such as heat & massage and adjustable headrest & lumbar.
Power furniture at La-Z-Boy requires control panels and remotes to use them. To learn more about using our Control Panels & Remotes, check out this article.
It is important to remember that all upgrades at La-Z-Boy come with additional costs and can add up pretty quickly if spent on a budget.
Learn more by reading Custom Furniture at La-Z-Boy: What to Expect?
The Brick Accent Chairs
In comparison to La-Z-Boy, The Brick has a larger selection of accent chair frames available, giving the consumer many choices to choose from.
Although The Brick relies on other manufacturers to make their products, select Accent Chairs are customizable This includes Accent Chairs within their Designed2B program or Affordable Custom Living Furniture Program created to customize The Brick's furniture selections to your specific style.
This allows you to make certain customizations to the fabric and throw pillows.
As for upgrades, select Recliner Chairs at The Brick are offered in power; however, Accent Recliners cannot be upgraded to power. With this, there are no additional upgrades to the power Recliners.
Therefore, the only way to purchase a power recliner at the Brick is to ask for power furniture options, as opposed to at La-Z-Boy, where you can ask for almost any reclining Accent Chair to be upgraded to power in any design.
Cost
When it comes to cost, La-Z-Boy has a more specific price range than The Brick since it caters to a more specific clientele, which is high-quality living. Because of this, La-Z-Boy's price range is around the mid to high price range on the market.
As for The Brick, their main focus is all about affordable living but still appealing to a wide range of budgets. Because of this, The Brick's price range falls between the low to high price range on the market.
This table shows the differences in prices between La-Z-Boy and The Brick, covering Accent Chairs and Recliners.
| | | |
| --- | --- | --- |
| | La-Z-Boy | The Brick |
| Accent Chairs | $1,149 - $3,079 | $314 - $1,529 |
| Recliners | $799 - $3,489 | $1,049 - $3,799 |
*All La-Z-Boy prices listed in this article are subject to change. We aim to update all cost-related articles twice per year. This article was last updated on March 21st, 2022. Please visit lzb.com and select an Ottawa or Kingston La-Z-Boy store location to view the most up-to-date pricing.
It is important to note that this table does not include add-ons or upgrades. Upgrades to any Accent Chairs from each retailer are subject to additional costs.
Warranty
La-Z-Boy Accent Chairs
Although La-Z-Boy's Accent Chairs are more expensive than The Brick, the quality is known to last as a long-term investment. With expensive furniture comes better quality, which means it lasts longer than other furniture out there.
But, should anything happen to your furniture if purchased at La-Z-Boy, there is a Limited Lifetime Warranty available to save you some extra cash for unforeseen repairs to your furniture.
At an additional cost to your furniture, La-Z-Boy also offers an extended protection plan that covers up to five years of accidental damage. Depending on the product, the cost of this warranty is relative.
To learn more about this extended warranty, check out our article to see if La-Z-Boy's Extended Warranty is Worth it.
The Brick Accent Chairs
As mentioned before, The Brick relies on different manufacturers to make their products. Since this is the case, warranties can vary from brand to brand. However, a simple look at their website can tell you everything you need to know about each warranty package.
Similar to La-Z-Boy, The Brick does offer an additional extended protection plan that can extend the specific branded warranty for five years.
Experts and Salespeople
La-Z-Boy
Another important factor when considering the limited furniture choices at La-Z-Boy is the salespeople and experts knowing and understanding their furniture, unlike any other furniture company.
The salespeople and experts working at La-Z-Boy are expected to know their furniture like the back of their hand, answering any questions or concerns that customers may have about any piece of furniture on sale.
Speaking of the sales team, La-Z-Boy believes that any homeowner can find furniture that best complements their unique figure. However, sometimes, furniture can look too big or small compared to our specific body shape. This is why La-Z-Boy considers height, the seat's depth, and the foam's density in the seat for anyone looking for their perfect furniture match.
The Brick
As Mentioned before The Brick relies on many different manufacturers to make their furniture, giving them more styles and choices for consumers.
However, because there is more of a variety than La-Z-Boy's selection, the salespeople and experts at The Brick might have a more challenging time answering questions about a specific piece of furniture.
Because of the abundant choices, the salespeople would probably take a long time learning every piece of furniture, making it harder for them to answer questions.
Interior Design Services
La-Z-Boy
La-Z-Boy does offer complimentary interior design services in their stores. You can either set up an appointment online to talk to an interior designer in person, or you can set up a virtual call and talk about what kind of style you prefer.
La-Z-Boy's interior designers will offer recommendations and create a complete room design based on your personal style and preferences.
For more information, check out the article Interior Design Services at La-Z-Boy: What to Expect.
The Brick
The Brick, unfortunately, does not offer interior design services in their stores. The closest thing that would be considered an interior design service would be The Brick's Designed2B program, which helps you choose which kind of style you's like, depending on your own personalized style.
Where to Buy?
La-Z-Boy and The Brick have many different locations across Ottawa & Kingston. Check them out with our list of locations:
8231-A Campeau Drive, Ottawa
290 West Hunt Club Road, Ottawa
1750 Cyrville Road, Ottawa
770 Gardiners Road Unit#3, Kingston
The Brick Locations

1960 Cyrville Rd, Ottawa
565 W Hunt Club Rd, Nepean
8231 Campeau Dr, Ottawa
770 Gardiners Rd #1, Kingston
What's Next?
As you can see, both La-Z-Boy and The Brick are great choices to buy Accent Chairs from. Now that you know what each store offers, it's up to you to decide which one is the right retailer for you.
Since you're on La-Z-Boy's website, why not take a look at our selection of furniture options? Start with our 5 Best Selling La-Z-Boy Accent Chairs.
Once you find something that interests you, visit us at any of our Ottawa or Kingston stores listed above, or make an appointment with one of our design consultants or interior designers.
We look forward to seeing you soon!
Related Articles:
The Brick vs. La-Z-Boy: A Comparison of Furniture Retailers
5 Best Selling La-Z-Boy Accent Chairs
Product Info Request
Please provide us with your name and email and we'll get back to you as soon as possible regarding this item.