How Much Does a Swivel Chair Cost at La-Z-Boy Ottawa & Kingston?
December 23, 2022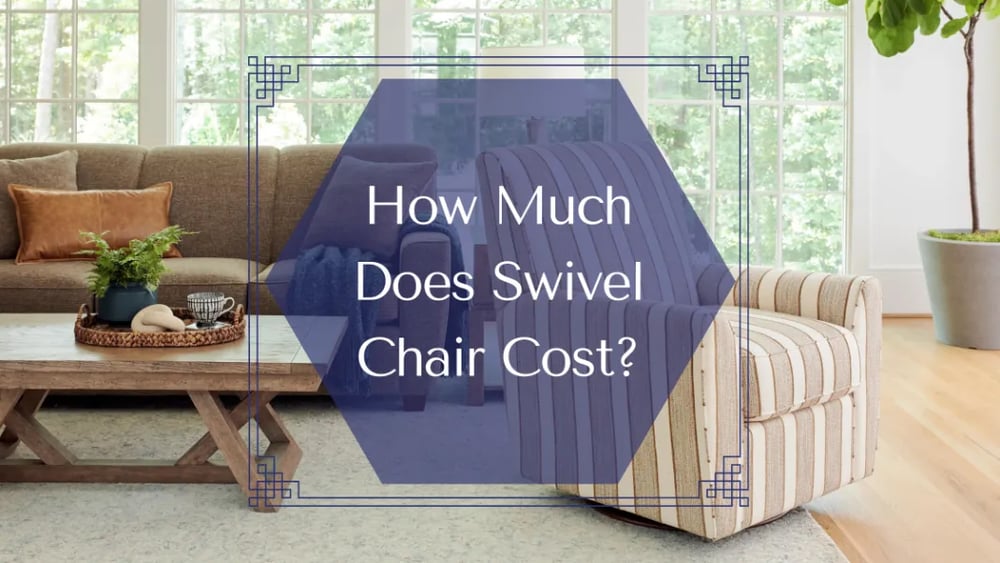 Est. Reading Time: 10 Mins
Are you someone who's nosy by nature and wants to be in the centre of all the action? You might want to consider getting yourself a swivel chair!
At la-Z-Boy, swivel chairs rotate on a 360-degree swivel base, meaning you can achieve comfort while still being able to see what's happening in different areas of the room.
Although this may sound exciting, how much do these fun furniture items cost? Magaly del Castillo, the interior designer at La-Z-Boy Cyrville, says, "La-Z-Boy furniture carries a higher price tag than other furniture stores."
At La-Z-Boy, we understand that our furniture items can be expensive, which is why this article is here to help answer your question.
This article will focus on the cost of swivel chairs at La-Z-Boy, as well as factors that could affect the final cost of a swivel chair, like options and upgrades.
In This Article…
Cost of a Swivel Chair at La-Z-Boy
Now that you're aware of the different types of swivel chairs offered at La-Z-Boy, the question on everyone's mind is how much these swivel chairs cost.
Generally speaking, the price range for these swivel chairs is around $1,300 - $2,000.
*All La-Z-Boy prices listed in this article are subject to change. We aim to update all cost-related articles twice per year. This article was last updated on December 5th, 2023. Please visit lzb.com and select an Ottawa or Kingston La-Z-Boy store location to view the most up-to-date pricing.
Factors that Affect the Cost of a Swivel Chair at La-Z-Boy
Keeping the cost of these swivel chairs in mind, there are several other factors that can affect the cost of your swivel chair, which are listed below…
The Types of Swivel Chairs
The most significant cost indicator is the type of swivel chair you choose. "If you're going for a regular swivel chair, the price will be different then if you decide to make it into a recliner that either rocks or glides," she says.
Regular Swivel Chairs
La-Z-Boy's regular swivel chairs are the least expensive option since they are swivel chairs that only swivel. "These chairs are not recliners, are not gliders, and are only there to look stylish and delicious," Magaly says.
Magaly says that swivel chairs can also be used as great accent pieces in a room. To learn more about La-Z-Boy's Top Swivel Accent Chairs, take a look at this article.
As mentioned before, each swivel chair rotates at a whole 360-degree angle, meaning you can place your swivel chair anywhere in your room and still engage in what's happening around you.
These chairs might be referred to as stationary chairs, but this is only because La-Z-Boy also has reclining swivel chairs.
Reclining Swivel Chairs
Naturally leading into our next swivel chair, reclining swivel chairs are, simply put, swivel chairs that can also recline.
These swivel chairs allow you to relax in comfort while still being able to swivel whenever. Reclining chairs at La-Z-Boy can have the option to be a rocker recliner, a wall recliner, and a gliding recliner.
Since you're able to add a swivel base to these recliners, your rocker and gliding recliners can become swivel chairs, as well! The only recliner that cannot become a swivel chair is a wall recliner since its main purpose is to recliner stay placed mere inches away from a wall, which wouldn't lend well to rotating. at all times.
Swivel, rocking, and gliding are the three motions that La-Z-Boy has to offer, each coming with its own pros and cons. To see which one is right for you, take a look at some of our comparison articles about Swivels vs Gliders and Rockers vs. Gliders.
Reclining chairs can rival the price of regular swivel chairs. But, if the rocking or gliding recliners have an added swivel base, the price can get higher since the swivel base is can be considered an upgrade.
High-Leg Swivel Chairs
Not to be confused with our High Leg Secret Recliners, high-leg swivel chairs are similar to our regular swivel chair selection. The only difference is that these swivel chairs have distinct legs instead of a regular swivel base.
But how does that work? Instead of the swivel base holding the chair up, the swivel base is perched upon the legs of the chair rather than being exposed. Now, the accent is on the stylish legs of the chair in contrast to the swivel base.
These swivel chairs are a little bit more expensive than regular swivel chairs due to their stylish legs, but not by much, according to Magaly.
The selection at La-Z-Boy for high-leg chairs, however, is only limited to two chairs. You can learn more about the Reegan and the Bellevue by checking out their in-depth review articles.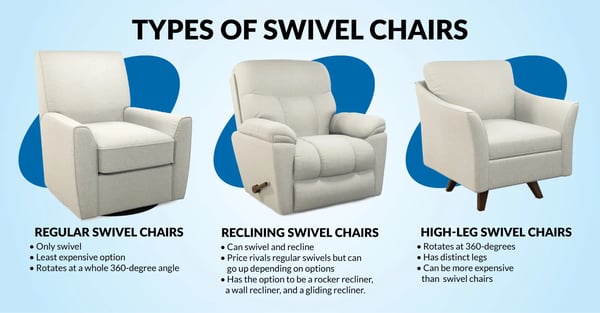 Quality of Materials & Craftsmanship
As mentioned before, the cost of a swivel chair also depends on the quality of the materials and craftsmanship. Essentially, the better quality of the swivel chair, the more expensive it will be.
Although our furniture is considered more expensive, this cost is a direct indicator of quality and longevity. La-Z-Boy furniture is built to last a long time, meaning you'll be saving money down the road if you choose to spend more initially.
Size & Shape of Frame
Additionally, the size and shape of a swivel chair can also affect its cost. Since the cost depends on the materials used, the bigger the chair, the more materials are required to make said chair.
"You can tell a chair is going to be expensive –swivel or not– if the arms are big. The arms of the chair are what normally gets detailed the most," Magaly says. This also means that the shape of a swivel chair is also reflected in the cost.
If the arms are bigger, for example, the cost might be higher. This is also reflected in the higher cost shown with the price of high-leg swivel chairs, except, in this case, the extra cost is due to the materials used to make the legs.
Customizations & Upgrades
At La-Z-Boy, customizations are encouraged!
Swivel chairs can be customized by the type of upholstery covering you choose, cushion density, the wood finish on the swivel base or legs, and even the nailhead trim on some pieces.
With this, the price also depends on the number of customizations you want to add to your swivel chair.
Upholstery Covers
La-Z-Boy has over 800 fabric covers to choose from, meaning you can truly make your swivel chair as unique as you want.
Some swivel chairs are offered in select fabric options, which are selected to complement the swivel chair's frame and design. These select fabrics do not increase the price of your furniture piece. However, should you go beyond that selection, you will be subjected to additional fees.
Leather Covers
If you opt for leather, this will likely increase the cost of your swivel chair. Although leather is a more expensive option than fabric, leather tends to be extremely durable and long-lasting.
La-Z-Boy has a leather program, which includes various types of leather at different price points. If you customize your La-Z-Boy swivel chair in leather, expect a cost increase of $200 - $850.
To learn more about Leather Selection at La-Z-Boy, check out this article.
Specialty Fabrics
In addition to the upholstery covers mentioned above, La-Z-Boy also offers specialty fabrics that offer unique features and benefits. The following specialty fabrics are available:
Stain Resistant Fabric: Innovative iClean Technology surrounds each fabric fibre, creating a barrier that repels spills before turning into stains.
Pet-Friendly Fabric: Tested and formulated to withstand the scratches and wear that a pet can cause to ensure a durable and easily washable fabric.
Antimicrobial Fabric: Antimicrobial properties surround each fibre to protect against mould, mildew, and odour-causing bacteria.
Performance: Superior stain and fade resistance properties make fabrics easy to clean and incredibly durable.
Eco-Friendly: Conserve Sustainable Fabrics are soft, durable and made from recycled water bottles.
Specialty fabrics will typically increase the price of your swivel chair by about $80 - $1,000, depending on the specialty fabric.
Contrasting Welt Trim
Contrasting welt trim is a great way to add character to your swivel chair, but this addition does come at a cost. At La-Z-Boy, the price of adding a contrasting welt trim is an extra $100 to the starting price of your swivel chair.
Nailhead Trims
Nailhead trims are an excellent addition to a swivel chair if you're looking to accent your furniture piece. Magaly mentions, however, that not all swivel chairs can have the option to customize the nailhead trim.
At La-Z-Boy, this extra bling on your swivel chair will cost an additional $100.
Swivel Base Finish
Swivel chairs at La-Z-Boy have a swivel base that complements the look of the chair. The standard wood finish at La-Z-Boy is brown mahogany, which does not increase the price of the furniture item.
With that being said, if you opt for alternative options like graphite, coffee, or driftwood, there will be an additional cost.
High-leg swivel chairs also have the same options for their decorative wooden legs.
If you want a swivel base or wood leg finish aside from the standard colour, an additional $70 will be added to the starting price of your swivel chair.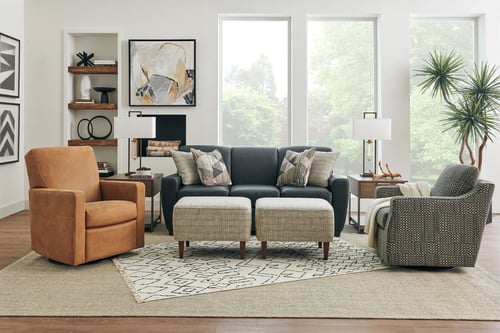 Examples of Swivel Chairs at La-Z-Boy (w/ Cost)
As mentioned before, the price of a swivel chair at La-Z-Boy largely depends on the furniture frame.
To get a better idea of what different swivel chairs at La-Z-Boy cost, here are some La-Z-Boy swivel accent chairs in different price ranges.
It is important to note that swivel chairs can be recliners and gliding chairs, which can make swivel chairs more expensive. For the sake of this list, we will be focusing purely on our swivel chair selection.
Low Price Range - The Dora Swivel Chair ($1,299)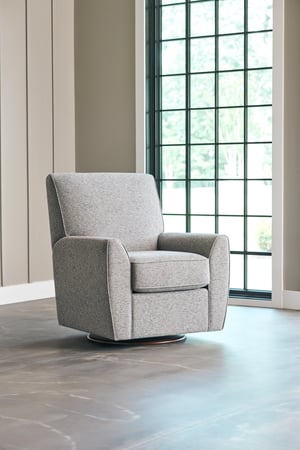 In our low price range for swivel chairs is the Dors Swivel Chair. Comfortable and casual, the Dora features a solid foam back and Premier Construction on the seats, which provide optimal comfort and support for a long or short visit.
The Dora also features an inviting box seat, chic, tapered wedge arms, and decorative trim detail. Alone or in a pair, make the Dora yours with any kind of style and decor.
The Dora is also available as a chair, and a swivel gliding chair. The Dora also makes for a great Stationary Accent Chair, which you can learn more about in this article.
Mid Price Range - The Ferndale Swivel Chair ($1,399)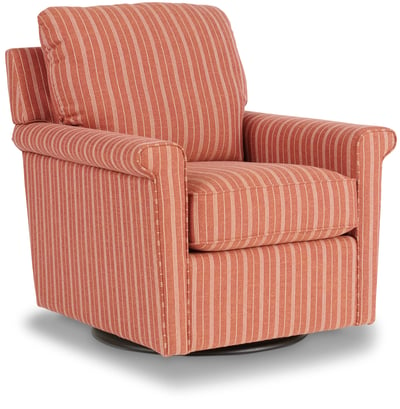 Next, we have the Ferndale Swivel chair, coming in the mid-price range. Stylish and comfortable, the Ferndale can easily be paired with any upholstery cover you add to it. It's that versatile!
The Ferndale also includes a high-grade foam seat cushion that maintains its comfort and appearance. Built on a tall scale, the Ferndale Swivel Chair is best suited for tall individuals between the heights of 5'10" to 6'2".
The Ferndale is available as a reclining chair, a swivel gliding chair and a matching ottoman. You can learn more about the Ferndale Chair by checking out this article.
High-Price Range - The Clover Swivel Chair ($1,749)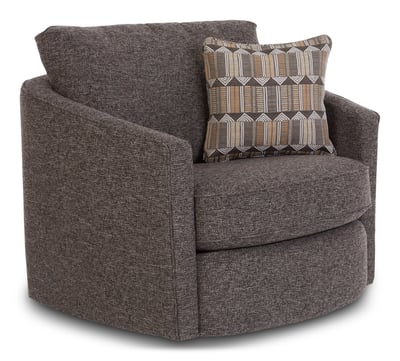 Lastly, if you're not too worried about price, the Clover sits in our higher price range for swivel chairs at La-Z-Boy.
This fun and functional barrel-style chair have an oversized scale, similar to a chair and a half, which means it's perfect for sitting on with small children or snuggling with pets. The rounded seat follows the curve of the rail back and arms. ComfortCore cushions also provide just the right amount of support.
The Clover is also a great chair for anyone looking to furnish their Nursery.
Furniture Financing
With all of these costs in mind, we understand that purchasing a swivel chair at La-Z-Boy or anywhere else can be costly.
That is why there is a payment option called furniture financing. This allows customers to pay off the cost of their furniture item over time instead of paying the full cost at once. If you're in a pinch with finances, this kind of payment option might be more beneficial for you.
The process of financing furniture is done through a third-party institution. At La-Z-Boy, for example, we partner with Flexiti Financing to provide furniture financing options for our clients.
Flexiti offers the benefits of instant approval and easy monthly payments. Once you have applied and been approved, you can shop and finance with Flexiti anytime.
Other financial institutions that other furniture retailers use are Fairstone and Paybright.
If you want to learn more about Furniture Financing, take a look at this article.
What's Next?
Now that you have a better understanding of the cost of a swivel at La-Z-Boy, you're now ready to invest in one of your own! With that being said, why not shop for one of our swivel chairs today?
Visit us at a local Ottawa & Kingston La-Z-Boy location to view our selection in person and take a sit test. You can also schedule an appointment online.
If you're looking for more examples of swivel chairs, take a look at some of our furniture family review articles that include swivel chairs:
Our interior design consultants are always eager to lend a helping hand. Take advantage of our interior design services to see how a swivel chair could fit in your home design.
Related Articles:
Why Does a Recliner Cost What It Does?
Review of Loveseats with Consoles
Product Info Request
Please provide us with your name and email and we'll get back to you as soon as possible regarding this item.